Turkey's Syria offensive could spark another catastrophe
Airstrikes and a ground offensive by Turkey in northern Syria against Kurdish forces have left civilians dead and forced tens of thousands to flee, UN agencies said on Friday, amid fears of another "humanitarian catastrophe" in the war-torn country.
Expressing concern about the military campaign launched on Wednesday, the UN's emergency relief chief Mark Lowcock noted that the Turkish Government had "assured me that they attach maximum importance to the protection of civilians and the avoidance of harm to them".
Speaking to journalists in Geneva, Jens Laerke from the Office for the Coordination of Humanitarian Affairs (OCHA), said that Thursday had seen "intense shelling all along the north-eastern Syrian border with Turkey, from Jarablus, to the west of the Euphrates, to the Iraqi border".
Highlighting the potential for further suffering for Syrians caught up in more than eight years of war, Christian Cardon de Lichtbuer, from the International Committee of the Red Cross (ICRC), said that "we have there all the ingredients for unfortunately yet another humanitarian crisis in Syria".
UN human rights office confirms eight civilian deaths
As of Thursday evening, the UN human rights office, OHCHR, reported that seven civilians, including two women and a boy, had been killed in the first two days of the Turkish operation.
A male civilian man was also reported killed in Jarablus on Wednesday, OHCHR spokesperson Rupert Colville said, adding that a woman and a boy were injured yesterday, during "counter-attacks and ground strikes" by Kurdish non-State armed groups.
In response to the mass displacement of people from the northern border area, mainly to Al-Hasakeh district, the World Food Programme (WFP) has provided ready-to-eat meals to around 11,000 people there, with the help of the Syrian Arab Red Crescent (SARC).
WFP supports close to 650,000 people in north-eastern Syria via a field hub in Qamishli; around 580,000 are currently in areas under Kurdish control, it said in a statement.
"Mass population displacement has been reported since the escalation of violence", said WFP spokesperson Hervé Verhoosel. "Over 70,000 people from Ras al-Ain and Tal Abiad have been displaced so far."
UN food agency 'will cover' needs of the displaced
Several thousand more have move to Raqqa governorate since the beginning of Operation Peace Spring by the Turkish military on Wednesday, Mr. Verhoosel added, while many other were on their way to shelters in Raqqa city, "where WFP will be covering their food needs".
Although UN humanitarian staff remain in Qamishli, "their ability to operate and provide relief is severely restricted" by the hostilities, OCHA's Mr. Laerke explained, adding that local authorities were also reportedly "imposing some quite strict security measures at checkpoints".
Linked to the military campaign, Marixie Mercado from the UN Children's Fund (UNICEF) said that the Alouk water pumping station reportedly came under attack early on Thursday.
"This is a station that provides safe water to at least 400,000 people in Hassakeh governorate, including displacement camps," she said
In Tal Abiad, two schools have been reportedly taken over for military use, Ms. Mercado added, while child protection programmes have been suspended in Ras al-Ain, Mabrouka camp, Tal Halaf, Sulok and Tal Abiad.
Health and Nutrition response in Ras al-Ain and Mabourka camp had also been put on hold, while schools in these areas have closed and the water supply has been affected.
Asked whether any Syrian refugees had been seen returning to a so-called safe zone either side of the Turkey-Syria border, Andrej Mahecic, spokesperson for the UN High Commissioner for Refugees (UNCHR), said that he had "no information" of any Syrian refugees doing so.
Any such buffer zone would have to set up "with full international humanitarian law safeguards in place, including the consent of the Government and warring parties and the zone being of civilian character, the safety of civilians would be hard to guarantee", the UNHCR spokesperson added.
So-called 'safe zone' is not managed by UN
Echoing those comments, OCHA highlighted the vulnerability of those displaced by the conflict and the uncertainty surrounding a so-called buffer zone cleared of Kurdish fighters on the border, reportedly proposed by Turkey.
"It's not something that's been set up by humanitarians, it is a zone that has been set up by military planners in Turkey," said Mr. Laerke. "We do not control it and we have not been involved in the planning of it."
After more than eight years of war in Syria, needs are "significant and widespread", Najat Rochdi, Senior Humanitarian Adviser to the UN Special Envoy for Syria, reiterated in Geneva on Thursday.
Over 11 million people require some form of humanitarian assistance, she said, including 4.7 million living in areas of high severity of need.
Amid uncertainty about how the military campaign will develop, the ICRC reiterated concern about the lack of basic services available to those displaced in the coming days and weeks, in towns and cities levelled by bombardment and shelling in a bid to drive out ISIL forces.
"People are moving inside Syria, so we can assume, yes, they will go towards (the) south," said the international Red Cross committee's Mr. de Lichtbuer. "With the complexity and so areas like Deir-Ez-Zor, and Raqqa, which are not necessarily places that can welcome thousands of people, we will see how it evolves in the coming hours, because it is moving very fast."
Belarus human rights situation deteriorating further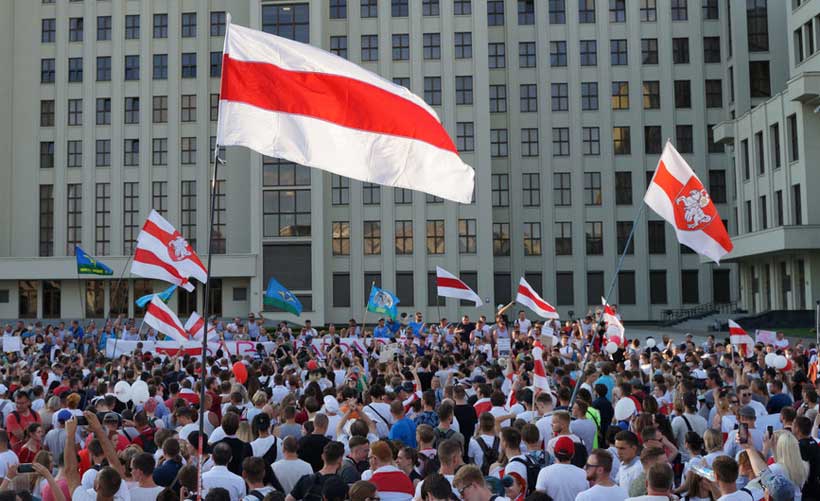 A "systematic crackdown" against dissent in Belarus is continuing, months since the country's disputed presidential election last year, UN rights chief Michelle Bachelet has told the Human Rights Council.
In comments to the Geneva forum on Thursday, the High Commissioner for Human Rights insisted that curbs on demonstrators had got worse since last August's poll returned President Alexander Lukashenko to office.
Those protests had led to "mass arbitrary arrests and detentions" of largely peaceful demonstrators, along with "hundreds of allegations of torture and ill-treatment", Ms. Bachelet said, before noting that "not one of the hundreds of complaints for acts of torture and ill-treatment" had been investigated.
The High Commissioner highlighted concerns about Government proposals which would reportedly "enable harsher punishments" for those taking part in peaceful demonstrations from now on.
To date, nearly 250 people have received prison sentences on allegedly politically-motivated charges context of the 2020 presidential election, Ms. Bachelet said.
'Unprecedented' human rights crisis
The OHCHR report "covers serious violations" of rights between 1 May and 20 December last year. "The events that unfolded before and immediately after the election have led to a human rights crisis of unprecedented dimension in the country", added Ms. Bachelet.
All of the violations detailed "committed with impunity, created an atmosphere of fear", she said, noting the further deterioration since December.
She said journalists were being increasingly targeted, "and human rights defenders both institutionally and individually. Just last week, large-scale searches of human rights defenders, journalists, and organizations such as the Belarusian Association of Journalists and Viasna (A Minsk-based human rights centre) were conducted, reportedly in connection with criminal investigations for 'mass disorder'".
Release innocent protesters
She told the Council it was "essential for the future of the country that respect for human rights, and the broadest possible civic space, be established. All those who have been detained for peacefully exercising their rights should be released."
The rights chief called for "thorough, effective, credible and transparent investigations" into all the allegations of serious violations, with perpetrators being brought to justice, as well as an "immediate end" to the Government policy of harassment and intimidation of civil society and media workers.
"I further recommend comprehensive reform of the national legal framework", she concluded. "Our report includes specific recommendations, which address key systemic issues, including with respect to fair trials, due process and the independence of the judiciary."
Gugu Mbatha-Raw named latest UNHCR Goodwill Ambassador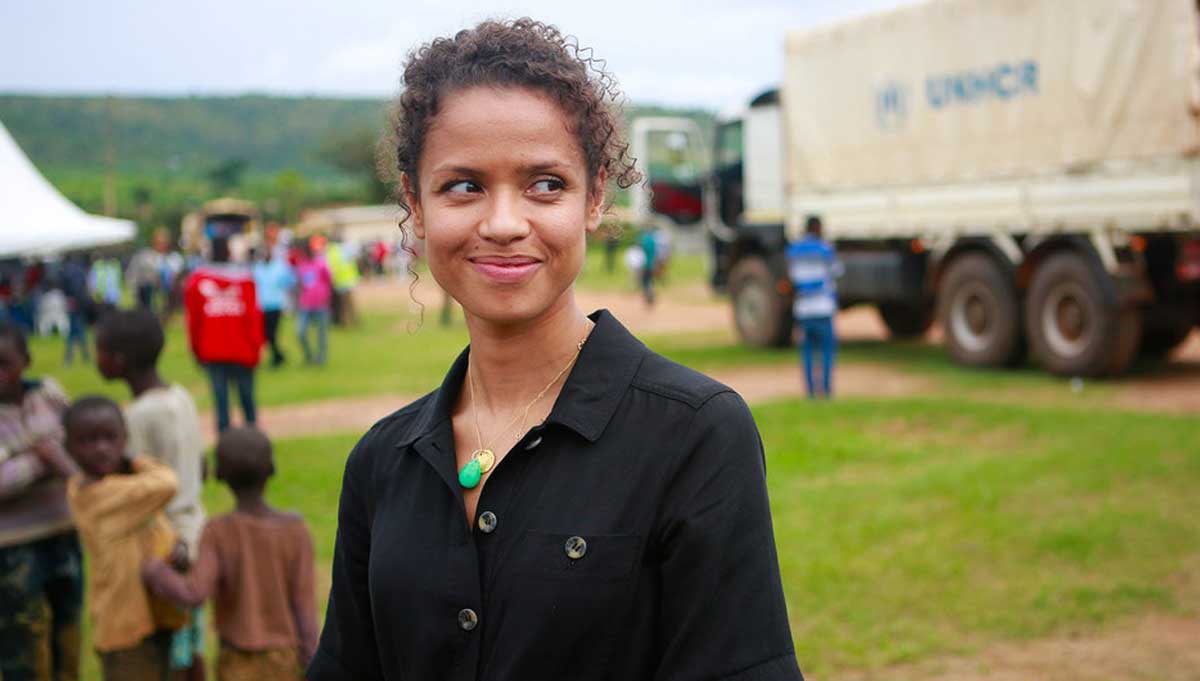 British actor Gugu Mbatha-Raw was on Wednesday appointed a global Goodwill Ambassador with the UN refugee agency, UNHCR.
Ms. Mbatha-Raw highlighted the need to support refugees during the COVID-19 pandemic.
"I'm so thankful to have the opportunity to work in support of refugees and help amplify their voices. I am always amazed by their courage and strength in the face of such seemingly insurmountable odds and it's a real honour to play a part in sharing their stories", she said.
"The Covid crisis has made us all aware of the fragility of the lives we build and the importance of doing all we can to support those who have had to leave the place they call home", she added.
"The crisis has also taught us that, in this interconnected world, we are only as strong as the most vulnerable in society. Inclusion of refugees is vital in ensuring the wellbeing of whole communities."
Advocacy and engagement
Ms. Mbatha-Raw is no stranger to UNHCR as she has been working as a High-Profile Supporter for the agency since 2018.
She has spent time in the field, including visiting Burundian and Congolese refugees in Rwanda and Uganda, meeting with women who survived conflict-related sexual violence and also with youth living with albinism.
The new Goodwill Ambassador has also taken part in UNHCR's EveryOneCounts campaign, challenging xenophobia and advocating for stronger partnerships to find solutions to global displacement.
She also contributed to the agency's COVID-19 awareness appeal and to Films of Hope, a partnership between UNHCR and IMDb, the online movie database, to raise funds for the Covid Solidarity Appeal.
The partnership continues
"We appreciate Gugu Mbatha-Raw's heartfelt advocacy and support for refugees and welcome her to the UNHCR family. We look forward to continuing our work together to help raise attention on the issues and needs facing refugees", said UN High Commissioner for Refugees, Filippo Grandi.
"Now more than ever, in the context of the unprecedented impact of the COVID pandemic, the voices of refugees – some of the most marginalized and forgotten people on earth – need to be heard and amplified".
Ms. Mbatha-Raw is known for her award-winning role in the 2013 film Belle, and has starred in other projects, most recently The Morning Show.
She will next be seen in Loki, the Marvel limited series set to premier in June on the Disney+ streaming service.
'Belle' and the slave trade
In 2014, the star visited UN Headquarters in New York to discuss her film role in 'Belle', as part of the organization's commemorations of the devastating Transatlantic slave trade that year. Watch the video below for more details:
'No place' for coups in today's world
On the opening day of a new UN Human Rights Council session on Monday, UN Secretary-General António Guterres reiterated his "full support to the people of Myanmar", three weeks after the military takeover that has brought thousands out onto the streets in protest.
"Coups have no place in our modern world", Mr. Guterres said in a pre-recorded video address at the Council's 46th regular session, his comments coming after the forum held a special session on 12 February, in which it adopted a resolution expressing deep concern at the junta's move.
"Today, I call on the Myanmar military to stop the repression immediately", the UN chief continued. "Release the prisoners. End the violence. Respect human rights and the will of the people expressed in recent elections. I welcome the resolution of the Human Rights Council, pledge to implement your request, and express my full support to the people of Myanmar in their pursuit of democracy, peace, human rights and the rule of law."
14-year old victim
Mr. Guterres's comments followed his censure at the weekend of the use of "deadly force" in Myanmar, in which a protester – reportedly 14 years old – was killed in Mandalay, along with one other.
Also addressing the Council at the start of its month-long session, which is being held almost entirely remotely to prevent the spread of COVID-19, UN High Commissioner for Human Rights, Michelle Bachelet, focused on the massive and negative impact of pandemic.
"I think we all realise that the use of force will not end this pandemic. Sending critics to jail will not end this pandemic. Illegitimate restrictions on public freedoms, the overreach of emergency powers and unnecessary or excessive use of force are not just unhelpful and unprincipled. They deter public participation in decision-making, which is the foundation of sound policy-making." 
Help for the most vulnerable
In another video message, President of the UN General Assembly, Volkan Bozkir, underscored the need to focus on people's basic needs – including new coronavirus vaccines – as the best way to recover from the pandemic.
"It is essential that all responses to the COVID-19 pandemic are centred around human rights, and promote the protection of our citizens, including the most vulnerable who need our care and consideration the most", he said. "This includes ensuring the equal and fair distribution of vaccines for all. It is critical that civil society, the private sector, and all stakeholders are facilitated to participate and provide feedback throughout the planning and assessment of responses."
Vaccine unfairness
Echoing the call for equitable vaccine access in a wide-ranging address that included a broadside against right-wing extremists becoming a "transnational threat" and the manipulation of personal digital data by Governments to control citizens' behaviour, the Secretary-General described the fact that only 10 countries had administered "more than 75 per cent of all COVID-19 vaccines" as "the latest moral outrage".
Vaccine equity "affirms human rights", he said, but "vaccine nationalism denies it. Vaccines must be a global public good, accessible and affordable for all."
Taking up that theme, Ms. Bachelet insisted that the new coronavirus crisis had illustrated the "deadly realities of discrimination".
Deep inequalities and chronic under-funding for essential services were to blame, she added, with policymakers largely responsible for ignoring these basic needs.
Pandemic rolls on
"Today, the medical impact of the pandemic is far from over – and its effects on economies, freedoms, societies, and people have only just begun", she said. "The global rise in extreme poverty, accelerating inequalities; setbacks to women's rights and equality; to education and opportunities for children and young people; and to the Sustainable Development Agenda are shocks that could shake the foundations of societies."
Despite the scale of the challenges posed in this second year of the pandemic, the High Commissioner struck a positive note, insisting that "we have the possibility of rebuilding better, more inclusive systems, which address root causes and prepare us to meet the challenges we will certainly face". 
Among the many major problems facing people everywhere, the UN Secretary-General highlighted the disproportionate gender impact of COVID-19.
Crisis 'has a woman's face'
"The crisis has a woman's face", he said. "Most essential frontline workers are women — many from racially and ethnically marginalized groups and at the bottom of the economic ladder. Most of the increased burden of care in the home is taken on by women."
Persons with disabilities, older persons, refugees, migrants and indigenous peoples had also paid a higher price than others during the first year of the pandemic. Mr. Guterres continued, before calling for "a special focus on safeguarding the rights of minority communities, many of whom are under threat around the world".
Cautioning against "policies of assimilation that seek to wipe out the cultural and religious identity of minority communities", the UN chief maintained that the diversity of communities was "fundamental to humanity".
Extremists a 'transnational threat'
And without identifying any specific countries, Mr. Guterres also spoke out against the rising and potentially international threat of right-wing extremist movements.
"White supremacy and neo-Nazi movements are more than domestic terror threats. They are becoming a transnational threat", he said. "Far too often, these hate groups are cheered on by people in positions of responsibility in ways that were considered unimaginable not long ago. We need global coordinated action to defeat this grave and growing danger."
Under the presidency of Jordanian Ambassador Nazhat Shameem Khan, the 46th Human Rights Council session is due to meet until Friday 23 March.