Pension Policies Must Keep Up with Rapidly Aging Societies
A new publication on pension reform examines nonfinancial defined contribution (NDC) pension schemes as an approach to help policymakers meet the challenges brought on by rapidly aging populations and the changing nature of work, says the World Bank. In a world in which working lives will be increasingly longer, and demands for social care services will expand, pension systems will need to be reformed to ensure workers are protected and do not fall into poverty in old age.
Titled "Progress and Challenges of Nonfinancial Defined Contribution Pension Schemes", this publication brings together evidence on NDCs pension schemes and reforms more broadly to bear on today's labor market. NDC is a type of public pension system in which workers pay contributions to finance the benefits of current retirees, similar to traditional public pension schemes. However, unlike the latter, the NDC approach factors in automatic adjustments based on demographic changes, a key advantage given the increased aging and decreased fertility in many societies today. Over the past decades, NDCs have emerged as a key tenet in global thinking about pensions, as this framework ensures more efficient and effective social risk sharing, and better public resource allocation.
"The unique feature in the NDC framework is a built-in design that achieves affordability, financial sustainability, and intergenerational fairness," said Robert Holzmann, Governor for the Austrian National Bank and one of two lead editors of the volume. "With individual accounts come transparent information on the interaction of individuals' decisions to work and pay contributions and their own roles in determining their future pension outcomes," he said.
An NDC framework also allows countries to address poverty in the aging population, if it is accompanied by a well-thought out complement to provide a safety net for the elderly. "Special efforts must be devoted to constructing a zero pillar to address poverty in old age," said Edward Palmer, Professor of Social Insurance Economics at Uppsala University, Sweden, and the other lead editor of the volume. "This ensures that people with low lifetime incomes, such as those who work predominantly in "unremunerated home care" and otherwise in the informal market economy – typically in emerging but also in developed economies – are provided with adequate basic protection in old age," From this standpoint, governments have a key role to play in providing a basic level of pension to prevent poverty in old age.
"The lessons from theory and practice contained in this book will help us all find better responses to the biggest challenges of the current time: adapting the social protection systems to the challenges of aging populations and the changing labor markets and contributing to human capital for the current and future generations," said Michal Rutkowski, Global Director of the World Bank Social Protection and Jobs Global Practice. "The World Bank's vision is one in which social insurance is extended to all workers, independently of how they engage in the labor market," said Rutkowski.
The recent World Bank white paper on "Protecting All: Risk-Sharing in a Diverse and Diversifying World" proposes an approach to worker protection and social security that is better adapted to an increasingly diverse and fluid world of work, and the NDC approach to pensions represents a framework that is individually financed and considered "actuarially fair".
Based on a 2017 Rome conference by INNAP, funded by the Swedish Pension Agency, and published by the World Bank Group, this new anthology documents twenty years of country experiences where NDC pension schemes were introduced, and addresses specific dimensions of pension policies under this scheme, such as poverty, labor market, family and gender, and longevity. It includes 31 contributions from academics, practitioners, policy makers, and experts in pensions and social policy.
Top Trends Impacting Global Economy, Society and Technology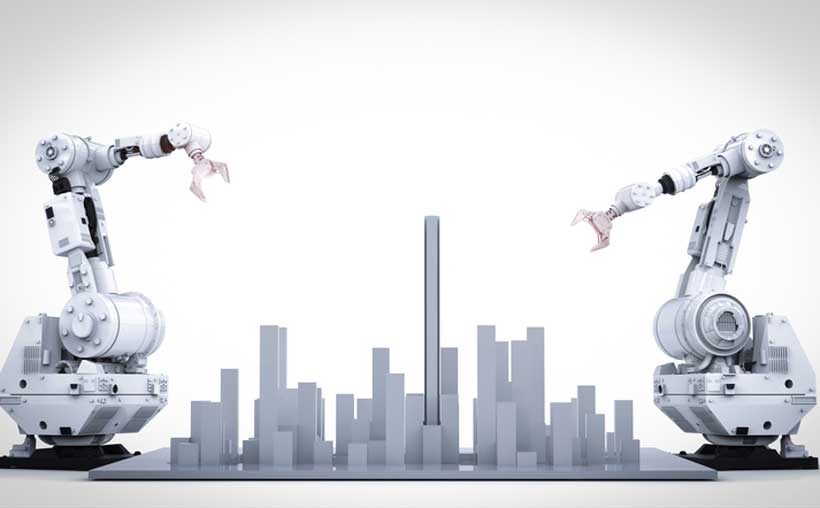 The new technologies of the Fourth Industrial Revolution, such as artificial intelligence (AI), the cloud and robotics, are changing the way we live, learn and do business at a rate unprecedented in human history. This seismic shift is playing out in a world characterized by unreliable political landscapes and increasing environmental instability.
Scenario planning in this environment can be very difficult for businesses, affecting their ability to plan for the future, and properly assess the risks and opportunities that may present themselves. The Technology Futures report, released in collaboration with Deloitte, provides leaders with data analysis tools to scenario plan and forecast future technology trends.
"The rapid pace of technological change, alongside the global crisis caused by COVID-19, means that leaders today need new tools to understand challenges and develop strategies in the face of an increasingly uncertain future. This report provides three new analytical tools for business leaders to think about the future in a dynamic environment," said Ruth Hickin, Strategy and Impact Lead, Centre for the Fourth Industrial Revolution, World Economic Forum.
"We are delighted to collaborate with the World Economic Forum to take a disciplined look into the future, particularly as we emerge from a world-altering event, like COVID-19," said Mike Bechtel, Managing Director and Chief Futurist, US Consulting, Deloitte, and lead author of the report. "We hope that by providing a clearer picture of how today's nascent technologies will impact our future, we can play a meaningful part in driving innovation, collaboration and economic growth that improves life for all people."
The report breaks down future trends into four categories for business leaders and provides some examples of what is likely to remain constant in the years ahead.
Information: With the volume of accessible data exploding and more of our personal lives lived online, the report projects the probable implications for remote learning, remote working and healthcare.
Locality: Since the onset of COVID-19, even more of our interpersonal interaction is virtual and physical experiences have dwindled. The report projects more niche, readily available virtual experiences available to consumers.
Economy: The report forecasts a growing likelihood that flexible and clean energy production will continue rising.
Education: Personalized education will likely grow, along with the availability of digitized and virtualized content.
In addition to strategic modelling, the report gives leaders a baseline history of how the Fourth Industrial Revolution has progressed. It highlights just how fast technology is evolving and outlines one way risk management could evolve to better address and adapt to it.
South Asian Economies Bounce Back but Face Fragile Recovery
Prospects of an economic rebound in South Asia are firming up as growth is set to increase by 7.2 percent in 2021 and 4.4 percent in 2022, climbing from historic lows in 2020 and putting the region on a path to recovery. But growth is uneven and economic activity well below pre-COVID-19 estimates, as many businesses need to make up for lost revenue and millions of workers, most of them in the informal sector, still reel from job losses, falling incomes, worsening inequalities, and human capital deficits, says the World Bank in its twice-a-year regional update.
Released today, the latest South Asia Economic Focus: South Asia Vaccinates shows that the region is set to regain its historical growth rate by 2022. Electricity consumption and mobility data is a clear indication of recovering economic activity. India, which comprises the bulk of the region's economy, is expected to grow more than 10 percent in the fiscal year 2021-22—a substantial upward revision of 4.7 percentage points from January 2021 forecasts.
The outlook for Bangladesh, Nepal, and Pakistan has also been revised upward, supported by better than expected remittance inflows: Bangladesh's gross domestic product (GDP) is expected to increase by 3.6 percent in 2021; Nepal's GDP is projected to grow by 2.7 percent in the fiscal year 2021-22 and recover to 5.1 percent by 2023; Pakistan's growth is expected to reach 1.3 percent in 2021, slightly above previous projections.
The improved economic outlook reflects South Asian countries' efforts to keep their COVID-19 caseload under control and swiftly roll out vaccine campaigns. Governments' decisions to transition from widespread lockdowns to more targeted interventions, accommodating monetary policies and fiscal stimuli—through targeted cash transfers and employment compensation programs—have also propped up recovery, the report notes.
"We are encouraged to see clear signs of an economic rebound in South Asia, but the pandemic is not yet under control and the recovery remains fragile, calling for vigilance," said Hartwig Schafer, World Bank Vice President for the South Asia Region. "Going forward, South Asian countries need to ramp up their vaccination programs and invest their scarce resources wisely to set a foundation for a more inclusive and resilient future."
While laying bare South Asia's deep-seated inequalities and vulnerabilities, the pandemic provides an opportunity to chart a path toward a more equitable and robust recovery. To that end, the report recommends that governments develop universal social insurance to protect informal workers, increase regional cooperation, and lift customs restrictions on key staples to prevent sudden spikes in food prices.
South Asia, which grapples with high stunting rates among children and accounts for more than half of the world's student dropouts due to COVID-19, needs to ramp up investments in human capital to help new generations grow up healthy and become productive workers. Noting that South Asia's public spending on healthcare is the lowest in the world, the report also suggests that countries further invest in preventive care, finance health research, and scale up their health infrastructure, including for mass and quick production of vaccines.
"The health and economic benefits from vaccinations greatly exceed the costs involved in purchasing and distributing vaccines for all South Asian countries," said Hans Timmer, World Bank Chief Economist for the South Asia Region. "South Asia has stepped up to vaccinate its people, but its healthcare capacity is limited as the region only spends 2 percent of its GDP on healthcare, lagging any other region. The main challenge ahead is to reprioritize limited resources and mobilize more revenue to reach the entire population and achieve full recovery."
The World Bank, one of the largest sources of funding and knowledge for developing countries, is taking broad, fast action to help developing countries respond to the health, social and economic impacts of COVID-19. This includes $12 billion to help low- and middle-income countries purchase and distribute COVID-19 vaccines, tests, and treatments, and strengthen vaccination systems. The financing builds on the broader World Bank Group COVID-19 response, which is helping more than 100 countries strengthen health systems, support the poorest households, and create supportive conditions to maintain livelihoods and jobs for those hit hardest.
Georgia's Economy Unlikely to Recover to Pre-COVID Levels Until Late 2022
Emerging and developing economies in the Europe and Central Asia region are expected to grow by 3.6 percent this year, as a recovery in exports and stabilizing industrial commodity prices partly offset a resurgence of the pandemic late in 2020 and a recent flareup in new cases, says the latest edition of the World Bank's Economic Update for the region, released today.
The modest growth in 2021 follows a contraction of 2 percent in 2020 due to COVID-related disruptions. The contraction was smaller than anticipated due to a stronger than forecast recovery in Turkey and resilience in Russia, the region's largest economies. Rebounding industrial production, increased export external demand, higher commodity prices and fiscal and monetary support contributed to this outcome. Hardest hit are economies that are heavily dependent on services and tourism, since social distancing measures and mobility restrictions led to sustained weaknesses.
Regional growth is expected to strengthen to 3.8 percent in 2022, as the effects of the pandemic gradually wane and trade and investment gather momentum. The outlook remains highly uncertain, however, and growth can be weaker if the pandemic takes longer than expected to fade; there are delays in vaccination; external financing conditions worsen due to a rise in global interest rates or deterioration in investor sentiment; or due to geopolitical tensions.
After suffering the sharpest collapse among the subregions of Europe and Central Asia in 2020, amid conflict and high COVID-19 infection and fatality rates, growth in the South Caucasus is projected to rise to 3.1 percent in 2021 and to accelerate to 4.2 percent in 2022.
The COVID-19 pandemic has hit Georgia hard. Mobility restrictions, a sudden halt to international tourist arrivals, and weak external demand drove an estimated economic contraction of 6.2 percent in 2020. The poverty rate increased by an estimated 5.4 percentage points. Job and income losses were severe. The fiscal deficit and public debt rose above statutory levels as the crisis put pressure on fiscal and external balances.
Georgia's economy is projected to expand to 4 percent in 2021 and then to firm to 5 percent in 2022. Despite this improvement, output is unlikely to recover to pre-COVID levels until late 2022, in part owing to a subdued outlook for international tourism over the forecast horizon. The recovery is subject to considerable downside risks, including from delayed vaccinations, additional or extended COVID-19 restrictions, tightening global financial conditions, and prolonged political tensions.
"The pace of Georgia's recovery beyond 2021 will be contingent on vaccine rollout and the restoration of international trade and investment," said Sebastian Molineus, World Bank Regional Director for the South Caucasus. "For a sustained and resilient recovery, Georgia will need a continued focus on slowing the spread of COVID-19 infections, large-scale vaccination, and addressing longer-term challenges, including human capital, strengthening institutions and promoting a digital and green recovery."
The pandemic is expected to erase at least five years of per capita income gains in several of the region's economies and raise the poverty headcount, largely due to job losses. Overall, despite the rebound in growth, the recovery in per capita gross domestic product (GDP) of the region is subdued and below pre-pandemic trends.
"The pandemic continues to cast a shadow on economic activity in Europe and Central Asia. However, as policymakers grapple with the short term impacts on health, education and the economy, they should seize the opportunity to address the long term challenges of boosting productivity, building a more vibrant private sector, improving institutions and moving towards low-carbon, greener and inclusive economies," said Anna Bjerde, World Bank Vice President for the Europe and Central Asia region."


Fundamental to achieving these long-term development goals is good governance. The pandemic has underscored the need for good governance given the important role governments around the world have played in mitigating the health, economic and social impacts of the virus. The range of measures have included restrictions on movement to control the spread of the infection to vaccination programs, relief packages to protect individuals and businesses from the economic fallout of the pandemic, and devising ways for virtual learning for millions of school children.
In Europe and Central Asia, good governance is all the more important given the historically large role governments play in shaping the economy. Government expenditures in the region represent nearly 40 percent of the economy and governments employ more than a quarter of the region's most educated and productive workers, with women constituting 57 percent of public sector employees. And the role of government in the region's countries is likely to further increase in the coming years, driven largely by the need for expansion of health and long-term care for aging populations and public support for government interventions to tackle inequality and, in the face of COVID, improve health and education systems.
In a special analysis on 'Data, Digitalization, and Governance in Europe and Central Asia', the report examines the potential role of data and digitalization in improving governance in the region.
"To effectively address the challenges brought on by COVID-19, improving governance has assumed an even greater importance in the region," said Asli Demirgüç-Kunt, World Bank Chief Economist for Europe and Central Asia. "Digital technology and the data revolution offer the potential to increase efficiency, transparency, responsiveness, and citizen trust, all of which directly improve the quality of government."
Data lay the ground for improved decision making, optimized government functioning, and more effective resource allocation, while digitalization strengthens these processes and enables greater efficiency and transparency.
To expand the impact of the data revolution, enhancing government digitalization and coordination of decentralized data systems across institutions are necessary. The quality of government is increasingly informed by the extent to which governments harness digital tools and apply technology to government practices to improve management, service delivery and overall state capacity. Governments should implement incentive structures to encourage the adoption and adaptation of data systems within the civil service.
The data revolution and digitalization also offer an opportunity to strengthen trust by fostering effective collaboration between governments and civil society. One of the most promising mechanisms for doing so is Open Government Data, which reduces the transaction costs of gathering, analyzing, and disseminating public sector data and allows for a more comprehensive understanding of the quality of governance. Enabling open access to government data could also help counter the spread of misinformation and disinformation across social media channels. Promoting direct feedback mechanisms between citizens and government not only improves provision of public services, but also builds trust and legitimacy.