What is it really like in Moscow? We believe that Moscow is Europe's best kept secret with outstanding galleries, museums, world-class theaters, gorgeous parks, exquisite restaurants and beautiful architecture. Moscow caters to all kinds of interests: history, art, culture and gastronomy. After visiting it for the first time you will feel like coming back as there is always more to do and see in the vibrant capital of Russia.
Staying at Four Seasons Hotel Moscow you are minutes away from the most amazing city sights. Just take your camera, step out of the hotel and dive into the city collecting wonderful pictures and lifetime memories.
Art and Culture
One of the world's biggest and most famous ballet and opera theaters, the Bolshoi Theater, is located just a 7-minute walk from Four Seasons Hotel Moscow. Enjoy a magnificent performance in the grand building that holds more than 200 years of great art and history, or take a private backstage tour with an expert who has been working in the theater for more than 40 years. Go through the fabulous halls with restored 19th century interiors, take an up-close look of the grand chandelier and step onto the legendary stage where the greatest ballet dancers showcase their talents. If you are lucky you may witness scenery being installed or watch a rehearsal.
Discover Moscow galleries and museums that share fascinating stories about Russian history, display local art and host international exhibitions. Don't miss Tretyakov gallery that keeps the greatest of Russian art from the 11th to 20th century, caters art projects from all around the world and holds its own cultural and educational programs.
Parks and Nature
As many other dynamic and vibrant cities, Moscow is full of peaceful green parks and recreation zones. Enjoy a walk along the river in Gorky Park, watch amazing fountains in VDNH or spend a day in one of the stunning palace complexes of Moscow.
Tsaritsyno Museum and nature reserve is one of the largest in Moscow and includes a palace complex and a park. This incredible palace was founded by Empress Catherine the Great and carefully restored 200 years later. Enjoy this impressive palace complex in a large landscape park with picturesque cascading ponds and beautiful alleys.
Architecture
Moscow is full of architectural artworks and many of them are hidden underground. Moscow metro is truly the most stunning metro in the world that turns every trip around the city into an unforgettable experience. The concierge team of Four Seasons Hotel Moscow is always ready to share the best routes through the metro to the most beautiful stations and hand you a map with stops to visit.
Gastronomy
Over the last few years Russia's capital has become an epicenter of gastronomic events. Exquisite restaurants, trendy bars, speakeasies, dive pubs, hip food courts and markets with local products – Moscow serves everyone's tastes. For those who would like to get to know Russian cuisine, Four Seasons Hotel Moscow Chef, Ilya Karpaev, has added the best national dishes to Silk Lounge menu. If you find yourself in love with Russia's national cuisine, sign up for pelmeni-making master class with the Chef to learn an amazing recipe and have some fun.
Iran's memories in Afghanistan: two sisters apart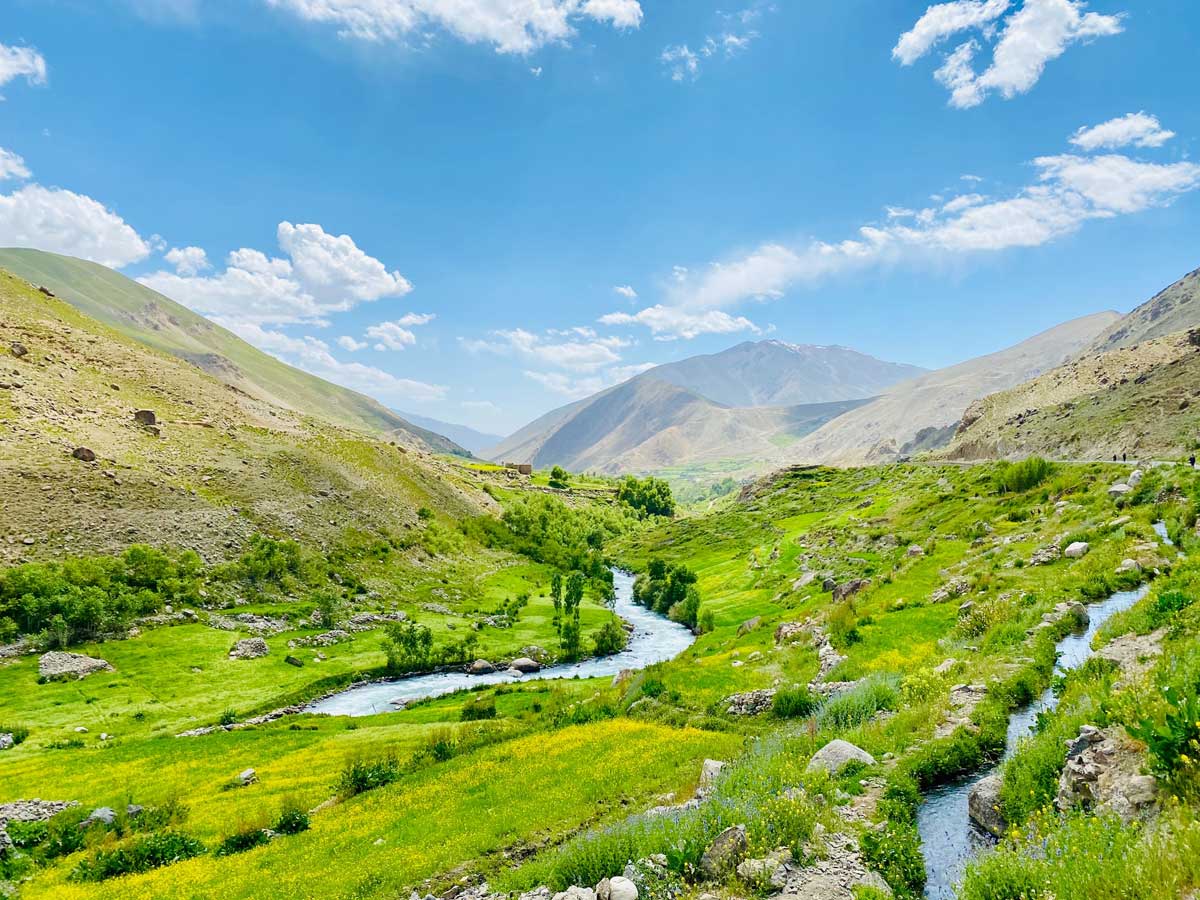 For years, many people including Iranians, have dreamed of visiting Afghanistan and viewing its colorful sights, a beautiful country that has been unrested for many years and engulfed in a war that is getting fiercer every day.
With roots dating back thousands of years and many similarities in dialects and history, Iran and Afghanistan share strong cultural ties.
Even though these two countries are separate now, they used to be one united empire once, which means that a lot of historical places and monuments have been left in Afghanistan belonging to ancient Iran.
There is hope among Iranians that walk under the blue sky of Herat, Kandahar, Kabul, and Balkh with their neighbors one day.
In the absence of a possibility of visiting these places and attractions, we can explore a list of Persian historical monuments and sites preserved in Afghanistan.
Herat
Afghanistan's third-largest city, Herat, situated just 80 miles from the Iranian border, was the capital of the Persian Empire.
Dating back to ancient times, the city was known as Haraiva during the Achaemenid Empire (ca. 550-330 BC).
Herat became a provincial capital during the Safavid era (1501-1736). The Persian king Abbas was born in Herat, and in Safavid texts, Herat is known as a'zam-i bilad-i Iran, meaning "the greatest of Iranian cities". In the 16th century, a number of future Safavid rulers, from Tahmasp to Abbas I, served as governors of Herat in their youth.
Bamyan
Bamyan was one of the main states of Iran during the Achaemenid period and was considered one of the important centers of Buddhism during the Kushan Empire.
It was a place where East met West, and its archeology contains influences from Greek, Turkic, Persian, Chinese and Indian cultures. The region is one of Afghanistan's most touristic places.
Along with the Buddhas of Bamiyan, two 6th-century monumental statues of Gautama Buddha carved into the side of a cliff in the Bamyan valley, which was destroyed by the Taliban, a number of Persian temples dating back to the Sassanid era (224-651 CE) were also among the attractions of Bamyan.
Aq Koprok Archaeological Sites
Aq Koprok is a collection of four archaeological sites in Afghanistan dating back to the prehistoric period, which spans from Paleolithic time to the Sassanid period.
Ghazni
Located in southeastern Afghanistan, Ghazni, historically known as Ghaznin or Ghazna, was conquered by the Achaemenid king Cyrus II and incorporated into the Persian Empire in the 6th century BC.
The city was the capital of Ghaznavids, a Persian Muslim dynasty from 977 to 1163. In the first decades of the 11th century, Ghazni was the most important center of Persian literature.
For centuries, travelers and archeologists have been drawn to beautiful places like the Ghazni Citadel, the Ghazni Minarets, and the Palace of Sultan Masoud III, all built during the time of Iranian rulers.
Taq Bost
The structure is a large brick arch that is cut with bricks on both sides and is about 25 meters. The monument was built during Ghaznavid-era and was restored over time.
The arch was the entrance gate to the historic city of Bost or Lashkar Gah, which was the winter capital at the time.
Lashkari Bazaar
Near the city of Lashkargah, there are the remains of some places known as Lashkari Bazaar or Al-Asqar, meaning the area of the troops.
Located on the banks of the Helmand River, one of the palaces known as Southern Castle has remained a little intact.
Based on both textual sources and finds made during excavations at the site, scholars attribute the palace to Ghaznavid king Mahmud I and date it to the early years of his reign (r. 998-1030).
The palace is situated at a point on the Helmand approximately eight kilometers north of the Citadel of Bust where the riverbank forms a natural corner so that two facades of the palace afford riverfront views.
The plan is roughly rectangular and is aligned nearly perfectly with the cardinal directions. Its main axis runs from south to north. It was constructed largely of mud-brick, with baked brick used for the most monumental and important components.
Even though the palace has been destroyed, looted, rebuilt, and restored a few times, there are still murals and paintings inside that attract visitors.
Persian elite' mausoleums and tombs
Afghanistan is the final resting place of many Iranian poets, scientists, artists, and kings.
The mausoleum of Mahmud of Ghazni, who was the first independent ruler of Ghaznavids (999-1030) is six kilometers from the city of Ghazni.
Hakim Abul-Majd Sanai Ghaznavi, more commonly known as Sanai, was a Persian poet from Ghazni who lived his life in the Ghaznavid Empire at the time of its golden age, in medieval Khorasan, which is now located in Afghanistan. He was buried in Ghazni.
Iranian poet and theologian Naser Khosrow Qubadiani (1004-c.1072/77), who is known for Safar-nameh ("Book of Travel"), a diary describing his seven-year journey is buried on a hill in Badakhshan.
The tomb of Khwaja Abdullah Ansari (1006–1088), a devout Sufi, known as "The Pious One" during his lifetime, is in Herat.
The mausoleum of the Persian scholar, polymath, and historian, Abu Rayhan al-Biruni, who became the most original polymath the Islamic world had ever known, is located in the city of Ghazni.
From our partner Tehran Times
4 Transportation Tips to Get Around in Switzerland
When someone said, "getting there is half the fun," they must have been talking about Switzerland. This European gem has such a vast availability of public transport throughout the country.
Moving past the occasional traffic jams and road constructions, they know how to make traveling comfortable for everyone. Their public transit network is orderly, on time, pristinely clean, and much popular among the locals.
So, if you are in Switzerland and are planning to travel, the number of ways you can enjoy the serenity is endless. But the first step on this journey is to get travel from the airport to your desired destination.
Zurich airport transportation gives you three ways to enter the cities from the airport with much ease. You can either take the train for a view of nature or the tram if you want to enjoy the city's sights or take a taxi, which is the most comfortable option but is also expensive.
Read on for some helpful tips that will make traveling easier for you in Switzerland.
1. Utilize Free Public Transportation
If you are traveling to Geneva, Lucerne, Bern, Basel, or Lausanne, transportation will not be something you'll have to worry about. Switzerland offers everyone free public transportation in their most traveled cities, including these. You can not only save taxi fares but also be able to explore the whole city for free.
Most of the time, the hotel you're staying at will provide you with a transport card which you can use to travel for free. So, if you are staying at a hotel, make sure to ask at the reception for potential freebies.
2. Don't Purchase Travel Passes.
A travel pass should be your last option. It takes up a good amount of funds, and if you don't end up using public transport a significant number of times, then the pass hasn't been put to use well.
Before you finally settle on buying a pass, you may ask yourself what all places you will travel to? Will you cover long distances at all, or will you stay around the same area? How frequently will you use the pass? These questions might help you understand if the pass is necessary or not.
3. Get a Free Bike
Geneva, Zug, Bern, Zurich, the Canton of Valais, and Neuchatel are some places that will offer you bikes for free. And if you are in one of these cities, you're in for a treat. You can rent bikes for a few hours, a whole day, or for an even longer time. All you will need is your valid ID and a small deposit amount, which you get back after returning the bike.
If you are not in one of these places, you can still rent out a bike. They may not be for free, but they are still cheaper than other public transports or taxis.
4. Grab the Free Activities
You will be surprised to know that there are so many things that you can enjoy for free when you are in Switzerland. You have to pay attention and look in the right direction.
Many free walking tours take place all across the country. You can visit the free wildlife parks in Winterthur, Interlaken, Zurich, St. Gallen, and other places. Museums, churches, hills for hiking, and Old towns are open and free to all.
Take a toll through parks, bridges, and botanical gardens. You can visit Europe's largest waterfalls, that is, the Rhine falls in Schaffhausen.
Experience the cheese factories and enjoy all the free samples. Talk to people and explore, and you'll find there's always something left yet to explore.
A few bonus tips to make your trip budget-friendly in Switzerland.
Avoid staying in major cities. No doubt staying in a major city has its perks, but it's too expensive, and you also miss out on the scenic beauty of nature that Switzerland is all popular for. You can instead find a hotel or Airbnb far outside of the city and the postcard Switzerland you came for.
Avoid high seasons. The high seasons are winter and summer when tourists flood this country. This is also the time when rates go very high because of the demand. If you want a good deal, then plan your visit during the spring or autumn when accommodations are cheaper, and there is a lesser crowd.
Cook your meal. Carry mini gadgets that can help you cook your food, like a mini rice cooker. Stay in a place that has a kitchen, so you don't have to buy your food.
Rent an apartment if you're planning to stay for long. This way it is much cheaper, and you can cook your food.
Take advantage of the Swiss Pass. If you do end up getting a Swiss Travel Pass, ensure you make full use of it. Visit the museums, castles, enjoy free rides as much as you can.
Eight Hilton Hotels Located in Historic Buildings Around the World
For more than 100 years, Hilton has spread the light and warmth of hospitality across the world, creating a portfolio of hotels that not only excel at offering world-class services and amenities, but also purposefully adopt local cultures, lifestyle and a general sense of place reflected in the architecture and designs. This philosophy of adopting the feel of a hotel's surroundings is especially evident in properties that have a significant historical value; making Hilton keen to preserve the property's architecture and décor while combining the modernity of offerings and amenities to offer travelers an authentic, artisanal experience.
From a historic train station in St. Louis to a colonial fort in the Bahamas, and a one-time bank headquartered in Amsterdam to a chocolate factory in Croatia, here are just eight of the many Hilton hotels that allow guests to indulge in culture and comfort.
St. Louis Union Station Hotel, Curio Collection by Hilton, United States
Built in 1894 in what was once the most ornate railway terminal in the United States, this National Historic Landmark in downtown St. Louis was converted to a hotel in 1985 and is well-known for its iconic Grand Hall, a lobby lounge area with 65-foot ornate vaulted ceilings on which a dazzling 3D light show is projected nightly.
Hampton Inn & Suites by Hilton Mexico City – Centro Historico, Mexico
The hotel is located in "Casa San Agustin," a registered historic building in Mexico that was built in the 1800s by Bienes Culturales de Mexico, the Instituto Nacional de Antropologia e Hisotria, and the Nacional de Bellas Artes. Considered an architectural jewel, the building has been used for accommodation purposes since its beginning. Various restorations have preserved much of the original exterior façade's style, including ajarcas—moldings and ornaments that were combined with tezontle exteriors in that period.
British Colonial Hilton Nassau, Bahamas
Sitting on the Old Fort of Nassau site dating back to 1695, British Colonial Hilton Nassau is the island's oldest resort operating in a historic building. Demolished in 1873, the Old Fort was built to protect the Nassau Harbour's western entrance, specifically from pirates. The original hotel was built by American industrialist Henry Flagler in 1900. The existing concrete building, known as the New Colonial, was constructed in 1923, after the original wooden building was destroyed by fire. The hotel's western wing was built on these ruins.
Waldorf Astoria Amsterdam, Netherlands
The hotel's 93 rooms and suites are housed inside six 17th– and 18th-century buildings facing the historic Herengracht canal. As the former headquarters of a bank, the hotel is still home to the original, thick-steel vault door, which stands in front of the aptly named Vault Bar. Behind the bar itself, a wall of safety deposit boxes is propped open, with some serving as bottle shelves.
DoubleTree by Hilton Lisbon Fontana Park, Portugal
Once the site of an ironworks factory dating back to 1908, DoubleTree by Hilton Fontana Park pays homage to the building's former life, fusing modern design with original character. Complete with an open-air courtyard and beautiful waterfall, the hotel provides a calm oasis for travelers after a busy day of sight-seeing in the Portuguese capital.
Canopy by Hilton Zagreb City Centre, Croatia
Once home to the Union chocolate factory, the first chocolate maker in South Eastern Europe, the hotel is one of the Croatian capital's newest lifestyle hotels, where guests are presented welcome gifts of handmade chocolates upon check-in. Finding themselves located in the heart of the city, travelers are encouraged to grab a Canopy Bike and follow the brown tourism signs throughout downtown toward the Croatian National Theatre, historic Upper Town, museums and the stunning Zagreb Cathedral.
Hilton Sydney, Australia
Housing the renowned Marble Bar—a 127-year-old underground bar—Hilton Sydney is built on the ruins of the Tattersalls Hotel. Marble Bar features authentic sheets of plate-glass mirrors, marble walls, pilasters and mosaic floors. Originally built in 1893, the Victorian structure was painstakingly dismantled, transported and reassembled in Hilton Sydney in 1973—where the restored mahogany bar and marble archways still awe guests to this day.
Waldorf Astoria Shanghai on the Bund, China
Once the renowned Shanghai Club, the hotel retains much of its original design, offering guests a unique taste of Shanghai's heritage and culture, all while enjoying unparalleled service, award-winning cuisine and views of the majestic Huangpu River. The historic building was built in 1864 and used to be the principal men's club for British residents in Shanghai. The hotel is suitably located near the iconic Bund, featuring waterside strolls and shopping.