The Soviets called it "the shadow theatre", i.e. the set of psychological warfare techniques of the time, in the Cold War world.
Maskirovka, in particular, e.g. everything is camouflage, deception, real psychological warfare, disinformation.
In fact, if we analyze the psywar techniques currently used, we realize that we are still at the Cretaceous period.
No sectoral influence operations, no action on subjects or public targets, little knowledge of the new discoveries of social psychology and biopsychic evolution.
The scenario of Western psywar operations is still not very brilliant.
Obviously, explaining to the Defense Ministers of Western countries what these operation are about is a very difficult mission that few people would be able to accomplish successfully.
Actually, nowadays the old maskirovka is not the cover, the shell of real operations, but its true essence.
Just as today's industrial production is, above all, communication, induction of a certain behaviour, identification of a target of customers, development of a product that meets their psychological and symbolic needs, currently also war is above all maskirovka well before being military and destructive struggle.
Nobody cares where engines are produced, which are now all the same, but certainly the market is interested in the symbolism of goods, in its evocative potential and in the ability to define the status of those who buy them.
Furthermore, in an old CIA manual, the Soviet "active measures" were defined and classified as follows: a) the Center gives the green light for a strategic disinformation campaign; b) the news, which is never entirely true or entirely false, is prepared and packed; c) the dezinformatsja news is disseminated abroad so as to later check the results.
The results are eminently practical: the "Euromissile battle" narrated by Michel Tatu, the long end of the Vietnam war, the management of Soviet foreign policy after the Helsinki Treaty.
But that is not all: currently, the intelligence mainly consists of economic effects, which are continuous and complex. The shift from the Soviet "active measures" and from the political-military clash to the industrial one marks a large part of the post-Cold War period.
All true psychological warfare is active and proactive, but the whole Western warfare doctrine is defensive and passive, which means it does not exist.
Hence it is not necessary to wage war manumilitari, for the additional reason that the enemy's enterprises and infrastructure will be good also for us. At a time when the value chains are now fully global, when cars are manufactured in Spain for the German market and in China for the Indian one – not to mention drugs, the active ingredients of which are produced in India for the French market and even in Mexico, but for the Canadian one.
All contemporary intelligence, however, is targeted to the economic and technological resources of the possible enemy and operates – 24 hours a day – on the Web and also in the traditional media machinery.
Hence, those who win are not those who have the best weapons or the best products, but those who creates the best and most convincing storytelling around them.
It is therefore useful to see how the old "shadow theatre" is being changed and perfected.
This is what is needed in a situation of actual integration of all large companies, not only global but also national ones.
In the field of social media, for example, the most widespread tactics are those of "selective censorship", or the hacking of sensitive information, which becomes hegemonic in the common discourse, or even the manipulation of the Internet search algorithms, with a view to linking some content to other one, in a completely unreasonable way.
30-40% of the news that can be found online is designed to deceive at least some of the readers.
Deception: not to mention something and tell the truth about everything else or, instead, to create a storytelling in which real things appear surrounded by completely fake data.
How so?
By changing the perception of facts, or the news about the facts, with strong or weak adjectives and nouns, or with universal symbols, and even with references to people or things of great fame, either negative or positive.
15% is the average quota of experts taken out by the automated texts that can be found on the World Wide Web, while about 60% of all readers are usually put on the spot by the texts and news available on the Web.
The Canadian Services have provided this statistics.
The operating techniques are now known to everybody: a) the Bot, a software that automatically operates on the Web, by selecting the content; b) the countermessage, indeed a message that offers the "true" or "fake" version of what has been said previously; 3) the Denial of Service (DOS), the temporary disruption of the Web for a certain user, and the old Disinformation; 4) the Noise that covers the relevance of the data sequence useful for understanding a certain message; 5) the Search Engine Optimization (SEO), the optimization of the number of visitors to any website.
On the technical and ideological levels, there are other online practices that are used daily by the authors of Disinformation: a) the BOTs coordinated with each other, which create a series of cross-references that reinforce the (fake) news that is to be spread; b) the use of false Internet "domains" in which websites and content similar to those of the "enemy" are created; c) the use of e-mails or websites that are pirated and disseminate news opposite to those that the primary user would like to spread.
Contradiction, lie, defamation.
We are still at the old theme of the aria "La Calunnia" ("slander is a little breeze") of the Barber of Seville, as well as the "flower duet" of Madama Butterfly, but all with a firepower that Rossini or Puccini could not even imagine.
There are two profound and conceptual limits to these operations. The first is that, in spite of all possible technological refinement, the basic psychological mechanisms are always the same: personal defamation by sexual or other means- just think of the "Tangentopoli" operation in Italy (the judiciary probe known as Bribesville) at the end of the Cold War and, finally, of the elites' structural inability to separate wheat from chaff, news from disinformation.
If we do something to help a government and then it falls into the trap of dezinformatsja, everything is useless. And this has often happened.
Ministers who tell you that they read it in the newspaper "Corriere della Sera" (bravo!) or that it was whispered to them by some intelligence agents without any qualification – and hence you need to check whether, as Harlequin, they are Servants of two Masters. It has often happened.
Hence, in many cases, currently the maskirovka strikes back and negatively changes the decision-making of those who have carried it out. The ruling classes that know it can save themselves, while the others and their countries are bound to become "servant of two masters" and, in any case, irrelevant.
There are also the undesired effects.
For example, it happened that the reputation of a ruling class was tarnished by convincing citizens that all politicians were "dishonest and thieving" and later we needed to stabilize a country in disarray and adrift without a guide, possibly recovering some of those who had been dismissed as "thieves", thus creating a cognitive dissonance with the previous message conveyed.
However, how can we optimally develop the possibility of an IT attack (but not necessarily this type of attack only) on the decision-making system and on the public of a target country?
The attack will be successful if, for example, there are no useful sources of good information.
Without a reserve of serious, objective and truthful news and interpretations, the whole public and private system of security and education will fail in the long run.
Another excellent condition to launch an attack is uncertainty: in a phase of financial, geopolitical, technological and even military insecurity, with terrorism any news – regardless of its importance -can generate innumerable domino effects.
Probably those who maintain uncertainty have a return – in this case mainly and economic and industrial one.
Nor should we neglect the fact that, if there is a lack of effective information available, the media channels can be bought and sold, infected by adverse agents and induced to acquire information only from certain sources, which are already compromised.
If the commercial goal is the target and above all the audience, everything becomes possible for a foreign operator with bad intentions.
No country, not even those which control the Web at best, is protected from similar operations.
With a view to keeping the situation under control – and this applies above all to those who deal with State Security – we need, at first, to ascertain who makes disinformation.
Very often an individual or a private organisation.
Then, obviously, the exact opposite must be done, but preferably using different mechanisms of action: a similar and possibly "fake" website in case of a Bot, or a personal attack if we are faced with a press campaign.
Hence never use the same usual means and mechanisms.
Generally, abstract and political motivations should not be overlooked: there are NGOs, States, political parties, and companies that usually keep on misinforming.
And often they are not even traced by the intelligence Services.
Obviously, there are also terrorists – but in this case we are talking about another communication system.
Who can say, for example, that German cars are better than Italian ones? Yet it is common sense, albeit wrong.
Nowadays all the environmental propaganda consists of behaviours that favour some countries and companies instead of others. But no one tells you so.
Indeed, this is the real news.
Fake news to be spread, of course, but also generic discontent and uncertainty.
A mass perception that a great Portuguese poet, Pessoa, would have defined as desassosego (disquiet and restlessness).
Obviously, it is even better to let all disinformation go on, with its parallel and unexpected processes, so as to see who makes it and what goals are pursued.
Usually such operations end quickly, but neither the perpetrator nor the victim knows their effects or duration.
Hence the primary goal of all dezinformacja techniques is the partial or complete alteration of the perception of reality.
It is therefore essential to understand the divisions within the opponent's field.
Popular or elitist.
If we believe that all enemies are the same, we operate for their propaganda and any operation of "psychological warfare" is always inhibited to us.
An essential resource in this field is the conspiracy theory.
The field of others is segmented, but the absolute uniqueness of those who generated the content we do not like or that harm us is assumed.
A well-managed conspiracy manages to work well where few other maskirovka techniques do so.
Perfect for simplifying all matters, it immediately identifies the aim of each psywar: to find the enemy, either true or false.
Another procedure is usually to use entities that everybody deems "third parties" to spread messages against the enemy (once again the current ecologism is full of examples in this regard) and then reinforce their message through other information sources: truth comes from repetition and the mind learns not from a single fact or event, or from a single person, but always from what Fritj of Capra called the mental ecosystem.
The human brain is made in such a way that it tends to believe both in repetition, but also in similarity and homogeneity.
Our brain has evolved only among human groups already formed. It is not by chance that, unlike what happens to animals, our brain maturation must take place in a post-natal social, family and group context.
Otherwise – as Nietzsche said – to live alone, one must be either a beastor a god.
Another factor not to be overlooked is that, as in all Gestalt psychologies, what counts is not only what you see, but also what you do not see.
As in the Rorschach test, the inkblots can be perceived either as a glass or two butterflies, but it is the outline, not the inside of the image that can suggest one answer or the other.
However, how can we counteract such an operation? Denial is always the best answer.
But it is simple and repetitive, always prone to others' psyops.
We can simply deny having received funding from a certain country.
Mere denial stops the game of cross-references and shadows that would develop if the victim of the operation were to dwell and go into explanations that 87% of the audience – on the Webor even in the old media, never follow. Those who justify themselves are always wrong.
Denial is used to make a quick fix, but it is certainly not a stable and definitive answer.
Another technique is to defame and attack those who make disinformation.
It works well, but once again it is a mechanism that does not last long.
A disinformation campaign is never opposed with temporary and limited makeshift interventions and stopgap measures.
Dezinformatsja is always a potentially endless flow, to which we must respond by creating a state of mind (not "news", but a stable and possibly ungrounded mental state) that is always potentially and equally endless.
It should also be added that our intelligence Services know nothing about these things. We are still focused on the protection of redundant critical infrastructure and possibly even of selected military and information networks. Everything is even too obvious.
Nevertheless, how can we avoid the defamation of one of our most famous chocolate creams in China?
Furthermore no one will be able to tell you what happens when there is defamation against our production system, as well as against our political system, which is, in fact, also a critical infrastructure.
Goodness knows what happened to our rubber before Pirelli's deal with ChemChina. And it was not China that took the first step.
If we also study the issue of the F-35 fighter that was not acquired by the German Armed Forces, you will also understand the resulting weakness of Chancellor Merkel and her "heir", as well as the short-lived successes of the Right, which always remains under the threat of being dismissed as neo-Nazi.
The neo-Nazis, however, were still pasture land mainly for the Eastern and Russian intelligence Services.
Hence using the professional ignorance of our politicians to defame our intelligence Services – as is currently happening – is certainly a perfectly orchestrated defamation operation.
A cheap politician who uses the intelligence Services to protect himself is like the main character of the "Manuscript Found in Saragossa", who files the silver ball he will put into the gun to commit suicide.
In a different way and with different effects, Italy is drifting to a condition very similar to Great Britain's in the Brexit phase.
A slow and subtle Italian destabilization, with a terrible and useless fragmentation of the voters and the political classes.
Nowadays in Italy there is a sort of geopolitical strike: the country is on the sidelines and reluctant to understand the reality of power relations and national interests.
In the case of the operations carried out by China, however, we have a completely different picture.
It should be recalled that, as early as 2014, China established the Central Leading Group for Internet Security and Informatization, chaired directly by Xi Jinping, in addition to the Cyberspace Administration of China. The Chinese leaders' central idea is to make national sovereignty possible in cyberspace.
This is not easy, but it can be achieved with technological hegemony and strategic wisdom.
Hence the importance of Huawei's 5G global fight and the concrete possibility of "controlling world innovation", as some Chinese leaders say.
Therefore, in the "war of shadows", we currently have to deal with the great influence operations, which are actions of cognitive modification, i.e. actions to change the perceptions, behaviours and decisions of certain target groups, in the country to be influenced, which can be changed to the benefit of the acting Power.
Or even very broad operations, which regard the whole political audience.
Conversely, the "influence campaigns" are operations carried out by an adverse and alien Power that tend to put together various small-scale and sectoral influence actions, which may have common goals or, in any case, not contradictory and opposed goals.
This means that through "influence operations", we can influence the actions of the rulings class, as well as all or part of the public in a country, or the activities of an allied country.
Influence actions are always linked to strategic deception and the possibility of exploiting the enemy's weaknesses, particularly those typical of moralism.
Currently moralism is a tool used by some countries against others.
Hence influence operations are certainly deception, but above all they mark a new Intention, or an Interference.
Nevertheless everything happens in the epistemic chain formed by single individuals, and then in the social or para-social sphere, characterized by the real relations among individuals, the real public sphere, the media, the elites, the "experts", the scientific and technical system of a country.
Currently all Western media are ever weaker and often not very attentive to influence operations because they are subjected to a very fast change of technologies, as well as a quick commercial trend of the system. We are all market oriented in the short term, and currently all the influence operations made so far exploit above all the technological, legal and economic weaknesses of the various countries to reach their own aims.
The vulnerability of the public is yet another issue. Considering the new technologies, there is not only the possibility for each psywar operator to change the perception of others' world, but also to do so in a covert way.
This applies to any Internet operator and any millennial kid.
And that is what counts. One hundred "denials", however developed, are always news.
There is also a psychological problem.
The above mentioned evolution has not provided us with a brain that always seeks the objective truth of facts, but we have a cognitive system that finds an acceptable reality day by day.
Phylogenetically, the conformity to a group is more important than a subjective psychology that always seeks only truth, be it objective or linguistic.
In economics as in politics, free riders always have a hard life. And they are always those who define a new paradigm. Enzo Ferrari invented luxury sports cars against everything and everyone. Some pasta makers in Northern Italy discovered they could sell dried Italian pasta any where in the world.
Not to mention advanced technologies, where Italian companies were bought to be destroyed (Hewlett-Packard with Olivetti, for example) or to be put out of business, or the export of mass technologies, such as Piaggio in India.
Hence we often have to deal with the confirmation bias, i.e. the psychological tendency to ignore information that goes against accepted beliefs, or with the creation of a protective apparatus against threats to identity and team spirit.
Therefore we have to do with a series of mass influence actions that are now typical:
a) Terrorism. Creation of fear, an essential element of influence operations, but also of the radicalization of certain themes. A primitive, but very effective solution. In this respect, just consider the case of Italy in the 1970s and in the 80s. The sword jihad is a different story, but often not dissimilar to that of "red" terrorism in Europe.
b) The operations of para-State organizations, i.e. criminal structures and vast organized crime. Or do you really think that the international crime organizations have been created and have become powerful on their own, like the Baron Munchausen, who rescued himself from quicksand by pulling himself out at his own hair? All criminal organizations have always been influence instruments.
c) There are also hackers, who operate divided to strike together. Consciously or not, 78% of them are operators of the Powers that support their projects.
d) Not to mention hackers having only economic goals. After making money they, too, are not aware of the fact they have resold their data to some countries, but not always those they like.
Hence how can you create a "narrative" for influence operations?
Nowadays you can certainly create a consistent, long, credible and wide-ranging storytelling.
Conversely, "negative" techniques tend to disrupt the narrative over a long period of time.
There is also distraction, the creation of an external objective far from the themes discussed.
Therefore, we propose to create an Agency or a unit of it dealing with the disruption of influence operations which, before the end of the Cold War, Italy hosted like no other country in the world to later maintain its Kantian "minority status" in the following years.
An Agency that can really carry out influence operations – actively, with no curbs and restraints other than the operational and technical ones.
Therefore, in terms of protection of Italy's industrial values, patents, as well as "reputation" of the country and its brands, even the less famous ones, we are now almost at death's door.
Hence it will be good to quickly reverse the course.
Burning Planet: Climate Fires and Political Flame Wars Rage
Economic and political polarization will rise this year, as collaboration between world leaders, businesses and policy-makers is needed more than ever to stop severe threats to our climate, environment, public health and technology systems. This points to a clear need for a multistakeholder approach to mitigating risk at a time when the world cannot wait for the fog of geopolitical disorder to lift. These are the findings of the World Economic Forum's Global Risks Report 2020, published today.
The report forecasts a year of increased domestic and international divisions and economic slowdown. Geopolitical turbulence is propelling us towards an "unsettled" unilateral world of great power rivalries at a time when business and government leaders must focus urgently on working together to tackle shared risks.
Over 750 global experts and decision-makers were asked to rank their biggest concerns in terms of likelihood and impact and 78% said they expect "economic confrontations" and "domestic political polarization" to rise in 2020.
This would prove catastrophic, particularly for addressing urgent challenges like the climate crisis, biodiversity loss and record species decline. The report, produced in partnership with Marsh & McLennan and Zurich Insurance Group, points to a need for policy-makers to match targets for protecting the Earth with ones for boosting economies – and for companies to avoid the risks of potentially disastrous future losses by adjusting to science-based targets.
For the first time in the survey's 10-year outlook, the top five global risks in terms of likelihood are all environmental. The report sounds the alarm on:
Extreme weather events with major damage to property, infrastructure and loss of human life
Failure of climate-change mitigation and adaptation by governments and businesses.
Human-made environmental damage and disasters, including environmental crime, such as oil spills, and radioactive contamination.
Major biodiversity loss and ecosystem collapse (terrestrial or marine) with irreversible consequences for the environment, resulting in severely depleted resources for humankind as well as industries.
Major natural disasters such as earthquakes, tsunamis, volcanic eruptions, and geomagnetic storms.
It adds that unless stakeholders adapt to "today's epochal power-shift" and geopolitical turbulence – while still preparing for the future – time will run out to address some of the most pressing economic, environmental and technological challenges. This signals where action by business and policy-makers is most needed.
"The political landscape is polarized, sea levels are rising and climate fires are burning. This is the year when world leaders must work with all sectors of society to repair and reinvigorate our systems of cooperation, not just for short-term benefit but for tackling our deep-rooted risks," said Borge Brende, President of the World Economic Forum.
The Global Risks Report is part of the Global Risks Initiative which brings stakeholders together to develop sustainable, integrated solutions to the world's most pressing challenges.
Systems-level thinking is required to confront looming geopolitical and environmental risks, and threats that may otherwise fall under the radar. This year's report focuses explicitly on impacts from rising inequality, gaps in technology governance, and health systems under pressure.
John Drzik, Chairman of Marsh & McLennan Insights, said: "There is mounting pressure on companies from investors, regulators, customers, and employees to demonstrate their resilience to rising climate volatility. Scientific advances mean that climate risks can now be modeled with greater accuracy and incorporated into risk management and business plans. High profile events, like recent wildfires in Australia and California, are adding pressure on companies to take action on climate risk at a time when they also face greater geopolitical and cyber risk challenges."
To younger generations, the state of the planet is even more alarming. The report highlights how risks are seen by those born after 1980. They ranked environmental risks higher than other respondents, in the short- and long- terms. Almost 90% of these respondents believe "extreme heat waves", "destruction of ecosystems" and "health impacted by pollution" will be aggravated in 2020; compared to 77%, 76% and 67% respectively for other generations. They also believe that the impact from environmental risks by 2030 will be more catastrophic and more likely.
Human activity has already caused the loss of 83% of all wild mammals and half of plants – which underpin our food and health systems. Peter Giger, Group Chief Risk Officer, Zurich Insurance Group warned of the urgent need to adapt faster to avoid the worst and irreversible impacts of climate change and to do more to protect the planet's biodiversity:
"Biologically diverse ecosystems capture vast amounts of carbon and provide massive economic benefits that are estimated at $33 trillion per year – the equivalent to the GDP of the US and China combined. It's critical that companies and policy-makers move faster to transition to a low carbon economy and more sustainable business models. We are already seeing companies destroyed by failing to align their strategies to shifts in policy and customer preferences. Transitionary risks are real, and everyone must play their part to mitigate them. It's not just an economic imperative, it is simply the right thing to do," he said.
The Global Risks Report 2020 has been developed with the invaluable support of the World Economic Forum's Global Risks Advisory Board. It also benefits from ongoing collaboration with its Strategic Partners Marsh & McLennan and Zurich Insurance Group and its academic advisers at the Oxford Martin School (University of Oxford), the National University of Singapore and the Wharton Risk Management and Decision Processes Center (University of Pennsylvania).
Annex
Respondents were asked to assess: (1) the likelihood of a global risk occurring over the course of the next 10 years, and (2) the severity of its impact at a global level if it were to occur.
These are the top 5 risks by likelihood over the next 10 years:
Extreme weather events (e.g. floods, storms, etc.)
Failure of climate change mitigation and adaptation
Major natural disasters (e.g. earthquake, tsunami, volcanic eruption, geomagnetic storms)
Major biodiversity loss and ecosystem collapse
Human-made environmental damage and disasters
These are the top 5 risks by severity of impact over the next 10 years:
Failure of climate change mitigation and adaptation
Weapons of mass destruction
Major iodiversity loss and ecosystem collapse
Extreme weather events (e.g. floods, storms, etc.)
Water crises
Global risks are not isolated, and so respondents were asked to assess the interconnections between pairs of global risks.
These are the top most strongly connected global risks:
Extreme weather events + failure of climate change mitigation and adaptation
Large-scale cyberattacks + breakdown of critical information infrastructure and networks
High structural unemployment or underemployment + adverse consequences of technological advances
Major biodiversity loss and ecosystem collapse + failure of climate change mitigation and adaptation
Food crises + extreme weather events
Short-term risks: percentage of respondents who think a risk will increase in 2020:
Economic confrontations = 78.5%
Domestic political polarization = 78.4%
Extreme heat waves = 77.1%
Destruction of natural resource ecosystems = 76.2%
Cyberattacks: infrastructure = 76.1%
Anti-Russian Ideology of Central Asian Salafi-Jihadi Groups: Causes and Consequences
Russia and Muhajireen are both interventionists in Syria
The Russian military intervention in the Syrian civil war has strengthened the anti-Russian ideological wave of the al-Qaeda-aligned Central Asian and North Caucasian Salafi-Jihadi groups fighting alongside the Hayat Tahrir al-Sham (HTS) against the Bashar al-Assad regime. After the outbreak of the Syrian civil war in 2011, fueled by the Arab Spring protests, several hundred Central Asian Islamic radicals, calling themselves Muhajireen (Migrants, i.e. Sunni foreign fighters), performed a Hijrah (the migration of Muslims for Jihad) in response to the call of al-Qaeda to Syria.
Since then, Syria's northwest Idlib province, long a hotbed of armed resistance and the heartland of al-Qaeda-linked operations has become a real-life shelter for Muhajireen from the former Soviet Union and Chinese Xinjiang. Among them, the Uzbek groups Katibat al-Tawhid wal Jihad (KTJ) and Katibat Imam al-Bukhari (KTB), Uighur fighters of Turkestan Islamic Party (TIP), as well as Chechen's Jaish al-Muhajireen wal-Ansar (JMA) and Ajnad al Kavkaz (AK) are affiliated with al Qaeda. They share al Qaeda's ideological doctrine and consider its leader Ayman al-Zawahiri their ideological mastermind. The activities of TIP and KTJ jihadists, which have remained loyal to al Qaeda but simultaneously subordinate to HTS, indicate that they have become a link between al Qaeda and HTS after their formal detachment of ties. That is, today they coordinate all their military operations in Syria and conduct them under the leadership of the Hayat Tahrir al-Sham, the largest Sunni jihadist group, controlling most of Idlib province which is the last major opposition stronghold.
At the beginning of the Syrian jihad, the ideology of the Central Asian Salafi groups was not particularly distinguished by anti-Russian hostility but after the Russian invasion of Syria in support of the Bashar al-Assad regime in 2015, Central Asian jihadists and the Russian military found themselves on opposite sides of the front line and became sworn enemies. This was also facilitated by the fact that many Uzbek and Tajik Muhajireen came from Russia, where they worked as labor migrants and were often discriminated against by Russian nationalists. They also experienced moral and psychological humiliation by the corrupt Russian police, local officials and employers. Some Mujahideen admitted on the social networks Telegram and Odnoklassniki that the unfair Russian reality inflicted unbearable humiliation which contributed to their migration to Syria and joining jihadist groups.That is, the anti-Russian ideology of the Central Asian Salafi-Jihadi groups appeared not only because of the radicalization of their religious views but also as a response to discrimination by Russian nationalists and the invasion of Russian troops in Syria.Thus, over the past five years, al Qaeda's Takfiri ideology of conducting global jihad against the infidel regimes of the West has been supplemented by the anti-Russian ideology of the Central Asian Muhajireen.
In order to better understand the roots and causes of the anti-Russian ideology of the Central Asian Sunni extremist movements, it is necessary to analyze the Khutbah preaching (Sermons) of their leaders and famous ideologists during Jumma Namaz (Muslim Friday Prayer Service), which they actively disseminate on the Internet in Uzbek, Russian, Tajik, Kyrgyz, and Arabic.
Characteristic features of the Muhajireen's anti-Russian ideology
Over the past five years, Idlib has become not only the real-life shelter for Russian-Speaking foreign fighters but also the place of fueling the aggressive anti-Russian ideology of the Central Asian Salafi-Jihadi groups. It's interesting to note that they are actively using the Russian entrepreneur Durov's social networking Telegram channel to widely disseminate anti-Russian ideology. Central Asian Muhajireen have the radio station "Voice of Sham" which also has the website "www.muhajeer.com" and provides daily updates over ten channels on Telegram through which they praise holy Jihad and spread anti-Russian propaganda.
Leaders and ideologues of the Central Asian Salafi-Jihadi groups advance the idea that al-Qaeda's global network needs more support from like-minded Muslims around the world, who are willing to help its jihad. Therefore, in order to catalyze support, mobilize the base, and expand awareness of the Syrian jihad, they are waging an active "anti-Russian ideological war" on the Internet. Jihadist websites are designed to entice, inform, and rally Russian-speaking Muslims to join in the fight to safeguard Islam in Syria.
The ideologues and propagandists of al Qaeda-linked Central Asian movements seek to use Moscow's heavy hand to recruit new fighters and accumulate financial resources.Each time after the Russian aviation's scorched-earth tactics and indiscriminate bombing of civilian areas in the province of Idlib, the anti-Russian ideology of Central Asian jihadists intensifies on the Internet.
KTJ former leader Abu Saloh (his real name Sirojiddin Mukhtarov), who possesses excellent oratory skills and deep knowledge of the Quran, is the fiery voice of the anti-Russian ideology. He urges his listeners to establish religiously pure communities governed by a strict Salafi reading of Sharia or Islamic law.He regards modern post-Soviet countries in Central Asia to be illegitimate and desires not only the overthrow of these states but the creation of a new theocratic state in their place that unites all Muslims and, ultimately, a global Islamic Caliphate.In his opinion, the ideal conditions for conducting jihad today arose precisely in Syria and the Muslim Ummah should achieve an inevitable victory over the enemies of Islam by which he means not only the West but also the Bashar al-Assad's regime, its military and political patrons, Russia and Iran. Abu Saloh believes that the victory of the Ahlus Sunnah (Sunni Islam) begins precisely with the holy land of Sham, where the Prophet Muhammad and his Sahaba (companions) shed their blood to raise the banner of jihad.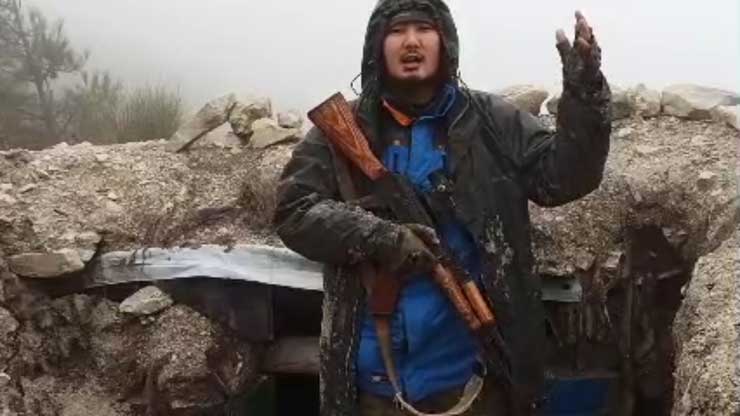 In the last video published on December 26, 2019, on Telegram, entitled "Appeal from the Blessed Sham to the Muslim Ummah" he calls on Muslims of Central Asia and Russia to make financial donations for jihad. He argues that jihad can be done in the path of Allah against the infidels in three ways: by one's life, wealth, and speech. If Central Asian migrant workers in Russia make financial donations to support jihad in Syria, then Allah will consider them as participants in holy jihad who have fulfilled their mission to the Almighty. Participation in the wealth jihad will atone for their sins before Allah on Judgment Day. Therefore, migrant workers are required to participate in the wealth jihad, even while in Russia, he said. He calls on Central Asian Muslims not to become slaves of Russian kafirs (infidel) and warns that jihad is an obligation of every Muslim and that any Muslim who denies its sanctity should be considered as a kufr (unbeliever in Allah).
It should be noted that Russia accused Abu Saloh of the terror attack on St. Petersburg's metro in April 2017 and the Kyrgyz authorities blamed him for the attack on the Chinese Embassy in Bishkek on August 30, 2016.He and his Uzbek-speaking fighters from the Fergana Valley of Central Asia swore allegiance to al-Qaeda leader Ayman al-Zawahiri.
Another well-known ideologist of Central Asian jihadism and a vocal critic of Russian occupation of Sham is the KIB's leader Abu Yusuf Muhojir. On January 3, 2020, he posted his video message on the KIB's webpage on Telegram entitled "Appeal from the mountain range Jebel al-Turkman of Latakia."He claims that only jihad can to protect the Islam Ummah from Russia's and Iran's oppressors and free our occupied land of the blessed Sham from the terrorists of the Nusayri regime (Alawites).Following the concepts of the militant Salafi ideology, Abu Yusuf Muhojir regards violent jihad as an obligation for all Muslims and seeks to engage in jihad in both Khorasan and Sham, where opportunities have arisen.Then he quotes the Quran's Surah of Al-Ankabut (The Spider) in Arabic and says that Allah is testing Muslims in Sham, and that only jihad will help us to pass this test with dignity. In conclusion, he said neither America nor Russia can close the path of holy jihad since jihad is the path to Allah. If the Mujahideen get killed in the jihad, he affirms that Allah himself will guide them and admit them to Paradise. Furthermore, Uzbek militants ofKIB have sworn allegiance to the Taliban and are conducting jihad in both Syria and Afghanistan.On March 22, 2018, the US State Department designated KIB a global terrorist organizations.
The root of the Jihadists' anti-Russian ideology
The so-called "media activists" (Faruk Shami, Muhammad Jazira, Gulyam Muhammad,Saad Muhtor, Abdul Aziz Kazanly) who live and work among the Central Asian jihadists in Syria play a significant role in increasing anti-Russian ideology. They organize live broadcasts, interviews with leaders of Central Asian and Caucasian Salafi-Jihadi groups on YouTube and Instagram, and translate theological works of al Qaeda's ideologues from Arabic into Russian, Uzbek, Tajik, Kyrgyz and Uighur.
One of the channels called "Mujahideen of Sham" in Kyrgyz on the Telegram, for instance, published short information: "Russian kafirs, who were the enemies of our ancestors, bombed the city of Sarakib on December 21, 2019, as a result of which they were killed more 120 innocent Muslims of Sham." Further, this channel posted an audio message from a Kyrgyz Muhajir to the Russian military: "Oh, Russian infidels, keep your eyes peeled, we are attacking to shed your blood. As you love vodka, Zina (illicit sexual relations), so we are in a hurry to die in the name of Allah to stop the kafirs' invasion on Islamic lands."
Al Qaeda-linked Central Asian jihadists sometimes use some historical events of the Russian colonial policy of the 18-19 centuries in Central Asia to rally support for the Islamist agenda and radicalize those sympathetic to the plight of Muslims in Syria. The same channel "Mujahideen of Sham" writes: "Russian Tsarist forces, which killed tens of thousands of Kyrgyz during the Genocide of 1916, today are massacring innocent Muslims of the blessed Sham. The colonial policy of the Russian Empire continues. Make dua (prayer) for Muslims of Sham." It is probably about the 'Urkun' ("Exodus") tragedy 1916, when 150 thousand Kyrgyz died during the uprising against Russian Tsarist forces and a mass exodus to China. Such information is aimed at winning the hearts and minds of Central Asian jihadists who are familiar with historical events.
Translation of books, essays and videos of medieval and modern jihadi thinkers from Arabic into Russian and local languages and its distribution on the Telegram channel is an important part of the work of Central Asian jihadists. Spreading classic works of Salafi-Takfiri thinkers help legitimize anti-Russian Jihadi ideology and stoke the fire of jihad. Crucial spiritual nourishment for Central Asian Muhajireen are the essays of Ibn Taymiyyah, Abd al-Wahhab, Sayyid Qutb, Abdullah Azzam, Abu Muhammad al-Maqdisi, Sulayman al-ʿAlwān, Osama bin Laden, Ayman al-Zawahiri, Abu Qatada al-Filistini and other scholars of Salafism. This clearly indicates the ideological affinity of Central Asian Muhajireen with transnational Islamic fundamentalist groups that utilize sacred violence in their war against Russia and the West. Moreover, KTJ, KIB, and TIP explicitly try to define its ideological and operational agenda as being intimately tied to an integrated effort of al Qaeda aimed at asserting the global dominance of Islam through armed jihad.
Despite the fact that the Central Asian jihadists are seen as a small cog in the transnational Sunni-Jihadi network, they are actually drawing up and spreading anti-Russian ideology in the post-Soviet space and the Middle East alongside Chechen and Uighur jihadists. They are using pejorative terms in reference to Russia such as "Russian terrorists," "Russian bandits," "Russian pig executioners," as well as pejoratives directed toward Vladimir Putin such as "Putin is a killer," "Putin is a war criminal," and "Slaves of Putin's Chef Prigozhin," as well a variety of generalized pejoratives comparing Russians to Fascists, swine and vermin.
The anti-Russian ideology of the Central Asian jihadists in Syria has gone far beyond the national and geographical framework and they are trying to create the image of Putin's Russia as an enemy of the entire Muslim Ummah.The Russian military operation in support of the Bashar al-Assad regime, the destruction of hospitals, schools, and other social facilities in Idbil by Russian aircraft, the flow of refugees towards the Turkish borders, the deaths of hundreds of civilians, children and women from the bombing create a favorable background for strengthening the trend of anti-Russian ideology among the Muhajireen in Syria.
Muhajireen's propagandists also skillfully manipulate the historical rivalry between Sunnis and Shia. The analysis showed that they consider the enemies of Ahl al-Sunna of all Nuseyrites, Rafidites and their ally Russian Crusaders. The Jihadi ideologists claim that Russia is a leading player in the global conspiracy to destroy Ahl al-Sunna in Sham, and therefore helps Nuseyrites. The call to defend the last stronghold of Ahl al-Sunna gives them the opportunity to recruit new militants from the Sunni population of Central Asia and Russia.
At the same time, some facts of atrocities and heinous crimes perpetrated by Russian mercenaries of the Wagner group and Iranian proxy militias in Syria, which became public knowledge, create spaces for promoting Central Asian Jihadi ideas. Recently, after a video appeared on the Internet in November 2019 in which four Russian mercenaries tortured, stabbed and beheaded a Syrian man, Russian President Putin has become the main target of criticism of Salafi-Jihadi agitators from the former Soviet countries. This gave Central Asian jihadists a reason to accuse Putin's Russia of using terror policy against Islam and the Muslims of Sham.
In order to foment jihadist sentiments in the Russian speaking Eurasian region, Salafi-Jihadi ideologists are manipulating the strongman Putin'sphrase that "Syria has become a field for testing the latest Russian weapons systems." They regularly publish victims' photographs of Russian air bombing, which are intended to rally support for the Islamist agenda and radicalize those sympathetic to the plight of Sunni Muslims in northwest Syria. They wonder "how much longer will Putin's terrorists be testing their weapons in Syria and using civilian Muslims as living targets?"
Conclusion
The Central Asian Muhajireen's anti-Russian ideology and the aggressive imposition of global Jihadi ideas on the internet undoubtedly pose a threat to Russia's national security but, at the same time, the major actors of the Syrian conflict, primarily Russia, Iran and the Syrian government must understand that further tightening the screws of the Syrian war, exacerbating the humanitarian catastrophe and a new mass influx of refugees, will lead to further strengthening of anti-Russian and anti-Shiite ideology. Because of this, Central Asian Jihadi groups, following the strategy of al Qaeda, are trying to infiltrate local Sunni communities of Syria, build influence there by expressing the interests of the Ansar (natives).
U.S. vs Iran, a Cybersecurity Update
The relationship between the United States and Iran has perhaps reached a very low levein in recent weeks, following the 1979 Khomenist Revolution and the occupation of the US Embassy in Tehran by Iranian students.
According to American sources, on 20th June the United States launched offensive cyber-operations against Iranian intelligence computer systems, the same day that the US President, Donald J. Trump, had before ordered a military attack and then revoked the order before it actually left.
The United States Cyber Command – a department recently promoted by Trump as a unified combat command under the direction of the Department of Defense – allegedly attacked the computer systems used to control missile and rocket launches.
Such a cyberattack would have been the White House's response to the actions of the Iranian authorities who, the day before, had shot down an American spy drone – a Global Hawk produced by Northrop Grumman – as it was guilty of violating the airspace of the Islamic Republic.
After accusations and threats to each other, the US President decided to impose new sanctions on Iran and Ayatollah Ali Khamenei. That was not welcomed by the Government of Tehran, which spoke, earlier, of "end of diplomatic path with the United States" and announced that it had exceeded the uranium enrichment limit imposed by the JCPOA – Joint Comprehensive Plan of Iran Nuclear Deal – from which the United States unilaterally exited in May 2018.
It remains to be seen, therefore, after the escalation of the last few weeks, whether the United States will try to make more and more use of cyber-attacks to solve the delicate international issues, primarily the Iranian one.
After the cyber-space was recognized as a strategic domain by NATO in 2016, on par with land, water, sky and space, it has been increasingly seen that countries use this domain to plead their own interests and also to carry out operations – this new type of military activity should not come as a surprise, because you only have to look at the National Cyber Strategy, published in September 2019 by the US, which shows that there has been a paradigm shift from what was the protection of American interests in the cyber space, moving from a more classical deterrence to the purpose of defence to a more offensive deterrence.
The fact that this document was only published last September suggests that the field of cybersecurity is fundamentally new and still to be explored.
On the one hand, cybernetic space is a totally man-made space and where you can have very high levels of ambiguity, through non-identification strategies from where attacks start, on the other hand, it is one of the most unregulated space at the level of behaviour that all countries shoud adopt with the specifice the responsibilities in cyber-operations.
This is a field in which the international law must be adapted as it is vital to understand how international law applies to the cyber-space and to see how it can be applied in practice: there is a long-time discussion between experts in the United Nations about cyber-space and, moreover, you can conduct operations that may fall into the category of attacks that are below the threshold of the use of force. So, it is still unclear whether a cyber-attack can be responded to with a classic attack byusing any classic military tools.
That is why American cybersecurity policy has changed in recent years, starting with the different pillars on which the National Cyber Strategy is based:
1) defending the homeland by protecting networks, systems, functions and data;promote American prosperity by fostering a secure digital economy and promoting strong domestic innovation;
2) preserving peace and security by strengthening the ability of the United States – along with allies and partners – to deter and, if necessary, punish those who use cyber-tools for malicious purposes;
3) expansion of American influence abroad to extend the key principles of an open, reliable and secure Internet.
Within the cyber-space, the United States have adopted a so-called "continuous engagement" – an ongoing commitment to counter possible threats even before they can materialize through targeted attacks, with the transition from a defensive to an offensive approach, with the American presence in the cyber-space that will more and more increas in order to actively dissuade potential enemies.
Historically, the United States are not new to carrying out cyber-attacks on Iran, in fact, as early as 2010, the United States and Israel are believed to have spread a virus, created by the US Government, to slow down the process of enriching uranium in Iran's nuclear power plants.
That cyber-attack of the United States against the Iranian intelligence unit is part of a context that has seen Washington's intensifying cyber-operations also against Russia and Iran – it is important to be aware of the cybersecurity space for their own interests and that they have had a particularly aggressive posture in this area.
The United States and Iran are two of the world's most advanced, active and capable hacking powers at a time when governments regularly use cyber-attacks to achieve important goals and shape geopolitics.
Tensions between the two countries and their allies have produced a long history of extraordinary cyber-attacks in addition to traditional kinetic warfare – for these reasons, Iran's revenge for the killing of General Qassim Suleimani could also be served on the ground of cyber-war.
Christopher Krebs, director of the Cybersecurity and Infrastructure Security Agency – CISA – of the U.S. Department of Homeland Security, warned the entire community to re-investigate Tehran's tactics, procedures and techniques in detail in cyberspace, after reporting the increase in the activity of malicious cyber-attacks directed against the American companies and government agencies.
The hackers of the Iranian regime have increasingly used destructive windshield wipers in order to spear phishing, email scam to gain unauthorized access to sensitive data – it is a hackerial attempt to decode a common user password across multiple accounts before switching to a second password that allows you to circumvent account lockouts.
This is an attack that leverages the likelihood that people can use the same username and password to access multiple applications, sites, and services – in fact, cyber-criminals are able to get the details of stolen accounts from a platform and implement the bots needed to log into many other accounts with the same credentials.
Once they have found a way to log in, the criminals will break the account by making fraudulent purchases or stealing confidential information – before the 2015 nuclear deal was negotiated between the United States, Iran, Europe, Russia and China, Iranian hackers regularly targeted American financial companies and critical infrastructure.
Over the past year, Iran and the United States have repeatedly targeted each other in hacking operations – Iranian government hackers have attempted to breach President Trump's re-election campaign: in fact the U.S. Cyber Command reportedly warned against Iran's paramilitary force attacks during a period of high tensions, earlier this year.
More than 150 American sites have already been victims of defacement by Iranian hackers also because of the supreme leader, Ayatollah Ali Khamenei, had promised "a strong vengeance" for Suleimani's killing – this is a modern conflict, to date not only threatened but it is a long-time a cyber war – in recent days, hackers of Tehran have hacked the website of the Federal Depository Library Program – FDLP – with a defacement operation, leaving a message stating that "this is only a small part of Iran's cyber-capabilities."
The attack targeted a "weak" target, but it is a sign that the Islamic Republic's cyber-army has been activated to strike US-linked targets, any critical infrastructure in particular..
The U.S. cyber-army believe, in fact, that the attacks could take place in five ways:
– DDoS attacks, in which you flood a site with access requests and crash it.
– data deletion (or wiper attack), actions to delete data in infected databases.
– attacks on industrial control systems, information-related operations and as well as cyber espionage.
The latter two to steal data for use then in physical, military actions – for example, by committing targeted murders or attacks on infrastructure.
But the Islamic Republic could suffer from the American reaction far more damage than it could cause: it has already happened in the past, as confirmed by the head of the "cyber police" in Tehran, General Kamal Hadianfar, who admitted that Iran in 2017 suffered 296 serious cyber-attacks against paramount infrastructures and on several occasions some experts in the field were mysteriously dead.
In conclusion, after sanctions and threats on both sides, could we really lead to an escalation of cyber-attacks and, because of that, does it seem to be a new Cold War ?