Unprecedented Global Alliance for Smart City Technology Launched to Counter Growing Tensions
Fifteen of the world's leading city networks and technology governance organizations announced today a new partnership to advance the responsible and ethical use of smart city technologies. The G20 Global Smart Cities Alliance on Technology Governance will create global norms and policy standards for the use of connected devices in public spaces. It is the largest and most ambitious undertaking to advance the responsible and ethical use of smart city technologies on a global level.
Smart city technologies can help decrease traffic congestion, combat crime, improve resilience during natural disasters and reduce greenhouse emissions. Without proper governance, these technologies pose significant risk, notably to privacy and security. To ensure data collected in public places is used safely and ethically, the Global Smart Cities Alliance will develop, pilot and collectively implement new global policy standards.
"Our cities stand at a crossroads. Rapid urbanization – if not effectively managed – threatens to paralyse local economies and undermine recent advances in the quality of life," said Jeff Merritt, Head of IoT, Robotics and Smart Cities at the World Economic Forum. "Smart city technologies offer huge promise, but they can be a Pandora's box. Today's announcement is a critical first step to accelerate global best practices, mitigate risks, and foster greater openness and public trust regarding the collection of data in public spaces."
Established in June 2019 in conjunction with the G20 Summit in Osaka, Japan, the Alliance comprises fifteen of the world's leading city networks and technology governance organizations. The partners represent more than 200,000 cities and local governments, leading companies, start-ups, research institutions, and civil society organizations. The World Economic Forum serves as the secretariat.
"The advancement of smart cities and communities is critical to realizing Japan's vision for Society 5.0. It is also essential to addressing the world's most pressing challenges, including climate change and inclusive economic growth," said Koichi Akaishi, Vice Minister for Science, Technology, and Innovation for the Cabinet Office of the Government of Japan. "The Government of Japan is proud to have championed this initiative as part of our G20 presidency. We hope that cities will pledge support for the Alliance and participate in its activities to cooperate and form shared global principles in the future."
Working together with municipal, regional and national governments, private-sector partners and city residents, the Global Smart Cities Alliance has committed to co-design and roll out a first-of-its-kind global policy framework on smart city technologies in advance of the 2020 G20 Summit in Riyadh, Saudi Arabia. It is currently accepting nominations from cities and private entities, interested in piloting and contributing to global policy standards. The first policy design workshops with city leaders will be held in November 2019 in conjunction with the Smart City Expo World Congress in Barcelona, Spain. For more information, please visit: http://www.GlobalSmartCitiesAlliance.org.
The Global Smart Cities Alliance's founding set of institutional partners include: the presidents and host nations of the Group of 20 (G20) in 2019 and 2020; Japan and the Kingdom of Saudi Arabia; the Smart City Mission of India; Cities for All; Cities Today Institute; Commonwealth Local Government Forum; Commonwealth Sustainable Cities Network; Connected Places Catapult; Digital Future Society; ICLEI – Local Governments for Sustainability; International Telecommunication Union; Open and Agile Smart Cities; Smart City Expo World Congress; United Cities and Local Governments; What Works Cities; World Economic Forum; and World Enabled.
What leaders are saying about the Global Smart Cities Alliance
"Inequality is no longer an option and needs to be addressed by all spheres of government to be at the centre of every tool we have," said Emília Saiz, Secretary General of United Cities and Local Governments (UCLG). "We want to bring the voices of all local governments, big and small, to this alliance. When quality of life and humanity are at stake, local governments are the first respondents. Count on UCLG to be critical and committed."
"The rapid growth and expansion of cities brings both enormous opportunities and significant challenges," said Kunal Kumar, Joint Secretary and Director of India's Smart Cities Mission. "India is at the forefront of this urban transformation and is committed to ensuring that our cities develop in a way that is smart and sustainable. The Smart Cities Mission looks forward to working together with city leaders around the world to share best practices and forge new policy standards for the responsible and ethical use of smart technologies in our cities."
"As urban populations grow, smart city technologies become more and more essential not only to improve the quality of life of citizens but also to simply keep our cities livable," said Chizuru Suga, Head of the World Economic Forum Centre for the Fourth Industrial Revolution Japan. "However, it would be difficult for cities to face the challenges of these technologies to balance economic development and innovation with the protection of the public, alone. We will commit to supporting these cities, through international cooperation and technology governance."
"Cities are the solution makers and testbeds of the future," said Jan Vapaavuori, Mayor of Helsinki, Finland. "Our ability to forward technological advancements and smart city solutions is directly related to the responsible and ethical use of data and technology. Only by creating a joint trust-based framework can we realize the full potential of smart city technologies for the benefit of all mankind in the future."
"Our message has always been that one city is not a market. If we want a scalable, global market for Smart Cities, this can only happen when people come together to agree common ways of working, to build scalable, interoperable solutions centred around human needs", said Nicola Yates, CEO of Connected Place Catapult. "That's why the UK invested in leading the establishment of the first set of smart city standards in 2014 and we are pleased to be joining the Global Smart Cities Alliance partnering with the G20 and World Economic Forum to further this mission and the opportunities this can provide to stimulate growth and improve the lives of citizens around the world."
"We've seen how data and technology can radically transform how cities design and deliver services to residents," said Simone Brody, Executive Director of What Works Cities. "They enable us to identify the most pressing needs that residents have and provide tailored solutions to address them. They are among the best tools we have to advance economic mobility, and we are excited to partner with the World Economic Forum to advance this effort."
"The G20 Global Smart Cities Alliance will be critical to minimize the risks and maximize the benefits of rapid urbanization," said Victor Pineda, President of World Enabled and Co-Founder of Cities for All. "Cities for All and our partners will help ensure that the Alliance can develop new global norms related to access and inclusion. Networks like this can help ensure that we align and can reach the promise of the SDGs and the 2030 Agenda."
"Smart City Expo World Congress is thrilled to join forces with the World Economic Forum and the G20 Global Smart Cities Alliance in this major challenge of advancing together towards a more sustainable and inclusive urban future," said Ugo Valenti, Director of Smart City Expo World Congress. "As the world's leading event for cities, we are committed to help accelerate and implement smart solutions that empower people and make cities a better place to live in."
"The rapid development of technology is transforming physical and social infrastructure," said Gino Van Begin, Secretary General of ICLEI – Local Governments for Sustainability. "Smart cities look at the big picture, supporting resource efficiency and technological progress while considering rising challenges like cybersecurity, job loss and privacy. We're excited to support the G20 Global Smart Cities Alliance in joint pursuit of people-focused smart solutions in cities that lead to a safe, inclusive and sustainable future."
"I would like to extend my sincere congratulations on the establishment of the Global Smart Cities Alliance," said Kizo Hisamoto, Mayor of Kobe, Japan. "The City of Kobe has been actively promoting smart city initiatives, including personal health records and autonomous vehicles, but in order to accelerate these efforts even further, last month we launched a new public-private collaboration project, called "Be Smart KOBE". We believe that establishing standards for data utilization will stimulate the growth of smart cities, and we are looking forward to working together on solving global issues."
"The Cities Today Institute is excited to join the World Economic Forum's effort to help cities move quickly from understanding the benefits of digitalization to implementing solutions that will define the citizen experience in a 21st Century Community," said Bob Bennett, Chair of the Cities Today Institute.
"Open and Agile Smart Cities is proud to be a founding partner of the G20 Global Smart Cities Alliance," said Martin Brynskov, Chair of Open and Agile Smart Cities, an international smart cities network. "A global framework based on common, open, and minimal mechanisms is needed to de-risk investment and scale up smart city solutions that help tackle the challenges cities are facing in the 21st century – on the individual city's terms and conditions."
"Digital Future Society is delighted to join this global alliance led by the World Economic Forum to ensure that cities drive our digital future toward a good common framework," said Esteban Redolfi, Director of Digital Future Society. "For years, cities have acted as testing grounds for massive technology deployments; now is the moment for cities to lead by sharing learnings and creating guidelines that reinforce a more conscious use of technology. We are committed to analysing, sharing and building on those cases where cities have developed a sustainable and effective path toward a more inclusive and equitable digital future."
"When we consider smart cities in Asia, fundamental urban challenges such as water and waste disposal, energy efficiency, and low-carbon transport systems are of exceeding importance," said Fumiko Hayashi, Mayor of Yokohama City, Japan. "In addition to this kind of infrastructure, we also need an integrated discussion on the impact that new technologies such as AI will have on our cities. Here in Yokohama, we are engaged in a pilot public-private collaborative project to support the development of communities centered on the city's residents. We are working to foster innovative ideas, create networking opportunities, and reduce carbon dioxide emissions.
I hope those involved in smart city development in Asia, including the private sector, international organizations, academia, experts, and businesses in Yokohama, will all take advantage of this initiative."
"Building an inclusive society is a vital mission, and Eisai Co. is excited to partner with the World Economic Forum to achieve it," said Keisuke Naito, Chief Digital Officer of Eisai and Member of the Global Internet of Things Council. "We look forward to sharing knowledge and experience through the Global Smart City Alliance, which we believe will become an invaluable forum for enhancing the governance for the benefit of all, regardless of functional impairments or disabilities."
"NEC is proud to celebrate today's first step for the G20 Global Smart City Alliance. We are confident that this alliance will become an innovative platform for providing ever-increasing social value to all communities by means of cross-border, open collaboration of people and cities aiming for globally shared goals," said Nobuhiro Endo, Board Chair of NEC Corporation. "NEC is committed to social value creation in support of safety, security, efficiency and equality, and will continue to contribute to the promotion of globally agreeable technology governance in partnership with the World Economic Forum."
"Salesforce believes that business is the greatest platform for change and is excited to work toward this goal in partnership with the World Economic Forum and the Centre for the Fourth Industrial Revolution," said Shinichi Koide, Chairman and CEO Salesforce.com. "Driving social change and sustainable growth is the core of smart city development and we are looking forward to seeing the G20 Global Smart Cities Alliance lead cities to a sustainable world by leveraging the advanced technologies of the Fourth Industrial Revolution."
"We believe smart cities are crucial to building a future-proof and people-centric society, and Hitachi is proud to work with the World Economic Forum to achieve it," said Norihiro Suzuki, Vice President and Executive Officer, Chief Technology Officer, and General Manager of the Research & Development Group, Hitachi. "We look forward to contributing our knowledge and experience to the G20 Global Smart Cities Alliance."
Global forum on cities highlights need for sustainable development
If cities like Delhi, Lagos, Sao Paolo and Tokyo seem populated today, think what they'll be like by 2050. The United Nations predicts that by then, 2.5 billion more people will be living in urban centres, making two out of every three people city dwellers.
Cities are hubs for cultural, scientific and economic development, but they can also be stark reminders of the environmental and socio-economic challenges we face. Today, cities are responsible for some 70 per cent of greenhouse gas emissions and consume 75 per cent of the world's energy and resources. As the human population continues to grow and the planet faces unprecedented threats from climate change, there is a critical need for sustainable urban planning.
The tenth World Urban Forum (WUF)—the foremost international gathering on sustainable urbanization established by the United Nations—focused on the intersection of culture and innovation to address emerging urban challenges.
"Environment is a golden thread connecting culture and innovation, the theme of this year's World Urban Forum," said Martina Otto, head of the Cities Unit at the United Nations Environment Programme (UNEP). "Just as addressing climate change must become part of the conservation strategies for our heritage buildings, so must we find inspiration in traditions, be it traditional building techniques or urban form to build the cities of the future. Through innovation, we can create the pathways to make our cities zero carbon, resource efficient and resilient."
A number of UNEP personnel attended the WUF to showcase ongoing work and projects. One example was the launch of what's being called the world's largest real-time air quality databank.
Another project featured was the Law and Climate Change toolkit.
UNEP and UN-Habitat have a longstanding cooperation in the area of sustainable urbanization, implemented through different projects—the latest being the Greener Cities Partnership. The joint mission reflects UN-Habitat's take on compact, integrated and connected cities and UNEP's work on cities as a force to achieve a decarbonizing and eco-decoupling economy.
Separately, UNEP supports cities across the world in addressing climate impacts and integrating the environment into their long-term urban planning through three priority areas: economy, nature-based adaptation, and climate and pollution action.
Given the resource surge linked to urban development, cities have a primary role in moving from a take-make-dispose economy to a circular model, where materials and products are kept in use for as long as possible at their highest value. Using their jurisdiction, cities can embed circularity principles into their planning decisions and policies.
Similarly, urban development and particularly sprawl are a driver for habitat loss, impacting the very ecosystems, city residents depend on. Nature-based solutions such as mangroves can be a cost-effective solution to dealing with floods and coastal erosion while also improving air quality.
It's no secret that cities produce a lot of air and water pollution, both impacting their livability and the health of their citizens. By placing permits for industrial activities and construction, introducing low emission zones, switching to district energy and bettering water and wastewater management practices, cities can reduce their pollution output while also improving quality of life.
Designing Gender-Inclusive Cities that Work for All
Modern cities are designed BY MEN and FOR MEN, thereby limiting women's access to economic and social development, according a new World Bank publication launched today at the World Urban Forum (WUF10).
The Handbook for Gender-Inclusive Urban Planning and Design makes the point that with women occupying just 10 percent of the highest-ranking jobs at the world's leading architecture firms, cities have historically been planned and designed to reflect traditional gender roles and gendered division of labor. As a result, cities work better for men than they do for women.
"Men, women, gender minorities, and people of different abilities tend to use the public space in different ways," stressed Sameh Wahba, World Bank Global Director for Urban, Disaster Risk Management, Resilience, and Land. "We all have different needs and routines when it comes to our access to the city. However, if the city is built for the 'neutral' male user, it neglects the needs, interests, and routines of women, girls, and sexual and gender minorities in the city. This has enormous impacts on women's access to jobs or schools, on their freedoms and safety, as well as their health and agency, and it reinforces gender inequalities."
There are six issue areas in the built environment that combine with gender inequity to constrain, inconvenience, and even endanger women, girls, and sexual and gender minorities of all ages and abilities:
Access – using services and spaces in the public realm, free from constraints and barriers
Mobility – moving around the city safely, easily, and affordably
Safety and freedom from violence – being free from real and perceived danger in public and private spheres
Health and hygiene – leading an active lifestyle that is free from health risks in the built environment
Climate resilience – being able to prepare for, respond to, and cope with the immediate and long-term effects of disaster
Security of tenure – accessing and owning land and housing to live, work, and build wealth and agency
"Urban planning and design shape the environment around us – and that environment, in turn, shapes how we live, work, play, move, and rest," said Maitreyi Das, Manager of the World Bank's Urban, Disaster Risk Management, Resilience, and Land Global Practice. "In general, cities work better for heterosexual, able-bodied, cisgender men than they do for women, girls, sexual and gender minorities, and people with disabilities. Faced with challenges ranging from transportation services that prioritize commuting over caregiving, to the lack of lighting and toilets in public spaces, many women, girls, and sexual and gender minorities around the world feel inconvenienced, ill-at-ease, and unsafe in the urban environment."
Although the World Bank and other institutions are firmly committed to advancing gender equality, oftentimes urban planners, project managers, and practitioners lack awareness of the importance of prioritizing gender in the urban design process, and do not have the specific, on-the-ground knowledge or tools to effectively implement gender-inclusive strategies.
To address this, the Handbook encourages gender-inclusive planning and design, which actively includes the voice of women, girls, and sexual and gender minorities. The publication seeks to fill the clear gap between policy and practice, intention and action, by showing why and how to incorporate gender inclusion into urban planning and design.
The Handbook sets out practical approaches, activities, and design guidelines that show how to do this – how to implement a participatory and inclusive design process that explores the experiences and uses of the city from the perspective of all citizen: women, men, and sexual and gender and other minorities.
It also gives clear, specific design guidelines, appropriate for and adaptable to all regions, for a range of planning fields, including housing, public transport and mobility infrastructure, other infrastructure services, and city master plans.
The Handbook is written for practitioners and planners who are looking for practicable tools and activities to engage people of all genders in design and planning. It focuses on both the process of planning and the final product: the project. The aim is to design cities that work for everyone.
The Handbook was co-authored by Kounkuey Design Initiative (KDI), a nonprofit community development and design firm that centers inclusive, participatory approaches.
Investing in Public Spaces to Achieve Livable Cities for All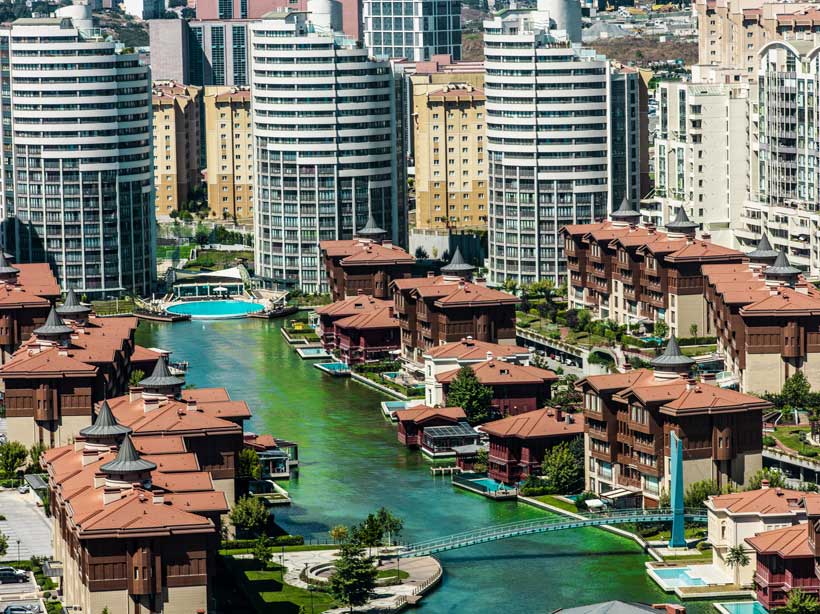 Many cities around the world are missing out on significant development opportunities by ignoring, under-leveraging, or mismanaging public spaces. There is an enormous opportunity for smarter use of public spaces, to unlock the "hidden" value they create for communities, neighborhoods, and entire cities, according to a new World Bank publication launched today at the World Urban Forum (WUF10).
The publication, The Hidden Wealth of Cities: Creating, Financing, and Managing Public Spaces, says that well-conceived, people-centered urban public spaces have vast potential to become assets that cities can leverage to transform the quality of urban life and improve city functioning.
"Globally, about one-third of a city's land area is covered by public spaces–ranging from city streets, neighborhood squares and parks, to public facilities, such as libraries and markets. This is significant," said Sameh Wahba, World Bank Global Director for Urban, Disaster Risk Management, Resilience, and Land. "Sustainably planning, financing, and managing public spaces with a focus on people is key to unleashing cities' potential for building livable, resilient, and competitive cities for all."
According to the book, city governments often do not invest in the creation and management of good-quality public spaces due to poor and ad hoc urban planning, budgetary constraints, and other pressing priorities arising from rapid urbanization. As a result, public spaces often become liabilities, creating a downward spiral that drains public resources and exacerbates various city problems.
Jon Kher Kaw, World Bank Senior Urban Specialist and lead author of the publication, highlighted the other end of the spectrum, "Cities that successfully create and manage great public spaces and places buck this trend. They reap the rewards from the enormous value that is created, including the environmental and social benefits that go beyond economic gains."
Kaw added that "Public spaces are especially good arenas for creativity and collaboration between governments, the private sector, and citizens for creating vibrant and inclusive neighborhoods and districts."
The publication urges cities to adopt imaginative and effective strategies to create, finance, and manage public spaces, prioritizing their value for people, communities, and places. These strategies should focus on three major areas:
Stakeholders and partnerships: create public spaces for and with communities, and recognize the need for strong partnerships between governments, private sector actors, and citizens.
Policies, planning, and design: adopt effective planning policies, placemaking approaches, and innovative design solutions that ensure the equitable distribution, inclusion and access, and quality of public-space networks across the city.
Management, governance, and finance: implement sustainable financial, management, and governance models across the entire public-space asset life cycle, from their initial creation, implementation, maintenance and to their renewal.
The publication notes that it is through these strategies that public spaces–whether on the streets, within infrastructure spaces and public facilities, or in open and green areas–can yield returns on investment far exceeding the monetary costs.
Building on more than 20 city case studies from around the globe, the publication illustrates how successful public spaces help cities strengthen social cohesion and sense of place; promote urban health and citizen well-bring; build urban resilience; support the local economy and livelihoods; spur urban regeneration and entrepreneurship; and attract further investments into urban neighborhoods.
Download the publication to read the case studies and learn how city leaders, policymakers, and urban practitioners can better plan, finance, and manage both government- and privately-owned public spaces to achieve livable cities for all.
The Hidden Wealth of Cities: Creating, Financing, and Managing Public Spaces received support from UN-Habitat, European Space Agency (Earth Observation for Sustainable Development initiative), Centre for Liveable Cities (Singapore), Korea Research Institute for Human Settlements, and Korea Green Growth Trust Fund (KGGTF).