Dying Wildlife on a Warming Planet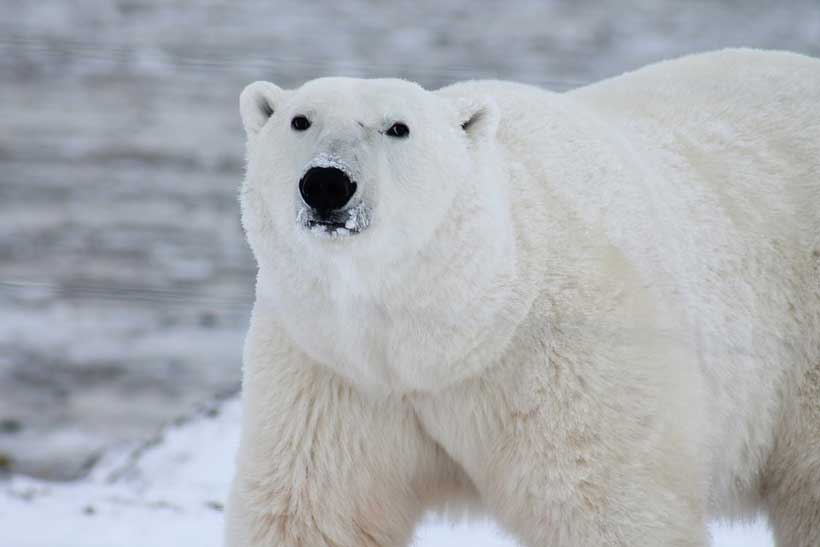 Authors: Meena Miriam Yust and Arshad M. Khan
The emaciated polar bear, a sorry remnant of magnificence, raiding garbage cans in an iconic, even infamous photo, is one consequence of global warming. As the September (2019) National Geographic cover story displays depressingly, Arctic ice collected over winter is sparser, thinner, and now disappears completely during summer in parts of Canada. If the effects of global warming are staring us in the face, then only the woefully or willfully ignorant – like Trump – can ignore them.
One more aspect of warming on Arctic ice has been reported recently. As we know, two-thirds of an iceberg lies under water. As sea water warms, melt increases and scientists have made measurements to discover that submerged parts of icebergs and glaciers entering the sea are melting significantly more than was previously believed, contributing to rising sea levels.
Researchers are warning that permafrost collapse in the Arctic is releasing nitrous oxide, methane, and carbon dioxide. The store is vast: nearly 1,600 billion tonnes of carbon lies trapped in the frozen soils of the permafrost region as a result of decaying organic matter over millennia. That is almost double the quantity in the atmosphere.
The environmental costs of global warming appear in yet other unexpected ways. A new paper in Science reports the threat to coral reef reproduction. Free-spawning marine species synchronize spawning as a way to ensure reproduction. In this way the gametes developed are so numerous that some escape their predators, ensuring species survival. Global warming is now affecting this reproductive synchrony, threatening coral reef recovery.
Rising ocean temperatures impact fish, plankton and crustaceans, in turn affecting the creatures that feed on them. So now sea birds, like the puffin, are struggling to stay alive. These are striking birds with black and white plumage, bright orange legs and feet, and, during the mating season, orange beaks. This past May, it was estimated that between 3,150 and 8,500 puffins starved to death in the Bering Sea, their emaciated bodies washing ashore on the Pribilof Islands, some 300 miles west of mainland Alaska. Prior to the mass deaths, there was a documented period of elevated sea surface temperatures in the eastern Bering Sea according to scientists. The unfortunate result was a shift in zooplankton composition and in forage fish distribution, both food sources for the puffin.
In Iceland, too, puffins are in trouble. Researchers discovered that thousands of puffin chicks had died from starvation in the summer of 2018. It turns out rising ocean temperatures have pushed cold-water fish farther north leaving the baby pufflings with little to eat. The International Union for the Conservation of Nature (IUCN) has categorized the Atlantic puffin (Fratercula arctica) as vulnerable on its red list.
Rising ocean temperatures are also affecting food availability and the habitat of many Arctic creatures, including the walrus, polar bear, gray whale, arctic fox, and ice seal. Some are starving to death, some wandering long and far in search of food. Polar bears rely on sea ice to hunt seals at their breathing holes. When the sea is not covered in ice, breathing holes become unnecessary as the seals can come up anywhere for air, and are no longer easy for polar bears to snatch up. The World Wildlife Fund has reported a 40% drop in number of the southern Beaufort Sea polar bears between 2001 and 2010. Worse still, scientists forecasting global polar bear populations estimate a high probability that 30% of polar bears worldwide will be gone by 2050.
Declining sea ice is also harming seals. Baby harp seals lie on the ice during their fragile first few weeks of life. Without a thick and stable span of ice, seal pups may drown or be crushed by broken ice. In 2007, a then surprising 75 percent plus of pups died due to thin ice conditions; in 2010, nearly all. "Some years, when there's poor ice in a given pupping ground, essentially all of the pups don't make it," says Duke marine biologist David Johnston. As temperatures continue to rise, seal survival becomes precarious.
The Pacific walrus population is in decline with only 129,000 animals left. Due to climate change, the floating summer ice that walruses used to haul themselves upon to rest is now way up north. Consequently the animals are swimming ashore and taking to land in huge numbers. Unfortunately their feeding grounds are far away from shore, forcing a 250 mile round trip. In addition to exhaustion from traveling long distances and food scarcity, walruses also face threats from being on the beach in vast crowds. In 2014, 35,000 walruses were seen together on the shore near Point Lay, Alaska. The animals, which can weigh as much as 1.5 tons, can be frightened easily by loud noises like airplanes, causing stampedes and mass deaths by trampling, especially of young calves – as many as 500 in one incident. If ice continues to diminish, their future looks bleak.
Then there are the gray whales. Their favorite crustacean is the amphipod – a small flat morsel with segments and antennae resembling a grasshopper. These lipid-rich crustaceans are devoured by whales in bulk. Over the past 30 years, as currents have warmed and sea ice has melted, amphipod populations have declined in the Bering Sea whale feeding area. As a result, gray whale mothers and babies have had no choice but to swim north through the Bering Strait and far into the Arctic Ocean in search of an alternate food supply. They are so hungry they are eating krill and mysid shrimp, but as it takes an enormous quantity to match the calories of lipid-rich amphipods, the whales remain hungry.
The North Atlantic right whale, a species federally classified as endangered, is also affected by the rising ocean temperatures. The Smithsonian reports that right whales eat more than 2,000 pounds each day, mostly copepods. Their favorite copepod, the Calanus finmarchicus, has dramatically declined because some of the deep waters of the north Atlantic have warmed almost 9 degrees Fahrenheit since 2004, forcing right whales to migrate elsewhere in search of food. Several right whales have been found dead in Canadian waters in recent months, and a sixth dead whale was found in the Gulf of St. Lawrence in July of this year. The steep rise since 2010 in the deaths of these whales from shipping vessel strikes as well as entanglement with fishing gear is attributed to the animals moving into new and unexpected areas where speed restrictions for vessels are not in place. With some 400 right whales left (out of 500 in the early 2000s) and about 100 breeding females, the species may face extinction if these trends continue. Researchers are hoping to use satellite technology to detect whales in new territory, allowing for faster responses in moving fishing nets and large vessels.
Creatures large and small face threats from melting ice. Lemmings are like hamsters of the tundra – small, furry rodents with faces and whiskers as adorable as the childhood pet. In winter, northern Norway lemmings burrow under the snow for insulation and protection from prey. During good snow seasons, they reach population peaks and their young prosper. But in Norway in recent years, rising temperatures are causing repeated thawing and icing periods resulting in poor snow conditions for the lemmings. The resulting altered and reduced population cycles mean lemmings are no longer reaching population peaks.
The arctic fox relies on lemmings as a primary food source, and scientists believe lemming decline has contributed to sharp declines and breeding failures in the arctic fox population of Norway. Arctic foxes also face threats from the red fox, a larger more aggressive animal, which historically lived south of the arctic fox habitat. Due to climate change and warming of the Arctic, however, the red fox is encroaching on arctic fox areas. Warming is also converting the tundra to shrublands, a habitat the red fox desires. The poor arctic fox faces loss of habitat, decreased food availability, increased competition for food, and possible displacement by the red fox. And with the Arctic continuing to warm, these changes will only become more extensive. Small wonder then that the arctic fox often has to travel long and hard to find food. One female captured all our hearts as it traveled 3,500 km from Norway to Canada in 76 days, its remarkable journey including 1,512 km on sea ice.
These few examples demonstrate the impact of global warming on diverse forms of life — from coral reefs and lemmings to the right whale. We learn that changes in plankton and tiny crustaceans can starve a giant whale and diminishing ice cover can cause polar bears to lose their primary food source, and we begin to register the intimate interconnectedness in the web of life. Human well-being too is tied to this chain of life. If fish decline, so does a food source for humans and the water birds that feed on fish, and as insect pollinators decline, so do our crops and the plants around us. A study suggests that 40% of insect species are in decline. And the U.S. and Canada have lost three billion birds since 1970. In this anthropocene age, humans are not rapacious owners but stewards of our planet, holding it in trust for succeeding generations. It is what the young led by Greta Thunberg are forcefully making clear to their elders.
Author's note: This piece first appeared in CommonDreams.org.
The solution to marine plastic pollution is plural, and plastic offsetting is one of them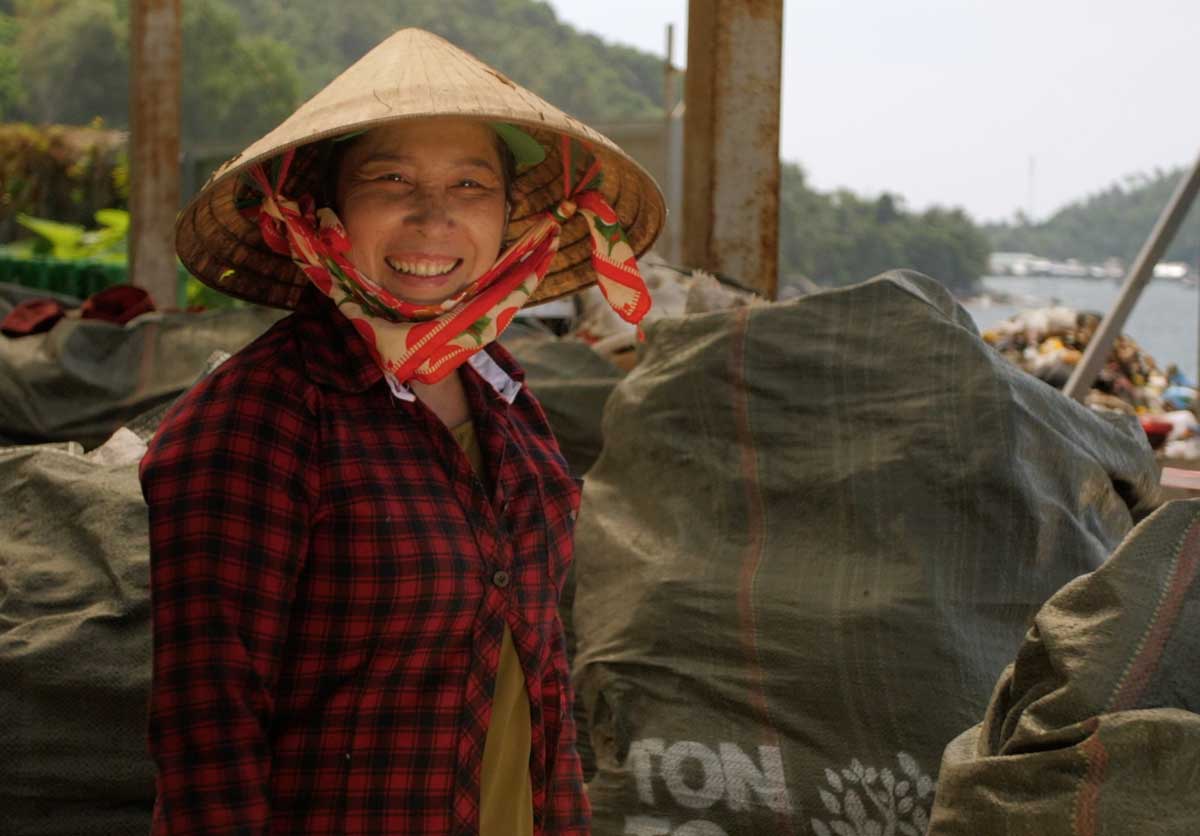 Due to growing concerns around environmental protection, businesses, individuals and governments have been looking for solutions that can be largely implemented to close the tap on plastic pollution.
In the last five years, businesses have strengthened their Sustainability Approach to acknowledge the need to take responsibility for their plastic production and consumption.
If targets have been defined and strong policies followed them to ensure high recycling rates of plastic products, a problem remains. What is the solution for low-value non-recyclable plastics?
This is where plastic offsetting enters the scene. As a derivative of the Carbon Offsetting concept, where trees are planted or protected to capture CO2 emissions, Plastic offsetting also known as Plastic Neutralization, enables companies to take responsibility for their plastic footprint.

Put simply, neutralizing means funding the collection and treatment of plastic, equivalent to the plastic impact of the business. Therefore, giving it the opportunity to compensate for every ton of plastic it has produced by ensuring there is one ton less in the environment.

From linear to Circular Economy Itis also a breakthrough in our traditional model of production, the linear economy. By extending the producer responsibility (EPR), this concept allow to build the bridge that lead to the ideal model, the circular economy, where no waste remains.

This innovative solution brings with it diverse positive impact. To the environment, by protecting ecosystems from plastic pollution, reducing landfilling and CO2 emissions. A strong social impact, by local communities by empowering local communities with work and better incomes. But also businesses, by becoming more sustainable with the reduction of the plastic footprint and a strengthen corporate social responsibility.

TONTOTON, a Vietnamese company, based in Ho Chi Minh City has succeed to connect all stakeholders to create a new market for low-value non-recyclable post-consumer plastic, on the scheme of circular economy.

TONTOTON Plastic Neutralization Program

Following the idea that the informal sector achieve to collect and recycle large amount of plastic in poor waste management areas, Barak Ekshtein, director of TONTOTON decided to look closer to the problem. In fact, a study shows that '97% of plastic bottles were collected by informal waste pickers.

The problem therefore does not lie in the logistics but in the price. By giving a market price to non-recyclable plastic, it allows waste collectors to collect and treat waste and thus avoid plastic pollution.

TONTOTON currently works in Southern Vietnamese Islands, Hon Son and Phu Quoc, and has already few tons of low-value plastic waste. To do so, it collaborates with local waste-pickers and thus provide them better incomes. The program focuses on preventing ocean plastic by following the Ocean Bound Plastic Certification. Their activities are audited by a 3rd party control body, the internationally recognized company, Control Union.

To treat the waste, TONTOTON partners with a certified cement plant, through co-processing, to valorize waste as an alternative energy and raw material. "Our system can solve two issues. Plastic is made of fossil fuels and contains more energy than coal. Thus we can replace industrial coal consumption with non-recyclable plastic waste. The plastic will not end up in landfill or oceans, therefore reduce levels of coal consumption and thus also CO2 emissions.", says Barak Ekshtein.

Businesses engaged in their program can claim plastic neutrality on the amount of plastic neutralized to share their sustainability efforts. Moreover, indicate it on their neutralized product by bearing the "Plastic Neutral Product" label.
Climate Change in Vanuatu: Problems Ensue
Authors: Harsh Mahaseth and Shubham Sharma*
Vanuatu announced its intention to seek legal action against corporations and governments who have benefited from products which had caused climate change. Minister Regebvanu, in the 2018 Climate Vulnerable Summit sought to explore legal actions against companies, financial institutions and governments liable for the damages caused to Vanuatu due to climate change, either by direct to indirect actions of the said parties. Vanuatu, like other small island nations, is seeking damage claims against carbon emitters who have contributed to climate change and benefited from it. Vanuatu seeks to claim reparations for damage caused by events related to climate change such as the 2015 cyclone which wiped out an estimated 64 per cent of Vanuatu's GDP.
A case of action against global polluters isn't novel. Climate Change litigation has its precedence, with over 1300 cases having been filed across 28 countries, where various public and private entities have petitioned the Courts for environmental action or relief. The source of the litigation comes for various multilateral treaties, such as the Stockholm Declaration on the Human Environment, Convention on Environmental Impact Assessment in a Transboundary Context, United Nations Framework Convention on Climate Change, United Nations Convention on the Law of the Sea, and others treaties combating pollution.
For Vanuatu, one of the major obstacle, other than the likely opposition from powerful States, includes finding a suitable forum; identifying relevant substantive obligations and various challenges relating to attribution, causation and evidence before they are able to make successful climate litigation before an international body such as the International Court of Justice (ICJ), scholars have argued that a path for successful litigation exists through Article 36, paragraph 2 of the ICJ Statute, where by accepting compulsory jurisdiction of the ICJa case for prevention obligations under the lex special is of the UNFCCC, human rights law or customary international law.
Strategic Public Climate Litigation, an injunctive relief solution where the aim is to influence public policy or policy decisions primarily through the attainment of injunctive relief by asserting governmental failure to account for GHG emissions associated with public projects and cases of judicial review of public regulatory action (or inaction) on climate change, has already achieved some degree of success. An example would be the Australian Conservation Foundation et al. v. Minister for Planning where there were concerns with regards to GHG emissions of a new coal mine which lead a tribunal to determine the lasting significant environmental effects of the coal mine in the future would be against the objective of the act which is to "maintenance of ecological processes" and the "future interest of all Victorians." Another example is that of the State of the Netherlands v. Urgenda Foundation, where an injunction was sought to compel the Dutch government to reduce GHG emissions, the supreme court of appeals, upheld this view and ordered the Dutch government to cut greenhouse gas emissions by 25 per cent by the end of 2020, compared with 1990 level.
The second option for Vanuatu is to cast a wide net of a variety of legal theories, such as domestic tort law against carbon majors similar to the petition brought before the Commission on Human Rights of the Philippines, which investigate the responsibility of 47 investor-owned carbon majors for human rights violations due to climate change. For this approach, the initial challenge Vanuatu faces is the lack of a national human rights institution who can bring rights violations caused by climate change. However, the lack of a human rights institution can be mitigated by Vanuatu's independent judicial system, as it is competent to address claims for damage caused by climate change by the polluters. The major hurdle Vanuatu faces is establishing the causation between the defendants' conduct and its result, which is to say whether the action of the defendant lead to or contributed to the disaster, and secondly, the ability to certain specific damage sorted by Vanuatu on the other, especially in cases of non-economic loss and damage.
The recent surge in climate change litigation bodes well for Vanuatu, as the establishing precedence only strengthens their claim for damages. However, Vanuatu still faces major obstacles. Firstly, a lack of an international body to address the issue. Even if a case is brought before the ICJ, it can only be against a Member State. Thus, action against private entities cannot be brought before the ICJ. Secondly, identifying the rights violated and then assessing and assigning the damage liability to individuals, entities and governments. Thirdly, if Vanuatu pursues action in domestic courts, there are issues relating to the appearance of the party to the summons and the ability of Vanuatu to enforce the judgment. As the primary means of compliance for offenders in the international area are sanctions, Vanuatu without support from larger nations wouldn't be able to handout sanctions to force compliance. There are many problems that Vanuatu faces but they cannot sit still now, and it is time to act and make the polluters liable.
* Shubham Sharma is a graduate from NALSAR University of Law. He has worked on several research projects relating to human rights, juvenile justice, and climate change.
Five years on, the Paris Climate Accord needs political will more than ever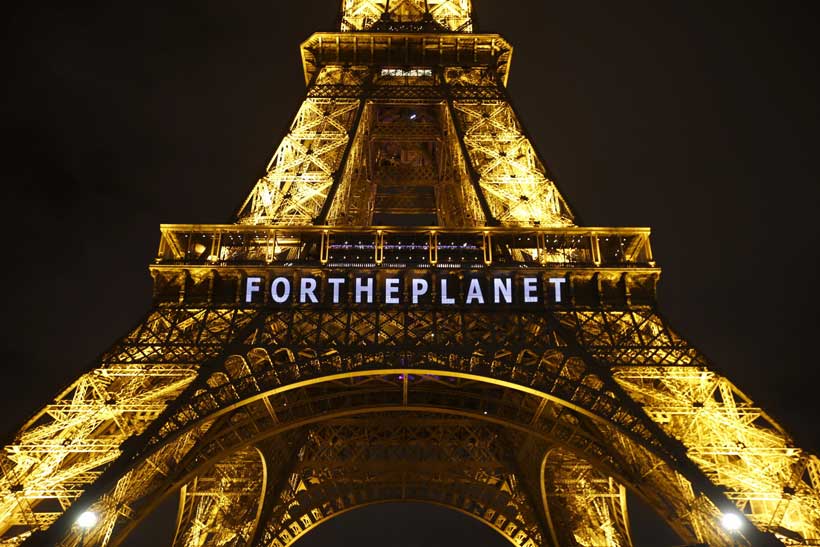 December 12, 2020 marked five years since the signing of the historic Paris Climate Agreement, or the Paris Accord. A total of 196 countries agreed on a coordinated plan of action to tackle global heating at the 21st annual meeting of Conference of Parties (COP) of the United Nations Framework Convention on Climate Change (UNFCCC) held in Paris in 2015. It entered into force on 4 November 2016.
What is to be achieved by this Accord?
The Paris Accord is a 'legally binding' international treaty and a watershed moment in multilateral diplomacy, considering that a truly global response to the looming climate crisis was agreed upon for the first time bringing almost all nations together specifically for this cause.
The Paris Accord sets an ambitious long-term goal to limit global warming to well below 2 degrees Celsius, preferably to 1.5, compared to pre-industrial levels, taking into account the rising levels of global heating that threatens lives and livelihoods by causing extreme weather events such as melting of icebergs, submerging of low-lying areas, frequent floods, bushfires, and cyclones in various parts of the globe.
Support for the needy countries
Although the climate issue is global in scale, some countries are more vulnerable than the other where the people fear loss of lives and livelihoods and in some cases even creating a new category of 'climate refugees', mostly developing and under-developed countries.
As per the UN Refugee Agency, year 2017 recorded about 18.8 million new disaster-related internal displacements, and among them many are climate-induced. All countries aren't capable enough to deal with this looming threat. Therefore, the developed countries, particularly in the West, were stipulated by a framework to provide financial and technological assistance to countries that are mostly in need of it.
What all have changed in the past five years?
A lot of events have occurred in these five years since the signing of the agreement in 2015. In the fight against climate crisis, the actions of individual countries do matter as important as multilateralism alone and domestic politico-economic factors of these countries play a significant role in their national responses.
The world needs leaders who believe in climate science and cooperate with each other to build a collective response, particularly with regard to powerful and industrialized countries or power blocs such as the United States and the European Union.
The Trump challenge and the hope of a Biden presidency
The conduct of the US leadership under the outgoing US President Donald Trump was disappointing, given the tremendous influence and power it yields in the global stage.
Trump's unilateral acts such as pulling the United States out of the Accord, just 18 months after signing it, was so unbecoming of a country of that stature.
Trump stated that it puts a huge financial burden on developed countries such as the US, the world's second largest carbon emitter, and is favourable to the interests of other countries.
But, hope is still on as the US awaits a leadership transition next year, as President-elect Joe Biden promised to rejoin the Accord as soon as he assumes office.
Many countries reassured their commitments to the climate cause by setting deadlines for net carbon neutrality, meaning to strike a balance between emitting carbon and absorbing carbon from the atmosphere.
How other countries responded
The UK became the first country in the world to declare a 'climate emergency' in 2019, followed by Ireland, Canada and France the same year. Many countries and subnational entities have followed the move in the later months and in this year, with New Zealand being the latest in the league. More countries are expected to follow soon enough.
Being the largest carbon emitter on the planet owing to its enormously large levels of domestic manufacturing activity, China is by far the largest emitter of greenhouse gases causing global heating and has pledged to achieve carbon neutrality by 2060.
Japan, South Korea, and the European Union have also set deadlines for net zero emissions or carbon neutrality.
Meanwhile, theper capita emissions of another key nation, India, were 60% lower than the global average. But, emissions grew slightly in 2019, but still much lower than it's per annum average over the last decade.
At the recently concluded Climate Ambition Summit this month, UN Secretary General Antonio Guterres called on world leaders to declare a state of 'climate emergency' in their respective nations.
Role of people and non-state actors
Apart from national governments and international organisations, more and more people and non-state actors are becoming aware of the climate crisis as each day passes, particularly with the rising popularity of movements such as 'Global Climate Strike' and 'Fridays For Future' led by activists such as Greta Thunberg who keeps on pushing for global action on the climate crisis. They are evolving a powerful force to persuade timely policy action.
The way ahead
The Paris Accord envisages a step-by-step 'climate action' based on a five-year cycle wherein greenhouse gas emissions are significantly reduced, thereby achieving a climate neutral world by 2050.
Accordingly, as the first step, countries that are parties to the Accord were directed to submit their national plans for climate action known as nationally determined contributions (NDCs) by this year.
The pandemic has caused disruptions, but most of the countries still remain wholeheartedly committed to what they've agreed five years back. But, the developed countries should not shy away from supporting low-income countries to achieve their respective NDCs.
The Accord's journey so far, therefore, throws light on the need to have a resolute and well-informed political will, both at domestic and multilateral levels, to realise the goals set for a co-ordinated climate action, rooted in science and mutual cooperation.