Dying Wildlife on a Warming Planet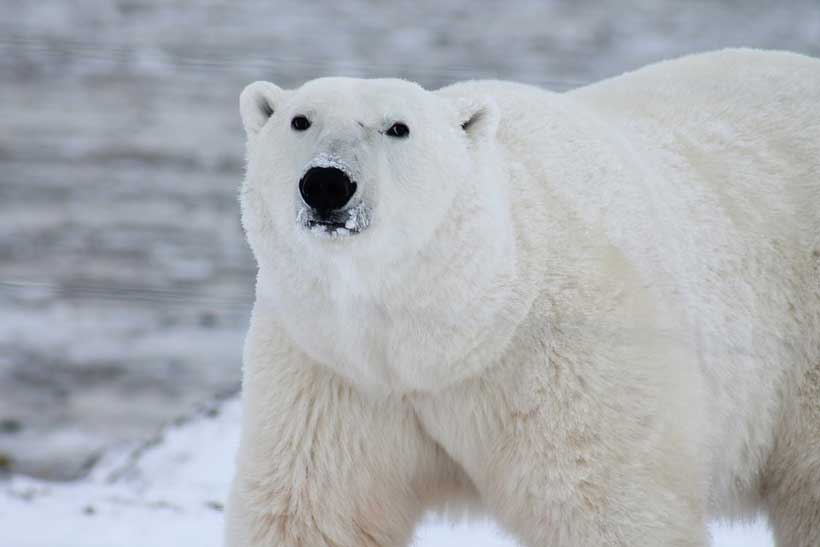 Authors: Meena Miriam Yust and Arshad M. Khan
The emaciated polar bear, a sorry remnant of magnificence, raiding garbage cans in an iconic, even infamous photo, is one consequence of global warming. As the September (2019) National Geographic cover story displays depressingly, Arctic ice collected over winter is sparser, thinner, and now disappears completely during summer in parts of Canada. If the effects of global warming are staring us in the face, then only the woefully or willfully ignorant – like Trump – can ignore them.
One more aspect of warming on Arctic ice has been reported recently. As we know, two-thirds of an iceberg lies under water. As sea water warms, melt increases and scientists have made measurements to discover that submerged parts of icebergs and glaciers entering the sea are melting significantly more than was previously believed, contributing to rising sea levels.
Researchers are warning that permafrost collapse in the Arctic is releasing nitrous oxide, methane, and carbon dioxide. The store is vast: nearly 1,600 billion tonnes of carbon lies trapped in the frozen soils of the permafrost region as a result of decaying organic matter over millennia. That is almost double the quantity in the atmosphere.
The environmental costs of global warming appear in yet other unexpected ways. A new paper in Science reports the threat to coral reef reproduction. Free-spawning marine species synchronize spawning as a way to ensure reproduction. In this way the gametes developed are so numerous that some escape their predators, ensuring species survival. Global warming is now affecting this reproductive synchrony, threatening coral reef recovery.
Rising ocean temperatures impact fish, plankton and crustaceans, in turn affecting the creatures that feed on them. So now sea birds, like the puffin, are struggling to stay alive. These are striking birds with black and white plumage, bright orange legs and feet, and, during the mating season, orange beaks. This past May, it was estimated that between 3,150 and 8,500 puffins starved to death in the Bering Sea, their emaciated bodies washing ashore on the Pribilof Islands, some 300 miles west of mainland Alaska. Prior to the mass deaths, there was a documented period of elevated sea surface temperatures in the eastern Bering Sea according to scientists. The unfortunate result was a shift in zooplankton composition and in forage fish distribution, both food sources for the puffin.
In Iceland, too, puffins are in trouble. Researchers discovered that thousands of puffin chicks had died from starvation in the summer of 2018. It turns out rising ocean temperatures have pushed cold-water fish farther north leaving the baby pufflings with little to eat. The International Union for the Conservation of Nature (IUCN) has categorized the Atlantic puffin (Fratercula arctica) as vulnerable on its red list.
Rising ocean temperatures are also affecting food availability and the habitat of many Arctic creatures, including the walrus, polar bear, gray whale, arctic fox, and ice seal. Some are starving to death, some wandering long and far in search of food. Polar bears rely on sea ice to hunt seals at their breathing holes. When the sea is not covered in ice, breathing holes become unnecessary as the seals can come up anywhere for air, and are no longer easy for polar bears to snatch up. The World Wildlife Fund has reported a 40% drop in number of the southern Beaufort Sea polar bears between 2001 and 2010. Worse still, scientists forecasting global polar bear populations estimate a high probability that 30% of polar bears worldwide will be gone by 2050.
Declining sea ice is also harming seals. Baby harp seals lie on the ice during their fragile first few weeks of life. Without a thick and stable span of ice, seal pups may drown or be crushed by broken ice. In 2007, a then surprising 75 percent plus of pups died due to thin ice conditions; in 2010, nearly all. "Some years, when there's poor ice in a given pupping ground, essentially all of the pups don't make it," says Duke marine biologist David Johnston. As temperatures continue to rise, seal survival becomes precarious.
The Pacific walrus population is in decline with only 129,000 animals left. Due to climate change, the floating summer ice that walruses used to haul themselves upon to rest is now way up north. Consequently the animals are swimming ashore and taking to land in huge numbers. Unfortunately their feeding grounds are far away from shore, forcing a 250 mile round trip. In addition to exhaustion from traveling long distances and food scarcity, walruses also face threats from being on the beach in vast crowds. In 2014, 35,000 walruses were seen together on the shore near Point Lay, Alaska. The animals, which can weigh as much as 1.5 tons, can be frightened easily by loud noises like airplanes, causing stampedes and mass deaths by trampling, especially of young calves – as many as 500 in one incident. If ice continues to diminish, their future looks bleak.
Then there are the gray whales. Their favorite crustacean is the amphipod – a small flat morsel with segments and antennae resembling a grasshopper. These lipid-rich crustaceans are devoured by whales in bulk. Over the past 30 years, as currents have warmed and sea ice has melted, amphipod populations have declined in the Bering Sea whale feeding area. As a result, gray whale mothers and babies have had no choice but to swim north through the Bering Strait and far into the Arctic Ocean in search of an alternate food supply. They are so hungry they are eating krill and mysid shrimp, but as it takes an enormous quantity to match the calories of lipid-rich amphipods, the whales remain hungry.
The North Atlantic right whale, a species federally classified as endangered, is also affected by the rising ocean temperatures. The Smithsonian reports that right whales eat more than 2,000 pounds each day, mostly copepods. Their favorite copepod, the Calanus finmarchicus, has dramatically declined because some of the deep waters of the north Atlantic have warmed almost 9 degrees Fahrenheit since 2004, forcing right whales to migrate elsewhere in search of food. Several right whales have been found dead in Canadian waters in recent months, and a sixth dead whale was found in the Gulf of St. Lawrence in July of this year. The steep rise since 2010 in the deaths of these whales from shipping vessel strikes as well as entanglement with fishing gear is attributed to the animals moving into new and unexpected areas where speed restrictions for vessels are not in place. With some 400 right whales left (out of 500 in the early 2000s) and about 100 breeding females, the species may face extinction if these trends continue. Researchers are hoping to use satellite technology to detect whales in new territory, allowing for faster responses in moving fishing nets and large vessels.
Creatures large and small face threats from melting ice. Lemmings are like hamsters of the tundra – small, furry rodents with faces and whiskers as adorable as the childhood pet. In winter, northern Norway lemmings burrow under the snow for insulation and protection from prey. During good snow seasons, they reach population peaks and their young prosper. But in Norway in recent years, rising temperatures are causing repeated thawing and icing periods resulting in poor snow conditions for the lemmings. The resulting altered and reduced population cycles mean lemmings are no longer reaching population peaks.
The arctic fox relies on lemmings as a primary food source, and scientists believe lemming decline has contributed to sharp declines and breeding failures in the arctic fox population of Norway. Arctic foxes also face threats from the red fox, a larger more aggressive animal, which historically lived south of the arctic fox habitat. Due to climate change and warming of the Arctic, however, the red fox is encroaching on arctic fox areas. Warming is also converting the tundra to shrublands, a habitat the red fox desires. The poor arctic fox faces loss of habitat, decreased food availability, increased competition for food, and possible displacement by the red fox. And with the Arctic continuing to warm, these changes will only become more extensive. Small wonder then that the arctic fox often has to travel long and hard to find food. One female captured all our hearts as it traveled 3,500 km from Norway to Canada in 76 days, its remarkable journey including 1,512 km on sea ice.
These few examples demonstrate the impact of global warming on diverse forms of life — from coral reefs and lemmings to the right whale. We learn that changes in plankton and tiny crustaceans can starve a giant whale and diminishing ice cover can cause polar bears to lose their primary food source, and we begin to register the intimate interconnectedness in the web of life. Human well-being too is tied to this chain of life. If fish decline, so does a food source for humans and the water birds that feed on fish, and as insect pollinators decline, so do our crops and the plants around us. A study suggests that 40% of insect species are in decline. And the U.S. and Canada have lost three billion birds since 1970. In this anthropocene age, humans are not rapacious owners but stewards of our planet, holding it in trust for succeeding generations. It is what the young led by Greta Thunberg are forcefully making clear to their elders.
Author's note: This piece first appeared in CommonDreams.org.
A Threat to Global Security: Climate Change
Climate change has become a real concern and a challenge to the global security of world and hence falls under the category of global issues. Its impact is now being percept and discern by many states. Now the policy formulators and strategic intellectuals have recognized the climate change as serious and even multidimensional global issue. The climate change possess potential of altering the life of individuals as the issue not only has impact on one sector of individual's life but also produce challenges in different sectors of human life like environment, economic, political and social. Hence the climate change affects the human life in miscellaneous ways.
Climate change include the events like extreme weather conditions such as floods, storms, and heat waves, as well as migration and depopulation in the areas that become uninhabitable and can even cause migration and depopulation in regions that become uninhabitable due to the threats posed by climate change. These threats include rise in sea level, drought, water scarcity, food insecurity, and even bio security menaces. Side by side complexity of the issue is that warming and acidification of the oceans is also happening, sea levels are rising and glaciers are melting at the same time. These shifts become more common in the coming decades, they will undoubtedly pose challenges to our climate and community. Human activities are increasingly influencing the climate and causing prompt changes in earth's climateon regular accounts in number of ways by consuming fossil fuels, removing trees, and also through livestock farming. This drastically raises the emissions of greenhousegases hithertoevident in the environment; as a result, the greenhouse impact is exacerbated, resulting in global warming. It is being witnessed that day by day these threats are rising in great number and these climate changes are posing serious challenges to global security.
Exquisitely expounding how the climate change is becoming a global security issue because its dynamics have an impact on all levels and in different dimensions. Climate change is also having profound influence on governance, conflict and crime as when the degree of any global issue exacerbates, it also leads to the rise in conflict and crime, as well as weakening of state governance over its subjects. Taking into account the climate conflict nexus, which arises as a result of the severity of climate change, resulting in state fragility, resource wars, insurgency, and terrorism, corruption is just another stumbling block to addressing climate insecurity and conflict. This climate insecurity allows criminal organizations to thrive on climate insecurity, and as a result, they commit corruption, worsening the situation. This climate related corruption will not only result in climate conflict but also fuel terrorism. Consequently it can even trigger instability in societies and states and can even act as threat multiplier and vivify the rise of militant or insurgent groups. Therefore making the situation deadly for states as it may challenge the writ of government and at individual level it threatens the human security. The climate change has become global issue and a concern for global security as the issue has multidimensional repercussions for human life. In addition to the article explains the climate- conflict nexus and climate-terror nexus and hence make the reader to ponder on the severity of situation. Considering the example of Covid-19 pandemic, in which a variety of criminal organizations, such as gangs and cartels, snatched up the opportunities in response and state instability in the challenged pandemic space to impose criminal rule in some regions. Conflict, violence, and alternative governance arose as a result of the pandemic. A similar impact is expected as a result of climate change.
As a result of drastic climate change, there will be massive migrations in the future, and one country will overtake another in the pursuit of a better climate. Witnessing the devastation of world wars another major war that erupts in the near future will be "Climate War". The dilemma that this future climate war is going to create should have havoc effects. It is very possible that new threats will be caused by climate change, which will put nations in a position of limited natural resources. Nations will certainly suffer as a result; however, it is difficult for people to comprehend what is the root cause of this destruction.
In a nut-shell it must be focused that what measures and strategies must be adopted by states at domestic level and at international level to meet the challenge of climate change, what should sates do and how should they cooperate among themselves in order to combat the challenge of climate change and how should states lessens climate change adverse repercussions for human life. There is an urge to make the scholars, researches and policy makers to realize and think on the issue so to bring the discussion of climate security forward. It also encourages increased debate and research climate change, its repercussions on individual life and climate-related conflict and crime. The crux of the matter is that states should join hands together in order to meet the challenge of climate change as global issue before we run of time and things get of control and unmanageable. It is the need of hour that we must collaborate and work to mitigate the impact of climate change. The sphere would be a safer place to inhabit unless everyone took action and attempted to halt any of the current climate change. Otherwise the impacts of climate change would be catastrophic.
The Inevitable Geopolitical Dilemma of Climate Change
"Go and explain to developing countries why they should continue living in poverty and not be like Sweden", "No one has explained Greta that the modern world is complex and different and… people in Africa or in many Asian countries want to live at the same wealth level as in Sweden". These are two of the several statements Russian president Vladimir Putin made in criticism of Greta Thunberg's UN speech while he spoke during an energy conference last year. But why is the situation that the Russian president is referring to, so complex? And why is that the world leaders who are failing to tackle climate change are now trying to tell the world that it is not just about climate but also geopolitics? This piece tries to delve into the inevitable dilemma that is emerging in the sphere of climate change mitigation and the geopolitics that has always been the one of the topmost priorities for the nations around the globe.
The Present State
Historically, the industries and the global economy has been reliant on fossil fuels, resulting in the anthropogenic climate changes that we are witnessing today. At present, geopolitics is at the center of the struggle for mitigation of the climate change phenomenon. This has led to a variety of responses from different nations. Some are trying to postpone the responsibility, some are trying to deny, and some are trying to spearhead the fight against the problem. However, the issue of climate change is not one that can be solved by one or a subset of nations working in isolation. It remains to be seen how the results of climate change as well as the struggle for mitigation will impact the ground reality for the populations, as it is widely expected that the effects on different nations will be to different extents. Some are set to be hit harder than others, and some are going to be hit even if they have not done anything to contribute to the problem. In this background, many of the concerns about the technological manipulation of nature, environmental destruction, North-South relations, sustainable development, conflict and resource wars have returned to prominence in recent years in the increasingly intense debate about climate change. In this piece we a look at some of the major themes in the geopolitical landscape today related to climate change and climate change mitigation activities.
Russia and Saudi Arabia are two of the several examples of nations which depend on energy commodities export for most part of their revenue. They are also the best examples of nations with vastly established fossil fuel production and processing infrastructure. Accordingly, they face different geopolitical challenges than others in terms of their climate mitigation policy adoptions. Nations like Russia and Saudi Arabia, as well as Qatar, Iran, Venezuela, and UAE depend on exports of oil and gas to developing and emerging economies like China and India. However, an increasing emphasis in these developing economies for a transition towards renewable energy sources has been creating unrest in the oil, gas as well as coal export dependent nations. In case of Russia, another issue, in form of permafrost thawing has been emerging since the last few years as a big worry threatening its infrastructural facilities in Far East region as well as the Siberian region. Last year Russia witnessed several oil spills due to weakening infrastructure in its facilities. However, this issue is dwarfed due to the fact that infrastructure can be upgraded, but if the demand for oil and gas reduces in the global markets due to a renewable energy transition, then the vast infrastructures will become loss generating assets.
In Gulf countries, the narratives of collapse and chaos in a post-oil world has taken over most policy makers' imagination. According to some predictions, over the next 50 years, these countries could be facing a twin issue of increasing strain on societies and economies due to climate change on one hand and increasing shortage of funds on the other, either due to the decreasing exports and demand, or due to simply less production due to waning stores of energy. Moreover, emergence on alternative sources like shale oil in US and oil and gas in Central Asian region can also lead to increased strain in these countries. This has led to new geopolitical conditions becoming possible for the Gulf region which has for long been dependent on a US hegemony in the region for overall security framework. A receding US interest can witness an increasing interest of other powers like China and Russia.
Moving to the developing world, economies like India, Brazil and even China have at various times expressed an unwillingness to concede mitigation of emissions of greenhouse gases and pointed towards their right to economic and industrial development, world equity and issues. This stance has attracted criticism from the developed world who see this struggle against climate change as a journey in which every nation needs to stand in unity. However, on one hand where concepts like 'Common but Differentiated Responsibilities' has emerged in climate action frameworks, countries like India have showed that they are ready to lead in the action for climate change mitigation by implementing policies to work towards a transition to renewable energy. This stance although is also influenced by the fact that India is forced to import most of its fossil fuel needs from other countries which exists as a big burden to its economy. By decreasing its reliance on energy imports, India can look towards following a more independent course in the geopolitical order. As seen in the collapse of Iran-US relations which led to India being forced to abandon its oil imports from Iran, a situation where India is not dependent on oil itself, stands to be a big win. Further, initiatives like the International Solar Alliance have helped India to cultivate India's image as a responsible global actor, at par with other like the European Union who has been using climate change activism as an element of its foreign policy to retain command over the global climate change policy agenda and thus assert not only regional, but global influence.
Talking about the global powers, US and China are undoubtedly the two biggest players in the world today when it comes to geopolitics, as well as emissions. In US, about half of electricity is generated through coal power plants as the nation has abundant coal deposits. The last four years under President Trump witnessed US detaching itself from major climate change action frameworks like the Paris Agreement based on the reasoning that any policies which have a chance to curb economy growth will have a disastrous effect on the lives of American citizens as well as national security. On the other hand, China, which has for some time now been the biggest greenhouse gas emitter, has now been working towards becoming the leader in sphere of sustainable energy. Chinese president Xi Jinping at the last year's United Nations General Assembly made the promise that China will become carbon neutral by 2060. According to scholars of the field, through this stance, China not only wants to enhance its geopolitical position as a main partner to EU for future, but also wants to take away attention from its human rights abuses, and aggressive behavior. This phenomenon needs to be understood in the light of the fact that today almost all mining, production and processing of rare earth elements, which are essential for the production of renewable energy infrastructure like solar panels, takes place in China. Thus, providing not only an upper hand to China as an economic power but also as a great geopolitical power in sustainable energy.
Not all countries however face the dilemma of effects of slowing economy in case they go for transition to renewable energy or adopt policies that mitigate emissions. The poorest of the countries stand to go bankrupt and loose relevance due to geopolitics of climate action in case the world decides to transition fast to renewable energy. These are the poor countries of Africa which have recently started establishing their oil production and now almost completely depend on it. As mentioned by Russian president Putin, these are the economies which look towards economic development based on their energy stores. They however have massive potential for renewable energy extraction too. But this potential need massive amounts of investment in infrastructure to realize, an element that these economies do not possess. Further, as the oil produced by these satisfy the needs of the developing and emerging economies, most of their buyer nations will see no benefit in trying to aid the African economies to substantially create their supplier's renewable energy sector.
Similar is the case of the Central Asia region where the nations depend on extractive industries of oil, coal, and gas. Both climate impact as well as climate change mitigation and adaptation in this region is projected to heighten geopolitical tension. Not only are the foreign direct investments in the region low at present, but the existing investments do also not prioritize resilient and sustainable development and is related mostly in sector of non-renewable energy resource extraction. The geopolitics of this region is connected in more than one way with the issue of climate change. The region is prone to water and energy shortages. Whereas carbon rich Kazakhstan, Turkmenistan and Uzbekistan extract and use oil, gas and coal for their energy production, other nations in the region- Tajikistan and Kyrgyzstan, which have lower GDP per capita uses clean hydro energy. Thus an inequality exist as the downstream nations are those which are more reliant on fossil fuels and the upstream nations, although not energy rich, possess ample hydroelectric potential. This inequality is estimated by the scholars to create strains in the region which can spill over in the rest of Asia.
The Dilemma
It might seem like the fossil-fuels based energy export reliant nations are set to lose the most in the coming future as the world starts looking for ways to transition towards clean fuel and energy in the coming years. However, the oil and gas industry might not be ending anytime soon.
For instance, Nord Stream 2, a planned pipeline through the Baltic Sea, which is expected to transport natural gas over from Siberia to consumers in Europe is being looked upon as a secure and reliable as well as cleaner source of energy for the coming decades. It indeed will replace the coal powered sectors in Europe and help reducing carbon emissions, however, this is also expected to provide Russia a sort of geopolitical push that it has not witnessed in many years now in terms of its relations with Europe, especially since the conflict with Ukraine in 2014. Although, this has changed in recent times as tensions arose with Georgia and the political chaos around Alexei Navalny's poisoning, who was being seen as a political competitor to President Putin by some in Russia. However, this is not to say that Russia has not been working towards climate change mitigation agenda. In November last year, Russian President Putin signed a decree ordering the Russian government to work towards meeting the 2015 Paris agreement to fight climate change, but stressed that any action must be balanced with the need to ensure strong economic development. This in geopolitical terms can be seen as an attempt to align Russia with the change in presidency in US, where the new president Joe Biden is supposed to be an avid supporter for climate activism and is expected to work towards making US carbon neutral with a long-term plan, in stark contrast to the previous president Donald Trump.
Another geopolitical battle is emerging in the Arctic, where several nations like the US, China and Russia are no vying for dominance. In Arctic, with melting snow, shipping is all set to witness an increase. According to some estimates, if shipping along the Arctic becomes fully accessible, Bering Sea can become an area of contention for US and Russia, as well as China, thus reducing the importance of other choke points and the nations controlling them, like Egypt and Southeast Asia. This phenomenon also exists in line with the argument that if oil ceases to be a central driver of the global economy, many regions like Gulf are set to see their long-standing relations with the western nations like US change.
Climate change related migration, which can result out of several reasons like submergence of islands, droughts due to varying rainfall patterns, stronger hurricanes or storms, or massive flooding of rivers due to higher rate of melting of glaciers that feed them with water, is also becoming a geopolitical contention that the nations are staring at today. The world has witnessed in 2015 refugee crisis in Europe, the extent of chaos, heightened populism, and nationalism, as well as lack of trust in multilateralism and established institutions that can be caused. Even though in this case, the result was not due to underlying climate change related challenges directly, similar effects due to influx of refugees and similar migration patterns can be expected from the regions of changing patterns of rainfall. This leads us to think where the current situation leaves us today for the future.
What does the Future Hold?
For many economies, initial investment cost for renewable energy systems is usually high, resulting unaffordability for many, especially in developing countries. Some others on the other hand, like Malaysia, with some of the highest level of subsidies on fossil fuels result in renewable energy market to remain economically weak and uncompetitive. Similarly, for Australia's economy, which has for long been reliant on fossil fuel industries to ensure the economic prosperity across the country, it is now becoming an issue of contention which it will need to resolve in order to ensure not its own, but also its neighborhood's sustainability lying in the Indo-Pacific region as low lying islands which are at the risk of submergence due to climate change related effects.
In today's world, not only can conflicts related to renewable energy infrastructure lead to stress as seen in case of Central Asian region, but also strain over issues like transfer of technology between developed and developing countries can turn into bigger forms of geopolitical conflicts. It also remains to be seen if the resources like rare-earth metals, which are needed for expansion of cleaner energy platforms will be available according to need of a nation or be made available to the highest buyer and turned into a business. The global order as it stands today between the oil producers and the oil consumers is also set to change as the climate change mitigation policies are adopted resulting from increasingly severe negative effects emerging from the anthropogenic climate change.
How Climate Change Has Been Politicized?
We are living in a world where the political side of individuals is ruling over the highly sensitive issues like Climate Change even. It is evident that political ambitions of individuals and states have overruled the threatening issue of global climate change and the fact that it is highly politicized. Looking at the discourse that surround the topic of climate change or global warming entails terms like cap and trade, emission intensity, policies, measures etc. but what is still missing is the realization of the impact of human behavior that without any doubt is adding more to the threatening issue.
Scrutinizing the roots of issue from the past, it shot up when industrialization and the race among states to gain more technology, industries, economy and military might have caught everyone's attention. After that there was a slight wave of realization majorly in the second half of twentieth century, as a result of which mass media started to emphasize on climate change narrative and there were discourses spread through print media to create awareness. As the awareness seemed to have increased the concerns of public regarding the issue also rose ultimately leading to the birth of Intergovernmental Panel on Climate Change (IPCC) in 1988. A legacy followed after IPCC and climate change for the first time was coined as an environmental or green issue. There were NGOs like Sierra Club, Natural Resources Defense Council and The Environmental Defense Fund that took the voices for Climate Change as their prime priority.
Parallel to this there was a prominent backlash to these efforts too. In late 1980s there was emergence of coalition among many industrial companies of oil and cars that were the highest voices for business at the international level whose prime focus was to make business and turning a blind eye towards the threatening Climate Change. Moreover, the Convention that was considered to be a highly effective one, aimed at reducing global emissions of Carbon and greenhouse gases was framed. But even Kyoto Protocol turned out to be a battle among states whose ambitions were their national interests. In the pursuit of their offensive power and politics the quota allotted to all the member states of the convention was overruled. The richer states started to buy carbon quotas from the poorer states and both were in pursuit of what they needed the most; richer countries emitting carbon and poorer ones getting money. Hence the aim of the convention was severely affected. Adding more to the issue in 2001, the then US President George W. Bush called the Kyoto agreement as fatally flawed and the concern of climate change was no more considered to be a Green issue.
From that day till now, the issue has witnessed lesser ups and major downs in its magnitude and modern times have witnessed degradation of environment due to limitless cycle of consumption and production. As a matter of fact, 2015 to 2018 were recorded as the four hottest years ever. Two major evidences that depict how the issue of severe attention has been politicized for material gains are US withdrawal from Paris Climate Agreement and Kyoto Protocol that went in vain merely because of states only wanting to pursue their material interests and ambitions.
It now turns out to be easily understandable how and why the enigma between soft issue like Climate and hard core politics have led to severe degradation of nature and still the world is not realizing that the future of humanity has been put at risk. Unfortunately, the pursuit of leaders still depict that the humanity would continue to be at risk as long as they are not willing to shift their focus towards the need of the day that is climate change.
Immediate realization is necessitated that the short time political gains of the world is threatening the future of generations to come and the world cannot afford to lose another decade of dismay because decisions and actions done in this decade is going to impact the century to come. If only the world realizes the need of immediate measures, actions and strict compliance and the need of spreading the awareness of the demanding issue through mass media and discourses, then the world would be able to cope the issue and endeavor to save the future of generations to come.