Dying Wildlife on a Warming Planet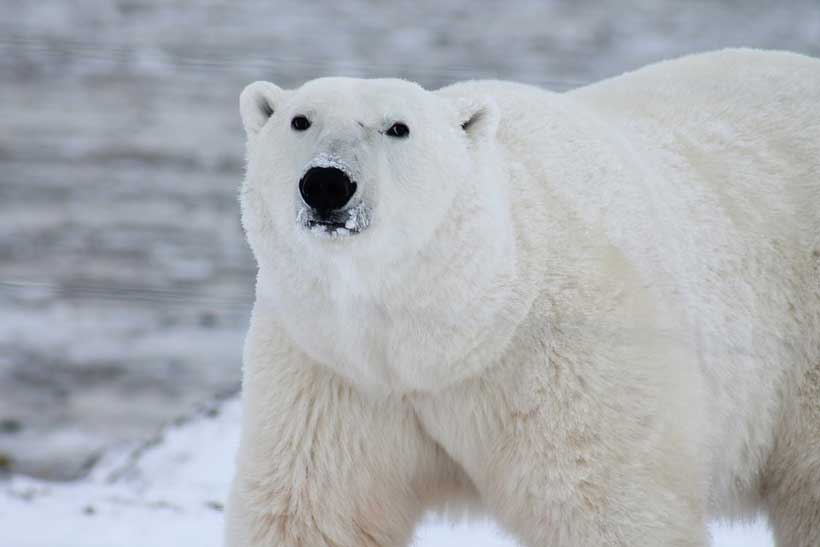 Authors: Meena Miriam Yust and Arshad M. Khan
The emaciated polar bear, a sorry remnant of magnificence, raiding garbage cans in an iconic, even infamous photo, is one consequence of global warming. As the September (2019) National Geographic cover story displays depressingly, Arctic ice collected over winter is sparser, thinner, and now disappears completely during summer in parts of Canada. If the effects of global warming are staring us in the face, then only the woefully or willfully ignorant – like Trump – can ignore them.
One more aspect of warming on Arctic ice has been reported recently. As we know, two-thirds of an iceberg lies under water. As sea water warms, melt increases and scientists have made measurements to discover that submerged parts of icebergs and glaciers entering the sea are melting significantly more than was previously believed, contributing to rising sea levels.
Researchers are warning that permafrost collapse in the Arctic is releasing nitrous oxide, methane, and carbon dioxide. The store is vast: nearly 1,600 billion tonnes of carbon lies trapped in the frozen soils of the permafrost region as a result of decaying organic matter over millennia. That is almost double the quantity in the atmosphere.
The environmental costs of global warming appear in yet other unexpected ways. A new paper in Science reports the threat to coral reef reproduction. Free-spawning marine species synchronize spawning as a way to ensure reproduction. In this way the gametes developed are so numerous that some escape their predators, ensuring species survival. Global warming is now affecting this reproductive synchrony, threatening coral reef recovery.
Rising ocean temperatures impact fish, plankton and crustaceans, in turn affecting the creatures that feed on them. So now sea birds, like the puffin, are struggling to stay alive. These are striking birds with black and white plumage, bright orange legs and feet, and, during the mating season, orange beaks. This past May, it was estimated that between 3,150 and 8,500 puffins starved to death in the Bering Sea, their emaciated bodies washing ashore on the Pribilof Islands, some 300 miles west of mainland Alaska. Prior to the mass deaths, there was a documented period of elevated sea surface temperatures in the eastern Bering Sea according to scientists. The unfortunate result was a shift in zooplankton composition and in forage fish distribution, both food sources for the puffin.
In Iceland, too, puffins are in trouble. Researchers discovered that thousands of puffin chicks had died from starvation in the summer of 2018. It turns out rising ocean temperatures have pushed cold-water fish farther north leaving the baby pufflings with little to eat. The International Union for the Conservation of Nature (IUCN) has categorized the Atlantic puffin (Fratercula arctica) as vulnerable on its red list.
Rising ocean temperatures are also affecting food availability and the habitat of many Arctic creatures, including the walrus, polar bear, gray whale, arctic fox, and ice seal. Some are starving to death, some wandering long and far in search of food. Polar bears rely on sea ice to hunt seals at their breathing holes. When the sea is not covered in ice, breathing holes become unnecessary as the seals can come up anywhere for air, and are no longer easy for polar bears to snatch up. The World Wildlife Fund has reported a 40% drop in number of the southern Beaufort Sea polar bears between 2001 and 2010. Worse still, scientists forecasting global polar bear populations estimate a high probability that 30% of polar bears worldwide will be gone by 2050.
Declining sea ice is also harming seals. Baby harp seals lie on the ice during their fragile first few weeks of life. Without a thick and stable span of ice, seal pups may drown or be crushed by broken ice. In 2007, a then surprising 75 percent plus of pups died due to thin ice conditions; in 2010, nearly all. "Some years, when there's poor ice in a given pupping ground, essentially all of the pups don't make it," says Duke marine biologist David Johnston. As temperatures continue to rise, seal survival becomes precarious.
The Pacific walrus population is in decline with only 129,000 animals left. Due to climate change, the floating summer ice that walruses used to haul themselves upon to rest is now way up north. Consequently the animals are swimming ashore and taking to land in huge numbers. Unfortunately their feeding grounds are far away from shore, forcing a 250 mile round trip. In addition to exhaustion from traveling long distances and food scarcity, walruses also face threats from being on the beach in vast crowds. In 2014, 35,000 walruses were seen together on the shore near Point Lay, Alaska. The animals, which can weigh as much as 1.5 tons, can be frightened easily by loud noises like airplanes, causing stampedes and mass deaths by trampling, especially of young calves – as many as 500 in one incident. If ice continues to diminish, their future looks bleak.
Then there are the gray whales. Their favorite crustacean is the amphipod – a small flat morsel with segments and antennae resembling a grasshopper. These lipid-rich crustaceans are devoured by whales in bulk. Over the past 30 years, as currents have warmed and sea ice has melted, amphipod populations have declined in the Bering Sea whale feeding area. As a result, gray whale mothers and babies have had no choice but to swim north through the Bering Strait and far into the Arctic Ocean in search of an alternate food supply. They are so hungry they are eating krill and mysid shrimp, but as it takes an enormous quantity to match the calories of lipid-rich amphipods, the whales remain hungry.
The North Atlantic right whale, a species federally classified as endangered, is also affected by the rising ocean temperatures. The Smithsonian reports that right whales eat more than 2,000 pounds each day, mostly copepods. Their favorite copepod, the Calanus finmarchicus, has dramatically declined because some of the deep waters of the north Atlantic have warmed almost 9 degrees Fahrenheit since 2004, forcing right whales to migrate elsewhere in search of food. Several right whales have been found dead in Canadian waters in recent months, and a sixth dead whale was found in the Gulf of St. Lawrence in July of this year. The steep rise since 2010 in the deaths of these whales from shipping vessel strikes as well as entanglement with fishing gear is attributed to the animals moving into new and unexpected areas where speed restrictions for vessels are not in place. With some 400 right whales left (out of 500 in the early 2000s) and about 100 breeding females, the species may face extinction if these trends continue. Researchers are hoping to use satellite technology to detect whales in new territory, allowing for faster responses in moving fishing nets and large vessels.
Creatures large and small face threats from melting ice. Lemmings are like hamsters of the tundra – small, furry rodents with faces and whiskers as adorable as the childhood pet. In winter, northern Norway lemmings burrow under the snow for insulation and protection from prey. During good snow seasons, they reach population peaks and their young prosper. But in Norway in recent years, rising temperatures are causing repeated thawing and icing periods resulting in poor snow conditions for the lemmings. The resulting altered and reduced population cycles mean lemmings are no longer reaching population peaks.
The arctic fox relies on lemmings as a primary food source, and scientists believe lemming decline has contributed to sharp declines and breeding failures in the arctic fox population of Norway. Arctic foxes also face threats from the red fox, a larger more aggressive animal, which historically lived south of the arctic fox habitat. Due to climate change and warming of the Arctic, however, the red fox is encroaching on arctic fox areas. Warming is also converting the tundra to shrublands, a habitat the red fox desires. The poor arctic fox faces loss of habitat, decreased food availability, increased competition for food, and possible displacement by the red fox. And with the Arctic continuing to warm, these changes will only become more extensive. Small wonder then that the arctic fox often has to travel long and hard to find food. One female captured all our hearts as it traveled 3,500 km from Norway to Canada in 76 days, its remarkable journey including 1,512 km on sea ice.
These few examples demonstrate the impact of global warming on diverse forms of life — from coral reefs and lemmings to the right whale. We learn that changes in plankton and tiny crustaceans can starve a giant whale and diminishing ice cover can cause polar bears to lose their primary food source, and we begin to register the intimate interconnectedness in the web of life. Human well-being too is tied to this chain of life. If fish decline, so does a food source for humans and the water birds that feed on fish, and as insect pollinators decline, so do our crops and the plants around us. A study suggests that 40% of insect species are in decline. And the U.S. and Canada have lost three billion birds since 1970. In this anthropocene age, humans are not rapacious owners but stewards of our planet, holding it in trust for succeeding generations. It is what the young led by Greta Thunberg are forcefully making clear to their elders.
Author's note: This piece first appeared in CommonDreams.org.
COP 26 must yield pragmatic outcomes to sustain livelihoods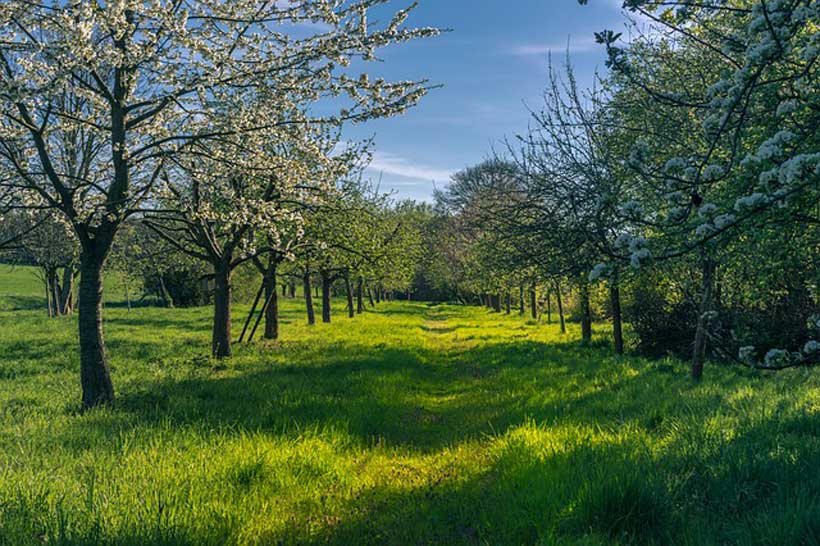 Glasgow is now ready to host the United Nations Climate Change conference, popularly known as COP 26 (i.e. the 26th Conference of Parties). This year it will be hosted by the United Kingdom in collaboration with Italy. Since the Paris Agreement, there have been several challenges in the multilateral effort towards climate change adaptation and mitigation measures. President Donald Trump pulled the United States out of the Paris Agreement in 2017. This had created huge difficulties for the international community and especially the low-income countries and developing countries in meeting their obligations for carbon emission reduction. A climate change adaptation and mitigation measure requires financing and investments too, and for low-income countries it is mostly difficult. Therefore, a global effort is required to mobilise resources and meet the COP 26 goals too. During the Copenhagen Summit of 2009, the developed countries promised to give $100 billion to the developing countries by 2020 to help meet their climate change obligations. But since this pledge has not been fulfilled, the developing countries have been demanding for it.
Since the Brundtland Commission defined "sustainable development" in 1987 and the subsequent Rio Summit (Earth Summit) in 1992, there has been an increased global attention by policy makers, think-tanks, industry professionals, academics and the civil society for making the earth a better place. The Earth Summit resulted in the signing of the Rio Declaration by 175 countries, proclaimed twenty-seven principles that focussed on health, environmental legislation, and other issues of public interest related to sustainability. In fact, the United Nations Framework Convention on Climate Change (UNFCCC), a legally binding commitment was also opened for signature by countries as part of the Rio Declaration.
Later, in 1997, the Kyoto Protocol was adopted, but it was implemented in 2005 till the period of 2012. Being a binding commitment, it actually operationalised the UNFCCC. The Protocol called for a 5% carbon emission reduction compared to 1990 levels to be undertaken during 2008-2012. However, the Protocol could not yield the desired result, and at COP 21 i.e. the Paris climate change conference in 2015, Kyoto Protocol was replaced by the Paris Agreement. The Paris Agreement called for limit the global warming to below 2 degrees Celsius, and preferably to 1.5 degrees Celsius as compared to pre-industrial levels.
In February this year, President Joe Biden led the United States to join the Paris Agreement from which President Trump had pulled out in 2017. The U.S. re-joining this agreement came as a great relief to the international community and strengthened multilateral efforts for climate action. "Climate Action" was also incorporated as one of the Sustainable Development Goals (SDGs). It is SDG 13, and calls for taking urgent action to combat climate change. There are five targets mentioned as part of this SDG. Summarily, these include efforts towards building resilience and adaptive capacity for tackling natural disasters, aligning climate-related measures into national planning and policies, increasing awareness about climate change challenges, mobilising climate fund, and capacity-building for improved planning and management in vulnerable countries and marginalised communities across the world.
Today, as the world struggles to overcome the challenges posed by the Covid-19 pandemic on peoples and businesses, focusing on climate change becomes ever more important. As per the COP 26 official web site, the key goals of COP 26 include the following: a) secure global net zero by mid-century and keep 1.5 degrees within reach, b) adapt to protect communities and natural habitats, c) mobilise finance, and, d) work together to deliver.
To fulfil these goals, specifically the international community must focus on some key aspects for climate action. Some such issues which need global attention to meet our climate change obligations are as follows:
1.Support livelihoods in coastal areas: The international community need to focus on resilient infrastructural development and support livelihoods especially in coastal areas which are more prone to natural disasters. Climate change is also gradually becoming one of the major causes of climate-induced human displacement. So, it is very important to preserve ecosystems and habitats.
2.Resource mobilisation: For tackling climate change related challenges, resource mobilisation is very crucial. As we have seen that with the unexpected withdrawal of the U.S. from Paris Agreement in 2017, climate related funding faced a major challenge. It was only after the U.S. re-joined the Agreement in 2021 that the multilateral efforts could be strengthened.
3.Protect terrestrial and marine ecosystem: Climate change causes ocean acidification, irregular rains and droughts, and can cause water and vector borne diseases. All these have been responsible for creating difficult living conditions both in land as well as in marine ecosystem. These ecosystems need to be protected through necessary multilateral agreements and climate financing both for Life below Water (SDG 14) as well as for Life on Land (SDG 15).
4.Invest on renewable energy: This is very critical in today's context, and especially in the post-pandemic scenario. Countries need to build their capacity for renewable energy e.g. solar, wind, hydropower etc. This can help reduce energy consumption cost to the consumer, reduce fossil fuel dependence, and create jobs also.
5.Multilateral effort needed: This is a global challenge, and thus requires a global effort. Whether small islands like the Maldives faces the vulnerabilities related to climate change or the coastal communities in Vietnam are affected by it, no single country or a group of country can tackle this challenge alone. Also, there is a need for collaboration and cooperation between governments and the civil societies across the world for framing multilateral rules to combat climate change. Article 6 of the Paris Agreement also calls for enhanced international cooperation to help countries implement their obligations.
Therefore, COP 26 becomes a very significant framework on climate change, and the people in low-income and developing countries have huge expectations from it. The international community is looking forward to some practical outcomes that can support livelihoods and create a smooth transition to a post-pandemic world.
Let's play the squid game: but we play for our planet this time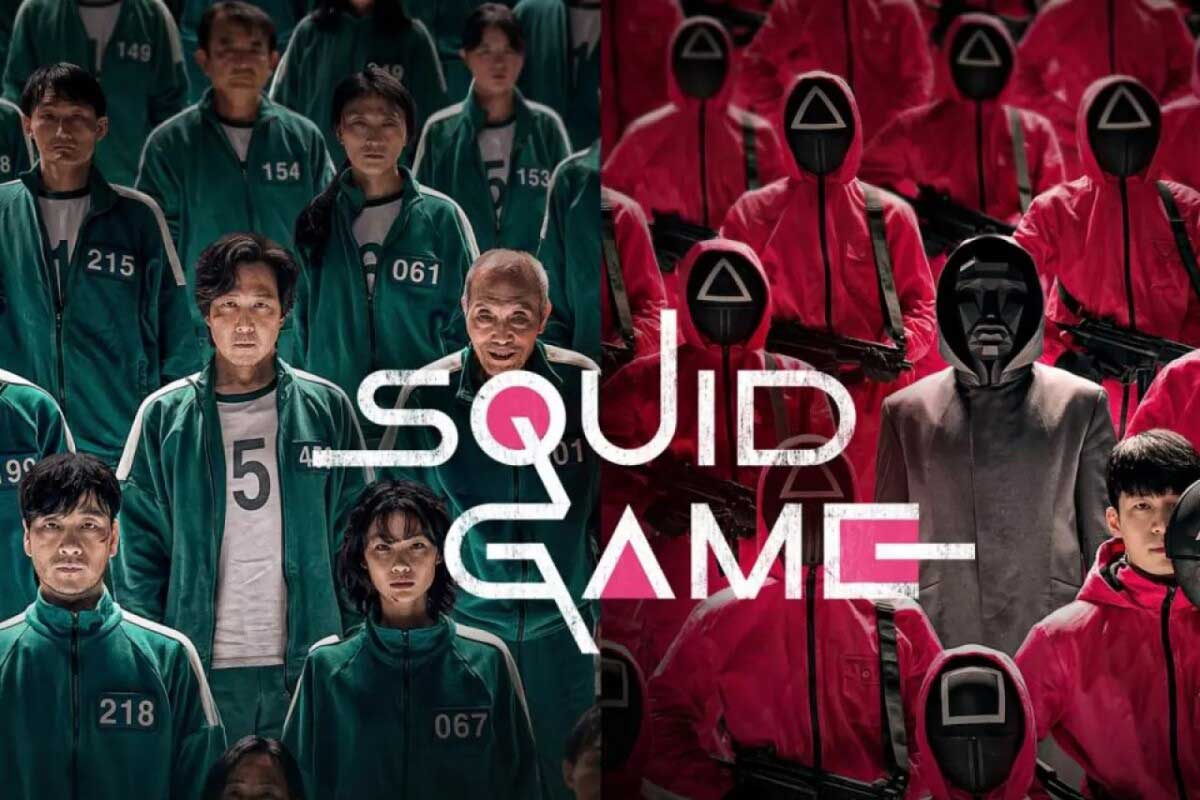 Squid game is a current Netflix's trend series and no one can escape from its influence. The world has Squid game fever now and there are a lot of people who want to partake and experience being in these games. People are lining up to try the popular games in the show and the Squid game's challenges are piling up in social media and YouTube. This show is climbing up to the first place and achieving global popularity.
In the Squid game, the people who have debts are trying hard in playing the children's games to win the billion-prize money but the punishment is death. The struggle and the poverty are focused in this series. Besides, it highlights the greed of the people and how it can awaken the devil's side of human beings. The friendships, sympathy and care can be destroyed easily because of the greed for surviving and money. Apparently, this show is giving a special taste to the audience by the direct approach about our society and socioeconomic conditions. Therefore, it is no wonder that this gains a lot of popularity and becomes Netflix's most-watched series in history.
Since Squid game wave is striking hard, people are addicted to the show and their willingness to try out the games of this show are unstoppable. So, this time can these passionate audiences participate in the Squid game competition for the sake of our planet? Nowadays, the state of our planet is serious and encountering a plethora of threats; pollution of air and water, ozone layer depletion, climate change, rising sea levels, land degradation, deforestation, loss of biodiversity and so on.
Due to these environmental concerns, a lot of groups are rising up to spread awareness within the public. These socially conscious groups around the world try hard to inform how the single action of the people can impact the earth. Not only to protect the environment but also to reduce the existing environmental issues, the people from different backgrounds, societies and places have to work together. Although plenty of people are now concerned for their home planet and searching for the answer to solve these issues, educating the public to increase more awareness and attention still needs more room to develop.
To promote environmental awareness and actions to help our planet, the growth of the Squid game can play a perfect role. The unbeatable amount of Squid games addicted fans who are also concerned for the state of the planet can be used in encouraging the public more for the current issues of the earth. Let them play these trend games that they are dying to play and at the same time, the promotion for the actions to preserve the earth will be done.
Creating the competition which inspire Squid game series for our home planet
Type of games and the Rules
Just like in the Squid game series, in this competition, there will be traditional children's games which were popular in the past. But this time, the games will be collected from various countries. Therefore, the contestants can experience various cultures, explore new things and as a consequence, they will feel connected to each other. Besides these traditional games, there will be games that can help to reduce the carbon footprints such as planting the trees as much as they can in the given time, creating innovative staffs by recycling or reusing the materials and so on. The prime rule for this competition is that the player cannot quit till the game ends and they will have to agree to take the punishment no matter what. And manipulation to each other is not allowed and all the players will be equally treated while in the games.
Host and sponsors
The international organizations such as WWF, IUCN, UNESCO, UN, ASEAN, ADB, etc can be the host in this game. Since these organizations are helping to identify the environmental problems and supporting the protection, they can be the best candidate to be a host in the competition. Along with them, the big corporations who are embracing sustainability can be the sponsors, in other words, they will take the role of VIPs just like in the Squid game series. As the businesses can make greater profits and create better images by considering the economy, social and environment in operating their businesses. Being the sponsors in this game will help them in implementing the better CSR programs and pursuing sustainability. This is one of the best ways to acquire the public's attention, also loyal customers and as a result, their brand image and competitive advantage will also be improved.
Players
Who will get the invitation for this game?
A group of socially conscious, young generations and also the people who want to experience the games can be the players in this competition. Most of the youths are worried about the future of the planet and they are concerned about the impacts of the environmental issues. They want to change their lifestyles to be more environmentally friendly compared to the older generations. Due to this competition, the adults can have a chance to remember their nostalgic childhood times and the young can experience these old games while they can make effective things for the planet.
Prize
The prize is one of the incentives to stimulate the people to play in this game. The bitter truth is one of the powerful incentives is money. A group of winners will get the money to invest in the environmental projects. Frankly, to protect our environment and planet, billion dollars is one of the requirements.
Punishment
As the players are competing for the sake of the earth, the punishment will definitely not be death. But instead, the players who will get eliminated from the games will have to spend their times at the special place for several days. That special place is located in one of the biggest landfill sites. Losers of this competition have to work in that place and they will have to help in the disposal services.
To conclude, if this competition actually happens in the future, it will bring certain benefits for the environment, society and businesses. So, why do not we inspire this current most-watched series "Squid game" to spread awareness and encourage the people to save the planet, Earth. Let's give a chance for the people to play in their favorite childhood's games, be green and save our home.
Climate change and global challenges
The whole world has been severely affected by climate change and the Covid-19 epidemic. The natural character of the whole world has also changed due to the rise in global temperature. Given the current situation, all the people of the world are in a state of panic about the horrors of the coronavirus. The world has been devastated by hundreds of disasters since the 1960s. More than 50 million people have become destitute. Many people have died. And most of the disasters are accompanied by constant climate change.
In 2020, 4 crore people became homeless due to deteriorating weather and climate change. At the same time, the adverse effects of the weather are becoming more extreme due to climate change from this year. This year it will break the record and stand at 5 crore. Many people have to leave their country. This number is double the current refugee population in the world. Not just any particular country or people, people all over the world are facing the harmful effects of climate change. Especially in the last 20 years, this effect has spread from Asia, Europe, Africa to the Americas.
Increasing use of fossil fuels is warming the weather, forcing more people to flee their homes due to unexpected floods or storms. Besides, factors like crop damage and drought are also making this trend more evident. Politicians in rich countries are fearful of increasing pressure on their country's infrastructure due to the influx of environmental refugees from other countries.
Carbon emissions play the biggest role in climate change. Low-income countries are also deprived of 100 billion a year in promised compensation for carbon emissions. Asia has the highest number of people displaced due to environmental reasons. In countries such as China, India, Bangladesh, Vietnam, the Philippines and Indonesia, millions of people live in low-lying coastal areas or in delta-adjacent areas. More and more people are at risk of flooding due to population growth and urbanization, and the rapid rise in sea level is being added to this.
People have already witnessed extreme weather, drought or heavy rains, cyclones. That is to say, the destructive form of climate and nature is gradually becoming manifest. Mankind is being blamed for this hostile behavior of nature. People are taking care of nature in many ways. Rivers are being occupied and the mountains are being cut indiscriminately. Houses are being built on agricultural land. In this way, oppression on nature is going on in various ways, due to which nature is becoming hostile. We are ruining all our own achievements. As a result, there has been severe inflammation.
The world's population is constantly growing. There is no end to the discussion and criticism about population growth. It is time to take stock of what new steps can be taken or how human suffering can be reduced. With the increase in population, new problems have been added. It may seem unbelievable but it is true that every day around 25,000 people in the world die due to eating habits and malnutrition. In addition, the world is facing many adverse reactions including shortage of potable water, air toxicity, depletion of resources, housing problems and the destruction of the Ozone layer.
At the root of this is population growth. The temperature in the capital Dhaka has risen due to rapid population growth. A study has identified 25 high-risk areas in Dhaka as a result of rising temperatures. These areas have been named 'Hit Island'. The performance of the people of this area is decreasing day by day with the increase of various diseases.
Assistance is needed to increase the capacity of CVF countries to deal with the dual threat of epidemics and disasters, especially those affected by the increased frequency of climate-related disasters. Climate-risk countries contribute the least to global greenhouse gas emissions, but they suffer the most. 2021 is a very important year for climate issues as the United States returns to the Paris Agreement. The COP-26 conference on climate change in Scotland next November is expected to yield some good results on climate change. The main goal of COP-26 is to address the impact of climate change and to educate the world about its harmful effects. Bangladesh has also participated in this climate change prevention project.
In ancient times there was a close relationship between man and nature. Ever since man came in contact with civilization, he has learned to strike at nature. Over time, man began to wreak havoc on nature. The problem of environmental pollution is increasing day by day. The trees were not spared from the victims of cruelty. As a result, fear is constantly concentrated in our habitable world. We look for different ways to get rid of it. But if we let nature be like that, we would not have to suffer this consequence in our lifetime.
Blinded by the fascination of speed, people have cut down the forest and set up houses, sometimes they have driven away the animals there. In recent times, mountains are being cut down and forests are being cleared somewhere. Deforestation is endangering the lives of many people. Even though the seasons are changing, these incidents add to our anxiety. But trees can be very resistant to prevent global warming. If the environment does not survive, the problems of the world will intensify. Animals, human beings will face loss of everything. The main reason is the indifference of the people.
A closer look reveals that this apathy has a significant effect on the depraved market economy. Rivers, hills, soils, forests are all instruments of income growth in the eyes of that market. In order to earn income from these sources, natural resources are being destroyed, centuries-old trees are losing their lives or the source of the boundless beauty of nature is being endangered. In the past, there was a connection between man and nature, which is why in many places forests have survived because those who grew up in contact with plants can realize the contact with nature by finding ways to do the necessary work without harming the plants.
Climate change is responsible for recent disasters. We have to fight hard to save the world from increasing global warming. World leaders must take strong action, including global initiatives, to leave a sustainable future for the next generation. The international community has a special responsibility to assist countries at risk of climate change in their adaptation and mitigation efforts.