The $10 Trillion Question: How to End a Lost Decade of Global Productivity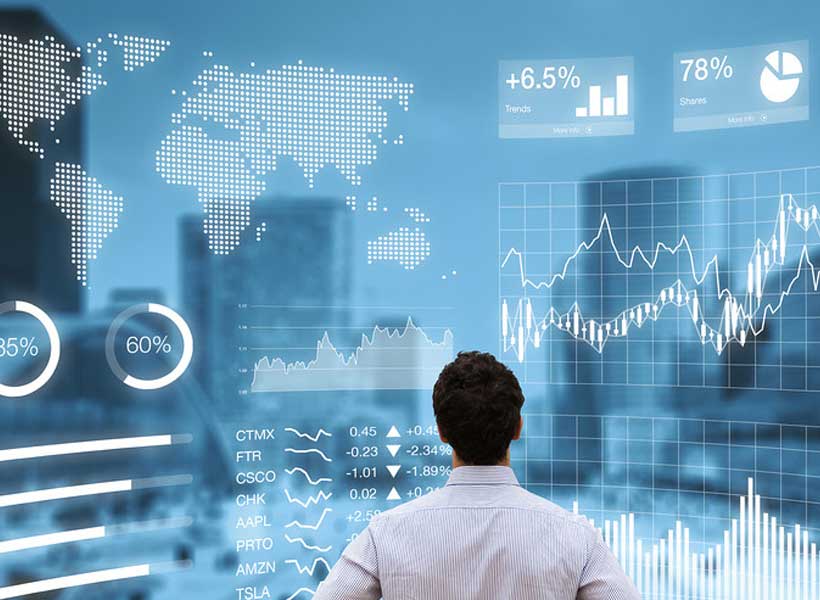 Ten years on from the global financial crisis, the global economy remains locked in a cycle of low or flat productivity growth despite the injection of more than $10 trillion by central banks. While these unprecedented measures were successful in averting a deeper recession, they are not enough on their own to catalyse the allocation of resources towards productivity-enhancing investments in the private and public sectors. The Global Competitiveness Report 2019, published today, points to the path forward.
Launched in 1979, the report provides an annual assessment of the drivers of productivity and long-term economic growth. The assessment is based on the Global Competitiveness Index (GCI), which maps the competitiveness landscape of 141 economies through 103 indicators organized into 12 pillars. These pillars are: Institutions, Infrastructure; ICT adoption; Macroeconomic stability; Health; Skills; Product market; Labour market; Financial system; Market size; Business dynamism; and Innovation capability. For each indicator, the index uses a scale from 0 to 100 and the final score shows how close an economy is to the ideal state or "frontier" of competitiveness.
This year, the report finds that, as monetary policies begin to run out of steam, it is crucial for economies to boost research and development, enhance the skills base of the current and future workforce, develop new infrastructure and integrate new technologies, among other measures.
With a score of 84.8 (+1.3), Singapore is the world's most competitive economy in 2019. The United States remains the most competitive large economy in the world, coming in at second place. Hong Kong SAR (3rd), Netherlands (4th) and Switzerland (5th) round up the top five. The average across the 141 economies covered is 61 points, almost 40 points to the frontier. This global competitiveness gap is of even more concern as the global economy faces the prospect of a downturn. The changing geopolitical context and rising trade tensions are fuelling uncertainty and could precipitate a slowdown. However, some of this year's better performers in the GCI appear to be benefiting from the trade feud through trade diversion, including Singapore (1st) and Viet Nam (67th), the most improved country in this year's index.
"The Global Competitiveness Index 4.0 provides a compass for thriving in the new economy where innovation becomes the key factor of competitiveness. The report shows that those countries which integrate into their economic policies an emphasis on infrastructure, skills, research and development and support those left behind are more successful compared to those that focus only on traditional factors of growth." said Klaus Schwab, Founder and Executive Chairman of the World Economic Forum.
The report documents emerging areas of promising policies, reforms and incentives to build more sustainable and inclusive economies. To manage the transition to a greener economy, the report recommends four key areas of action: engage in openness and international collaboration, update carbon taxes and subsidies, create incentives for R&D, and implement green public procurement. To foster shared prosperity, the Report recommends four additional areas of action: increase equality of opportunity, foster fair competition, update tax systems and their composition as well as social protection measures, and foster competitiveness-enhancing investments.
Global trends and highlights
In addition to providing an annual assessment of economies' long-term health, the report also highlights five trends in the global economy and their implications for economic policymakers
The last ten years saw global leaders take rapid action to mitigate the worst of the financial crisis: but this alone has not been enough to boost productivity growth.
With monetary policy running out of steam, policymakers must revisit and expand their toolkit to include a range of fiscal policy tools, reforms and public incentives
ICT adoption and promoting technology integration is important but policymakers must in parallel invest in developing skills if they want to provide opportunity for all in the era of the Fourth Industrial Revolution.
Competitiveness is still key for improving living standards, but policymakers must look at the speed, direction and quality of growth together at the dawn of the 2020s.
It is possible for an economy to be growing, inclusive and environmentally sustainable – but more visionary leadership is needed to place all economies on such a win-win-win trajectory.
The report's data also shows growing inequalities in the global economy.
Market concentration: The report finds that business leaders in the United States, China, Germany, France and the United Kingdom believe that market power for leading firms has intensified over the past 10 years.
Skills gap: Only the United States among G7 economies features in the top 10 on the ease of finding skilled employees. It is, in fact, the best economy in the world in this category. Of the others, the United Kingdom comes next (12th) followed by Germany (19th), Canada (20th), France (41st), Japan (54th) and Italy (63rd). China comes 40th.
Technology governance: Asked how the legal frameworks in their country are adapting to digital business models, only four G20 economies make it into the top twenty. These are; the United States (1st), Germany (9th), Saudi Arabia (11th) and the United Kingdom(15th). China comes 24th in this category.
"What is of greatest concern today is the reduced ability of governments and central banks to use monetary policy to stimulate economic growth. This makes it all the more important that competitiveness-enhancing polices are adopted that are able to boost productivity, encourage social mobility and reduce income inequality," said Saadia Zahidi, Head of the Centre for the New Economy and Society at the World Economic Forum.
Regional and country highlights
G20 economies in the top 10 include the United States (2nd), Japan (6th), Germany (7th) and the United Kingdom (9th) while Argentina (83rd, down two places) is the lowest ranked among G20 countries.
The United States (2nd overall) is the leader in Europe and North America. The United States remains an innovation powerhouse, ranking 1st on the Business dynamism pillar and 2nd on Innovation capability. It is followed by the Netherlands (4th), Switzerland (5th), Germany (7th), Sweden (8th), the United Kingdom (9th) and Denmark (10th). Among other large economies in the region, Canada is 14th, France 15th, Spain 23rd and Italy 30th. The most improved country is Croatia (63rd).
The presence of many competitive countries in East Asia and the Pacific makes this region the most competitive in the world, followed closely by Europe and North America. In Asia Pacific,Singapore leads the regional and the global ranking thanks to a top-10 performance in seven of the 12 GCI pillars, including Infrastructure (95.4), Health (100), Labour market (81.2), Financial system (91.3), quality of public institutions (80.4) and it takes advantage of being the most open economy in the world. It is followed by Hong Kong SAR (3rd), Japan (6th), and Korea (13th). China is 28th (the highest ranked among the BRICS) while the most improved country in the region this year (Viet Nam) is 67th. The ranking reveals how heterogenous the regional competitiveness landscape is. Although the region is home to some of the most technologically advanced economies in the world, the average scores of the innovative capability (54.0) and business dynamism (66.1) are relatively low, lagging behind Europe and North America.
In Latin America and the Caribbean, Chile (70.5, 33rd) is the most competitive economy thanks to a stable macroeconomic context (1st, with 32 other economies) and open markets (68.0, 10th). It is followed by Mexico (48th), Uruguay (54th), and Colombia (57th). Brazil, despite being the most improved economy in the region is 71st; while Venezuela (133rd, down six places) and Haiti (138th) close the regional ranking. The region has made important improvements in many areas, yet it still lags behind in terms of institutional quality (the average regional score is 47.1) and innovation capability (34.3), the two lowest regional performances.
In the Middle East and North Africa, Israel (20th) and the United Arab Emirates (25th) lead the regional ranking, followed by Qatar (29th) and Saudi Arabia (36th); Kuwait is the most improved in the region (46th, up eight) while Iran (99th) and Yemen (140th) lose some ground. The region has caught up significantly on ICT adoption and many countries have built sound infrastructure. Greater investments in human capital, however, are needed to transform the countries in the region into more innovative and creative economies.
Eurasia's competitiveness ranking sees the Russian Federation (43rd) on top, followed by Kazakhstan (55th) and Azerbaijan (58th), both improving their performance. Focusing on Financial development (52.0), and Innovation capability (35.5) would help the region to achieve a higher competitiveness performance and advance the process towards structural change.
In South Asia,India, in 68th position, loses ground in the rankings despite a relatively stable score, mostly due to faster improvements of several countries previously ranked lower. It is followed by Sri Lanka (the most improved country in the region at 84th), Bangladesh (105th), Nepal (108th) and Pakistan (110th).
Led by Mauritius (52nd), sub-Saharan Africa is overall the least competitive region, with 25 of the 34 economies assessed this year scoring below 50. South Africa, the second most competitive in the region, improves to the 60th position, while Namibia (94th), Rwanda (100th), Uganda (115th) and Guinea (122nd) all improve significantly. Among the other large economies in the region, Kenya (95th) and Nigeria (116th) also improve their performances, but lose some positions, overtaken by faster climbers. On a positive note, of the 25 countries that improved their Health score by two points or more, 14 are from sub-Saharan Africa, making strides to close the gaps in healthy life expectancy.
What are Market Anticipations and Policy Expectations as Shares Tumble?
On April 21st, the three major A-shares indices saw a severe drop due to a combination of local and global causes. The Shanghai Composite Index dropped 2.26%, the Shenzhen Component Index dropped 2.7%, the ChiNext Index dropped 2.17%, and the CSI 300 Index dropped 1.84%. More than 4,400 stocks fell in both cities, while industrial categories led by tourism, fertilizer, agriculture, and photovoltaics almost across the board.
As April started, the Shanghai Composite Index has fallen 7.5%, down 10.5% from the beginning of March. The CSI 300 Index has dropped 13.40% from 4,614 in early March to the current 3,995.83, which tumbled 21.31% from 5,078 in mid-December last year. Because incremental funds were not injected into the market anymore, only stock funds were up for grab. Since the middle of March, A-shares stock trading has been declining, indicating a lack of investor trust.
Researchers at ANBOUND believe that this demonstrates the market's pessimism about the future economic situation. With the downward pressure on the economy increasing, market confidence restoration and expectations stabilization are critical to helping in the healthy development of the capital market, as well as important in maintaining growth and averting risks.
Figure 1: The Shenzhen Component Index plunging more than 4,200 in the past 4 months
Source: Sina Finance
Market institutions have generally accepted the several factors that have caused the recent severe falls in the stock market. First, the worldwide geopolitical risk of distorting the supply chain and affecting company earnings is rather high. Second, since the Federal Reserve has escalated monetary tightening, the quick reduction of the interest rate gap between China and the U.S., as well as the inversion of the RMB exchange rate, is driving the RMB exchange rate to alter, raising concerns about capital flows. Next, the resurgence of the domestic pandemic has a substantial negative influence on China's economy, particularly in consumption and real estate as indicated in the first-quarter economic statistics, which has heightened concerns about the country's macroeconomy. Finally, the pessimism has been accentuated by a substantial disparity between recent central bank macro policy actions and market policy expectations. As a result, as long as present internal and external concerns persist, the A-shares market is unlikely to improve much in the immediate term.
Figure 2: The Shanghai Composite Index shedding more than 600 in the past 4 months
Source: Sina Finance
Historically, the fluctuations and transformation of China's stock market couldn't fully reflect China's overall economic situation. However, in terms of expectations, the shifting trend of the A-share market, by acting as a barometer of the economy, continues to illustrate the genuine expectations of capital market investors on future business and overall economic developments. As observed in the March market trend, changes in external variables have been absorbed, but recent stock market volatility is more likely to be aggravated by changes in internal elements. As a result, changes in China's economic circumstances and policy expectations are undoubtedly the cause of the stock market's dramatic volatility. Investors are increasingly concerned about the negative economic impact of the COVID-19 outbreaks, as well as a lack of trust in the stability of present economic strength and the rhythm of macroeconomic measures that sustain the economy. As things stand, despite the continued implementation of measures and policies aimed at stabilizing the capital market, these policies are insufficient to boost market confidence.
The pandemic and policy declarations are not only harming the capital market but are also major variables influencing China's economic future. Notably, the recurrence of COVID-19 is concentrated in those economically developed regions such as the Yangtze River Delta and the Pearl River Delta. The scope and depth of its economic impact may surpass that of the outbreak in Wuhan in 2020. In such a case, we believe that there is a demand to put dedicated unconventional policies into place. In this regard, it is necessary to implement targeted measures to stabilize economic fundamentals based on strengthening prevention and control. On the other hand, it is also essential to promote systematic easing among macro policies to avoid the catastrophic consequences caused by shrinking demand.
Since the beginning of the year, in the framework of the Chinese central bank's monetary policy implementation process, it has taken a cautious approach to progressively easing, which is far from the policy expectation. Although the central bank has maintained "reasonably ample liquidity" as a whole, the reality of the domestic economy indicates the private economy and a large number of small and medium-sized enterprises are unable to obtain sufficient credit support from those "accurate liquidity provisions". Such economic structural difference requires not only targeted structural reforms, but also overall easing to achieve the dredging effect from "loose money" to "loose credit", which would reverse the passive situation. Zhang Jun of Morgan Stanley Securities also pointed out that the policy-level "fueling tactics" will cause a waste of policy space and may also deepen the risk to diminish the expectations.
Concerning the present external limitations that limit China's domestic measures, ANBOUND has previously stated that variables such as interest rate spreads produced by economic and policy disparities are only one of the external factors impacting China's economy, but not the most important one. Further concern should now be given to the fundamental factors that drive economic growth and structural improvement. In terms of policy, it is imperative to enhance the 'autonomy' of macro policies. We should occupy this window, fundamentally reverse the economic trend, and assist the capital market to construct stable market expectations and policy expectations before the international situation undergoes further evolution, hence coping with a better response to the changes in external factors.
It would be difficult to reverse the situation after market expectations have shifted. When combined with a self-reinforcing impact, it frequently leads to a downward spiral vicious cycle in the capital market and the actual economy. Hence, it is hard to reverse market expectations without stable policy expectations. Judging from the economic data of the first quarter, the overall economy is still resilient and possesses a stable foundation. However, to achieve the economic growth target of the current year, it is still necessary to strengthen the implementation of macro policies. This is not only conducive to the stability of the capital market but for the overall economy as well.
Education Must Come First in our Global Economic Agenda
With leaders gathering at this year's World Economic Forum, it's time to prioritize the impact investments in education bring to businesses, economies and beyond.
As all eyes turn to this week's World Economic Forum in Davos, we call on world leaders and world-leading businesses to put education at the heart our global social and economic agenda.
Education is our investment in the future, our investment in sustainable economic growth and global security, our investment in the vast potential of our collective humanity.
To realize our goals of delivering equitable, quality education to every girl and boy on the planet – especially those caught in armed conflicts, forced displacement and other protracted crises – we must activate a global conscience and commitment, and create a value proposition that shows businesses, politicians and the general public just what an investment in quality education means for our world.
This means pre-schoolers can learn to read and write in safe environments. It means girls can become entrepreneurs and doctors – not child brides. It means boys can be teachers and lawyers – not soldiers.
It means refugee children and adolescents displaced by conflict, climate change and other crises in hot spots like Bangladesh, Colombia, the Sahel and Ukraine can go on to complete 12 years of education and become leaders of a peaceful and healthy society.
It means college and beyond, a smarter workforce, and greater socio-economic stability. It means an end to poverty and hunger, establishing gender-equality, and advancing human rights for all.
Unravelling the challenge
This is one of the most complex problems ever to face humanity. When Education Cannot Wait (ECW) – the UN's global fund for education in emergencies and protracted crises – was established in 2016, an estimated 75 million crisis-impacted children and youth did not have access to the safety, protection, hope and opportunity of a quality education. That number has risen to an estimated 200 million in recent years as we see a rise in conflicts, displacement, climate disasters and a deadly pandemic that has upended our progress to achieve the Sustainable Development Goals by 2030.
While a minority of people on the planet are enjoying all the comforts of modern life – and football teams sell for more than $5 billion – over 617 million children and adolescents worldwide cannot read or do basic math. That's more than the total population of ECW's three largest donors – Germany, the United Kingdom and the United States – combined.
Nevertheless, to date, less than 3% of government stimulus packages have been allocated to education, and in low- and lower-middle-income countries, the share is less than 1%. We can and must increase this government funding three-fold, following the example of the European Union, which announced in 2019 that it would increase education spending to 10% of humanitarian aid.
Government aid alone isn't enough
The private sector, businesses and philanthropic foundations like The LEGO Foundation, Dubai Cares, Verizon and Porticus are already activating significant investments into the space.
We need to bring in more funding from industries closely connected with education – like Google, CISCO and Microsoft – and from those which have a vested interest in ensuring global economic stability and resilience, like the Jacobs Foundation, Western Union and Hilton Foundations of this world.
As we embrace the spirit of Davos – "to demonstrate entrepreneurship in the global public interest while upholding the highest standards of governance" – it is clear that this is a global issue that won't just impact the rights and life trajectories of the world's most vulnerable children, it will impact the bottom line for businesses, disrupt global socio-economic stability, and affect us all if we don't act immediately with decisive action and collective humanity at the forefront.
Building together
Education Cannot Wait has already mobilized over US$1 billion over a few short years and reached approximately 5 million children, but it is simply not enough.
In the next three years, with the support of donors, the private sector, philanthropic foundations and individuals, we need to mobilize at least an additional $1.5 billion. This needs to happen with the leadership of the G7, the resources and know-how of the private sector partners featured at this year's World Economic Forum, and the enhanced commitments that will make headlines at this year's Transforming Education Summit, convened by the UN Secretary-General.
This will enable ECW and our strategic partners to respond immediately and effectively to the education needs of at least 10 million children and adolescents – including 6 million girls.
Think about the ROI. This works out to just $150 per child. If each of the world's Fortune 500 companies made just a US$15 million contribution, we could surpass our goals and reach 100,000 children per donation! That's 50 million more children with an education, 50 million more children breaking the hunger and poverty barriers, 50 million more opportunities to provide certainty in the face of very uncertain economic times.
Think about the future. If you could future-proof your business for the next 30 years with such a simple investment, wouldn't you do it? Investment in education is good for the bottom line. With increased security and economic opportunity in the Global South, we are opening new markets, increasing economic resilience and building a more prosperous world.
Think about the legacy. For every $1 spent on girls' education, we generate approximately $2.80 in return. Making sure girls finish secondary education could boost the GDP of developing countries by 10% over the next decade.
Think about scale. For every dollar raised, ECW and our strategic partners are leveraging about a dollar. This grows impact exponentially.
Think about our place in history. This is our moment to transform education for those left furthest behind. Please join us in ensuring every girl and boy – no matter who or where they are – has the opportunity to go school, to learn, to grow and to achieve their potentials not just for a day, but for a lifetime.
The Politics of New Global Borderless-Class
No, they are not the immigrants; they are citizens of a country in their own habitats, but active in yours. Slow circumnavigation of our earth will only prove that at the bottom of the population of each nation now there exists a new borderless-class slowly rising. Firstly, they are effortlessly, technology supported, secondly, squeezed out of imbalances, injustices and inhuman entrapments, thirdly, engaged in 'nouveau occupationalism' with virtual hopping from nation-to-nation all in the same typical routines of a normal day.
Fourthly, they are screaming silently, they see the global problems in desperate need of global solutions. Nevertheless, still inaudible in the political rotundas slowly they now become the force challenging old models of governments.
Study Pakistan, Sri Lanka and dozens of population-rich nations of the free world, notice the restless citizenry and their social media centric mobilization of dissent and protest narratives. As in coming months, peak temperatures will further fry the incompetence of the lingering economic bureaucracies. The sizzle is awakening, the awareness of incompetency on the rise. Unless grassroots prosperity issues are boldly addressed the economic fakery clearly visible on trillion blinking devices. Such blinks do not prove neither fame nor popularity but points to a silent ocean ready to drown them. What are the most important and dramatic roles that these borderless-classes will play in our behavioral economies and future demographics? Observe the goals, vision and narrative of Imran Khan of Pakistan. Notice the silent Australians and polls in dustbins… 25 more national elections ahead.
Why elitism was multinational: Observe, in contrast, for centuries, only elites allowed global games; multinational organization with multinational rules of engagements. Today common folks are on the same platforms. They, born in a country but grew up in another country, work in some other continent and eventually settle in another new country. Exposed to massive digitization, access and internalization of rules of engagement in a massive global society with residency in multiple jurisdictions they are different.
Now Face-to-Face around the world: Compared to previous generations, the new borderless-classes are extremely well informed, this significant feature makes them locally, regionally, nationally and globally interconnected and creates a game changer. Most dramatic economic behaviorism of this borderless dynamic is face-to-face engagement around the world, while remote. Previous elite borderless-class was jet- set dependent. It will take some deep yoga exercises to figure out mathematical variations to measure the power of their productivity of these hush-hush global whisperers.
What is the world waiting for? What does all this mean to the institutionalized bureaucracies, nestled in governances of the nations of the so-called free world, awaiting a nuke-flash? Perhaps nothing, or shocking realization that masses are discovering by the day how artificially created pre planned economic dramas are hurting local grassroots prosperity. Most importantly, they are equipped and capable to see the root causes and equally to recognize the available workable options. This is the difference. Unlike some generations fooled sometimes or some all the times but this global-generation cannot fool all the time.
Is this brain drain or invasions of skilled minds?
The coin-operated competency of the Gig-economy now takes notice…
Most difficult questions; almost numbing most bureaucracies of the free world; when billions are already displaced due to pandemic, a billion replaced due to automation and a billion in wrong mismatched mandates how such masses are handled before they move towards populists viewpoints. Such shifts measured as unemployed now occupy remote work for overseas assignments and equally when local workers pushed over by higher skilled workers at half prices but working as foreign workers without paying taxes or contributing to the local societies. Is this brain drain or invasions of skilled minds? The answers now buried in the several decade long abundance of higher quality upskilling and reskilling in hands of the leading nations of the free world points to massive breakdown of skilled citizenry. Study Expothon on Google on such issues, notice what is changing the thinking…
Only fake economies fail, as only houses built without builders and architectural rules collapse. Observe the root causes of the last few financial crises. How such collapses systematically occurred, how the whole world of finance, quietly went so wrong, no punishments or lessons, just silence? Now all wait for the repeat performances.
Unfortunately, the jobless cannot create green economies and jobseeker mindsets cannot build new economies, therefore, bold, authoritative narrative on entrepreneurialism needed to bring the job creator mindsets in collaboration as the new art and science and combine both mindsets are going forward strategy. Is climate change a global politics or an entrepreneurial challenge, find the answers.
Study why capitalism is not the one failing: It is actually economic development. Winners of the future not necessarily are the visible rich and power of today. Notice the rising power of the bottom societies. Value creation economies when they become beneficiaries of primarily institutionalized value manipulation economies they become open public frauds. Nations without clear and decipherable narratives on economic fronts with national mobilization of entrepreneurialism will not create a distinct advantage.  Learn fast, fail fast, but move
Nations must demonstrate superior skills to build economies and not wars, creation of armies of entrepreneurs and new valleys of new enterprises. Only in-depth discussion and nationally televised debates about such economical mysteries will highlight the answers. The silent new borderless-classes of the free economic world are now learning how to fix their government, how to bring change and how to create grassroots prosperity. The rest is easy.