From Ancient Era to Imperial Era: Indian Ocean in Historical Lenses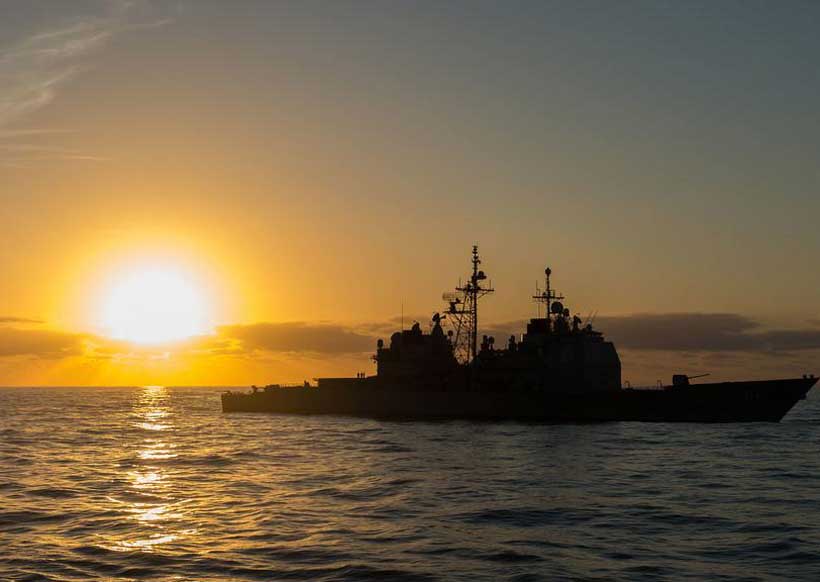 "Whoever controls the Indian Ocean will dominate Asia, the destiny of the world will be decided on its waters," Alfred Mahan
Authors: Rana Danish Nisar & Ali Nagri*
Among the oceans of the world, The Indian Ocean is third largest covering 70,560,000 km that is approximately twenty percent of the water on the earth. This is bounded by Asia on the north, Australia in the east and Africa in the west and the Southern Ocean which is situated in the south. Its borders were defined in 1953 by Hydrographic Organization. The average depth of Indian Ocean is 3741 m and the Sunda Trench (earlier known as java trench) is the deepest point of it that has a maximum depth of 7906m. The important points are Bab el Mandeb, Strait of Hormuz, the Lombok Strait, Strait of Malacca and the Palk Strait. Its seas are Gulf of Aden, Andaman Sea, Arabian Sea, Bay of Bengal, Great Australian Bight, Gulf of Oman, Persian Gulf and Red sea. It is artificially connected to the Mediterranean Sea through the Suez Canal. The whole Indian Ocean is lies in the Eastern Hemisphere. It is the warmest ocean of the world and its warming is the largest among the tropical oceans. This essay attempts to discuss the history of Indian Ocean from ancient period to imperial period.
Prehistoric and Ancient Era
It is not easy to date back the human history of the world; same is the case with the Indian Ocean. Early rock art in India as in other places like Africa and South East Asia is very difficult to date to a specific period. The rock art designs found in caves are believed to be 10,000 and 6,000 years back. This art shows a row of animals outlined in red ochre crayon and filled with crisscross lines. According to scientists, around 8000 years ago the first modern humans left Africa and it was through Indian Ocean. They were originated from a single woman from East Africa and therefore named 'mitochondrial Eve' as she was ancestor of many Africans tribes and groups of migrants who populated the rest of the world. Bronze Age is some 3500-1100 BC named after a durable metal made by combining copper and tin together. In southeast Asia bronze spearheads, bells, axes and jewelry have been discovered and some archaeologists argue that Thailand bay have been one of the first centers of Asian bronze industry. Cowries shells (small, oval mollusks, found in many varieties) are very smooth sea shells only found in Maldives, a chain of islands in Arabian Sea, became very important in world trade as these were used as money around the Indian Ocean. Cowries have been found in ancient Harappa and in tombs in China in second millennium and later. These were not only used in Asia but also found in West Africa where these were used as money. These also provide proof of seagoing Indian Ocean Trade networks and their connection to land routes. Monsoon Winds blow in Indian Ocean in a regular pattern and are playing its important role in sea trade. Since the beginning of trade and travel monsoon are very important as in one season a ship could sail from Arabia or East Africa towards coast of India and in other season when the wind change its direction this ship will sail back. Merchants are using monsoon winds roughly since 2000 BC and these winds encouraged regular trade, communication and migration across the Indian Ocean.
Classical and Medieval Era
By the end of Classical Era Sugar was very wonderful luxury for cooking and sweetening in Persia. During the next few centuries, sugar spreader widely in the world through Indian Ocean trade. The Isthmus of Kra is a narrow strip of land that connects the Malay Peninsula to continent of Asia. It separates the Indian Ocean form the China Sea. Traders of Indian reached the rest of Southeast Asia by crossing the Isthmus of Kra rather making the longer and more difficult journey around the entire Malay Peninsula. By the first century CE, traders from Arabia and Africa regularly transported across the Indian Ocean, overland through the Isthmus of Kra and up to China. Merchants even continued to use this trade route when political disputes made land travel dangerous throughout the second and third century. Muziris was also an ancient port city in today's Indian state of Kerala. It was famous trading market for Roman-Indian merchants in India. Around 100-200 CE, in Roman Empire pearl jewelry was very popular. Pearls which were produced by oysters and fished out of sea were very favorite of wealthy Romans. Pearls were very ideal trade good because it takes very little room on ships but were very precious and commonly used for jewelry and decoration. These were also used for medicine. The world's best pearls came from the water of the Persian Gulf, near Bahrain, UAE, Qatar and Oman.
The pearling industry was very important to these countries as to export to Roman Empire. Ibn Battuta a very famous traveler and historian also contribute towards Indian Ocean. He tells a lot about Maldives Islands of Indian Ocean and their exchange of unique resources of their islands that directly lie on the Arabian Sea for necessities and food, metals and brass goods and textiles. Two products were particularly important one was coconut fiber rope very important for shipping industry and second was cowrie's shells used as currency at that time. Cowries are known to have been used as money for Indian Ocean trade from the earliest periods to the 19th century. Ivory was another important product highly traded at that time from India and Southeast Asia but African ivory was highly prized because of shapes and very large tusks of African elephants. These were also very soft for carving. Greek and Roman geographers reported the trade of ivory from East Africa as early as 4th century BC.
As trade with east Africa expanded, gold rhinoceros horn, mangrove poles with ivory tusks from the Africa were goods traded through Swahili cities of East Africa. Interestingly, Bananas have been cultivated since 6000 BC or even earlier in Southeast Asia, and were spread to Indian and China and major sea routes of Indian Ocean by 1000CE. As Islam spread and its contact along the land and water routes, bananas were also spread across the Mediterranean, in Palestine and Egypt, and from North Africa it moved to Muslim Spain and to the West Africa. Bananas could not be grown in Europe, but later in the 1500s, the Portuguese carried the banana to the New World, where it has been grown since the 1500s. Biruni a very famous historian and geographer contributed a lot with the efforts and help of Caliph al Ma'mun to measure the meridian in the 9th century. Al Biruni advanced the technology to determine the positioning and coordination of earth and different places. An advanced form of this is known as Global Positioning System (GPS) today. He also writes a book "The Determination of the Coordinates of Positions for the Correction of Distances between Cities" in 1025 CE by using the mathematical geography. Al Biruni work was very accurate at that time and modern measurements confirm it.
Global Era 1500 to 1770 CE
Among the famous explorer of this era a famous name is Ferdinand Magellan from Portugal born in 1480. When he was younger he worked as a helper in the Queen's palace where he heard the fantastic adventures of great sailors like Vasco da Gama, Christopher Columbus and Bartholomew Dias, and their discoveries. Magellan sailed under the Portuguese flag form years until he got a dispute with the Portuguese King. After it Magellan approached the Spanish King join his fleet with an idea to find a western passage to Spice Islands and to compete with the Portuguese trading system in Indian Ocean. At the time explorers believed that the Strait of Magellan only opened up into a bay rather than the Pacific Ocean but Magellan believed otherwise. He sent a small crew to explore the western parts of the strait. Magellan named the strait as Estrecho de Todos los Santos (the Strait of all Saints) but the Spanish King renamed it in the honor of Magellan as a Strait of Magellan. Magellan set sail from South American coastline into Pacific Ocean; he named it Pacific as he found it very calm as compared to the Atlantic where he spent the most of time.
The crew continued the journey for three months without fresh food and many died but ultimately reach to eastern Asia. This era cannot be concluded without mentioning the Captain Cook. James Cook is probably the most accomplished European mariner of the 18th century. He went on three official voyages and spent over a decade at sea from 1766 to 1778. His first voyage was scientific in nature to Pacific Ocean in 1766 to observe and record the transit of Venus across the sun. After his return from first voyage Cook was commissioned to lead another scientific expedition on behalf of Royal Society to search the Terra Australia. His last voyage was to locate a Northwest Passage around the continent of America. The purpose of the voyage was to find a Northwest route that many believed led back to Europe. In 1778 captain James Cook became the first European that has formal contact with the Hawaiian Islands. Cooked named this archipelago the "Sandwich Islands". Captain Cook was also murdered in 1779 on a Hawaiian island by local villagers on his final voyage when Tensions rose, and a number of quarrels broke out between the Europeans and Hawaiians. His voyages are best known for their contributions to geographic discovery, science, and the arts.(Rumely. d, 2007) He brought back plants, animals, and collections of art along with maps he made of his South Pacific voyages.
Captain Cook is credited for mapping New Zealand, some Polynesian islands, the eastern coast of Australia and was the first to circumnavigate Antarctica while searching for a southern continent. Captain Cooke was among the first to use the newly perfected chronometer on his Antarctic voyage, a device which allowed him to measure his longitude with precision. The Dutch East India Company also known as The United East Indian Company was founded in 1602 as a charter company by Dutch Government granting it monopoly over Dutch spice trade business. This company came Indian Ocean later than the Portuguese but it dominated the spice trade of Indian Ocean by taking complete control of cloves, nutmeg and mace. On the other hand, although pepper was most important good of trade for this company yet company failed to control the pepper its sale and shipment as it grew in many places and Dutch East Indian Company could not control ever source of pepper. According to a rough estimate Europeans, in the seventeenth century, carried out almost seven million pounds of pepper shipment from Indian Ocean to Europe every year. In addition to spices, printed fabrics with fantastic flowers of many colors were very important goods of trade. These were originally printed in France. But during the 17th and 18th centuries, Indian style chintz fashion was very popular.
These were hand painted on smooth cotton fabric with fast color dyes and imported from the India from Gujarat province and were sold in France by British East Indian Company. Their demand was so high that French lawmakers were afraid that it would hurt French weaver industry so they banned it by law to import and forbidden to wear it. But amazingly, they continued to be popular, even though the French law included the death penalty. The reason was that the Mediterranean port of Marseilles was exempted from all such laws and it became the heaven for smugglers of Indian cottons and from here it was imitated into other parts of France and people wear these cloths secretly in their homes instead of public places. Ultimately on the pressure of public these fabrics were made legal by lifting up all laws. During this era when the Ottomans conquered Constantinople (Istanbul) in 1453, they established a center point for navigation for their territories around the Mediterranean and the Black Sea, the Red Sea, the Persian Gulf, and the Indian Ocean.
The Ottomans were well aware of the growing competition from Italy and other European powers. The King, Sultan Mehmet, built a naval ship building arsenal on the Golden Horn, known as Halic in modern Turkey a waterway of Istanbul, and appointed a Commander of the Navy. At the arsenal, galleys, or ships with oars, were built, repaired and equipped with supplies. This arsenal was consisting of more than 200 buildings for preparation and repair of ships, ammunition depot, a mosque, a prison, kitchens for preparing food for working labor and to store on ships, water reserves for fresh water supply for voyage and administration buildings including studios for artisans related to shipping and outfitting. There was no match Istanbul maritime Arsenal but only one in Arsenal of Venice. A large Ottoman fleet which expanded in sixteenth century was built in the arsenal. Sultan announced that he would build 500 warships in addition to already existing hundreds of war ships to threaten other powers. They were already controlling the ports in Syria and Egypt, and wanted to hold major Eastern Mediterranean islands. Thousands of men from all over the Ottoman Empire were employed in Ottoman navy. They were organized into Officers and crews. The commanders and seamen who sailed and other were the workers and managers of the Arsenal, and both braches were headed by the Grand Admiral of the Fleet who directly reported to the Sultan. The whole operation was highly organized and well financed.
The Ottoman Navy kept it organized for centuries and ensure its presence it three major seas. The people living on the Malabar Coast of Kerala province of India are known as Mappilas. This community was grown by intermarriages of Arab traders and local Hindus on the coast of Malabar. This community maintained peaceful trade relations for centuries with other communities of India and Indian Ocean. These links with traders of Arab and Persia dated back to centuries. According to a legend, the King Chera Manperumal Malabar had a vision during the time when Prophet Muhammad (PBUH) lived and the king departed to visit Makkah. King Chera Manperumal embraced Islam and supported its spread on the Coast of Malabar. The Malabar mosque, built in 629 CE, is the oldest on the continent of India. It still exists today. The community of Mappilas developed their own culture in dress, food music and in dance also. They lived in a peaceful and beneficial way with other groups and communities and Hindu king of Malabar Coast treated them as a merchant caste, who gained wealth and status from their activities as traders. Famous explorer like Ibn Battuta and Marco Polo mention this community as a peaceful trader. When Vasco da Gama entered the Indian Ocean he was amazed to know that Muslims were prominent merchants in Africa and Asia and Portuguese had fought against Muslims traders to gain control of trader routes. They anchored on Malabar Coast with cannons and demanded the Hindu rulers to expel the Muslim traders from the coast.
The Hindu rulers were stunned and refused to do so. Portuguese bombarded the towns and demanded the control of seas also authority to allow the passage by special permission. This situation was very awful for Mappilas so they retreated inland and became farmers or involved into fishing business. Others used their maritime skills and fought against Portuguese ships, captured them and continue trading. To the Portuguese the Mappilas were pirates and smugglers. The Europeans used the Carracks to take the control of all trade in Indian Ocean. They also armed these ships and attacked major ports of Indian Ocean for example Mombasa and Kilwa in Africa, and Calicut and Malabar Coast in India. They also attacked on Arab merchant's ships and other ships that have not trading permits form Portuguese government. This was to take all the trade control of Indian Ocean trade and to control the ports. However, they only had limited success and they met a great resistance from Ottoman Empire Navy and from other Europeans. Besides, the Indian Ocean was too large to control by this way.
The Opium became also an important product for trade. Opium poppies are natively grown in Mediterranean region from thousands of years. From this it traveled to Greek, China and also to India by sea routes before 12th century. Opium poppies were grown also in India and the Mughal Empire controlled the trader of Opium. The Narcotic property of opium was used as a medicinal plant and its use can be found in Greek and Arabic manuscripts. When Muslim medical work was translated in European languages it also became known to Europeans. The trade of opium increased extensively after the entry of Europeans into Indian Ocean region in 16th century. It was imported to Europe as a popular medicine. Portuguese also trader the it from India to China and the Dutch brought into China and Japan the practice of smoking opium through tobacco pipes. After the weakened the Mughal Empire the British gained power in India and British East India Company gained complete control of trade also of opium and started taxing the sale of Indian Opium. European also gave very importance to opium by using it as an exchange commodity for trading of tea, silk and porcelain instead of gold and silver. They expectant Chinese merchants to buy opium they bought in India as an exchange for trade. Soon the Chinese became addicted of it and by seeing all this situation Chinese government banned its import and use. But on the other hand British started its smuggling and increased opium production as it was most profitable crop. This all situation leaded to Opium Wars between China and British East India Company.
Industrial and Imperial Era
During 19th century the Royal Geographic Society of Britain announced a prize competition to find and chart the Nile's source. Two explorers Captain John H. Speke and Captain Sir Richard F. Burton found this in 1858. Captain Speke named the lake after the Queen Victoria. James Bruce a Scottish explorer also claimed to be the first from Europe to reach to Nile source.The people working on ships of British were known as Lascars. The word Lascar is drawn from the Persian language that means army. This term was used by the East India Company for the persons who were working on their ships. These persons were skillful seamen, rope makers, ship carpenter and other crew needed on the board belonging from different regions of coastal areas of Asia. These were free men who sold their services for wages mostly came from Indian Ocean region. These people were later settled. There life was not easy and they had to do all the chores of the shipping life. The Lascars worked long shifts in the dark, hot, dangerous engine rooms and coal furnaces that powered the ships. By 1928, there were more Lascars employed on British ships. Slave trade was common in regions associated to Indian Ocean. Slavery in the Indian Ocean was consisting of a wide variety of peoples of scattered cultural and backgrounds.
Peoples were involved in different capacities as slaves, slave traders and owners of slave's form regions of Africa, Arab, Asia and Europe. Male slaves were indulging in the business of pearl divers, ship crew, employed into trade, working in agricultural fields and as soldiers of wars while female slaves often worked in homes as maids, nannies and nurses. In the eighteenth and nineteenth centuries African slaves demand was rapidly increased because of less price and hard working. British worked hard to end slavery. British Empire declared protect zone for slavery. But unfortunately, till to date, slavery is persisting is some sorts of forced labor, especially involving women, children and poor population of third world countries and refugees. Suez Canal was also built during this era. This is the artificial waterway is 163 km long, running north to south across the Isthmus of Suez in northeastern Egypt and shorted the distance between the Red Sea and Mediterranean Sea. This canal is one of most important water ways of the world. This is also known as crossroads of Europe, Africa and Asia because it is interlinking these three continents. It was built in 1856 by a French company after ten years' hard work. This made trade easy as traders had not to sail around the Africa or carry goods overland and gained its importance to European Imperial powers. in combination with the expansion of the American transcontinental railroad, the canal permitted the world to be circled in record time. The Suez Canal was not initially a financial success for Egypt, nor for France. Due to the growing debt required to finance it, Egypt was forced to sell the canal to Great Britain in 1875.
The English controlled the Suez Canal until shortly after Egypt regained its independence from Britain and nationalized the canal. Steamships changed the Indian Ocean trade by opening new routes that were not dependent on the winds.  By the mid to end of the 19th century, the British Empire had the largest and most successful naval force in the world powered by steam. Steam power allowed for expanded exploration of the continents, the mass movement of people around the world, and caused great changes in the trade system. During the period of the steam engine ships grew larger and faster, but they had to refuel often. The ships were first used for short and regular service, like mail and wealthy passengers. These first ships had a huge advantage over sailing ships, in that they were much easier to navigate upstream and this made rivers and canals more accessible. Steam-driven railways also transformed the British Empire, and the Indian Ocean region, increasing business activity, and giving consumers access to cheaper goods. In 19th century the most important and the busiest port of Arabian Peninsula was the city of Muscat in Oman. Being an international port, the city was heavily populated, having different religious, and multi-ethnic. Muscat was the crossroads of trade between East Africa, the eastern shores of the Gulf, and western India. In the 19th century every kind of merchandise could be found, silk and linen, spices, dates, coffee brought across the desert by caravans, pearls, grapes, bananas, figs, butter, fowl, and many more. Muscat was known for being supreme in trade and military power, and the city produced a lot of wealth for the Omani nation. Omani rulers carried out careful associations with customary Indian Ocean trading partners and with the European powers. They even concluded a trade treaty with the Americans.
*Ali Nagri, PhD Candidate, School of Politics and International Studies
Justifying a Pakistani Response to India's Hybrid Warfare Campaign
Hybrid warfare has irreversibly changed the dynamics of war in the contemporary era. In a way, it can be perceived as forming a 'new normal' that has also transformed the nature of warfare in South Asia, one of the most volatile regions of the world. There is no doubt in claiming that Pakistan has been a victim of 'hybrid warfare' widely perceived to be launched and sponsored by India. This has remained evident even in the region's history where the situation in East Pakistan in 1971 involving the promotion of Mujib's six-point plan, and the training and support offered to the Mukti Bahini's violent separatist movement were all led by India. In the same vein, the current extent of hybrid warfare against Pakistan can also be analyzed from the fact that India is still waging a Low-Intensity Conflict (LIC), through the employment of its proxies in the region. These are further bolstered by its Anti-Pakistan psychological operations, mainstream and social media campaigns, information operations, false flag operations, and undermining Pakistani interests economically, politically and diplomatically at various international forums. As a result, Pakistan is being forced to counter this hybrid warfare campaign through greater preparedness and a concerted strategy as this 'new normal continues to threaten Pakistan's national security.
These hybrid threats to the national security of Pakistan have resultantly become a major concern for its politico-strategic outlook. In view of this, the unrest in Baluchistan, which is all the more pertinent because of CPEC, is not acceptable to Indian interests at the present. Hence, this forms one of the primary reasons behind its sustained campaign against Pakistan. This is evident for instance in how Kulbhushan Jadhav, a serving Indian military officer was convicted for spying inside Pakistan and supporting terrorism in Baluchistan. Furthermore, the Balochistan Liberation Army (BLA), a terrorist group that has been known for decades as being backed by India was also reportedly involved in an attack on the Chinese Consulate in Karachi back in November 2018. Similarly, the Pashtun Tahafuz Movement (PTM) movement which is evidently involved in anti-state activities is also widely understood as being sponsored by India's Research and Analysis Wing (RAW) and Afghanistan's National Directorate for Security (NDS). has All the above have thus carried all the hallmarks of both the NDS's and RAW's past activities and nefarious motives with regard to destabilizing Pakistan.
In addition to this, Pakistan has been the target of multiple Indian sponsored 'hybrid' campaigns at the international diplomatic level specifically when it comes to Pakistan's nuclear program. In this regard, India has been working for quite some time to project Pakistan as a country involved in nuclear proliferation. As a result, significant lobbying at various multilateral forums has been carried out by India to paint Pakistan as an irresponsible or even 'rogue' nuclear weapons state. Whereas, in fact, the irony is that it is Mr. Modi's BJP led Hindu Nationalist and Extremist government that is willfully acting the role of the irresponsible near unhinged nuclear weapons state through his consistent and deliberate negative nuclear signaling against Pakistan. Thus, it is instead India which coupled with its sustained hybrid warfare campaign against Pakistan manifests a very real danger in terms of the present situation escalating towards the nuclear realm. This, for instance, is further evident in how Mr. Modi has repeatedly threatened Pakistan with the use of nuclear weapons – such as thermonuclear weapons – solely for the sake of political and electoral goals. As such, India has actively aimed to portray Pakistan's nuclear posture and doctrines as a 'Nuclear Bluff', blaming Pakistan for 'Nuclear Blackmailing'. All while the Indian Nuclear Arsenal, which unfortunately still remains under the control of Hindu Extremists, and presents a more pressing and immediate danger.
The fact, however, remains that within the current scenario in India; conditions are ripe for Pakistan to wage its own campaign to bolster its stance at the international as well as the domestic level within India by launching its own hybrid warfare campaign. For instance, the Indian government's unilateral revocation of the special status of the Kashmir region that had been previously granted under Articles 370 and 35(A) of the Indian constitution has played a key role in bringing to surface deep-seeded and pre-existing communal tensions. In the same way, the discriminatory decision by the Indian Supreme Court regarding the demolition of the Babri Mosque which the court has ironically based on preserving the balance between Hindus and Muslims has also inflamed tensions even further. Similarly, the recent controversy surrounding the 'Citizen Amendment Bill' (CAB)has also come to represent India's failed attempts at justifying its Anti-Muslim agenda. In view of all these challenges being posed to Indian Muslims, Pakistan can opt for a more offensive stance in helping further accelerate the widely foreseen demise of the ruling BJP government, which in itself is primarily of its own making. At the very least Pakistan can provide moral and logistical support to some of India's most marginalized groups to help lay bare the injustices and wickedness of the ruling BJP. Thus, appealing to a more principled stance aimed at a domestic Indian as well as a wider international audience.
Hence while Pakistan is facing a variety of threats from India, it has not yet undertaken a similar campaign of its own to counter and respond to such threats in kind. Despite the Indian government's continued atrocities, the fact remains that Pakistan still holds a highly principled stance vis-à-vis the tactics currently being employed byIndia. The difference remains that based on this scenario, any action taken by Pakistan would be based on championing a purely more inclusive and pluralist approach promoting human rights in the face of a violent extremist ideology. The recent opening of the Kartarpur Corridor stands as a valid case in point. As such Pakistan's stance remains miles apart from India's deliberate, deep-seeded and destabilizing divisions fueled by hate and indifference. In essence, championing 'A New Normal' that is worth fighting for.
Pakistan Seeks Peace in the Region as well as Globally
Pakistani narrative is gaining momentum worldwide. Pakistan's peace efforts in the Middle-East, Afghanistan, and any other part of the world are lauded and got well recognition. In fact, Pakistan was the victim of Afghan-War for 4 decades and suffered huge economic, political, and social losses. Pakistan is willing to share its bitter experiences and trying its best to promote Peace globally.
PM Imran Khan, in an interview with German broadcaster Deutsche Welle (DW), said "Then there is Afghanistan. Pakistan is doing its best to bring peace to Afghanistan. It is a country that has suffered so much in the past 40 years. We pray that the Taliban, the Americans, and the Afghan government achieve peace".
"I think they are heading towards a ceasefire. We are hoping that the US-Taliban talks succeed, as we have a new government in power in Afghanistan with President Ashraf Ghani being re-elected," PM Imran remarked when asked about the Afghan situation.
"Peace in Afghanistan would open up trading opportunities in Central Asia. It [Afghanistan] would also become an economic corridor for us. If there is peace in Afghanistan, our people in Khyber Pakhtunkhwa province, which borders Afghanistan, will also benefit," he said.
"Pakistan has played its part in peace talks. There was a hostage situation and with Pakistan's efforts, two out of three Western hostages were released. So, we are doing our best with whatever influence we have," he added.
Pakistan has emerged as a Peace-Loving nation and well matured, responsible state. The Visionary leadership in Pakistan has taken several initiatives for Peace and Stability. Our role in Afghanistan, to bring the Taliban to the negotiation table with The US is one of its big success. PM Imran Khan has visited Tehran and Riyadh, to diffuse tension between Saudi Arabia and Iran. Pakistan supports to diffuse US-Iran Tension. Foreign Minister of Pakistan has been traveled to Tehran, Riyadh, Oman, and the US for dissolving tension. Pakistan has such experience and influence in the region to mediate among stake-holders for Peace and overcoming the differences.
While India is the opposite case. PM Imran Khan, in an interview with German broadcaster Deutsche Welle (DW), said that India had been taken over by an extremist ideology known as Hindutva which is inspired by the German Nazis, and its [Hindutva's] founding fathers believed in racial supremacy. It is really a big tragedy for the region that India has been taken over by the extremist Rashtriya Swayamsevak Sangh (RSS) and warned the global community that the nuclear-armed country was being run by extremists.
PM Imran Khan said "It is a tragedy for India itself — and for all its neighbors — that the country has been taken over by RSS, an organization which also assassinated the great Mahatma Gandhi. A nuclear-armed country is being run by extremists, and Kashmir has been under siege for over five months".
His remarks came in a response to questions, about tensions in South Asia and the occupation of Kashmir by Indian troops. "Just as the Nazi ideology was built on hatred for minorities, the RSS ideology is also based on hatred for Muslims and other minorities, including Christians." India is building detention camps in the same lines as Nazi in Germany. In fact, there exist similarities between RSS ideology and Nazi ideology. So one should expect a similar outcome, or even worse. He further said that he was the first leader to warn the world about what is happening in India. India has been taken over by an extremist ideology known as Hindutva. India is no longer a Secular or democratic country. It is the ideology of RSS. The RSS, a political organization founded in 1925, inspired by the German Nazis, and following its steps in a much bigger and advanced manner.
It is worth mentioning that India and Pakistan, both are nuclear countries and possess enough compiles of weapons to destroy each other completely. If the international community keeps its role of spectators, it might lead to a big disaster not only for India itself but as well as for Pakistan, all neighboring states, whole region and global.
In response to a question about the disproportionate coverage accorded to protests in Hong Kong as opposed to the siege of occupied Kashmir, PM Imran said that the tragedy of Kashmir was much greater but commercial interests are more important for western countries. "Unfortunately, commercial interests are more important for Western countries. India is a big market and that is the reason behind the lukewarm response to what is happening to some eight million people in Kashmir, as well as to minorities in India," he noted. Although the general public in such countries stands with the Peace and protests against India atrocities in Kashmir and against its minorities. The general public around the world condemned Indian record violations of Human Rights.
It is appealed to the UN, the International Community, All peace-loving nations and Individuals to approach India and take appropriate measures to defuse tension in the region.
Save Humanity! Avert Disaster!
India: Domestic policy trends and development problems
The impressive victory scored in last spring's parliamentary elections in India by Prime Minister Narendra Modi inspired numerous comments about the start of a new stage in the development of one of the largest countries around. However, the spate of dramatic events that have since happened in India has drawn attention to the negative trends in the world's second most populous nation.
Since its coming to power in May 2014, the current Indian leadership has set itself ambitious and long-term goals aimed at strengthening both the country's authority in the world, its status as a "serious global player" and creating new opportunities for its accelerated development and economic growth.
"Over the past five years, Modi has sought to regain India's lost strategic position in South Asia and ensure its recognition as a regional leader according to the country's de facto role in the region," said Dattesh Parulekar, vice president of the Forum for Integrated National Security (FINS). In its effort to overcome the growing imbalances in development, the Modi government launched a number of large-scale economic administrative, financial and social reforms. Moreover, authorities still declare their intention to bring the national GDP to $5 trillion by 2024.
Another important goal being pursued by the government is centralization of the state and national consolidation, which it considers vital for the country's further development and sway, including in international affairs. From the standpoint of domestic policies, it is primarily about encouraging the growth of Hindu national and religious identity. Hence, as many foreign observers believe, the elimination by the Modi government in August 2018 of the special status of Jammu and Kashmir, then the country's only predominantly Muslim administrative unit. The decision was fully in line with the ultimate goal pursued by the ruling Bharatiya Janata Party (BJP) and the forces supporting it, i.e. the proclamation of India as a Hindu nation. Playing to the sense of ethnic identity of most of the country's inhabitants already brings political dividends with the BJP winning 37 percent of votes in the last parliamentary elections, compared with 31 percent it had in the previous legislature. Narendra Modi's party has also been quickly strengthening its hand in state power structures, including through "defections" from rival parties.
On the other hand, the government's policy of centralization, above all consolidation of the state and society, is inevitably contributing to the radicalization of the country's ethnic minorities, primarily Muslims, whose number, according to recent estimates, now exceeds 200 million. Last year saw a spate of Muslim protests. In the summer of 2019, the BJP-led government of the northeastern state of Assam established, under the pretext of combating illegal immigration, a National Register of Citizens. Of the state's 32 million residents, 2 million, mainly Muslims, were recognized as "non-citizens." In August 2019, the central government revoked the status of limited autonomy granted to the state of Jammu and Kashmir, with local media reports putting the number of protesters under lockdown at "thousands."
Finally, a new version of the Indian Citizenship Act, which critics accused of discriminating against Muslims and of being an attempt to undermine the secular underpinnings of the Indian state, was adopted in December, 2019. The new-look Act raised a new wave of protests among the country's Muslims. As a result, the ethno-religious issue can also become a convenient tool in the hands of Narendra Modi's opponents.
Finally, with the government boosting the country's national self-awareness, it becomes almost inevitable that it will take a tougher stand vis-à-vis India's traditional opponent, Pakistan, and its strong economic competitor, China. The escalation of military tensions with Pakistan that happened in February 2019, showed how quickly these two traditional foes can actually come to blows. Moreover, the dispute between Beijing and New Delhi over the ownership of the Aksai Chin Plateau, a region on the border with China, Pakistan and India, indirectly enmeshes Beijing in the territorial problems of Kashmir.
According to Indian observers, "unable to stand up to the inevitable large-scale industrial and infrastructure offensive by China through the Himalayas and the sea routes of South Asia, which are the traditional sphere of India's influence," New Delhi needs to implement "a counterbalance strategy." However, despite its undoubted foreign policy and diplomatic achievements, which have contributed to Narendra Modi's popularity inside the country, India has increasingly been lagging behind China in economic terms. Therefore, fundamental financial and economic problems threaten to become India's Achilles heel.
The relatively slow pace of India's socio-economic development remains the main obstacle to strengthening the country's position in Asia and the world as a whole. The country is subject to all the standard "developmental diseases" that always come with accelerated economic and social transformations. The modernization of Indian society is also hampered by vestiges of traditionalism. Intense discussions continue "regarding the sustainability of the current models of socio-economic development."
The Economist singles out environmental degradation, serious problems in the field of education and a crisis in public administration as the three main challenges to India's development.
After he came to power in 2014, Narendra Modi had to tackle multiple problems that had remained unsolved for decades. His government is trying to combine federal programs to help the country's poorest, who account for up to 22 percent of the country's population, with initiatives such as "Make-in-India" and "Startup India" designed to stimulate economic and business development. Experts say that "although no special breakthroughs in these areas have yet occurred, the secret of Modi's popularity is that he at least started these programs."
They also point to the government's traditional (and growing) appetite for playing a strong directive role in the economy.
In November 2016, the government took out a hefty 86 percent of all cash out of circulation as part of an experiment to root out corruption only to face a liquidity crisis. Combined with a campaign against "shadow economy," the measure seriously undermined production and employment, slowed down the pace of economic growth, "and also reduced tax revenues." A sweeping reform of the national tax system, undertaken in 2017, provoked a months-long "collapse" of the taxation sphere and sparked mass-scale protests. According to HSBC, India's GDP growth rate has been steadily declining since mid-2017. According to Bloomberg and the Center for Monitoring Indian Economy (CMIE), the volume of new investment projects in India has also been declining since 2015. The downturn began a year after Modi came to power. Amid the continuous growth of the Asian countries' role in the global economy, finance and trade, the current slide of the region's second largest economy appears very contradictory and illogical.
Narendra Modi and his opponents are fiercely arguing whether the current economic downturn is cyclical or structural. Economists are also debating on this issue. "The government apparently believes the recession is cyclical." Modi's critics argue that despite "consistent cuts in interest rates" and a budget deficit "of 102 percent in 2019," the economic slowdown has been going on for several years now, Asia Times wrote. Mounting problems in the economy even forced New Delhi to withdraw from negotiations on the Comprehensive Regional Economic Partnership (RCEP) after seven years of talks, "literally just a step away from signing the agreement." According to Indian business publications, RCEP, which was negotiated between ASEAN and the bloc's six free trade agreement partners, "will now be dominated by China. India's membership in RCEP would have been tantamount to a trade agreement with China; something Indian industry is unprepared for now."
Leading Indian economists believe, however, that pulling out of the RCEP agreement will benefit the Indian economy only if the government "immediately" starts to reform the land, labor and capital markets. New Delhi should also focus on encouraging competition, deregulating the economy and facilitating market access if it doesn't want to see its regional commodity circulation seriously falling behind China's, and its capital and technology exports, as well as state financing of domestic companies' overseas projects, remaining significantly inferior to Chinese.
Russia's chances of playing an important role in the positive transformation of its long-standing strategic partner look pretty good. In geopolitical terms, we are talking about the dialogue between the leaders of Russia, India and China, which resumed in December 2018. All three parties consistently emphasize the partnership nature of their relations as well as their shared interests and goals "in the field of development."
Economy-wise, the Russian Council on Foreign Affairs believes that Moscow can do a lot in terms of helping its Indian partners on issues ranging "from high technology and defense, to building modern infrastructure and poverty reduction." This, however, requires a qualitative improvement in the existing model of interaction to bring it fully in line with the realities of 21st century global politics, all the more so amid attempts being made by a number of countries, primarily the US, France and Israel, to sidestep Russia on the Indian track.
Right now, it looks like India could be one of the first major world powers to solve a super-complex dilemma of successfully dovetailing the priorities of security and national development. Despite all the shortfalls of his first term in office, Narendra Modi and his team have managed to even expand their support base among voters from across the country's political spectrum. The government now has to prove its ability to kick start the country's long-term internal development, while simultaneously move toward making India a system forming power in South Asia.
From our partner International Affairs