Overcoming tyranny is neither easy nor impossible. The Egyptian people know this very well as Egypt is still living through a decade of hope and disenchantment. In that defining period, Egyptians have deposed a corrupt despot- Hosni Mubarak. They elected their first president—Mohamed Morsi—in a fair and internationally monitored election. And within 365 days, they cheered their military for executing a coup d'état that installed Abdel-Fattah el Sisi, then Egypt's Minster of Defense, in power; and things have never been the same.
Since July 3, 2013, mass imprisonment and sporadic massacring of targeted civilians became widely tolerated phenomena. Crimes against humanity were committed in a broad daylight at Rabaa Square when the military and security forces killed more than 800 peaceful anti-coup protesters who belonged to the Muslim Brotherhood. It was a horrific mortal campaign that the Human Rights Watch called "one of the world's largest killings of demonstrators in a single day in recent history, "though the Western 'guardians of democracy' mostly took position between apathy and equivocation.
Extreme Manipulation of Power
Sisi consolidated power and developed reputation for extreme ruthlessness. His government assumed absolute control of the flow of information which rendered any and all objective political discourse and power scrutiny of any kind criminal enterprise. Jingoism and contempt toward the Muslim Brotherhood became a national duty.
Mindful of what he has done in order to get to where he is, he relied on projecting himself as Egypt's sole savior from the ever-present threat of terrorism. As a man who never sought power, but had to act because Egyptians demanded it. So, under the pretext of 'eradicating political Islam' by any means, the Arab Spring has withered.
Egyptians had to undergo a long painfully cathartic period to learn a hard lesson and discover the real Sisi- an incompetent, corrupt man of countless broken promises. His publicly most ridiculed promise is his most repeated: he will uphold democracy and would not stay in power an extra second should he fail to deliver and Egyptians see him unfit. Sisi handpicked his own loyal parliamentarians who ultimately amended the constitution for him so he could rule Egypt at least till 2034.
Due to the negative effect of such constellation of false promises and the ruthless nature of his dictatorial rule, Sisi found hyper-militarization of Egypt is his best protection. He has built military barracks in virtually every neighborhood like police stations. He also built over 3 dozen mega prisons. Fighter jets routinely hover over Cairo to remind the public of an ever-present threat and to keep the average citizen's psyche profoundly submissive.
Spark That Ignited Public Outrage
As Egyptians seemed paralyzed by political depression, there emerged a man who shook up the conscience of the nation. Mohamed Ali who is currently hiding in Spain has set in motion an avalanche of videos that exposed how Sisi, his close generals, and oligarchs have taken government corruption to new heights.
Ali was straight forward with the disenchanted and disgruntled masses. From the outset, he made it clear that he was not a formally educated man, that he was not motivated by moral rectitude, quest for redemption, or the desire to tip the scale in favor of one political party, religious faction, or another. He confessed that he was a construction contractor who has been receiving lucrative contracts from the notoriously corrupt military apparatus for 15 years. These contracts were routinely awarded without any bids to a favorite few who would be willing to play ball with the military.
For weeks, Ali has been releasing spontaneous, colloquially delivered, messages with irrefutable details and figures: Sisi is a hypocrite who was squandering the meagre resources of a nation suffering from mass unemployment, hyper-inflation, deteriorating education and health, and experiencing extreme deprivation resulting from economic austerity. He has commissioned, among other things, the construction of five massive presidential palaces for himself at a time when he was telling the public to tighten their belts because Egypt is a "very poor" nation.
His messages simply resonated with the average Egyptian who had enough of the military taking over almost every industry of the economy. In addition to the construction industry, the military has monopoly on construction materials such cement and paint, agriculture production, packaged foods, and now pharmaceutical industry- a project driven by Mahmoud el-Sisi, the president's son.
Ali became an overnight folk hero, and his no-holds-barred videos have become popular in Egypt among Arabic-speaking peoples. And Mohamed Ali Secrets channel became the go-to platform for facts and figures. As someone who did not belong to any political, intellectual, or religious group at a time of broad-based cynicism, he became the unifying force that Egypt so desperately needed.
Futility of Resistance
So serious were the charges it compelled the state media—virtually all that are operational in Egypt since Sisi came to power—to switch to a higher gear in delivering their daily propaganda. They went back to their old playbook and set in motion their favorite play, the 3D or deny, discredit, and demonize.
Initially, the impact of the Mohamed Ali phenomenon and the massive protests it inspired in various cities was denied any coverage. Once the international media started to cover those events, Egypt's state media started to discredit the organizers as cowards who would not show up at demonstrations but would misguide others to march into harm's way. When that didn't work, they started accusing the demonstrators as traitors who were funded by the Muslim Brotherhood and foreign elements.
So implicating were these allegations and subsequent public outrage that it compelled Sisi to immediately respond. His message was tri-faceted. To his most credulous base, he had this:"To all elderly mothers who believe me and pray for me, I would like to tell them: your son is honorable." To the outraged masses, he had this: So what? "Yes, I have built presidential palaces, and will continue to do so".
The Crumbling Walls of Fear
After six years of iron fist grip, indoctrination, and being counted as people who ultimately succumbed to fear, the Egyptian people have proven to themselves and the rest of the world that they are far from being down and out.
September 20 has gone down in Egypt's history as the day the tides turned against Abdel-Fattah el Sisi. Outraged masses defied Sisi's zero tolerance for anti-government expression and protested across Egypt. They chanted anti-Sisi and anti-Military slogans and tore up the pictures of President Trump's "favorite dictator" in public. This time, the outraged could not be dismissed as a conspiracy led by that all too familiar boogieman, the Muslim Brotherhood.
Sisi's paranoia impulse started gauging in the red zone. The military and the security forces were ordered to setup strategic checkpoints where people are stopped to undergo strict searches. They are ordered to hand over their identifications, mobiles, and computers so the government forces could check how have they been getting their news, who have they communicated with, and what have they been filming.
Over two thousand people were arrested in what Amnesty International referred to as the "largest wave of mass arrests since (Sisi) came to power." Many others were kidnapped by pro-government hired hoodlums known as Baltajiyah and the whereabouts are not known. Those arrested include well-known secular academics, journalists, political leaders, and activists. They also included foreign students who were arrested and tortured into a uniformed confession of being Muslim Brotherhood cells on a mission to create unrest in Egypt. Their confessions were televised by Amr Adeeb, one of the most notorious defenders of Sisi. Interestingly, 3 of those 'foreign saboteurs' were freed after their respective governments took issue with the false charges. One of them—a Sudanese student—revealed that he was physically electrocuted and psychologically threatened with death.
The following week, while Cairo was in shutdown to keep anti-government demonstrators away, pro-government demonstrators who were mostly government employees, military and police cadets, and paid people were unabashedly bused to the site, all holding up portraits of Sisi.
While that may give the impression that Sisi's repressive modus operandi is still working and that the anti-government protesters are permanently silenced, it is too naïve to assume that this latest outrage has fizzled. Sisi's repression and corruption have afflicted millions of households across the political, economic, social, and religious divides.
Egypt is at a turning point, and this time the protesters are equipped with great deal anger, experience, and unity of cause. If Sisi continues his tyrannical rule and good elements within the military remain passive, a volcano of public wrath is likely to erupt in Egypt around January 25-the ninth anniversary of the Egyptian revolution that ousted Hosni Mubarak.
Russia Foreign Minister's Gulf tour: A bellwether of US-Saudi relations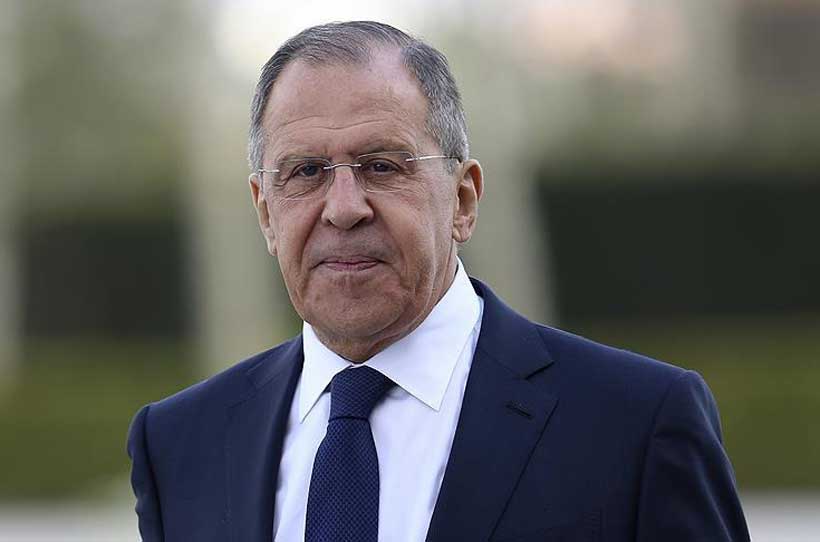 As Russian Foreign Minister Sergei Lavrov embarks on a four-day visit to the Gulf, Middle Eastern leaders are either struggling to get a grip on Joe Biden's recalibration of US policy in the region or signalling their refusal to adapt to the president's approach.
Mr. Lavrov's visit to Saudi Arabia, the United Arab Emirates and Qatar comes a week after the United States released an intelligence report that pointed fingers at Saudi Crown Prince Mohammed bin Salman for allegedly ordering the 2018 killing of journalist Jamal Khashoggi.
Earlier, the United States halted the sale of weapons to the kingdom that could be deployed in its six-year-long devastating offensive in Yemen.
Even though he is not stopping in Istanbul and Jerusalem, Mr. Lavrov is travelling in the region as Turkish President Recep Tayyip Erdogan is still waiting for a phone call from Mr. Biden and Israel is suggesting that it may not engage with US efforts to revive the 2015 international agreement that curbed Iran's nuclear program and could act on its own more aggressively to counter the Islamic republic's nuclear ambitions.
Mr. Lavrov is certain to want to capitalize on Mr. Biden's rattling of Middle Eastern cages amid perceptions that recalibration of relations with Saudi Arabia and delayed phone calls suggest that the United States is downgrading the Middle East's importance in its global strategy, reducing its security commitments, and potentially considering a withdrawal.
There is little doubt that the United States wants a restructuring of its commitments through greater burden-sharing and regional cooperation but is unlikely to abandon the Middle East altogether.
The question is whether Mr. Biden's rattling of cages constitutes simply signalling US intentions or a deliberate attempt to let problematic allies and partners stew in uncertainty in a bid to increase the administration's leverage.
Potentially the longer-term strategy may be an unintended yet beneficial consequence of the administration's conviction that addressing domestic emergencies such as the pandemic and economic crisis as well as repairing relations with America's traditional allies in Europe and Asia is a pre-requisite for restoring US influence and leverage that was damaged by former President Donald J. Trump.
If so, Mr. Lavrov may unwittingly be doing the Biden administration a favour by attempting to exploit perceived daylight between the United States and its allies to push a Russian plan for a restructured security architecture.
That plan envisions a Middle Eastern security conference modelled on the Organization for Security and Co-operation in Europe (OSCE) and a regional non-aggression pact that would be guaranteed by the United States, China, Russia, and India.
In doing so, Mr. Lavrov would be preparing the ground for debate about a concept that has been discussed in different forms at various points by US officials, in which a United States that credibly is getting its house in order would retain its dominant position as the military backbone of a new security architecture.
It would also drive home the point that neither Russia nor China are willing or capable of replacing the United States and that Middle Eastern countries are likely to benefit most from an architecture that allows them to diversify their relationships and potentially play one against the other.
It is early days, but so far, Saudi Arabia has insisted "that the partnership between the Kingdom of Saudi Arabia and the United States of America is a robust and enduring partnership" even though it rejected in the same statement the US intelligence report as" negative, false and unacceptable."
For now, Saudi Arabia appears determined to counter strong winds in the White House as well as Congress rather than rush to Moscow and Beijing in a realignment of its geopolitical and security relationships.
To do so, the kingdom, in the run-up to the release of the report, has broadened its public relations and lobbying campaign to focus beyond Washington's Beltway politics on America's heartland where fewer people are likely to follow the grim reality of the war in Yemen, a country that the Saudi-led bombing campaign has turned into world's worst humanitarian crisis or the gruesome details of Mr. Khashoggi's killing.
The campaign appears designed to create grassroots empathy for Saudi Arabia across the United States that would filter back from constituents to members of Congress.
"We recognize that Americans outside Washington are interested in developments in Saudi Arabia and many, including the business community, academic institutions and various civil society groups, are keen on maintaining long-standing relations with the kingdom or cultivating new ones," said Fahad Nazer, a spokesman for the Saudi embassy in Washington.
Filings show that companies lobbying on behalf of Saudi Arabia reported that half of their 2,000 lobbying contacts in the last year were with individuals and groups outside of Washington.
Working with local and regional companies outside the US capital, including Larson Shannahan Slifka Group (LS2 Group) in Iowa and its subcontractors in Maine, Georgia, North Carolina and other states, Saudi lobbyists contacted local chambers of commerce, media, women's groups, and faith communities among which synagogues.
The lobbyists distributed materials touting the benefits to women in sports and other sectors accrued from Prince Mohammed's social reforms in a country that banned women from driving as recently as three years ago.
The Saudi focus is unlikely to deter Mr. Lavrov from peddling Russian military hardware during his tour of the Gulf, including the S-400 anti-missile defence system that Saudi Arabia expressed interest in long before the US election that swept Mr. Biden into the White House.
The kingdom has so far not taken its interest any further. Whether it does so during this week's visit by Mr. Lavrov will serve as a bellwether of whether Saudi Arabia will turn towards Russia and China in a significant way.
So far US analysts appear to be unconcerned.
Said former US intelligence official Paul Pillar, a frequent commentator on Middle East affairs: "The attractiveness of doing business with the United States will remain without the coddling, as is true of Saudi choices regarding arms purchases, given that their defences have been built largely around US hardware."
Papal visit to Iraq: Breaking historic ground pockmarked by religious and political minefields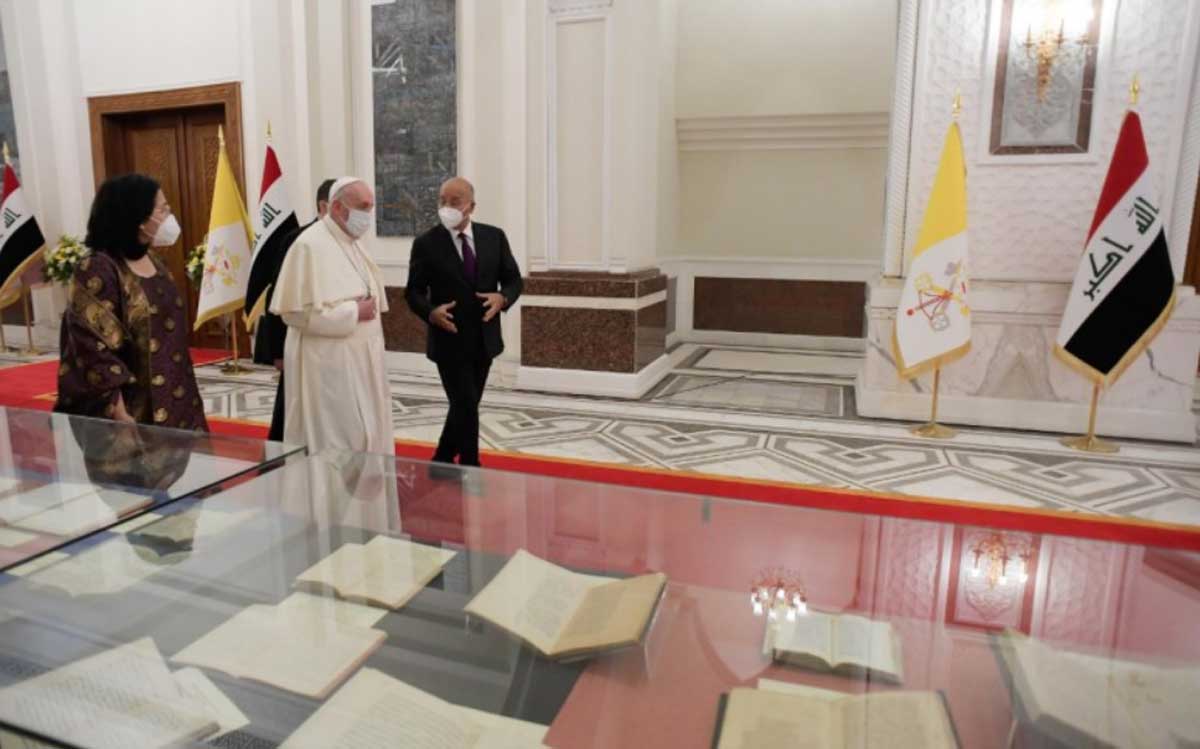 When Pope Francis sets foot in Iraq on Friday, he will be breaking historic ground while manoeuvring religious and political minefields. So will his foremost religious counterpart, Grand Ayatollah Sayyid Ali al-Husayni al-Sistani, one of the Shia Muslim world's foremost scholars and leaders.
The three-day visit contrasts starkly with past papal trips to the Middle East that included Turkey, Egypt, Morocco, the United Arab Emirates and Azerbaijan, states that, unlike neighbouring Iran, are more accustomed to inter-faith interactions because of their Sunni Muslim history and colonial experience or in the case of Shia-majority Azerbaijan a modern history of secular and communist rule.
Unlike in Azerbaijan, Pope Francis is venturing in Iraq into a Shia-majority country that has been wracked by sectarian violence in which neighbouring Iran wields significant religious and political influence and that is home to religious scholars that compete with their counterparts in the Islamic republic. As a result, Iraqi Shiite clerics often walk a tightrope.
Scheduled to last 40 minutes, Ayatollah Al-Sistani's meeting with the pope, a high point of the visit, constitutes a double-edged sword for a 90-year-old religious leader born in Iran who has a complex relationship with the Islamic republic.
Ayatollah Al-Sistani has long opposed Iran's system of direct rule by clerics. As a result, he has eschewed executive and political authority while playing a key role in reconciling Iraqi Shiites and Sunnis, promoting inter-tribal and ethnic peace, and facilitating the drafting and ratification of a post-US invasion constitution.
Ayatollah Al-Sistani's influence, however, has been evident at key junctures in recent Iraqi history. Responding to an edict by the ayatollah, Iraqis flocked to the polls in 2005 despite the risk of jihadist attacks. Large numbers enlisted in 2017 to fight the Islamic State after Ayatollah Al-Sistani rallied the country. The government of Prime Minister Adel Abdul Mahdi resigned in 2019, four days after Ayatollah Al-Sistani expressed support for protesters demanding sweeping reforms.
To avoid controversy, Ayatollah Al-Sistani is likely to downplay the very aspects of a meeting with the pope that political and religious interlocutors of the head of the Catholic church usually bask in: the ability to leverage the encounter to enhance their legitimacy and position themselves as moderate and tolerant peacemakers.
With state-controlled media in Iran largely refraining from mentioning the visit and Iranian Spiritual Leader Ayatollah Ali Khamenei claiming the mantle of leadership of the Muslim world, Ayatollah Al-Sisi is likely to avoid projecting the encounter as a recognition by the pope that he is Shiite Islam's chief interlocutor or that the holy Iraqi city of Najaf, rather than Iran's Qom, is the unrivalled capital of Shiite learning.
Sources close to Ayatollah Al-Sistani, who rarely receives foreign dignitaries, have described his encounter on Saturday with the pope as a "private meeting."
"Khamenei will not like it," said Mehdi Khalaji, an Islamic scholar who studied in Qom and is a senior fellow at The Washington Institute for Near East Policy.
Critics are likely to note that Ayatollah Al-Sistani was meeting the pope but had failed to receive in December Iranian Chief Justice Ebrahim Raisi, who is touted as a potential presidential candidate in elections scheduled for June and/or successor to Ayatollah Khamenei.
Mr. Khalaji noted that Iran has long downplayed Ayatollah Al-Sistani's significance that is boosted by the fact that he maintains a major presence not only in Najaf but also in Qom where he has a seminary, a library, and a clerical staff.
Shiite scholars suggest that is one reason why Pope Francis and Ayatollah Al-Sistani are unlikely to issue a Shiite-Christian equivalent of the Declaration of Human Fraternity that was signed in Abu Dhabi two years ago by the pontiff and Sheikh Ahmed el-Tayeb, the Grand Imam of Al-Azhar, the Cairo-based historic cathedral of Islamic learning.
"Al-Sistani does not want to provoke Khamenei. There is no theological basis to do so. Muslims cannot be brothers of Christians. Mainstream Islamic theological schools see modern Christianity as inauthentic. They view Jesus as the divine prophet, not as the incarnation of God and his son. In short, for official Islam, today's Christianity is nothing short of heresy," Mr. Khalaji said, referring to schools of thought predominant in Iran. "Sunnis are a little bit more flexible," he added.
Mr. Khalaji noted further that Shiite religious seminaries have no intellectual tradition of debate about inter-faith dialogue nor do any of the offices of religious leaders have departments concerned with interacting with other faith groups. "The whole discourse is absent in Shia Islam," Mr. Khalaji said.
That has not stopped Ayatollah Al-Sistani from maintaining discreet contacts with the Vatican over the years.
In a bid to popularize the concept of inter-faith dialogue, Pope Francis is scheduled to hold a multi-religious prayer meeting in Ur, the presumed birthplace of Abraham, revered as the father of Judaism, Christianity, and Islam.
By the same token, Pope Francis, concerned about the plight of Christians in the Middle East and particularly Iraq that has seen the diverse minority shrink from 1.2 million before the 2003 US invasion to at most 300,000 today, will want to build on the Shiite leader's past calls for protection of the minority faith group from attacks by militants and condemnation of "heinous crimes" committed against them.
The pope hopes that a reiteration by Ayatollah Al-Sistani of his empathy for the plight of Christians would go a long way in reducing pressure on the community from Iranian-backed militias that has stopped many from returning to homes they abandoned as they fled areas conquered by the Islamic State.
The pope's visit, little more than a month after a bomb blast in Baghdad killed 32 people and days after rockets hit an airbase housing US troops, has sparked hope among some Iraqis that it will steer the country away from further violence.
That hope was boosted by a pledge by Saraya Awliyat Al-Dam (Custodians of the Blood), the pro-Iranian group believed to have attacked the airbase, to suspend its operations during the pope' visit "as a sign of respect for Imam Al-Sistani."
Said Middle East scholar Hayder al-Khoei: "There will be no signing of a document, but both (Pope Francis and Ayatollah Al-Sistani) are advocates of interfaith dialogue and condemn violence committed in the name of religion. The meeting will undoubtedly strengthen the voices and organizations who still believe in dialogue."
Iraq Opens Hands to the Pope Francis' Historic Visit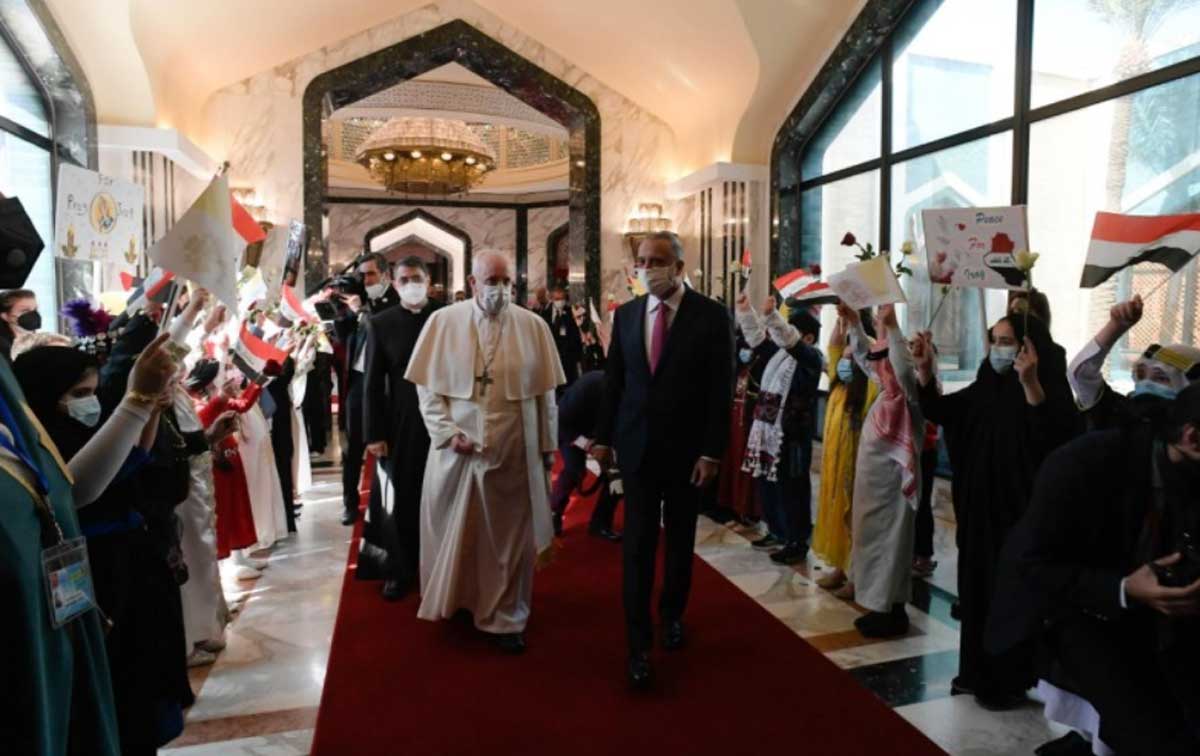 The world looks forward to Pope Francis' historic visit to Iraq which is considered the first papal trip represented by the Roman Catholic Church to the cradle of civilization, Mesopotamia, despite spreading the second wave of COVID-19 and the security situation in Iraq. This expected visit has an important impact on highlighting the challenges and disasters of humiliation, the sectarian war and displacing people, Yazidis persecution, and fleeing the Christian minorities that faced Iraq during all these past years after the US invasion occurred in 2003.
The three-day-visit is considered as the message of peace after years of war and violence, referring that the Pope's visit is as a pilgrim to the cradle of civilization. The papal visit includes Baghdad, Erbil, Mosul- Qaraqosh, and Ur city. The trip comes after 18 months as the pandemic restricts his movement, and it is the first visit to the Middle East when he visited the U.A.E in February 2019 where he met and celebrated in front of 180,000 people at the Zayed Sports City stadium in Abu Dhabi.
The papal visit was intended to occur twenty years ago when St. John Paul II tried to visit Mesopotamia during Saddam's regime, but the endeavors failed to complete that proposed trip. "The people of Iraq are waiting for us. The people waited for St. John Paul II who was not permitted to go. We cannot disappoint them twice", said the Pope.
In a video message addressed by the Pope to the people of Iraq, he expressed his happiness and longing to meet the people who suffered from war, scourges, and death during all these years. "I long to meet you, to look at your faces and to visit your blessed ancient land and the cradle of civilization," the Pope said.
It is expected that the purpose of the Pope's visit is to preserve the rest of the Christians in Iraq. According to the estimation of the charity aid of the Church in Need, the numbers of Christians have decreased from 1.4 million to under 250,000 since the American invasion of Iraq in 2003, especially in the cities of northern Iraq. Many Christians were killed and fled from 2014 to 2017 due to the Islamic State occupation and due to their atrocities, persecution, and violence against the Christian areas. The Pope yearns for meeting the dwindling Christian communities in Mosul, Qaraqosh, and Nineveh plains where these regions had suffered from the atrocities of ISIS in 2014 and people had been compelled to flee.
The world is waiting for the most significant historic meeting between the 90-year-old Shia Muslim cleric, the Grand Ayatollah Ali al-Sistani, and the 84-year-old Pope Francis in the Shiite shrine city of Najaf. The expected meeting is seen as a real chance to enhance the bonds of fraternity between the Muslims and Christians and to lighten the impact of the islamophobia concept that swept Europe and America due to the terrorism actions that happened in Europe. This expected meeting that will be by Saturday signifies a historic moment when the Grand Ayatollah Ali al-Sistani meets Pope Francis, illustrating the fraternal bonds to make people live in peace and tranquility.
Back in February 2019, the Pontiff Francis and Sheikh Ahmed al-Tayeb, the Grand Imam of Cairo's al-Azhar mosque and the most prestigious leader in Sunni Islam, agreed and signed the declaration of fraternity, affirming peace among all nations. The two parties in this document adhere to fight extremism in every place in the world. If the Pontiff and the Grand Ayatollah sign a document like the declaration of fraternity, this will give Najaf's Marjiya a very great impact, and this move will be seen as the first step to decrease the religious tensions and fill the gap of the clash of civilization. This document, if it is enacted, will have a great impact to make peace prevailing and encouraging Muslims and Christians to live in peaceful coexistence.
Ur, which is the oldest city in the world, is to be visited by the pontiff. It is considered the biblical birthplace of Ibraham, the common prophet to the Christians, Muslims, and Judaism and the father of Judaism, Christianity, and Islam. It is expected that there will be prayers in Ziggurat where this place is one of UNESCO world heritage sites. This visit to this historic site will help the landmark to polarize people from Iraq and outside to visit it after years of negligence and ignorance attention to its importance and the vital role that can help Iraq to increase the public income.
The papal visit has many different messages to the people of Iraq. Firstly, the expected meeting with the Grand Ayatollah Ali al-Sistani reflects the fraternal and human stances, and this meeting underlines the important role played by the Grand Ayatollah Ali al-Sistani after the US-led-invasion in 2003. Secondly, his visit to Ur to pray there is a message of the peaceful coexistence between Islam, Christianity, and Judaism, trying to point out that all these three religions emerged from one source. Thirdly, the Pope endeavors to be with the Christians who suffer from the past events of persecution, humiliation, and atrocities. His presence among them is a message of tranquility, serenity, peace, and contentment to live in Iraq with the Muslims and to abandon fighting against others. Finally, the Pope's visit to Iraq pays the world's attention to the religious importance of Iraq and the significant role that can be played by Iraq.