Ramp up nuclear power to beat climate change
Without significantly increasing the use of nuclear power worldwide, it will be difficult to achieve the goal of reducing harmful emissions and fighting climate change, the head of the International Atomic Energy Agency (IAEA), said on Monday.
Cornel Feruta, the acting Director-General of the agency, was speaking in Vienna, at the opening of the first-ever International Conference on Climate Change and the Role of Nuclear Power.
It brought together some 550 participants from 79 countries, and 18 international organizations, to exchange science-based information, and hold objective discussions on the role of nuclear power in mitigating the climate crisis.
The IAEA pointed out that nuclear power contributes around one-third of all low carbon electricity, producing practically no greenhouse gases, and some 10 per cent of the total electricity produced worldwide.
Radioactive waste and security concerns must be addressed
However, the IAEA accepted that there are persistent public concerns about the potential dangers to health and the environment caused by radioactive waste from nuclear plants, and Mr. Feruta said that advances concerning the disposal of such material may alleviate fears about the long-term sustainability of the energy source.
Also speaking at the event, Mr. Liu Zhenmin, the Under-Secretary-General for Economic and Social Affairs (DESA), echoed Mr. Feruta's remarks, and said that the problem of radioactive waste is an "unresolved issue" that needs to be addressed.
In his keynote address, Mr. Zhenmin also raised nuclear safety, which he described as "a significant public concern, especially after the Fukushima accidents and terrorism related fears".
The large up-front costs of nuclear power remain an important issue, continued Mr. Zhenmin, and renewable energies, such as solar and wind, are continuing to drop in price, becoming increasingly competitive with conventional, fossil-fuel based sources. Meeting the capital costs of building nuclear plants will require government commitments, and public acceptance.
Nuclear technology's 'important role in society'
Nuclear technology plays an important and positive role in society, added Mr. Zhenmin. He outlined some of the benefits, such as monitoring pollution, and assisting in the diagnosis and treatment of cancers and other major diseases, and pointed out that radiation technology helps prevent food from spoiling, and to create new crop varieties, which supports climate change adaptation.
Both Mr. Feruta and Mr. Zhenmin referred to the work of the Intergovernmental Panel on Climate Change (IPCC), the UN body tasked with providing objective, scientific reports on the changing climate, which has shown that far-reaching changes to the way we produce energy must occur if we are to limit global warming to 1.5 degrees above pre-industrial levels.
In its various models for a sustainable energy future, the IPCC has included significant increases in nuclear power generation by 2050, ranging from a 59 per cent increase, to a 501 per cent rise.
IEA holds talks with China on a roadmap for reaching its 2060 carbon-neutrality goal
IEA Executive Director Dr Fatih Birol held a productive meeting on 19 November with Mr Huang Runqiu, Minister of Ecology and Environment of China to discuss how the IEA can support China achieve its energy and climate ambitions, including the goal of reaching carbon neutrality before 2060.
The IEA welcomes the opportunity to support China in its development of an ambitious and realistic roadmap and policies for achieving a peak in emissions before 2030 and carbon neutrality before 2060. The IEA input is expected to draw on its policy expertise on emissions trading system implementation and critical technologies such as renewables and carbon capture, utilisation and storage.
The Chinese government is currently developing its 14th Five Year Plan, which will shape its economic policies over the first half of the coming decade, which will be a critical period for global efforts to tackle climate change. The new Five Year Plan is set to strengthen previous policies to further reduce CO2 emissions in line with China's aim of achieving a peak in emissions before 2030. Measures are expected to include accelerating the implementation of a national emissions trading system, ramping up innovation in low-carbon technologies and increasing climate change capacity building.
At the bilateral meeting, Dr Birol underscored that a key challenge for China is to design a roadmap and energy policies that simultaneously put it on a path towards its carbon neutrality goal while also supporting the country's continued economic development. He noted that the 14th Five Year Plan will be very important not just for China, but also for the world.
Minister Huang highlighted President Xi Jinping of China's emphasis on the need for green, low-carbon industries, which he views as a necessary component of the high quality economic development that China is pursuing.
The IEA and the Chinese Ministry of Ecology and Environment signed their first Memorandum of Understing on Climate Change Cooperation on July 2018, laying solid foundations for future colloboration. Both organisations have agreed to continue under this framework and work on a wide-range of areas spanning energy development, clean energy transitions and climate change.
Boosting Offshore Renewable Energy for a Climate Neutral Europe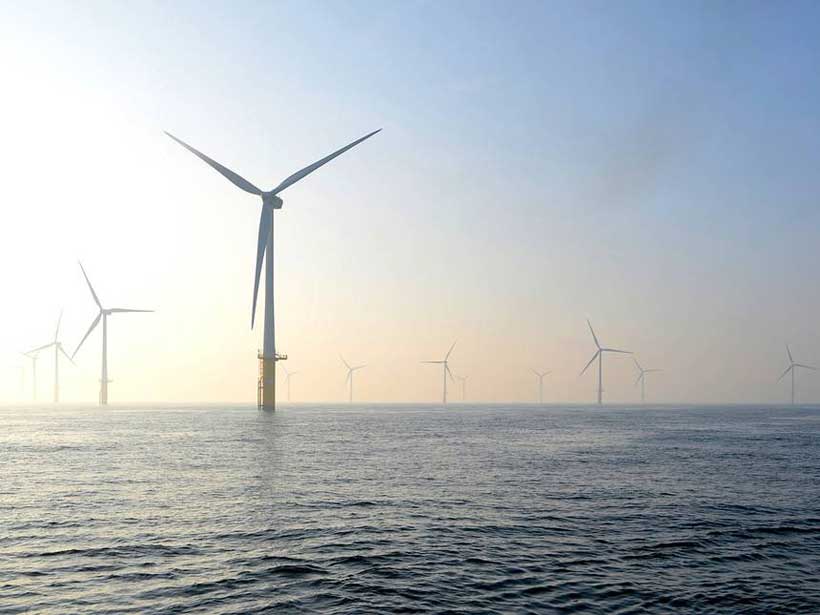 To help meet the EU's goal of climate neutrality by 2050, the European Commission today presents the EU Strategy on Offshore Renewable Energy. The Strategy proposes to increase Europe's offshore wind capacity from its current level of 12 GW to at least 60 GW by 2030 and to 300 GW by 2050. The Commission aims to complement this with 40 GW of ocean energy and other emerging technologies such as floating wind and solar by 2050.
This ambitious growth will be based on the vast potential across all of Europe's sea basins and on the global leadership position of EU companies in the sector. It will create new opportunities for industry, generate green jobs across the continent, and strengthen the EU's global leadership in offshore energy technologies. It will also ensure the protection of our environment, biodiversity and fisheries.
Executive Vice-President for the European Green Deal, Frans Timmermans said: "Today's strategy shows the urgency and opportunity of ramping up our investment in offshore renewables. With our vast sea basins and industrial leadership, the European Union has all that it needs to rise up to the challenge. Already, offshore renewable energy is a true European success story. We aim to turn it into an even greater opportunity for clean energy, high quality jobs, sustainable growth, and international competitiveness."
Commissioner for Energy, Kadri Simson, said: "Europe is a world leader in offshore renewable energy and can become a powerhouse for its global development. We must step up our game by harnessing all the potential of offshore wind and by advancing other technologies such as wave, tidal and floating solar. This Strategy sets a clear direction and establishes a stable framework, which are crucial for public authorities, investors and developers in this sector. We need to boost the EU's domestic production to achieve our climate targets, feed the growing electricity demand and support the economy in its post-Covid recovery."
Commissioner for Environment, Oceans and Fisheries, Virginijus Sinkevičius, said: "Today's strategy outlines how we can develop offshore renewable energy in combination with other human activities, such as fisheries, aquaculture or shipping, and in harmony with nature. The proposals will also allow us to protect biodiversity and to address possible socio-economic consequences for sectors relying on good health of marine ecosystems, thus promoting a sound coexistence within the maritime space."
To promote the scale-up of offshore energy capacity, the Commission will encourage cross-border cooperation between Member States on long term planning and deployment. This will require integrating offshore renewable energy development objectives in the National Maritime Spatial Plans which coastal states are due to submit to the Commission by March 2021. The Commission will also propose a framework under the revised TEN-E Regulation for long-term offshore grid planning, involving regulators and the Member States in each sea basin.
The Commission estimates that investment of nearly €800 billion will be needed between now and 2050 to meet its proposed objectives. To help generate and unleash this investment, the Commission will:
Provide a clear and supportive legal framework. To this end, the Commission today also clarified the electricity market rules in an accompanying Staff Working Document and will assess whether more specific and targeted rules are needed. The Commission will ensure that the revisions of the State aid guidelines on energy and environmental protection and of the Renewable Energy Directive will facilitate cost-effective deployment of renewable offshore energy.
Help mobilise all relevant funds to support the sector's development. The Commission encourages Member States to use the Recovery and Resilience Facility and work together with the European Investment Bank and other financial institutions to support investments in offshore energy through InvestEU. Horizon Europe funds will be mobilised to support research and development, particularly in less mature technologies.
Ensure a strengthened supply chain. The Strategy underlines the need to improve manufacturing capacity and port infrastructure and to increase the appropriately skilled workforce to sustain higher installation rates. The Commission plans to establish a dedicated platform on offshore renewables within the Clean Energy Industrial Forum to bring together all actors and address supply chain development.
Offshore renewable energy is a rapidly growing global market, notably in Asia and the United States, and provides opportunities for EU industry around the world. Through its Green Deal diplomacy, trade policy and the EU's energy dialogues with partner countries, the Commission will support global uptake of these technologies.
To analyse and monitor the environmental, social and economic impacts of offshore renewable energy on the marine environment and the economic activities that depend on it, the Commission will regularly consult a community of experts from public authorities, stakeholders and scientists. Today, the Commission has also adopted a new guidance document on wind energy development and EU nature legislation.
Background
Offshore wind produces clean electricity that competes with, and sometimes is cheaper than, existing fossil fuel-based technology. European industries are fast developing a range of other technologies to harness the power of our seas for producing green electricity. From floating offshore wind, to ocean energy technologies such as wave and tidal, floating photovoltaic installations and the use of algae to produce biofuels, European companies and laboratories are currently at the forefront.
The Offshore Renewable Energy Strategy sets the highest deployment ambition for offshore wind turbines (both fixed-bottom and floating), where commercial activity is well advanced. In these sectors, Europe has already gained unrivalled technological, scientific and industrial experience and strong capacity already exists across the supply chain, from manufacturing to installation.
While the Strategy underlines the opportunities across all of the EU's sea basins – the North Sea, the Baltic Sea, the Black Sea, the Mediterranean and the Atlantic – and for certain coastal and island communities, the benefits of these technologies are not limited to coastal regions. The Strategy highlights a broad range of inland areas where manufacturing and research is already supporting offshore energy development.
The East African Rift: Realising the Region's Geothermal Potential
The East African Rift System (EARS) is one of the largest rifts in the world. Characterised by a spreading crust, the tectonically active region spans 6,400 kilometres in length and up to 64 kilometres in width and runs through several countries in Eastern Africa.
The geological attributes of the EARS make it so rich in geothermal energy resources that – if harnessed – could provide a reliable, affordable and indigenous source of renewable energy to help meet the electricity requirements and direct use needs of several countries in the region.
Harnessing these resources by overcoming the challenges faced by the geothermal sector across the region can improve energy access substantially and help governments meet the objectives of the 2030 Agenda for Sustainable Development and the climate objectives set out by the Paris Agreement.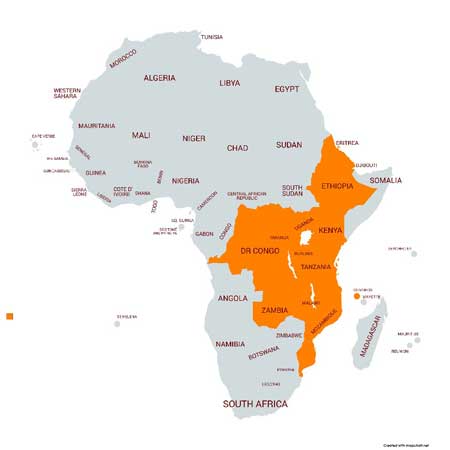 A new report published by IRENA, Geothermal Energy Development in Eastern Africa, finds that the geothermal potential of the East African Rift has been largely unrealised due to various challenges that have contributed to the slow development of projects in the region for decades. The report identifies a need for adequate policies and regulatory regimes to increase the flow of geothermal investments into the region.
The new report highlights that the limited awareness about the region's geothermal resource potential and the associated benefits, especially about direct use applications, such as in agriculture and food processing, may be contributing to slow development. In addition, current risk mitigation instruments and incentives fail to cover direct use projects.
Furthermore, the report identifies the lack of adequately skilled, local geothermal workforce in most of the countries of the EARS and limited understanding of the Western branch's geology (until recently) as barriers to the industry's development.
The EARS consist of two branches – an eastern branch and western branch. The eastern branch extends from the main Ethiopian Rift (Djibouti, Ethiopia and Eritrea) through Kenya into northern Tanzania. In contrast, the western branch extends from northern Uganda through Rwanda, DRC, Burundi, southern Tanzania, Malawi, Zambia, and Mozambique.
Currently, only about 900 MW of installed geothermal electricity capacity exists in the region, with power plants in Ethiopia and Kenya while other countries are either at the surface exploration stage or exploration drilling stage. Developers in countries of the EARS have been predominantly focused on electricity generation from high-temperature fields. However, the high-temperature resources occur only in isolated places with central volcanos and within only a few countries of the eastern branch of EARS.
On the other hand, low to medium temperature resources (<150 degrees Celsius) are more common, occurring mainly in the western branch and within large sections of the rift floor between the central volcanoes. Thanks to the development of binary cycle technology, in which geothermal fluid is used via heat exchangers to heat a process fluid in a closed loop, medium temperature fields can be used for electricity generation or for combined heat and power. The direct use of these geothermal sources could support industrialisation and transform the region's countries from a socio-economic development perspective.
Building on the analysis of experiences in Comoros, Djibouti, Ethiopia, Kenya, Tanzania, Uganda, and Zambia, IRENA's report offers recommendations that can fast-track the deployment of geothermal energy in the region for power and direct use, including through:
Improving Policies and regulatory framework through transparent, clear, and predictable licensing and administrative procedures to attract geothermal developers and investors.
Developing new and innovative financing schemes to support the existing financing and risk mitigation instruments.
Creating awareness on the potential for direct use and associated benefits among decision-makers, communities, and industries.
Developing geothermal heat roadmaps with clear targets, as well as financial incentives to support the development of direct use projects.
Applying appropriate exploration techniques for geothermal resources in the Western branch of the East African Rift with a focus on discovering geothermal reservoirs along fault planes and shallow depth.
Focusing training and capacity building for public institutions more on mentoring support through on-the-job training to impart technical skills and commercial knowledge and support decision-making.
Read the Geothermal Energy Development in Eastern Africa report.