Misrepresentations of American & Soviet Roles in WW II and the Cold War
The Soviet Union contributed more than did any other nation to the defeats of Germany and Japan in World War II, but America and Britain together defeated Italy. Many prominent Western 'historians' white-out the Soviet roles in defeating Hitler and especially Hirohito, and they overstate the importance of America's victories to the ultimate outcome, and ignore or underplay Franklin Delano Roosevelt's strong rejection and repudiation of Winston Churchill's imperialistic agenda, not only for a continuation of empires, but for a continued postwar exploitation of colonies, as being acceptable goals for the future. Those 'historians' are actually propagandists — no real historians, at all — because they fundamentally misrepresent; yet they dominate in the 'historical' profession, and they have produced in the U.S. and in its allies a widespread and profoundly warped 'history' of the war and of its aftermath, and of Twentieth-Century history, and of our own time. This 'historical' distortion has continued even after 1991 (it even accelerated) when the Cold War between the U.S. and Russia ended only on the Russian side, but not actually on the U.S. side. These 'historical' lies accelerated because 'historians' continue, even today, to hide this crucial fact, that the U.S. side of the Cold War secretly continued — and still does continue — to try to conquer Russia. Ever since the time of America's vile, bloody and illegal actual coup against Ukraine in February 2014 onward, Russia has been responding increasingly. This is especially so because of yet another American-and-allied aggression against a nation that has cooperative arrangements with Russia, Syria, 2012-. The purveyors of fake 'news' and fake 'history' display the gall to cry foul and to lie and allege that Russia's necessary defensive actions against America's aggressions are, instead, themselves, aggressions, to which America and its vassal-nations have the right to respond, and should respond, by what then would actually be yet more aggressions (violations of international law) — instead of to quit its string of aggressions, and to apologize, not only for the aggressions, but also for the lies, that the U.S. regime and its propagandists have been perpetrating, against Russia, and against nations that cooperate with Russia. The reality has been that U.S. foreign policy is, and has been, driven by one overriding and obsessive goal for a hundred years: first, to conquer any nation that's friendly with Russia, and thereby to isolate Russia internationally; and, then, finally, to grab Russia itself. This entire U.S. geostrategy is based upon lies.
The 'Historical' Lies, V. The Historical Truths
According to the standard accounts, the Cold War ended on both sides in 1991, when the Soviet Union dissolved, and its communism ended, and its Warsaw Pact (the military alliance that the U.S.S.R. had created in response to America's having created the NATO military alliance against the Soviet Union) all ended. But, secretly, the Cold War continued on the U.S. side, and with the same (and now blatantly) imperialist goal of ultimately conquering Russia and China, so as to establish the first-ever all-encompassing global empire. Whereas Franklin Delano Roosevelt had set up the U.N. so as to evolve into a global democracy of nations — a democratic federal republic encompassing all nations — his successor, Harry S. Truman quickly became deceived by Winston S. Churchill and Dwight David Eisenhower to believe that the Soviet Union was trying to take over the entire world, and so Truman promptly abandoned FDR's vision and initiated instead the permanent-warfare U.S., the military-industrial-complex-ruled U.S., which relegated the U.N. to a secondary role, as a mere mediator for global diplomacy, not as the international lawmaker that FDR had hoped it would ultimately evolve into. FDR's dream and intention, of establishing a system of international laws functioning as the all-encompassing global democratic federal democracy in which all nations are represented, became thwarted, almost as soon as he died, when the Deep-State U.S. military-industrial complex that's run behind the scenes by the controlling owners of America's top weapons-manufacturing firms took hold.
After WW II, the U.S. Government secretly aspired — and still does aspire — to rule over the entire world, including especially over Russia and China. George Herbert Walker Bush told Robert Sheer in the 24 January 1980 Los Angeles Times and in Scheer's 1982 book With Enough Shovels, page 29, that in a nuclear war between the Soviet Union and the U.S., the "winner in a nuclear exchange" would be whichever side is stronger than the other at the war's end; and, so, for Bush, nuclear weapons didn't exist in order to avoid a nuclear conflict, but instead in order to "win" it. This also is the reason why, on the night of 24 February 1990, Bush secretly told West German Chancellor Helmut Kohl to ignore the promises that Bush's team were making to Gorbachev, that NATO would not be expanded "one inch to the east" (i.e., not extended right up to Russia's border) if Gorbachev ends the Cold War. Bush, in confidence, told Kohl "To hell with that! We prevailed, they didn't." And he also secretly told French President Francois Mitterrand to pursue no "kind of pan-European alliance" (i.e., alliance that includes Russia) because, actually, total conquest of Russia remains the U.S.-and-allied goal. This view — that the goal is control over Russia — became firmly established in U.S. Government policy by no later than 2006 when Bush's son was the President and the phrase "Nuclear Primacy" (the ability to "win" a nuclear war against Russia) became used in order to refer to America's geostrategic goal.
Part of that scam by 'The West' (the emergent American empire) has been the ongoing 'historical' lie that the Allied victory in WW II was mainly an American and British affair, and not mainly a Soviet one. Another part of it is that the Soviet Union had started the Cold War; and yet a third part is that the Cold War was about ideology (communism versus capitalism) instead of about the U.S. regime's goal of ultimately conquering Russia and China so as to achieve the world's first and only full global and unchallengeable empire.
The excuse for all of this was always the allegation that global empire is Russia's goal and that the U.S. therefore needs to win the nuclear war when it ultimately happens. But Russia, and its prior USSR, always did maintain, and still does maintain, as actual Government policy (not just mere verbiage, such as in America after 1980) the belief in "MAD" or Mutually Assured Destruction — the idea that any nuclear war between the two superpowers will destroy the entire planet and therefore produce no winners whatsoever — no winner but only nuclear winter — regardless of which side might temporarily emerge the stronger while nuclear winter and resulting global famine soon destroy all life on Earth after that nuclear exchange. Russia is not (like America is) aiming to take over the planet. The fact that the U.S. regime is trying to take over the planet has shocked even America's top geostrategic scientists. The 'historians' hide all of this, so as to continue the myth that in the U.S.-Russia relationship, Russia is and has been the aggressor, and America the defender — instead of vice-versa, which is, and has been, the historical reality.
A rare, early, excellent, and honest, Western history of the immediate post-WW-II world, was the libertarian William Henry Chamberlin's 1950 book America's Second Crusade. Its earnest author — a disenchanted former socialist who once had trusted Stalin's goodwill but was dismayed now to find Stalin to be America's enemy as well as an unforgivable tyrant to the nation he led — opened by saying "My book is an attempt to examine without prejudice or favor the question why the peace was lost while the war was being won." He was struggling to understand how and why and when the Cold War started, but unfortunately, some key documents, in order to become enabled to understand that, had not yet become public. A crucial passage in his book that reflected state-of-the-art historical writing in 1950 but certainly not today, asserted:
Stalin's diplomatic masterpiece was his promotion, through his pact with Hitler, of a war from which he hoped to remain aloof. [FALSE: Stalin knew that the Soviet Union was Hitler's main target to attack, and he was terrified of that]
This attractive dream of watching the capitalist world tear itself to pieces and then stepping in to collect the fragments was shattered by Hitler's attack in June 1941. [FALSE: that war between U.S.S.R and Germany was already baked-in in 1939; and it was Stalin's nightmare — not his "dream."]
Chamberlin thought that Stalin had made with Hitler the 1939 Ribbentrop-Molotov Pact because Stalin had wanted to join with Hitler in taking over the entire world — i.e., for aggression, instead of for defense; i.e., instead of so as to protect the U.S.S.R. from becoming invaded by Hitler (which defensive motivation actually is what obsessed Stalin). Chamberlin thus wrote approvingly of "Churchill's scheme which would have limited the extent of Soviet conquest." Chamberlin thought that the ideological conflict (to the extent that there actually was one in the Cold War) was between communism versus capitalism, not between fascism versus non-fascism (which it was, and still is).
Here are the facts, which have been revealed by the making-public of archives as of 2008 and subsequently:
On 18 October 2008, Britain's Telegraph bannered "Stalin 'planned to send a million troops to stop Hitler if Britain and France agreed pact'" and buried the core revelation, that Stalin prior to the Ribbentrop-Molotov Pact recognized Hitler's determination to conquer the Soviet Union and he had, on 15 August 1939, urged British Prime Minister Neville Chamberlain to accept the U.S.S.R. as an ally in their mutual war to defeat Hitler; but Chamberlain refused, and so Stalin reached out to Hitler for an agreement with him to a dividing-line between those two countries' (Germany's and U.S.S.R.'s) essential areas of control for each one's national security. Poland especially was a worry to both of them, because Poland had had territorial conflicts with both Germany and the Soviet Union. Thus was signed on 23 August 1939 the Ribbentrop-Molotov Pact, which split Poland between both countries.
The Versalles Treaty at the end of WW I had handed to Poland what had been German territory that through most of prior history had been Polish territory. Hitler was elected into power in 1933 vowing to abandon that Treaty and to restore, to German rule, that part of Poland.
As regards Poland's conflicts with Russia: Poland had invaded Moscow during 1605-18, before Russia responded by both military and diplomatic means to virtually conquer Poland into becoming a colony of Russia, which it remained almost uninterruptedly until 1939, when the Hitler-Stalin agreement — the Ribbentrop-Molotov Pact — restored part of Poland to the Soviet Union, but handed the other part of Poland to Germany.
Stalin, having been spurned by Chamberlain (who held his own imperialistic intentions — he was as imperialistic as were the fascists: Hitler, Hirohito, and Mussolini), had actually no other option in 1939 than to reach a peace-agreement with Hitler, so as to avoid having the Soviet Union become swallowed up by the capitalist countries — first by Germany, and then by whatever countries would finally win the coming World War (presumably, likewise Germany).
This is why the historian Chamberlin's claim that Stalin's "dream" of imperialist expansion "was shattered by Hitler's attack in June 1941" is false: Stalin's necessity for the U.S.S.R. to be granted enough time, to prepare for Hitler's Operation Barbarossa invasion against it (which ended up starting on 22 June 1941), caused the Ribbentrop-Molotov Pact to become signed on 23 August 1939, which signing sparked both of its signatories to promptly invade Poland and start the active phase of WW II on 1 September 1939, both countries invading Poland. FDR didn't hold that agreement against Stalin, but instead against Chamberlain, who really hated Russia and virtually forced Stalin into that Pact. Chamberlain's goal wasn't to get the Soviet Union onto Britain's side but instead for a war between the Soviet Union and Germany to weaken both of them enough for a UK-U.S. alliance to take over both of them, and, ultimately, the world. FDR got Chamberlain's successor Churchill to agree to a "United Nations" in which there would be an international democracy of nations and all military weapons and enforcement of General Assembly laws would be possessed and enforced only by "the Big Four" of U.S., UK, U.S.S.R., and China, but Churchill balked at including China because he wanted to retain control of his eastern vassal-nations. FDR agreed instead to each of the Big Four enforcing U.N. laws only within its own neighborhood, so as to prohibit friction between the Big Four — and China would enforce in East Asia and Western Pacific, which meant Britain's freeing India, Burma, Malaya, and some other of its vassal-nations. U.S. was to enforce U.N. laws throughout the Western Hemisphere. U.S.S.R. was to do the same in eastern Europe and central Asia. UK was to do it in Western Europe. Initially, Roosevelt's plan had been only for a U.N. consisting of this Big Four as "trustees" over other nations that are within their neighborhood, but he soon recognized the need for, as the Dumbarton Oaks founding document for the U.N. put it, on 7 October 1944, "Membership of the Organization should be open to all peace-loving states." Also: "There should be an international court of justice which should constitute the principal judicial organ of the Organization." And: "Each member of the Organization should have one vote in the General Assembly." No international bill of rights was included, because the U.N. wasn't to get involved in any nation's internal affairs. But, then, FDR died and along came President Truman, and the U.N.'s Constitution became established on 26 June 1945, as the "Charter of the United Nations", and it dispensed altogether with that crucial distinction; and, furthermore, the Big Four became the Five permanent Members of the Security Council, France (yet another imperialist regime) being added to the Big Four. Already, FDR's vision was starting to become replaced by that of agents of owners of America's 'defense' contractors. They needed the distinction to be abandoned so that the U.N. would become distracted away from its peace-keeping function and toward "human rights" issues that could 'justify' international invasions (and thus growing demand for their products). And thus we have today a toothless U.N., far from what FDR had intended. This is very profitable for the military-industrial complex and enables the U.S. regime to aspire to being, as Barack Obama claimed it already to be, "the one indispensable nation", and every other nation therefore to be 'dispensable' (and consequently usable for "target-practice").
After the 18 October 2008 article in Britain's Telegraph, another article that is a breakthrough for historians is Randy Dotinga's superb review (and the best summary), appearing in the 5 March 2015 Christian Science Monitor, of Susan Butler's 2015 masterpiece, Roosevelt and Stalin: Portrait of a Partnership. (Butler's book is based on her own prior publication, by Yale, of My Dear Mr. Stalin: The Complete Correspondence of Franklin D. Roosevelt and Joseph V. Stalin.) Dotinga's review is titled "'Roosevelt and Stalin' details the surprisingly warm relationship of an unlikely duo: How FDR and Stalin forged a bond that helped to shape history." Basically, what Butler has documented (in those two books) and Dotinga accurately summarizes, is that FDR and Stalin were in agreement and FDR and Churchill were not, and that FDR was consistently a supporter of the position that no nation has a right to interfere in the internal affairs of any other nation, except when those internal affairs present a realistic threat against the national security of one's own nation. FDR was consistently an opponent of empires, which exist not for national security but for the further enrichment of one's own nation's aristocracy, the owners of its international corporations — especially of its weapons-makers. (An imperial nation's weapons-manufacturers rely upon sales to that government and to its vassals or 'allies', and therefore fund politicians who endorse its imperialism. Consequently: the U.N. now gets involved in the internal affairs of nations — their 'democracy' and 'human rights' — as constituting 'justifications' to authorize invasions, or "R2P," responsibility to protect. That's exactly opposite to FDR's plan for the U.N., which concerned no intranational affairs, but only intranational affairs.) The negative reviews of Butler's Roosevelt and Stalin at Amazon object to Stalin's domestic policies but ignore what FDR was concerned with, regarding Stalin, which was international policies. It would have been foolish for FDR to have gotten into disputes with his most important ally over internal Soviet matters (but American imperialists wish that he had done so). Similarly, FDR did not think that he possessed a right to interfere in Hitler's domestic policies (including even the extermination programs), but recognized that he had an obligation to protect the United States from Hitler's intended conquest of the entire world. For example, FDR's chosen mastermind for, and Truman's designated prosecutor at, the Nuremberg Tribunals, Robert Jackson, focused mainly against the German regime's imperialist policies, its international aggressions that really were not motivated by Germany's national security but instead by international conquest — aggression. The Holocaust was also an important, but secondary, concern, at those tribunals. In international affairs, FDR recognized that the primary focus must be on international policies, not on intranational policies — that it must be on policies between nations, not policies within nations. He stuck to that; America's imperialists didn't like that. (For them, Churchill was the hero.)
As Dotinga's review also pointedly notes:
But FDR has a huge blind spot. Up until the very end, "Roosevelt and Stalin" virtually never mentions a man who forever annoyed the Russians by declaring in 1941 that "if we see that Germany is winning, we ought to help Russia, and if Russia is winning, we ought to help Germany, and that way let them kill as many as possible."
This man's name is Harry Truman. When Roosevelt dies in 1945, just weeks after the Yalta conference, the vice president knows virtually nothing about the wartime talks and has never even spent a second inside the White House's Map Room brain center.
Truman would learn about the nuclear bomb, which spawned an intense debate in the Roosevelt Administration about whether to mention it to the Soviets, America's supposed allies. In fact, they'd already figured out something was up.
Despite this fault line over trust with FDR, the Soviets would later mourn a safer world they believed Roosevelt would have created if he'd lived. To them, he was a dear friend who passed away too soon.
FDR knew and respected that Stalin led the main component of the anti-Nazi team. FDR had no illusions about what immense and unnecessary suffering Stalin's domestic policies produced, but this wasn't FDR's business. U.S. national security was. And FDR knew that if Hitler were to win, then America would ultimately be ruled from Berlin, and Hitler's domestic policies, which were even worse than Stalin's, would become also America's domestic policies. That's what FDR was protecting America against, and his chief international ally was Stalin — not actually Churchill (such as the fake 'history' — from pro-imperialists — claims).
The Democratic Party's biggest donors chose Harry S. Truman to become FDR's successor because they figured that he'd be able to be controlled by them, and this belief turned out to have been correct. Truman wasn't corrupt but he was able to be fooled (self-righteously to believe what his billionaire-approved advisors told him), and this is how the Cold War began. Truman thought he had no choice — that Stalin's regime would take over the world if America did not. He was fooled. And that's why the OSS and its successor, the U.S. CIA and other agencies, protected and even imported or hired many 'former' committed Nazis, as soon as FDR died. America is now basically ruled posthumously by Hitler's ideological heirs. Whereas some of America's leaders, such as Barack Obama, probably do it intelligently, understanding where the supremacist and imperialist agenda comes from (the "military-industrial complex" or the nation's most politically active billionaires), others of them, such as perhaps Donald Trump, might, like Truman was, be true-believers who have been simply fooled by them. Certainly Trump has loads of prejudices, which make him vulnerable to being manipulated without his even being aware of that. He believes what he wants to believe, and such a person is especially vulnerable to being manipulated. Obama, on the other hand, might be more of a realist than a fool. In either case, it's the billionaires who now control the U.S. Government (and see this, with more on that).
Furthermore, there were two powerful reasons why Stalin would have been getting himself into ideological trouble amongst his own communists if he had aspired to expanding Soviet control beyond the local neighborhood of adjoining ("buffer") nations all of which were collectively surrounded by the broader capitalist world: (1) Marx himself strongly condemned imperialism; and, (2) Stalin's main ideological competitor within the Soviet Union was Leon Trotsky, who advocated for a rapid worldwide spread of communism, versus Stalin's position against that, which was called "communism in one nation," and which advocated to postpone pushing for such a spread until after communism has first become an economic success within the U.S.S.R. so that workers throughout the world would rise up to overthrow their oppressors. America's Deep State knew all about the idiocy of casting Stalin as being an imperialist, but simply lied, in order to increase America's own empire. They were, and are, brazen.
And this Deep State is coextensive with the EU's, at least ever since the founding of the secret private Bilderberg network in 1954. America's aristocracy, and the 'ex'-Nazi Prince Bernhard and his friends, pushed for and set up the EU, in order, ultimately, to conquer Russia, not actually just to conquer the Soviet Union. On 19 September 2019, the European Parliament officially, by a vote of 535 in favor and only 66 against, blamed Stalin (along with Hitler) for World War II, and stated that today's Russia is an extension of the U.S.S.R.'s "totalitarianism," and they basically declared Russia to be Europe's enemy. On October 1st, Russia officially described that action by them as "nothing but a product of the cynical, immoral and even sleazy political put-up job."
A masterpiece of historical writing, and of historical documentaries based on it, showing in a broader perspective the history of U.S. international relations during the 20th Century, is Oliver Stone's and Peter Kuznick's Untold History of the United States, especially Chapter One here, and Chapter Two here. Massive though it is, it's only truths, no lies. That's extraordinarily rare. A masterpiece of behind-the-scenes history regarding U.S. international relations, containing stunning first-person details of the period 1943-1990 (that's up to but not including the end of the Cold War on Russia's side), is L. Fletcher Prouty's JFK: The CIA, Vietnam, and the Plot to Assassinate John F. Kennedy. Another related historical masterpiece is David Talbot's The Devil's Chessboard: Allen Dulles, the CIA, and the Rise of America's Secret Government. All of this is history that was being hidden and lied-about at the time when it was being mentioned, at all, in the 'news' — and which still remains being lied-about in the 'news' and 'history' that dominates today, within the U.S. and its empire. The only professional historian amongst those writers was Peter Kuznick. All of the others were journalists, except for Prouty, who was a participant. One can't reasonably trust the historical profession (nor most of the journalistic profession) in the U.S. and its empire. That's a fact — a proven-true empirical observation — no mere speculation.
Author's note: first posted at strategic-culture.org
EU: The stalemate in negotiations brings Serbia ever closer to Russia and China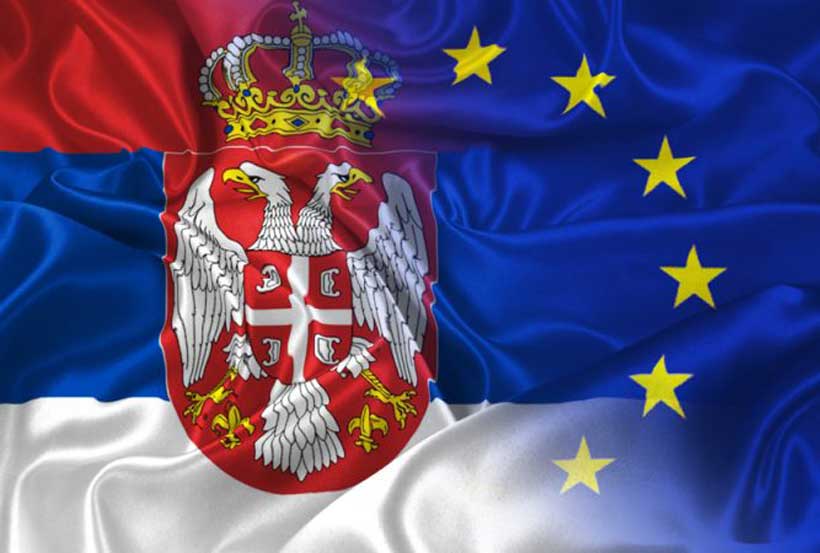 Serbia has been waiting since 2012 for the European Union to respond to its application to become a full member of the EU.
In spite of exhausting negotiations, this response is slow in coming and the main cause of the stalemate has a clear name: Kosovo. Before accepting Serbia's application for membership, the EU requires a definitive solution to the relations between Serbia and that region that broke away from it after the 1999 conflict – when NATO came to the aid of the Kosovo Albanians – and proclaimed its independence in February 2008.
Serbia has never recognised the birth of the Kosovo Republic, just as many other important countries have not: out of 193 UN members, only 110 have formally accepted the birth of the new republic, while the rest, including Russia, China, Spain, Greece and Romania – to name just the most important ones – refuse to recognise the independence of the Albanians of what was once a region of Serbia.
The European Union cannot accept that one of its members is in fact unable to guarantee control over its borders, as would be the case for Serbia if its membership were accepted.
In fact, since the end of the war between Kosovo and Serbia, there is no clear and controlled border between the two countries. In order to avoid continuous clashes, Kosovo and Serbia have actually left the border open, turning a blind eye to the 'smuggling economy' that thrives on both sides of the border.
In this situation, if Serbia were to become a full member of the European Union, it would create a gap in the borders of the entire Schengen area, as anyone passing through Kosovo could then move into all EU countries.This is not the only obstacle to Serbia's accession to the European
Union: many European chancelleries are wary of Serbian foreign policy which, since the dissolution of the Yugoslav Federation, has maintained a privileged relationship with Russia, refusing to adhere to the sanctions decided by Europe against Russia after the annexation of Crimea to the detriment of Ukraine.
During the Covid-19 pandemic, Serbia even agreed to produce the Russian vaccine 'Sputnik V' directly in its own laboratories, blatantly snubbing EU's vaccine offer.
For the United States and some important European countries, Serbia's formal accession to the European Union could shift the centre of gravity of Europe's geopolitics towards the East, opening a preferential channel for dialogue between Russia and the European Union through Serbia.
This possibility, however, is not viewed unfavourably by Germany which, in the intentions of the CDU President, Armin Laschet, the next candidate to succeed Angela Merkel as Chancellor, has recently declared he is in favour of a foreign policy that "develops in multiple directions", warning his Western partners of the danger resulting from "the interruption of the dialogue with Russia and China". In this regard, Laschet has publicly stated that 'foreign policy must always focus on finding ways to interact, including cooperation with countries that have different social models from ours, such as Russia, China and the nations of the Arab world'.
Today we do not know whether in autumn Laschet will take over the leadership of the most powerful country in the European Union, but what is certain is that Serbia's possible formal membership of the European Union could force Europe to revise some of its foreign policy stances, under the pressure of a new Serbian-German axis.
Currently, however, Serbia's membership of the European Union still seems a long way off, precisely because of the stalemate in the Serbia-Kosovo negotiations.
In 2013 Kosovo and Serbia signed the so-called 'Brussels Pact', an agreement optimistically considered by European diplomats to be capable of rapidly normalising relations between Serbia and Kosovo, in view of mutual political and diplomatic recognition.
An integral part of the agreement was, on the one hand, the commitment of Kosovo's authorities to recognise a high degree of administrative autonomy to the Kosovo municipalities inhabited by a Serb majority and, on the other hand, the collaboration of the Serbs in the search for the remains of the thousands of Kosovar Albanians presumably eliminated by Milosevic's troops during the repression that preceded the 1999 war.
Neither of the two commitments has so far been fulfilled and, during the meeting held in Brussels on July 21 between Serbian President Alexander Vucic and Kosovo's Prime Minister Albin Kurti, harsh words and reciprocal accusations were reportedly exchanged concerning the failure to implement the 'Pact', to the extent that the Head of European foreign policy, Josep Borrel, publicly asked the two parties to 'close the chapter of a painful past through a legally binding agreement on the normalisation of mutual relations, with a view to building a European future for its citizens'. This future seems nebulous, to say the least, if we consider that Serbia, in fact, refuses to recognise the legal value of degrees and diplomas awarded by the Kosovo academic authorities also to members of the Kosovo Serb minority.
Currently, however, both contenders are securing support and alliances in Europe and overseas.
Serbia is viewed favourably by the current President of the European Union, Slovenian Janez Jansa, who is a supporter of its membership because "this would definitively mark the dissolution of the Yugoslav Federation". The vast majority of European right-wing parties, ranging from the French 'Rassemblement National' to the Hungarian 'Fydesz', also approve of Serbia's membership application and openly court the Serbian minorities living in their respective countries while, after the years of US disengagement from the Balkans under Presidents Bush, Obama and Trump, the Biden administration has decided to put the region back on the list of priority foreign policy commitments, entrusting the 'Serbia dossier' to the undersecretary for European and Eurasian Affairs, Matthew Palmer, an authoritative and experienced diplomat.
With a view to supporting its application for European membership, Serbia has also deployed official lobbyists.
Last June, Natasha Dragojilovic Ciric's lobbying firm ND Consulting officially registered in the so-called EU 'transparency register' to promote support for Serbia's membership. ND is financed by a group of international donors and is advised by Igor Bandovic, former researcher at the American Gallup and Head of the Belgrade Centre for Security Policy, by lawyer Katarina Golubovic of the 'Committee of Human Rights Lawyers' and Jovana Spremo, former OSCE consultant.
These are the legal experts deployed by Serbia in Brussels to support its application for formal European integration, but in the meantime Serbia is not neglecting its "eastern" alliances.
Earlier this month, the Head of the SVR, the Russian Foreign Intelligence Service, Sergey Naryshkin, paid an official visit to Belgrade, a few weeks after the conclusion of a joint military exercise between Russian special forces (the "Spetznaz") and Serbian special forces.
In the Serbian capital, Naryshkin not only met his Serbian counterpart Bratislav Gasic, Head of the 'Bezbednosno Informativna Agencija', the small but powerful Serbian secret service, but was also received by the President of the Republic Alexander Vucic with the aim of publicising the closeness between Serbia and Russia.
The timing of the visit coincides with the resumption of talks in Brussels on Serbia's accession to the European Union and can clearly be considered as instrumental in exerting subtle diplomatic pressure aimed at convincing the European Union of the possibility that, in the event of a refusal, Serbia may decide to definitely turn its back on the West and ally with an East that is evidently more willing to treat the Serbs with the dignity and attention that a proud and tenacious people believes it deserves.
A piece of news confirming that Serbia is ready to turn its back on the West, should Europe continue to postpone the decision on its accession to the European Union is the fact that China has recently signed a partnership agreement with Serbia in the field of pharmaceutical research, an agreement that makes Serbia one of China's current largest commercial partners on the European continent.
When the Soviet Union collapsed and the Warsaw Pact died, there was much speculation that NATO would consider itself redundant and either disappear or at least transmogrify into a less aggressive body.
Failing that, Moscow at least felt assured that NATO would not include Germany, let alone expand eastwards. Even the NATO Review, NATO's PR organ, wrote self-apologetically twenty-five years after the fall of the Berlin wall: "Thus, the debate about the enlargement of NATO evolved solely in the context of German reunification. In these negotiations Bonn and Washington managed to allay Soviet reservations about a reunited Germany remaining in NATO. This was achieved by generous financial aid, and by the '2+4 Treaty' ruling out the stationing of foreign NATO forces on the territory of the former East Germany. However, it was also achieved through countless personal conversations in which Gorbachev and other Soviet leaders were assured that the West would not take advantage of the Soviet Union's weakness and willingness to withdraw militarily from Central and Eastern Europe."
Whatever the polemics about Russia's claim that NATO broke its promises, the facts of what happened following the fall of the Berlin wall and the negotiations about German re-unification strongly demonstrate that Moscow felt cheated and that the NATO business and military machine, driven by a jingoistic Cold War Britain, a selfish U.S. military-industrial-congressional complex and an atavistic Russia-hating Poland, saw an opportunity to become a world policeman.
This helps to explain why, in contrast to Berlin, NATO decided to keep Nicosia as the world's last divided city. For Cyprus is in fact NATO's southernmost point, de facto. And to have resolved Cyprus' problem by heeding UN resolutions and getting rid of all foreign forces and re-unifying the country would have meant that NATO would have 'lost' Cyprus: hardly helpful to the idea of making NATO the world policeman. Let us look a little more closely at the history behind this.
Following the Suez debacle in 1956, Britain had already moved its Middle East Headquarters from Aden to Cyprus, while the U.S. was taking over from the UK and France in the Middle East. Although, to some extent under U.S. pressure, Britain was forced to bring Makarios out of exile and begin negotiating with Greece and Turkey to give up its colony, the U.S. opted for a NATO solution. It would not do to have a truly sovereign Cyprus, but only one which accepted the existence of the Sovereign Base Areas (SBAs) as part and parcel of any settlement; and so it has remained, whatever the sophistic semantics about a bizonal settlement and a double-headed government. The set of twisted and oft-contradictory treaties that have bedevilled the island since 1960 are still afflicting the part-occupied island which has been a de facto NATO base since 1949. Let us look at some more history.
When Cyprus obtained its qualified independence in 1960, Greece and Turkey had already signed, on 11 February 1959, a so called 'Gentlemen's Agreement', agreeing that they would support Cyprus' entry into NATO.1 This was, however, mere posture diplomacy, since Britain—and the U.S. for that matter—did not trust Cyprus, given the strength of the Progressive Party of Working People (AKEL) and the latter's links to Moscow. The Ministry of Defence (MOD) wrote: 'Membership of NATO might make it easier for the Republic of Cyprus and possibly for the Greeks and Turks to cause political embarrassment should the United Kingdom wish to use the bases […] for national ends outside Cyprus […] The access of the Cypriot Government to NATO plans and documents would present a serious security risk, particularly in view of the strength of the Cypriot Communist Party. […] The Chiefs of Staff, therefore, feel most strongly that, from the military point of view, it would be a grave disadvantage to admit Cyprus to NATO.'2 In short, Cyprus was considered unreliable.
As is well known, the unworkable constitution (described as such by the Foreign Office and even by David Hannay, the Annan reunification plan's PR man), resulted in chaos and civil strife: in January 1964, during the chaos caused by the Foreign Office's help and encouragement to President Makarios to introduce a 'thirteen point plan' to solve Cyprus' problems, British Prime Minister Douglas-Home told the Cabinet: 'If the Turks invade or if we are seriously prevented from fulfilling our political role, we have made it quite clear that we will retire into base.'3 Put more simply, Britain had never had any intention of upholding the Treaty of Guarantee.
In July of the same year, the Foreign Office wrote: 'The Americans have made it quite clear that there would be no question of using the 6th Fleet to prevent any possible Turkish invasion […] We have all along made it clear to the United Nations that we could not agree to UNFICYP's being used for the purpose of repelling external intervention, and the standing orders to our troops outside UNFYCYP are to withdraw to the sovereign base areas immediately any such intervention takes place.'4
It was mainly thanks to Moscow and President Makarios that in 1964 a Turkish invasion and/or the island being divided between Greece and Turkey was prevented. Such a solution would have strengthened NATO, since Cyprus would no longer exist other than as a part of NATO members Greece and Turkey. Moscow had issued the following statement: 'The Soviet Government hereby states that if there is an armed foreign invasion of Cypriot territory, the Soviet Union will help the Republic of Cyprus to defend its freedom and independence against foreign intervention.'5
Privately, Britain, realising the unworkability of the 1960 treaties, was embarrassed, and wished to relieve itself of the whole problem. The following gives us the backstage truth: 'The bases and retained sites, and their usefulness to us, depend in large measure on Greek Cypriot co-operation and at least acquiescence. A 'Guantanamo'6 position is out of the question. Their future therefore must depend on the extent to which we can retain Greek and/or Cypriot goodwill and counter USSR and UAR pressures. There seems little doubt, however, that in the long term, our sovereign rights in the SBA's will be considered increasingly irksome by the Greek Cypriots and will be regarded as increasingly anachronistic by world public opinion.7
Following the Turkish invasion ten years later, Britain tried to give up its bases: 'British strategic interests in Cyprus are now minimal. Cyprus has never figured in NATO strategy and our bases there have no direct NATO role. The strategic value of Cyprus to us has declined sharply since our virtual withdrawal from east of Suez. This will remain the case when the Suez Canal has reopened.8
A Cabinet paper concluded: 'Our policy should continue to be one of complete withdrawal of our military presence on Cyprus as soon as feasible. […] In the circumstances I think that we should make the Americans aware of our growing difficulty in continuing to provide a military presence in Cyprus while sustaining our main contribution to NATO. […]9
Britain kept trying to give up the bases, but the enabler of the Turkish invasion, Henry Kissinger, did not allow Britain to give up its bases and listening posts, since that would have weakened NATO, and since Kissinger needed the bases because of the Arab-Israel dispute.10
Thus, by the end of 1980, in a private about-turn, Britain had completely succumbed to American pressure: 'The benefits which we derive from the SBAs are of major significance and virtually irreplaceable. They are an essential contribution to the Anglo-American relationship. The Department have regularly considered with those concerned which circumstances in Cyprus are most conducive to our retaining unfettered use of our SBA facilities. On balance, the conclusion is that an early 'solution' might not help (since pressures against the SBAs might then build up), just as breakdown and return to strife would not, and that our interests are best served by continuing movement towards a solution – without the early prospect of arrival [author's italics]11.
And so it is today: Cyprus is a de facto NATO territory. A truly independent, sovereign and united Cyprus is an anathema to the U.S. and Britain, since such a scenario would afford Russia the hypothetical opportunity to increase its influence in the Eastern Mediterranean.
From our partner RIAC
[1] Ministry of Defence paper JP (59) 163, I January 1960, BNA DEFE 13/99/MO/5/1/5, in Mallinson, William, Cyprus, a Modern History, I.B. Tauris (now Bloomsbury), London and New York, 2005, 2009, 2012, p.49.
[2] Ibid.
[3] Memorandum by Prime Minister, 2 January 1964, BNA CAB/129/116, in ibid, Mallinson, William, p.37.
[4] British Embassy, Washington, to Foreign Office, 7 July 1964, telegram 8541, BNA FO 371/174766, file C1205/2/G, in ibid.', Mallinson, William, p. 37.
[5] Joseph, Joseph S., Cyprus, Ethnic Conflict and International Politics, St Martin's Press, London and New York, 1997, p. 66.
[6] In 1964, Cuba cut off supplies to the American base at Guantanamo Bay, since the US refused to return it to Cuba, as a result of which the US took measures to make it self-sufficient.
[7] Briefing paper, 18 June 1964, BNA-DO/220/170, file MED 193/105/2, part A. Mallinson,William, Kissinger and the Invasion of Cyprus, p. 127.
[8] 'British Interests in the Eastern Mediterranean', draft paper, 11 April 1975, BNA-FCO 46/1248, file DPI/515/1.
[9] Cabinet paper, 29 September 1976, in op. cit. Mallinson, William, Kissinger and the Invasion of Cyprus, p.134.
[10] Mallinson, William, Britain and Cyprus: Key Themes and Documents, I.B. Tauris, London and New York, 2011, and Bloomsbury, London and New York, 2020, pp. 87-121.
[11] Fergusson to Foreign Minister's Private Secretary, minute, 8 December 1980, BNA-FCO 9/2949, file WSC/023/1, part C.
Belarus divorces from the Eastern Partnership: A new challenge for the EU Neighborhood Policy
The Eastern Partnership (EaP) is the Eastern dimension of the EU Neighborhood Policy adopted back in 2009 aimed at deepening relations between Brussels and six Eastern European partners – Armenia, Azerbaijan, Belarus, Georgia, Moldova and Ukraine. The EaP has been regarded as a strategic initiative based on mutual interests and common values with a goal of strengthening political and economic relations with those countries, helping them enhance their institutional capacity through sustainable reforms. While increasing stability and paving the way for the sustainable development of those societies, the EU's overall goal has been to secure its Eastern borders.
Since the very beginning the EaP has been suspiciously viewed by Russia as an attempt of expansion of the sphere of influence and as a first step of EU membership of these countries. Russians point to the EU and NATO ambitious expansion eastward as the main reason for complicated relations and in this context the EaP has been regarded with traditional fears and paranoic perceptions. The Russian hard power approach causes serious problems for the EaP which fails to mitigate security concerns of partner countries and to come up with serious initiatives for conflict settlement. Being a laggard in terms of soft power, the Russian ruling elite has continuously used all hard power foreign policy instruments at its disposal trying to undermine the coherence of the initiative. And the very recent démarche of Belarus to withdraw from the EaP should be seen in this context of confrontation.
On 28th of June, the ministry of foreign affairs of Belarus announced a decision to halt its membership in the EaP as a response to the EU sanctions imposed on Minsk accompanied by the recalling ambassadors from both sides. Actually, this isn't the first case of the EaP walkout blackmailed by Lukashenko. The first escape was attempted in September-October 2011, but the difficulties were soon resolved and Lukashenko revised his decision. This time situation seems very complicated and these far-reaching tensions may have tough consequences for Lukashenko's regime. This new group of sectoral sanctions which target banking, oil, telecommunication spheres and also ban the export of potash, is a harsh response from the EU against Lukashneko's scandalous hijacking activity in May to detain a Belarusian opposition journalist and blogger Roman Protasevich.
Lukashenko's administration not only challenges the EU Neighborhood Policy and shows no retreat, but also goes forward escalating the situation. Minsk takes high risks freezing the Readmission Agreement signed by the EU. This document is a legal basis for bilateral cooperation aimed at struggling against irregular migration flows. It's not a secret that the territory of Belarus has been used for illegal migration for the groups from the Middle East to penetrate into neighboring EU member states such as Poland, Lithuania and Latvia. Moreover, Belarus territory has served as a transit route for smuggling circles going from East to West and vice versa. And now closing eyes on all these channels, Minsk hopes to increase the bargaining power vis-à-vis Brussels. However, given the Western reactions, it seems that this time the EU is resolute.
Despite the fact that Charles Michel, the President of the EU Council, described this withdrawal as "another step backwards" and even threatened that "this will escalate tensions having clear negative impacts", the EU wants to continue working with the Belarusian society as Josep Borrel stated. The EU's determination to keep the bridges alive with the Belarusian people, in spite of Lukashneko's radical stance, is aimed at preventing further isolationism of Minsk which would benefit only Russia.
In contrast to the increasing level of tensions with the EU, the Russian authorities continue to support Lukasheno's administration, thus trying to deepen the gap and to bring Belarus under their total influence. Russia uses Belarus in its chessboard with the EU and the USA in Eastern Europe. Last year's fraud elections and brutal crackdown by Lukashenko left him alone with the only source of power stemming from the Kremlin. Thus the withdrawal from the EaP should be understood not only as a convulsion of the Belarusian authorities in response to the sanctions, but also Russia's employment of the Belarus card to respond to the recent joint statement of the EU-US summit in Brussels, when both parties declared their intention to stand with the people of Belarus, supporting their demands for human rights and democracy simultaneously criticising Lukashenko's regime and his reckless political behavior and also criticising Russian's unacceptable behavior.
So, Lukashenko's step to quit the EaP can be seen as a well-calculated adulatory sign towards Moscow sacrificing the last remnants of sovereignty in order to receive financial and political lifebuoy amid the increasing crisis in the result of sanctions. And the recent visit of N. Patrushev, the Secretary of the Security Council of Russia, to Minsk right after the withdrawal decision shows Russian inclination to strike while the iron is hot and to abuse the vulnerable situation of Belarus. Patrushev stated that the ultimate goal of foreign powers is to change the power in Belarus and he suggested instead of focusing on internal issues, to bring their forces together against external threats as their influence affects internal developments. For this reason, deeper integration of security and military services of both countries are on the table.
The reaction of opposition leader S. Tikhanovskaya was very rough, stating that this suspension will cut the opportunities of ordinary citizens who benefit from the political and economic outcomes of the EaP. Moreover, she claims that Lukashenko doesn't have a right to represent Belarus since August 2020 and his decisions don't have legal consequences for Belarus. This kind of approach is shared by the leadership of Lithuania too, whose president and minister of foreign affairs not only refuse to recognize Lukashenko as a legitimate president, but also highlight the role of the Kremlin in supporting the dictatorial power of Lukashenko in exchange for decreasing sovereignty.
The blackmail of Lukashenko to challenge the EU Eastern Neighborhood Policy in order to have the sanctions lifted may bring about such kind of precedents with other partnering countries as well. First of all, this concerns Azerbaijan which continues to face serious problems related with human rights, freedom of expression, the problem of Prisoners of War and other traits of authoritarian power. It's well-known that human rights issues have been the underwater stones in the EU and Azerbaijan relations and they continue to pose new challenges for Aliyev's non-democratice regime. Another weak ring of the EaP chain is Armenia. Even though reelected N. Pashinyan is eager to pursue a balanced foreign policy, post-war Armenia still faces serious limitations given its vulnerable dependence on Russia. Besides, Pashinyan's main rival and the former President R. Kocharyan, whose alliance will be the second largest faction in the newly elected Parliament has recently stated that this new parliament can last up to one and half years and nobody can exclude the possibility of new snap elections. His pro-Russian attitude and anti-Western stance are well-known and in case he becomes a prime-minister, there is no guarantee that he will follow the path of Lukashenko.
Therefore the statement of the Austrian MFA, that "we cannot leave South Caucasus to others" during the recent official visit of the Austrian, Romanian and Latvian MFA under the mandate of the EU High Representative to the South Caucasus, reminds about the EU presence in the region and also the fact that the 'normative power' can be a source of balance and a status quo changer.