Debt Stocks of Developing Countries Rose to $7.8 Trillion in 2018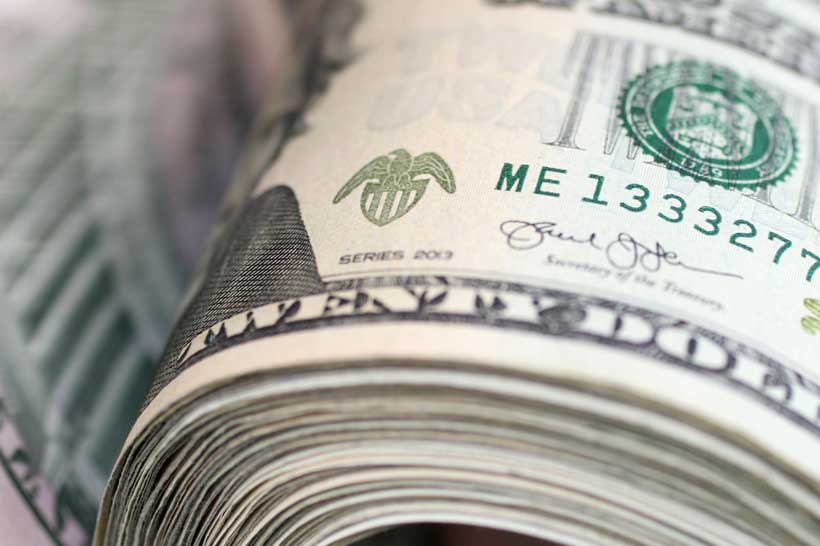 Total external debt of low- and middle-income countries climbed 5.3 percent to $7.8 trillion last year, while net debt flows (gross disbursements minus principal payments) from external creditors tumbled 28 percent to $529 billion, the World Bank's International Debt Statistics 2020 shows.
Although on average the external debt burden of low- and middle-income countries was moderate, several countries have been on a deteriorating debt trajectory since 2009, the report indicates. The share of low- and middle-income countries with debt-to-GNI ratios below 30 percent has shrunk to 25 percent, down from 42 percent ten years ago. Similarly, the share of countries with high debt-to-export ratios has climbed.
"To grow faster, many developing countries need more investment that meets their development goals," World Bank Group President David Malpass said. "Debt transparency should extend to all forms of government commitments, both explicit and implicit. Transparency is a critical part of attracting more investment and building an efficient allocation of capital, and these are essential in our work to improve development outcomes."
Debt stocks were driven up by a 15 percent jump in China, fueled by investor appetite for renminbi-denominated assets. Excluding the ten largest borrowers (Argentina, Brazil, China, India, Indonesia, Mexico, the Russian Federation, South Africa, Thailand, and Turkey), external debt stocks rose 4 percent. Sub-Saharan countries excluding South Africa saw debts stocks swell by 8 percent on average in 2018, and over half the countries in the region have seen external debt stocks double since 2009.
Net debt inflows to low- and middle-income countries from multilateral creditors surged 86 percent, principally due to the International Monetary Fund's support for Argentina. Excluding that loan, net inflows from multilateral creditors to other low- and middle-income countries were unchanged from the previous year. Lending from non-Paris Club creditors to countries eligible to borrow from the World Bank's International Development Association (IDA), its fund for the poorest countries, slowed. The share of new commitments from non-Paris Club bilateral creditors fell to 17 percent (a continued decline from 43 percent in 2010) while the share held by Paris Club bilateral creditors remained steady at 12 percent.
This edition of International Debt Statistics features for the first time a breakdown of public and publicly guaranteed debt — government and other public sector debt, as well as private debt that is government guaranteed. As a result, information is available not only about government debt but also the explicit contingent liabilities of governments.
"Borrowing patterns and debt instruments have changed over time, and so has the depth and scope of International Debt Statistics," said World Bank Development Economics Data Group Director Haishan Fu. "What has not changed is the core objective of the report: providing comprehensive, timely data on the external debt of low- and middle-income countries to support debt management and related policy decisions."
Bond issuance by low- and middle-income countries – a primary source of external financing for some countries — fell 26 percent to $302 billion in 2018 amid heightened global uncertainty, tighter capital markets, and credit ratings downgrades. However, Sub-Saharan countries excluding South Africa issued a record-high $17 billion in bonds. Issues in 2018 were characterized by longer maturities and all were oversubscribed.
Net financial flows to low- and middle-income countries – including both debt and equity – slipped 19 percent in 2018 to $1 trillion. Excluding China, which accounts for half of net debt flows and 43 percent of net equity flows, net financial flows to low- and middle-income countries tumbled 28 percent.
Inflation Concerns Push Up Emerging East Asia Bond Yields
Emerging East Asia's bond market grew 3.4% in the third quarter to $21.7 trillion, although rising global inflation and a shift in the United States (US) monetary stance weakened regional financial conditions, according to the latest issue of the Asia Bond Monitor.
Bond yields rose, currencies weakened, and risk premiums edged up amid increased global inflation and the US Federal Reserve's announcement that it would limit bond purchases starting in November, according to the report, released today by the Asian Development Bank (ADB).
"The encouraging macroeconomic outlook and accommodative policy stances are supporting the region's financial conditions," said ADB Acting Chief Economist Joseph Zveglich, Jr. "However, central banks in the region may find they need to be less accommodative to keep inflation in check and to keep in step with US monetary policy changes. That said, the chance of another 'taper tantrum' is limited as the direction of the Federal Reserve's stance is clearly communicated and the region's economic fundamentals remain strong."
Emerging East Asia comprises the People's Republic of China (PRC); Hong Kong, China; Indonesia; the Republic of Korea; Malaysia; the Philippines; Singapore; Thailand; and Viet Nam.
Government bonds remained the dominant segment, increasing 3.9% from the previous quarter to $13.6 trillion. The bond markets of the Association of Southeast Asian Nations (ASEAN) members—many of which suffered from the coronavirus disease's (COVID-19) Delta variant outbreak—grew 14.4% from a year earlier to $1.9 trillion in the third quarter, compared with 12.6% and 7.6% growth in the PRC and the Republic of Korea, respectively.
ASEAN bond markets showed sound market capacity during the pandemic, evident in low bond yields amid rapid market expansion. Domestic financial institutions, particularly banks, anchored bond market functioning. At the same time, a few ASEAN central banks facilitated market liquidity and government financing via asset purchasing programs. Mid- and long-term bonds account for a majority of outstanding bonds in ASEAN bond markets, implying a relatively stable financing structure.
Sustainable bond markets in the ASEAN region plus the PRC; Hong Kong, China; Japan; and the Republic of Korea totaled $388.7 billion, remaining the largest regional sustainable bond market after Europe and accounting for 19.2% of global sustainable bond markets at the end of September. Green, social, and sustainability bonds accounted for 71.6%, 13.0%, and 15.3% of the region's sustainable bonds outstanding, respectively. As this regional market develops, the issuer base is also diversifying from just the financial sector to other business sectors.
The latest issue of the Asia Bond Monitor analyzes the price and yield differences between labeled and unlabeled green bonds. Recent research finds that investors would pay more for labeled or certified green bonds that have better information disclosure and lower reputational risk.
The report also discusses how the Delta variant outbreak and uneven vaccination progress slowed and caused divergences in regional economic recovery; the likelihood of a "taper tantrum" repeat; and risks to the current outlook, including continuing pandemic-induced uncertainty, slow vaccination rollouts in developing countries, and supply chain disruptions.
Iraq: The Slippery Road to Economic Recovery
Iraq's economic outlook has improved on the back of the recovery of global oil markets, with its GDP projected to grow from 2.6% in 2021 to over 6% in 2022–23. Nevertheless, without accelerated economic reform, unforeseen domestic and fiscal risks could cause reverses.
The World Bank's new Iraq Economic Monitor titled "The Slippery Road to Economic Recovery" finds the country's economic rebound partly aided by government moves to act on previously recommended reforms. Public transfers, as well as schemes aimed at increasing credit to businesses, had a small stimulus effect, leading to GDP growth of 0.9% in the first half of 2021, in contrast to a 16% contraction a year earlier.
Higher oil prices turned a fiscal balance of 2.2% in GDP surplus, boosting central bank reserves to almost US$55 billion (15 months of imports) in the first half of 2021. Recovery was to some extent curtailed by severe water shortages and widespread electricity cuts following historically low rainfall, impacting the agricultural and industrial sectors. Healthcare services also deteriorated amid a growing number of cases of COVID-19's Delta variant.
GDP from oil, still the main driver of medium-term growth in Iraq, is expected to rise in step with the gradual phase-out of OPEC+ production quotas, while non-oil GDP growth is forecast to remain under 3% in 2021–2023. Upstream risks could include oil shocks, droughts, and new COVID-19 variants. Potential problems could arise from fiscal and other risks, such as growing budget rigidities, the low clearance of arrears and the large exposure of state-owned banks and the central bank to sovereign debt, and the effect of public investment management constraints on public services. Progress on regional economic integration and security, however, could provide new momentum for growth and diversification.
Of key importance to Iraq is dealing with water scarcity and the degradation of water quality in its rivers and groundwater. The new Economic Monitor's special focus titled "Overcoming Water Scarcity and Climate Change Impacts," calls for dramatic sector reforms to capture opportunities and manage risks. A fall of 20% in Iraq's water supply and the related declining crop yields that could accompany climate change, could reduce real GDP in Iraq by up to 4%, or US$6.6 billion.
"Investing in climate smart water management practices provides a concrete opportunity to spur inclusive and green economic growth and development," said Saroj Kumar Jha, World Bank Mashreq Regional Director. "Without action, water constraints will lead to large losses across multiple sectors of the economy and come to affect more and more vulnerable people."
Iraq's water sector relies on highly centralized institutional architecture that creates coordination issues in resource management and service delivery. The sector suffers from a lack of financing (given existing constraints) as well as weak private sector participation and limited revenues from users. The Monitor identifies areas where reforms could improve Iraq's resilience to water scarcity and climate change—efficiency, productivity, and demand management policies; institutional solutions; and regional solutions.
Smart, sustainable maritime transport critical to global recovery
Although the COVID-19 pandemic's impact on maritime trade last year was less severe than expected, the knock-on effects will be far reaching and could transform the sector, the UN trade and development body, UNCTAD, said in its latest report, published on Thursday.
Maritime trade contracted by 3.8 per cent in 2020, but later rebounded, and is estimated to increase by 4.3 per cent this year, according to the report.
UNCTAD's Review of Maritime Transport 2021 reveals the outlook for the medium term remains positive but subject to "mounting risks and uncertainties", such as unprecedented pressures on global supply chains, dramatic spikes in freight rates, and price increases affecting both consumers and importers.
Vaccine roll-out critical
The agency said global socioeconomic recovery will depend on smart, resilient and sustainable maritime transport, and a worldwide COVID-19 vaccination effort that sees developing countries having fairer access to doses.
"A lasting recovery will depend on the path of the pandemic and largely hinges on being able to mitigate the headwinds and on a worldwide vaccine roll-out," said Rebeca Grynspan, the UNCTAD Secretary-General .
"The impacts of the COVID-19 crisis will hit small island developing States (SIDS) and least developed countries (LDCs) the hardest," she added.
As UN chief António Guterres has repeatedly pointed out, COVID-19 has laid bare numerous social inequalities.
Existing challenges exposed
UNCTAD said the pandemic has also exposed and magnified existing challenges in the maritime transport industry, particularly labour shortages and infrastructure needs.
The agency has called for urgent action to resolve the plight of hundreds of thousands of seafarers who remain stranded at sea due to the pandemic, as lockdowns, border closures and a lack of international flights have affected crew replacements and repatriations.
The report said industry, Governments and international organizations must ensure seafarers are designated as key workers and vaccinated as a matter of priority.
The report examines factors that are driving consumer prices higher.
Logistical challenges, soaring rates
The rebound in maritime trade has been marked by "pandemic-induced logistical challenges", such as shortages of equipment and containers, less reliable services, and congested ports. The resulting supply chain bottlenecks have hindered economic recovery.
Challenges also exist on the supply side. Although orders for new container ships dropped by 16 per cent last year, continuing a previous downward trend, shipping companies have increased orders for new vessels this year amid the current capacity limitations.
Shipping lines have benefitted from soaring freight rates, the report said.
Surcharges, fees and rates temporarily rose even higher following the grounding of the Ever Given, the huge container ship that blocked the Suez Canal this past March, disrupting global trade.
UNCTAD warned that import and consumer prices will "significantly increase" if the surge in container freight rates continues.
Monitor market behaviour
Its analysis showed that global import price levels will increase on average by 11 per cent, and up to 24 per cent for SIDS, which primarily depend on maritime transport for imports.
If the situation continues, consumer prices could be 1.5 per cent higher in 2023. The rise is expected to be 7.5 per cent in SIDS, and 2.2 per cent in LDCs.
UNCTAD highlighted the need to monitor market behaviour and ensure transparency when it comes to setting rates, fees and surcharges.
The report also examines how the pandemic has accelerated "megatrends" that could transform maritime transport, such as digitalization and automation, which should lead to efficiency and cost savings.
Build climate resilience
The shipping industry is also coming to grips with climate adaptation and resilience, though the urgent need to decarbonize and find alternative fuels to reduce emissions will come at a cost.
"By exposing the vulnerabilities of existing supply chains, the COVID-19 disruption has sharpened the need to build resilience and revived the debate over globalization and the supply chains of the future," said Shamika N. Sirimanne, UNCTAD's director of technology and logistics.