Business as a Force for Good: The New Front Line in Tackling Climate Change
The Sustainable Development Impact Summit closed with calls to build more alliances and give voice to the voiceless, as the world seeks to achieve the Sustainable Development Goals (SDGs).
It is no longer about the cost of action, but about the cost of inaction, which is far greater," Børge Brende, President, World Economic Forum told global leaders at the closing session of the third Sustainable Development Impact Summit.
I feel emboldened to prove that business can be a force for good," said Alan Jope, Chief Executive Officer, Unilever, United Kingdom. He added that such an approach benefits shareholders too. Referring to conditions in global supply chains that companies like Unilever use, he added: "We will have better top and bottom line performance if we run our business responsibly."
"We've been talking a lot about how to prevent terrible change to this planet," Alessandra Onofrio, Co-Founder and Executive Director, Meu Rio, Brazil, said. "We also need to organize people at the front line of climate change and other impacts so they can better articulate their needs and express their power." Such organization is not just for their own benefit, but to make the SDGs achievable. "If there's no popular support for a solution, it's a fragile solution," she said.
"Ethical business, sustainable business is the only way to do business in the future," said Jesper Brodin, CEO and President, Ingka Group (IKEA Retail, Ingka Centres, Ingka Investments). "Ethics need to be not just on the surface but in everything you do." Looking ahead, Brodin said such ethics must include a discussion on how to use technology to benefit society.
Melati Wijsen, Co-founder, Bye Bye Plastic Bags, sharing lessons learned from her successful effort – begun when she was 12 – to ban plastic bags from her home island of Bali, said: "It needs to be a collaborative effort. No one industry or individual can do it alone." She called for agreement on the precise definition of sustainability and for education reform so young people can engage with climate change and other generational challenges within school walls.
Phillip Atiba Goff, Co-Founder and President, Center for Policing Equity, USA, called for giving voice to the voiceless so they have ownership of and feel trust in institutions. "Those who are closest to the problem are closest to the solution," he said. "So we need to make those closest to the problem closer to power."
Referring to the theme of mobilizing action for inclusive societies, Ignazio Cassis, Federal Councillor, Switzerland, said: "Leaving no one behind requires addressing the specific needs of people in vulnerable situations, but also empowering them and engaging them in decisions that impact their lives."
The Sustainable Development Impact Summit 2019 brought together over 1,000 participants. From the business community, participation among chief executive officers was higher than at any World Economic Forum meeting outside the Annual Meeting. Representation among public figures was 30% higher than in 2018. One third of all participants represented civil society organizations.
Here are the summit's key outcomes and impacts:
Fighting climate change
Colombia's President Ivan Duque announced plans for a regional eight-country pact to increase the contribution of renewable energy to 70% of all energy by 2030.
Duque also announced a new initiative, Biodiverse Cities, aimed at reinvigorating the economic health of cities in the Amazon Basin.
The Mission Possible platform was launched with the backing of 23 companies and organizations. Its aim is to achieve carbon neutrality in seven high-emission industry sectors and value chain initiatives representing 30% of all global greenhouse gas emissions: aviation, shipping, trucking, aluminium, steel, chemicals and cement.
The Coalition for Climate Resilient Investment, comprising three countries and 30 organizations representing through their membership $28 trillion of assets under management, was launched to promote public and private sector investment in climate-resilient infrastructure.
His Royal Highness the Prince of Wales established the Sustainable Markets Council, a public-private philanthropic coalition working towards building and financing a new market approach at global scale.
The Food Action Alliance was established as a new partnership between the public and private sectors and international multilateral organizations to support efforts to radically transform global food production.
Protecting our planet
The Tropical Forest Allianceconvened a Brazil Strategic Group, bringing together Brazilian and international businesses with the aim of halting deforestation linked to industry supply chains.
An affiliate Centre for the Fourth Industrial Revolution is to be established in Norway. The centre will focus on developing policies to accelerate the most innovative emerging technologies for protecting the world's oceans.
Six countries and 39 organizations across multiple business sectors formed the Just Rural Transition,apartnership aimed at helping rural areas prepare for a shift towards climate resilient and sustainable food, land use and ecosystems. The partnership is backed by $12 million of funding from the UK government.
Over 100 organizations from across the public and private sector came together to form the Global New Mobility Coalition,a partnership aimed at cutting traffic congestion and reducing transport emissions by 95% by 2050 by integrating shared, electric and autonomous mobility solutions.
Green growth
The Global Sustainable Energy Innovation Fund was announced, with the goal of building an investment fund of at least €1 billion for sustainable energy innovation that will be formally launched at the Forum's Annual Meeting in Davos in January 2020.
The Global Battery Alliance announced a 10-year plan to prepare the way for the technology to reduce emissions across energy and transport by 30% by 2030.
Supporting people
The Clean Air Fund was launched with initial funding of $50 million to focus multistakeholder efforts on helping the 90% of people worldwide that breathe polluted air. Projects are already under way in Poland, India and China to deepen research and scale solutions. The goal is to increase the size of the fund to $100 million through philanthropic donations.
The Government of Egypt joined the World Economic Forum's Closing the Gender Gap Accelerator programme, aiming to increase women's participation in the labour force, increase integration into leadership positions, close wage gaps and provide women with the skills of the Fourth Industrial Revolution.
The UHC2030 Private-Sector Constituency published a new statement confirming private-sector commitment to providing universal healthcare by 2030.
A partnership between the International Committee of the Red Cross, World Bank and World Economic Forum published a framework to facilitate greater private-sector investment in projects addressing humanitarian crises or fragility.
The Forum's Media and Entertainment Industry team established a partnership of consumer brands, media platforms, content producers, distributors and civil society to support digital safety by tackling hateful, violent, racist and terrorist content online.
The Country Financing Roadmap, which provides countries with actionable steps to unlock capital to meet the SDG's, was launched with Saint Lucia as the first country to develop the Roadmap.
Are Nature Based Solutions the key to Africa's climate response?
While the UN climate talks are celebrating their 25th year, carbon emissions around the world have continued to climb. For many, that is where natural solutions could play a key role in managing a dramatic climate transition.
Nature-based solutions or the process of working with and around natural ecosystems to deliver real-world benefits for climate resilience and sustainable development, took center stage on day 4 of COP25 in Madrid).
The African Development Bank has three main approaches to nature-based solutions; namely, restoring damaged ecosystems (land, forests and water bodies), conserving biodiversity, and integrated natural resources management.
Vanessa Ushie, Manager of the Policy Analysis Division at the Bank's African Natural Resource Centre, briefed delegates at COP 25 about the Centre's work during a panel discussion on Tuesday.
"Nature-based solutions are easy to use, and very effective in improving community livelihoods and resilience to climate change. The AfDB is scaling up the use of nature-based solutions to address climate impacts on critical ecosystems and biodiversity in Africa," Ushie said.
UN biodiversity expert Valerie Kapos described a range of natural solutions being implemented across Africa, and around the world. These included protecting rivers, forests, and marine solutions, to benefit local economies.
"We need to be applying that argument to whichever solutions we are choosing," said Kapos, Head of Climate Change and Biodiversity at the UN Environment Programme World Conservation Monitoring Centre (UNEP-WCMC).
This is definitely true for the Seychelles, which has been appointed by the African Union to be the champion of the blue or ocean economy across the continent. While the continent is known for its deserts and jungles, a blue economic transition will be essential for the 48 coastal states that collectively make up the world's longest coastline.
"We have protected 47% of our land, and are moving toward 50%. But our ocean territory is 3,000 times bigger than our land territory, and we are on track to protect 30% of that area," said Ronald Jumeau, Permanent Representative of the Seychelles at the UN.
This was made possible by one of the world's biggest debt-swap programs. The debt-for-nature deal was made possible through The Nature Conservancy, which bought the island nation's $400 million sovereign debt at a discount. That money will be re-invested in nature conservation programmes.
"Through this program we have funded mangrove restoration and climate education programmes," said Angelique Pouponneau, who runs a Seychelles-based trust fund focusing on climate adaptation and conservation.
Ushie from the African Development Bank pointed out that "one thing we are looking at is changing the way in which lending is being channeled to Africa, and how nature can be integrated in the measurement of national wealth and sovereign credit ratings for African countries."
World's governments plan to produce 120% more fossil fuels by 2030 than can be burned under 1.5°C warming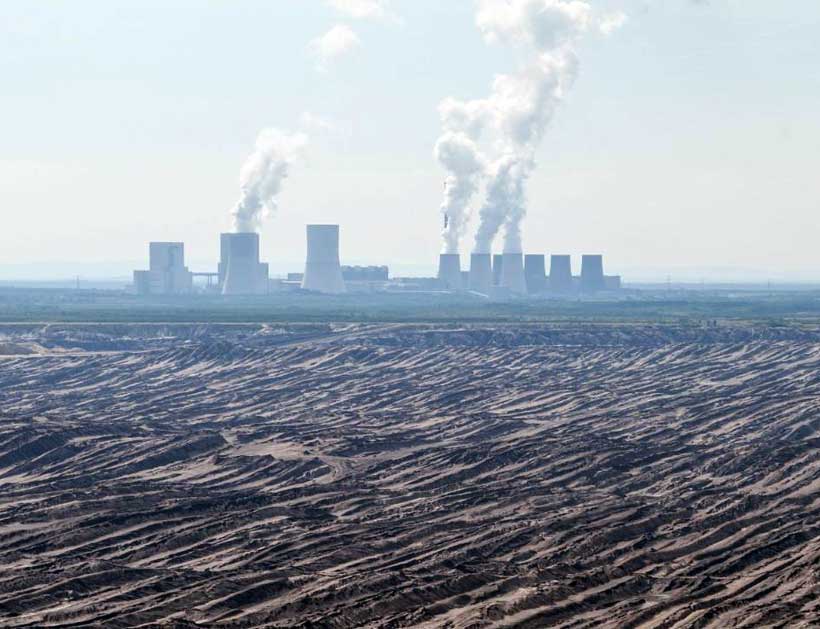 The world is on track to produce far more coal, oil and gas than would be consistent with limiting warming to 1.5°C or 2°C, creating a "production gap" that makes climate goals much harder to reach, according to the first report to assess countries' plans and projections for fossil fuel production.
The Production Gap Report complements the UN Environment Programme (UNEP) Emissions Gap Report, which shows that country pledges fall short of the emission reductions needed to meet global temperature limits.
Countries are planning to produce fossil fuels far in excess of the levels needed to fulfil their climate pledges under the Paris Agreement, which themselves are far from adequate. This overinvestment in coal, oil, and gas supply locks in fossil fuel infrastructure that will make emissions reductions harder to achieve.
"Over the past decade, the climate conversation has shifted. There's greater recognition of the role that the unfettered expansion of fossil fuel production plays in undermining climate progress," said Michael Lazarus, a lead author on the report and the director of Stockholm Environment Institute's US Center. "This report shows, for the first time, just how big the disconnect is between Paris temperature goals and countries' plans and policies for coal, oil, and gas production. It also shares solutions, suggesting ways to help close this gap through domestic policies and international cooperation."
The report was produced by leading research organizations, including the Stockholm Environment Institute (SEI), International Institute for Sustainable Development, Overseas Development Institute, CICERO Centre for International Climate and Environmental Research, Climate Analytics, and UNEP. Over fifty researchers contributed to the analysis and review, spanning numerous universities and additional research organizations.
In the report preface, UNEP Executive Director Inger Andersen notes that carbon emissions have remained exactly at the levels projected a decade ago, under the business-as-usual scenarios used in Emissions Gap Reports.
"This calls for a sharpened, and long overdue, focus on fossil fuels," she writes. "The world's energy supply remains dominated by coal, oil and gas, driving emission levels that are inconsistent with climate goals. To that end, this report introduces the fossil fuel production gap, a new metric that clearly shows the gap between increasing fossil fuel production and the decline needed to limit global warming."
The report's main findings include:
The world is on track to produce about 50% more fossil fuels in 2030 than would be consistent with limiting warming to 2°C and 120% more than would be consistent with limiting warming to 1.5°C.
This production gap is largest for coal. Countries plan to produce 150% more coal in 2030 than would be consistent with limiting warming to 2°C, and 280% more than would be consistent with limiting warming to 1.5°C.
Oil and gas are also on track to exceed carbon budgets, with continued investment and infrastructure locking in use of these fuels, until countries are producing between 40% and 50% more oil and gas by 2040 than would be consistent with limiting warming to 2°C.
National projections suggest that countries are planning on 17% more coal, 10% more oil and 5% more gas production in 2030 than consistent with NDC implementation (which itself is not enough to limit warming to 1.5°C or 2°C).
Countries have numerous options for closing the production gap, including limiting exploration and extraction, removing subsidies, and aligning future production plans with climate goals. The report details these options, as well as those available through international cooperation under the Paris Agreement.
The authors also emphasize the importance of a just transition away from fossil fuels.
"There is a pressing need to ensure that those affected by social and economic change are not left behind," said report author and SEI Research Fellow Cleo Verkuijl. "At the same time, transition planning can build consensus for more ambitious climate policy."
The Production Gap Report comes as more than 60 countries have already committed to updating their nationally determined contributions (NDCs), which set out their new emission reduction plans and climate pledges under the Paris Agreement, by 2020.
"Countries can use this opportunity to integrate strategies to manage fossil fuel production into their NDCs – which in turn will help them reach emission reduction goals," said Niklas Hagelberg, UNEP's climate change coordinator.
"Despite more than two decades of climate policy making, fossil fuel production levels are higher than ever," said SEI's Executive Director, Måns Nilsson. "This report shows that governments' continued support for coal, oil and gas extraction is a big part of the problem. We're in a deep hole – and we need to stop digging."
About the UN Environment Programme
UNEP is the leading global voice on the environment. It provides leadership and encourages partnership in caring for the environment by inspiring, informing and enabling nations and peoples to improve their quality of life without compromising that of future generations.
Greening the blue: championing coastal climate solutions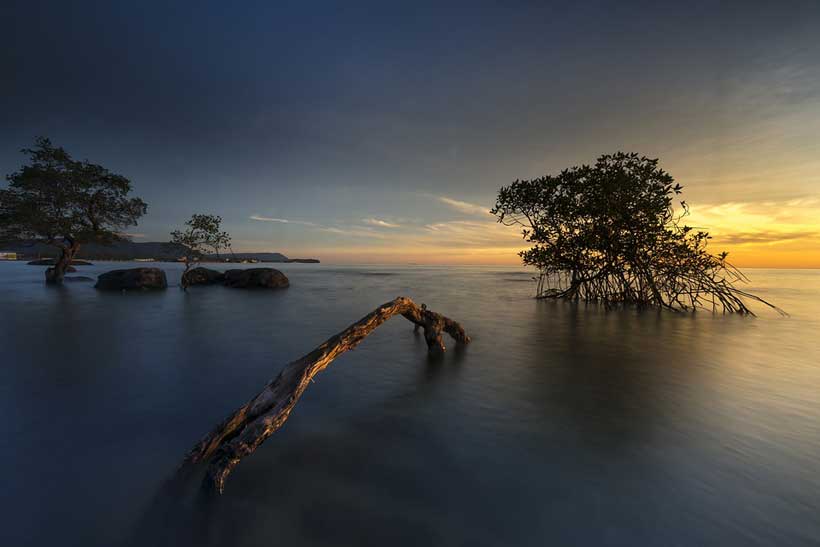 They call them 'blue forests'—and they are among the most productive and valuable habitats on Earth.
Mangroves might not look like much to some, but these humble salt-loving species are vital to coastal ecosystems and communities the world over. They are a crucial breeding habitat for aquatic wildlife—with some 75 per cent of commercially fished species either spending part of their life cycle in mangrove ecosystems or depending on the habitat for food. They also protect the coasts themselves, with their dense root systems acting as natural buffers against storm surges.
However, it's their potential in the fight against climate change that is making mangroves the new superstars of coastal conservation efforts.
"Mangroves and other 'blue carbon' ecosystems like sea grasses and salt marshes are incredibly efficient at storing carbon," UN Environment Programme (UNEP) international waters expert Isabelle Vanderbeck says.
"They can absorb and store as much as 10 times as much carbon as terrestrial ecosystems—so it goes without saying that they are a critical part of efforts to overcome climate change."
But despite their value to the environment and coastal economies alike, globally mangroves are being lost at an alarming rate — three to five times faster than other forests.
"Over one third of the world's mangroves have been lost over the last 100 years," Vanderbeck says. "It's a trend that has to stop now if the species and communities that depend on them are to survive."
Nature-based climate solutions
However, growing recognition of mangroves' role in both mitigating and adapting to climate change, combined with a growing global market for carbon offsets, is providing a lifeline for mangrove ecosystems the world over.
With backing from the Global Environment Facility, the Blue Forests Project—a collaboration between UNEP and GRID-Arendal—is working with partners across eight countries to test 'blue carbon' and other nature-based climate solutions, setting the stage for countries to help countries fulfil the goals of the Paris Climate Agreement by upscaling these approaches globally.
"Through the Blue Forests Project, we are exploring how coastal carbon and ecosystem services can be harnessed to fight climate change, boost conservation and provide sustainable livelihoods," Steven Lutz, project coordinator at GRID-Arendal, says.
"Blue Forests builds on 'blue carbon' market success." Lutz says. "Our partner site in Gazi Bay, Kenya is the world's first working blue carbon' market project, where carbon finance has been supporting communities to conserve and restore mangrove forests for the past few years. Profit from the Gazi Bay project also supports community development activities such as the building of freshwater wells."
Blue carbon goes global
Just last month, the project celebrated its latest milestone, with the launch of the world's largest community-based mangrove carbon finance conservation initiative in Madagascar in partnership with Blue Ventures.
Under the project—dubbed 'Tairy Honko', or 'preserving mangroves' in the local Vezo dialect—communities across the Velondriake Locally Managed Marine Area in Madagascar's remote southwest are uniting to restore and conserve over 1,200 hectares of mangroves.
Together with blue carbon sales in Vanga Bay and Gazi Bay in Kenya, achieved in partnership with the Kenya Marine and Fisheries Research Institute, the Madagascar project represents an expansion of the market for blue carbon offsets by an order of magnitude, with Blue Forests having brought a total 1,500 hectares of mangrove forests to the voluntary carbon market.
"Over 1,500 hectares of mangrove forests are now available on the voluntary carbon market, Lutz says. "With support from the Global Environment Facility and partners, the Blue Forests Project has been able to expand the carbon market for blue carbon offsets by over an order of magnitude."
The Tahiry Honko initiative is set to offset global emissions, with verified 'blue carbon' credit sales providing the funds needed to support local management of the marine protected area and finance community development, including infrastructure, healthcare and education.
"We inherited these mangroves from our ancestors, providing materials we need to survive," Velondriake Locally Managed Marine Area Association member Joel François says. "I want to ensure we can pass these forests on to our children."
"Through the Blue Forests Project, we have been able to demonstrate that the carbon market can work to achieve goals in sustainable development and the mitigation of climate change", Isabelle Vanderbeck says. "Next steps include supporting countries to include blue carbon solutions in national pledges to fulfil the Paris Climate Agreement."