Athens urged to fast track asylum seekers amid island shelters crisis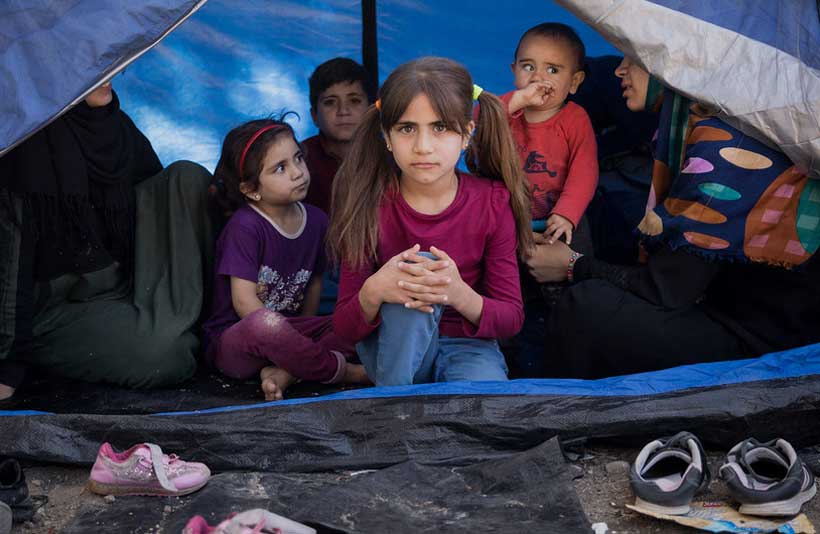 A spike in the number of refugees reaching Greek island reception centres is likely to worsen the situation in already "dangerously overcrowded" facilities there, the UN refugee agency said on Tuesday.
In a call for asylum seekers to be moved urgently to the mainland by the central Government in Athens, UNHCR reported that sea arrivals in September rose to more than 10,000 – the highest monthly level since 2016.
The development follows a fire on Sunday in a housing container at Moria reception centre in Lesvos in which a woman died, reportedly sparking a violent protest.
"This spike has added to, has worsened what were already extremely difficult conditions on the Greek islands in the reception centres, which is why we are underscoring it is so important that urgent measures are taken now to get people who can be transferred off the islands to the mainland," UNHCR spokesperson Liz Throssell told journalists in Geneva.
According to the UN agency, there are more than 4,400 unaccompanied children on the islands, out of at least 30,000 people seeking shelter in total.
Of that number, 500 youngsters have also been housed with unrelated adults in a large warehouse-style tent, UNHCR says, describing the situation on Lesvos, Samos and Kos as "critical".
Highlighting the need for "urgent steps" from the Greek authorities, Ms. Throssell appealed to them to "fast-track" the transfer of more than 5,000 asylum-seekers who already have permission to continue their asylum procedure on the mainland.
On Lesvos, the official reception centre in Moria is at five times capacity, with 12,600 people, the agency said, while at a nearby informal settlement, more than 100 people share a single toilet.
On Samos, the Vathy facility houses 5,500 people – eight times over capacity – and on Kos, some 3,000 people live in a space meant for just 700.
Most of those seeking shelter are from Afghanistan and Syria, along with Iraq and the Democratic Republic of the Congo, UNHCR said.
Previous comments by the Greek Government about wanting to alleviate pressure on the islands and protect unaccompanied children were welcome, the agency said in a statement.
According to UNHCR, Greece has received 45,600 of the 77,400 people crossing the Mediterranean Sea this year – more than Spain, Italy, Malta and Cyprus combined.
Mediterranean Sea crossing deaths top 1,000 for sixth year in a row
Meanwhile, for the sixth year in a row, 1,000 people are believed to have drowned in Mediterranean Sea crossings, the UN migration agency, IOM, said on Tuesday.
Citing a recent spate of shipwrecks along the main migratory routes to Europe which have contributed to the toll, the agency highlighted an incident off the Moroccan coast at the weekend in which as many as 40 migrants are feared drowned.
Over the past six years, at least 15,000 men, women and children have lost their lives trying to reach Europe by boat – a situation that the UN agency likened to "carnage at sea".
According to IOM data, the deadliest sea crossing is the central Mediterranean route from North Africa to Italy, with 659 migrant or refugee lives lost so far this year.
Nearly 270 others perished trying to reach Spain from North Africa, while 66 victims were recorded in the waters between Turkey, Syria and Greece.
UN: India should 'unlock' freedom curbs in disputed Kashmir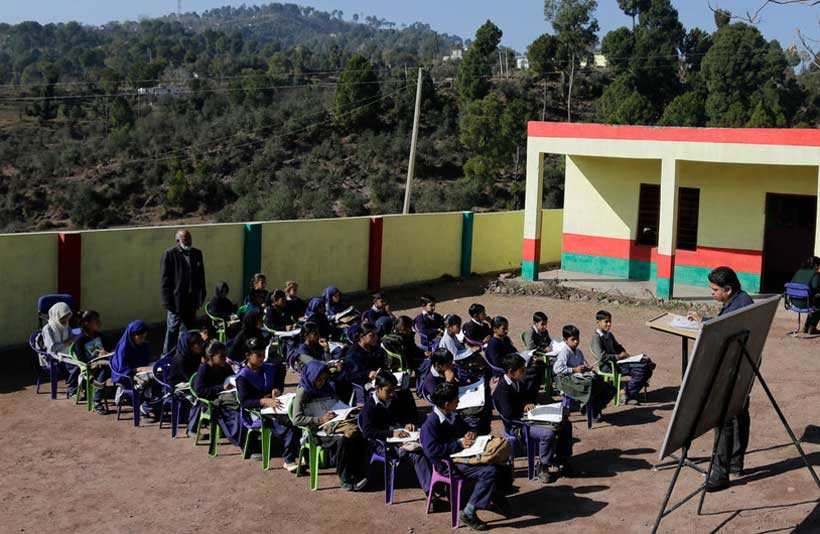 The people of Indian-administered Kashmir continue to be deprived of numerous basic freedoms, the UN High Commissioner for Human Rights said on Tuesday, before urging the Indian authorities "to unlock the situation".
The appeal over the territory – which both India and Pakistan claim as sovereign – follows months of escalating tensions linked to earlier suicide attacks and the Indian Government's decision in August to revoke majority-Muslim Kashmir's special status, which for decades had allowed it partial autonomy.
At the time of the Indian Government decision, five UN-appointed independent rights experts warned that it had led to tighter central Government control, restrictions on peaceful protests and a communications blackout.
Curfew 'still in place in large parts' of Kashmir valley
In Geneva on Tuesday, spokesperson for the High Commissioner for Human Rights (OHCHR), Rupert Colville acknowledged that an "undeclared curfew" had been lifted from much of Jammu and Ladakh regions within a few days.
But he noted that it was reportedly still in place "in large parts of the Kashmir Valley, preventing the free movement of people, as well as hampering their ability to exercise their right to peaceful assembly and restricting their rights to health, education and freedom of religion and belief."
Highlighting several allegations of excessive use of force against protesters that involved the use of "pellet-firing shotguns, tear gas and rubber bullets", Mr. Colville said that there had also been unconfirmed reports of "at least six civilian killings and scores of serious injuries", in separate incidents since the Indian Government declaration on 5 August across Jammu and Kashmir.
The Office of the High Commissioner had also received reports that armed groups in Indian-administered Kashmir have threatened some residents trying to work or go to school, the OHCHR spokesperson said.
In addition, "at least another six people have been killed and over a dozen injured in alleged attacks by armed group members, since 5 August".
Web access blocked, politicians detained
And although restrictions on landline telephones were eventually lifted, and a state-run telecom company allowed to resume partial mobile phone services, all internet services remain blocked in the Kashmir valley, Mr. Colville insisted.
In line with the Indian Government's decision to revoke Jammu and Kashmir's partial self-rule, two separate federally-administered Union Territories are to be created this Thursday, the OHCHR Spokesperson explained, adding that "hundreds of political and civil society leaders" had been detained "on a preventative basis".
While some political workers have reportedly been released, most senior leaders – especially those from the Kashmir Valley – remain in detention, he said.
Why we must urgently close the data gap to end violence against women
Having the full picture is crucial for effective action to end violence against women. Yet today, efforts to address this critical sustainable development and human rights challenge remain severely hampered by lack of data.
Violence against women is both a cause and a consequence of gender inequality, reflecting and perpetuating deep-rooted patterns of discrimination. Violence and fear of violence permeate social, economic and political interactions between women and men, constraining opportunities, choices and access to resources and so limiting economic growth and hindering the achievement of sustainable development.
Ending violence against women and girls is a crucial part of both the Beijing Platform for Action – progress on which will be in focus at the Beijing+25 Regional Review Meeting (29-30 October) – and the 2030 Agenda for Sustainable Development. The Beijing Platform calls for the prevention and elimination of all forms of violence against women and girls—physical, sexual and psychological. The Sustainable Development Goals reiterate this, with two indicators designed to track changes in violence by intimate partners and by other perpetrators.
Yet tracking such changes is hard.
Reliable and comparable data on the incidence of violence against women are rare. The Beijing Platform for Action, back in 1995, recognized that the absence of adequate sex-disaggregated data makes it difficult to create and assess programmes designed to bring about change.
Administrative data such as crime records only cover incidents that are reported, and so are likely to underestimate massively the actual occurrence of violence, which often goes unreported due to fear of recurrence or reprisal, shame or perceptions of 'honour' within families. Trends in reported gender-based violence can also be influenced by changes in awareness and public perceptions, making victims more or less likely to perceive an act of violence as a crime or affecting their willingness to report it to authorities.
A clearer picture of the true scale of violence against women—and its impacts on their lives– must come from surveys designed specifically for this purpose. UNECE's survey module, developed in 2011, provides a standardized tool for countries to produce indicators of physical, sexual and intimate partner violence. To date, few countries in the UNECE region have conducted targeted surveys to measure violence against women, and where they have been conducted they are one-off surveys offering no possibility to see trends over time.
An EU-wide survey conducted in 2014 by the EU's Fundamental Rights Agency and an OSCE-led survey conducted in 2018 in Eastern and South-Eastern Europe take us a step closer towards the goals of international comparability.
However, until such surveys are conducted regularly the data gap will remain a major impediment to progress.
Violence against women – key trends in the UNECE region
Available data in the UNECE Statistical Database shows significant variations in patterns of violence against women across the UNECE region, as detailed in the Beijing+25 regional key trends paper.
Female homicides
The most serious manifestation of violence, homicide, is less likely than other forms of violence to go unreported and is less subject to variations of definition and classification between countries. Trends in homicides among countries can therefore more reliably be compared than other forms of violence.
Although two-thirds of the UNECE countries analyzed show low and unchanging levels of homicide of women, there are exceptions where high levels and/or large increases are seen in the past five years.
Among the 32 countries with available data, Azerbaijan had by far the highest female homicide rate in 2017, at 6.8 per 100,000, slightly down from 7.3 in 2012. Latvia and Lithuania also had high rates in 2017 (3.7 and 3.2 respectively). Fourteen countries had rates of less than 1 per 100,000 with very little change since 2012.
Homicides of women by partners and relatives
A large proportion of homicides of women occur at the hands of current or former partners or relatives.
In 2017, over 70 per cent of homicides of women were perpetrated by a relative in Albania (79 per cent), Croatia (74 per cent), Italy (72 per cent) and Slovenia (71 per cent). In all these countries, this percentage increased since 2012. The increase was particularly significant in Albania, where the percentage doubled in five years. Between 2012 and 2017 the percentage of homicides of women in a family context also increased significantly in Belarus (from 30 to 44 per cent), the Republic of Moldova (from 39 to 50 per cent), Tajikistan (44 to 53 per cent) and Georgia (from 15 to 23 per cent).
Beijing+25 Regional Review Meeting for the UNECE Region
Progress in combating violence against women will be one of the areas in focus at next week's Beijing+25 Regional Review Meeting for the UNECE region.
The Beijing Declaration and Platform for Action of 1995 (Beijing Platform for Action) is the most ambitious road map for the empowerment of women and girls everywhere. In 2020, it will be 25 years since the Beijing Platform for Action outlined how to overcome the systemic barriers that hold women back from equal participation in all areas of life.
The Beijing+25 Regional Review Meeting (29-30 October 2019) will take stock of where the UNECE region stands on keeping the promises of the Beijing Platform for Action. Bringing together government representatives and key stakeholders from the UNECE region, the meeting will tackle a number of obstacles that keep girls and women from realizing their full potential. UNECE is joining forces with the UN Women Regional Office for Europe and Central Asia to deliver a two-day multi-stakeholder meeting to exchange concrete policies to accelerate the realization of gender equality. The outcomes of the meeting will feed into the global review of the Beijing Platform for Action taking place at the sixty-fourth session of the Commission on the Status of Women in New York from 9 to 20 March 2020.
Decisive international action needed to end Israeli occupation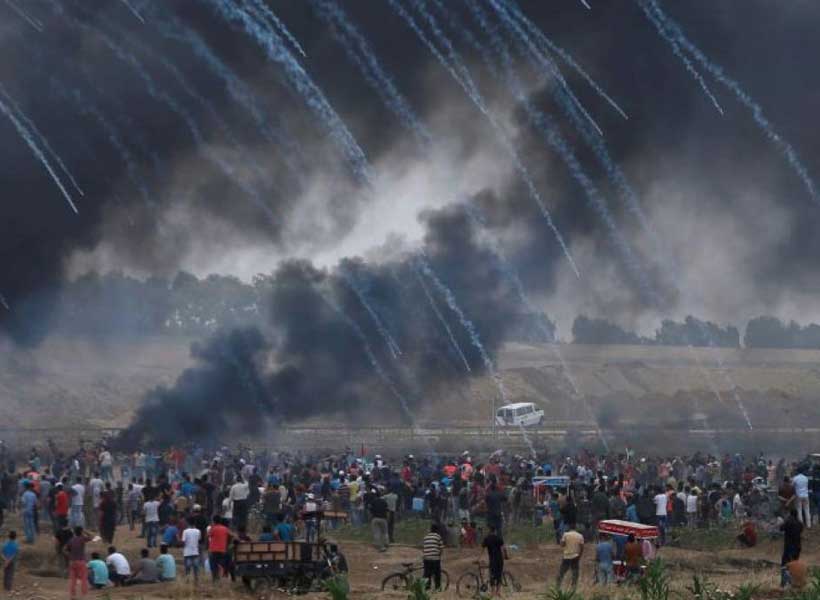 The international community has a responsibility and legal obligation to compel Israel to end its 52 year-long "occu-annexation" of Palestinian territory and remove barriers preventing Palestinian self-determination, a UN independent human rights expert told the General Assembly on Wednesday.
Michael Lynk made the call in his latest report on the situation of human rights in the occupied Palestinian Territory: the West Bank, including East Jerusalem, and the Gaza Strip.
"The status quo of Israel's 'occu-annexation' is endlessly sustainable without decisive international intervention because of the grossly asymmetrical balance of power on the ground," said Mr. Lynk, a Special Rapporteur who advises the UN Human Rights Council on the issue.
"Accountability is the key to opening the titanium cage that is the permanent occupation. The international community has issued countless resolutions and declarations critical of the never-ending Israeli occupation. The time has long past to match these criticisms with effective consequences."
To remedy this, Mr. Lynk recommended that the international community should devise a list of effective countermeasures which would be "appropriate and proportional" to the circumstances.
His report outlines some modern examples of applying pressure, such as diplomatic public statements, trade sanctions, flight bans, travel restrictions and reduction or suspension of aid.
"Should Israel remain unmoved, (the international community) should apply and escalate the range of its targeted countermeasures until compliance had been achieved," he said.
Mr. Lynk said the occupation is the longest in the modern world. It has been characterized by what he described as "a strong sense of impunity" by Israel.
"This occupation will not die of old age," he stated.
"Palestinians, along with Israelis of conscience, have been asking repeatedly for the international community to act decisively in support of international law to compel Israel to end the occupation and enable Palestinian self-determination. We can't afford to ignore their call."
The Special Rapporteurs are part of what is known as the Special Procedures of the Human Rights Council. They work on a voluntary basis; they are not UN staff and do not receive a salary for their work. They are independent from any government or organization and serve in their individual capacity.