Athens urged to fast track asylum seekers amid island shelters crisis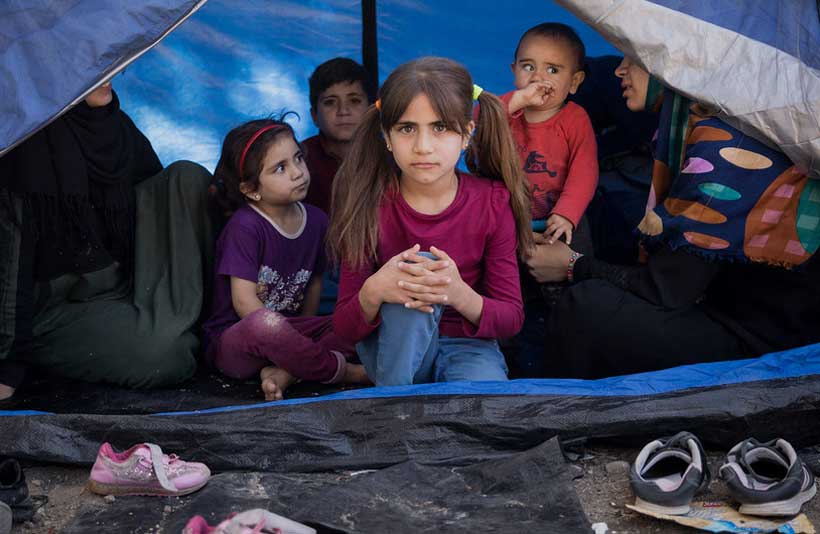 A spike in the number of refugees reaching Greek island reception centres is likely to worsen the situation in already "dangerously overcrowded" facilities there, the UN refugee agency said on Tuesday.
In a call for asylum seekers to be moved urgently to the mainland by the central Government in Athens, UNHCR reported that sea arrivals in September rose to more than 10,000 – the highest monthly level since 2016.
The development follows a fire on Sunday in a housing container at Moria reception centre in Lesvos in which a woman died, reportedly sparking a violent protest.
"This spike has added to, has worsened what were already extremely difficult conditions on the Greek islands in the reception centres, which is why we are underscoring it is so important that urgent measures are taken now to get people who can be transferred off the islands to the mainland," UNHCR spokesperson Liz Throssell told journalists in Geneva.
According to the UN agency, there are more than 4,400 unaccompanied children on the islands, out of at least 30,000 people seeking shelter in total.
Of that number, 500 youngsters have also been housed with unrelated adults in a large warehouse-style tent, UNHCR says, describing the situation on Lesvos, Samos and Kos as "critical".
Highlighting the need for "urgent steps" from the Greek authorities, Ms. Throssell appealed to them to "fast-track" the transfer of more than 5,000 asylum-seekers who already have permission to continue their asylum procedure on the mainland.
On Lesvos, the official reception centre in Moria is at five times capacity, with 12,600 people, the agency said, while at a nearby informal settlement, more than 100 people share a single toilet.
On Samos, the Vathy facility houses 5,500 people – eight times over capacity – and on Kos, some 3,000 people live in a space meant for just 700.
Most of those seeking shelter are from Afghanistan and Syria, along with Iraq and the Democratic Republic of the Congo, UNHCR said.
Previous comments by the Greek Government about wanting to alleviate pressure on the islands and protect unaccompanied children were welcome, the agency said in a statement.
According to UNHCR, Greece has received 45,600 of the 77,400 people crossing the Mediterranean Sea this year – more than Spain, Italy, Malta and Cyprus combined.
Mediterranean Sea crossing deaths top 1,000 for sixth year in a row
Meanwhile, for the sixth year in a row, 1,000 people are believed to have drowned in Mediterranean Sea crossings, the UN migration agency, IOM, said on Tuesday.
Citing a recent spate of shipwrecks along the main migratory routes to Europe which have contributed to the toll, the agency highlighted an incident off the Moroccan coast at the weekend in which as many as 40 migrants are feared drowned.
Over the past six years, at least 15,000 men, women and children have lost their lives trying to reach Europe by boat – a situation that the UN agency likened to "carnage at sea".
According to IOM data, the deadliest sea crossing is the central Mediterranean route from North Africa to Italy, with 659 migrant or refugee lives lost so far this year.
Nearly 270 others perished trying to reach Spain from North Africa, while 66 victims were recorded in the waters between Turkey, Syria and Greece.
Conflict, COVID, climate crisis, likely to fuel acute food insecurity in 23 'hunger hotspots'
Life-saving aid to families on the brink of famine is being cut off in several countries by fighting and blockades, the UN's Food and Agriculture Organization (FAO) and World Food Programme (WFP) said in a new report issued on Friday.
Of grave concern are 23 'hunger hotspots' which over the next four months are expected to face an acute level of food insecurity due to the combined economic repercussions of COVID-19, the climate crisis and fighting.
"Families that rely on humanitarian assistance to survive are hanging by a thread. When we cannot reach them, that thread is cut, and the consequences are nothing short of catastrophic," warned David Beasley, WFP Executive Director.
Supporting agriculture
Bureaucratic obstacles and a lack of funding also hamper the agencies' efforts to provide emergency food assistance and enable farmers to plant at scale and at the right time.
"The vast majority of those on the verge are farmers. Alongside food assistance, we must do all we can to help them resume food production themselves," said FAO Director-General QU Dongyu.
"So far, support to agriculture as key means of preventing widespread famine remains largely overlooked by donors. Without such support to agriculture, humanitarian needs will keep skyrocketing," he added.
Hotspot nations
The 23 hotspots identified are Afghanistan, Angola, Central Africa Republic, Central Sahel, Chad, Colombia, Democratic Republic of the Congo, Ethiopia, El Salvador together with Honduras, Guatemala, Haiti, Kenya, Lebanon, Madagascar, Mozambique, Myanmar, Nigeria, Sierra Leone together with Liberia, Somalia, South Sudan, Syrian Arab Republic, Yemen.
FAO and WFP have warned that 41 million people were already at risk of falling into famine. 2020 saw 155 million people facing acute food insecurity at crisis or worse levels in 55 countries, according to the Global Report on Food Crises.
This is an increase of more than 20 million from 2019, and the trend is only expected to worsen this year.
The report highlights that conflict, climate extremes and economic shocks, often related to the economic fallout of COVID-19, are likely to remain primary drivers of acute food insecurity for the August-November period this year.
Transboundary threats are also an aggravating factor in some regions. In particular, desert locust infestations in the Horn of Africa and African migratory locust swarms in Southern Africa.
Communities cut off
Humanitarian access constraints are another severe aggravating factor, increasing the risk of famine.
Countries currently facing the most significant obstacles preventing aid from reaching them include Afghanistan, Ethiopia, the Central African Republic, Mali, Nigeria, South Sudan, Somalia, Syria and Yemen.
"The road to zero Hunger isn't paved with conflict, checkpoints and red tape. Humanitarian access isn't some abstract concept.
"It means authorities approving paperwork in time so that food can be moved swiftly, it means checkpoints allow trucks to pass and reach their destination, it means humanitarian responders are not targeted, so they are able to carry out their life- and livelihood-saving work," said Mr. Beasley.
'Highest alert' hotspots
Ethiopia and Madagascar are the world's newest "highest alert" hunger hotspots according to the report. Ethiopia faces a devastating food emergency linked to ongoing conflict in the Tigray region.
Reaching those desperately in need remains an enormous challenge, with 401,000 people expected to face catastrophic conditions by September.
This is the highest number in one country since the 2011 famine in Somalia. Meanwhile, in southern Madagascar, 28,000 people are expected to be pushed into famine-like conditions by the end of the year.
This is due to the worst drought in 40 years, combined with rising food prices, sandstorms, and pests affecting staple crops.
The new highest alerts issued for Ethiopia and Madagascar add to South Sudan, Yemen, and northern Nigeria, which remain among the acute food insecurity hotspots of greatest global concern.
In a few areas, some of these countries are already experiencing famine conditions and significant numbers of people are at risk of falling into famine.
World's worst
In Afghanistan, where acute food insecurity is becoming increasingly critical due to ongoing drought, there is rising conflict-driven displacement as well as high food prices and widespread unemployment fuelled by COVID-19.
Meanwhile, the already precarious situation in Haiti is expected to get worse as the country faces likely lower staple crop production due to lack of, or irregular, rainfall. It is also reeling from worsening political instability and food price inflation, and the impacts of COVID-19-related restrictions.
The report warns that humanitarian action is urgently needed to prevent hunger, famine and death in all 23 hotspots.
It provides country-specific recommendations covering both shorter-term emergency responses, as well as anticipatory actions to protect rural livelihoods and increase agricultural production, so at-risk communities can better withstand future shocks.
COVID-19: Education replaced by shuttered schools, violence, teenage pregnancy
A culture of "safety, friends and food" at school has been replaced by "anxiety, violence, and teenage pregnancy", with remote learning out of reach for millions, the UN Children's Fund, UNICEF, said on Tuesday.
Due to the COVID-19 pandemic, "more than 600 million children in countries not on academic break are still affected by school closures", James Elder, UNICEF spokesperson at a press conference at UN Geneva.
In countries such as Uganda, this has led to a "20 per cent spike in the last 15 months in teen pregnancies, or pregnancies of 10-24-year-old girls, who were seeking antenatal care. Across the globe in all continents we've seen child helplines, a good precursor to understanding kids who are reporting violence, seeing often triple-digit increases," said Elder.
COVID-19 school closures
In nearly half of countries in Asia and the Pacific, schools have been closed for around 200 days. Latin America and the Caribbean have seen some of the longest closures ever with 18 countries and territories affected by either full or partial closures.
As of today, the UN agency estimates in Eastern and Southern Africa that 40 per cent of all children aged 5 to 18, are currently out of school.
Elder added that if these figures "did not resonate with those in power, then a World Bank report estimates a loss of $10 trillion in earnings over time", for this generation of students.
Remote learning 'out of reach'
Equally alarming is the fact that the solution of remote learning is "simply out of reach" for at least a third of the world's schoolchildren, the UNICEF spokesperson continued. In East Asia and the Pacific, "80 million children have no access whatsoever to any remote learning.
In Eastern and Southern Africa, Uganda school children have gone more than 300 days out of school, while home internet connectivity "is the lowest on the planet there at about 0.3%".
'Situation cannot go on'
In a call for action, UNICEF appealed for five main steps: Schools should reopen as soon as possible; governments and donors must protect the education budget; enrolment should be extended to children who were already out of school pre‑COVID‑19 – by removing financial barriers and loosening registration requirements – and cash transfers to the most vulnerable, must be increased.
"Everything needs to be done to bring an end to the pandemic," Mr. Elder said, starting with making vaccines available everywhere by sharing excess doses and financing to support the roll-out of vaccines.
Six months after coup, Myanmar's political, rights and aid crisis is worsening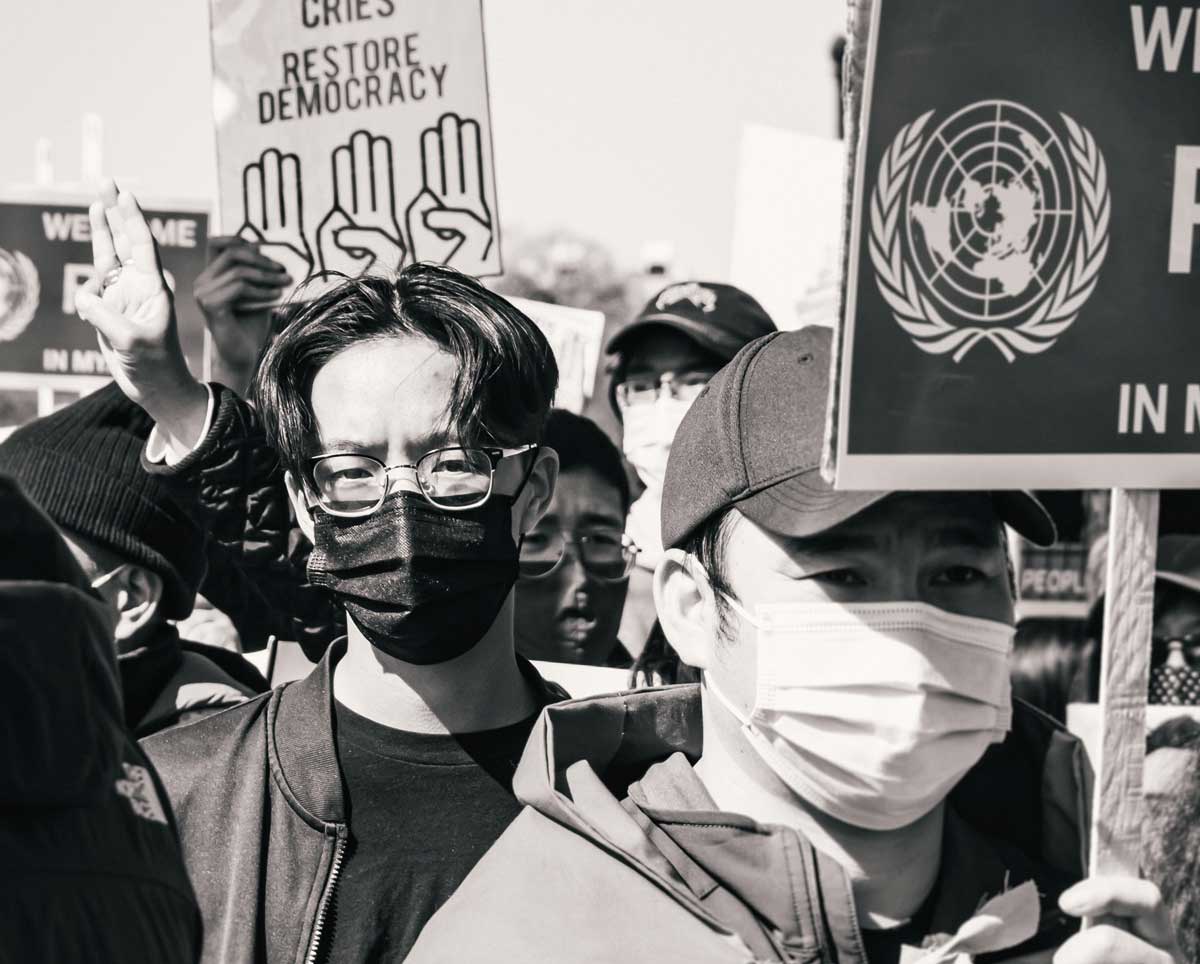 It's been six months since the military coup in Myanmar where there's grave concern over the widening impact of the deepening political, human rights and humanitarian crisis affecting the country's people.
Speaking to UN News, the organisation's top aid official in Myanmar, Acting Humanitarian and Resident Coordinator Ramanathan Balakrishnan, described how people have been severely impacted across the country since the junta's power grab on 1 February.
"The situation in the country is characterized now by instability and a deteriorating socio-economic and security situation and to add to that we have a raging third wave of COVID-19," said Mr. Balakrishnan in an exclusive interview.
Highlighting the ongoing nature of armed resistance to State security forces "in several ethnic minority areas" including in the states of Shan, Chin and Kachin, the UN official said that more than 200,000 people had been uprooted from their homes there to date.
Displacement swelling
In Rakhine state before the coup, the UN Humanitarian Response Plan pointed to some one million people including internally displaced people in need of urgent assistance, but "this number has only swelled", Mr. Balakrishnan insisted.
More widely, "following the coup, an additional two million were identified as those in urgent need of humanitarian aid, and those were largely in the urban areas of Yangon and Mandalay", he said, adding that the intensification of clashes and the worsening socio-economic situation was pushing "tens of thousands of people" into a humanitarian space" every day.
Echoing concerns over rights abuses by UN Children's Fund UNICEF and others, Mr. Balakrishnan condemned the ongoing and widespread use of lethal force by the military against civilian protesters.
Rising hunger
Looking ahead, the UN's priorities include ensuring that millions of people do not fall further into hunger, the aid official said. "There has been an increase in the price of basic commodities for many people…this has also resulted in a reduction of the nutrition value of the food basket that people usually take as they substitute their regular food with cheaper, more readily available items."
Turning to Myanmar's health system, which is facing extreme pressure because of the coronavirus crisis, as well as attacks on medical personnel and facilities in Myanmar – and a civil disobedience movement by some health professionals – Mr. Balakrishnan warned that even basic services had been disrupted across the country.
Standing with Myanmar's people
In a message of solidarity, the top aid official insisted that the UN remained committed to respecting the will of the country's people.
This was despite limited access to parts of the country linked to security concerns and disruption to the banking system, which limited the UN's ability to transfer funds to humanitarian partners responsible for delivering aid.
"The UN will continue to call out human rights violations and is committed to stay and deliver lifesaving humanitarian assistance to the people of Myanmar, in addition to sending in the COVID-19 response," Mr. Balakrishnan said.