"Defenseless under the night; Our world in stupor lies…."– W.H. Auden
It is no longer just a casual apprehension. Now, an inappropriate or irrational nuclear command decision by US President Donald Trump is conceivable and perhaps even plausible. Though nothing conclusive can be said about the mathematical probability of any such fearful scenario,[1] there still remain ample reasons for concern.
Certain compelling and overriding questions necessarily arise. To begin, one must inquire: Might this unsteady American president become subject to more serious forms of dissemblance or psychological debility? Leaving aside Mr. Trump's largely unprecedented venality, his open indifference to history and (above all) his continuing malfeasance, should he still be allowed to decide (quite literally) whether we should live or die? This is not a silly, exaggerated or contrived query by any means. In essence, at this point of markedly conspicuous uncertainty in United States law, a problematic American president now likely serves with insufficient nuclear command constraints.
As we will soon see, this partial conclusion is very plainly incontestable.
Some further and derivative questions now also arise: Should this incumbent or any other future US president be granted extraordinary decisional authority over uncountable lives? Could such a steeply lopsided allocation of authority fairly and propitiously represent what was originally intended by America's Constitutional"separation of powers?" Can anyone reasonably believe that such unhindered existential power could have actually been favored by America's Founding Fathers?
Again, the correct answers are obvious, uncomplicated and altogether irrefutable.
At a minimum, we can extrapolate from both Articles I and II of the Constitution that the Founders displayed an almost palpable concern about expanding Presidential power long before nuclear weapons. Moreover, this plausibly presumptive concern predates even any imagination of such apocalyptic possibilities.[2] So, to progress sequentially: What next?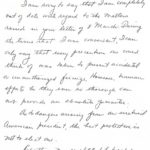 Both as a scholar and policy-centered nuclear strategist, I have been involved with these critical issues for the past fifty years, though always in a generic rather than "president-specific" sense. On 14 March 1976, in response to my direct query concerning American nuclear weapons launching authority, I received a letter from General (USA/ret.) Maxwell Taylor, a former Chairman of the US Joint Chiefs of Staff. The principal focus of this letter (attached hereto) concerned assorted nuclear risks of US presidential irrationality. Most noteworthy, in this handwritten communication, was the straightforward warning contained in General Taylor's closing paragraph.
Ideally, Taylor wisely cautioned, presidential irrationality – an inherently grave problem – should be dealt with during an election process, and not in the throes of any subsequent decisional crisis.
"….the best protection is not to elect one…"
By definition, regarding our current presidential nuclear security problem, it's too late to follow General Taylor's prophetic advice. We must presently inquire, therefore, with a more narrow but still undeflected focus: "What is the actual current US governing situation regarding this most vital security issue?" Always, of course, there are assorted structural protections built into any presidential order to use nuclear weapons, including substantial and multiple redundancies. Nonetheless, virtually all these reassuring and reinforcing safeguards could become operative only at lower or sub-presidential nuclear command levels.
Expressly, these safeguards do not apply to the Commander-in-Chief, to the democratically elected President of the United States.
This means, inter alia, that there seemingly exist no permissible legal grounds to disobey a presidential order to use nuclear weapons. In principle, perhaps, certain senior individuals in the designated military chain of command could still sometime choose to invoke variously selected "Nuremberg Obligations,"[3] but any such last-minute invocation would almost certainly yield to the more recognizable considerations of U.S. domestic law.[4]
Now, already at the eleventh hour, pertinent scenarios must be postulated and closely examined. Should an American president choosing to operate within a bewildering chaos of his own making sometime issue an irrational or seemingly irrational nuclear command, the only way for the Secretary of Defense, the Chairman of the Joint Chiefs, the National Security Adviser and several possible others to effectively obstruct this wrongful order could be "illegal" on its face. Under the very best of circumstances, informal safeguards might manage to work for a time, but blithely accepting the unrealistic assumption of a "best case scenario" is hardly an optimally sensible path to US nuclear security.
Instead, We the people ought to inquire about identifying more suitably predictable and promising institutional impediments, barriers to shield us from a prospectively debilitated or otherwise compromised US president.
Already, to apply a common but useful metaphor, the US is navigating in "uncharted waters." While President John F. Kennedy did engage in personal nuclear brinkmanship with the Soviet Union back in October 1962, he had then calculated his own odds of a consequent nuclear war as "between one out of three and even." This seemingly precise calculation, corroborated both by JFK biographer Theodore Sorensen and by my own later private conversations with former JCS Chair Admiral Arleigh Burke (my lecture colleague and roommate at the Naval Academy's Foreign Affairs Conference of 1977) suggests that President Kennedy was (1) technically irrational in imposing his Cuban "quarantine;" or (2) wittingly acting out certain untested principles of "pretended irrationality."
Significantly, in stark contrast to the present moment, JFK generally was operating with tangibly serious and intellectually capable strategic/legal advisors. He did not choose Adlai Stevenson to represent the United States at the United Nations because he was "glamorous" (the standard so openly favored by current US President Donald J. Trump).
Going forward, the most urgent threat of a mistaken or irrational U.S. presidential order to use nuclear weapons flows not from any "bolt-from-the-blue" nuclear attack – whether Russian, North Korean, or American – but from a sequentially uncontrollable escalatory process. Back in 1962, Soviet premier Nikita Khrushchev "blinked" early on in the "game," thereby preventing any mutual and irrecoverable nuclear harms. Now, however, any seat-of-the-pants escalatory initiatives undertaken by President Trump could reveal markedly unstable decision-making consequences.
At that late point, the once potentially lethal effects of a nuclear war would no longer be hypothetical. They would have become a literally "glowing" fait accompli.
This is not just another political problem or alleged "witch hunt" in Washington. Accordingly, Donald Trump should immediately be made to understand the wholly unprecedented risks of being locked into a unique escalatory dynamic from which there could sometime be no recognizable range of choice except abject capitulation or nuclear war. To be sure, this would not be the same dynamic he had previously encountered in the more narrowly commercial and mundane matters of hotel construction or casino gambling. Although this American president might be well advised to seek "escalation dominance" in certain selected crisis negotiations with similarly determined national adversaries, he would urgently need to avoid any catastrophic miscalculations.
And this is not even to factor in the corresponding and potentially intersecting problems of hacking intrusion or accident.
For the immediate future, this imperative would seemingly apply most directly to one-upmanship scenarios with North Korea's Kim Jung Un, an impossible-to-predict process wherein both countries could emerge with the least satisfactory outcomes. Here, a good deal would depend upon more-or-less foreseeable "synergies" between Washington and Pyongyang, and on difficult to control penetrations of cyber-conflict or cyber-war. We might even have to acknowledge the out-of-control interference of cyber-mercenaries, unprincipled third parties working only for personal or corporate compensations.
Whether we like it or not, and at one time or another, nuclear strategy is a challenging "game" that US President Donald Trump will somehow have to play. Prima facie, this will not be a contest for amateurs, for those who expressly prefer "attitude, not preparation." To best ensure that this too-easily-distracted president's strategic moves would remain determinedly rational, thoughtful and cumulatively cost-effective, it will first be necessary to enhance the formal decisional authority of his most senior military and defense subordinates.
At a minimum, the Secretary of Defense, Chairman of the Joint Chiefs of Staff, the National Security Advisor, and one or two others in appropriate nuclear command positions should prepare in advance to assume more broadly collaborative and secure judgments in extremis atomicum.[5]
Even such a proposed widening of pertinent authority could not be "guaranteed." In the end, following General Maxwell Taylor's earlier letter sent to me in 1976, the best protection is still "not to elect" a president who is unfit for such unmatched leadership responsibility. Beyond any reasonable doubt (an evidentiary judicial standard that also fits well in this particular extra-judicial context), we are discussing here an incomparable leadership responsibility.
There is something else. From the standpoint of correctly defining all relevant dangers, it is important to bear in mind that "irrational" does not necessarily mean "crazy" or "mad." More specifically, any prospectively fateful expressions of US presidential irrationality could take very different and variously subtle forms. These forms, which could remain indecipherable or merely latent for a long time, include (a) a disorderly or inconsistent value system; (b) computational errors in calculation; (c) an incapacity to communicate correctly or efficiently; (d) random or haphazard influences in the making or transmittal of strategic decisions; and (e) internal dissonance generated by some structure or other of collective decision-making (i.e., assemblies of authoritative individuals who lack identical value systems and/or whose organizational arrangements impact their willing capacity to act as a unitary national decision maker).
From the singularly critical standpoint of US nuclear weapon control issues (problematic issues[6] likely to be worsened by the continuous American strategic postures of both "First Use" and "Launch on Warning"), legitimate reasons to worry about the Trump presidency do not hinge on any credible expectations of "craziness." Rather, looking over the above list of five representative decisional traits, there is already good cause not just for worry (which would not represent a rational or purposeful reaction), but for manifestly non- partisan objectivity and for very consistently conspicuous prudence. It won't be easy, and it won't necessarily succeed long-term by electing a different president.
For the immediate moment, however, US national security requires the prompt and law-based removal of this deeply-flawed president. It follows, also, that the security benefits of such an indispensable removal would have corresponding security benefits for the world as a whole. In principle, at least, the full importance of this corollary or "spillover" benefit could prove overwhelming or even incalculable.
Otherwise, we could all remain too long in a lethal or existential "stupor."

---
[1] This is because (1) any statement of authentic probability must be based upon the determinable frequency of pertinent past events and because, in this present case (2) there are no pertinent past events.
[2] One of this author's earliest books was (Louis René Beres) Apocalypse: Nuclear Catastrophe in World Politics (The University of Chicago Press, 1980).
[3] See Principles of International Law Recognized in the Charter of the Nuremberg Tribunal and in the Judgment of the Tribunal; 2 August 1950.
[4] At the same time, of course, because the Constitution is the very conspicuous bedrock of US domestic law, and because that document stipulates that only Congress can declare war, designated military chain of command decision-makers could argue credibly that their anticipated interference with Presidential nuclear commands would be domestic law-enforcing rather than domestic law-violating.
[5] This assumes, of course, that these chain-of-command subordinates (all appointed by President Donald J. Trump) will themselves be equal to their extraordinary responsibilities.
[6] In essence, the overarching issue here is inadvertent or accidental nuclear war. While an accidental nuclear war would also be inadvertent, there are forms of inadvertent nuclear war that would not necessarily be caused by mechanical, electrical or computer accident. These forms of unintentional nuclear conflict would be the unexpected result of misjudgment or miscalculation, whether created as a singular error by one or both sides to a particular (two-party) nuclear crisis escalation or by certain unforeseen "synergies" arising between any such singular miscalculations.