"Defenseless under the night; Our world in stupor lies…."– W.H. Auden
It is no longer just a casual apprehension. Now, an inappropriate or irrational nuclear command decision by US President Donald Trump is conceivable and perhaps even plausible. Though nothing conclusive can be said about the mathematical probability of any such fearful scenario,[1] there still remain ample reasons for concern.
Certain compelling and overriding questions necessarily arise. To begin, one must inquire: Might this unsteady American president become subject to more serious forms of dissemblance or psychological debility? Leaving aside Mr. Trump's largely unprecedented venality, his open indifference to history and (above all) his continuing malfeasance, should he still be allowed to decide (quite literally) whether we should live or die? This is not a silly, exaggerated or contrived query by any means. In essence, at this point of markedly conspicuous uncertainty in United States law, a problematic American president now likely serves with insufficient nuclear command constraints.
As we will soon see, this partial conclusion is very plainly incontestable.
Some further and derivative questions now also arise: Should this incumbent or any other future US president be granted extraordinary decisional authority over uncountable lives? Could such a steeply lopsided allocation of authority fairly and propitiously represent what was originally intended by America's Constitutional"separation of powers?" Can anyone reasonably believe that such unhindered existential power could have actually been favored by America's Founding Fathers?
Again, the correct answers are obvious, uncomplicated and altogether irrefutable.
At a minimum, we can extrapolate from both Articles I and II of the Constitution that the Founders displayed an almost palpable concern about expanding Presidential power long before nuclear weapons. Moreover, this plausibly presumptive concern predates even any imagination of such apocalyptic possibilities.[2] So, to progress sequentially: What next?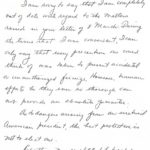 Both as a scholar and policy-centered nuclear strategist, I have been involved with these critical issues for the past fifty years, though always in a generic rather than "president-specific" sense. On 14 March 1976, in response to my direct query concerning American nuclear weapons launching authority, I received a letter from General (USA/ret.) Maxwell Taylor, a former Chairman of the US Joint Chiefs of Staff. The principal focus of this letter (attached hereto) concerned assorted nuclear risks of US presidential irrationality. Most noteworthy, in this handwritten communication, was the straightforward warning contained in General Taylor's closing paragraph.
Ideally, Taylor wisely cautioned, presidential irrationality – an inherently grave problem – should be dealt with during an election process, and not in the throes of any subsequent decisional crisis.
"….the best protection is not to elect one…"
By definition, regarding our current presidential nuclear security problem, it's too late to follow General Taylor's prophetic advice. We must presently inquire, therefore, with a more narrow but still undeflected focus: "What is the actual current US governing situation regarding this most vital security issue?" Always, of course, there are assorted structural protections built into any presidential order to use nuclear weapons, including substantial and multiple redundancies. Nonetheless, virtually all these reassuring and reinforcing safeguards could become operative only at lower or sub-presidential nuclear command levels.
Expressly, these safeguards do not apply to the Commander-in-Chief, to the democratically elected President of the United States.
This means, inter alia, that there seemingly exist no permissible legal grounds to disobey a presidential order to use nuclear weapons. In principle, perhaps, certain senior individuals in the designated military chain of command could still sometime choose to invoke variously selected "Nuremberg Obligations,"[3] but any such last-minute invocation would almost certainly yield to the more recognizable considerations of U.S. domestic law.[4]
Now, already at the eleventh hour, pertinent scenarios must be postulated and closely examined. Should an American president choosing to operate within a bewildering chaos of his own making sometime issue an irrational or seemingly irrational nuclear command, the only way for the Secretary of Defense, the Chairman of the Joint Chiefs, the National Security Adviser and several possible others to effectively obstruct this wrongful order could be "illegal" on its face. Under the very best of circumstances, informal safeguards might manage to work for a time, but blithely accepting the unrealistic assumption of a "best case scenario" is hardly an optimally sensible path to US nuclear security.
Instead, We the people ought to inquire about identifying more suitably predictable and promising institutional impediments, barriers to shield us from a prospectively debilitated or otherwise compromised US president.
Already, to apply a common but useful metaphor, the US is navigating in "uncharted waters." While President John F. Kennedy did engage in personal nuclear brinkmanship with the Soviet Union back in October 1962, he had then calculated his own odds of a consequent nuclear war as "between one out of three and even." This seemingly precise calculation, corroborated both by JFK biographer Theodore Sorensen and by my own later private conversations with former JCS Chair Admiral Arleigh Burke (my lecture colleague and roommate at the Naval Academy's Foreign Affairs Conference of 1977) suggests that President Kennedy was (1) technically irrational in imposing his Cuban "quarantine;" or (2) wittingly acting out certain untested principles of "pretended irrationality."
Significantly, in stark contrast to the present moment, JFK generally was operating with tangibly serious and intellectually capable strategic/legal advisors. He did not choose Adlai Stevenson to represent the United States at the United Nations because he was "glamorous" (the standard so openly favored by current US President Donald J. Trump).
Going forward, the most urgent threat of a mistaken or irrational U.S. presidential order to use nuclear weapons flows not from any "bolt-from-the-blue" nuclear attack – whether Russian, North Korean, or American – but from a sequentially uncontrollable escalatory process. Back in 1962, Soviet premier Nikita Khrushchev "blinked" early on in the "game," thereby preventing any mutual and irrecoverable nuclear harms. Now, however, any seat-of-the-pants escalatory initiatives undertaken by President Trump could reveal markedly unstable decision-making consequences.
At that late point, the once potentially lethal effects of a nuclear war would no longer be hypothetical. They would have become a literally "glowing" fait accompli.
This is not just another political problem or alleged "witch hunt" in Washington. Accordingly, Donald Trump should immediately be made to understand the wholly unprecedented risks of being locked into a unique escalatory dynamic from which there could sometime be no recognizable range of choice except abject capitulation or nuclear war. To be sure, this would not be the same dynamic he had previously encountered in the more narrowly commercial and mundane matters of hotel construction or casino gambling. Although this American president might be well advised to seek "escalation dominance" in certain selected crisis negotiations with similarly determined national adversaries, he would urgently need to avoid any catastrophic miscalculations.
And this is not even to factor in the corresponding and potentially intersecting problems of hacking intrusion or accident.
For the immediate future, this imperative would seemingly apply most directly to one-upmanship scenarios with North Korea's Kim Jung Un, an impossible-to-predict process wherein both countries could emerge with the least satisfactory outcomes. Here, a good deal would depend upon more-or-less foreseeable "synergies" between Washington and Pyongyang, and on difficult to control penetrations of cyber-conflict or cyber-war. We might even have to acknowledge the out-of-control interference of cyber-mercenaries, unprincipled third parties working only for personal or corporate compensations.
Whether we like it or not, and at one time or another, nuclear strategy is a challenging "game" that US President Donald Trump will somehow have to play. Prima facie, this will not be a contest for amateurs, for those who expressly prefer "attitude, not preparation." To best ensure that this too-easily-distracted president's strategic moves would remain determinedly rational, thoughtful and cumulatively cost-effective, it will first be necessary to enhance the formal decisional authority of his most senior military and defense subordinates.
At a minimum, the Secretary of Defense, Chairman of the Joint Chiefs of Staff, the National Security Advisor, and one or two others in appropriate nuclear command positions should prepare in advance to assume more broadly collaborative and secure judgments in extremis atomicum.[5]
Even such a proposed widening of pertinent authority could not be "guaranteed." In the end, following General Maxwell Taylor's earlier letter sent to me in 1976, the best protection is still "not to elect" a president who is unfit for such unmatched leadership responsibility. Beyond any reasonable doubt (an evidentiary judicial standard that also fits well in this particular extra-judicial context), we are discussing here an incomparable leadership responsibility.
There is something else. From the standpoint of correctly defining all relevant dangers, it is important to bear in mind that "irrational" does not necessarily mean "crazy" or "mad." More specifically, any prospectively fateful expressions of US presidential irrationality could take very different and variously subtle forms. These forms, which could remain indecipherable or merely latent for a long time, include (a) a disorderly or inconsistent value system; (b) computational errors in calculation; (c) an incapacity to communicate correctly or efficiently; (d) random or haphazard influences in the making or transmittal of strategic decisions; and (e) internal dissonance generated by some structure or other of collective decision-making (i.e., assemblies of authoritative individuals who lack identical value systems and/or whose organizational arrangements impact their willing capacity to act as a unitary national decision maker).
From the singularly critical standpoint of US nuclear weapon control issues (problematic issues[6] likely to be worsened by the continuous American strategic postures of both "First Use" and "Launch on Warning"), legitimate reasons to worry about the Trump presidency do not hinge on any credible expectations of "craziness." Rather, looking over the above list of five representative decisional traits, there is already good cause not just for worry (which would not represent a rational or purposeful reaction), but for manifestly non- partisan objectivity and for very consistently conspicuous prudence. It won't be easy, and it won't necessarily succeed long-term by electing a different president.
For the immediate moment, however, US national security requires the prompt and law-based removal of this deeply-flawed president. It follows, also, that the security benefits of such an indispensable removal would have corresponding security benefits for the world as a whole. In principle, at least, the full importance of this corollary or "spillover" benefit could prove overwhelming or even incalculable.
Otherwise, we could all remain too long in a lethal or existential "stupor."

---
[1] This is because (1) any statement of authentic probability must be based upon the determinable frequency of pertinent past events and because, in this present case (2) there are no pertinent past events.
[2] One of this author's earliest books was (Louis René Beres) Apocalypse: Nuclear Catastrophe in World Politics (The University of Chicago Press, 1980).
[3] See Principles of International Law Recognized in the Charter of the Nuremberg Tribunal and in the Judgment of the Tribunal; 2 August 1950.
[4] At the same time, of course, because the Constitution is the very conspicuous bedrock of US domestic law, and because that document stipulates that only Congress can declare war, designated military chain of command decision-makers could argue credibly that their anticipated interference with Presidential nuclear commands would be domestic law-enforcing rather than domestic law-violating.
[5] This assumes, of course, that these chain-of-command subordinates (all appointed by President Donald J. Trump) will themselves be equal to their extraordinary responsibilities.
[6] In essence, the overarching issue here is inadvertent or accidental nuclear war. While an accidental nuclear war would also be inadvertent, there are forms of inadvertent nuclear war that would not necessarily be caused by mechanical, electrical or computer accident. These forms of unintentional nuclear conflict would be the unexpected result of misjudgment or miscalculation, whether created as a singular error by one or both sides to a particular (two-party) nuclear crisis escalation or by certain unforeseen "synergies" arising between any such singular miscalculations.
Is the Washington-initiated Climate Summit a Biden Politrick?
Earlier on, climate skeptics had wondered if President Biden's January 27 Executive Order on "climate crisis" was "climate politrick?" Now, scholars in China have likened the US climate envoy's hurried China visit last week to "a weasel calling on a friendly New Year visit to a chicken" – or a visit with evil intentions. Some overenthusiastic critics of the US in Beijing are even warning President Xi to not login for the online Earth Summit in Washington this week.
***
People in China believe a snake and a wolf must never be rescued. The belief comes from a popular idiom: the Zhongshan wolf or "The Wise Old Man and the Wolf." In a few words, the essence of the popular Chinese adage is well-captured in the following sentence: a popular fairy tale about the ingratitude of a creature after being saved. Last year, the idiom entered China's foreign policy discourse as several IR commentators employed it to describe "ingratitude" of the Trump-led America towards the Peoples' Republic. Following the ascent of President Biden in the White House, the Chinese commentariat quickly course-corrected itself, i.e. neither Trump nor Biden, it is the US bipartisan anti-China consensus which is the real "wicked wolf."
Just like the curt and bland statement issued by China's foreign ministry acknowledging China will host the US climate envoy Kerry for three days in Shanghai, 14-17 April, China released on last Sunday the text of the joint China-US statement following Kerry's departure on Saturday. The statement said: "The United States and China are committed to cooperating with each other and also with other foreign governments to tackle the climate crisis which must be addressed with seriousness and urgency it demands." Interestingly, or rather conspicuously, the statement neither indicated nor was followed by another press release regarding whether China will be represented at the upcoming crucial 40-nation Earth Summit being hosted by President Biden.
While it is true a few Chinese scholars and think tanks have welcomed the worlds' two largest carbon emitting nations to come forward to cooperate with each other upholding the spirit of the Paris climate agreement. What is perhaps unprecedented and more significant is the warning to President Xi by a section of China's leftist intelligentsia to beware of Biden's "climate politrick."
Talking of those who welcomed Xi-Biden climate cooperation initiative – the first sign of bilateral cooperation since the Trump interregnum, Zhang Jianyu, chief representative and vice president of the non-profit Environmental Defense Fund's China Program, reacted positively and said: "The fact that the joint statement has been signed, means that both Beijing and Washington believe in climate change. We are hoping both China and the US take bold actions." Li Shuo, senior climate adviser for the environmental group Greenpeace, said China could soon respond to a new U.S. pledge with one of its own, building on the "momentum" of the Shanghai talks."The statement in my view is as positive as the politics would allow: It sends a very unequivocal message that on this particular issue (China and the United States) will cooperate. Before the meetings in Shanghai this was not a message that we could assume," Li added.
In contrast, an article in Utopia, one of the influential "anti-US" platforms for ideological debate in China, cautioned China's top leadership while questioning Biden's credentials to host the Earth Summit. The pro-Mao, leftist online intellectual discourse forum advocates Maoist and communist ideology. In a signed article on the forum's website last Saturday – the day John Kerry concluded his 3-day stay in Shanghai and left for Seoul, a commentator using strong words not only "condemned" Joe Biden for his "arrogant" and "hypocritical" foreign policy thinking, but also urged the Chinese leadership to thwart Washington's attempt to regain the US leadership by holding the Earth Summit beginning Thursday. The article was entitled: "China must resist and fight back hypocrite Biden."
In fact, as early as in November last year, within days of the presidential voting, a section of scholars in China were writing "the election of Biden may or may not turn out to be a turning point for easing Sino-US frictions…with Biden in power, the nature of Sino-US relations will not see a fundamental change, but the mode of confrontation will be relatively soft and the direction of negotiations will be more predictable." However, with each passing day since taking office, President Biden's China policy has consistently been predictable in only one direction – in enduring the Trump legacy. The most recent manifestation of which was on display at the testy diplomatic summit last month in Anchorage where senior officials from the two countries "traded sharply critical assessment" of each others' policies.
Another Chinese commentary has highlighted six ideological "attacks" the US has carried out against China in the international arena under Trump and Biden administrations respectively. First is the classic example of the US-Japan nexus in politicizing and turning on its head the Chinese opposition to Japan's decision to release radioactive contaminated water from Fukushima into the sea; second is the Western governments and media carrying out slanderous campaign of China's "economic colonialism" in Africa; third, as soon as China succeeded in containing fight against COVID-19 last year in May and started offering humanitarian assistance abroad, the US-led started defaming and discrediting China by launching "mask diplomacy" campaign against Beijing; fourth, just like vicious propaganda maligning China's economic assistance to Africa and China's humanitarian aid by free supply of PPE and masks, the US launched "vaccine diplomacy" campaign to vilify China; the fifth is attacking China using the virus trajectory and accusing China of developing COVID-19 virus and exporting it from chemical laboratory in Wuhan; the sixth and the latest anti-China "false" propaganda is the "genocide" in Xijiang. Unlike the genuine human rights violation by Japan to release the contaminated water into the sea, the false propaganda against China is aimed at creating anti-China world public opinion, creating social unrest and turbulence in China and ultimately achieving their goal of destroying China, the article stated.
Finally, it is not incorrect to view President Xi's highly charged remarks made at two most recent international events respectively in the context of strongly-worded articles published in Utopia and other left-leaning online websites in the past few days. Two days prior to the arrival of Kerry in China, President Xi, according to the Xinhua news agency, warned the US in his speech at the China-Germany-France trilateral video conference on climate change: "Climate change could be used as a tool to disparage some countries for not doing enough." Then two days prior to the Earth Summit, Xi apparently reiterated his stern warning to President Biden: "We must not let the rules set by one or a few countries be imposed on others, or allow unilateralism pursued by certain countries to set the pace for the whole world." The remarks by Xi were made at China's annual Boao Asia Forum on Tuesday.
China's semi-official "independent" English language CX Daily interpreted Xi's above remarks as "veiled swipe at the new US administration under Biden" who has been busy forming alliances challenging China over issues such as Taiwan, Hong Kong and Xinjiang. Of late, mainstream media in China has been accusing Biden of not only carrying on and enduring the Trump legacy in relentlessly "attacking" China, but also that Biden has gone far beyond Trump in insulting and condescending Beijing. In fact, the Utopia commentary uses another Chinese idiom "externally strong, empty inside" to caricature Biden's personality. It cites two recent incidents to establish how weak and hollow is President Biden, i.e. the US-China talks in Alaska and Putin's resolve to dare the US in the Black Sea – in both instances, Biden simply caved in after he was challenged, the commentary observed. "On Iran nuclear deal issue too we saw Biden acting in the same surreptitious and crude manner. He [Biden] is typical treacherous man," the Utopia commentary continued its verbiage.
Some Chinese scholars, therefore, have welcomed Xi's remarks as clear rebuff to what the mainstream Western media, in particular the Wall Street Journal has been spreading, i.e. "Xi would participate in the US-initiated climate summit later this week." These scholars are invoking yet another ancient Chinese proverb "Mouth honey belly sword" or Koumifujian in Chinese. The idiom is used as a metaphor for describing someone extremely sweet on the outside but actually shrewd, cunning and sinister. Most Chinese IR commentators are telling us, the idiom is a perfect description of Biden.
Russia Or China: Is Biden Right To Target Russia?
No one can disagree with President Joe Biden when he wants to overhaul infrastructure — although a single-minded concentration on one aspect is likely to be longer lasting and a legacy. Consider, for example, a high-speed rail link between New York and Los Angeles, True high-speed, that is, and truly modern like the new lines in China with a design speed up to 350 km/h (220 mph), or preferably higher by the time the rails are constructed in the US. It would make overnight coast to coast (3,000 miles) railroad trips a reality.
What is more difficult to fathom is Biden's foreign policy. He appears to have identified Russia as an adversary or worse, starting with calling Vladimir Putin a killer and exposing several Russian companies that possibly support its intelligence services. Do American companies ever provide cover for the CIA? That is the obvious question coming to mind with an obvious answer. Have western intelligence services including the CIA ever carried out assassinations? If so, would the US president be called a killer?
At the same time, Russia is not the country with a stated goal of becoming the world's leader in its economy, technology and military. No, that's China. Russia only wants closer ties with the west but is being driven into the arms of China.
Given China's stated goals and its progress towards them, it is transparent that its aims require the displacement of the US from its leadership position. Any prospect of thwarting China's ambitions would impel the US to cordon the country to some extent or at the very least attempt to challenge its influence. Instead, China is signing treaties with neighbors. It is in Iran and it announced that it might send its own troops to Afghanistan to maintain its "peace" after the US departs. Afghanistan, by the way, is rich in minerals and rare earth elements.
So far Mr. Biden's foreign policy initiatives appear tactical with a kind of tit-for-tat approach that is absent a coordinated (with allies) strategic plan to prepare the US for a confrontation politically and economically — not militarily, although as the US ramps up pressure, a skirmish here and there on the high seas could be a possibility.
A string of Chinese bases now ring the Persian Gulf extending west to East Africa and east along the Iran and Pakistan coast to Sri Lanka, across to Burma and then south to the western end of Indonesia. The recent treaty with Russia allows convenient Eurasian access while the new closeness with Iran permits an overland route to its oil riches. East of Iran is Pakistan which is a Chinese client state of long standing and where it has built the Gwadar port.
Given the circumstances, the US is obliged to reassess Iran from a geostrategic perspective but also Pakistan, a country that has been on the frontlines of the Afghan war since the beginning. Pakistan is also a key to long term peace in Afghanistan as its own Pashtun population is connected to Pashtuns there through family ties and a traditionally porous border. They also command a plurality as the largest ethnic group in Afghanistan.
Further east China is increasing its influence in Sri Lanka, and is by far Burma's largest trading partner. The recent coup in Burma is its own story and an oft-reported tale in that country without noting China's silence.
Despite the local politics, the US can ill afford to surrender such a vast region to China without counter moves to ensure some freedom of movement within China's tight embrace.
Playing Politics in Times of Covid: AMLO's Whimsical Inoculation Programme
Andrés Manuel López Obrador (AMLO) has capriciously modified Mexico's inoculation programme as he sees fit. He has followed an improvised strategy along the way that follow no logical approach.
The initial vaccination schedule was set up in 5 stages that placed frontline and essential workers as priority sectors; the rest of the population would be divided up by age ranges and inoculated accordingly. However, last January, AMLO announced the creation of 10,000 brigades who would oversee the vaccination programme. Each brigade is made up 12 people majority of whose are active members of the president's political party MORENA. They also were prioritised for vaccination, even ahead, some key workers. This process alone took up 120,000 vaccines that otherwise would have gone directly to frontline workers or the elderly.
As of mid April, Mexico, with a population of 117 million people, has only vaccinated over 10 million people, roughly 8.5% of the population. Only 2.6 million have received the second shot, only 2.2%. The government also announced that it was prioritising the poorest citizens and indigenous communities. In a more recent announcement, he declared teachers would be also bumped up for priority vaccination ahead of the elderly. This again demonstrates the arbitrary standards of his vaccination schedule.
The government's decision to inoculate teachers ahead of even health workers does not come as a surprise: they're a key voting bloc. Mexico is holding mid-term elections this coming July, and vaccinating teachers so close to voting time is the latest evidence that the president is playing politics with the vaccinations. Just like in old times under the hegemonic party, unionised teachers are crucial for AMLO's political party to win the most votes in the next elections.
Using certain sectors of the population to mobilise voters in favour of political party is not something new in Mexican politics. In Mexico, just like in many other unconsolidated democracies, political parties and candidates themselves can turn to political agents to ensure victory in elections through the use of patronage systems or vote-buying strategies.
To fully understand the role of the Teachers' Union (SNTE and CNTE) as a political machine, it is essential to understand its history and role in elections over the last decades. The SNTE has more than 1.6 million members nationally, while the CNTE has over 100,000 members, it was founded in 1980 and has considerably less influence than the SNTE.
The SNTE was founded in 1949, and since then they served as a satellite organisation of the hegemonic party, PRI. Up until 1992, it was mandatory for all Union members to register as active party members. Therefore, throughout these years, the PRI, regularly received electoral support from the Union. The alliance between the hegemonic party and the SNTE strengthened in 1989 when Elba Esther Gordillo was appointed as the new leader of the Union.
What was behind the motivation of the SNTE in becoming an electoral agent? For many years, the Union received monetary incentives and access to political posts. Under this arrangement, political parties and even candidates may monitor the performance of such agents to make sure they are still aligned to those of the government, political party or candidate. As long as the interests of both sides are aligned, the electoral agent is expected to work efficiently to deliver the expected results either on election day or throughout the length of the administration.
In 2005, Elba Esther Gordillo was expelled from the PRI, ending the alliance between the SNTE and the hegemonic party. The leader of the Union founded her own political party, PANAL, and participated in the 2016 federal elections. However, due to the number of voters the newly created party attracted, it was only limited to proportional representation positions. Although PANAL, presented its own candidate for the presidency, Elba Esther offered the votes of the Union in the presidential elections to other political parties with greater possibilities of winning.
The SNTE supported Felipe Calderón, the PAN candidate in 2006 and in 2012 they backed the PRI candidate, Enrique Peña Nieto. The SNTE's geographical outreach and the role of teachers as community and educational leaders facilitate their role as electoral agents. They're able to influence informally the vote of others as well as the opinions and voting decisions of students and their parents.
In many democracies, it is not unusual for teachers to have strong ties to political parties and their candidates, and this is critical when it comes to explaining their effectiveness as electoral agents. It is not uncommon also for teachers to be appointed as voting stations representatives. The combination of these institutional characteristics opens the door for teachers to continue to influence voters through either legal or illegal.
AMLO's courting of the Teachers' Union dates to his electoral campaign in 2018. José Alfredo González, son in law of Elba Esther Gordillo, was seen in a presidential campaign event to support AMLO's candidacy. He is also an active member of Redes Sociales Progresistas, a newly created party with links to Elba Esther Gordillo. Soon after AMLO's inauguration in 2018, AMLO set to dismantle the education reform that has been approved by Enrique Peña Nieto in 2012. This was well received by the 2 Teachers' Trade Unions. In 2020, the SNTE expressed its support for the president, and they also ratified its adherence to the political programme of the president. AMLO also publicly asked Elba Esther Gordillo to talk openly about the (alleged) fraud of 2006. AMLO's intentions in doing this are very clear: He wants the former leader of the Union to enter the political game by talking about the issue and taking a stance that would not be antagonistic towards the incumbent party.
There is no doubt that the president has an underlying agenda in prioritising the vaccination of teachers when mid-term elections will be held in less than 2 months in Mexico. The president has chosen CanSino as the vaccination to be used to inoculate teachers across Mexico to allow schools to reopen by the end of May in some states. Now, with only less proven vaccine options, CanSino has an efficacy rate of less than 65%, questions undoubtedly arise as to how effective the inoculation of Mexicans will be with the use of these vaccines over the already proven ones.