I went to a Model C school in post-apartheid South Africa and only survived for a year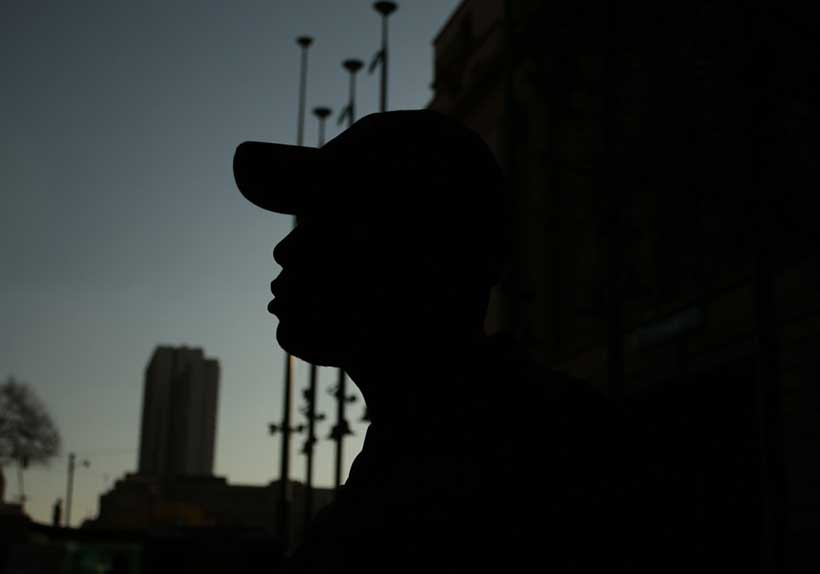 When it comes to the issues of eating disorders, which is the topic I am addressing today. Topics such as anorexia nervosa and bulimia.
The question for me has always been (as a fellow sufferer), why aren't we telling our daughters that to be perfectionists it is ok? It is perfectly fine for a man to understand that. I'm not here to talk about entitlement, social cohesion and good governance, and land reform in Africa and elsewhere in the world and good schools.
The rich send their children to good schools. The poor send their children to no schools. I was a product of a lot of schools, and I knew intrinsically that something was wrong. It had come to that time when you make career decision. What are you going to do with the rest of your life? I didn't want to do anything. All I wanted was to stay at home, drink coffee, and read books. She, my mother, began to live vicariously through me. For all of my life.
I am the bone-thin sweetheart under my kitchen table, with the not so perfect hair. I listen to Karen Carpenter and get the blues. I love to die a succession of deaths in under an hour. I'm obsessed with the Bang Bang Club. I've become obsessed with Kevin Carter's psyche before he killed himself. I listen to the Manic Street Preachers. They have a design for life. Always have since I did my O' levels in Swaziland.
Life is beautiful when I write. I adore the writing life. Aren't glaciers even beautiful, the rush of winter in the trees, birdsong in the clear of day, and the clarity of the sensibility of all of them but writing, the book stuff is something else. It's all a part of life, my life. My mother lived her own life. When she didn't feel satisfied or fulfilled, she put all of her sexual inadequacy, insecurities and doubts on me.
And the only things that I seem to have on my mind is that I don't have enough time in the world during the day to write, to perfect the craft of writing, the art of it. So, wish-fulfilment has been on my mind, that and everything else that is happening to 'the people of the south', the people in South Africa, the vulnerable. Everything is fleeting, including your youth. At the heart of it all we're all poets. But most of all I'm frightened of the wild, of the wilderness disappearing. I am mourning our mountains, and rivers. Topic for another discussion for another day. Body dysmorphic disorder must be realised for what it is. A poor self-image.
What are your answers on how to sell a book and save the world at the same time? And I'm frightened all the time. Frightened of being an invisible person, an invisible woman for all of my life, because I was a prodigy, or am I forgetting myself again. Fear and anxiety rise up in my throat. The voices say that I am mad, that I will never get a man, and he will never trust my judgement. The loneliness wells up inside of me. I think of the reality of my dreams, and nightmares. The men that I telephone, who accepted my friendship when I was in my early twenties, who do not return, who have stopped returning my calls. Shy away from me.
The voices worship, and adore me. They do, they do, they do. They're fierce creatures when it comes to the burden, and care of loving me, heavenly when they play my love songs on repeat. Video did really kill the radio star. Fear is what I hold dear. Anxiety is what I cherish. I am volcano lover versus oil on my hands. I am devilish. I am exquisite. I am poet. I am lake. Sometimes I go where the mood takes me. Sometimes I am numb with cold, then freezing to death because of the air in my room, salt, and light, and energy on the forsaken summer breeze, and I think of my arms, and legs as I do branches.
I smell like a forest of trees. Ancient and cool, like driftwood spat out of the cold sea. The men I once loved are decades older, and I still long to be in their arms, to be in their bed. I search the internet for online literary journals in Scandinavia, because the voices tell me I am something of a poet. I have sorrows on my mind, the colour blue, fish fingers on my plate heavy with ketchup, chapped lips, a greasy egg breakfast. Vertigo goes to my head. I watch Pastor Joel Osteen on the television.
After the television evangelist Joseph Prince's show, they give me the good news that I want to hear. And yes, yes, I mustn't waste my pain.
Of course, everyone understands my situation now after watching Homeland. Poor girl, they all say, the father substitutes feel sorry for me. Their wives, my surrogate mothers every one, roll their eyes heavenward. I know exactly how they feel about me. I replaced my own father's affections for my mother My life is fodder for everything that I write. I just want to be happy. To be happy to me is to live on a diet of coffee and yoghurt and lettuce. Rabbit food and salad and literally eating mayonnaise out of a jar. Licking the back of the spoon makes me feel all-powerful.
Why does it seem that prodigies never want to grow up, accept the responsibilities of a 9-to-5 job, make a positive contribution to society? If they are a daughter-child they think that they will never find a man or partner love them as much as their father. So, they find themselves in therapy (I was in therapy since I was before 8 years old, and 40 years old before I understood the intricacies of the mind, how every brain disorder worked on a rational, irrational, realistic, non-realistic, reality, non-reality level). There is a lot of thought-work being put into having the psychological traits today of both mother and father. Today we are studying aspects of the brain that have never been studied before.
Spending quality time with the mother-figure/figures in your life, if you were so unlucky never to have, or, rather have a lack of a mother-figure in your life. We only have to look at the building-bridges architype between the Duchess of Sussex and her mother. The Duchess of Sussex is an outstanding role model for children of mixed-race relationships. I follow her brand of diplomacy in my own inter-personal relationships in my public and private and personal lives. Both the Duchess and her mother are the epitome of class and elegance in public. Kudos to them for winning the hearts of the public.
Living your life in a bubble is unimaginable sometimes. The public (I have realised through singular trial and error) will never see you at your most human when you are a public figure. What will always be key in all of our lives, whether we are famous or not, is how we master diplomacy, negotiation and reconciliation in our own life. Master respect and master forgiveness. Watching Jeff Bezos, Prince William and Prince Harry, Albert Einstein, Jean Rhys, Rilke, Nikolas Tesla, Elon Musk, the late filmmaker and visionary-creative Anthony Minghella (Mr Wonderful. The Talented Mr Ripley based on a Patricia Highsmith novel.
and The English Patient).
I began to see that from inconsolable grief, isolation from your peer group, losing a loved one, or, not having the love you need in your life we can use the presence of deep and emotional pain, what hurt us in our past, every incident of trauma, and even been bullied can begin to rebuild our mindsets'. Yes, it can I believe. I can only speak from my own experience. I have empowered and uplifted myself. Now I must do this with millions. Millions of the displaced, marginalised, vulnerable, and jobless. I want everyone to have a seat at the table.
I am glad the topic of sexual violence has come up in the pages of Modern Diplomacy and child rapists.
You know, I thought to myself it was about time, and then I cried because I was so happy. Gender-based violence is another topic close to my heart. If you are a woman of colour, reach out to all woman of colour especially those who want to ask your advice. We are building a nation not of equality, but cohesion. The following step is of course rehabilitation for both parties involved. The victim being abused, and the perpetrator of abuse. My aunt was an alcoholic.
The stigma in the coloured community of a woman drowning her sorrows in addiction was so great she died of alcoholism. She will never know her granddaughters. Racism is also a form of mental cruelty. Every violence, domestic, sexual, mental is a form of cruelty of the worst kind. There was domestic violence in my family. Everybody knew what was happening in the family, but nobody did anything about it. I watched all of this from afar.
All I want you to do is to remember me. Remember that children are not in the habit of wanting a lover, that's grown up married stuff. Rather all they for most of their lives is accepting that I just need a friend, like I need sobriety, like I need a man in my life. Women don't want to be my friend. They rather treat me unkindly. Laugh at me behind my back. Destroy my reputation just because they can. I will always remember you, you, and you. How you said I was behaving, like I had been misbehaving, not taking my medication. How you spoke to me as if was unwell. That I needed to be treated for the depression again, or, something, or, something else this time around.
I have stopped loving you. I am not in love with you anymore. I would be a fool. I would be the insecure coward. You win traitor. You've got the girl now. You've got that woman on your arm. You made a fool out of me. Never replied to my emails. Perhaps I was lovesick, traitor.
You're yesterday, traitor. You're suffering, traitor. You are kismet, milk-fed, champagne snorting through your nose at the parties, and social gatherings that you go to with that girl on your arm. When you move on the dance floor at the nightclub, you move into her, grasp her in your arms as if you will never let her go. You let me go, go, go.
I really wish you would smoke. Light up that joint, fall asleep with marijuana in your bone season, but you won't. You won't think of snorting cocaine up your nose. You'll drink sherry, but half-half-heartedly, just to join in with the rest of your in-crowd.
You're still as popular as you ever were in high school. All the girls, no matter what their age, they all fall for you. They are all in love with you. I feel split right down the middle, because of you traitor, part of me calls you vulnerable, part of me remembers the intimacy of our conversations.
The prodigy is frightened of the world, does not understand how critical it is to be 'people who need people, and that they are the luckiest people in the world'. And he grows up, she grows up so focused on achieve, achieve, achieve. Accomplish, accomplish, accomplish. Give me grandchildren. Marry. But all they hear are is that they are not children anymore. They have to marry now, have sexual relations, join the adult workforce, and they think their glory days are over. That they will never be truly loved again. Then when they are not loved, they consider everybody in their adult life as traitor.
How I long for a bowl of black olives. I long to spit the stone out, like you spat me out, traitor, as if I was the criminal in this narrative. I'll write a book about you one day, see if I don't. I swear on my father's wheelchair, I swear on his life, I will, I will, I will. I won't call you sweetheart. Just remember me, please. They don't know anything about the longevity of a career, how time-consuming it is. They just want to remember that once they were a gifted child.
So, topics today concern children. I espouse family values. This is very important to me. Children must be protected at all times. We have discussed mental wellness. Suicide is on the increase. Children must play. I was always at a drama rehearsal at a very young age. I never wanted to go home to that hellhole. A dysfunctional family who could see that I was different, told me so, destroyed my self-esteem and identity. Even the person I loved most in the world. My brother turned on me as an adult.
Do I advocate free clinics around the world dealing with issues of mental wellness for men, and young men, women, and young women, people of every age, especially widows and orphans, the homeless (when I was homeless, I stayed at the Salvation Army and a shelter for abandoned women and children).
They call themselves places of safety. Yes, I do think people should be trained to deal with people who are mentally ill. Most of all have empathy for them. We must not fail to realise what is at stake here and all the stakeholders involved. Especially our sons and daughters.
They are of course the next generation. We must protect the most vulnerable stakeholders when it comes to mental wellness. Understand that where ignorance is bliss, it is folly to be wise.
Research into gender-bias and class, the Khoi, the grief of the mulatto
Other races in South Africa see us as clowns. They have always seen us as clowns or interlopers and whose fault is that? Again, and again society has to be blamed. Wars and history. Mothers, siblings and offspring. They do not think of themselves as being a part of humanity, of building humanity or their own potential. They live in a world of their own making and in this realm or sphere they practice ultra-violence, aggression, and brutality. Sexual violence is nothing to them. Rape is a certain means of pleasure-fulfillment. It is an annihilation on the victim but we also have to look at it as a symbol.
A symbol of submission. The victim is made to be submissive and humiliated. Secluded from the avenues of interpretations and ceremonies. Religious ceremonies, rituals between two consenting adults and a water baptism for the child or children that is born from that union.
On the under surface we also have to look at the mental health of the mulatto. Illness and disability in the Northern Areas. It has become an intricate yet underground culture amongst those who live on welfare or social grants in South Africa. Rape is a symbol. It supports a historical pattern of mental illness. It is an example of phenomenology. I spent my childhood, my holidays at the sea and an adolescence avoiding it. These are the echoes of a scholarship girl.
An ambitious girl readying herself for the world of academia and education. Why is it that this is what I hunger for? What do the Cleopatra's and Sappho's of the world hunger for?
And what the next girl hungers for in line is a sexual relationship.
She is in search of intimacy in all the wrong places. In their search for pleasure they will find themselves amidst instant gratification.
Satisfaction. Wish-fulfillment is the name of the game. The sexual transaction and pornography. We are talking here about a complete annihilation of heirs. Sons and daughters. Mulattos every one. Born from interracial relationships. Born out of wedlock. Here, we are not talking about the cultured, those who read with a passion, have a library at home or a study full of books, follow their survival guide according to the laws of society, the elite, the moneyed with their investments tucked away safely in the bank, whose children follow their dreams and fulfill their goals at tertiary institutions.
The only wait for the intelligent girl child is education. Families are now being replaced by friends. Addiction is like politics. You either take to it like water off a duck's back or you watch people from afar sitting on the park bench like a vagrant and watch the angelic shine of the faces of children as they feed the ducks with their mothers and their nannies close at hand. Young males like that blame God. They think to themselves that they were not deserving of the world that they live in today.
Human nature will always be and is exploratory. A manifesto of sorts.
The drug addict, the male has this inner life but he has an outer world too. He is not as wise as he thinks he is. There is the suffering of the world in his heart. There is discontent too. He does not believe that life is short. That the distance from here to there is death and life. A continuum. And now we come to religion, to the church, to the vindication of the rights of the church. A journal filled with common sense written by sinners. These mulattos do not think they can change the world. How very wrong they are. How very wrong these princes are. They can be pioneers. They can be rebels.
They may even be angels but somehow along the tracks while they were sitting in their school benches these young men were lost. All I ask is when are these prodigal sons returning home, if ever. When will they choose the pilgrimage, the seat of the soul, the fact that charity begins at home, the influence of mentors, the self-help of motivational speakers? I am afraid if they do not want to be lectured to then there is unfortunately no other easy way of saving these addicts from their own addictions.
The youth who is an addict has found a way out. Escapism. The exit from his problems, the poverty in the wilderness and the wasteland he finds himself in. You see I think that they feel powerful in the brotherhood, in the gang, in the 'family mode' so to speak. They did not have mothers. They did not have mothering. They did not have fathers and if they did their fathers were absent fathers who led them down the same garden path they were at. Humiliating their wives, domestic violence, alcoholism, womanising, addiction, violent brawls, death but we must never forget that all of the people who are responsible for murder, for the violence outside and inside of taverns, the explosion of the Northern Areas gang lands are also in some ways vulnerable. More vulnerable than you and I think. It is a pollution of the mind. Nothing, no positive outcome can grow there and if that is the case then what does the future hold for the mulatto.
Light eyes. Fair skinned. Skin brown like the texture of sun. Straight hair.
What science does not tell us is that our gene pool is a primordial soup. Mankind originated from Africa but what has happened to the mulatto is this. Our ladders of chromosomes are responsible for knitting our brain cells together, and our future, our present does not determine the past. The mistakes we made. Forgiveness. Feminism.
The female writer, thinker and intellectual is no match for the male counterpart and vice versa. I feel I have to talk about feminism again because the female mulatto is exploited in South Africa. I can only talk here of my own experience. She knows not of any other life. Sex for her makes her the alpha female amongst her clique. Her group of friends. It makes her popular but far too late she realizes she has become popular for all the wrong reasons. She is 'easy'. She is already lost once she has walked across the threshold been folded into the arms of an older male figure, a father figure or a fumbling boy and lost her virginity. As soon as she falls pregnant the boy or man denies that he is the father and what is she left with but shame but now she has something to love. Now she has a family, intimate relations with a new-born. She is now a mother and nobody can take that away from her.
For the Coloured/mulatto girl, our flower, our dark child, she uses her sexuality as a prop. She thinks to herself in the face of the struggles she endured as a girl child, a young adult, an adolescent in high school that now all her desires will come true with the guy of her dreams but of course that is not the case. Many girls who find themselves in this situation go on to have a string of dead-end relationships in which sometimes children are born from different fathers. You might think to yourself these young men and women just cannot seem to help themselves. Between the young woman and her mother there is often animosity and the origins of jealousy.
So now I turn to history. I turn to the falling of the Berlin wall. I turn to the holocaust. What does that have to do with a marijuana smoking youth, with his second child on the way with a different mother you may ask? It has everything to do with emancipation.
Oppression in the worst possible way when you have to have an unregistered gun or access to one. Women are emotional creatures. Men are violent by nature. Throughout history the mulatto was a slave.
Throughout modern life the mulatto is still a slave even though she is educated. Even if she went to university. Even if she attends church and takes Holy Communion. She is a slave because there has never been one woman amongst her lot that has been a philosopher. There are teachers, yes. There are mentors, yes. There are church women, yes.
But they are also slaves. If the mulatto has no White equal then she is still a slave with the mentality with a slave.
The men in the brotherhood of the gang almost have a kind of religious life. There is the initiation where they have to prove themselves. Of course, it will mark a turning point in a young man's life if he is accepted into a gang. For the young men of the Northern Areas to be a gangster is the only way of life that they know. I do not know if that is sad. I know what it is to suffer but I cannot imagine their suffering. I have suffered from clinical depression but I cannot imagine what their home life, their family life must be about. I often wonder how they think always trigger happy and this perplexes me because we do not have to live in a world like this.
So, researchers must study the phenomena that exists not only in the sub-economic areas and suburbs of the marginalized and disadvantaged mulatto. The youth live in an oppressed state of mind, state of being, and a state of flux. It is essential to see, to discuss, to debate why this is still dominating after centuries, after generations, after the referendum, the Rainbow Nation and the African Renaissance until we become experts at exposure. Who are the victims here? The native who was taught English in a mission school. The Black girl who was raped by her slave owner. Exposing the invisible chains, the walls of punishment we must begin to see it with insight.
South African gang film Four Corners
We are being erased into the background as if we are extras on a film set. We must begin to communicate the threads of the entire rape of a near wasted generation. Wasted by tik and marijuana. If they are not wise (where do they get the wisdom from), if they do not have the courage to pray and to change the circumstances that they are living in (if they were not taught those values) what will happen to the mulatto a century from now?
Coloured street gangs do believe in cultural unity. They call the gang a brotherhood. They call the brotherhood a family. Blood is thicker than water. These are dangerous life studies. There is a life science but little literature on what the promulgation of the Group Areas Act, the history of apartheid and post-apartheid South Africa has had on stories, on investment in, on the self-discovery of the mulatto. He is not White. He is not Black. It is too late to develop positive Coloured youth because they are so far removed from the fabric that makes up the modern world, and that marks them with the psychological framework of the experiment of a pilgrim because in a way we are all pilgrims. We are all searching for something that will intoxicate us with life.
We want to see all living things, all animals with their own intuition and sensibility. Not crime or criminal tendencies. Not addictions.
Addictions to sex, pornography, drugs and alcoholism. The girls are sex machines bringing children into the world when they are hardly equipped to deal with family life or raising children with echoes of values and norms. Belief systems.
Not only do they exhibit psychopathic tendencies, but they also display a racial tendency towards Black youth and Black women. Black people in general. It is really destruction amongst these self-saboteurs at its most basic level. The grassroots level. The only people who will survive are the middle classes. The elite. The educated. If you fit into any one of those classes then you are home free in a sense. Home is a dirty secret but it makes the gangster saintly amongst his peers. Coloured youth are on a mission to destroy themselves, their families, the people that they love, admire, worship. They are even on a mission to kill, to maim to murder. This is no ghost story.
There have always been gangs. That is simply nothing new.
Heartbreaking stories of utter abuse at the hands of adults who in retrospect had to devote themselves to family life and their children but there have also been Coloured men and woman, great thinkers, leading intellectuals who are now fostering innovative theories about families who live in poverty. Theories about sexuality. Spiritual poverty.
In the end, at some point in our lives we all experienced racism. We were all on the receiving end of it or we gave it out. If you are an educated mulatto you have got it made in a sense. You can be philanthropic in your endeavours. You can help those who cannot help themselves. If we lived in a perfect world everybody would have the same opportunities, the same choices, challenges, obstacles facing them, decisions to be made no matter what the colour of their skin was, the same education (does this mean that everyone would be educated and brilliant. Intelligent and lucky.)
Opening up the Pandora's Box of the drug addict and all you will come to witness is nothing but a skeleton fused with self-portraits of self-hatred, selfishness and ego wasting away. Looking nothing at all like their real age. Unfortunately, we live in a permissive society.
It is a society that gives us the go ahead or the permission if you will to go ahead and do anything with your life.
The world will never get sick of prettiness. Men will never get tired of it like they get tired of gender and class taking over the world or being lectured on it. Men never get tired of taking the inexperienced virgin to bed. That love-affair. I say this again. That there is an invisible press out there. An invisible propaganda. Visionaries who have and will always show us the right way. Entertainment has and will always show us the wrong way.
I do not understand the sexuality of young girls. How they promote themselves in the workplace. The relationships they have with older male figures, father figures. It is as if they draw up a sacred contract. The man has all the common sense. The girl dreams and meditates of her prince. In the end everything is outweighed, destroyed and the girl returns to her mother in the heartland of the city she found herself in months before. If there is a baby in the works, she will give birth to the baby and fall in love with the child to the extent that she will keep it, raise it. But does she have the oomph? Does she have the will and the drive to raise a child on her own or will she succumb to silence, to isolation and to rejection from her peers? Despair, hardship, loneliness?
She was not the wise one in the relationship but it will be months before she realises this. It was the man with all of his common sense who was the wise one and who knew how things in the end would naturally turn out. The mulatto girl has a disembodied frame but she will with an intensity raise her child. Her problems will become part of the child's consciousness and something usually will be deformed.
Mannerisms will be abnormal as the child grows older if there is no father figure. Etiquette will be a castle in the sky. The boy will grow up to be a rough through no fault of his own. It once again depends on the mothering, on the family structure. If there is a close-knit family structure. A nuclear family or a blended family of half-brothers and half-sisters and a stepfamily perhaps the child will be saved. Perhaps.
After the uprising of the riots in the Northern Areas where shops were looted and badly damaged. When people lost their lives, family members, businesses nobody was discriminated against in the Coloured sub-economic areas. Was there a Third Force involved as people would like us to be inclined to be believed? Was the special branch involved? These are facts that ordinary people will never know. The Democratic Alliance has a foothold in the Eastern Cape now which is now one of the worst off provinces in South Africa. If you want to believe that violence and murder was the order of the day those days of the riots then violence and murder, looting was the order of the day. I see the territory on the fringe that is before me. The districts. The suburbs. The life and times of the elite who live behind their high walls, their electric fences, their security fences and dogs in White suburbia. It comes to me in heightened frequencies.
Violence is reality in post-apartheid South Africa but it is also surreal. It is also a hallucination in Technicolor.
Otherwise violence is an excellent metamorphosis when studied alongside individuals who committed themselves against fighting in the struggle against apartheid. I cannot give it all up to my imagination anymore. I must believe like Anne Frank that there is some good in people and some bad but that there is good in them also. There was a death, many deaths and bodies lying in the street. I cannot account for the names and the faces that have crossed over to the hereafter.
We cannot all be monks and nuns. Violence tends to disrupt the order in society, cause maladjusted behaviour, in the end what is its purpose, what meaning does it give life?
In this world, like I have said before we cannot all be monks and nuns but we can write. We can write poetry about the horrors of life, how terrifying it still is to live in a racist post-apartheid South Africa. If we write we can diminish and erase somewhat of the melody and the blankness of the ultra-violence of the minor earth and the major sky. We will never forget about burying the bodies of the men and women who lost their lives in the riots like we can never forget the struggle. The camps in Tanzania. Conversations and moods are spiritual and bipolar in a sense when people talk about old-fashioned days. We are haunted by those days. We want to relive them because for us there was some vitality at flying solo before marrying, before the school lessons and homework of children, the milk of human kindness and tenderness.
Now I am reminded of Leo Tolstoy finding the kingdom of God within himself, writing his letters to Ghandi, writing his confessions and finally finding peace within himself. I am also reminded of Hemingway, the writer driving ambulances during the war. River Phoenix, the actor stumbling out of a club in the early hours of the morning, blinded by alcohol, his veins pumped full of barbiturates. He later died of a drug overdose. F. Scot Fitzgerald's Jay Gatsby drinking bourbon.
Virginia Woolf's waves, Lily Briscoe, and Mrs Ramsay. You may ask yourself what does Barbra Streisand, Robert Redford, Venus and Serena Williams, T.S. Eliot, Ezra Pound, Jean Rhys, Ford Maddox Ford have to do with gangs and gangsters. Ganglands and guns going off in the middle of the night. They make me forget. They make me forget about the children I will never have, that I have not picked up a racket in over ten summers.
They remind me that there is truth and beauty and in the final analysis that there will always be room for psychoanalysis in the world.
The young Northern Areas survivor of the aftermath of the forced removals
The first scene represents a family is sitting around a table, early morning that has the remnants of a breakfast meal on it. It is slim pickings, a simple meal of bread and coffee, hot porridge. The mother and the daughters are clearing the table while the young men sit around the table. The father smokes a cigarette. The men are all sitting in their socks. Their shoes are lined up at the door ready to be shined. Then the mother irons the father's shirt. Everyone is acting as if it just an ordinary day but the world has changed. There has been no talk of community and neighbourly love for months now.
Instead, it has be substituted by threads of evil, pockets filled with them. In the background, I can hear voices, shouts getting louder and louder, angrier, more and more fearful of attack, the foreshadowing of terror. I have never taken the time to believe in you, but I'm going to pray because I'm still here. We're just ordinary people after all.
I can hear the sound of breaking things, a police whistle. So, we waited in our house, thinking, imagining of what was happening in the streets, not thinking, yet lost in our thoughts, slowly going out of my mind. Some people packed up their belongings crying, wailing, and screaming. I do not think I will ever forget that, the beauty in that aggression, that terrifying brutality, that terror. I sat watching it all unfold in front of my eyes in disbelief. I felt pensive. It fluttered deep down before it perched in my mind's eye. People are surrendering to the blindfolded reality of it all, the finality, and the awful, awful decision that they are cut up about leaving their homes. South End looks like a ghost town at the end of the day. People are selling out charmed by the new lifestyle, new plots in the desolate Northern Areas. The words are there, with a racist forked-tongue they are waiting for freedom, they are waiting for us with bulldozers.
Just this morning we breakfasted on warm porridge. Now our table and chairs are fastened to a cart. I collected myself. How do you deal with the unlikely dilemma of racism? It does not come with a star that says you are a Jew, the swastika. I did not know how the day would unfold. Danfred made a joke out of it. 'They'll be coming down the street when they come.' My mother's face fell. There was no expression on my father's face as he buttoned his shirt and tucked his white vest in. May was cold. Jennifer, the youngest, the baby of the family, our mother's favourite washed the dishes. Her hair fell across her face. I just felt emotionally uninvolved from the removals, composed yet as if it was happening to a division of a tribe in another country. Pack of wolves, they are all barbarians with hate in their hearts. We will triumph. We will triumph in the end. One day we will have a black president. One day the majority will rule.
Ferdinand cleared his throat as he walked past me, his eyes bloodshot from drinking sweet wine with his friends late into the night. Ari (short for Aristotle) smoked a cigarette outside. 'Hey, Romeo, be the lookout. Warn me if mummy or daddy comes out.' I just nodded my head like a robot. He did not care. He didn't care about the 'forced removals', 'the Northern Areas', about not looking back in anger and getting married was the last thing on his mind. He did not have a teacher's certificate. All he cared about was girls. God, my brother was mad about them. He would go on and on about his latest. 'She has such soft, angelic skin with a tan. She looked like an angel, had angel's eyes. You could tell she had never been with a man before because it took some coaching for her to hold my hand. She tells me her brothers' thinks I am a daft punk-act. Saint, or disciple, sinner or winner. Obedience to the cause, or do we submit to this rehearsal of death.
She should not be seen with me. She calls me a gentle man; I think it's because I'm so gentle with her.' The day the world as we knew it ended. The day I knew I had to get my act together I smelled it, the concrete, the steam coming off asphalt, the energy in the air was complex, complicated, a circle of the badly drawn something to talk about meeting foot traffic, thoughts, seeing the red substance of anger. Brick by brick, complete houses being smashed to tiny bits of rubble, windows shattering into pieces, glints, and I wondered to myself how the sky would look that night. Enough, I said, enough but it did not come to an abrupt end. A process (nothing intellectual about it, just the dynamo of pure unstoppable evil) progressed, that brainwashed people. It was a titanic movement, apartheid that seduced the people in power, their ego, their vanity and consciousness and let go of our ancestors, surrendered them.