According to some international press and media sources, China is investing significant sums of money in some dual-use technologies – i.e. both civilian and military at the same time – which would have powerful innovative effects, both in the commercial and in the defence sectors.
This is the result -i.e. the sequence of investment – of President Xi Jinping's now old request of 2017for the complete renewal of the People's Liberation Army by the end of 2035 – a project that implies the one of China's new global military relevance within 2045.
With a view to following Xi Jinping's policy line, China has recently increased military spending by 7.5% and funding for "dual" research by as much as 13.4%.
According to the US intelligence, the sectors recording the largest investments would be those of Artificial Intelligence, the enhancement of the e-computation tools and their technical substrates and finally quantum technologies and hypersonic weapons.
There are also research projects on new materials and alternative energies.
With specific reference to military Artificial Intelligence, China is currently studying the new techniques for the Recognition and Selection of Targets, as well as the deployment of mines and, in particular, the automated land and sea attacks.
For all major States, contemporary war is labour saving and soldier saving, as it happens with the same advanced technologies when they are used in a civilian context.
Fully automated vehicles, drones and submarines, equipped with a semi-autonomous analysis of the area of operations, so as to relieve the Chief of Staff from simply tactical issues – which are often not completely matched with updated data -and to concentrate instead on strategic equilibria.
With the arrival of new hybrid operations for everybody, the Chinese battlespace with simultaneous and multiple dimensions will have a dimension and a series of cascade effects that will make necessary an AI and quantum computerized analysis at a high level of complexity and simultaneity.
This also applies to the civilian political and strategic decision-making process, which is ever less distinguishable from the military one and, above all, it is a management capable of avoiding those paradoxes of choice that have characterized all contemporary political regimes.
In other words, the incorrect or excessive evaluation of a particular detail, the wrong analysis of timing, as well as the study – this time accurate and correct – of the effects and their specific areas. All man-made errors, often inevitable for the human mind, that AI and quantum computing can avoid.
Whoever has worked on these platforms, even as an international manager, can understand what I mean.
As for the Made in China 2025 project, which aims at freeing China from its ancillary role as economy hosting all the mature industries of the world, China will deal mainly with advanced semiconductors.
As early as September 2014, again upon President Xi Jinping's recommendation, the China Integrated Circuit Industry Investment Fund was set up. This entails that, if all goes well, China will very soon have semiconductors for IA machines and for advanced systems. For the civilian economy or for military systems, assuming that a difference can be made between them.
In China's planning, quantum mechanics applications have their origins in the Five-Year Plan which began in 2016.
Since then a megaproject has been in place, which is expected to lead to IA quantum communication and to the operational quantum computer by the end of 2030.
In a brief essay on its corporate blog which, by chance, disappeared shortly after its publication, Google has finally declared it has reached global quantum supremacy, with a new supercomputer capable of solving, in three minutes, a computational problem that the most powerful computer currently available would solve in 10,000 years.
However, what is the point for the geoeconomic and, above all, technological struggle between China and the United States, the two real future competitors for world leadership? In fact, this is the real competition between the two countries.
The competition on quantum and AI technologies is needed to be the strongest in the world in the field of frontier innovation and technology, i.e. of all the devices for coordinating and interconnecting data that will revolutionise, in particular, all future economic, political and administrative processes, including financial ones.
The processes of a new finance, which currently can only be glimpsed on the horizon.
Now it is still the last phase of "hard" and information technology and later there will be the further phase of frontier innovation and technology at biological and biochemical levels.
With innovations that will make the current quantum and IA revolution pale into insignificance, but will be based precisely on these technologies.
As mentioned above, a quantum computer is above all a hardware platform for applying and creating quantum deep learning algorithms, i.e. the algorithms that currently contain mainly Artificial Intelligence techniques.
Hence of complete simulation – just to use the mentality of the military Chiefs of Staff.
The quantum computer initially exploits Richard Feynman's idea, i.e. the exploitation of the properties of the particle wave or, rather, of the subatomic particle when it presents itself as a wave.
Therefore, the quantum computer can break the limits imposed by Moore's Law, which provides for the doubling of transistors in circuits every 18 months.
Hence, in the quantum computer, there is no longer an objective and physical limit to the miniaturization of circuits.
Just think of the ability – for those who can develop such technologies – to defend themselves from computer attacks, and to develop complex and verifiable scenarios without social experiments in corpore vili.
An unimaginable theoretical and political revolution.
The only exception to the Sino-American duopoly is Israel, with a consortium of companies and State agencies studying civilian and military AI and quantum security.
Furthermore, in addition to quantum computing, Israel has a specific interest in quantum communication, but also in advanced encryption and in the evolution of high specificity sensors.
Other geopolitical needs, other technological choices.
Nevertheless China, too, is developing quantum radars, hyper-specific sensors, new tactical and strategic AI and quantum imaging, new meteorology and automated navigation techniques.
Once again we can guess China's interest in dual-use quantum technologies, especially in view of China's already announced economic shift towards Blue Economy and environmental protection.
China has already launched Mucius, a quantum satellite put into orbit by a "Long March" missile in August 2016 – a satellite that allowed a quantum phone call between the space and three Chinese ground stations.
As early as 2012, again upon President Xi Jinping's order, the Quantum Experiments of Space Scale (QUESS) was funded.
In China the QKD quantum cryptography is already a reality and is physically inviolable.
Financial analysts maintain that the next market for quantum computing – which will not have, if not in an unspecified future, a very large retail market as happened for laptops – will be worth as much as the current market for "classic" supercomputers, namely 50 billion US dollars while, as early as this year, the market for the traditional products of advanced but not quantum commercial computing will be worth 1.2 trillion US dollars.
The first quantum computer suitable for the public will probably appear in 2030 but, in the early twenties of the third millennium, the market for computing machines with a first level quantum technology will be worth over 500 million a year.
Nowadays we have to do with government quantum computers of 19 or 20 qubits.
Someone even announced quantum computers of 50, 72 and 128 qubits, but there is no evidence of that.
It should be recalled that, unlike the traditional bit, the qubit can be worth both "one" and "zero". It is a mathematical vector that, in theory, can take up all the information available in the world.
Nevertheless, on a strictly military level, quantum computing is currently essential for developing and reaching global hegemony.
The aforementioned Quantum Key Distribution (QKD) is capable of making all strategic communications safe, while the quantum cryptoanalysis and the creation of "covert" languages is an intrinsically offensive practice.
There will no longer be agents capable of opening a safe when an Ambassador is absent – just the launch of a quantum frequency from an AI computer will be enough.
In the future, the war will be totally offensive in all its phases and it will serve to defeat, destroy and integrate – into its value chain – dangerous technologies and the most important data of the enemy.
Probably the population will not even realize it, as happened at the beginning of the October Revolution when – as Curzio Malaparte told us – the Bolsheviks conquered the basics of power (energy, light, phones, etc.) while the people, unaware, were dining out or went to the movies.
In principle, the QKD works by sending photons superimposed on the normal encryption.
According to Heisenberg's principle, whereby we cannot determine all subatomic quantities simultaneously, the QKD photon states are indeterminate until they have been isolated and measured.
Again with the QKD, this enables us – inter alia – to understand whether the message has been intercepted and by whom.
As stated in the State Council Document of July 2017, for China Artificial Intelligence is the new primary goal of international competition and "the new engine of economic development".
Moreover, AI offers "new opportunities for social construction" to China.
For the civilian sector, IA and quantum supercomputers will be useful for social planning, especially in a phase of economic maturity and of necessary accurate distribution of resources and potentials. In this regard, just think of the pension and health systems.
In a key sector for future development, namely the military one, China is thinking about the use of AI and quantum computing to fully automate the battlefield, but above all to combine it with the accurate calculation of resources, with their protection from cyberattacks and with the integration between civilian economy and military operations.
Therefore, AI and quantum computing are mainly used "to integrate China's economic, social and national defence".
In the planned time schedule, China will develop its own quantum and AI strategy in three phases. Firstly, to synchronize the current general technology and the widespread AI application – at world standard level – by the end of 2020.
Secondly, to create a new generation of Artificial Intelligence theory and technology.
This means possible Chinese hegemony in Big Data Intelligence, Cross-Media Intelligence, Group Intelligence, Hybrid Enhanced Intelligence and Autonomous Intelligent Systems.
Cross-media intelligence means content analysis, media monitoring and creation of semantic online search keys.
Group Intelligence means consensus decision-making, halfway between socio-biology, political science and crowdsourcing IT applications.
Hybrid Intelligence is the effective synthesis between man and machine. The Autonomous Intelligent Systems are systems that learn from reality and process it according to enhanced models, deriving from human learning, multiplied by many times.
Hence, again according to the State Council of the People's Republic of China, it is necessary to develop – at first – a system of Big Data, and later an IT theory of cross-media perception, as well as a theory of hybrid artificial intelligence, with an improvement and refinement of the man-computer symbiosis, but also with new models for the evolution of knowledge and of the hybrid enhanced intelligent learning, i.e. the man-machine one.
Thirdly, to soon develop – for the Chinese leadership – a new heuristic and quantum theory of intelligent computing.
And again, IA Group Intelligence.
Hence Advanced Learning, with the study of statistical learning innovative technologies.
All this is a technological and political model that must be interpreted according to the current doctrines of the Chinese PLA.
For China, the international military and economic forces have strongly accelerated their differentiation, especially between advanced and developing countries.
Strategic competition is on the rise.
However, the Chinese Armed Forces' policy line – also at technological level – can be summarized as follows: a) to resist and stop – at first and on the borders – any external aggression; b) to reject any "areas of influence" logic, which would close China into a peripheral area; c) to adhere to a military logic of territorial defence and of protection of the primary interests abroad, but always jointly with other States; d) to fully mechanize/automate the Armed Forces in 2020; e) to maintain a state of average efficiency and of very high speed of response; f) to pursue anti-terrorism and the defence of China's foreign interests; g) to establish a new relationship between politics and the defence system, not based on mere dependence.
In the doctrinal history of the Chinese Armed Forces, everything began – in recent times – with the 2015 document on the "Chinese Military Strategy".
In particular, enhancement of the role played by the Technical-Scientific Committee of the Central Military Commission, as well as careful protection from the danger of the "technological and strategic surprise effect", and a radical innovation of the doctrines for the use of the Armed Forces.
This will be the new level of strategic and political thinking of the Chinese Armed Forces.
However, with a view to being crystal clear on the matter, what is a quantum computer?
It is a computing machine using the laws of quantum mechanics to solve problems and make calculations.
The traditional computers are based on the binary digit (bit), i.e. the minimum amount – between 0 and 1 – of binary information needed to discern between two equally probable events.
The quantum computer uses the qubit, an overlapping of quantum states that can be 0 and 1 at the same time and in several layers.
For example, if I look for the word "China" in a text, the traditional computer proceeds at maximum speed, but line by line, to search for that word.
Conversely, the quantum computer has all the pages available at the same time. This is exactly what the aforementioned qubit is from the operational viewpoint.
Lithuania: To serve or not to serve in the army
It is well known that in 2015 Lithuanian authorities reintroduced compulsory military service due to the potential threat caused by the Russian Federation.
It should be said, that young Lithuanians do not appreciate the idea and try to avoid the service in every possible way. They even are not afraid of penalties and imprisonment.
In order to force them to serve Lithuanian authorities are inventing new "tools" to make the process of avoidance the conscription harder.
From the beginning of 2015 all Lithuanian men aged 19-26 had to perform compulsory military service in the Lithuanian Armed Forces for a period of 9 months if fate decided.
The matter is the way of choosing the men who will serve is more than surprising. They say that 2 percent of men are randomly selected to complete vacancies in the army within the year. The lists of military conscripts then are published on the Internet. But "randomly" could also mean "nobody knows how they are selected."
At the beginning of this year authorities lowered the age range at which men are called up for mandatory military service to 18-23 years and banned volunteer soldiers from holding seats in the parliament and municipal councils.
Defence Minister Raimundas Karoblis said that the aim of lowering the conscription age is to ensure that conscripts' military service causes the minimum possible disruption to their civilian lives.
The matter is the way of choosing the men who will serve is more than surprising. They say that 2 percent of men are randomly selected to complete vacancies in the army within the year. The lists of military conscripts then are published on the Internet. But "randomly" could also mean "nobody knows how they are selected."
In reality the Ministry of National Defence can't meet its recruitment goals.
The system includes Lithuanians living abroad who are forced to leave their home and come back for the service. The government of Lithuania doesn't care that men living overseas have their personal life, own career paths and financial responsibilities.
The military authorities are trying to take immigrants for service on purpose, not caring about their personal problems, including health issues and financial commitments.
They also discriminate homosexual men by giving them specific tests to find out how gay they are, including a talk with the psychiatrist. Because homosexuality is still a sickness in Lithuania, with existing laws against gay people.
A lot of Lithuania men who decided not to come back for the service, are often wanted by police, and in some circumstances might end up in prison for up to 3 years.
Thus, in December 2019, 24-year-old Marius H. from Kedainiai was prosecuted for not visiting the military registration and enlistment office, but did not change his position. He said later that he would not go to serve, it is not in his interests. He has a well-paid job in Belgium and is not going to change his way of life. So he paid penalty (800 euros) and left for Belgium. And he is not the only one in the country who has made such choice.
Evidently, it is impossible to solve the problem in that way, using methods of coercion and punishment. Unfortunately, reintroducing of compulsory military service was the decision of the authorities, finding the ways to avoid it is the choice of youth. If the government doesn't respect the citizens, the citizens have a right not to obey their decisions.
Assessing India's Enhanced Air Defence Shield with reference to Pakistan's MIRV Capabilities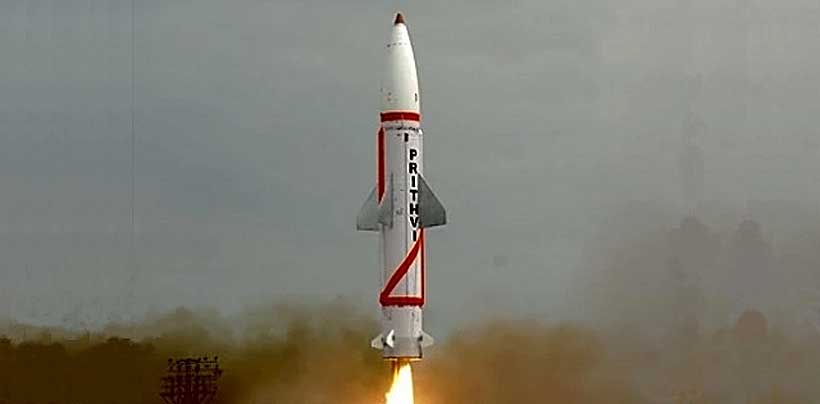 Since the last few years, India has been continuously carrying out an extensive military modernization program aimed at enhancing its counterforce capabilities vis-à-vis Pakistan. Under this notion, one of its most important components is the enhancement of its air defence capabilities aimed at providing an extensive multi-layered air defence shield. This has been done partly by combining indigenously developed systems with some of the world's most expensive and advanced Missile Defence Systems which India has been purchasing over the last few years. Pakistan, due to its economic constraints cannot compete with India on a tit for tat basis. Hence, to address such a threat, Pakistan, for the time being, seems to be enhancing its indigenously developed Multiple Independent Reentry Vehicle (MIRV) capabilities. These, in turn, are aimed at accurately penetrating the Indian Air Defense network that is being currently developed, by swarming it with a plethora of smarter and precision-based warheads to devastating effect.
At present, India possesses and intends to acquire various air defence systems in its missile defence inventory. These include indigenously developed ballistic missile defence systems such as the Prithvi Air Defence (PAD) missiles, the Advanced Air Defence (AAD) Ashwin missiles and the Barak-8 missile defence system which has been jointly developed with Israel. Furthermore, to enhance its future capabilities, India had also signed an agreement with Russia for the acquisition of the S-400 anti-missile system back in October 2018, the delivery of which is expected in October this year. In another significant development, India reportedly intends to acquire the 'National Advanced Surface to Air Missile System-II (NASAMS-II), a medium-range missile system from the US. India's acquisition of advanced missile defence systems such as these would thus likely destabilize the pre-existing deterrence framework in South Asia, as it would embolden India to consider countering Pakistan's existing range of warhead delivery systems such as its ballistic missiles, cruise missiles, fighter jets, and unmanned aerial vehicles with greater impunity.
In order to restore stability, Pakistan has two choices; firstly, in the long term, to purchase similar, albeit expensive missile defence systems from the international market – such as from Russia and/or China. A tall prospect which already seems difficult given the country's economic difficulties. Secondly, to counter the Indian advanced air defence shield while staying within its existing doctrinal posture, it seems that the induction of an increased number of MIRV capable ballistic missiles appears as the more plausible and immediate solution.
It is worth mentioning here that Pakistan's Ababeel Ballistic Missile, a medium-range ballistic missile, which it had tested in January 2017, is believed to have introduced MIRV technology into Pakistan's nuclear arsenal with its reported range of 2200 kilometers. Pakistan's rationale for achieving this milestone is widely believed to be inclined towards neutralizing a broad range of the expected outcomes of India's military modernization drive, including the threat from its enhanced missile defence systems. This is further evident in the statements of Pakistan Military Officials, in which they have clearly stated that the development of the Ababeel weapon system is aimed at ensuring the survivability of Pakistan's ballistic missiles 'keeping in view the growing regional Ballistic Missile Defence (BMD) environment', hence further reinforcing nuclear deterrence.
In the same vein, there is widespread speculation that Pakistan's recently tested short-range ballistic missile Ghaznavi – with its operational range of 290 kilometers – is also MIRV capable. No matter the validity of such speculation, there is still an ongoing debate questioning whether Pakistan needs to have such a short-range MIRV capable ballistic missile. Particularly keeping in view India's counterforce designs which highlight an apparent shift towards nuclear counterforce and the notions of 'splendid first strike' and surgical strikes against Pakistan. A strategy that is, in turn, directly linked to its Air Defence modernization plans because such counterforce temptations might provoke Pakistani retaliation. Hence, the road-mobile Ghaznavi missile, based on its accuracy and, shorter range and flight times could thus be a prospective platform for being a MIRV capable delivery system aimed at penetrating the Indian Air Defence shield. Hence, for Pakistan, the provision of such short-range MIRV capable ballistic missiles like Ghaznavi would likely serve as a key deterrent against the Indian advanced air defence shield.
At the present, Pakistan by being overtly threatened by the ruling BJP government still holds a principled stance in working towards bringing about lost peace and stability in the South Asian region. However, Indian aspirations as evident in its ambitious military modernization plans have compelled Pakistan to take all possible measures to assure its security and preserve its sovereignty. As such Pakistan may need to expand its strategy of playing its cards close to its chest particularly when taking into account India's ongoing expansion of its Air Defence shield. In this regard, the induction and perhaps even testing of a medium to short-range MIRV capable missile seems to be the only way out, at least for the time being.
The Baltic States are Target Number One
From 1 January 2020 security of the Baltic airspace is ensured by three Command and Reporting Centers designed for specific national airspace surveillance, based in Tallinn, Lielvarde, and Karmėlava, instead of one joint unit.

It is said that they enhance capabilities of NATO's Integrated Air and Missile Defense System, regional interoperability, and reliability of protection of the Alliance airspace. On December 19 the new BALTNET (Baltic Air Surveillance Network and Control System) configuration and three national centers in Lithuania, Latvia and Estonia were inaugurated at a ceremony in Kaunas.

According to the Baltic States' officials, three countries have moved from the defensive to offensive measures in order to provide their security and defence.
The more so, the three Baltic Allies have launched the cooperative project of the BALTNET future configuration to further enhance their contribution to NATO's collective defence effort and architecture.

Major Pärn, senior Estonian officer at Baltic Control and Reporting Centre (CRC) Karmelava said that "a before-and-after comparison clearly shows that we are moving from peacetime construct with just one joint Baltic CRC to the crisis-and-conflict-capable architecture of three Control and Reporting Points, including back-up capabilities and clear responsibilities increasing support for Allies and enhancing our national skills in special fields such as surface-based air defense, integration of ground forces and intelligence."

This sounds like a very proud statement to any who is not accustomed with the situation.
At the moment, the Armed Forces of the three states are deprived of modern air defense systems. The main reason for this, as Estonian Defence Minister Jüri Luik admitted, is the lack of money.

For example, the Estonian Armed Forces continue to use the Soviet 23mm Anti-aircraft Cannon ZU-23-2, despite the supply of other systems. Thus, Tallinn has been purchasing the Mistral portable air defense missile systems. In 2018, the Ministry of Defence of Estonia signed a contract with the European company MBDA for the supply of these systems. However, the Mistral missiles have a range of 6km only.

In the coming years, Lithuania will remain the only owner of medium-range air defense systems in the region. In 2017, the Lithuanian Air Force was set to procure NASAMS mid-range air defense systems for $ 122.4 million from Norway. The missile is able to hit targets at the range of up to 40 km and at the height of up to 14 km. However, NASAMS, developed in the early 1990s, can't be named the most advanced air defense system.

Washington provides financial assistance to the Baltic States but the amount of funds allocated for the needs of air defense is small: as Luik previously reported, in 2020 Estonia, Lithuania and Latvia will receive a total of $ 50 million from the Pentagon's budget.
Generally speaking, the United States is interested in developing the air defense system of the Baltic region, but is not ready to invest substantial financial resources in it. For this reason, Russia doesn't consider BALTNET to be a serious threat.

At the same time, Russia is not going to tolerate the Baltic States' attempts to enhance NATO military strength near its borders. Moscow considers these measures as demonstration of readiness to attack. Its reaction is unpredictable and the Baltic States with its population have become real targets. BALTNET will help to detect a threat, but will not defend. On the other hand, three Baltic States are the NATO's shield, aimed to stop Russia in case of war. On the other hand, NATO, probably, could stop Russia in the Baltic States, but these countries in this case will cease to exist. They will be Target Number One with no chances.