WEF Launches Global New Mobility Coalition to cut Transport Emissions by 95%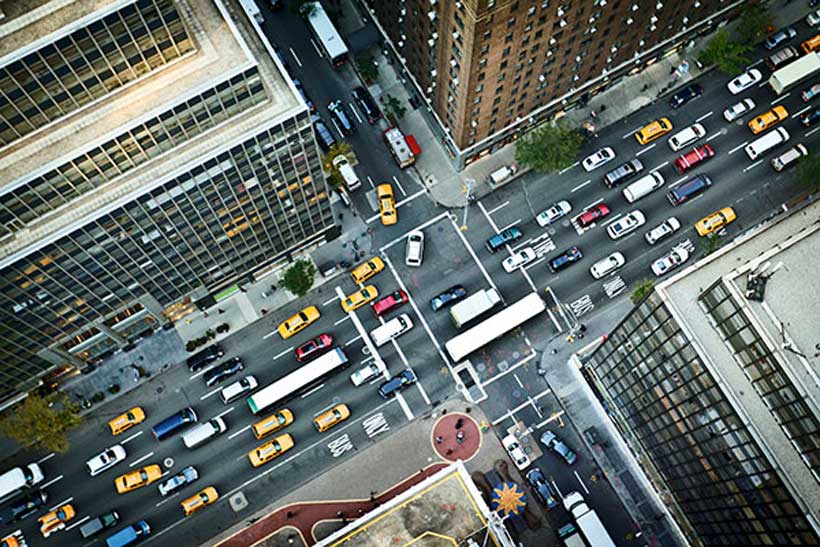 The World Economic Forum today launches its Global New Mobility Coalition (GNMC), a group of over 100 experts, NGOs and companies, to reduce passenger mobility emissions by 95% through combining shared, electric and autonomous mobility. By developing and testing new and unique policies with different cities, the GNMC will promote shared, electric and autonomous mobility (SEAM) to create a cleaner city and reduce carbon emissions by 95%. These technologies can also improve mobility efficiency by 70% while decreasing commuting costs by 40%.
Currently, emissions from mobility will double by 2050. Passenger vehicles account for 70% of these mobility GHG emissions and cause over 50% of city air pollution. With a SEAM mobility approach, we could reduce the number of vehicles from the projected 2.1 billion to 0.5 billion and carbon emissions from 4,600 to less than 700 megatons by 2050 while also accounting for increasing mobility demand.
"The average car owner produces more emissions by driving than any other activity. Now that new mobility solutions such as dock-less bikes and ride-hailing have abrupted commuting norms, private and public sector leaders have to rethink space and costs of mobility options," said Maya Ben Dror, Lead, Autonomous and Urban Mobility, World Economic Forum. "Mobility systems that are truly sustainable and centred around people can and should be adopted."
While clean and accessible transportation is possible with new mobility technologies, coordinated public-private action to achieve these goals is lagging behind. Concerted effort from business, policy-makers and citizens is needed to prevent irreversible climate warming; these efforts must begin quickly. The GNMC will work with local policymakers in Europe, China and the United States to develop unique policy frameworks that support this action.
Policies considered are those that cater for the long-term vision of sustainable mobility:
Prioritised lanes and zones for SEAM, including charging infrastructure and dedicated curb-space
For example, by investing in faster charging for high-occupancy shared rides, as opposed to single occupancy ones, not only will the electrification of fleets be encouraged but there will also be higher utilisation of every vehicle on the road. This will lead to less street space needed to move the same amount of people at equal or higher speeds. It takes 13 lanes to move 10,000 people in cars and just 2 to move them in high occupancy modes.
Road-pricing and parking fares as cost levers for internalising true mobility costs
The list of negative societal, environmental and economic impacts external to current costs of mobility is long; road pricing and parking fares can help account for these externalities. In London, for example, private gasoline-powered vehicles cause 80% of health-threatening particulate matter. Not surprisingly, London introduced congestion pricing that incentivize vehicles emitting less than 75g/km of CO2 or have nine seats. GNMC advocates for lower road, toll and zone pricing for shared-rides which are electric and where possible – automated.
Accelerating the use of SEAM technologies can also free up to 90% of street and parking space for other uses while ensuring mobility access for all. With this new space, citizens and policy-makers can reinvent uses that put people and cities, not cars, back to the centre.
The GNMC's steering committee includes representatives from: Uber, Via, BMW, Ford, ClimateWorks, Energy Foundation China, RMI, China EV100, Technion, and UC Davis. Among its partner coalitions are C40, Polis Network, ITF, and AutoEV100.
Quotes from coalition members:
"The potential for shared, electric and autonomous technologies to provide affordable and sustainable mobility is tremendous. Achieving this potential will require collaboration between civil society, government, researchers and business to implement key enabling policies and the GNMC is a key venue for this collaboration," says Anthony Eggert, Director, ClimateWorks.
"Transportation emissions are a major cause of climate change and inequality. To solve these problems, we need smart policies and effective partnerships between cities and the private sector to deliver sustainable, equitable, and efficient transportation solutions for all. Via looks forward to continuing to address transportation emissions as an inaugural member of the Global New Mobility Coalition," says Andrei Greenawalt, Head of Policy, Via.
"The automobile industry has entered an unprecedented period of profound transformation and will develop rapidly towards the direction of electrified, intelligent, connected, shared and green mobility, which will give birth to a completely different travel ecology. Under this background, the Global New Mobility Coalition is launched here today. As China's industry think tank promoting the development of EV industry and sustainable transportation, I am very happy to announce that China EV100 will cooperate with GNMC to promote public-private cooperation, turn knowledge into action, and strive for better future mobility and sustainable transportation," says Zhang Yongwei, Secretary General of China EV100.
"The global community is demanding better from our transportation systems: we want them to be more efficient, more equitable, and less polluting. Getting this right will take a diverse array of research, business, and policy voices. The GNMC is an exciting opportunity for these communities to work together and harness the "3 Revolutions" of shared, automated, and electric mobility for a better future," says Austin Brown, UC Davis.
"We're proud to be a founding member of the GNMC. The majority of Uber's portfolio is invested in sharing, electric and automated mobility technologies. It's critical that we continue to work in collaboration with other experts – in the public and private sectors – to scale these innovations in ways that can address the long-standing environmental challenges cities face from transportation," says Adam Gromis, Head of Sustainability Policy, Uber.
"I'm delighted to be a member of the Global New Mobility Coalition on behalf of the Transportation Sustainability Research Center at the University of California, Berkeley. It's a critical time for the public and private sectors, as well as academia and non-governmental organizations, to partner in developing strategies and understanding to maximize the social and environmental benefits of integrated shared, electric (zero-emission), and automated mobility (SEAM)," says Professor Susan Shaheen, Co-Director of the Transportation Sustainability Research Center, University of California, Berkeley, USA.
About the Global New Mobility Coalition
The Global New Mobility Coalition (GNMC) is a group of over 100 institutions brought together by the World Economic Forum to support a reduction in carbon emissions, increased transport efficiency and other goals through increased use of shared, electric and autonomous mobility technology. The GNMC aims to reduce CO2 emissions by 95%, improve transport efficiency by 70% and reduce mobility costs by 40% with its policy frameworks.
Currently, the GNMC has over 100 members from North America, Europe and Asia, of which 40% are from the private sector, 35% NGOs and 25% academia.
Kenyan students learn about environmental law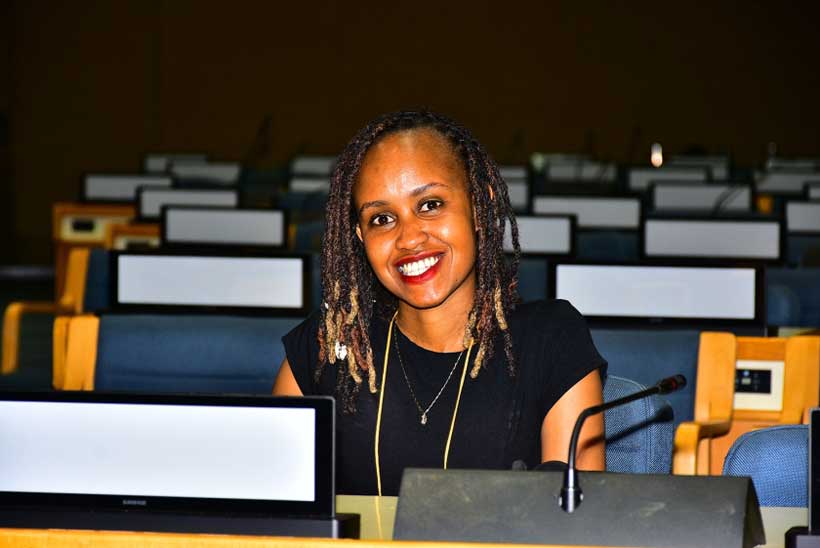 In our globalized world, environmental threats require effective responses that promote peace, justice, development and the fulfilment of environmental and human rights. This is the responsibility of everyone; and we all have the right to be involved. We are all the leadership that the planet needs.
That's what a group of Kenyan students were told in October 2019 when they participated in a lecture at the UN Environment Programme (UNEP) on international environmental law.
UNEP promotes a shared sense of environmental governance by building the capacity of those who affect the rules, policies and institutions that shape how humans interact with the environment.
UNEP experts spoke to students on basic governance and enforcement of international environmental law. International environmental law can involve many countries, as it does with the Paris Agreement, or a few countries, such as a regional environmental treaty. Sources of international environmental law can cover varied goals, such as the Convention on Biological Diversity, or be specific to a certain issue, such as the Agreement on the Conservation of Albatrosses and Petrels. We need international environmental law because many environmental problems are transboundary, regional or global in scope, and solutions require international cooperation and the adoption of common standards.
The students and UNEP experts deliberated over the weaknesses and strengths of international environmental laws and discussed how students could get more involved in tackling the issues. Students described the lecture as very useful and said that they were challenged to think of new and different aspects of environmental law.
Topics discussed included the divergent responsibilities of various groups regarding environmental governance and biotechnology, the principle of common but differentiated responsibility, and plastic pollution and lessons from the plastic ban in Kenya.
To ensure that this learning continues outside the lecture theatre, the UNEP team shared learning resources with the students.
James Nyaro, a lecturer at the Kenyatta University, said on behalf of the institution: "You let us ask you questions… and responded to them comprehensively… and we cannot thank you enough."
What should I know about international environmental law?
When states work together to create and implement international environmental law, great things can be achieved. The ozone layer is currently on track to heal completely in our lifetime and this will save two million people each year by 2030 from skin cancer. This success is due to international environmental law through the Montreal Protocol: an environmental treaty.
As everyone has the right to be involved in environmental management, we should all have a basic understanding of the laws that govern us. Countries are individually responsible for deciding and applying international environmental laws, yet the average citizen can be far removed from the processes involved in their development and implementation. As citizens, we should influence the progression and enforcement of international environmental law to ensure that it effectively tackles the issues we face. UNEP encourages everyone to learn what international environmental laws apply to their states through InforMEA. Knowledge is the first step towards creating environmental laws that work for us.
On 23 October 2019, postgraduate students from the School of Security, Diplomacy and Peace Studies at Kenyatta University were introduced to international environmental law by UNEP experts.
Climate change: Scientists warn over impact on food security and oceans
UN climate scientists presented MEPs with new evidence on how climate change is affecting food production and oceans.
The Intergovernmental Panel on Climate Change is the United Nations body for assessing the science related to climate change. In August, it presented a report on climate change and land and in September one on the oceans and cryosphere in a changing climate. The reports are the latest scientific input for the UN climate summit COP25 to be held in Madrid in December.
The scientists behind the reports presented their findings to Parliament's environment, development and fisheries committees on Wednesday 6 November.
Food production and climate change a two-way street
Professor Jim Skea told MEPs climate change was exacerbating land degradation, such as erosion and pollution, which in turn affects infrastructure and people's livelihoods. Better land management can help tackle climate change but it must be complemented by other action, he added.
Dr Jean-François Soussana noted that the food system accounts for between a fifth and a third of all greenhouse gas emissions caused by humans. At the same time, climate change affects food security through declining crops of wheat and maize. He warned that in future the stability of our food supply would decrease further as the magnitude and frequency of extreme weather events increases.
Melting ice, rising seas
According to scientists, the rise in sea level is accelerating, mainly due to the Greenland and Antarctic ice sheets melting faster.
Professor Hans-Otto Pörtner warned that in a business as usual scenario the sea level is estimated to rise about five metres by 2300. In addition, in warming oceans marine life has access to less oxygen and nutrients, putting food security at risk for communities dependent on seafood.
Pörtner added: "To minimise the severity of the impact of climate change, every bit of warming matters, each year matters, each choice matters, and most importantly, political and societal will matters."
Trade and Development Bank, UNEP to collaborate on climate finance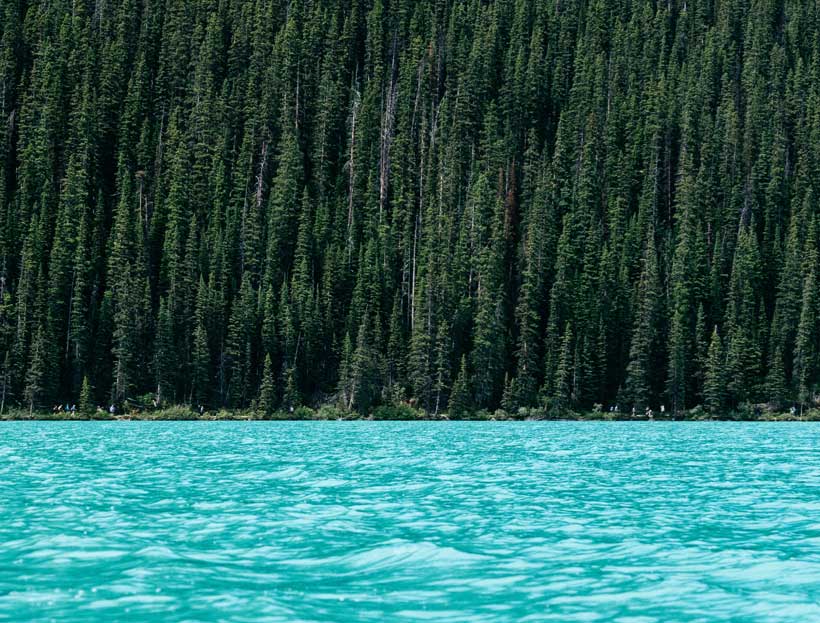 In a pledge to continue stepping-up its commitment to climate change mitigation and adaptation action, the Eastern and Southern African Trade and Development Bank (TDB) signed a Memorandum of Understanding today with the UN Environment Programme (UNEP).
The MOU effectively establishes a framework of cooperation through which the two institutions can collaborate in a number of areas critical to the global environmental agenda.
In the field of clean energy finance, TDB and UNEP will work to enhance investment opportunities for both public and private finance to support the dissemination of clean energy technologies. This will include supporting the early stage development and project finance of renewable energy projects, as well as the development of financing mechanisms to allow access to smaller-scale sustainable energy and energy-efficient appliances for household and productive use.
Additionally, the two institutions will cooperate on supporting eligible TDB Member States to access Green Climate Fund resources to enable them to adapt to the changing climate and develop along a low-emission pathway.
"As a member of the International Development Finance Club, a leading global group of development financiers advancing the Sustainable Development Goals (SDGs) and climate finance, TDB works closely with its partners to implement the 2030 SDG Agenda as well as the Paris Climate Agreement. With global partners such as UNEP, we expect to more seriously realize the international commitment to support Africa to grow and develop sustainably," said Admassu Tadesse, TDB President and Chief Executive.
Michael Awori, TDB Chief Operating Officer, added that "our commitment is evidenced by the fact that 70% of our power sector portfolio is in renewable energy. With this track record, we are the right partner with whom to co-finance and support more sustainable growth and development projects across various sectors."
"While Eastern and Southern African economic growth continues to be strong, there is great potential to harness clean energy in the region. UNEP and TDB are partnering to support wide dissemination of clean energy technologies and unlock the financial resources needed to meet the challenges of the 2030 Agenda for Sustainable Development," said Joyce Msuya, Deputy Executive Director of UNEP.