2020: Revolutions of New Platform Economies
Moving forward, the world of borderless global business managed by monstrous-hyper-metadata, mysterious-artificial-intelligence and mandatory-cyber-security intertwined with mobilized-block-chain will soon become new reality.Who will own it, control it, what will drive it or destroy what or whom. Why it's so critically important today on how and why century old businesses and institutions with global expertise and rich experiences are now extremely vulnerable. They have to morph with digitalized futurism or like a 20,000 employee strong organization they too may disappear overnight like Thomas Cooke, leaving 600,000 customers stranded at airports. As if no one had any idea in the corporate corridors …was it a just sleep-walking culture? Who is next? This is almost like coming out of the dark ages into electricity.
It's time to awaken to digital platform economies or simply wait for massive shocks.
Digital divide is now mental divide. Mental endurance and skilled citizenry are mandatory.
Smart nations with massive digitations OR not so smart nations stuck in old industrial revolution.
This is a wake-up call, adapt to future and transform rapidly or simply step aside
Revolutions on digital platform economies geared up, get ready for sudden surprises
The United Nations 74th Sessions of General Assembly:
September 2019, at UN HQ some 100 Heads of States spoke of chaos; lack of grassroots prosperity identified as big challenge was a common thread…so was diversity, tolerance and inequality… plus increasing role of women in society were touched by all…and lastly climate change issues…most seeking answers, most trying various solutions, most ready to engage. All ready to do something.
Lack of bold and unified global programs to cover such common debates was obvious. The new awakened world is in need of massive mobilization and deployment of constructive ideas.
Nations can save themselves from restless citizenry and blowing winds of populism; as futurism of 'creating local grassroots prosperity' divides into two distinct national mobilizations. Firstly, creating skilled citizenry capable to swing with global-age demands and secondly, creating massive digitization of midsize economy to enable global-speed-performance to match trading with 100-200 nations. Nations with acquired mastery will thrive and lead; generational transformation at magical speed with full deployments of platform economy is a prerequisite. Sounds like rocket science; it is, but still very doable and progressively easy. Urgently needed are bold thinking, fearless debates and new priorities.
Alibaba model based on advanced thinking of interconnecting million Small and Medium Enterprises via single gateway with billions new global customers on platform economy format with fascinating ease became a global legend. So, what's stopping other nations? Any quick response without deep and precise study may not fit these challenging issues, because, in-depth-study a must, as it's not that easy unless mobilized like a national grassroots revolution. Let's go deeper.
Big Questions: How will national mobilization of Platform Economy models allow nations to create their own million-mini-Alibaba? How can national leadership finally bring massive digitization of public sectors, deploy overflowing technologies and integrate all this into new style of economic leadership thinking?
Biggest Question: If these are not new funding dependent projects…they are new-thinking hungry and global-age-style-execution starved projects so what's stopping this?
How to create many million new mini-Alibaba: today, creating globally interactive trading platforms are new tests for economic leadership in gasping economies. This critically advanced subject, not be confused either with website and social media management, or routine academia drills…calls for daily diligent meetings till significant progress becomes visible, equally this global-age-thinking demands regular Cabinet Level Meetings if national leadership decides to boost its economy via superiority of national mobilization of digital platforms. This massive transformation automatically creates a culture extremely conducive and pragmatic to creating baby Alibaba on such platforms.
Big business is big business but small business is much bigger; within the walls of most national boundaries, once national mobilization properly deployed, 'small enterprises' in cross-combinations grows into larger sizes like massive pillars and solid foundations boosting local economy. In-depth understanding of mobilization and deployment strategies are critically essential. Massive adoption of almost free technologies as wings of new growth and awakening of hidden entrepreneurial talent lying dormant across the most nations as the driving engines becomes the master strategy. Uplifts of the midsize business economies of the world will significantly eliminate grassroots prosperity issue; especially these are ready to go sectors in need of immediate mobilizations under a master program.
Currently, some 30 nations engaged with elections trying to promise superior economic performance while most nations still have their motherboards missing? To drive superior-performance a computer has a motherboard, why can't a nation have similar type motherboard platforms to drive all of its big and small digitized economy expansion with ultra-superior performance?
In broader strokes and for extreme simplicity; let's divide 'midsize businesses economy' into four major parts;
The Enterprises Groups: This is where small and medium size businesses of the old and new world trying hard to expand in global space but achieving little or no progress. Stuck with internal digitization of operations challenges they are pushing decade old methods to expansion. If digitization is not new funding dependent but rather new thinking hungry, why there are such critical skills gaps. What's stopping this?
The Trade Groups: Trade Associations and Chambers of Commerce helping vertical sectors in their own traditional ways spanning over decades but are such vertical trade groups able to showcase their membership in a grand way across the nation and global markets? If showcasing of progressive membership profiles attracts global opportunities why trade-groups are so afraid and what level of expertise they posses to deploy such large scale mobilization. Why they play a critical role?
The Public Sector Groups: Government departments mandated to foster economic growth across all vertical sectors, how such government agencies not only fully digitized internally but also offering to all sectors of vertical businesses and exporting communities large scale options on Platform Economy thinking. If local governments were active and aggressive leaders they will not only boost national economies but also calm restless citizenry and avoid windy storms of populism. Massive induction is required.
The Founders Groups: every nation is blessed with all sorts of founders, owners and entrepreneurs including senior management and therefore to thrive in Platform Economy such entrepreneurial leadership must demonstrate expertise on digital platform economy because without being savvy how will they grow? Why aren't digitally showcased are their enterprises on highly integrated platforms to create a global bounce and create world-class exportability performance? Without them platform economy will have no sizzle.
Anything less than 90% advancements in each of these categories will keep the nation trapped
Identify 1000 to 1,000,000 enterprises in need of global exposure or exportability
Start a high level in-depth debate and discussion with authoritative knowledge and solutions
Start national mobilization of a major agenda to change the picture of national midsize economy
Create a national level dedicated Digital Platform Economy Agency with national agendaStop trade wars and start skills wars. Help the internal working citizenry. EU just tabled a $100 billion dollar program to uplift it internal industries. Australia just announced 50 Billion to fix it manufacturing base. Prime Minster Trudeau of Canada just made a promise to uplift 2000 start-ups with 50 thousand dollars each. Smart leadership is working on this. Trade-wars are proof of poor quality exportability, poor skills and poor policies, but skills-wars are about creating highly skilled citizenry creating superior edge of exportability and blossoming local grassroots prosperity.
Select options:
Projectile Economy; where Rocketry and Mars Missions drive the agenda
Inversion Economy; where grassroots transformation becomes a top priority
Platform Economy; where massive digital mobilizations uplift major vertical sectors
The Platform Economy: Around the world, advantageous are those nations already missed the First, Second and Third Industrial Revolution; now standing at the gates of Fourth industrial Revolution they already have a jump start. Right now, any high quality digitized world-class vertical Trade Group segment is a critical component for shaping something like Mini-Alibaba. What does this mean for smart economies going forward? What are the next challenges on creating grassroots prosperity? What will be the Election Messages of New Promises going forward? While, economic superiority of super-power-nations via trade wars keeps slowing down world economy. The 100 plus micro-power-nations from the middle of global hierarchy may attempt fully digitalized and globally accessible platforms showcasing enterprises may open up unlimited wide reaching opportunities of trading and exporting.
The 2030: As forecasted in press,why will Top Ten Economies have combined GDP of USD $200 trillion? Adding further perspective, China and India will contribute $110 Trillion, USA $32 Trillion and Japan $7 Trillion. What does this mean? How will meaningful translations fit platform economies on mobilization and deployment strategies? How will you apply all these in your own vertical markets in your regions?
Deep study is critical…Rest is easy…
Today's Challenges: Will next economic leadership going to be about "skill-wars or trade-wars" Old models of random quick fix helping of SMEs gets mostly wasted, creating alternate economies demand alternate thinking like national mobilizations of commercialization with LIVE linkage to global digital access platforms.
A new and smart world is awakening right in front of us. Round-table discussion with authoritative command on such issues and participation of top trade-groups and national leadership is a good start.

Vision is all about see far but more clearly; kindly adjust your binoculars
'Make That Trade!' Biden Plans Unprecedented Stimulus for US Economy
The revolving doors to the White House, the Senate, and the House are set to welcome president Joe Biden and his administration. Now that the Democrats control the executive and the legislative branches of government, they have carte blanche to push through unprecedented economic stimuli to benefit all Americans. Taking center stage is a massive $1.9 trillion stimulus on top of the $900 billion stimulus recently passed by Congress under President Trump. Combined with the $2.9 trillion stimulus in 2020, the US economy is now flush with cash.
All that money has plenty of different directions to go, including Wall Street and Main Street. Americans across the board are anticipating $1400 stimulus checks to go with the $600 released in December 2020. Dubbed the 'American Rescue Plan,' the stimulus money is intended to get the economy moving again, by empowering consumers who have faced sweeping job losses, cutbacks, and personal difficulties.
The stock markets have reacted to these stimuli as expected – bullishly. A snapshot of the US financial markets confirms the impact of the stimulus, and what's to come. The 1-year change for the major US indices reflects strong gains for the NASDAQ composite index (38.44%), the S&P 500 Index (13.17%), and the Dow Jones Industrial Average (5%).
Markets across Europe, the Middle East, and Asia have performed poorly over the past 1 year, owing to the government enforced lockdowns vis-a-vis the pandemic. The best performing European market over the past 1 year was the DAX (+2.38%). This begs the question: How will all the stimulus money impact the stock markets, and demand for gold?
What Happens When Central Banks Start Flooding the Market with Trillions of Dollars?
Monetary stimulus is designed to assist struggling American households who through no fault of their own were furloughed, or now face tremendous economic uncertainty. SMEs across the board are cutting costs, and letting people go. In December 2020, hiring rates in the US dropped for the first time in 7 months. Industries affected most by the pandemic include service-related businesses, travel and tourism, restaurants and bars.
It's not only low income families struggling against adversity; it's middle income earners too. Several measures have been proposed, including raising unemployment benefits to $400 weekly, and increasing the minimum wage to at least $15 per hour. All of these bold initiatives have yet to be passed by Congress, and signed into law by the President.
The effects of these massive stimuli will reverberate across the economy. There are definite winners and losers from massive spending. The Deficit/GDP ratio is already 15%, and monetary supply growth has increased by 25%. Inflationary concerns are growing, but for now the stock markets are shrugging off the prospect of higher prices and welcoming the stimulus. Low-income earners will benefit most from the stimulus, but every action has a reaction in the financial markets.
Currently, the Federal Reserve Bank has indicated no change to interest rates. This is surprising, given that bond yields are increasing. Multiple economists are concerned that the infusion of trillions of dollars into the economy will ultimately lead to rising prices, and nullify the intent of the stimulus packages. Equity markets and housing markets have shown tremendous resilience, and growth in recent months. State governments will be getting their fair share of stimulus money, as 'financial healing' kicks off in earnest.
TheFed's bond-buying program continues in earnest as quantitative easing goes into overdrive. Millions of Americans remain out of work, and the unemployment rate is at pre-pandemic numbers. If the proposed economic boom kicks in, inflation will likely result before the end of the year. Markets across the US rallied in 2020, and bullish sentiment continues into 2021.
Analysts point to high valuations in the stock markets that are not supported by the fundamentals. The CARES Act was like a steroid shot for the market. The Paycheck Protection Program (PPP) ensured that at least some of the $1200 + $600 checks found a way to stock markets. Brokerages across the board reported increased registrations and trading activity. Americans are certainly taking to stay-at-home work/life by actively engaging in the financial markets. This will likely continue with an additional $1400 stimulus check.
Which Stocks Will Benefit?
Source: StockCharts.com SPX 500 Large Cap Index
Major US banks are set to benefit over the short-term, thanks to their ability to borrow money at short-term interest rates, and lending that money out over the long-term at higher rates. The biggest US banks should all see an uptick in stock price performance. Bank of America (NYSE: BAC) has a market capitalization of $285.563 billion, and the performance outlook for the stock is bullish over the short-term, mid-term, and long-term.
Wells Fargo & Company (NYSE: WFC) has a market capitalization of $132.469 billion, with a medium-term and long-term bullish performance outlook. Much the same is true for Citigroup (NYSE: C) with a market cap of $133.77 billion, and a medium-term bullish outlook. Energy efficient stocks will also benefit from the Biden administration. Companies like Tesla stand in good stead with a green energy-focused Presidency, House, and Senate
Analysis of bank stocks provides interesting insights. For example, BAC has climbed from November lows of under $24 per share to $33 per share. The stock price is higher than its short term moving average (50-day MA), and the long-term moving average (200-day MA) of $29.04 and $25.26 respectively. Technical analysis of BAC, using the Ichimoku Cloud confirms bullish momentum moving forward.
Indeed, experts at Bank of America attested to the benefit of passing the stimulus, without which a recession would have occurred. In a similar way, WFC stock, and C stock are also up sharply since the November 2020 lows. Bollinger Bands indicate that the run on bank stocks is likely to continue as momentum is clearly on rising prices for bank stocks.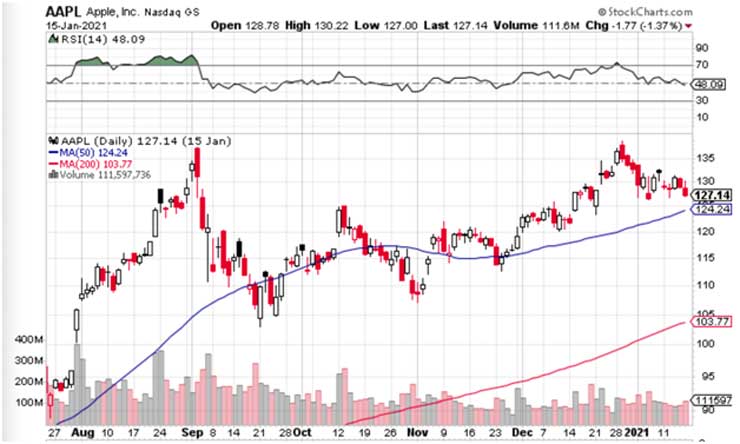 Source: StockCharts AAPL
Besides bank stocks, there are plenty of other stocks to watch, including (NASDAQ: BKNG), Renesola Ltd (NYSE: SOL), Snap Inc (NYSE: SNAP), and Apple Inc (NASDAQ: AAPL).Pictured above, AAPL is currently trading around $127.14 per share [January 18, 2021]. It is bullish, compared to the 50-day moving average of $124.24 and 200-day moving average of $103.77 per share.
Bollinger Bands for Apple indicate a slight tightening,and stabilisation of prices at a much higher level than the lows recorded in July and August 2020. As the world's most valuable company, AAPL is on the rise once again. Momentum indicators such as Ichimoku Cloud tend to suggest that AAPL is set for additional gains.
Which Sectors of The Stock Market Will Flop?
The shift away from crude oil and natural gas to green energy will cripple the oil industry and all the stocks that populate it. If these companies don't start switching to alternative energy investments they will stagnate. WTI crude oil is currently trading around $52.09 per barrel, while Brent crude oil is trading around $54.76 per barrel [January 18, 2021].
The long-term charts of companies like Exxon Mobil Corp, Chevron Corporation, Royal Dutch Shell all point in the same direction – decline. In fact, these major multinational companies are at their worst levels in 10 years. US oil consumption is flattening out, while that of global oil consumption is increasing. Overall, nonrenewable energy sources such as oil and natural gas are long-term bearish, and best avoided. The global focus is on clean energy, not oil and natural gas.
Other long duration assets such as biotech stocks will likely slump over the short-term. Given that these stocks are discounted to the present, makes them unattractive to investors right now. However, any attempts to expand the Affordable Care Act will work to the advantage of biotech stocks, and pharmaceutical stocks, because people have greater access to healthcare.
The lukewarm reaction of stocks to the stimulus plan is predicated on the notion that additional stimulus will invariably result in additional taxes. If lawmakers in Congress require that taxes be raised in order to pay for the income redistribution, stocks will slump. The cruise ship industry, hotel industry, and entertainment industries still have a ways to go before a recovery is on the cards.
The strongest-performing sectors include many household names. The likes of shopify, Nvidia, cryoport, Pinduoduo, and Albemarle were considered winners in 2020. The biggest losers were airlines such as Boeing, and United, real estate and retail operations such as Simon, and oil and gas industries like British Petroleum.
Overall, the stocks which outperformed market expectations included freight and logistics, basic materials, Internet retail, software applications, and semiconductors. Heading into 2021, the S&P 500 index was up 16.3%, and growth continues. There are 'moral hazard' concerns with any big stimulus. Prior to the pandemic, approximately 20% of public companies were operational, but unable to repay their debts. After the pandemic hit, that number swelled to 32%.
How will the Stimulus Affect Demand for Gold?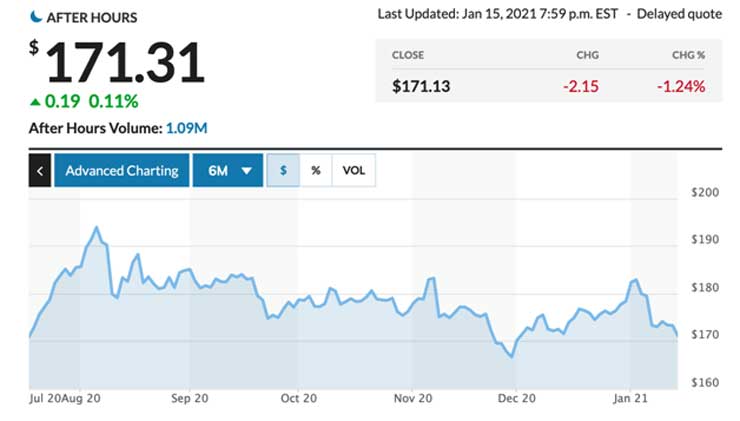 Source: MarketWatch SPDR GLD
Traders and investors tend to buy gold when stock markets are performing poorly. The pandemic hit the brakes on the economy, and gold benefited. During uncertain times, gold becomes the go-to commodity, as it functions as a store of value. With trillions of dollars in stimulus money finding its way into the markets and households, there is no threat of a recession anytime soon. Gold prices such as GLD are off their highs, and trading at weaker levels.
When the Fed decides to raise interest rates once again, possibly to curb inflation, gold will again get hit. Since gold is not an interest-bearing commodity, it doesn't benefit investors the same way that interest earning bonds do. As the 10-year yields on bonds continues to increase, capital will exit gold stocks, ETFs, and holdings and move to the bond markets, and interest-bearing accounts. That the gold price forecast is bearish is par for the course under current conditions.
It is against this backdrop of change and uncertainty that trillions of dollars in stimulus will weave its way into the fabric of the American economy through households and businesses. How that plays out in the stock markets remains to be seen, but for now all signs are positive.
Bitcoin Price Bubble: A Mirror to the Financial Crisis?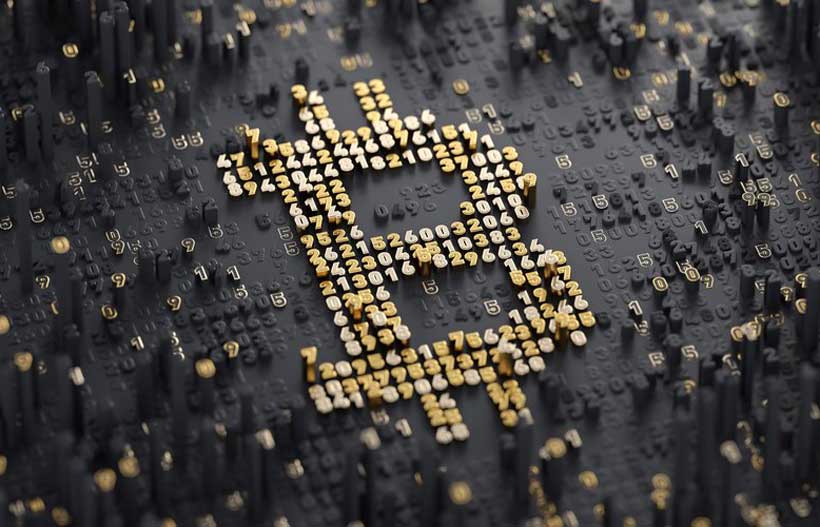 The Financial Crisis 2007-09 is without a doubt a nightmare the world once lived through and what still finds some traces in the financial systems today. The Real estate price bubble followed by a blind market crash led many of the Too-Big-To-Fail institutions to the verge of bankruptcy. In its retreat, the crisis laid the very foundation for risk management charters; like Basel Accords III stressing on the credit risk regimes and bank controls to avoid future market fiascos and averting any possibility of another financial turmoil. However, the financial crash coincided the emergence of an alternative financial system that not only bypassed the apparently faltering centralised banking systems but revolutionised the currency we knew in light of the financial crash.
The digital currency came into light in the same period when the world dealt with the smattering banking systems and volatile market conditions. Bitcoin, the first of its kind cryptocurrency, was created back in January 2009 just as the immediate effects of the financial crisis started to fade. The mysterious creator, under the pseudonym Satoshi Nakamoto, designed Bitcoin was an alternate currency to the traditional fiat money controlled by the centralised systems of federal and state banks of the countries denominating the currency of exchange. The intent behind Bitcoin laced the intension of a borderless currency to synchronise the global economy and markets into one absolute and seamless channel of trade. Bitcoin acted as a token-like element in exchange of real-life currency over a decentralised collection of systems controlled by users globally in a chain of command known as the Blockchain.
Although the ascent of Bitcoin was stagnant at first, it soon surged in popularity and subsequently in value over the course of years. Bitcoin bloomed up and beyond expectations, taking valuation of thousands of US dollars while its variants traded on a much lower price tag. The proponents of the cryptocurrency, also the main critics of the institutionalised nature of the global financial system, failed to realise, however, the dangers and pitfalls of a decentralised system of currency exchange and the total shit to digitalised units of trade. The latest Basel accords and their rendition of the laid principles and measures in the financial algorithms devalued over the years following the financial crisis are ultimately rendered futile in the world of unregulated cryptocurrency markets denominated in kinds of Bitcoin. Thus, although the probability of fraudulent activities is shunned to zilch courtesy of the complex disintegrated protocols associated to blockchain mechanisms incorporated in Bitcoin, the price controls are virtually impossible to place. This is due to the fact that digital currencies are already rendered extremely difficult to value accurately given the sheer volatility of the prices, making Bitcoin and similar cryptocurrencies almost impossible to distinguish artificial price bubbles from the actual gain of value.
This was proven within a decade of Bitcoin's invention, back in 2017, when Bitcoin's surged in value from trading below $3,000 to a whopping $2,0000. The price bubble was attributed to the gain of trust in the champions of Bitcoin, known as miners, gaining popularity in the digital fanatics while simultaneously driving heavy criticism from the financial industry gurus. The bubble, however, brutally popped on 22nd December 2017; crashing from a record peak of the time of $19,783.06 to below $11,000 in mere 5 days. While many of the venerated financial institutions, like JP Morgan, mocked the craze of Bitcoin, they also warned of the worst market crash the world has ever seen over the obsession and the relentless rise in value of Bitcoin despite of the steep risks involved.
With the onset of 2021, however, the financial institutions who once steered clear of the digital phenomenon, now have taken a polar position of yet another price surge rippling Bitcoin. This time around, the high volatility in Bitcoin is associated to Institutional investors as opposed to the speculators deemed culprit of the bubble back in 2017. However, the waves are more raucous than ever. Trading at $40,797.61, Bitcoin slumped down to $34,039 on closing of 12th January 2021, just in a span of 4 days. Bitcoin has posted an astounding 300% growth in returns; bouncing from $5,000, just before the hit of the Covid pandemic, to the record highs above $40,000 looming the Bitcoin trends. Though many sage minds associate the inflation-resistant characteristics and fixed supply features of Bitcoin to its surge of value and touching the shock resistant nature of Gold, many believe that the value is found to cascade since it's not real investment in their definition. Now as the growing economies like UAE and China are spreading wings towards blockchain variants, stability in Bitcoin is a possibility overtime. Yet, is the worst of the rough price bubbles behind us or is a crash still imminent?
Flourishing Forex Market amidst Covid pandemic
The Covid-19 outbreak has halted the normal channel of life, people losing their livelihood and income has dwindled over the past eight months all over the world. However, in the tailspin the world has faced, the Forex accounts have witnessed a phenomenal growth over the pandemic-ridden months. Month-on-month growth has been recorded as close as 25-50% while the total volume has expedited at an all-time high of 300% growth. Over the past decade such a phenomenal growth was hardly ever seen since the last record high was a close to 40% which is mere compared to the colossal figure posted on the stage in June 2020.
The developing markets, however, post a lucrative section to invest in since the region has been the biggest contributor to the FX rise: close to 60% being the beneficiary of Europe, Africa and South Asian countries. Safe to say that this trend has been so steep largely due to the investors being ridden with optimism over the volatile prices of many of the commodities that were rendered stagnant over the previous decades. This includes the oil prices, gold valuation and even the real estate market that despite being involved in a price bubble leading to the worst financial crisis of the millennial, still stood relatively steady over the past 11 years.
The FX market is oozing optimism to say anything about the trend which could be directly associated to the unprecedented financial climate and the looming atmosphere of recession and financial crisis pushing people towards adopting a new income stream. As conventional income channels come to a dead stall and people having time and focus to spare towards trading, the large volume of cumulative accounts could be further expected to extrapolate since price volatility and unexpected events both in the trade and world affairs have had a conducive effect on even the layman to dip into the trading cycle: FX market being the coherent choice due to safe commodity and currency investments and quick gains.
Exacting one's mind towards the milestones achieved this year, be it the plunge of global oil prices to the negative scale of the exchange or the sharp fall and sudden rise of DJI or even the injection of one of the largest stimulus packages in the United States since the infamous financial crisis, this year marks the focal point of risks and opportunities. The prospects of a new vaccine are still trailing to the second quarter of 2021 despite some countries picking up the pace to vaccinate early means the trend in the market is not short term unless a breakthrough is imminent. On the market front, the interest rate crunch with UK expected to nudge the rates in the negative along with global relief to debt financing, traders have a global ticket on both the borrowing and the lending front to turn up abnormal gains. However, reliable brokers are a tough nook to find since the uncertainty also grips the traders regarding investments in the skewed conditions as such. Moreover, with naïve traders entering the market, small scale brokers clustering the exchanges and limited physical interactions due to social distancing protocols are all but exhaustive factors that could easily deteriorate the growing trend and bring about a financial crisis much sooner than expected if not regulated efficiently.