UK Government First to Pilot AI Procurement Guidelines Co-Designed with WEF
The World Economic Forum, the international organization for public-private cooperation, released the world's first government procurement guidelines for artificial intelligence (AI). The United Kingdom will be the first to pilot or test these guidelines, potentially accelerating the use of artificial intelligence in the public sector.
Governments want to acquire AI solutions to streamline processes and provide insights into key sectors such as transportation, healthcare and public services. However, officials often lack experience in acquiring such solutions and many public institutions are cautious about harnessing this rapidly developing technology at a time when we are only beginning to understand the risks as well as the opportunities.
Growing public concerns around bias, privacy, accountability and transparency of the technology has added an extra layer of complexity to a potential roll out on a national level. The AI Procurement Guidelines for Governments have been designed help officials keep up with this rapidly developing technology and mitigate the risks.
The guidelines were co-designed by the World Economic Forum's Artificial Intelligence and Machine Learning team and fellows embedded from UK Government's Office of AI, Deloitte, Salesforce and Splunk. Members of government, academia, civil society and the private sector were consulted throughout a ten-month development process, which incorporated workshops and interviews with government procurement officials and private sector procurement professionals.
The report provides the requirements a government official should address before acquiring and deploying AI solutions and services. It also provides the questions that companies should answer about their AI development and how the data is used and processed. The guidelines also include explanatory text elaborating on how to implement, key questions to ask and case studies.
"AI solutions hold the potential to vastly improve government operations and administer public benefits to citizens in new ways, ranging from traffic management to healthcare delivery to processing tax forms," said Eddan Katz, AI Project Lead, World Economic Forum. "These guidelines empower governments and international bodies to set the right policies, protocols, and assessment criteria that will facilitate effective, responsible and ethical public use of AI. Once standards are set and widely adopted, we could see new policies emerge to help navigate an uncertain ecosystem."
"How government buys services for taxpayers has an impact far wider than the public sector – by taking a dynamic approach we can boost innovation, create competitive markets and support public trust in artificial intelligence," said Minister for Digital Matt Warman. "These new guidelines place the UK at the forefront of procuring AI and will help the public sector better serve the public, make it easier for firms bidding for new contracts and set a world standard in how governments work with artificial intelligence."
"New uses of AI that are of interest to government will continue to emerge and will bring with them both benefits and risks," Katz said. "It is important that governments prepare for this future now by investing in building responsible practices for how they procure AI."
By leveraging the role of governments as market actors, the AI guidelines for procurement could have a significant impact on the shaping of norms throughout the industry of AI solutions providers. The standardization of ethics and risk management expectations will likely extend across other sectors in the market.
The World Economic Forum's Unlocking Public Sector AI project is bringing together a multistakeholder community to empower government officials to more confidently make responsible purchasing decisions. Over the next six months, governments around the world will test and pilot these guidelines. Further iterations will be published based on feedback learned on the ground.
Additional quotes:
"Splunk has supported the development of these guidelines and worked closely with the WEF and UK Government," said Lenny Stein, Senior Vice President, Global Affairs, Splunk. "We will help pilot them in the UK and, believe the guidance will enable Governments across the world, transform citizen services and deliver ethically sound and beneficial AI based solutions."
First-of-Its-Kind Blueprint for Data Policy Adopted by City of Helsinki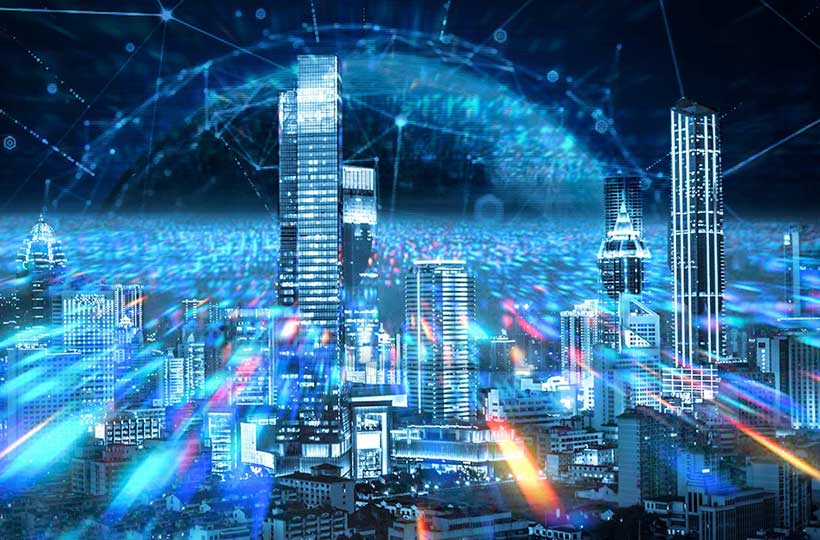 The World Economic Forum today released Empowered Data Societies: A Human-centric Approach to Data Relationships. The framework put forth in the white paper ensures that data is used in responsible and innovative ways to create progress while respecting, valuing and empowering people and communities.
As part of a year-long partnership with the City of Helsinki, the World Economic Forum convened a global community of technologists, anthropologists and policy and data experts to develop a new way to create data policy oriented around the values, needs and expectations of people.
By leading with the interests of those generating data or most impacted by resulting insights, this approach mitigates the trade-offs between innovation and privacy.
The Forum worked with a dedicated team of data practitioners and policy-makers with the City of Helsinki to apply this new methodology to develop a dedicated anonymization pipeline for complex personal data that will allow for maximal data utilisation anchored in respect for individuals and their privacy. New pathways, processes and tools were also created to document a best practice blueprint for human-centric proactive services, which Helsinki will open-source for future expanded use and improvement.
"Throughout this year-long partnership we were motivated by the principle that human-centricity is neither a 'nice to have' nor a 'deluxe' approach to data. Human-centricity can and should be the foundation upon which to build empowered data societies. With the release of this paper, we aim to share frameworks, insights and best practices so policy-makers around the world can adopt and build systems that use data in responsible and innovative ways to create progress that legitimately serves people and communities," said Sheila Warren, Deputy Head of the Centre for the Fourth Industrial Revolution Network, World Economic Forum.
The City of Helsinki created several tools to enable efficient utilization of extremely sensitive data. The main principle behind the blueprint is that the storage, anonymization and processing of data are separated and that different individuals perform each task.
Forging a way to create entirely new data analytics capabilities for Helsinki has resulted in a new technical environment for treating sensitive personal data with the highest ethical, data protection and cybersecurity standards. This environment will be used as the city continues accelerating its use of data to provide more personalized and timely services for its residents and visitors.
"Helsinki's commitment to serving its citizens requires going beyond traditional service provision and tapping into the full potential of data to deliver the best quality services in the most efficient way possible. Using data responsibly requires the development and implementation of new practices that are human-centric – those that assure citizens' interests are respected and prioritized at all times, empower citizens to improve their own lives through data, and increase participation in the overall ecosystem by building trustworthy data relationships," said Jan Vapaavuori, Urban Activist and Mayor of Helsinki (2017-2021).
Much of the data needed to tackle the world's most pressing challenges is siloed in public and private sources. Even for social good, the various regulatory, commercial and social risks prevent data sharing. The Shaping the Future of Technology Governance: Data Policy Platform works with partners from all sectors, regions and industries to develop agile and innovative approaches to accelerate the responsible use of data and empower stakeholders across the entire data ecosystem.
Digital billboards bring real-time air pollution data to Nairobi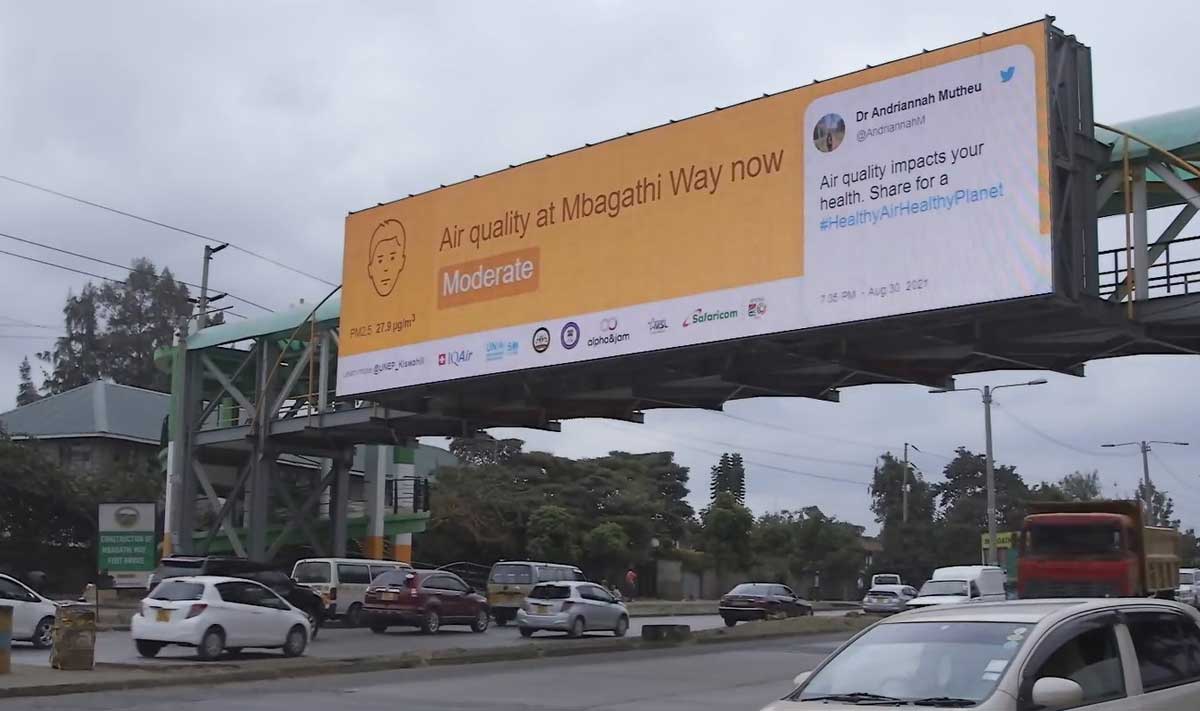 Digital billboards around the Kenyan capital today started to live stream Nairobi's real-time air pollution in an effort to increase air quality awareness among the city's 4.7 million inhabitants.
The initiative – by the UN Environment Programme (UNEP), in collaboration with IQAir, a Swiss air quality technology company, Safaricom, a telecommunications provider in Kenya, Alpha and Jam Ltd and Metropolitan Star Lite Ltd, Out Of Home (OOH) media – provides real-time air quality information for some of the most harmful type of air pollution, fine airborne particles, known as PM2.5. The pilot aims to engage the public by streaming real-time air pollution information to digital billboards at 4 critical locations in the city: Moi Avenue, University Way, Mbagathi Way and Jomo Kenyatta International Airport.
PM2.5causes serious health issues, including asthma, lung cancer, and heart disease. Exposure to PM2.5has also been associated with low birth weight, increased acute respiratory infections, and stroke.
"Real time air quality monitoring will help us with the issuance of health advisories as well as for formulation of smart traffic controls that minimize congestion," said Lawrence Mwangi, Assistant Director of Environment in charge of pollution control at the Nairobi County Government. "Dynamic advisories demonstrated through this collaboration will help people limit their exposure to harmful pollutants."
Around 3 billion people cook and heat their homes using open fires and simple stoves burning biomass (wood, animal dung and crop waste) and coal. More than 50% of premature deaths due to pneumonia among children under 5 are caused by the particulate matter (soot) inhaled from household air pollution. Outdoor air pollution in both cities and rural areas was estimated to cause 3 million premature deaths worldwide in 2012 with 88% of those premature deaths occurring in low- and middle-income countries.
Policies and investments supporting cleaner transport, energy-efficient housing, power generation, industry and better municipal waste management would reduce key sources of urban outdoor air pollution. Most residents of the city do not have access to real-time air quality data and consequently, are often unaware of the harmful levels of air they breathe.
"Action on air pollution, which is responsible for millions of premature deaths a year, is critical – efforts should focus on high-risk communities, such as people living in informal urban settlements," said Inger Andersen, Executive Director of UNEP. "Innovations to reach and engage the local community and decision-makers alike, can only elevate the understanding of the impacts of air quality and help create an enabling environment improve human and ecosystem health."
"We recognize that some of the world's most vulnerable communities are disproportionately affected by poor air quality," said IQAir CEO Frank Hammes. "Through our partnership with UNEP, we are able to leverage real-time air quality monitoring data, machine learning and data visualization to help identify those that are most affected by global air pollution. The real-time visibility of the impact of air pollution on mankind, combined with the outreach and support that the UNEP offers, can help governments and communities around the world take actions that lead to cleaner, healthier air."
The Nairobi air quality awareness demonstration project is the result of a unique collaboration between the UN, the private sector, academia, non-governmental and local governmental organizations and is expected to accelerate efforts to change how transport, waste management and other services are managed in cities so that air pollution from these activities is significantly reduced, if not eliminated.
"This partnership lies very much at the heart of our sustainability agenda that seeks to address environmental issues such as air pollution which remains a major challenge especially in urban centres. We intend to use our digital platforms and expansive network infrastructure to support the air quality monitoring project to expand across more urban areas in Kenya. We will also foster partnerships with other stakeholders including regulators, relevant ministries and private organizations to help build a compressive and sustainable air quality monitoring system in the long run", said Peter Ndegwa, CEO, Safaricom.
The demonstration project comes as the world celebrates the 2nd International Day for Clean Air and blue skies on 7 September, this year held under the theme, Healthy Air, Healthy Planet. The Day calls for increased international cooperation at the global, regional and sub-regional levels. It provides a platform for strengthening global solidarity as well as political momentum for action against air pollution and climate change, including the increased collection of air quality data, carrying out joint research, developing new technologies and sharing best practices.
Artel to strengthen position as a leading innovator in Central Asia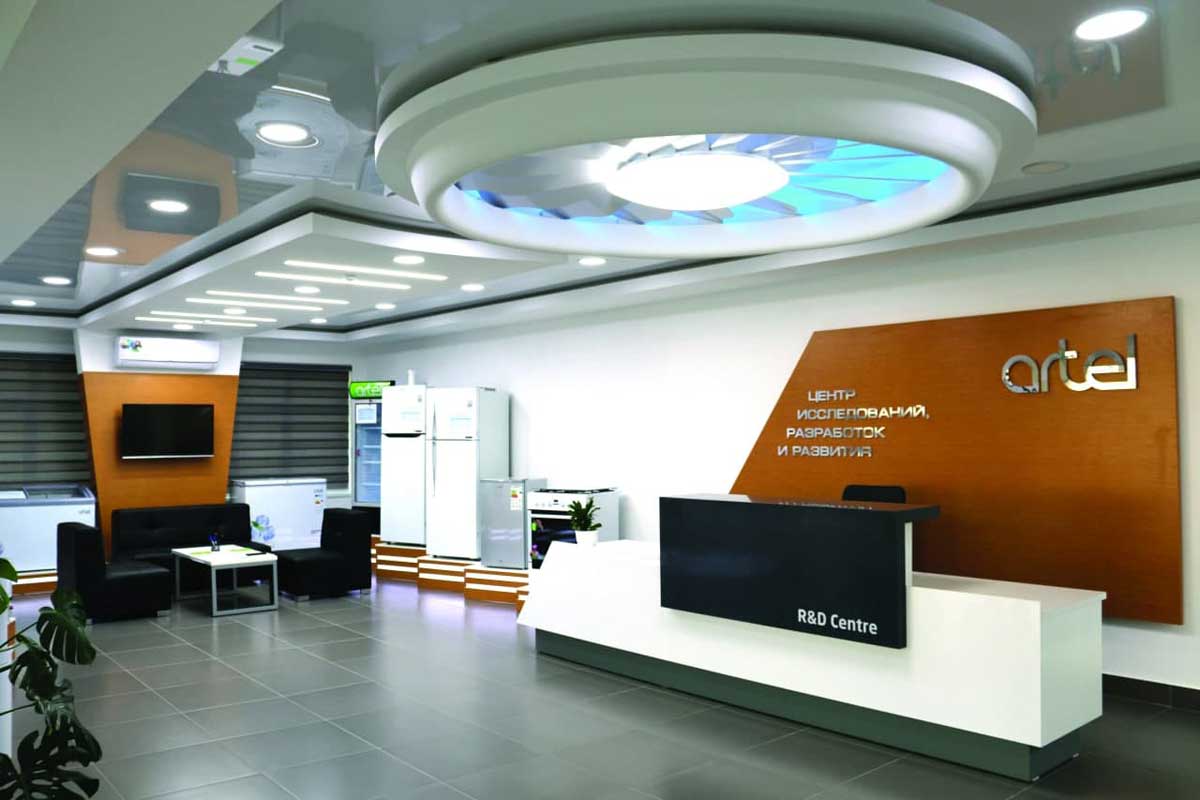 Artel Electronics LLC (Artel), Central Asia's leading home appliance and electronics manufacturer and one of Uzbekistan's largest companies, continues to strengthen its Research and Development (R&D) position to bring new, innovative products to its customers.
Artel's custom R&D center in Tashkent is one of the most extensive manufacturing research facilities in Central Asia. The center's designers, engineers and technicians develop new technologies to advance the next generation of contemporary products for the modern home.
The expansion of Artel's R&D center is at the heart of the company's forward-looking strategy. In the near future, the company will strengthen its in-house expertise through employing over 100 additional specialists and by attracting leading international talent. The center will also establish a number of departments dedicated to research priorities, including in automation and robotics. Moreover, to capitalize on international trends, Artel is exploring establishing branches of the R&D center overseas, including in Turkey and China, and partnership opportunities with technical universities worldwide.
The R&D center also plays a central role in the identification and training of the next generation of Uzbek technicians, designers and engineers. The R&D center has had long lasting cooperation with the Department of Mechatronics and Robotics at the Islam Karimov Tashkent State Technical University, and a branch of the center focusing on automation and robotization of production operates on site. Since establishment, the Center has provided state-of-the-art training to over 250 young specialists who now work throughout Artel's operations. By investing in and nurturing homegrown talent, Artel channels expertise, ideas and creativity into its operations.
Rustem Lenurovich, Director of the R&D Center, said: "At Artel, we know that the constant development of new, sophisticated products and processes is fundamental to our business and growth. Through our hard work and innovation, and by investing in energetic young talent, we will continue to deliver the most advanced appliances and electronics to our customers. We look forward to strengthening our R&D position even further in the coming years."
Artel's R&D facility was established in 2016, and the main center was opened in 2017. The center's team of specialists develop technologies to continuously refresh the company's product portfolio and optimize production processes. The onsite VR laboratory and pilot production facilities are used to create and test prototypes. In the first half of 2021 alone, the center initiated over 30 projects. The center has also recently partnered with Gree company on the development of washing machine and air conditioner technologies.
Artel Electronics LLC manufactures a wide range of household appliances and electronics, and operates in all regions of Uzbekistan. The company currently exports its products to over 20 countries throughout the CIS and the Middle East, and is also the regional partner of Samsung and Viessmann.