Thank You Greta: The Young Lead in the Climate Crisis
To say Greta Thunberg is a remarkable young girl is to understate her accomplishments. She is phenomenal. She has successfully exploited social media and through dogged persistence — including a trip across the Atlantic on a sailing yacht to make a point about the very high pollution per passenger on a commercial jet. Given the 20,000 planes in service serving three billion passengers the sum total is a serious problem.
According to the Center for Biological Diversity, jets emit "staggering amounts of CO2", representing 11 percent of all US transportation emission and 3 percent of total US CO2 emissions. Like cars, they also emit nitrogen oxides which being discharged at high altitudes are deadlier and more effective than ground level emissions.
Ahead of the UN Climate Summit that runs September 21-23 in New York, Greta mobilized record numbers of youth climate activists who persuaded their parents, friends and relations to join them on Friday, September 20 in a climate protest numbering more than 2500 strikes in 117 countries. Organizations, businesses, workers and their unions (including the International Trade Union Confederation (ITUC) the world's largest with 207 million members) were all involved in this global effort.
UN Secretary General Antonio Guterres is clearly on the same page for the UN effort was planned to commence with a youth climate summit last Saturday, September 21 to bring together young activists with change makers. This was before the strike was set for the day before.
The climax of the UN climate summit is on the following Monday when world leaders convene to "put climate action into a higher gear" as Mr. Guterres phrases it. The current Paris agreement limiting warming to 2C above preindustrial levels needs to be updated to its more ambitious goal of a 1.5C rise, he says, as climate related risks for natural and human systems is lower and likely to be intolerable at 2C.
The young climate activists have not forgotten the Trump administration's blindness to scientific reasoning and its obstinate refusal to act on climate change. On Monday, they descended on Washington with their protest designed to bring the city to a halt.
Once can admire the young who are putting their hearts and souls into their campaign. But what next when they return to school? Greta wants a "Fridays for Future" campaign. More importantly we have to change our own lives and lobby our legislators ourselves.
For our habits and the world to change, new jobs must replace the old, and government must allocate resources for retraining and re-employment to help the new industries that spring up as manufacturing restructures in a waning fossil fuel economy. It will take time. And there is time, despite the frenetic urgency of the young climatists.
The year 2040 is not doomsday. Nothing will happen and the world will go on as usual. It happens to be a date in the IPCC report that is cited at which the earth can be in trouble and possibly fall into an irreversible heat loop. But the work is loaded with qualifications and probabilities and levels of confidence in the statements made. It also assumes no carbon removal from the atmosphere.
Prognostication is peril laden for in fact carbon removal and sequestration technologies are fast improving with pilot projects and others in several countries. These, plus changes in our habits, and a shift away from fossil fuels should keep our earth safe in the future … at least until the next asteroid comes our way. Life as they say is precarious.
Consequences of U.S. formal exit from Paris climate pact: More isolation globally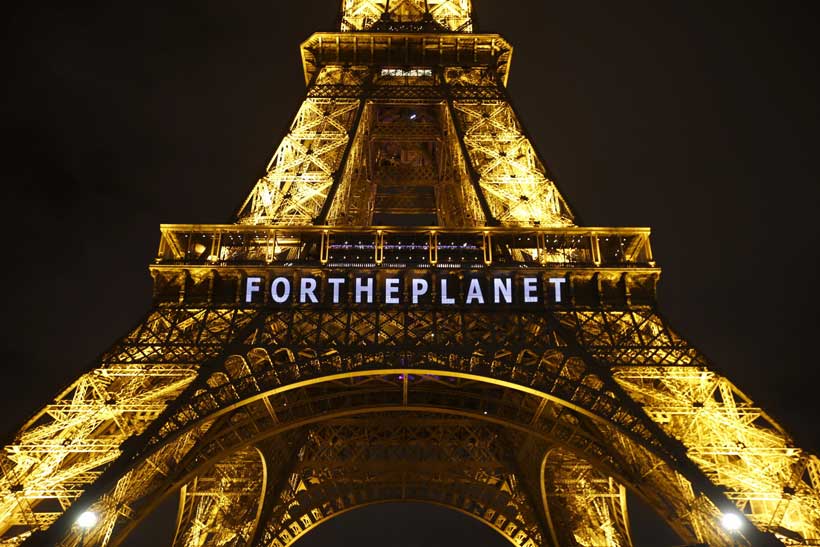 The U.S. has formally begun to exit the Paris climate agreement. Regardless of whether or not the Paris Agreement is legally binding, the U.S. has committed to cut 26-28% of its greenhouse gas emissions by 2025 from 2005 levels, and donate three billion dollars to poor countries by 2020.
The U.S. is now the world's second-largest emitter of greenhouse gases after China. In other words, U.S. greenhouse gas emissions in 2015 were about 7000 million metric tones, which is more than total emissions of the entire EU countries. However, the U.S. president claimed that he has decided to pull his country out of the Paris climate pact because his job is to "protect America and its citizens".
Commenting on the reason for withdrawing from the agreement, the U.S. president said that the pact is favorable for other countries not the United States, because it puts the country at a very big economic disadvantage. Trump also presented statistics showing that implementation of the agreement for the U.S. will result in losing 2.7 million job opportunities by 2025 as well as 440,000 industrial opportunities inside the country. The president added that this is not what the U.S. needed. This issue is not acceptable to Trump that China can continue to emit greenhouse gas for another 13 years, and India is able to continue its greenhouse gas emissions till 2020, while receiving billions of dollars.
The U.S. president also complains that his country has already donated about one billion dollar to Green Climate Fund, which is founded to help developing countries, while no other country has spent such a large sum in this field.
Trump, despite his decision to exit the Paris Agreement, has announced that he is ready to "begin negotiations to reenter either the Paris Accord or a really entirely new transaction on terms that are fair to the United States, its businesses, its workers, its people, its taxpayers". He also said that if they reach an accord, that will be great and if they do not, that will be fine.
Consequences of U.S. withdrawal
It should be noted that the withdrawal from the Paris climate accord by the U.S. is not its first unconventional action toward valid international documents. After coming to the White House, in one of his first moves, Trump ordered to pull the country out of the Trans-Pacific Partnership (TPP) that was signed in 2016. The TPP is the greatest trade agreement in the world, which was signed between 12 countries around the Pacific Ocean with the exception of China, and aimed to remove trade barriers to the countries that signed the agreement.
However, the Paris Agreement is of particular importance for the current generation and the world's future in terms of environmental and international rights. Obviously, legal and political consequences of the Paris accord is more serious than those of the TPP. The following is the summary of the effects of the U.S. withdrawal from the Paris climate pact:
1. U.S. political and legal isolation: the U.S. will be seriously isolated if it withdraws from the Paris accord, because besides Europeans, countries like Canada, Russia, and Asian countries such as China and Japan have signed the agreement. German Chancellor Angela Merkel and the Chinese president reaffirmed that they will be committed to the pact even after the U.S. withdrawal.
Jean-Claude Juncker, the president of the European Commission, at a meeting in Berlin, described the U.S. withdrawal as a completely wrong move. Juncker said that the U.S. cannot exit the agreement just like that. He added that Trump says he will exit the Paris climate pact because he is not well aware of this pact. This is while, he said, in 2015, about 200 countries signed an accord in 2015 in Paris, based on which they were committed to keep the increase in global average temperature to well below 2 °C to prevent global warming.
2. Lack of states' trust on the U.S. to reach an agreement on other issues: this move by Trump shows the U.S. non-compliance with international agreements that could disturb its prestige and position in the world. The move also will cause other Western partners, especially Europeans, lose their trust of the United States. Following the U.S. withdrawal from the agreement, other countries will hesitate to cooperate and sign contract with the White House on other issues.
3. Distrust of environmental rights: one of the important issues in legal subjects is environmental right, which is being taken into account at national and international level. The U.S. withdrawal from the pact means disregard to international documents related to environmental rights. This approach can be a serious threat to plans to control global warming. Furthermore, the approach indicates that the world's second largest polluter does not pay much attention to environmental protection, which has been one of most important challenges for environmental rights in recent decades.
From our partner Tehran Times
Climate Risks: Wildfires, Glacier Melt, Coastal Flooding … A Beautiful Antelope
California wildfires are again in the news as the Kincade Fire now raging risks 50,000 people, who have been evacuated. It might come as a surprise but there have been 41,074 wildfires compared to 47,853 in 2018 for the first nine months of the year. Blame the downslope Santa Ana winds for fanning them. Fires can occur naturally through lightning strikes but these days some 90 percent are due to human carelessness: discarded cigarettes, unquenched campfires and the like, all exacerbated by a warming climate. Killing 85 people, the deadliest wildfire in the state's history seemed to have been caused by Pacific Gas and Electric power lines (although it is still under investigation), and they are suspected in the present Kincade Fire. Wildfires do clear brush — 4.4 million acres burned off this year — ensuring a worse fire will not occur in the future.
As can be expected, such fires also place property at risk. California, Texas and Colorado have the highest numbers of properties at risk, while Montana and Idaho are tops in percentage terms; in Montana 29 percent and in Idaho 26 percent of properties are in the danger zone.
If the west is prone to wildfires, the east has an opposite problem: flooding. Sea levels are rising. The Greenland ice sheet holding enough water to raise the water line by 7 meters is melting. Scientists estimate two-thirds of the ice loss is due to glacier calving as chunks of ice detach from the 300 odd outlet glaciers that end in the fjords. As reported in Science magazine recently, (October 11, 2019), Helheim, a major glacier responsible for 4 percent of Greenland's annual ice loss is being observed by a team headed by Fiamma Straneo of the Scripps Institution.
In severe retreat since 2014, the glacier has reduced "by more than 100 meters, leaving a tell-tale ring on the rock around the fjord." This summer its water temperature is 0.2C above the previous high in a relentless rise. Also the data collected will improve mathematical modeling to predict future consequences.
Coastal flooding on the East Coast has been noted by the New York Times (October 8, 2019) in a feature article, As Sea Levels Rise, So Do Ghost Forests. Trees in coastal areas are dying off due to frequent total incursions of saltwater.
An excellent estimate of coastal flooding on the East and Gulf coasts, Encroaching Tides, was prepared by the Union of Concerned Scientists a few years ago. Sober reading, it forecasts coastal innundation over the next three decades. It talks about adaptation to the new norms, the responsibility of Municipalities, States and the Federal Government, sea walls, economic consequences, and a retreat from heavily impacted areas. Is anybody listening, and when they called for reducing emissions was the US listening?
When more than 190 countries signed up to almost all of the rulebook buttressing the 2015 Paris Agreement, it made the 24th International Climate Conference in Katowice, Poland (Dec 2018) a major success. This December the 25th International Climate Conference will convene in Santiago, Chile. A primary issue before it is how to avoid double counting i.e. counting the same emission reduction more than once. Countries have so far failed to reach common ground on how to avoid it despite the threat to carbon markets underpinning the Paris Agreement. Is bashing heads together in Santiago one answer?
Meanwhile on the top of the world, inhabiting the Tibet plateau, the beautiful and majestic chiru or Tibetan antelope, once in trouble from excessive poaching and then recovering, is at risk again. This time it is due to climate change. It has caused excessive melt and a burst natural dam that used to surround Lake Zonag right beside their calving site.
Satellites record second lowest Arctic sea ice extent since 1979
The polar oceans are among the most rapidly changing oceans in the world. The yearly cycle of the build-up and melting of Arctic sea ice is one of the earth's vital signs and a key climate variable monitored by scientists.
While they may be far from the world's major population centres, changes in the polar regions have global implications: they affect the world's climate through carbon storage and/or release, heat balance, and other environmental and ecological impacts.
One of the most visible indicators of this change is the reduction in the extent of Arctic sea ice by the end of September each year.
Since 1979, scientists have observed a decrease in the extent of Arctic sea ice in all months of the year. The September minimum extent is 36.5 per cent smaller in the period 2010–2019 than it was in the 1980s.
In a recent Intergovernmental Panel on Climate Change report (IPCC, 2019), scientists observed a reduction trend of 12.8 per cent (± 2.3 per cent) per decade. With 4.1 million square kilometres, the 2019 minimum arctic sea ice extent is the second lowest (after the record low of 2012) since the beginning of satellite monitoring in 1979. This rate of decline is likely (between a 66 per cent and 90 per cent probability) to be unprecedented in at least the past 1,000 years.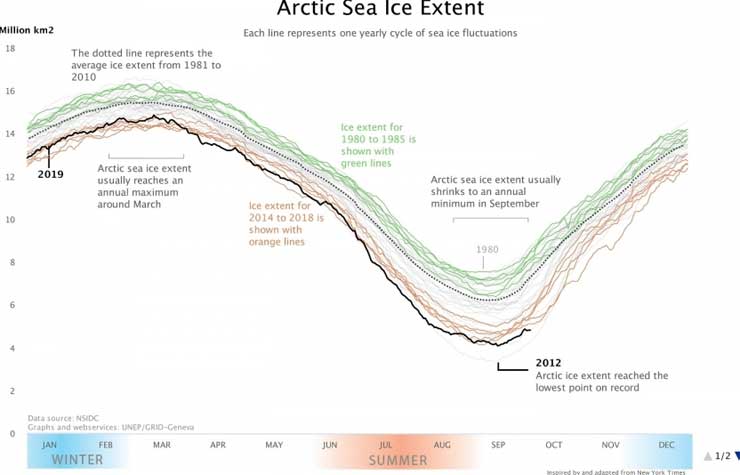 Under a scenario of global heating of 1.5°C above pre-industrial levels, by the end of the 21st century, the Arctic ocean would only be ice-free in September once in every 100 years. Under a global warming scenario of 2°C, this would occur as much as one year in three, according the IPCC.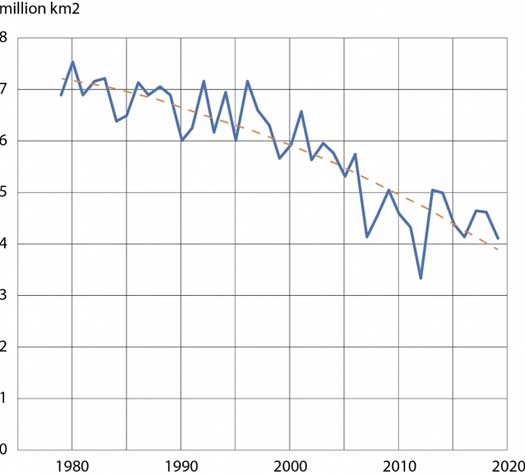 Loss of sea ice increases global heating. White snow reflects sunlight, whereas water absorbs it. Declining Arctic sea ice, therefore, amplifies the warming up of the Arctic. Temperatures increased by around 0.5°C per decade between 1982 and 2017, primarily due to increased absorbed solar radiation accompanying sea ice loss since 1979. This is twice as fast as the global average.
Thinner ice
Not only is the extent of Arctic sea ice reducing, but it is also much thinner, and scientists observe a transition to younger ice. Five-year-old sea ice has declined by about 90 per cent since 1979.
This has several impacts. It reduces the reflection of light, thus contributing to thermal expansion of the oceans. The change in Arctic sea ice extent may influence mid-latitude weather, and it may affect the regional composition of species, their spatial distribution, and the abundance of many marine species, with impacts on the structure of ecosystems.
For instance, reduced ice cover is adversely affecting the habitat of polar bears which now need to travel greater distances and swim more than previously, particularly threatening young cubs.
While the science tells us that global heating is happening, the exact impacts on fragile habitats and ecosystems are much harder to predict.
"There is an urgent need to reduce our greenhouse gases emissions," says Peduzzi.