Geopolitics of Montenegrin Serbs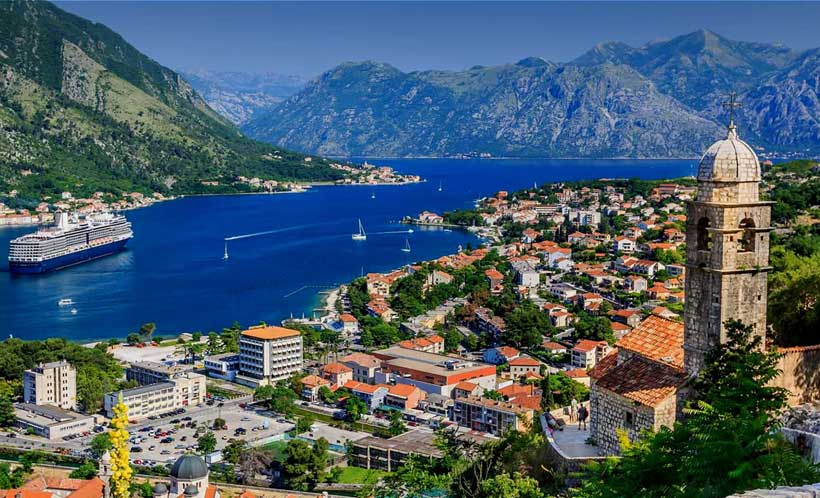 In Montenegro, since 1945 and the beginning of the rule of the Yugoslav Communists, the process of assimilation of Serbs into Montenegrins is implemented. But, in this process, it is important to highlight the geopolitical turning point in 1997, when the current regime began to implement openly anti-Serb policy. Because under communism, although almost everyone had to declare themselves nationally as Montenegrins, they were nonetheless Montenegrins who were in the Serbian/Slavic cultural and historical circle. However, since 1997, the current government in Montenegro has started the project of independent Montenegro, with the ultimate goal that ethnic Montenegrins no longer belong to the Serbian/Slavic cultural and historical circle. No less important is the task of keeping the number of Serbs in Montenegro at the level of statistical error. The entire policy of the ruling party in Montenegro comes down to the fact that Serbia, and now Russia, are external enemies, while Serbs in Montenegro are internal enemies.
However, it turned out that Serbs were a harder nut than expected, so the assimilation process did not go as quickly as expected. Although the independence referendum was held in 2006, the current government has failed to impose a Montenegrin identity on Serbs. And if all post-war censuses from 1948 to 2011 were fictitious and did not reflect the real situation, and on such census in 2011 there were "too many" Serbs. According to the US Central Intelligence Agency (CIA), 42.9 percent of Montenegrin people speak Serbian, and another two percent speak Serbo-Croatian, while Montenegrin speak 37 percent. Also interesting is the survey of CEDEM agency, which is close to the ruling party, according to which 46.6 percent of respondents believe that in Montenegro should only exist Serbian Orthodox Church, while only 4.9 percent believe that there should be only the Montenegrin Orthodox church
The final assimilation phase
The main objective of the current government is not only to build new generations through a purely Montenegrin identity, but through an anti-Serb identity. This process cannot be performed overnight, it takes time. In accordance with that, there was a Serbian writer expulsion from school textbooks, the introduction of two new characters, which even president of Montenegro Milo Djukanovic does not use.
Revision of history, recognition of Kosovo, the presence of a Montenegrin officer at the celebration of the Croatian military operation "Storm" (which carried out the largest ethnic cleansing since World War II), Montenegro's entry into NATO and open attack on the Serbian Orthodox Church, clearly indicate that the authorities are entering to the final phase of Serb assimilation. The system of work of the Democratic Party of Socialists and its political partners is simple. Authorities carry out assimilation, and encourages Serbs to emigrate. Serbs who cannot withstand social pressure are forced to leave Montenegro. However, those who are unable to leave Montenegro are forced to assimilate and become national Montenegrins. The Montenegrin national project is implemented primarily through economic pressure, that is the main lever for the assimilation of Serbs. And besides, there is strong pressure in the media, education system, cultural institutions… And as time goes regime is becoming more violent.
Warning of US hawk
Why Milo Djukanovic and Democratic Party of Socialists have Western support, explains openly one of the main American hawks for the Balkan – Daniel Serwer. In his statements, Serwer clearly states that there is no good opposition in Montenegro, because the opposition in Montenegro is not pro-NATO and pro-European, and it is not for an independent Montenegro.
"There is now no room for President Milo Djukanovic to step down because opposition forces in Montenegro are not only questioning NATO membership and joining the EU, but also Montenegrin independence. Government changeability is necessary and I would like to see it, better sooner rather than later. I also told that directly to the president, "explains Server.
Serwer also added that any change in government must offer an alternative.
"That is my point: without serious opposition, which is not tied to Moscow, it will be impossible for Djukanovic or his party to leave power. But that day should come. No one should stay in power forever. It's been a long time, though recognition must be given to the President for leaving office several times, "he stated.
Serwer "explained" that creating a serious opposition that is not influenced by the Kremlin is a long process.
"I do not think that the process of creating a pro-European opposition should wait for membership in the European Union. Already then, Montenegro should be a serious democracy. Of course, this process of creating opposition forces that will not rely on Moscow will take years. The time to begin this process is now. It is important to emphasize that those who oppose (Montenegrin) independence and NATO membership cannot form that serious pro-European opposition," stated Server.
The Machine can work without Djukanovic
However, the process of creating a pro-NATO and pro-European opposition has already begun, and gives excellent results. Political party Democratic Montenegro is today the strongest opposition party in Montenegro. And things will only get worse for Serbs and pro-Russian parties unless their policies, which have been catastrophic so far, change. At present, the main focus of the ruling party – apart from winning the next parliamentary elections – is the census, which will be held in 2021. The Government's goal is to make ethnic Montenegrins a majority nation, with less than 20 percent of Serbs. That is why the activity of the Montenegrin institutions, which is visibly intensified, will in future only be more brutal.
The striking brigade for the implementation of this plan is administration under Government control, that does strong economic pressure on Serbs. In addition to strong economic pressure, there is also media pressure in which an open revision of history is performed. However, some analysts think that it is enough that Milo Djukanovic leave the power, and that the Serbs after that will once again be the majority in Montenegro. But, they are wrong! Because, we could see that even when Djukanovic was withdrawing, the anti-Serb machine was working excellent. The reason for this is that the seat of the anti-Serb machine is not in Montenegro, but outside. Behind the anti-Serb machine in Montenegro are liberals from the West. It is reasonable to suspect that the forthcoming census will be adjusted by the Government of Montenegro according to their interests, intentions and goals. Recent data on the number of Serbs working in Montenegrin institutions – presented by journalist Gojko Raicevic – was just another confirmation of discrimination against Serbs in that country. According to a document published by the Ministry of Human and Minority Rights in 2015, it is clear that Serbs have been expelled from the Montenegrin system. Without a doubt, now the situation is even worse.
In light of the above, an urgent change in Serbian politics in Montenegro is needed. If Serbs want to survive in Montenegro, it is necessary to pursue a Serb policy, not a civic one. It is simply unbelievable that Serbs who make up a third of Montenegro's population do not have a serious national party. How is it possible that New Serbian Democracy, a party that was founded to fight for Serbian interests in Montenegro, becomes part of civic party Democratic Front?! And now it can be seen that New Serbian Democracy is more concerned with the summer tourist season in Montenegro than about the position and rights of Serbs in Montenegro. The conclusion is clear, If there is no will and desire in New Serbian Democracy to return to the policy of protecting Serbian national interests, then it is necessary to form a new Serbian party, with strong infrastructure. A party that would predominantly work on the protection of Serbian national interests in Montenegro. And that means the establishment of new pillars of Serbian politics in Montenegro.
Five pillars of new Serbian Policy in Montenegro
1. The presence in every government of Montenegro. The New Serbian Democracy, which is now pursuing civic policies within the Democratic Front, is not interested to become a part of Montenegrin government as long as the Democratic Party of Socialists is in Government. Therefore, Serbs are the only ethnic group in Montenegro that is not represented in the Government of Montenegro. This needs to be changed, as Serbs must be part of the Government of Montenegro. Serbs need to take care of their interest only, which is why equal representation of Serbs in the institutions of Montenegro is needed. In principle, that means three to four ministries in the Government of Montenegro, as well as the position of Deputy Prime Minister of Montenegro, would belong to the Serbs. And in the future, support for that Serbian party would only increase. Because in that case, the Serbs would no longer be forced to vote for the Democratic Party of Socialists, but since the institutions of the system would be opened to them, they could decide for themselves who they would vote for. So that Serbian party would in future probably be the strongest political party in Montenegro.
2. Equal media representation. This is primarily related to the fact that the first or second Program of Radio Television of Montenegro broadcasts contents in Cyrillic and to have shows about Serbian history, art, culture…
3. Lifting of sanctions against Russia, and the establishment of strong cooperation with the institutions of Russia. There is no doubt that in Montenegrin government pro-Montenegrin option will oppose to cooperation with Russia, but Serb representatives in the Montenegrin government could, within their competencies, establish strong cooperation with the institutions of the Russian state.
4. Work on the formation of pro-Serbian and pro-Russian television that would have national frequency. Considering that Montenegro is a small country with a population of about 600,000, it would not require much money to set up such a television.
5. Formation of historical and economic region, which would also have partial autonomy. The municipalities of Niksic, Pljevlja, Zabljak, Pluzine, Savnik and Herceg Novi can thus constitute the economic region of Old Herzegovina. Such a region, which is also a historical region (Old Herzegovina belonged to Montenegro after the Berlin Congress) is important because it would make political balance. Old Herzegovina is predominantly populated by Orthodox Christians and is not pro-Montenegrin and pro-NATO oriented., but pro-Serbian and pro-Russian. In that region, the pro-Serb and pro-Russian parties would have power. More autonomy is also needed in places where Serbs are the majority population. Recently, the city municipality of Tuzi (predominantly Albanian-populated) became an independent municipality, having separated from Podgorica (the capital of Montenegro). At the same time, the pro-Serb settlement Zlatica (which is almost twice the size of Tuzi) does not even have the status of a city municipality. Perhaps the example of Zlatica and Tuzi is the best indicator of the disastrous policy of Serb political representatives in Montenegro. Because unlike Albanian political representatives who are predominantly concerned with Albanian national interests, Serb political representatives do almost nothing that is in Serbian national interest.
Only with such a policy can Serbs in Montenegro survive, and expect to be the main political factor in Montenegro again. What is important to point out is that as much as Serbian influence in Montenegro strengthens, so much will strengthen Russian influence in Montenegro. That is why Russia should more strongly and directly support the improvement of the position of Serbs in Montenegro.
From our partner International Affairs
Russia- Europe: Towards Relations of Pragmatism And Responsible Interaction
The perpetual topic of Russia-Europe relations was one of the central themes at the recently concluded annual Munich Security Conference. It is no secret that these relations have, for a long time, been in a state of profound crisis. This was not only caused by the events in Ukraine, even though their significance and consequences for both Russia and Europe should by no means be understated. The roots are more profound, related to both parties being unprepared to develop optimal forms of their current interaction.
Nonetheless, speeches and discussions at the Conference showed signs that the involved parties are demonstrating a certain readiness to develop an optimal model for relations. In his opening speech, Germany's President Frank-Walter Steinmeier clearly said, "Europe should not put up with the ever-greater alienation of Russia. We need other, better EU-Russia relations." Most European leaders speaking at the Conference agreed, in one way or the other, with the notion that the current state of relations between Moscow and its western neighbours is unreasonable and needs to be revised. As always, it boils down to the matter of what specific, mutually acceptable parameters new relations could have.
For nearly five decades, I happened to be directly involved in the practical issues of developing cooperation first between the USSR and Europe, and then between Russia and Europe. Over this lengthy historical period, the parties consecutively tested three interaction models, yet none of them ultimately withstood the test of time.
The first model, that of "controlled confrontation," emerged during the Cold War when the USSR and Europe were divided by unsurmountable ideological, political, military and strategic barriers. Back then, the main task was to prevent a direct military engagement between the sides through reliance on the fundamental documents of the postwar world order. Where possible, the parties strove to resolve conflicts through dialogue and simultaneously build mutually advantageous cooperation. The Final Act of the 1975 Conference on Security in Europe and an entire package of treaties and agreements in arms control and confidence measures are among the starkest examples of such policy.
It should be said that, while being far from perfect, this policy made it possible to guarantee peace in Europe in the second half of the 20th century. In some way, back then, the situation in Europe was more stable and predictable than it is today. The rules of the game were acceptable for the opposite party, and dangerous "red lines" in the West and East were more evident than they are now.
The second model, that of a "Greater Europe," was tested after the fall of the Soviet Union and the consequent collapse of the entire socialist bloc and its institutions. The Charter of Paris for a New Europe signed in November 1990 by the heads of state and government of the OSCE declared that "the era of confrontation and division of Europe has ended" and a new era of democracy, peace and unity of Europe has started. The Charter for European Security signed in November 1999 in Istanbul was intended to "contribute to the formation of a common and indivisible security space" on the European continent. This document, as well as many others, signed by Russia, the European Union, NATO and other parties, was the foundation for establishing far-reaching plans to build a Greater Europe, a Common space stretching from Vladivostok to Lisbon and shared spaces in various cooperation areas, etc.
These developments transpired in front of our very eyes and, to our profound regret, never materialized. Today, after some time, we can objectively assess the steps of Russia and Europe after the Cold War to establish cooperation within the framework of a new reality. Without attempting to shift the blame on the other party, we can confidently say that the different interpretation of both the unfolding historical events and the future direction of the development of our relations constituted the key problem of our partnership.
Without focusing on the details, perhaps failures in implementing large-scale projects of building a new Europe stemmed from conceptual differences between Russia and Europe in their understanding of the fundamental principles of building such a European space, and not from craftiness and malicious intent (which also cannot be ruled out entirely). These differences became apparent and began to gain momentum as political agreements were being put into practice. Europe viewed the shaping of common spaces as the process of integrating Russia into the existing European bodies. At the same time, Russia saw it as the parties being equal participants in developing new mechanisms that accounted for new realities and the parties' legitimate interests. Such irreconcilable stances were bound to turn into conflict sooner or later, which is precisely what happened.
The third relations model emerged after the acute stage of the 2014 Russia-West crisis. Subsequently, the European Union labelled it "selective engagement," and this wording was included in Federica Mogherini's "five guiding principles." The idea was of Europe interacting with Russia where it suited Brussels interests, and opposing Russia where the interests of Moscow and Brussels diverged. On the whole, this concept was in line with Russian sentiment. It appeared that "selective engagement" would delineate mutually acceptable parameters of the "new normalcy" for a long time to come.
However, the new model appeared to have shown its deficiency as well, at least because the European Union still failed to form a united opinion on what degree of "engagement" in relations with Moscow was necessary. A new algorithm of interaction with Russia has never been elaborated in a single EU document. Additionally, the interests and capabilities of Moscow and Brussels are clearly asymmetrical; therefore, finding a mutually acceptable balance of interests in every specific area appears to be exceedingly difficult.
We believe, though, it to be far more critical that "selective engagement" essentially reduces the positive interaction between Brussels and Moscow exclusively to tactical, situational cooperation pertaining to current problems and specific, rigidly delineated areas. However, the challenges Moscow and Brussels face today are not only tactical and situational, but also strategic and long-term, and the responses, therefore, should also be strategic and long-term.
Unless they want to continue repeating old mistakes, both historians and politicians should focus their attention on past experiences. What conclusions can we draw from the past 30 years of Russia-EU relations?
Our relations should be primarily based on pragmatic assessments of current opportunities and limitations, and not on emotions. As a result of diverging history, culture, religion, and lifestyle traditions, Russia and the European Union are not ready to create common spaces in the principal areas of their activity (apart from shared spaces, say, in the humanitarian, cultural, or educational areas). Swept by the euphoria induced by the end of the Cold War, we were clearly too hasty in declaring the prospect of creating a "Greater Europe." No matter how attractive this goal appears, we will not come close to implementing it soon.
In the current state, Russia and the European Union are tackling various development tasks that are sometimes far from being identical and can even contradict each other. This applies to politics, economy, and security. Any cooperation mechanisms will be workable only if they account for both shared interests and objectively existing diverging interests. This means that by "cooperation" we should imply combining common or coinciding interests, as well as minimizing expenses and costs stemming from inevitable rivalry and even elements of confrontation.
If this is the case, pragmatism should form the foundation of Russia-Europe relations. However, pragmatism alone is not sufficient for building stable relations. The "selective engagement" model claimed to build upon the pragmatic dialogue between Brussels and Moscow. However, the experience of the past six years demonstrated that bare pragmatism is barely different from opportunism and attempts to outmanoeuvre the partner somehow using one's relative advantage in a particular area.
Therefore, the concept of "pragmatism" should be supplemented with the idea of "responsible interaction." Responsibility here entails primarily the parties' ability and readiness to account both for their immediate situational interests and their long-term strategic interests. One does not need to be Nostradamus to arrive at the obvious conclusion that the further into the future we look, the more areas of coinciding Russian and European interests we see. We should not allow the sentiment and emotions of the current moment to block the view of long-term prospects.
Additionally, "responsibility" entails accounting not only for one's own interests, for also for those of one's partner, as well as the broader interests of the entire international system. Both the future of Russia-Europe bilateral relations and largely the future of the world order depend on Russia and Europe today. As we think of interaction in areas such as global and regional stability, nuclear non-proliferation, combating international terrorism, managing climate and migration flow, we need to always keep our collective responsibility for the emerging world order in mind. We simply do not have the right to think that "a game without rules" or a "war of all against all" is the historically inevitable new world order.
Combining pragmatism and responsibility will require significant intellectual and political efforts of both parties. At first, Russia and Europe should embark on building such interaction mechanisms, including cooperation at the highest political level, that would promote better understanding and open up opportunities for fruitful cooperation. Naturally, such an effort should be bolstered by persistent work on all other levels and in all other venues, including joint work of officials, diplomats, military personnel, experts, and civil society activists.
From our partner RIAC
From "Selective Engagement" to "Enlightened Realism"?
Four years ago, High Representative of the European Union for Foreign Affairs and Security Policy Federica Mogherini announced that Brussels was looking at new approaches to building relations with Moscow. These approaches would later become known as the "five Mogherini principles." These principles represented the culmination of a long and emotionally taxing discussion within the European Union that represented the varied positions of the 28 states that made up the EU back then. A difficult compromise was made between those who favoured a hard-line approach towards Russia and those who preferred a softer approach.
"Selective Engagement" as the Foundation of the "New Normal"
It was, of course, through compromise that the European External Action Service was able to prevent a split from forming within the European Union on a crucial issue, which turned out to be a historic moment for the organization. We should note in passing that Brussels has thus far been unable to reach a similar consensus on other issues that are of fundamental importance to the European Union, such as the issue of Kosovo, the Israeli–Palestinian settlement, the civil conflict in Venezuela and the expansion of the European Union itself.
In terms of a specific policy, the most significant strategy of the European Union is the fourth of its five guiding principles – "Selective Engagement with Russia." On the whole, "selective engagement" appeared to be a reasonably logical approach given the "post-Ukrainian reality." Europe could not conceivably go back to cooperating with Russia the way it had done in the past, turning a blind eye to the dramatic events in Crimea and Donbass, as this would mean it was somehow condoning the "aggressive behaviour of the Kremlin." Nor was it inclined shut itself off from Moscow completely with another cordon sanitaire, as the latter was key to solving numerous issues of European politics.
The judicious decision was thus made to work with Russia only when and where it would serve the specific interests of the European Union. Mogherini's statement touched upon potential points of contact with the Russian side, including Iran, Syria, the Middle East as a whole, migration, the fight against terrorism and climate change. "Selective engagement" can be compared to a "buffet" in a restaurant, where patrons serve themselves from a wide selection of dishes instead of being offered a set meal from the menu.
As far as we can tell, the principle of "selective engagement" was mostly supported in Moscow, albeit with little enthusiasm. Generally speaking, cooperation between Russia and the European Union was primarily selective before 2014 anyway, and the prospect of creating a unified "Greater Europe" had more or less fizzled out by the end of the 2000s. This is why, three months after the "five guiding principles" had been announced, the Russian side presented President of the European Commission Jean-Claude Juncker with a list of proposals regarding possible areas of "selective engagement" during his visit to the St. Petersburg International Economic Forum.
Of course, the proposals that had been prepared for Juncker primarily reflected the interests and priorities of the Russian side. Thus, there was already friction about who would put on the spread for the "buffet" and who would fill their plates. Nevertheless, cautious hopes were expressed in 2016 that the new approach could indeed work, at least for a transitional period.
Four years down the line and we have no option but to conclude that the principle of "selective engagement" has enjoyed limited success in relations between Europe and Russia, if any at all. Not a single "road map" or holistic strategy has emerged from it over these past four years, nor has it served as the basis for marking out "red lines" in bilateral relations. In fact, "selective engagement" has remained nothing but a general political declaration on the part of the European Union. Relations between the eastern and western parts of Europe continue to be built by fumbling around in the dark, through trial and error. And since no one wants to risk making a political faux pas, there is no great desire to try something new. Any step forward is taken with enormous difficulty, political inertia extinguishes new ideas, and discussions of Europe–Russia relations increasingly come down to rehashing old, worn out and decrepit initiatives that were bandied around two, three and even four years ago.
It would hardly be fair to blame certain politicians or public officials or even single out individual EU members for the apparent shortcomings, if not the complete failure, of "selective engagement." These shortcomings are, in our estimation, associated with quite objective circumstances.
Why Mogherini's Fourth Principle Failed
First of all, there is nothing close to a consensus on either side as to what degree of "selectivity" would be optimal for engagement. There are two distinct camps in the European Union. The first is made up of those who advocate the "historical reconciliation" of Russia and Europe, while the second consists of those who want to stand up to the "Putin regime." This division remains. Little has happened in the past six years to convince either camp to change its tune or alter the balance of powers between Europe's "hawks" and "pigeons." Neither Donald Trump's victory in 2016, nor the results of the 2019 European Parliament elections, nor the decision of the United Kingdom to leave the European Union in 2020 managed to shift the equilibrium in Brussels.
This is why the European Union merely continues to renew the 2014 sanctions, each time announcing a victory for "European unity." Agreeing on such an important and very specific issue as the feasibility of building the Nord Stream 2 pipeline has proved impossible. Perhaps this is why the substantive content of the "selective engagement" with Moscow has never been brought up as a topic for serious political discussion in Brussels. After all, any discussion in this vein would inevitably jeopardize the much-vaunted "European unity," laying bare the fundamental incompatibility of opinions within the European Union regarding the state of and prospects for relations with Moscow.
While a fierce behind-the-scenes struggle has raged among individual EU member states for the last four years in Brussels regarding the limits and possibilities of "selective engagement" with Russia, in Moscow, the concept of "selective engagement" continues to be a field of an equally fierce confrontation of influential institutional and group interests. Europe does not have a consistent long-term strategy with regard to Moscow, but Russia does have such a strategy with regard to Brussels.
In some cases, the confrontation between Moscow's "Europhobes" and its "Europhiles" even spills over into the public space. For example, existing official and semi-official assessments of the impact of the EU sanctions and Moscow's countersanctions on the Russian economy, as well as estimates regarding the success of the import substitution strategy vary greatly, from the clearly alarmist to the unabashedly triumphant. If the parties cannot work out their own positions on the matter, then how can we expect them to find common ground in negotiations with one another?
What is more, Russia and the European Union are very different players on the international stage, with different comparative advantages and different sets of instruments of power and influence. Significant asymmetries of both interests and opportunities between the "Russian elephant" and the "European whale" are inevitable. And this makes it extremely difficult to find a "fair" balance of interests in each specific case. For example, Mogherini talked about the desirability of working with Moscow on the issue of North Korea, but what exactly can Brussels offer Moscow in this area? Moscow, for its part, is trying to get the European Union to recognize the Eurasian Economic Union (EAEU) as an equal partner; however, the economic potential of the EAEU is minuscule compared to that of the EU.
Moreover, while Moscow takes pride in its sovereignty and the fact that it can make independent decisions, the sovereignty of the European Union is limited one way or another by the one-sided nature of its relations with the United States. And this means that attempts to create a balance between the European Union and Russia will ultimately turn into a far more complicated game involving the decidedly scalene Brussels–Moscow–Washington triangle. Even if there is still some hope for the "Russian elephant" and "European whale" to come to an agreement, the "American tyrannosaurus" will do its best to make sure that does not happen.
Finally, we should not lose sight of the fact that "selective engagement," as well as the balanced exchange of mutual concessions and the tactical coordination of the positions of the parties, are mainly applicable as mechanisms for resolving specific issues in the here and now. For example, offering mutual concessions on the post-conflict reconstruction of Syria, salvaging the Iranian nuclear deal or resolving issues related to the de-escalation of the Libyan Civil War are acceptable solutions. These areas can, to a certain degree, be isolated from the general background of relations, while at the same time preserving individual islands of cooperation in the vast ocean of confrontation.
But the fact of the matter is that the most fundamental challenges facing Russia and Europe are not tactical, but rather strategic in nature. These include the reduced clout of the two sides in the world economy and population, the technological inferiority of Europe and Russia compared to North America and East Asia, the rise of political populism and radicalism, the long-term decline in stability in neighbouring regions, etc. In confronting these challenges, trading specific concessions and negotiating tactical compromises do little. Such agreements are not a substitute for a common vision of the long-term future of Russia–Europe relations and, more broadly, a shared view of the direction in which the world is headed. Agreements on specific issues should, in one way or another, be embedded in this common vision.
Nikolay Chernyshevsky vs Immanuel Kant
Anyone in Russia who has at least the vaguest memories of reading Nikolay Chernyshevsky's didactic novel What Is to Be Done? at school ought to remember the theory of "rational egoism" that he loved so much. Nothing can be done about a person's inherent egoism, and there is no point hoping for them to change their nature and suddenly become selflessly altruistic. Chernyshevsky was a militant atheist and categorically rejected the existence of Kant's "moral law" in such people.
However, according to Chernyshevsky, people do not come into conflict with one another because of egoism as such, but rather because of how they perceive their own interests. Most people are so focused on achieving their near-term goals, serving their basic instincts and acting in a reactionary manner that they not only ignore the interests of those around them, but also effectively neglect their own longer-term ambitions. This inevitably impacts both the egoist's environment and the egoist himself.
"Rational egoism" proposes articulating these interests in a "rational" manner, that is, by taking the interests and wishes of others into account and building a rational hierarchy of diverse desires, propensities and personal tasks – all without denying a person the opportunity to pursue their own interests. Reason softens the most dangerous and destructive manifestations of egoism without encroaching on the fundamental features of human nature.
As applied to international relations, the theory of "rational egoism" could be interpreted as "enlightened realism." An analogue of Kant's "moral law" in this case would be the unity of fundamental values between Russia and the European Union. However, since the European and Russian elites are never going to agree on values, relations should be built on interests instead. That is, not on non-dogmatic religious views of Immanuel Kant, but instead on the atheist rationalism of Nikolay Chernyshevsky.
It would seem that the theory of "enlightened realism" could complement "selective engagement" as a platform for the development of EU–Russia relations moving forward.
Why We Need "Enlightened Realism"
The noun realism in this formulation implies a sober assessment of the specific moment we are experiencing, as well as the constraints associated with it. We cannot go back 20 years to the "honeymoon" period of Moscow–Brussels relations. And even if we could, it would only mean a return to a situation of "bad infinity" and the very same problems that continued to pile up and eventually led to the 2014 crisis. "Realism" forces us to acknowledge that, in all likelihood, we will not be able to find a solid institutional basis for developing relations that is acceptable for both sides in the foreseeable future.
Relations between Europe and Russia are going to be shaky for a long time to come, regardless of the paths of political transit that have already been embarked upon in the East and the West. Irrespective of who will be in power in Moscow and Brussels five or ten years down the line and regardless of whether or not we can reach a fair and satisfactory solution to the "Ukrainian issue" during this time. The difficulties are caused by differences in geographical location, historical experience, existing traditions and the psychologies of the respective peoples. We cannot merely draw up some kind of framework agreement or charter to get past the crisis; this did not work in the past, and it will not work now.
The noun enlightened places the concept of "realism" into a certain framework. To be sure, the politics of Donald Trump can be characterized as "realistic" (and also pragmatic, transactional, self-centred or cynical – underline as necessary). However, Trump's "realism" is in no way "enlightened." "Enlightened realism" means that the sides should take both their tactical and immediate interests, as well as their strategic and long-term needs, into account.
Foreign policy decisions should be made not only with a view to the next presidential campaign or how the general public might react, but also with an understanding of the strategic challenges, opportunities and priorities facing the sides. The further into the future we are prepared to look, the greater the number of areas of common interest between Russia and the European Union we will find.
What is more, "enlightenment" implies that the parties have to be mindful not only of their own interests, but also of the interests of the system of international relations as a whole, since the destruction of this system does not bode well for Russia or Europe. No tactical victory can outweigh the strategic costs associated with the destabilization of the global system, the breakdown of international organizations, the degradation of international law, and the transition to a "game without rules" where "every man" is "for himself" in world politics.
This understanding is especially relevant today, when other leading centres of power in world politics (the United States, China and India) are, for various reasons, not ready to bear the responsibility for preserving regional and global stability. It is in these conditions that Europe and Russia are inevitably assuming greater responsibility for maintaining peace and resolving conflicts in such regions as the Middle East and North Africa.
Let us stress once again that we are not talking here about abandoning "selective engagement" once and for all. Engagement will continue to be selective for the foreseeable future, as the only alternative would be no interaction whatsoever. The task right now is to give this engagement a new depth, greater clarity and a fresh perspective. Figuratively speaking, we are talking about moving from two-dimensional interaction to three-dimensional interaction, or, in other words, leaving the rowdy market square where narrow-fisted buyers haggle prices with dodgy traders for the tranquillity of university laboratories where we can start designing the future European and world order.
This will require a qualitatively different level of interaction between the two sides both at the level of political leadership and at the level of diplomatic missions, ministries of economy, independent experts and non-governmental organizations. Not a return to the rather meaningless biannual EU–Russia summits, but the beginning of practical work on the implementation of large, forward-looking joint projects.
The only way that the principle of "enlightened realism" can work in the engagement between Europe and Russia is if the sides endeavour to apply it to themselves first and foremost, and then to the other party. After all, "enlightened realism" is not about making concessions to the other side or surrendering one's position. Rather, it is merely a more extensive and less opportunistic understanding of one's own interests. Right now, both Brussels and Moscow are following in the spirit of Oscar Wilde's famous words: "[T]he nuisance of the intellectual sphere is the man who is so occupied in trying to educate others, that he has never had any time to educate himself."
From our partner RIAC
Shaping Europe's digital future
I am a tech optimist. My belief in technology as a force for good comes from my experience as a medical student. I learnt and saw first-hand its ability to change fates, save lives and make mundane what once would have been a miracle.
We now take for granted that we can take an antibiotic when we have an infection or go for an x-ray or MRI scan when we get injured or sick. These are all miracles that have changed the course of humanity for the better.
Thanks to technology, these miracles are becoming more breathtaking and more regular by the day. They are helping to better detect cancer, support high-precision surgery or tailor treatment for the needs of each patient.
This is all happening right now, right here in Europe. But I want this to be only the start. And I want it to become the norm right across our society: from farming to finance, from culture to construction, from fighting climate change to combatting terrorism.
This is the vision behind the new digital strategy that the European Commission will present this week.
We believe that the digital transformation can power our economies and help us find European solutions to global challenges. We believe citizens should be empowered to make better decisions based on insights gleaned from non-personal data. And we want that data to be available to all – whether public or private, big or small, start-up or giant. This will help society as a whole to get the most out of innovation and competition and ensure that we all benefit from a digital dividend. This digital Europe should reflect the best of Europe – open, fair, diverse, democratic, and confident.
The breadth of our strategy reflects the scale and nature of the transition ahead of us. It covers everything from cybersecurity to critical infrastructures, digital education to skills, democracy to media. And it lives up to the ambition of the European Green Deal, for instance by promoting the climate neutrality of data centres by 2030.
But, as we will set out this week, the digital transformation cannot be left to chance. We must ensure that our rights, privacy and protections are the same online as they are off it. That we can each have control over our own lives and over what happens to our personal information. That we can trust technology with what we say and do. That new tech does not come with new values.
I fully understand that, for many, technology – and especially those who own it – have not yet earned that trust. I see how that can break down when big online platforms use their own customers' data in ways they shouldn't. Or when disinformation drives out responsible journalism and clickbait matters more than the truth.
So I get and respect why some people are tech sceptics, doubters or even pessimists. And this is why I believe we need a digital transition which is European by design and nature. One that rebuilds trust where it is eroded and strengthens it where it exists. As part of this, big commercial digital players must accept their responsibility, including by letting Europeans access the data they collect. Europe's digital transition is not about the profits of the few but the insights and opportunities of the many. This may also require legislation where appropriate.
The point is that Europe's digital transition must protect and empower citizens, businesses and society as a whole. It has to deliver for people so that they feel the benefits of technology in their lives. To make this happen, Europe needs to have its own digital capacities – be it quantum computing, 5G, cybersecurity or artificial intelligence (AI). These are some of the technologies we have identified as areas for strategic investment, for which EU funding can draw in national and private sector funds.
Making the most of digital and data is as important for big industries as it is for SMEs. Although the biggest ideas often come from the tiniest start-ups, scaling-up can be an uphill task for smaller European firms in the digital world. We want European start-uppers to enjoy the same opportunities as their counterparts in Silicon Valley to expand, grow and attract investment.
For this, we will need to overcome fragmentation in our single market that is often greater online than elsewhere. We need to join forces – now. Not by making us all the same, but by leveraging our scale as well as our diversity – both key factors of success for innovation.
And we will also need the resources to match ambition. This is why at this week's European Council I will push for a modern and flexible EU budget that invests in our future – and in the research, innovation deployment and skills to bring it to life.
This will be needed if we want Europe to lead the way in the areas with the most potential, such as data and AI. This week, we will put forward our plans for both alongside our wider digital strategy.
The starting point on data will always be personal protection. Europe already has the strongest rules in the world and we will now give Europeans the tools they need to make sure they are even more in control.
But there is also another kind of data that is the uncovered, unused goldmine of the data-agile economy of the future. I am thinking of anonymised mobility data or meteorological data gathered by airliners, satellite images, but also industrial and commercial data on anything from engine performance to energy consumption.
These types of non-personal data can underpin the design and development of new, more efficient and more sustainable products and services. And they can be reproduced at virtually no cost. Yet today, 85% of the information we produce is left unused. This needs to change.
We will develop a legislative framework and operating standards for European data spaces. These will allow businesses, governments and researchers to store their data and access trusted data shared by others. This will all be done under secure conditions that create greater value for all and ensure a fair return for all.
These pools of data will in turn drive our work to promote excellence and trust in artificial intelligence in Europe. AI is already helping small companies reduce their energy bill, enabling greener, automated transport, and leading to more accurate medical diagnoses.
To help businesses big and small to harness the full potential of AI, we will invest in a network of local digital innovation hubs and in centres of excellence for advanced research and education.
At the same time, we will act to ensure that AI is fair and compliant with the high standards Europe has developed in all fields. Our commitment to safety, privacy, equal treatment in the workplace must be fully upheld in a world where algorithms influence decisions. We will focus our action on high-risk applications that can affect our physical or mental health, or that influence important decisions on employment or law enforcement.
The aim is not more regulation, but practical safeguards, accountability and the possibility of human intervention in case of danger or disputes. We successfully shaped other industries – from cars to food – and we will now apply the same logic and standards in the new data-agile economy.
I sum up all of what I have set out with the term 'tech sovereignty'. This describes the capability that Europe must have to make its own choices, based on its own values, respecting its own rules. This is what will help make tech optimists of us all.
This article by the President of the European Commission Ursula von der Leyen was published on the occasion of presentation of Commission's strategies for data and Artificial Intelligence.