Geopolitics of Montenegrin Serbs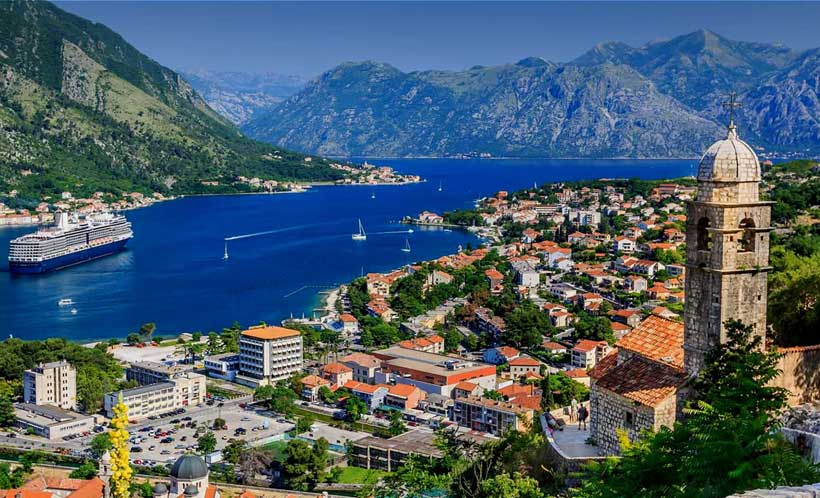 In Montenegro, since 1945 and the beginning of the rule of the Yugoslav Communists, the process of assimilation of Serbs into Montenegrins is implemented. But, in this process, it is important to highlight the geopolitical turning point in 1997, when the current regime began to implement openly anti-Serb policy. Because under communism, although almost everyone had to declare themselves nationally as Montenegrins, they were nonetheless Montenegrins who were in the Serbian/Slavic cultural and historical circle. However, since 1997, the current government in Montenegro has started the project of independent Montenegro, with the ultimate goal that ethnic Montenegrins no longer belong to the Serbian/Slavic cultural and historical circle. No less important is the task of keeping the number of Serbs in Montenegro at the level of statistical error. The entire policy of the ruling party in Montenegro comes down to the fact that Serbia, and now Russia, are external enemies, while Serbs in Montenegro are internal enemies.
However, it turned out that Serbs were a harder nut than expected, so the assimilation process did not go as quickly as expected. Although the independence referendum was held in 2006, the current government has failed to impose a Montenegrin identity on Serbs. And if all post-war censuses from 1948 to 2011 were fictitious and did not reflect the real situation, and on such census in 2011 there were "too many" Serbs. According to the US Central Intelligence Agency (CIA), 42.9 percent of Montenegrin people speak Serbian, and another two percent speak Serbo-Croatian, while Montenegrin speak 37 percent. Also interesting is the survey of CEDEM agency, which is close to the ruling party, according to which 46.6 percent of respondents believe that in Montenegro should only exist Serbian Orthodox Church, while only 4.9 percent believe that there should be only the Montenegrin Orthodox church
The final assimilation phase
The main objective of the current government is not only to build new generations through a purely Montenegrin identity, but through an anti-Serb identity. This process cannot be performed overnight, it takes time. In accordance with that, there was a Serbian writer expulsion from school textbooks, the introduction of two new characters, which even president of Montenegro Milo Djukanovic does not use.
Revision of history, recognition of Kosovo, the presence of a Montenegrin officer at the celebration of the Croatian military operation "Storm" (which carried out the largest ethnic cleansing since World War II), Montenegro's entry into NATO and open attack on the Serbian Orthodox Church, clearly indicate that the authorities are entering to the final phase of Serb assimilation. The system of work of the Democratic Party of Socialists and its political partners is simple. Authorities carry out assimilation, and encourages Serbs to emigrate. Serbs who cannot withstand social pressure are forced to leave Montenegro. However, those who are unable to leave Montenegro are forced to assimilate and become national Montenegrins. The Montenegrin national project is implemented primarily through economic pressure, that is the main lever for the assimilation of Serbs. And besides, there is strong pressure in the media, education system, cultural institutions… And as time goes regime is becoming more violent.
Warning of US hawk
Why Milo Djukanovic and Democratic Party of Socialists have Western support, explains openly one of the main American hawks for the Balkan – Daniel Serwer. In his statements, Serwer clearly states that there is no good opposition in Montenegro, because the opposition in Montenegro is not pro-NATO and pro-European, and it is not for an independent Montenegro.
"There is now no room for President Milo Djukanovic to step down because opposition forces in Montenegro are not only questioning NATO membership and joining the EU, but also Montenegrin independence. Government changeability is necessary and I would like to see it, better sooner rather than later. I also told that directly to the president, "explains Server.
Serwer also added that any change in government must offer an alternative.
"That is my point: without serious opposition, which is not tied to Moscow, it will be impossible for Djukanovic or his party to leave power. But that day should come. No one should stay in power forever. It's been a long time, though recognition must be given to the President for leaving office several times, "he stated.
Serwer "explained" that creating a serious opposition that is not influenced by the Kremlin is a long process.
"I do not think that the process of creating a pro-European opposition should wait for membership in the European Union. Already then, Montenegro should be a serious democracy. Of course, this process of creating opposition forces that will not rely on Moscow will take years. The time to begin this process is now. It is important to emphasize that those who oppose (Montenegrin) independence and NATO membership cannot form that serious pro-European opposition," stated Server.
The Machine can work without Djukanovic
However, the process of creating a pro-NATO and pro-European opposition has already begun, and gives excellent results. Political party Democratic Montenegro is today the strongest opposition party in Montenegro. And things will only get worse for Serbs and pro-Russian parties unless their policies, which have been catastrophic so far, change. At present, the main focus of the ruling party – apart from winning the next parliamentary elections – is the census, which will be held in 2021. The Government's goal is to make ethnic Montenegrins a majority nation, with less than 20 percent of Serbs. That is why the activity of the Montenegrin institutions, which is visibly intensified, will in future only be more brutal.
The striking brigade for the implementation of this plan is administration under Government control, that does strong economic pressure on Serbs. In addition to strong economic pressure, there is also media pressure in which an open revision of history is performed. However, some analysts think that it is enough that Milo Djukanovic leave the power, and that the Serbs after that will once again be the majority in Montenegro. But, they are wrong! Because, we could see that even when Djukanovic was withdrawing, the anti-Serb machine was working excellent. The reason for this is that the seat of the anti-Serb machine is not in Montenegro, but outside. Behind the anti-Serb machine in Montenegro are liberals from the West. It is reasonable to suspect that the forthcoming census will be adjusted by the Government of Montenegro according to their interests, intentions and goals. Recent data on the number of Serbs working in Montenegrin institutions – presented by journalist Gojko Raicevic – was just another confirmation of discrimination against Serbs in that country. According to a document published by the Ministry of Human and Minority Rights in 2015, it is clear that Serbs have been expelled from the Montenegrin system. Without a doubt, now the situation is even worse.
In light of the above, an urgent change in Serbian politics in Montenegro is needed. If Serbs want to survive in Montenegro, it is necessary to pursue a Serb policy, not a civic one. It is simply unbelievable that Serbs who make up a third of Montenegro's population do not have a serious national party. How is it possible that New Serbian Democracy, a party that was founded to fight for Serbian interests in Montenegro, becomes part of civic party Democratic Front?! And now it can be seen that New Serbian Democracy is more concerned with the summer tourist season in Montenegro than about the position and rights of Serbs in Montenegro. The conclusion is clear, If there is no will and desire in New Serbian Democracy to return to the policy of protecting Serbian national interests, then it is necessary to form a new Serbian party, with strong infrastructure. A party that would predominantly work on the protection of Serbian national interests in Montenegro. And that means the establishment of new pillars of Serbian politics in Montenegro.
Five pillars of new Serbian Policy in Montenegro
1. The presence in every government of Montenegro. The New Serbian Democracy, which is now pursuing civic policies within the Democratic Front, is not interested to become a part of Montenegrin government as long as the Democratic Party of Socialists is in Government. Therefore, Serbs are the only ethnic group in Montenegro that is not represented in the Government of Montenegro. This needs to be changed, as Serbs must be part of the Government of Montenegro. Serbs need to take care of their interest only, which is why equal representation of Serbs in the institutions of Montenegro is needed. In principle, that means three to four ministries in the Government of Montenegro, as well as the position of Deputy Prime Minister of Montenegro, would belong to the Serbs. And in the future, support for that Serbian party would only increase. Because in that case, the Serbs would no longer be forced to vote for the Democratic Party of Socialists, but since the institutions of the system would be opened to them, they could decide for themselves who they would vote for. So that Serbian party would in future probably be the strongest political party in Montenegro.
2. Equal media representation. This is primarily related to the fact that the first or second Program of Radio Television of Montenegro broadcasts contents in Cyrillic and to have shows about Serbian history, art, culture…
3. Lifting of sanctions against Russia, and the establishment of strong cooperation with the institutions of Russia. There is no doubt that in Montenegrin government pro-Montenegrin option will oppose to cooperation with Russia, but Serb representatives in the Montenegrin government could, within their competencies, establish strong cooperation with the institutions of the Russian state.
4. Work on the formation of pro-Serbian and pro-Russian television that would have national frequency. Considering that Montenegro is a small country with a population of about 600,000, it would not require much money to set up such a television.
5. Formation of historical and economic region, which would also have partial autonomy. The municipalities of Niksic, Pljevlja, Zabljak, Pluzine, Savnik and Herceg Novi can thus constitute the economic region of Old Herzegovina. Such a region, which is also a historical region (Old Herzegovina belonged to Montenegro after the Berlin Congress) is important because it would make political balance. Old Herzegovina is predominantly populated by Orthodox Christians and is not pro-Montenegrin and pro-NATO oriented., but pro-Serbian and pro-Russian. In that region, the pro-Serb and pro-Russian parties would have power. More autonomy is also needed in places where Serbs are the majority population. Recently, the city municipality of Tuzi (predominantly Albanian-populated) became an independent municipality, having separated from Podgorica (the capital of Montenegro). At the same time, the pro-Serb settlement Zlatica (which is almost twice the size of Tuzi) does not even have the status of a city municipality. Perhaps the example of Zlatica and Tuzi is the best indicator of the disastrous policy of Serb political representatives in Montenegro. Because unlike Albanian political representatives who are predominantly concerned with Albanian national interests, Serb political representatives do almost nothing that is in Serbian national interest.
Only with such a policy can Serbs in Montenegro survive, and expect to be the main political factor in Montenegro again. What is important to point out is that as much as Serbian influence in Montenegro strengthens, so much will strengthen Russian influence in Montenegro. That is why Russia should more strongly and directly support the improvement of the position of Serbs in Montenegro.
From our partner International Affairs
An occasion for the EU to reaffirm its standing on Security policies and Human Rights
Vice-President of the EU Commission Margaritis Shinas was a keynote speaker at this summer's Diplomatic Conference in Vienna organised by the International Institute IFIMES, Media Platform Modern Diplomacy and their partners. High dignitary of the Commission seized the occasion to express the EU's take on the 75th anniversary of victory over fascism, unfolding health crisis and to it related pressure on human and labour rights, as well as on the Union's continued efforts towards remaining a 'rock' amid the volatile climate.
It is known by now – and acknowledged by the EU Commission VP – that the COVID-19 crisis has had some severe implications for Human Rights and, to a lesser extent, for cooperation outlooks. In the face of the first wave, countries in Europe and elsewhere have adopted different courses of actions in order to manage the health crisis and attempt at containing its threats. Placed in an unprecedented situation, governments have undoubtedly each reacted in ways they deemed most appropriate at the time.
However, the pandemic itself topped with the varied policies have caused notable restrictions on Human Rights. Most notoriously, the right to life and that to health have been challenged in extreme circumstances where, at the peak of the crisis, health institutions were so overflowed that the provision of maximal care to every single individual was compromised. The effective and equal access to healthcare has therefore quickly become a central preoccupation of many governments, drawing on some dramatic first-hand experiences.
On that, I will say that if the global health crisis has been a synonym for many negative impacts, it has also been a precious opportunity to rethink carefully the existing narrative of programmatic and progressive rights – such as the right to health – needing no immediate attention, nor realisation. This narrative held predominantly by some Western democracies ever since the adoption of the UN International Covenants, has been unduly weakening the universal and indivisible stance of Human Rights. Needless to say, in adhering to that dangerous narrative, planning for and prioritizing health access, resources and system capabilities is undermined. This, in turn, contributes to the difficult and insufficient responses of some governments that have been witnessed. May the victims of inadequate infrastructures due to an obsolete distinction between rights serve as a poignant reminder: social, cultural and economic rights need be readily available to all.
Equally interesting is the toll taken on a whole other range of Human Rights – an international system built up in last 75 years on the legacy of victory of antifascist forces in Europe and elsewhere. Numerous individual freedoms have also suffered limitations, often as a direct result of actions taken to promote and ensure the right to life and the right to health for the most vulnerable. Indeed, people's freedom of movement, that of religion (external dimension), that of assembly and association, as well as their procedural rights – only to name a few – have all been greatly affected during the crisis.
Of course voices have raised their discontent at those restrictions put in place to mitigate the crisis, considered by many to be too incisive and too manifold when cumulated. But despite an apparent clash between two groups of interests protected by different rights, the resolution which has emerged from the approaches followed by most countries is very telling. In fact, a balancing exercise revealed that protecting the right to health and to life of the minority of people ought simply to be considered predominant in comparison to the other individual freedoms and rights of the majority. This reasoning, grounded in solidarity and the protection of minorities and vulnerable persons, is in fact very encouraging in an era of growing individualism combined with overwhelming challenges which will certainly require peoples to unite against them.
Nevertheless, this does not take away from the fact that the full and optimal enjoyment of Human Rights has generally been seriously affected as many interests have been caught in the crossfire of the fight against Coronavirus' harmful effects. Moreover, the crisis has also created some divides amongst European countries. This is because the sanitary emergency has caused for precarious contexts of resources shortages and sometimes unfruitful cooperation, even shift in alliances.
This has naturally brought about separate criticisms and questioning of the EU cooperation strategy and security arrangements. In that sense, growing expectations are felt for the EU to uphold and promote its fundamental values including the rule of law, solidarity, non-discrimination and antifascist line.
Vice-PresidentSchinas is well aware of that reality and reiterates the EU's unalterable commitment to peaceful cooperation, human dignity, liberty, equality and solidarity in these troubled times. He further ensures that the most recent security strategies led by the Union do not – and never will – eat away at the protection of fundamental rights. What is more, whilst the EU's arrangements can be seen as slightly 'under attack' currently, the VP feels that rather than seeing this period as a high-stakes test on EU democracies it should be seen as an opportunity to take a bigger stand than ever for the European common values and call for strengthened multilateralism. This necessities constructive reciprocal and respectful active engagement with the EU Mediterranean and eastern European neighbourhood.
All that is because it is not too difficult to imagine that the aftermath of the C-19 crisis can open several paths of new dynamics in international relations. Yet, as it cannot be stressed enough, an upcoming change in the conception of relations between nations could be decisive for numerous other contemporary challenges – namely: migration crisis, armed conflicts, climate change. While one of the paths could consist in an increase in protectionism and nationalist attitudes, another one would involve, on the contrary, a shift towards reinforced cooperation and enhanced solidarity. The latter outward approach, advocated by the EU Vice-President and believed to be the best hope for the future, is one deeply enshrined in the antifascist legacy and the very raison d'être of the Union.
Above all, at the occasion of the 75th anniversary of the Victory Day, Excellency Schinas reminds us with much humbleness that the journey for safeguarding Human Rights is one that is perpetually underway.
Metternich: The visionary reconstructor of Europe and champion of conservatism
Klemens Von Metternich early life and orthodox ideas
Klemens Von Metternich was born on May 15, 1773, into the House of Metternich, a German noble family that originates from Rhineland. He was the son of a diplomat that had served at the Imperial court of Treves.
At the age of 15, he started studying law at the University of Strasbourg while getting more familiar with the concept of conservatism. In 1792 he was attending the University of Mainz, again at the faculty of law where his conservative ideas flourished, promoting traditional imperial institutions emphasizing the necessity of prosperity and stability in Europe.
Klemens Von Metternich is considered to be a controversial figure in international affairs due to his ideas of obstructionism, while some critics of him go as far as call him an enemy of freedom. He was a harsh critic of the French Revolution and its consequences and he dreaded the ideas of liberalism and nationalism that emerged after it.
On the other hand, he is praised for his vision of peace in Europe by holding on to the traditional monarchical systems that were the only way to establish peace and prosperity in his view. Thanks to Metternich, Europe established itself as a dominant economic and military power of the 19th century while reviving again the European values of stability and development for its European citizens.
The French Revolution
In 1789, amidst the French Revolution, Klemens Von Metternich expressed his dissatisfaction with the situation in France, calling the revolution a "hateful time" for Europe. His statements came when most of the French nobility was executed in France and there was a huge concern growing among the European powers that the situation would spread to the whole of Europe.
Soon enough, Metternich's concerns turned out to be true, as France sunk into a period of political turmoil. In 1794, the king of France Louis the XVI was executed spreading chaos among the country. The so-called "Reign of Terror" was established where thousands of French citizens were executed.
The French Revolution brought out views and ideas of liberalism and nationalism that contradicted the traditional systems that ruled Europe. Metternich resented these ideas. He was more focused on the idea of the European Enlightenment. He understood clearly that to provide tranquility and stability in Europe, certain fundamental laws needed to be established for Europe to function properly.
He pointed out that aspects of religion and morality should be the primary necessities to co-govern with natural laws. His ideal system for Europe was a monarchical system that would co-share power with other classes of European society. Metternich's goal was to prevent any further revolutions and uprisings in Europe, however, his plan was briefly jeopardized by the man that threatened to destroy everything he believed in.
Napoleon Bonaparte: Metternich's political nemesis
Napoleon Bonaparte, France's most prestigious general at that time, re-emerged as France's savior promising to save the French revolution and ending France's political turmoil. In 1804, Napoleon became the emperor of France. However, he was never recognized by any monarch in Europe.
The Great Powers of Europe, fearing that the effects of the French Revolution will backfire to them, decided to invade France and restore the reign of King Louis XVI. However, this act gave justification to Napoleon to declare war on the European powers by proclaiming that this was just a defensive measure to preserve the French Revolution.
At first, Metternich viewed Napoleon with great interest, mentioning that he was the only one capable of providing discipline to a troubled France. An extraordinary man with practical knowledge about the common life of the citizens. However, his praise came with some precautions about Napoleon. He thought that he was a very practical and strong man but only if he was born in a different age. He did not find his abilities suitable for the age they were in.
Metternich was appointed as the Austrian Ambassador in France in 1806. By that time Napoleon had managed to defeat Spain, Prussia, and Austria making his advances to the Russian Empire. It was at that point that Metternich decided to use his diplomatic skills to keep Austria "breathing" long enough until Napoleon would be dethroned. His plans accelerated when he became Austria's Foreign Minister in 1809.
At the same year he became a Foreign Minister, Metternich decided to show his diplomatic skills by arranging the marriage of Napoleon with Marie Louise the daughter of the Austrian Emperor, Francis I. With this maneuver, he managed to convince Napoleon that Austria would be a close ally of him, while in reality, he was just buying time for Austria and the remaining great powers to come up with a plan to dethrone Napoleon. He didn't have to wait long.
In 1812, Napoleon marched towards Russia. Certain for his victory, a naive Napoleon did not see how big of an obstacle Russia would be. While advancing to Moscow he captured an empty city that was set on fire, while the Russians retreated to the east. With his lines of supply being cut off and a devastating Russian winter approaching them, Napoleon decided to retreat, looking for gold at the surrender of Russia but receiving only copper.
In the meantime, Metternich put his plan on the motion. With Napoleon's army retreating and being chased by the Russians, he convinced the remaining Great Powers to give a devastating blow to Napoleon. In 1813, Napoleon was defeated in Leipzig by the armies of Russia, England, Prussia, and Austria. Napoleon was imprisoned at the island of Elbe in the Mediterranean Sea. However, he managed to escape and rallied up soldiers that were loyal to him but again he was defeated for a second time in 1815, in the famous battle of Waterloo in Belgium. Metternich was crowded as a hereditary Prince of the Austrian Empire. The only man that stood against his ideal formation of Europe was defeated.
The Vienna Congress
The year 1815, saw Metternich at the peak of his power. He had become a key figure in the plan to dethrone Napoleon, with his excellent diplomatic skills and his determination to steer Europe into the path of stability where Kings governed and people were governed. At the Congress, he made his points very clear for the beginning. He believed that the only way to ensure peace in the continent was to bring the Great powers together so that they could prevent any large European War to escalate again.
Metternich's policies were based on two principles. One being the protection of historical traditional institutes such as the Church, the dynastic monarchies, and the essence of aristocratic privilege and the second was the establishment of a new vision of international balance in the continent of Europe. Instead of punishing France for the Napoleonic wars, he suggested including them in the table. With that move Metternich showed his true European face, putting the future of his continent above any nationalist notions.
The success of the Congress was inevitable. While including France at the Council of the Great Powers, Europe started to become more stable. The Council that included England, Russia, France, Austria, and Prussia agreed to prevent any further revolutions and political uprising in Europe. All the disputes between the powers were resolved with diplomacy which gave them all leverage to re-organize Central Europe in a more simple way to avoid any internal intense rivalries.
Contributions to Europe and modern diplomacy
Klemens Von Metternich was viewed by many people as a great man and a true European citizen who managed to sustain a united European front for almost 100 years. Despite some minor uprising after the Vienna Congress, Metternich was a solid diplomat whose vision about Europe became a reality.
However, he is also viewed as an oppressor of freedom. His despise for liberal and nationalist movements made him an "enemy" of the common people. What Metternich was more afraid of about these movements was the potential disruption inside the Austrian Empire that was made up by a multinational coalition of 11 nations. He did not want to see the Empire being torn apart. He went as far as suppressing any suspicious uprisings in Germany where there was a lot of revolutionary activity, by censoring books and newspapers and installing secret police spies that would infiltrate universities to arrest any suspected revolutionaries.
On one hand, he has been a symbol of oppression but that is not a judgment that represents him. He was a great man and a man with a vision for Europe. Numerous times he mentioned that he felt more European than Austrian, putting the needs of Europe above the nation. In his memoirs, he wrote about the unfair judgment that he received but also mentioned how wrong those people were. "Old Europe is at the beginning of the end and new Europe has not yet begun its existence, and between the end and the beginning, there will be chaos. In a hundred years, historians will judge me quite differently than do all those who pass judgment on me today."
Indeed, 100 years later historians acknowledged the wisdom and the vision of Klemens Von Metternich. After the devastating consequences of WWI and WWII, his diplomatic ideas that kept Europe at peace were missed and Europe realized that the failed liberal system will open the door to a nationalist and fascist system that will doom the whole continent.
History tends to repeat itself and while our world is more connected now and more liberal the shadows of nationalist far-right movements lure Europe. This aspect, combined with failed liberal policies result in dissatisfaction of the masses and without order, chaos would erupt as it did hundreds of years ago. Metternich's contributions to modern diplomacy and the history of Europe are remarkable. His ideas flourished after WWII with the creation of the European Union, a system that might not share the same conservative ideas as he did, but surely contributed to the prosperity of the continent.
His ideas of European stability and control of power are more relevant now with the new crisis that the EU is facingand soon enough the European Union will have to rethink Metternich's ideas for the neo-liberal system to survive, otherwise, there will be only room for nationalistic far-right movements that threaten the dream of the EU by returning to failed protectionism measures and policies.
Democratic Backsliding in the Visegrad Four: Examining the Illiberal Turn
The initial years of the post-communist era reflected a promising beginning of the consolidation of democracy in the Visegrad Four countries. Slovakia, the only exception to this regional trend of democratic consolidation under Mečiarism, also showed signs of successful transition with the revival of democracy after the 1998 elections. However, in the last few years, with the rise of eurosceptics, ultra-nationalists and populists, the democratic model has been facing grave challenges in these countries. Besides attacking the opposition, students' organisations and NGOs,  the conservative leadership in these countries, have also passed regressive reforms in media, constitution, as well as the judiciary. These attacks and reforms are aimed at strengthening the power of eurosceptic populist leaders, and thereby reducing any chances of Eurocentric opposition in the future. But why, despite initial years of promising success, democratic consolidation failed in the V4 countries? This essay argues that the challenges to the democratic consolidation in these post-communist countries have been a result of myriad local, national and international factors at economic, political and social levels.
Primarily, the membership in the EU, which was a major foreign policy objective of the new political elite post-1989, had raised numerous expectations among the citizens in these countries. But after the EU membership in May 2004, when those expectations still seemed a distant dream for the citizens in these countries, the disappointment with the EU membership's promises rose throughout the region. This disappointment soon became a fertile ground on which the conservative section of the political elite mobilised their support, which became evident with the victory of nationalistic and eurosceptic parties throughout the region.
This discontentment with the Western European model was made further worse by the economic crises of 2008-9 and the subsequent Euro debt crisis of 2011. Contrary to expectations that the EU membership will be a guarantor of economic prosperity and improved standards of living, the V4 countries had to suffer immensely as a result of these crises which primarily resulted because of the loopholes in other countries. Furthermore, the subsequent burden of reforms with adoption of EU's austerity policies aimed at stabilising the European économies post-crises, also proved costly for these countries, and hence furthered their apathy towards the integrationist model of Brussels.
Post 2015, the Refugee Crisis, resulting due to the massive influx of illegal migrants into Europe from politically unstable areas of the Middle East, North Africa and Asia, further fuelled the simmering anti-EU attitudes among the V4 countries. Though only Hungary was directly affected by the wave of these migrants, all V4 countries reflected a response which was reminiscent of classical xenophobia and exclusive nationalism. Despite these countries officially voting against Brussels' proposal of obligatory refugee quotas, and opposing the financial aid given to Turkey following EU-Turkey deal to stop refugees from entering the EU, the conservative media and politicians in these countries left no stone unturned to show a face of refugees that immediately mobilised the people to vote populist demagogues to power at the cost of ruling out the Eurocentric federalists.
Finally, another important, and often overlooked reason for the failed democratic consolidation in the V4 countries has been their lack of historical experience with democracy. As a result of this lacked democratic experience, people in these countries failed to develop a democratic culture in a few decades post-1989, and instead found it easy to turn back to their familiar models.
However, despite all the gloomy prospects of democratic consolidation in the V4 countries, the region is not the only aberration. The rise of Euroscepticism, nationalism, and populism has been on the rise throughout the continent, which became evident with Brexit and the rise of conservative parties, like National Front and Alternative for Germany, among others. Therefore, it is imperative for the EU that these occasional setbacks in few countries must not hinder its vision of greater European integration. Because, any void created by declining role of Brussels in the Visegrad region will immediately be filled by Russia, which is craving to regain its influence in its 'near-abroad.'
Moreover, the recent experiences from Afghanistan, Libya, Algeria and elsewhere, also made it clear that the quick imposition of the democratic model is not the universal solution for discrete problems across the world. The fact that the evolution of democracy took centuries of deliberate transformations, and occasional violent conflicts, in England, France, USA and elsewhere, must be kept in mind while assessing the democratic consolidation in any part of the world. Expecting successful transition and consolidation of democracy in the V4 countries, without keeping in mind that it has been only a few decades since these countries embarked on this painful transition, is in itself problematic.
Nonetheless, the post-1989 transition has also successfully contributed to transforming a considerable section of the population in these countries, who now show major disliking towards any non-democratic model. Therefore, even if the current situation of the V4is not a pleasant one, the big picture coming post-1989 is a reflection of a successful break with the 'Other' past.