After stalling last year, renewable power capacity additions to hit double-digit growth in 2019
After stalling last year, global capacity additions of renewable power are set to bounce back with double-digit growth in 2019, driven by solar PV's strong performance, according to the International Energy Agency.
The IEA expects renewable capacity additions to grow by almost 12% this year, the fastest pace since 2015, to reach almost 200 GW, mostly thanks to solar PV and wind. Global solar PV additions are expected to increase by over 17%.
Last year was the first time since 2001 that growth in renewable power capacity failed to accelerate year on year, largely due to a Chinese government policy change. This highlights the critical role of governments for the deployment of renewables and the need to avoid sudden policy changes that can result in strong market volatility.
Renewables have a major part to play in curbing global emissions and providing universal access to affordable, secure, sustainable and modern energy. Renewable capacity additions need to grow by more than 300 GW on average each year between 2018 and 2030 to reach the goals of the Paris Agreement, according to the IEA's Sustainable Development Scenario.
"These latest numbers give us many reasons to celebrate: Renewable electricity additions are now growing at their fastest pace in four years after a disappointing 2018," said Dr Fatih Birol, the IEA's Executive Director. "We are witnessing a drastic decline in the cost of solar power together with strong growth in onshore wind. And offshore wind is showing encouraging signs."
"These technologies are the mainstays of the world's efforts to tackle climate change, reduce air pollution and provide energy access to all," Dr Birol said. "The stark difference between this year's trend and last year's demonstrates the critical ability of government policies to change the trajectory we are on."
The cost of solar PV has plunged more than 80% since 2010, making the technology increasingly competitive in many countries. The IEA estimates that global solar PV capacity additions will increase to almost 115 GW this year, despite a slight decline in China, the world's largest market. This is set to be the first year that solar PV additions have surpassed 100 GW and the third year in a row that they account for more than half of global renewable additions.
The softness in the Chinese solar PV market is being offset by faster expansion in the European Union, led by Spain; a new installations boom in Vietnam as developers rush to complete projects before incentive cuts; and faster growth in India and the United States. Japanese solar PV developers are also expediting the commissioning of projects to meet deadlines for higher incentives.
The pace of acceleration in the Chinese solar PV market remains the biggest uncertainty for the IEA's 2019 estimates. China's policy transition from feed-in tariffs to competitive auctions resulted in relatively slow solar PV deployment in the first half of 2019. But installations in the second half of the year are expected to accelerate with the completion of the first projects linked to large-scale auctions and the emergence of projects that rely far less on incentives to compete with other power sources.
The rebound in renewables is also supported by higher onshore wind growth, which is expected to rise 15% to 53 GW, the largest increase since record deployment in 2015. In the United States, project developers have accelerated deployment before the phase-out of federal production tax credits. In China, lower curtailment levels have unlocked additional growth in several provinces this year, enabling faster expansion.
Offshore wind growth is expected to be stable at around 5 GW in 2019, led by the European Union and China.
Latin America and Caribbean on the Brink of Massive Solar Power Growth
Latin America and the Caribbean could grow their installed solar capacity by a factor of 40 by 2050, a new report by the International Renewable Energy Agency (IRENA) shows. Annual investmens exceeding seven billion would see the region's solar PV capacity rise from 7 gigawatts (GW) today, to more than 280 GW by mid-century. While solar energy remains the highest in Asia, North America and Europe, market growth is set to shift to other regions in the world.
By that time, solar PV would represent the second-largest power source behind wind, generating a quarter of the world's power, "Future of Solar Photovoltaic" launched today at "Sun World 2019" in Lima finds. In total, global solar power capacity would rise from 480 GW in 2018 to over 8000 GW by 2050, growing by nearly 9 per cent every year.
"Solar PV and other renewables sources represent the most effective and ready solution for addressing growing energy demand and limiting carbon emission at the same time," said IRENA's Director-General Francesco La Camera. "Renewables are practical, affordable and climate-safe. They are key to sustainable development, enabling energy access, spurring economic growth, creating employment and improving health. Particularly solar energy is set to become one of the most prominent power sources in 2050. Projected growth rates in markets like Latin America showcase that we can extend the energy transition to all countries. It's possible."
If accompanied by sound policies, the transformation driven by renewables such as solar can bring substantial socioeconomic benefits, IRENA's new report finds. The global solar industry has the potential to employ over 18 million people by 2050, four times more than the 4.4 million jobs today.
Over the last decade, installed capacity of off-grid solar PV has grown more than tenfold, from roughly 0.25 GW in 2008 to almost 3 GW in 2018 around the world. With its modular and flexible nature, solar PV technology can be adapted to a wide range of off-grid applications and to local conditions. Indeed, off-grid solar PV is a key technology for achieving universal electricity access, in line with the UN Sustainable Development Goals.
Similarly, the deployment of rooftop solar PV systems has increased extensively, which today makes solar PV in some markets more attractive than buying electricity from the grid. The competitiveness of distributed solar power is clearly raising deployment in large markets, including Brazil, China, Germany and Mexico.
Statistical highlights:
Accelerating solar PV can cut energy-related CO2 emissions by 21 per cent in 2050.
With over 50 per cent of installed capacity in 2050, Asia (mostly China) would continue to dominate solar PV power, followed by North America (20%) and Europe (10%). The Latin American market would grow from 7 GW in 2018 to over 280 GW.
Annual solar PV investment would have to increase by 68 per cent on average globally, from USD 114 billion in 2018 to USD 192 billion in 2050.
Global levelised cost of electricity (LCOE) for solar PV will continue to fall from an average of USD 85 cents per kilowatt-hour (kWh) in 2018 to between USD 5-14 cents per kWh by 2050. A recent solar and wind power auction in Colombia was awarded for an average electricity price of USD 27 cents per kWh.
Due to innovations, solar PV remains a fast-evolving industry. Floating PV is one of the most prominent examples with global cumulative installed capacity exceeding 1 GW in 2018. Battery storage and electric vehicles are key solutions to support the grid and manage high shares of solar PV as well as to guarantee the flexibility of the power system.
The full report "Future of Solar Photovoltaic. Deployment, investment, technology, grid integration and socio-economic aspects" can be found here.
IRENA Facilitates Investment and Renewable Projects on Ground in Africa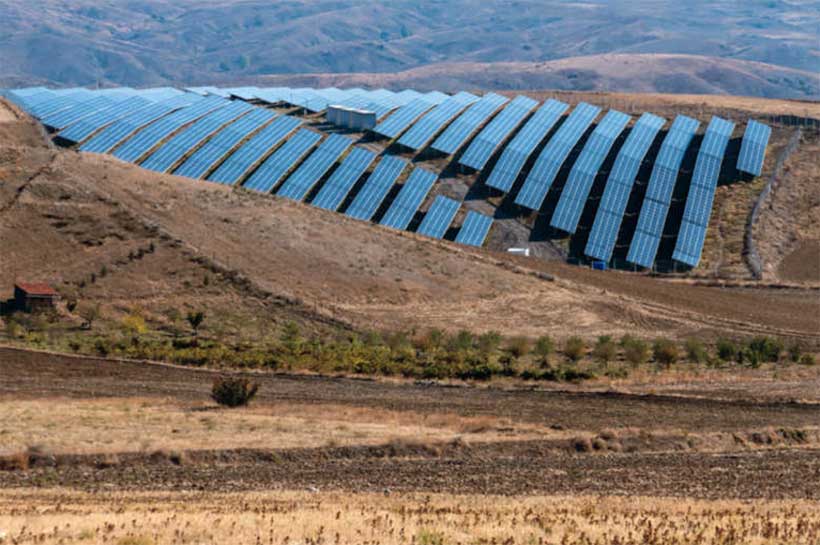 Boosting renewable energy projects on the ground requires scaling up investment. IRENA's state-of-the-art analysis of enabling policy frameworks and finance mechanisms channel public and private investment in markets like Africa, Latin America, Asia, South-East Europe and the Small Island Developing States (SIDS). Now, IRENA is taking its work one step further by increasing the Agency's on-ground impact with 15 regional and sub-regional platforms which aims at scaling up renewables deployment and investments.

One step in this new direction is the event that took place in Johannesburg as part of the Africa Investment Forum hosted by the African Development Bank. It facilitated renewable energy deal-making in Sub-Saharan Africa in partnership with Power Africa and the African Trade Insurance Agency. The event corresponds to IRENA's new direction and way forward ensuring an acceleration of the renewable energy transformation globally.
Speaking at the Investment Forum in South Africa, IRENA's Director-General Francesco La Camera underlined the importance of renewable energy to meet sustainable economic growth and Africa's climate and development ambitions. "Now more than ever, renewables have become a compelling investment proposition", said La Camera. "With renewable energy technology prices set to decline, the cost-competitiveness of renewables will strengthen further. IRENA's analysis shows that nearly a quarter of Africa's energy needs could be met from indigenous and clean renewable energy sources by 2030. This would result in a wide array of socio-economic benefits in terms of economic growth, welfare, employment and energy access. It's Possible".

IRENA has been committed to supporting African governments in their quest for a sustainable energy future. The Agency has supported countries in building attractive investment frameworks for renewables to strengthen institutional and technical capacity. It has also supported the development and financing of renewable energy projects through project facilitation tools.
"A lot remains to be done to address the key risks and barriers that hinder the scale-up of renewable investment in the region", La Camera continued. "There is no shortage of renewable energy project proposals which are competing for investor capital. But they are not always financially viable. Many proposals fail to materialize due to high cost of capital, limited access to risk mitigation solutions and long delays in projects".

By building on its extensive project pipeline in Sub-Saharan Africa with over 90 renewable energy projects, the Agency has showcased 10 renewable energy projects at the Investment Forum. Projects from Cameroon, Cote D'Ivoire, Kenya, Mali, Senegal, Sierra Leone and Togo which have a total capacity ranging from 6 MW to 70 MW – covering technologies like wind, solar, bioenergy and hydropower – were presented.

IRENA's project facilitation platform provides project owners and developers with increased visibility for their projects among financiers and other market players. Project owners have access to wide range of financial instruments provided by multiple investors from development finance institutions, private companies, utilities, private equity funds, donor and multi-donor facilities, commercial banks and more, as well as access to different services for example legal and financial advisory, environmental, project development and Engineering Procurement and Construction contracting.
More information about IRENA's project facilitation.
UNIDO and Morocco's MASEN to strengthen cooperation to deploy renewable energy technologies
The United Nations Industrial Development Organization (UNIDO) and the Moroccan Agency for Sustainable Energy of the Kingdom of Morocco (MASEN) signed a Memorandum of Understanding (MoU) to develop and implement projects deploying advanced renewable energy technologies in Morocco and targeted African countries, with the aim of creating aspirations to support African countries on their path towards inclusive and sustainable industrial development.
The partnership with MASEN complements UNIDO's ongoing activities under its flagship 'Low Carbon Low Emission Clean Energy Programme' in Africa, which seeks to reduce poverty by promoting industrial growth through renewable sources of energy. It already started in 2017, on the margins of the 22nd Session of the Conference of the Parties (COP 22) to the UN Framework Convention on Climate Change (UNFCCC), when UNIDO Director General LI Yong, and MASEN President Mustapha Bakkoury launched the Vanadium Flow Battery project to demonstrate smoothing and stabilizing electricity output. An official handover ceremony is planned to take place in Ouarzazate, Morocco, in conjunction with a workshop gathering Moroccan officials and representatives from neighboring countries.
With MASEN's support, UNIDO proposes to create a platform for the dissemination of renewable energy technologies in targeted countries while developing the local production of some technology components, thus creating grounds for achieving shared prosperity, economic competitiveness and environmental sustainability.