While very few Americans (and Western Europeans for that matter) would be hard pressed to successfully locate the Republic of Abkhazia on a map (it's the northwest corner sandwiched in between the Russian Federation and Georgia, its western shores lapped by the Black Sea), even fewer (de facto, no one) would be able to tell you that for the last month a very curious and potentially tense international situation has been brewing there over the holding of presidential elections. There has already been plenty of local and regional coverage over just how the first two rounds have gone for President of Abkhazia. In short, no one won a commanding victory in the first round, which automatically triggered a second round run-off between incumbent local leader Raul Khajimba and head of the opposition party, Alkhaz Kvitsiniya. In that second round, which just took place last week, Raul Khajimba was declared the winner in an extremely close race (39,793 votes for Khajimba vs. 38,766 for Kvitsiniya). Kvitsiniya has subsequently spent the past week declaring the illegitimacy of the election, even going so far as to take the decision to court with the Central Electoral Commission, which reviewed the complaint and ultimately decided unanimously to uphold election results. Kvitsiniya is still hoping to garner enough local, regional, and international support to nullify the elections, claiming illegitimacy basically on two principles:
Khajimba did not garner a 50% majority share of the votes in the second round run-off (his percentage was 47.39%).
The overall amount of 'against all' in the election was 3,155. This amount, combined with the amount of votes received by Kvitsiniya, exceeds the amount tallied by the declared winner and thus it is illegitimate that Khajimba should be President.
There are two immediate problems at the local level with this logic. Firstly, there does not seem to be a provision in Abkhazian electoral legal documents that demands a second round run-off winner has to receive more than 50% of the votes cast. It seems as if people who favor Kvitsiniya are taking the first round rules (in which any candidate that received more than 50% of the overall vote would have automatically won the presidency and no second round run-off would be necessary) and applying them arbitrarily to the second round. But again, it is not clear that Abkhazian electoral law stipulates this and there is some documentary evidence to show the opposite is true: in the second round, you simply need to win a simple majority against the main opponent. Secondly, the idea of combining the losing candidate's votes together with the 'against all' tally is simply absurd and ludicrous. Those in support of Kvitsiniya seem to be very conveniently arguing that a vote 'against all' is obviously a vote against Khajimba. Even more conveniently, they are also forgetting that a vote 'against all' is without doubt a vote against Kvitsiniya as well. So, the idea that his supporters have an exclusive right to take the 'against all' vote for their own favor is ridiculous. After all, if you add the 'against all' votes on the same principle and give them to Khajimba, his overall total now becomes 42,948, which is actually 52.55% of the overall vote, which would make null and void Kvitsiniya's first complaint of illegitimacy. Not surprisingly, supporters of Kvitsiniya strive to keep these numbers out of the media.
The idea of local elections, even at the 'presidential' level, across areas of the former Soviet Union being hotly contested, with claims of corruption, chicanery, and unfair double-dealing, is not exactly surprising. This type of controversy has happened all over the Post-Soviet space since the dissolution of the USSR in 1991. And there are plenty of extremely talented political analysts and electoral observers all over Russia and Georgia fully capable of covering this race. The race itself does not explain why I am so interested suddenly in Abkhazian affairs. What intrigues me most is how much foreign affairs, Russian-American relations, and global power competition are embedded within these elections while Western observers try to claim innocence and pretend that the current tense state between Russia and America does not play a role. Note that at the very beginning of this article I mentioned the declared winner of the Abkhazian Presidency was the local leader Khajimba. Most western media outlets are using the term 'separatist' to describe him but conveniently NOT explaining what this 'separatism' means. Khajimba is a local resident of Abkhazia who in the past has been a member of Parliament in Georgia and has previously participated in presdiential elections in Abkhazia in 2004, 2009, 2011, and 2014. This was all before there was ever any formal conflict or tension with Georgia and Russia. Khajimba simply believes the best future fate of his native region lies with more sovereignty and independent governance for Abkhazia by Abkhazia. For him the issue is not about whether Russia or Georgia should control Abkhazia at all. He has even put in his own case in court to push for this, but through the proper legal process and with respect to the rule of law. It has been the opposition opponent and his group that have tried to block, postpone, and delay this court petition, subverting the rule of law de facto. This subtlety is missed in the West and instead Khajimba is painted with the broad and negative brush, 'separatist.' That record should be corrected.
So when more than a dozen western countries come out against not just the election results but actually against the very holding of elections at all (calling them a 'sham' and 'fake'), it is not so much about legal precedents as it is about America fearing the Russian bogeyman, seeing Abkhazia destined to go the way of Crimea – back into the territorial fold of the Russian Federation – regardless that Khajimba has never uttered any desire for that to happen. Russian readers can be forgiven if they do not know that since Crimea rejoined the Russian Federation, every single western media outlet, bar none, has addressed that event as the 'annexation' of Crimea. To date, I am the only Western scholar I know on record as using the term 'secession' instead. What's in a word? Quite a bit, actually. The use of the term 'annexation' implies forced compliance and non-voluntary action. 'Secession', on the other hand, means the opposite. Since Western analysis of Russia today is incredibly biased in portraying Russian interests as always heavy-handed and manipulative, Crimea will always be 'stolen' rather than a willful vote of the majority of the local population to decide their own future political status. Abkhazia, to me, is very much in a similar position with the election of Khajimba as President. Perhaps more cynically, it is highly doubtful the United States really cares so intensely about the 'territorial integrity' of Georgia. It is also highly doubtful that it truly believes hard data and factual evidence shows that Abkhazia would be better off under Georgian rule rather than under its own management.
The only real reason the United States voices such staunch opposition is simply because it is an American cardinal interest to keep Russian dominance within its own regional neighborhood tamed. At the time, many in the West warned that Crimea was going to be a 'stepping stone' to Russia taking over other parts of Eastern Ukraine, and then Poland, and after that the Baltics. Of course, none of that has even come close to happening, with Russia not really showing that much interest in causing so much regional disruption. Not surprisingly, no one in the West has recanted those dire predictions and or admitted to being wrong about declaring the 'rebirth of a violent new Russian empire.' So people should be forgiven if they are not willing to listen now to similar American claims about how allowing Abkhazia to become closer in diplomatic and economic terms with Russia will signal a new cascade of annexations, where soon enough there will be no more Caucasus at all but a new Russian empire in its place. The American boy who cried about the Russian power wolf. Again.
The greater philosophical questions worth debating deal with power. Who has the right to secede? Who does not? What reasons are legitimate to change territorial allegiance or membership status in a given country? What reasons are illegitimate? Should such considerations be a strictly local issue, based on the true and fair political will of the local people expressed through elections? Or are these considerations at the mercy of greater international powers, rendering regions like Abkhazia nothing but pawns in a greater chess game taking place on the international stage? It is beyond the scope of this article to answer those questions. But this article does warn all readers from believing anyone who would give easy and trite answers to such complex, profoundly problematic questions, with Russia always conveniently being placed in the role of villain.
Georgia Returns to the Old New Silk Road
Georgia has historically been at the edge of empires. This has been both an asset and a hindrance to the development of the country. Hindrance because Georgia's geography requires major investments to override its mountains, gorges and rivers. An asset because Georgia's location allowed the country from time to time to position itself as a major transit territory between Europe and the Central Asia, and China further away.
This geographic paradigm has been well in play in shaping Georgia's geopolitical position even since the breakup of the Soviet Union in 1991 and the rise of modern technologies. Thereafter, Georgia has been playing a rebalancing game by turning to other regional powers to counter the resurgent Russia. Turkey, Azerbaijan, Iran (partly) and bigger players such as the EU and the US are those which have their own interest in the South Caucasus. However, over the past several years yet another power, China, with its still evolving Belt and Road Initiative (BRI), has been slowly emerging in the South Caucasus.
This how a new Silk Road concept gradually emerged at the borders of Georgia. In fact, a closer look at historical sources from the ancient, medieval or even 15th-19th cc. history of Georgia shows an unchanged pattern of major trade routes running to the south, west, east and north of Georgia. Those routes were usually connected to outer Middle East, Central Asia, and the Russian hinterland.
Only rarely did the routes include parts of the Georgian land and, when it happened, it lasted for merely a short period of time as geography precluded transit through Georgia: the Caucasus Mountains and seas constrained movement, while general geographic knowledge for centuries remained limited.
It was only in the 11th-12th cc. that Georgian kings, David IV, Giorgi III and Queen Tamar, spent decades of their rule trying to gain control over neighboring territories with the goal to control the famous Silk Roads. Since, foreign invasions (Mongols, Ottomans, Persians, Russians) have largely prevented Georgia from playing a major transit role for transcontinental trade.
This lasted until the break-up of the Soviet Union. After 1991, Georgia has returned to its positioning between the Black and Caspian seas, between Central Asia and Eastern Europe. Major roads, pipelines and railway lines go through Georgian territory. Moreover, major works are being done to expand and build existing and new Georgian ports on the Black Sea with the potential to transform Georgia into a sea trade hub.
A good representation of Georgia's rising position on the Silk Road was a major event held in Tbilisi on October 22-23 when up to 2000 politicians, potential investors from all over the world, visited the Georgian capital. The event was held for the third time since 2015 and attracted due attention. In total, 300 different meetings were held during the event.
The hosting of the event underscores how Georgia has recently upped its historical role as a regional hub connecting Europe and Asia. On the map, it is in fact the shortest route between China and Europe. There is a revitalization of the ancient Silk Road taking place in Georgia. This could in turn make the country an increasingly attractive destination for foreign investment. Indeed, the regional context also helps Tbilisi to position itself, as Georgia has Free Trade Agreements with Turkey, the CIS countries, the EFTA and China and a DCFTA with the European Union, comprising a 2.3 billion consumer market.
Thus, from a historical perspective, the modern Silk Road concept emanating from China arguably represents the biggest opportunity Georgia has had since the dissolution of the unified Georgian monarchy in 1490 when major roads criss-crossed the Georgian territory. In the future, when/if successive Georgian governments continue to carry out large infrastructural projects (roads, railways, sea ports), Tbilisi will be able to use those modern 'Silk Roads' to its geopolitical benefit, namely, gain bigger security guarantees from various global and regional powers to uphold its territorial integrity.
Author's note: First published in Georgia Today
Strategic Black Sea falls by the wayside in impeachment controversy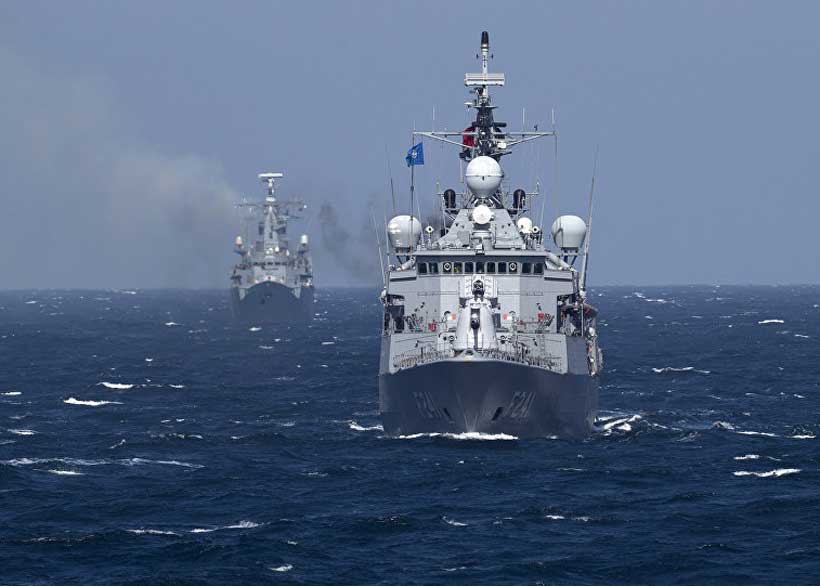 Presidents Donald J. Trump and Recep Tayyip Erdogan had a plateful of thorny issues on their agenda when they met in the White House this week.
None of the issues, including Turkey's recent invasion of northern Syria, its acquisition of a Russian anti-missile system and its close ties to Russia and Iran, appear to have been resolved during the meeting between the two men in which five Republican senators critical of Turkey participated.
The failure to narrow differences didn't stop Mr. Trump from declaring that "we've been friends for a long time, almost from day-one. We understand each other's country. We understand where we are coming from."
Mr. Trump's display of empathy for an illiberal leader was however not the only tell-tale sign of the president's instincts. So was what was not on the two men's agenda: security in the Black Sea that lies at the crossroads of Russia, Eastern Europe, the Caucasus and NATO member Turkey.
The Black Sea is a flashpoint in multiple disputes involving Russia and its civilizationalist definition of a Russian world that stretches far beyond the country's internationally recognized borders and justifies its interventions in Black Sea littoral states like Ukraine and Georgia.
The significance of the absence of the Black Sea on the White House agenda is magnified by the disclosure days earlier that Mr. Trump had initially cancelled a US freedom of navigation naval mission in the Black Sea after CNN had portrayed it as American pushback in the region.
The disclosure came in a transcript of closed-door testimony in the US House of Representatives' impeachment inquiry of Mr. Trump's policy towards Ukraine by Christopher Anderson, a former advisor to Kurt Volker, the US special representative to Ukraine until he resigned in September.
Mr. Anderson testified that Mr. Trump phoned his then national security advisor, John Bolton, at home to complain about the CNN story. He said the story prompted the president to cancel the routine operation of which Turkey had already been notified.
The cancellation occurred at a moment that reports were circulating in the State Department about an effort to review US assistance to Ukraine.
"We met with Ambassador Bolton and discussed this, and he made it clear that the president had called him to complain about that news report… I can't speculate as to why…but that…operation was cancelled, but then we were able to get a second one for later in February. And we had an Arleigh-class destroyer arrive in Odessa on the fifth anniversary of the Crimea invasion," Mr. Anderson said.
The operation was cancelled weeks after the Russian coast guard fired on Ukrainian vessels transiting the Strait of Kerch that connects the Black Sea to the Sea of Azov and separates Russian-annexed Crimea from Russian mainland. 'This was a dramatic escalation," Mr. Anderson said.
Mr. Trump at the time put a temporary hold on a condemnatory statement similar to ones that had been issued by America's European allies. Ultimately, statements were issued by US Secretary of State Mike Pompeo and the United Nations ambassador Nikki Haley but not by the White House.
The Black Sea's absence in Mr. Trump's talks with the Turkish leader coupled with the initial cancellation of the freedom of navigation operation, the initially meek US response to the Strait of Kerch incident, and the fallout of the impeachment inquiry do little to inspire confidence in US policy in key Black Sea countries that include not only Turkey, Ukraine and Georgia, a strategic gateway to Central Asia, but also NATO members Bulgaria and Romania.
In Georgia, protesters gathered this week outside of parliament after lawmakers failed to pass a constitutional amendment that would have introduced a proportional election system in advance of elections scheduled for next year.
The amendment was one demand of protesters that have taken to the streets in Georgia since June in demonstrations that at times included anti-Russian slogans.
Russia and Georgia fought a brief war in 2008 and Russia has since recognized the self-declared independence of two Georgian regions, Abkhazia and South Ossetia.
Some 1500 US troops participated in June in annual joint exercises with the Georgian military that were originally initiated to prepare Georgian units for service in Afghanistan and Iraq.
The absence of the Black Sea in Mr. Trump's talks with Mr. Erdogan raises the spectre that the region could become a victim of the partisan divide in Washington and/or Mr. Trump's political priorities.
The Republican-dominated US Senate has yet to consider a bipartisan Georgia Support Act that was last month passed by the House of Representatives. The act would significantly strengthen US defense, economic, and cyber security ties with Georgia.
A Chinese delegation that included representatives of several Chinese-led business associations as well as mobile operator China Unicom visited the breakaway republic of Abkhazia this week to discuss the creation of a special trade zone to manufacture cell phones as well as electric cars.
The Black Sea is one region where the United States cannot afford to sow doubt. The damage, however, may already have been done.
Warned Black Sea security scholar Iulia-Sabina Joja in a recent study: "The region is (already) inhospitable for Western countries as they struggle to provide security… The primary cause of this insecurity is the Russian Federation… Today, Russia uses its enhanced Black Sea capabilities not only to destabilize the region militarily, politically, and economically, but also to move borders, acquire territory, and project power into the Mediterranean."
Ms. Joja went on to suggest that "a common threat assessment of NATO members and partners is the key to a stable Black Sea. Only by exploring common ground and working towards shared deterrence can they enhance regional security."
The Black Sea of Economic Cooperation
Since the Ukraine crisis of 2014 the security situation in the Black Sea region has significantly deteriorated. The annexation of Crimea by Russia as well as the latter's military moves around the Kerch Strait and in the Azov Sea destabilized the shaky status quo which had been in place since the end of the Cold War.
To back up the current state of affairs in the Black Sea, many an analysis as well as entire books dedicated to the Ukraine crisis mention various Russian-Turkish wars of 18th-19th centuries, underlying the notion that the Black Sea has always been a space of competition and intermittent confrontation among several powers.
Wars indeed were waged and at least two powers were always competing with each other for influence across the sea. This narrative, however, portrays the Black Sea as a sea of insecurity. In reality, though, seen from a centuries-wide perspective, wars between Russia and Turkey in the Black Sea lasted for a small fraction of time in comparison with the periods of peace in the 18th-19th centuries.
Moreover, the Black Sea, though always surrounded by rival powers, was nevertheless a space of economic exchange. Trade flourished, which contributed to close contacts between coastal states. Take, for example, the period of Greek colonization in the 8th c. BC. Colonies in what is nowadays western Georgia and in the Crimean Peninsula enabled the exchange of goods in the region. During the Roman and Byzantine periods (up to the 7th-8th cc. AD, the coastline of modern western Georgia was closely integrated with great cities in Asia Minor and Crimea.
Under the unified Georgian monarchy (late 10th-15th cc.), despite patchy information in historical sources, there was a wide range of economic activity which connected western Georgia to Byzantium, Crimea and later to the Ottoman Empire. Moreover, this period saw such a large economic interconnection that Georgian traders even visited Constantinople, Thessaloniki and from the late 13th c. onwards, were in close contact with Italian merchants who operated ships and had colonies in Crimea and in Georgian cities – Sokhumi, Poti and Batumi.
Even the period of great empires from the early 18th c. around the Black Sea cannot be considered solely as a time of continuous confrontation. In fact, the Black Sea served as a good merging point for connecting different economic systems represented by Russia and the Muslim world (namely the Ottoman Empire). By the early 20th century, just before the outbreak of World War I, there was much economic activity seeing Russia sending most of its coal and grain through the Bosporus and Dardanelles to different parts of the world. Georgia, too, was connected to the rest of the world by the early 20th century when Batumi operated as a main conduit.
Surprisingly the Soviet period too can be characterized as a period of economic cooperation. Ukraine, Georgia and Russia's ports transported oil, coal and other natural resources through the straits to the Mediterranean.
Thus, despite the wars we know in history, there have been even longer periods of much deeper economic cooperation which the countries (or empires) around the Black Sea have enjoyed over several centuries.
Back to the current deterioration of the security situation in the Black Sea, it could potentially diminish overall economic activity as the flow of foreign investment may be curbed or diverted elsewhere. In a way, the geopolitical situation in the Black Sea today is more chaotic and unpredictable than it was in the 19th century. A certain order was still in place when the Russian and Ottoman Empires fought each other, whereas in 2019 there is much unpredictability in Russian and NATO behavior. Nevertheless, it is still possible to say that economic cooperation among the countries living around the Black Sea will continue. The sea will again play a role not of a divisive, but rather a unifying character.