As the rule of thumb goes, it is best to read between the lines and understand the tone of words because there are always two sides to every story. This general approach spawned a perception that the words that are on a piece of official paper not only contain government's stances but also include strategies to solve a problem, or make a decision. Similarly, China, with a series of White Papers on national defence and international security, engaged in a dialogue and concisely presented its viewpoints on contemporary developments.
The gap between the United States (US) and China is gradually becoming thinner for global economic and regional power shift; the 2019 defence white paper on China's National Defense in the New Era(10th of this kind) underlined the importance of the careful balance of perceptions, and manage China's relations to the changes in security order.
China's response to any change in the security order is traditionally characterised as unique. In the West, China is often seen as responsible for change in the status quo. It is more than about its exceptional stands and the position it holds in the international system, e.g.reform and reshape global governance.
Interestingly, the focus is centred to where China stands in shaping normative security order: align with traditional Chinese cultural values or adopt models and principles of western theories of International Relations. In this respect, the Chinese discourse has been confident about experimenting traditional Chinese models, though the international response has mostly been unsupportive. Moreover, it appears that the outside world is not too much focused on China's normative influence, but more importantly, interested about what implies minor distinctions in China's position, posture and policy and why there is a shift.
Through the 2019defence White Paper, China had stressed on the need for balancing the trend of the current international security situation. It also set out core directions and objectives of China's military diplomacy and strategy by articulating the far-reaching goal of nurturing a new form of defence relations for deterrence, reassurance, and secure overseas interests, which is a breakthrough in some respects against Xi Jinping's vision for great power diplomacy with Chinese characteristics. Although China affirms its fundamental principles have not mainly changed but in the security realm,its current posture is inclined to more practical commitments rather ideological.
As signs of the mounting pressure of partnership-based alliance is becoming apparent, China's narrative is gradually tuning to the fundamental change in the US policy and literature. Indeed, China may have realised now there is a reason to be sceptical of the optimistic forecasts of regional security order as improving. A premise that is largely influenced by China's resilience and preparedness for offshore defence is its naval and maritime defence to keep regional and global threats at bay.
Indeed, this comes from the understanding that as China is moving closer to the centre of the world stage, the international community expects China to embrace the shift conflict-free. So far, China's engagement with the Belt and Road Initiative (BRI) haspartially favoured to check security challenges and likely military alliances.
As Beijing is taking the initiative to repair its relations with neighbours and show gestures that it is willing to cooperate, on the other side, Washington and its allies have resumed campaigns, stating that BRI is to exert China's influence on weaker nations. Each side has their reasons, but the situation seems partly a result of the current sluggish world order suffering from security dilemma, competition and misgivings about each other.
What is new in Beijing's Active defence?
The most salient feature in China's new approach is shying away from military options to mitigate security risks regarding overseas interests. Zhou Bo (Director of the Center for Security Cooperation in the Chinese Ministry of National Defense's Office for International Military Cooperation)explained the change as natural and argued: "wherever possible, the PLA has been trying to blend China's national interests with its international responsibilities." Second, interestingly for the first time through the2019 White Paper, China has conveyed a strong message that the People's Liberation Army would seek a stronger role to protect 'China's Overseas Interests' that includes Chinese people, organisations and institutions. This way, it has quietly but confidentially made China's overseas interests fall in the scope of its core national interest.
Traditionally, Beijing has stressed on its offshore facilities such as offshore fish farms, wind farms, drilling rigs, floating rocket launchers in and around its exclusive economic zone and 'historical claims' were under its defence umbrella. However, with the change in policy, now China reserves an equal amount of focus on jointly operated commercial ports, maritime assets and Sea lines of communication (SLOC)that are away from its shore.
For those who wonder how China protects its overseas interest, the answer is, it seems China does not to follow the US's traditional offshore balance model of acquiring too many expensive and permanent military bases and making military alliances, but rather, focus on soft or semi-hard balance by attaining naval/military rights to operate in the host countries' military facilities. Such a posture not just defends its cause but also justifies defensive use of force when its interests are challenged. In this regard, the PLA Djibouti Support Base, military rights in the pacific islands and military facilities in the South China Sea (SCS) islands and reefs help to escort China's task groups and could be seen as key features of China's offshore defence.
The second important feature of China's offshore facilities explains the economic rationale and commercial potential. If we were to compare overseas military bases and how much China spends, it comes nowhere near to the United States. However, whatever overseas military facilities that China has, they have certain unique features: primarily they serve Chinese business interests, but the US facilities were to assist Overseas Contingency Operations (generally known as funding the wars). Second, they are comparatively inexpensive and cost-effective, whereas the US maintains around 883 expensive overseas military bases and spends about $139.4 billion annually. Nevertheless, China has a lesser overseas combat experience.
Therefore, it is no surprise that China has been keen about reforming and modernising the PLA to build a fortified national defence and a strong military, which required overseas combat expertise.
China's offshore defence with limited offshore capabilities calls for focus to key geopolitical regions of the world such as East Asia, West Pacific, and the Persian Gulf. As China further intends to extend the training of PLA branches and deploy the aircraft carrier task group for far sea combat exercise, the reforms in China's military such as suspending commercial responsibilities, informatisation, modernisation of military theory, and organisational structure come in handy. As a result, the role of PLA branches has increased significantly in diversified military tasks such as "monitor China's territorial air and peripheral air space, carry out alert patrols and combat takeoff", and to build and develop far seas forces and overseas logistical facilities.
Besides, one could trace about three core approaches that China prefers to follow in safeguarding its sovereignty, security and development interests are self-help, partnership, and military protest.
China's self-help approach focuses on major security fields such as nuclear, missile defence, outer space, electromagnetic space, and cyberspace for nuclear and conventional deterrence, protect cyber sovereignty and information security. In fact, this approach was pretty much the same throughout. However, now that the scenario has changed with the global military competition in the areas of technological, intelligence developments towards informationized warfare, and intelligent warfare, China gives serious attention to tactical and strategic deployment of such facilities.
Second, the partnership approach emphasises on active development of China's military relations and partnerships with Central Asia, Russia and European countries in critical areas of non-traditional security threats such as terrorism and extremism, piracy, cybersecurity and bio-security. Besides, in the hotspots and international passages, China seeks to play a constructive role – meditation for the political settlement, and jointly maintain the security respectively.
Third, the element of military protest are set to follow in concerning areas of information and cultural warfare, Taiwan gaining of foreign influence, 'Tibet independence', the creation of 'East Turkistan', and in the South China Sea disputes.
For instance, sovereignty, maritime demarcation, and freedom of navigation and overflight over islands and reefs in the South China Sea were concerned the White Paper emphasised about creating favourable conditions by building "infrastructure and deploy necessary defensive capabilities … [and] conduct patrols", at the same time in commercial affairs China stated that it is committed about upholding freedom of navigation and overflight by all countries in accordance with international law and safeguard the security of SLOCs.
To make sure that this offshore adventure remains risk-free and reliable the White Paper set military strategic guideline for PLA to work within "the principles of defence, self-defence and post-strike response, and adopts active defense", and stressed the strategic defence and offence at operational and tactical levels to contain and win wars.
What worries China?
The White Paper makes some observation that also appeared to be China's security concerns. China views the situation in Asia-Pacific (and the South China Sea) as "generally stable and improving"; contrary, it views the situation in Europe and the Persian Gulf as disturbing. Besides, at this juncture,China also asserts that despite its attempts to stimulate confidence the military alliances, deployment and intervention were adding complexity to regional security.
If that is the case, in China's opinion, who is undermining regional security? The White Paper roughly mentions the United States, Republic of Korea, Japan and Australia's activities resonate as a challenge to regional security. Other areas of China's concerns also include the UK, France, Germany, Japan and India's rebalance and optimisation of their military structure. Perhaps a better question might be: is China's opinion influenced by the Indo-Pacific debate?
Interestingly, by stating that the security situation in Asia-Pacific remains generally stable, the White Paper tried to avoid overlaps with American strategic interests. On the other hand, it referred to the US military and diplomatic efforts as the primary source of intensifying strategic competition, hence causing China to focus on offshore defence.
Meanwhile, either in the offshore balance or defence, the alliances play an essential role. Though China's seeks military partnership based on non-alliance and non-confrontation, the US policies however, is driving China closer to Russia and SCO members. Further, Beijing also attempted to clarify its principle position as 'Defensive National Defense Policy' and never seek hegemony, expansion or spheres of influence. At this stage, to avoid misgivings about its principles and actions, effective communication and cooperation are best for China.
In terms of balancing threat perceptions about China's rise, the White Paper recognizes the need for Confidence-Building Measures (CBMs) and treaties of good-neighbourliness, friendship and cooperation with the neighbours.
For the moment, the new posture to protect China's overseas interests translates that the country is gradually heading towards impactful offshore defence. Nevertheless, in the long run, despite the US and other players counteracts, PLA's international profile would increase significantly regarding China's offshore facilities and international military cooperation.
Why is Sweden still on standby to join NATO ?
Russia's unprovoked war against Ukraine undermines European security order, specifically the Nordic states. Growing security threats galvanised Sweden and Finland, historically nonaligned states to join NATO. Strong Defensive alliance is need of hour for both states. Therefore Finland and Sweden handed over their NATO applications on May 18 2022. Finland's membership gets ratifies by member states of NATO where Sweden still waits in queue for its accession. This article will explore the reasons for putting Sweden on Stand-by at this belligerent stage.
Sweden had an official non alignment policy. Sweden's non-alignment policy refers to its stance of neutrality in international conflicts and its refusal to align itself with any military alliance. The policy was officially adopted in 1953, during the Cold War, and has been a cornerstone of Swedish foreign policy ever since. Under this policy, Sweden has refused to join military alliances such as NATO, although it has cooperated with NATO on some issues. Instead, Sweden has sought to maintain good relations with all countries and to act as a mediator in international conflicts. Sweden's non-alignment policy has allowed it to maintain a high degree of independence in its foreign policy, and has helped to establish the country's reputation as a neutral and peaceful nation. It has also enabled Sweden to pursue an active role in international diplomacy and conflict resolution.
But World political dynamics took a swift shift after Russia Ukraine war which increased security threat from Russian side towards. To strengthen itself militarily and on mass demand from nation Sweden ends 200 years of militarily neutrality and seeks to join NATO in May 2022.
Finland and Sweden applied for membership together and Finland gets accession on April 4 2023, becoming 31stmember of NATO. Where Sweden's path to NATO remains blocked by Turkey and Hungary. Turkey has dragged its heel over Sweden claiming that Sweden doesn't take turkey's security concerns seriously. Moreover, Turkey also holds Stockholm responsible for harbouring militant group, The Kurdistan Workers Party (PKK), also known as Kongra Gel, is a militant Marxist-Leninist separatist group, exercising armed insurgency against Turkey for years. On Contrary, Sweden denies these allegations.
Moreover,  in recent weeks Turkey Objected on certain hate crimes in Stockholm. Most condemned incident was burning of Holy Quran near Turkish embassy in Sweden. This blasphemous act was done by Far-right politician and anti-Islam provocateur Rasmus Paludan, a Danish-Swedish national, with a reputation for carrying out similar acts. On this heinous incident, Turkish President Erdoğan responded,
Those who allow such blasphemy in front of our embassy can no longer expect our support for their Nato membership," Turkey's president, Recep Tayyip Erdoğan,
Another incident which angered Turkey was hanged effigy of Erdoğan in protests across Sweden, which further fuelled the contention between Ankara and Stockholm. These events definitely deepened standoff with Turkey over Sweden's bid to join NATO.
By providing strong military alliance NATO also expects a high economic and military contributions from its member states. As a NATO member, Sweden will be expected to provide staff to NATO's political and military structures. Moreover, Sweden will be expected to contribute approximately SEK 600–700 million per year to NATO's common budget. It is also the stated target that the organisation's members commit a minimum of 2 per cent of GDP to defence spending, in accordance with NATO's Defence Investment Pledge that was adopted at NATO's Wales Summit in 2014. Sweden continues to invest in defence and will reach NATO's current level of 2 per cent of GDP by 2026. NATO members also aim to allocate at least 20 per cent of defence spending for defence material and research and development.
Sweden's accession to NATO can be worthwhile for NATO itself Because Sweden is important to NATO'S defence of Baltics. Swedish cooperation with the Alliance would make protecting the Baltics easier and thereby strengthen NATO's security guarantee to its member countries. That, in turn, would improve NATO's ability to deter Russian aggression in the region.
Analysts suggest that hurdles in Sweden's path to Nato could have been lifted if Turkey general election could go in favour of opposition party. Since president Erdoğan is considered a sole hurdle in Sweden's ratification. If the main opposition Republican People's Party (CHP) and Kilicdaroglu had won, the new Turkish administration would have likely revised some of Erdogan's more contentious and confrontational foreign policy positions. In that context, a smarter approach by Stockholm and more flexibility from Ankara could lead to Sweden becoming the 32nd member of NATO. Therefore general elections of Turkey is not only shaping the future of Turks but for NATO as well.
Rising Powers in the Asia-Pacific: Implications for Global Stability
For a long time, the Asia-Pacific region has been the epicentre of rising economic growth and strategic influence, gradually changing the dynamics of world power. Because of the rapid rise of China and India, the increasing influence of ASEAN, and the steady comebacks of Japan and South Korea, its significance has only increased in the twenty-first century. Given the ongoing challenges to the traditional dominance of Western powers, this shifting environment raises intriguing questions about the future of global stability.
The rise of China stands out as the most significant factor in this dynamic. China's phenomenal economic growth, along with its more assertive foreign policy and military modernization, have propelled it to the forefront of the global stage since the economic reform policies of the late 1970s. The Belt and Road Initiative, companies like Alibaba, and military actions in the South China Sea are just a few of the ways it is increasingly challenging the US-led international order. Due to its second-largest economy, China's actions and policies have a significant impact on the stability of the world.
Despite lagging behind China, India is another growing Asian power that has started on a path of significant economic expansion. It has the potential to play a significant role in the region due to its distinct demographic dividend, IT industry, and geostrategic location. However, it problems a insufficiency in infrastructure, social inequality, and enduring poverty hinder its potential and raise the level of complexity in the power dynamics of the area.
In the midst of this power shift, Japan and South Korea, two countries that are already major global players, have been rearranging their positions. The balance of power in the region is greatly influenced by their advanced economies, sizable military capabilities, and strategic alliances with the US. A crucial role in the region is also played by the Association of Southeast Asian Nations (ASEAN). A seat at the table for shaping the future of the region has been secured for ASEAN despite its diversity and disparities thanks to its prominence in regional diplomatic structures like the East Asia Summit and the ASEAN Regional Forum.
Additionally crucial to this shifting dynamic are the Pacific powers, particularly the US and Australia. While the US remains the most powerful country on the planet, it must deal with these new regional forces, necessitating a reevaluation of its Asia-Pacific strategy. Australia's position has changed as well as a result of its efforts to strike a balance between its regional economic interests and its long-standing alliances. The effects of these changing power dynamics on world stability are significant. First, there is a chance that a power vacuum in the area could cause unrest and possible conflict. This is amply demonstrated by the South China Sea dispute, in which numerous nations are asserting territorial claims and frequently supporting them with military showdowns.
Second, the spread of power might also create more significant opportunities for cooperation and multilateralism. However, much of this depends on these countries' ability to manage disagreements and rivalries as well as build inclusive and effective regional institutions. Thirdly, these changes might result in new economic structures that reshape international economic relationships and structures. The Regional Comprehensive Economic Partnership (RCEP), a free trade agreement involving 15 countries in the Asia-Pacific, is a good illustration of this. Last but not least, the changes in power may significantly affect international institutions and norms. As Asia-Pacific nations gain power, they may try to change international institutions so that they better represent their interests.
The main worry, however, is that these changes could result in more tensions and conflicts as countries with various political ideologies and systems compete for influence. For instance, the rivalry between the US and China goes beyond merely a contest of political and economic power. Several things are essential to preserving global stability in the midst of these shifting power dynamics. First and foremost, it is essential to promote a cooperative regional order based on mutual respect and gain. Second, preventing the escalation of regional disputes into conflict requires ensuring that they are settled peacefully in accordance with international law. Third, safeguarding and bolstering regional and international institutions will be essential for preserving stability and offering forums for communication and cooperation.
In conclusion, it is undeniable that the power dynamics in the Asia-Pacific are shifting. For the stability of the world, this evolution poses both danger and promise. How well we navigate this shifting landscape, handle potential conflicts, and seize opportunities for cooperation will determine whether the world can continue to be peaceful and stable.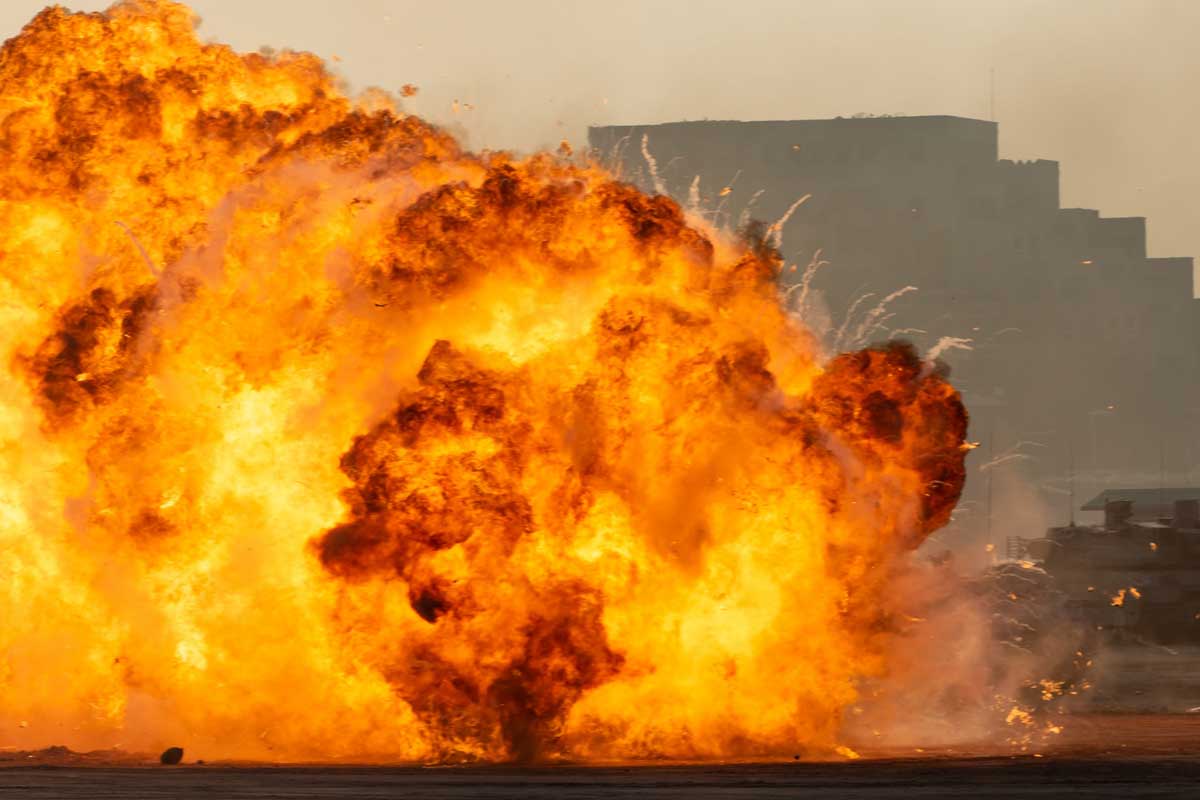 Since the beginning of time, wars and conflicts have been an inextricable part of human history. As such, they have developed in lockstep with the complex interactions between social, political, and technological changes that have shaped our world. Warfare's methods and goals have undergone a significant metamorphosis, moving from crude and simple engagements to ones that are sophisticated and complex. Armed conflicts have expanded to take on global proportions with the advent of destructive world wars, and are no longer restricted to simple tribal or regional skirmishes. In addition to transcending their religious roots, these conflicts are now driven by nationalistic imperatives, giving rise to wars with geopolitical goals.
However, in the fierce race to reach the pinnacle of technological achievement with the introduction of a revolutionary artificial intelligence-powered search engine, issues of veracity and the widespread dissemination of false information are the most crucial issues of our time. These worries are well-founded because the consequences of a poorly functioning search engine could distort reality, worsen the already virulent spread of false information, and cause irreparable harm to the fabric of truth.
Additionally, warfare has changed from being characterized by linear battles to being characterized by maneuver warfare, placing greater emphasis on flexibility, agility, and strategic maneuvering. Armed engagements have evolved from primitive first-generation manifestations to the complex dynamics of fourth-generation warfare. They now involve a variety of unconventional tactics such as asymmetric tactics, psychological operations, and information warfare. Thus, in order to successfully navigate the complexity of the modern battlefield, this evolution calls for both a thorough understanding of the many facets of modern warfare and the adoption of adaptive strategies.
Simultaneously, the concept of fifth-generation warfare, also known as hybrid warfare, denotes a paradigm shift in contemporary military tactics, where the importance of cultural warfare, information warfare, and unconventional methods surpasses the conventional use of brute force on the battlefield, as seen in third- and fourth-generation warfare. India is said to be using 5th-generation warfare strategies against Pakistan to sow seeds of enmity and spread false information in an effort to block Pakistan's progress. Moreover, India is using all of its resources to undermine Pakistani society in a number of different domains. Pakistan to modernize its weaponry and armed forces given the strategic landscape of South Asia, which is becoming more complex and volatile, especially given India's use of fifth-generation warfare against Pakistan.
Relatedly, information warfare has undeniably grown significantly important in the effort to effectively project Pakistan's narrative both domestically and internationally. A well-calibrated national response reinforced by a clearly defined foreign policy is required in light of the double-edged nature of fifth-generation warfare. Modern times see a rapid spread of irregular wars across the spectrum of conflict, amid intensifying great power competition, as the nature of warfare changes continuously.
Modern warfare has undergone a sea change as a result of the advancement of information technology, which makes it easier for nontraditional actors like violent extremist groups to communicate. We find ourselves ensconced in a world permeated by high tension, accompanied by a flood of tweets, ranging from the tumultuous battlefields in Ukraine to a pernicious terrorist attack on mass transit inside the borders of the United States. Our insatiable appetite for knowledge is driven by a desire to protect our safety, show compassion for those who are suffering, or see wrongdoers brought to justice. Despite our desire for knowledge, we must maintain an appropriate level of skepticism toward the sources that provide it. After all, we are living in a time that is frequently referred to as the "golden age of fake news."
Today's conflicts are largely not fought between nation-states and their armies; instead, they are increasingly fought with the mighty arsenal of words rather than with traditional weapons. In recent years, policy discussions, popular discourse, and academic analyses have given priority to a particular breed of weaponry: "fake news" and viral disinformation. In reality, disinformation used in warfare in the digital age may not differ much from other forms of warfare; after all, wars are fought to establish power, with some reaping financial rewards while the most vulnerable suffer the most.
The problem of fake news has gotten worse since the Internet and social networks were invented. The conventional news model, which involved a small number of media outlets run by experienced journalists who interviewed reliable sources and meticulously verified the information before it was published, has been overturned by the current media environment. Today, there are numerous channels, a never-ending stream of messages, and an environment where contradictory information is frequently overlooked that all contribute to the relative ease with which conspiracy theories and rumors can spread. The temptation to cling to a simpler fiction rather than taking on the laborious task of dissecting a more complex reality grows as we are frequently presented with contradictory messages.