Yemen Conflict and OIC: The role of the powerful states
Authors: Muhammad Rizwan and Tajjalla Munir*
Yemen is an important Muslim state located on southern border of Saudi Arabia. It is situated adjacent to Red Sea, which is most important trade route between East and West .Despite its important geographical location Yemen is not on the path of prosperity. In fact it is plunged into civil war which had destroyed the country. Thousands of people had been died so far and million have been replaced in the last few years of the conflict.
Internal conflict Yemen is a long story now, it was present during the time of President Ali Abdullah Saleh. Roots of it can be found in the in conflict of 1962 when Zaydi Shia Imam was removed from power, who was ruling the country since many decades. Houthi's claimed that when Imam removed from power they were not given equal opportunities. Resentment was always present in different sections of Houthi population but a full scale campaign against government started in 2014. (Key facts about the war in Yemen, 2018)
Many local Sunni fighters those who were not happy with the policies of President Hadi joined hands with Houthi rebels. President Hadi fled to southern city of Aden from where he left Yemen.
Houthis victory in Sana produced a major concern for Saudi Arabia who saw it as result of expansionist policies adopted by Iran. Saudis believe that the Houthi rebels are supported and funded by Iran. Saudi Arabia started air strikes targeting Houthis, along with its allies who are mostly Arab States,. They were supported logistically by US, UK and France. These extra regional powers are also sharing intelligence information with Saudi led coalition.. Houthis are pushed out from capital Sana but still they are controlling large swathes of land. (Yemen crisis: Why is there a war?, 2018)
Continuous fighting has produced terrifying humanitarian crisis in Yemen. While rebels are determined that they will not stop fighting until they can completely overthrow president Hadi's government. Saudi Arabia is doing its best to crush these rebels. It has used even cluster bombs to stop the rebels advance. Local Yemeni population is suffering a lot due to this relentless fighting between two parties.
This prolonged war in Yemen has produced a severe humanitarian crisis. Ever since the start of the conflict more than 15000 thousand people have been killed and almost 3 million people are forced to leave their home; 22.5 million are in need for humanitarian aid. If aid is not be provided to them we might see a famine in near future. Due to air and naval blockade by Saudis led coalition forces it is very difficult for international organizations to supply food and other supplies to Yemeni people. (YEMEN: THE FORGOTTEN WAR)
This worsening situation in Yemen have put some serious question on credibility of OIC. Organization of Islamic conference (OIC) which is now termed as organization of Islamic cooperation is second largest intergovernmental organization in the world after United Nation. It consists, a total of 57 Islamic Countries. Idea for establishing an organization for Islamic Countries was put forward during Islamic Conference of Rabat in 1969.Basic purpose for the creation of OIC is to secure an independent state for Palestinian people. But it has included many other subjects in the agenda as well. That includes more cooperation between Muslim states, conflict management among them and to have a common voice on issues of mutual interest. Iran and Saudi Arabia are two most important countries of this organization because of their geopolitical position and as leaders of the two most important sects of Islam. (Johnson, 2010)
Organization of Islamic Cooperation, which always had supported solidarity in the Muslim world and had also tried to mediate between Shia-Sunni conflicts, is now taking side. It is the most important reason that OIC is failed to solve Yemen conflict.OIC is continuously supporting Saudis .Saudi Arabia is a dominant state in the Muslim world and also in the OIC. Domination of Saudi Arabia in OIC has few imperative reasons.
First of all Saudi Arabia is a leading state of Arab League and Arab Leagues have strong block in OIC. So if OIC wants to take any decision it should respect the best interests of Arab States. Secondly, Saudi Arabia who is birth place of Islam, is exploiting its religious position for it political purposed. Every Muslim, even he is present in any part of the world will always show sympathy for Saudi Arabia because of the holy places of Islam are present there. They have also made The Islamic Military Counter Terrorism Coalition. Its primary purpose is to counter terrorism but Saudi Arabia is using it for its own geopolitical benefits. It consist total of 41 states and most of them are part of OIC .Thus anything done by this alliance cannot be condemned by OIC because most of OIC members are part of this alliance. This military alliance had carried out many deadly air strikes in Yemen. Despite the claims that they are targeting only terrorist groups many times it resulted in civilian causalities too. But we have not seen any condemnation by OIC about these attacks.
Last but not the least Saudi Arabia is providing huge sum of money to OIC to carry out its activities. Current Secretary General of OIC is also Saudi national .His name is Madni who was formerly serving at position of minister of culture and information. Due to Saudi dominance in OIC has been supporting Saudi Arabia in Yemen conflict. During 2016 summit of OIC it has accused Iran of promoting terrorism in the region especially in Yemen. (Ilishev, 2016) But this resolution was silent on human rights abuses by Saudi led coalition forces in Yemen. This is now routine work of OIC members to condemn Houthis and their supporter in Yemen but paying no attention to humanitarian crisis. As in 2018 they have again urged international community to take serious action against Houthi and their masters' .but still deep silence on humanitarian crisis.(AL-KHUDAIR, 2018)
Pakistan's former ambassador to Iran once said that "OIC is now dead and Muslim countries should find a new organization for the settlements of their disputes". (OIC 'dead'; Pakistan, Iran need find new Muslim alliance: diplomat, 2017)Prevailing situation in Yemen is reflecting his statement. Infect OIC had a negative role in Yemen. This situation also demonstrates that how great powers use International Organization for their own vested interests.
*Tajjalla Munir is research scholar of MS International Relations at COMSATS University Islamabad
Israel-Palestine Conflict Enters into Dangerous Zone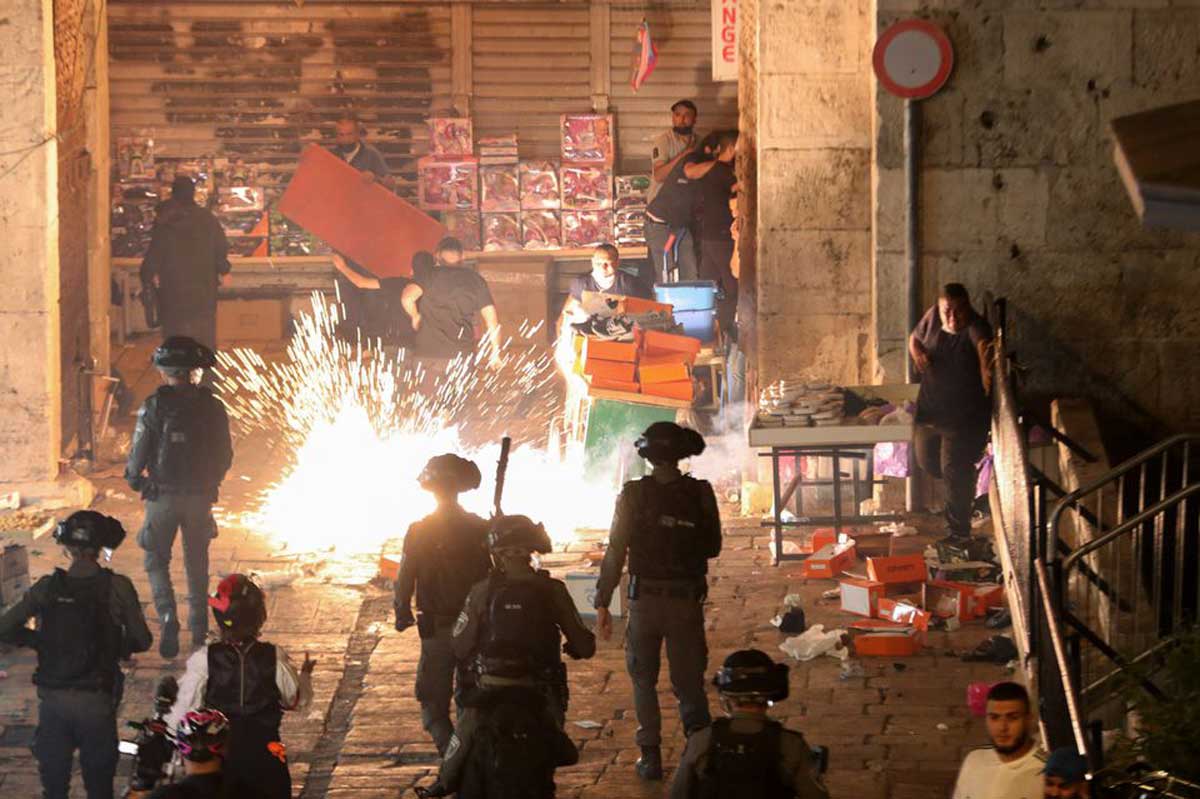 Since the start of the Muslim holy month of Ramadan in mid-April 2021, tension has escalated, with frequent clashes between police and Palestinians. The threatened eviction of some Palestinian families in East Jerusalem has also caused rising anger. But when Israeli security forces entered and attacked the unarmed Muslim worshipers, damaged the property, and humiliated the families, the situation turned into conflict.
Since the irrational and illogical creation of the Jewish State in the middle of the Muslim World, the tension started and emerged into few full-fledged armed conflicts and wars like; 1948–49, 1956, 1967, 1973, 1982, and 2006 wars/ conflicts. Tensions are often high between Israel and Palestinians living in East Jerusalem, Gaza, and the West Bank. Gaza is ruled by a Palestinian group called Hamas, which has fought Israel many times. Palestinians in Gaza and the West Bank complain that they're suffering because of Zionists' expansionist actions. Israel's severe violations of human rights and extreme atrocities against Palestinians left Palestinians with no option other than protest and agitate. But Israel suppresses them and uses all dirty tricks to keep them silent.
It is worth mentioning that the United Nations Security Council has passed several resolutions to settle the Israel-Palestine issue peacefully. But Israel has not implemented either of them and kept using force to push them out and settle Jews in their land.
The State of Israel has been enjoying undue supported by the US, irrespective of who is president, but all of them support Israel unconditionally. Israel is the most favored nation of the US and the largest beneficiary of American aid, assistance, and support.
Ex-President Donald Trump helped Israel establish diplomatic relations with the United Arab Emirates, Bahrain, Sudan, and Morocco. Donald Trump favored Netanyahu, dramatically moved the US embassy from Tel Aviv to Jerusalem. His daughter and son-in-law were the facilitators for his support to Israel.
Till last news, at least 56 Palestinians have died under an array of aerial bombardments of the Gaza Strip. Five Israelis were killed too. Rockets, bullets, and rocks are flying around Israel and the Palestinian territories with catastrophic intensity in the latest wave of violence that periodically marks the Palestinian-Israeli conflict. Palestinian protesters run for cover from tear gas fired by Israeli security forces amid clashes at Jerusalem's Al-Aqsa mosque compound on May 10, 2021, ahead of a planned march to commemorate Israel's takeover of Jerusalem in 1967 Six-Day War. Security forces have set on fire the centuries-old holy Mosque. Serious communal violence has broken out within Israel between Arab citizens and Jews. Fires were lit, a synagogue burned, a Muslim cemetery trashed, police cars set aflame, and an Arab-Israeli man killed. The mayor of Lod termed it a "civil war."
The ferocity of the fast-escalating conflict might be extremely dangerous as Israel uses hi-tech, advanced, lethal weapons. A week ago, Israeli Prime Minister Benjamin Netanyahu seemed close to losing power after the climax of four inconclusive elections. The outbreak of hostilities has allowed him the opportunity to make his latest appearance as a tough guy and ended coalition talks by rival politicians. He might politicize the conflict in his favor.
There is a severe danger of spreading this conflict to a large-scale war, which might engulf the regional countries. There already exists tension among Israel and few regional powers. The recent Israeli attacks on Russian bases in Syrian may also widen the conflict.
Any war in the middle-East will have dire consequences globally. It is appealed to the UN and all peace-loving nations and individuals to speed up all-out efforts to stop the conflict at this initial stage and avert further bloodshed. It is demanded that the Israel-Palestine issue must be settled according to the resolutions passed by UNSC. Wish immediate peace, sustainable peace, and permanent peace in the Middle East and globally.
Why the West Want to Stop Iran Becoming a Nuclear Power?
Iran is a regional powerhouse in the Middle East only rivals Saudi Arabia, Egypt and Turkey. The rivalry between Saudi Arabia and Iran is centuries old in terms of sectarian differences of Shiite Iran and Sunni Saudi Arabia. The thousand year of schism of Islam presents in the Middle East. Moreover, the Islamic Revolution made Iran a fundamentalist impulsive state hostile to the West and Sunni neighbors. Iran is trying to be a nuclear power since 2007 following the great powers and other nuclear states. Iran has always interpreted its nuclear ambition as only to acquire energy and always express against use it as weapon. But this is not true at all as it is going to acquire it to show power against the rival Saudi Arab, the West and USA. There are convictions that the Western Powers let India, Pakistan and Israel to be a nuclear power but they are now against Iran. But this is not the case as several Reasons are behind to stop Iran to be a nuclear power.
Firstly, if Iran becomes a nuclear power, it will simply emerge as the sole regional superpower in the Middle East. Saudi Arabia, the ally of the West will not be a match for Iran. The Middle Eastern 'balance of power' will not be maintained. This will lead to very severe repercussions and the chance of maintaining future 'balance of power' in the reason will be in disarray. As a result, Saudi Arabia will want to acquire nuclear weapon to counter Iran in the region. As Saudi Arabia has money, either it can acquire nuclear weapon by researching or to buy weapons or technology from Pakistan.
From 1990s, Pakistan is selling nuclear technology to Iran, Libya and North Korea. As the economy of Pakistan is in great disarray, it might sell its nuclear technology to Saudi Arabia for billons of dollar. Turkey might try to acquire nuclear weapon to counter Saudi Arabia and the Egypt will want to acquire nuclear weapon to counter Turkey. It will start a sick competition in the Middle East to acquire the nuclear weapons which later may spread throughout the world. The efforts of Nuclear Proliferation will be null and void in a decade.
Another problem will arise if Iran becomes a nuclear power in terms of the failure of calculating nuclear deterrence. It is not unknown that USA acquired nuclear power first, then USSR acquired to counter or balance the power of USA, then it was the beginning of arms race. India acquired nuclear weapon to balance China in the region after the loss of 1962 war. Pakistan countered Indian nuclear power as it is unable to fight and win a war against a mighty power like India. Western powers primarily imposed sanctions on them but later withdrew. But if Iran acquired it, the nuclear deterrence or the calculation of nuclear war threats will be complicated. Who will counter who, who will attack who the probability or the calculation of the probability will be huge. There will be miscalculations and chances of total devastating war will be huge. Nuclear power Israel might attack Iran as preemptive action. In this indicating situation, Waltzs' nuclear deterrence does not work.
Secondly, Iranian world view and ideology does not support the idea of Westphalia world order. The leaders of Iran and its revolution including Ayatollah Khomeini declared in 2013, they want to unite the believers (Muslim Ummah); they want to vanquish the dominance of the Western powers, USA and its allies. Iran is now influenced by Radical Islamist Syed Qutb according to Henry Kissinger, and working both with Shiite and Sunni Radical organization. According to Kissinger, Iran has connection to Al-Qaeda and Taliban as they armed them. Iranian leadership thinks that they are on a Holy War (Jihad) against the unbelievers and these ideas are making the nuclear program even threatening. If Iran has nuclear weapon, can be in the hands of terrorist organizations or the radical and impulsive leadership might be threat to the nearby states, US allies, Russia, China or Israel. Any impulsive leadership can use it to wipe out the unbelievers in fighting a Jihad. Even they can use the nuclear arms as bargaining chip with the West or neighboring countries as North Korea did.
Thirdly, Iran already has its own nuclear delivery system and missile technologies. This made Iran a more ready nuclear power than previous nuclear powers like India and Pakistan, have been. So the only way to inhibit the nuclear capability of Iran is to reduce its capability to enrich Uranium. Iran has thousands of Uranium centrifuges and they wanted to reduce capacity of the half of the centrifuge to only 5 percent Uranium. According to Iran they will not enrich Uranium to 20 percent. This 20 percent Uranium is not important as 5 percent Uranium as this 5 percent Uranium is the threshold from where in a few months Iran can produce weapon category Uranium which make Iran as more unreliable.
In 2015 Iran signed Joined Comprehensive Plan of Action (JCPOA), a nuclear treaty with the five members of United Nations Security Council (P5) plus Germany which is called P5+1. As a result sanctions were withdrawn from Iran by the West. Ex-President Donald Trump declared withdrawal from the deal in 2018 and imposed the sections on Iran. Iran in 2019, Iran breached the limit set on the deal and IAEA confirmed it. After the Baghdad Airstrike killed Qasem Solaimani, Iran wanted to increase its nuclear capability. The good news is, in December 2020, America desired to rejoin the deal, and the new Biden administration is working on it.
Iran is a pivotal country in the Middle East. Anything Iran does may echo in the region. Middle East is already a complicated region with a lot of conflict and potential problematic issues. To sustain peace in the region including the balance of power, world powers are working on it. Time will tell how fruitful the initiatives are. The West must ensure that Iran respect and be a part of the Westphalia order which is a good start.
Escalation of violence in Jerusalem
According to some analysts, a clause of the Emirates-Bahrain and Israel agreements opens the door to the prayers of Jews in the sacred place
On the afternoon of May 10, the Al-Qassem brigade in Gaza gave an ultimatum to the Israeli occupiers to leave the Al-Aqsa complex and release the prisoners. An hour later, missiles were fired from Gaza towards Jerusalem. An anti-tank missile was fired at an Israeli army jeep near the Gaza border. Subsequently, other volleys of missiles were fired by other resistance groups at targets near Gaza.
The Israeli military canceled the start of a large-scale maneuver it had planned to carry out over the next 30 days. That move was seen as a preparation for an all-out attack on Hezbollah in Lebanon. Yesterday Hezbollah announced a general mobilization of its forces to deter a potential surprise attack. Israeli troops are now on alert for potential escalation within Israel and Gaza. After four elections, Israel still does not have a new government. Prime Minister Netanyahu is on trial for corruption. A broader war that can turn into a victory could help him avoid judgment and get votes in the next election. According to Jewish tradition, the ancient Jewish temple was located exactly where the Al-Aqsa mosque is now located. The Zionist movement aspires to rebuild the third temple, but in order to do so they must first remove the mosque.
According to an investigation by Terrestrial Jerusalem (TJ) an Israeli non-governmental organization, the claims contained in the normalization agreements between the United Arab Emirates (UAE), Bahrain and Israel (known as the "Abraham Accords") mark a "radical change in the status quo and have far-reaching and potentially explosive consequences ". The violence that is taking place these days depends on those agreements.
According to the status quo established in 1967, only Muslims are allowed to pray on al-Haram al-Sharif [the Noble Shrine in Arabic, i.e. the Temple Mount], Temple Mount, according to the Jews, also known as the Al mosque complex Al-Aqsa. Non-Muslims can visit the site, but not pray. Benjamin Netanyahu, the Israeli prime minister, confirmed this status quo in a formal statement in 2015. However, a clause included in the recent agreements between Israel and the Gulf states indicates that this may no longer be the case. According to the joint statement between the US, Israel and the UAE issued on August 13, 2020, by US President Donald Trump: "As set forth in the Vision for Peace, all Muslims who come in peace may visit and pray at the Al Aqsa Mosque, and Jerusalem's other holy sites should remain open for peaceful worshippers of all faiths".
But Israel defines Al-Aqsa as a 'mosque structure', as in the statement, clarifies TJ's report: "…according to Israel (and apparently to the United States), anything on the Mount that is not the structure of the mosque is defined as 'one of Jerusalem's other holy sites', and open to prayer by all–including Jews", says the statement.
"Consequently, this choice of terminology is neither random nor a misstep, and cannot seen as anything but an intentional, albeit surreptitious attempt to leave the door wide open to Jewish prayer on the Temple Mount, thereby radically changing the status quo".
The same statement was repeated in the agreement with Bahrain.Palestinians have long been concerned about possible attempts to partition the holy mosque, as happened with the Ibrahimi mosque [Tomb of the Patriarchs for Jews] in Hebron.
A Temple Movement has developed over the years, consisting largely of "far-right nationalist religious Jews seeking to change the status quo" reports TJ. Some ask for prayer for the Jews inside the sacred complex, while others aim to build the Third Temple on the ruins of the Dome of the Rock which, according to Messianic prophecies, would announce the coming of the Messiah.
Over the years, the Israeli NGO Ir Amim has published numerous reports of this once marginal group, but which is now part of a dominant political and religious trend and enjoys close ties with the Israeli authorities.
These activists believe that allowing Jews to pray as a whole and divide the sacred site between Muslims and Jews is a step towards sovereignty, to one day achieve their ultimate goal, the construction of the temple.
A more brazen statement was included in the "deal of the century", the plan for the Middle East unveiled in late January 2020 by Trump and Netanyahu in the White House.
Jared Kushner, Trump's senior adviser and son-in-law, was the most prominent person working on the proposal, while Ron Dermer, Israel's Ambassador to the US, was credited with formulating the agreement.
The plan stipulates that "the status quo of the Temple Mount/Haram al-Sharif should remain unaffected", but the next sentence also says that "people of all faiths can pray on the Temple Mount/Haram al-Sharif".
The clause caused controversy and prompted David Friedman, US Ambassador to Israel, to retrace his steps during his press meeting on January 28, 2020. "There is nothing in the plan that would impose any alteration of the status quo that is not subject to agreement of all the parties", he said.
Friedman's quick retraction of the sentence contained in Trump's plan attests that Dermer probably inserted it and that Kushner did not understand it. The fact that it was Friedman who retracted and not the White House also means that the language of Trump's plan is still official and decisive when it comes down to it.
The normalization agreements come after the Israeli authorities installed loudspeakers on the east and west sides of the Al-Aqsa complex without the permission of the Waqf (Islamic institution).
The sacred complex is administered by the Islamic Waqf based in Jordan. According to the status quo, Israel is only responsible for security outside the gates. In his report, TJ notes that the agreement does not mention the Waqf and its autonomous role.
Meanwhile, Israel has killed 20 Palestinians in Gaza and injured hundreds in Jerusalem as tensions in Al-Aqsa flare up.