KSA and UAE differences on Syria and Yemen: Reasonable Differences or a Clash?
How the Media Created an Impression of a Major Rift and Widened Misunderstandings
In recent months, Western media has bombarded the policymakers with rumors about an alleged divide inside the Arab Coalition, the supposedly irreconcilable differences that are driving UAE and KSA towards an inevitable and irreversible drift, dooming their effort in Yemen. Indeed, the countries have individual national security concerns that have at times pushed them to focus on some issues while others remained an apparently more urgent concern for their counterpart.
However, much of the current discourse about divisions between the Gulf states has been fueled by a campaign focus on exploiting and exaggerating real divisions to the detriment of all, rather than bringing the countries back to the same page and strengthening their partnership with the United States. That goes against the Iran and Muslim Brotherhood agenda in driving the Coalition – and especially the US – out of Yemen, as soon as possible.
For that reason, mutual recriminations and attacks have been encouraged, and the situation has been portrayed in the most dire terms. Indeed, if the divide continues, it will only strengthen t he Muslim Brotherhood influence in Yemen, and give further fodder to assorted terrorist groups and Iran-induced chaos. To avoid that possibility, the US government should stop listening to what appears to be a clearly divisive political campaign and instead take the time to understand the positions of each country. US leadership may soon discover that the apparent differences are far from irreconcilable, and that UAE and KSA ultimately wish for a stable region and are both against any sort of radicalism or fanaticism.
The Arabic language media wars between the various columnists from the two states has not been helpful either. Rather than attacking each other and mounting potentially baseless accusations, these analysts would do well to emphasize common ground as well as use the power of their keyboards to clarify the nature of the misunderstandings and to elucidate their countries' positions in a rational way that will help arrive at common sense solutions – already evident in some of the discourse emerging from both sides.
Perceived Differences, Unexplained, Are Played Up Causing Confusion
In the midst of tensions between Iran and the United States in the Gulf – tensions which involve oil smuggling, attacks on and hijacking of tankers, and the downing of drones – Iran appears to be pursuing a parallel diplomatic track with some of the regional stakeholders.
Iran's recent meeting with UAE's Sheikh Abdullah bin Zayed generated a great deal of discussion and controversy; meetings with Qatari officials, on the other hand, went by largely unnoticed. Is UAE really looking to abandon Saudi Arabia in its stand off against the ayatollahs? And what is Tehran ultimately seeking to accomplish?
The rare visit by UAE officials to Iran came in the context of other developments, which have raised questions about the possible fissions within the Anti-Terrorism Quartet.
While visiting Moscow after the May attacks on Emirati and Saudi oil tankers, Abdullah bin Zayed refused to name Iran as the culprit, which to many signaled UAE distancing itself from the more confrontational position taken by the United States and Saudi Arabia, as reported by Tom O'Connor in Newsweek on June 26, 2019. This development came after UAE and Bahrain split from Saudi Arabia in reestablishing diplomatic relations with Syria's pro-Iran Bashar al-Assad; although even with Russia's lobbying on Syria's behalf, there was not enough support to readmit Syria into the Arab League as explained by Youssef Igrouane in Inside Arabia on February 27, 2019. The discussion on whether reopening embassies in Damascus would "normalize" al-Assad, and whether al-Assad, who already was receiving limited political support from Egypt vis-a-vis Turkey, as explained by the author and Mohammed Maher in Modern Diplomacy on May 6, 2019, was considered a fait accomplit for Syria for the time being by some of the pragmatists in the Arab world and thus the reestablishment of diplomatic relationship was at that point merely a formality acknowledging that Assad is there to stay remains an open question. Was Saudi Arabia being "unreasonable" in refusing to restore relations with Assad, where the other three members of the Anti-Terrorism Quartet chose to pursue a different path? And did that decision create or further divisions between Riyadh and the other three countries? Or was this step merely a reasonable and agreed upon approach given the differences in the countries' interests, that did not affect much their cooperation on other points?
The reality is, in fact, it was a bit of both. For Saudi Arabia, Iran is a central and existential danger. Although KSA's Crown Prince Mohammed bin Salman had articulated that Iran, along with the Muslim Brotherhood, and Turkey are part of a triangle of evil, in terms of policy, Saudi Arabia clearly has prioritized opposing Iran over complete eradication of the other two "sides" of the triangle. Although the Saudi government has gone to great lengths to eradicate the Muslim Brotherhood from within the country, it has cooperated with the Islamist brigades that are fighting on behalf of the Yemeni government as a a part of the Arab Coalition against the Houthi terrorists in Yemen.
Saudi Arabia, despite tensions with Turkey, which escalated after the death of Jamal Khashoggi, retained diplomatic relations with Ankara, and although there has been a limited boycott of some Turkish products, the majority of Saudi investments have remained in place. Turkey remains a political challenge to Saudi Arabia's interests in Middle East and Africa; Erdogan is looking for Sunni primacy through populist Islamism, and has invested heavily in various operations in Africa and Asia, to counter Saudi soft power with defense and humanitarian investments.
How Turkey and Muslim Brotherhood overshadow Iran threat for UAE
However, Erdogan has also suffered recent defeats and setbacks, primarily through the fall of his ally Omar al-Bashir in Sudan, and through the stalemate in Libya. Turkey is a political threat to Saudi Araabia's influence; however, Erdogan has suffered political blows inside the country, such as the loss of his candidate in Istanbul, the economic fallout from the rising tensions with the United States, and other problems. For that reason, while Erdogan may be a longer-term concern, (any nationalist, even without Erdogan's Islamists connection, in pursuit of a renewed Ottoman empire will not be looked upon kindly), he is not an immediate existential threat. Furthermore, most of his Arab following comes solely on the basis of his strongman, anti-Israel, anti-American image, but will not likely remain loyal to a non-Arab leader with a vision of reimposition of the Ottoman system from which many of their ancestors have suffered.
Saudi Arabia views Erdogan's incursions into Syria quite negatively; however, Assad has become increasingly dependent on Iran as a result of the civil war, and Iranian presence in Syria has grown substantially. Where the various jihadist and Muslim Brotherhood factions are mere annoyances used by state actors to attack each other, Assad is opening doors to Iran's ideological and political influence, in addition to a military build up and the building of "land bridges" that will facilitate the influx of fighters and weapons into the area. From that perspective, and given the Saudis' concern with countering that threat above all, not cooperating with Assad in any substantial way makes perfect sense. Turkey is unlikely to take over Syria completely; however much damage it can cause with its presence, Assad is likely to retain control over most of the country. Quite simply, Assad and Iranians are the stronger forces.
For UAE, however, the analysis was quite different, as its tensions with Turkey have intensified over time, with the arrests of UAE-based Palestinian workers (one of whom was found dead and disemboweled in a Turkish jail cell), attacks on Emirati bases in Somalia by Turkey and Qatar-backed militias, as explained by the New York Times on July 22, 2019, as well as Turkey's support for the Arab Spring, which threatened UAE, a relatively small country, as well as Bahrain, which nearly suffered a coup, as well as the view of the UAE, that Turkey's incursions into Syria represents an attack on the sovereignty of Arab lands, as written by Bilo Biskan for the Middle East Institute on May 1, 2019.
Erdogan's support for Muslim Brotherhood and his backing of UAE's regional rival, Qatar, contributed significantly to this deterioration in relations, as well as a perception of an immediate attack on UAE's interests. Muslim Brotherhood's ideological proclivities have received a zero-tolerance treatment from Abu Dhabi, which has supported Southern separatists in Yemen and has had disagreements with Saudi Arabia over cooperation with the Islamist brigades within the Coalition. Furthermore, UAE has spared no expense in lobbying efforts and backing think tanks in the West to counter Qatari and Turkish backing of the spread of ISlamist ideology, whereas Saudi Arabia has taken a step back from involvement in these ideological battles.
By contrast, Dubai has had a sizeable Iranian community and while UAE has sided with Saudi Arabia against Iran politically, its trade relations with Iran are lively and ongoing. UAE was one of the eight countries to receive a temporary waiver for oil trade with Iran from the United States; the exports from UAE to Iran are four times the number of imports. UAE considers Iran a threat; it has largely withdrawn its forces from Yemen in response to the increasing tensions in the Gulf and to secure its own citizens from any potential attacks by Iranian forces. However, ultimately, countering Turkey and Sunni ISlamists in Syria may simply have been more of a political priority, and if Assad did not present a direct threat to the Arab states, from UAE perspective, having modest political presence in the country could be beneficial to ensuring that other Emirati interests in countering additional primary threats could be protected.
By the same token, Emirati and Bahraini presence in Syria could be the bridge to keep Saudi Arabia informed and its interests observed if only by proxy. In either case, this minor presence inside the country might not ultimately make much of a difference, particularly if Syria remains outside the Arab League and otherwise largely isolated by the coalition members. From the Western perspective, however, these pragmatic differences that ultimately may not matter all that much on the strategic level of countering primary threats by the ATQ may signal to the West a deepening rift within the Quartet, which makes formulating coherent policy by the White House, already fraught with internal controversies and contradictions, still more difficult. If, for whatever reasons, some of the Arab partners are staunchly opposed to any convergence with Assad, whereas others find any compromise with Turkey unacceptable while limited dialogue with Assad appears to be not only within reason, but essential to making progress, no matter what the White House ends up doing in Syria, one or more of the parties will be dissatisfied with the outcome.
Recent clashes in Aden expose and exacerbate fissions inside the Arab Coalition, alarming the West
Yemen further complicates the situation. UAE withdrawal, although allegedly coordinated, has been largely interpreted by the Western press, the cadre of analysts, and the political establishment as a significant difference, if not a rift, among the Coalition members. Increasingly, from Western perspective, Saudi Arabia appears to be isolated, and the war, at least in the manner it is being handled today, hopeless and chaotic. Although the Trump administration has recognized the dangers from various non-State actors inside Yemen, as well as Iran's role in backing the Houthis, the White House has not deemed it necessary either to designate the Houthis as a terrorist organization, even after multiple, and in some cases, lethal attacks on Saudi civilian sites, nor has it pushed for a new AUMF that would allow combat troops to counter Hizbullah and Houthi forces in addition to Al Qaeda and ISIS. While the White House appears to count on the Saudis to settle the issue, the situation is complicated by the UAE-backed separatists who have intervened in Aden, demanding independence.
The Houthis, at the same time, demanded the expulsion of the Sunni Islamist fighters and separatists as reported in The Daily Star on August 15, 2019. The talks over managing and settling the new conflict in Saudi Arabia appear to be thwarted by the refusal of the various parties to compromise on the solution. The Islamists, from the Saudi perspective, appear to be a necessary lesser evil to counter the Hizbullah trained Houthis; furthermore, the Yemeni government has taken a step back , with the Saudis shouldering most of the burden. UAE has attempted to mediate between the Southern Transitional Council writes Bel Trew for The Independent on August 14, 2019, and the other parties in an attempt to avoid further violent clashes.
However, so long as the separatists feel they have backing there appears to be no reason for them not to continue taking advantage of the seeming splintering among the allies to push their own agenda. The optics of it all are chaotic, and the only party benefiting is Iran, which thrives on mayhem and divisions among anyone who opposes Tehran's agenda. The natural question of course arises is why would UAE continue backing a group that clearly has less of an interest in broader agenda of the coalition than pushing for its own bid that could only strengthen Iran's goal.
The Houthis which largely reside in the lesser developed Northern part of Yemen seek continuity into the South. Dividing the country which had been held together, albeit imperfectly, under Ali Saleh, would not change the goals of Iran, the Houthis, or the various other terrorist groups on the ground, and would only create additional political complexities on top of the existing military and humanitarian difficulties. Furthermore, the unseemly vision of UAE forces clashing with the Saudi-backed forces in Aden and elsewhere are already being exploited by Iran for propaganda value and to create additional tensions and distrust between UAE and KSA.
Contradictory Coverage of the UAE Meeting with Iran Underscores the Role of Information Warfare
Putting aside these considerations for a moment, it is worth examining the dynamics between UAE and Iran outside Yemen. Of course, the meetings between the officials were spun very differently by the pro-Iran media and former Obama officials, now firmly ensconced in the Western foreign policy establishment, and the Gulf responders. Much of the Western media covered the story as a political rapprochement between Iran and UAE, a political and diplomatic victory to Tehran, and a heavy blow to KSA, which is being stabbed in the back in the midst of a crisis. as reported by Washington Post on July 31, 2019. The Gulf press, on the other hand, disputed the version of significant maritime security agreements that would position UAE as having bought off its own safety in exchange for throwing Saudis under the bus, and instead pointed out that the meetings were routine and focused on relatively trivial fishing issues that do not affect the larger calculus nor change the nature of the relationship.
See for example Khaleej Times coverage on July 31, 2019. One can argue whether such coverage is merely a face saving measure by the ATQ in light of this turn of events; a cynical viewer could even make claim that UAE withdrawal from Yemen had less to do with the apparently hopelessness of the situation or the threat emanating from Iran than with some secret backchannel dialogue with Iran, which would preserve or even grow the trade relationship between the countries in exchange for the PR victory UAE would grant Iran by withdrawing its relatively small forces from Yemen (without necessarily ceasing its backing for the Southern forces). That interpretation would make sense if indeed the more significant nature of the meeting between the two countries were confirmed. However, following the Aytollah Khamenei's public support for the Houthis, UAE officials publically linked Iran with the Houthis, which Iran had previously denied as Arab News points out on August 14, 2019.
Furthermore, the Emiratis and the Saudis accused Qataris and Turkish media of deliberately fabricating non-existent details to advance Iran's agenda of creating divisions where there are not any, and fomenting tensions between the close allies, which have consistently pushed for diplomacy and opposed military confrontation with Iran as Radio Farda reported on August 3, 2019. Regardless of what is actually going on behind the scenes, however, neither version of events ultimately answers the question of what exactly Iran is hoping to achieve through this chain of events. Of course, it may have achieved a propaganda victory against the ATQ through the gossipy coverage which exploits or creates differences between UAE and KSA.
How does Iran benefit from the controversy over UAE meeting?
Certainly, whatever the actual reason for UAE's withdrawal, it is to Iran's advantage to have fewer people opposing the HOuthis in Yemen, particularly if they do not also change the strategy to become more effective in countering the ground forces with the intimate knowledge of the land and far greater information warfare skills. And most definitely, even a very minor meeting with Emirati officials, sends a strong signal to the rest of the world that Iran is a "reasonable" country that looks to cooperate with its neighbors if not major issues than on routine ones, and that the view of it as a regional aggressor with nothing of value to offer to the region is at the very least exaggerated. In other words, even if from a practical perspective it made sense for the Emiratis to meet with Iranians and to address diplomatically whatever is possible to address, it very likely was a mistake to agree to do so during a public visit to Iran rather than in some neutral and benign location.
The most likely view of the situation by Iran is as follows: regardless of UAE's interests in the matter, it is clear that Iran has its geopolitical agenda of dominating the region and rebuilding the Persian empire, however long that will take. UAE, most likely, is not its primary target, as Iran has been consistent in pushing for the creation of a "Shi'a crescent", and UAE simply would not fall into that category. Furthermore, at the current juncture, Iran needs all the financial help it can get, and attacking its trading partner's territory does not make sense until such point as Tehran has secured its positions sufficiently elsewhere. Attacks on tankers will not warrant much of an international reaction, but a direct attack on UAE could be altogether different.
Likewise, Iran has no intention of stopping Houthi or Iraqi militia attacks against the Saudis; if anything, for the first time Iran's reach to its proxies is sufficiently strong that it can now coordinate among these different bodies without facing much of a response from the US or anybody else. However, creating and fomenting distrust among all allies, and making the White House confused and cross with all the parties involved, ruining any possibility of creating some version of an Arab NATO, and ensuring that no coordinated political action, such as a blockade, can be taken against its own interests is the most likely aim of all of this maneuvering. The meeting with UAE may not have been of much strategic value in and of itself; particularly if Iran had no intention of attacking UAE to begin with, securing maritime agreements would be rather a symbolic and useless step. All agreements can be violated in a blink of an eye if Iran so chooses, as some have discovered through the folly of the nuclear deal.
However, creating the optics of a meeting and a dispute has furthered the tribalist differences Iran has long since alleged against its rivals, ensuring that any future steps in the Gulf area may not encounter an unanimous response, because some may feel more invested in preserving a potential symbolic defense than others. If UAE believes that the rapprochement with Iran, even a minor one, is to its benefit in protecting it from physical harm, it will be less likely to be vocal in pushing for additional measures against Iran, and could be even used to oppose further tough actions by the United States, if it ever chooses to launch a military strike for instance.
UAE may not view the situation that way at all; for all anyone knows, the sole point of that expedition was to determine that Iran, once again is playing games, check off this last-resort attempt at peacemaking from the list, and go on business as usual in close coordination with Saudi Arabia. But UAE's intentions here are irrelevant to Iran; most of this charade is aimed at generating panic among the Gulf masses and to for the benefit of the West, that will now be less sure of its Arab allies because they appear to be splintered, hedging their bets in light of Trump's relative inaction, or else untrustworthy even towards each other, as some are already alleging. Iran may have engineered the entire situation for the benefit of the West and to create further distrust in the Arab allies and their ability and willingness to advance effective anti-Iran agenda and their overall worth to the United States.
Qatar meeting with Iran may underscore Qatar's support for Iran agenda in Yemen
As for the meeting with Qatar? FM Zarif, recently sanctioned by the United States, notably visited with Qatari officials right after visit by a Houthi official as reported by The National, on August 11, 2019.. NOt only is Iran flagrantly demonstrating the depth of its relationship with the Houthis, but it is now fairly open about Qatar's support not merely for some trade with Iran in light of the boycott by the ATQ, but Qatar's support for Iran's political positions and agenda in the region, which includes the backing of the Houthis. The de facto finance minister of the Houthis was killed during the factional clashes in Sanaa, but the HOuthis blamed his death on the US. Houthis, too, appear to be experiencing infighting. One of their leaders may have been killed during a power struggle. Qatar, which is right across from Iran has a front row view of the attacks on the Emirati and Saudi tankers; it also shares a gas field with Iran.
Despite Qatar's stated concerns over Iran's supposed threat, none of Qatari sites or tankers have been attacked by Iran or any of its proxies. Left out from the background to the meeting is that Qatar has retained ties to both the Houthis and the Islah (ISlamist) brigades in Yemen, funding and backing both sides of the war, though ultimately the ISlamists are hostile to Saudi and Emirati interests in Yemen, writes Samuel Ramani in Al Monitor on November 19, 2018. Qatar's support for the anti-Houthi Islamists has not appeared to have alarmed Iran, because this step ultimately only creates further friction between the Saudis and Emiratis and further advances Iran's agenda. In other words, Iran is happy to have a fifth column inside the Arab Coalition, without which, nevertheless, countering the Houthis is unimaginable for lack of sufficient forces with knowledge of the physical landscape, especially after withdrawal by many of the other former Coalition members (including Egyptians, Moroccans, and Sudanese, and now the loss of most Emirati fighters).
However, the meeting with Qatar's Emir Tamim bin Hamad Al-Thani has not raised much interest in the Western press, primarily because it is a dog bites man situation and there is less controversy to be explored. The meeting very well may have been planned to coordinate the agenda on Yemen, and certainly on the information warfare campaign in smearing the Arab Coalition members, and setting them up against one another. It is a shame that none in the press have stepped away from sensationalism to ask deeper, more troubling questions about this steadily growing relationship and Qatar's apparent support and approval of Iran's backing of the Houthis and their terrorist activity. Instead, they have focused on exploiting perceived divisions and fueling attacks against the allies in Yemen, with the hope of undermining their mutually important relationship and their partnership with the US.
UAE and KSA should ignore such provocations; instead of playing into the hands of adversarial propaganda, they should issue joint statements emphasizing common goals on the ground; then quietly sit down and hammer out the challenges that have prevented them from unifying behind the same forces. As mentioned above, there is already evidence that much of that has been caused by miscommunication and social pressures of various types, rather than any bad intent or blind unwillingness to embrace the strategically sound positions. However, if there is anything to be learned from these episodes is that Iran is a ruthlessly deceptive and calculating manipulator which will go to any lengths to clear its path to dominance, and that no matter the priorities and the political differences, the members of the ATQ should not fall for its dirty tricks.
Can Biden Bring Peace to the Middle East?
As the fierce fighting between Israel and the Palestinians rages on, the Biden administration's Middle East policy has been criticized for its relatively aloof, "stand back" approach that has resulted in the absence of any pressure on Israel to re-think its harsh mistreatment of the Palestinians, vividly demonstrated in the recent police attack at al-Aqsa mosque and the attempted eviction of Palestinians from their homes in East Jerusalem, viewed by the Palestinians as part of Israel's "ethnic cleansing."
Consequently, a UN Security Council draft resolution on the crisis has been reportedly held up by US, which has prioritized the familiar narrative of "Israel's right to self-defense" ad nauseam, without the benefit any nuances that would reveal any fresh thinking on the problem on the part of the Biden administration. As in the past, the new crisis in Israel-Palestinian relations has sharpened the loyalties and alliances, in effect binding the US government closer to its Middle East ally under the rainstorm of Palestinian rocket attacks, highlighting Israel's security vulnerabilities in today's missile age. Determined to crush the Palestinian resistance, the mighty Israeli army has been pulverizing Gaza while, simultaneously, declaring state of emergency in the Arab sections of Israel, as if there is a military solution to an inherently political problem. What Israel may gain from its current military campaign is, by all indications, bound to be elusive of a perpetual peace and will likely sow the seed of the next chapter in the 'intractable' conflict in the future.
As the editors of Israel's liberal paper, Haaretz, have rightly pointed out, the problem is the Prime Minister Benjamin Netanyahu, who is highly unpopular, unable to form a government, afflicted with a corruption case, and who has been appeasing the extremist elements in Israeli politics who have no qualm about the illegal expropriation of Palestinian lands. Israeli politics for its own sake needs to move to the center, otherwise the Israeli society as a whole will suffer, as more and more educated Israelis will leave the country, Israel's recent gains through the Abrahams accord with the conservative Arab states will be essentially wiped out, as these states will need to cater to the rising tide of anti-Israel sentiments at home or face serious legitimation problems, and Israel's regional rivals led by Iran will continue to harvest from the present crisis.
Unfortunately, there does not seem to be any political will in Washington to spur a political shift in Israel that would secure better results in terms of the elusive Middle East peace and both President Biden and the Democratic Party establishment are concerned that their Republican opponents will seize on any tangible US pressure applied on Israel. In other words, domestic US priorities will continue for the foreseeable future to hamper a much-needed corrective Washington influence on an ally that receives 4 billion dollar military aid annually and, yet, is unwilling to allow the White House to have any input on its handling of the Palestinians at home and the West Bank and Gaza.
But, assuming for a moment that the Biden administration would somehow muster the will to stand up to Netanyahu and pressure him to cease its massive attacks on Gaza, then such a bold move would need to be coordinated with a deep Arab outreach that would, simultaneously, persuade the Palestinian groups led by Hamas and Islamic Jihad to go along with a US-initiated cease-fire, followed by related efforts at UN and regional level to bring about the groundwork for a more enduring peace, such as by holding a new international peace conference, similar to the Oslo process.
At the moment, of course, this is wishful thinking and the protagonists of both sides in this terrible conflict are more focused on scoring against each other than to partake in a meaningful peace process. In other words, an important prerequisite for peace, that is the inclination for peaceful resolution of the conflict instead of resorting to arms, is clearly missing and can and should be brought about by, first and foremost, a capable US leadership, sadly hitherto missing.
Israel-Palestine Conflict Enters into Dangerous Zone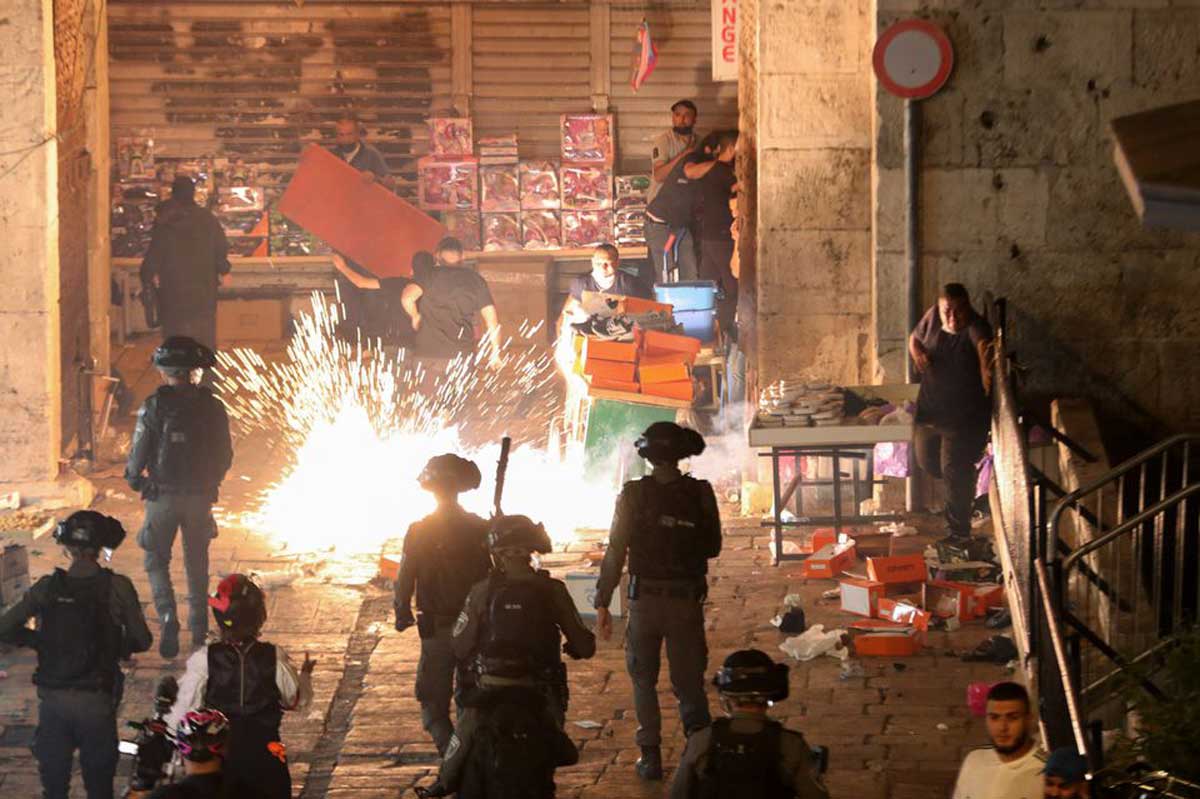 Since the start of the Muslim holy month of Ramadan in mid-April 2021, tension has escalated, with frequent clashes between police and Palestinians. The threatened eviction of some Palestinian families in East Jerusalem has also caused rising anger. But when Israeli security forces entered and attacked the unarmed Muslim worshipers, damaged the property, and humiliated the families, the situation turned into conflict.
Since the irrational and illogical creation of the Jewish State in the middle of the Muslim World, the tension started and emerged into few full-fledged armed conflicts and wars like; 1948–49, 1956, 1967, 1973, 1982, and 2006 wars/ conflicts. Tensions are often high between Israel and Palestinians living in East Jerusalem, Gaza, and the West Bank. Gaza is ruled by a Palestinian group called Hamas, which has fought Israel many times. Palestinians in Gaza and the West Bank complain that they're suffering because of Zionists' expansionist actions. Israel's severe violations of human rights and extreme atrocities against Palestinians left Palestinians with no option other than protest and agitate. But Israel suppresses them and uses all dirty tricks to keep them silent.
It is worth mentioning that the United Nations Security Council has passed several resolutions to settle the Israel-Palestine issue peacefully. But Israel has not implemented either of them and kept using force to push them out and settle Jews in their land.
The State of Israel has been enjoying undue supported by the US, irrespective of who is president, but all of them support Israel unconditionally. Israel is the most favored nation of the US and the largest beneficiary of American aid, assistance, and support.
Ex-President Donald Trump helped Israel establish diplomatic relations with the United Arab Emirates, Bahrain, Sudan, and Morocco. Donald Trump favored Netanyahu, dramatically moved the US embassy from Tel Aviv to Jerusalem. His daughter and son-in-law were the facilitators for his support to Israel.
Till last news, at least 56 Palestinians have died under an array of aerial bombardments of the Gaza Strip. Five Israelis were killed too. Rockets, bullets, and rocks are flying around Israel and the Palestinian territories with catastrophic intensity in the latest wave of violence that periodically marks the Palestinian-Israeli conflict. Palestinian protesters run for cover from tear gas fired by Israeli security forces amid clashes at Jerusalem's Al-Aqsa mosque compound on May 10, 2021, ahead of a planned march to commemorate Israel's takeover of Jerusalem in 1967 Six-Day War. Security forces have set on fire the centuries-old holy Mosque. Serious communal violence has broken out within Israel between Arab citizens and Jews. Fires were lit, a synagogue burned, a Muslim cemetery trashed, police cars set aflame, and an Arab-Israeli man killed. The mayor of Lod termed it a "civil war."
The ferocity of the fast-escalating conflict might be extremely dangerous as Israel uses hi-tech, advanced, lethal weapons. A week ago, Israeli Prime Minister Benjamin Netanyahu seemed close to losing power after the climax of four inconclusive elections. The outbreak of hostilities has allowed him the opportunity to make his latest appearance as a tough guy and ended coalition talks by rival politicians. He might politicize the conflict in his favor.
There is a severe danger of spreading this conflict to a large-scale war, which might engulf the regional countries. There already exists tension among Israel and few regional powers. The recent Israeli attacks on Russian bases in Syrian may also widen the conflict.
Any war in the middle-East will have dire consequences globally. It is appealed to the UN and all peace-loving nations and individuals to speed up all-out efforts to stop the conflict at this initial stage and avert further bloodshed. It is demanded that the Israel-Palestine issue must be settled according to the resolutions passed by UNSC. Wish immediate peace, sustainable peace, and permanent peace in the Middle East and globally.
Why the West Want to Stop Iran Becoming a Nuclear Power?
Iran is a regional powerhouse in the Middle East only rivals Saudi Arabia, Egypt and Turkey. The rivalry between Saudi Arabia and Iran is centuries old in terms of sectarian differences of Shiite Iran and Sunni Saudi Arabia. The thousand year of schism of Islam presents in the Middle East. Moreover, the Islamic Revolution made Iran a fundamentalist impulsive state hostile to the West and Sunni neighbors. Iran is trying to be a nuclear power since 2007 following the great powers and other nuclear states. Iran has always interpreted its nuclear ambition as only to acquire energy and always express against use it as weapon. But this is not true at all as it is going to acquire it to show power against the rival Saudi Arab, the West and USA. There are convictions that the Western Powers let India, Pakistan and Israel to be a nuclear power but they are now against Iran. But this is not the case as several Reasons are behind to stop Iran to be a nuclear power.
Firstly, if Iran becomes a nuclear power, it will simply emerge as the sole regional superpower in the Middle East. Saudi Arabia, the ally of the West will not be a match for Iran. The Middle Eastern 'balance of power' will not be maintained. This will lead to very severe repercussions and the chance of maintaining future 'balance of power' in the reason will be in disarray. As a result, Saudi Arabia will want to acquire nuclear weapon to counter Iran in the region. As Saudi Arabia has money, either it can acquire nuclear weapon by researching or to buy weapons or technology from Pakistan.
From 1990s, Pakistan is selling nuclear technology to Iran, Libya and North Korea. As the economy of Pakistan is in great disarray, it might sell its nuclear technology to Saudi Arabia for billons of dollar. Turkey might try to acquire nuclear weapon to counter Saudi Arabia and the Egypt will want to acquire nuclear weapon to counter Turkey. It will start a sick competition in the Middle East to acquire the nuclear weapons which later may spread throughout the world. The efforts of Nuclear Proliferation will be null and void in a decade.
Another problem will arise if Iran becomes a nuclear power in terms of the failure of calculating nuclear deterrence. It is not unknown that USA acquired nuclear power first, then USSR acquired to counter or balance the power of USA, then it was the beginning of arms race. India acquired nuclear weapon to balance China in the region after the loss of 1962 war. Pakistan countered Indian nuclear power as it is unable to fight and win a war against a mighty power like India. Western powers primarily imposed sanctions on them but later withdrew. But if Iran acquired it, the nuclear deterrence or the calculation of nuclear war threats will be complicated. Who will counter who, who will attack who the probability or the calculation of the probability will be huge. There will be miscalculations and chances of total devastating war will be huge. Nuclear power Israel might attack Iran as preemptive action. In this indicating situation, Waltzs' nuclear deterrence does not work.
Secondly, Iranian world view and ideology does not support the idea of Westphalia world order. The leaders of Iran and its revolution including Ayatollah Khomeini declared in 2013, they want to unite the believers (Muslim Ummah); they want to vanquish the dominance of the Western powers, USA and its allies. Iran is now influenced by Radical Islamist Syed Qutb according to Henry Kissinger, and working both with Shiite and Sunni Radical organization. According to Kissinger, Iran has connection to Al-Qaeda and Taliban as they armed them. Iranian leadership thinks that they are on a Holy War (Jihad) against the unbelievers and these ideas are making the nuclear program even threatening. If Iran has nuclear weapon, can be in the hands of terrorist organizations or the radical and impulsive leadership might be threat to the nearby states, US allies, Russia, China or Israel. Any impulsive leadership can use it to wipe out the unbelievers in fighting a Jihad. Even they can use the nuclear arms as bargaining chip with the West or neighboring countries as North Korea did.
Thirdly, Iran already has its own nuclear delivery system and missile technologies. This made Iran a more ready nuclear power than previous nuclear powers like India and Pakistan, have been. So the only way to inhibit the nuclear capability of Iran is to reduce its capability to enrich Uranium. Iran has thousands of Uranium centrifuges and they wanted to reduce capacity of the half of the centrifuge to only 5 percent Uranium. According to Iran they will not enrich Uranium to 20 percent. This 20 percent Uranium is not important as 5 percent Uranium as this 5 percent Uranium is the threshold from where in a few months Iran can produce weapon category Uranium which make Iran as more unreliable.
In 2015 Iran signed Joined Comprehensive Plan of Action (JCPOA), a nuclear treaty with the five members of United Nations Security Council (P5) plus Germany which is called P5+1. As a result sanctions were withdrawn from Iran by the West. Ex-President Donald Trump declared withdrawal from the deal in 2018 and imposed the sections on Iran. Iran in 2019, Iran breached the limit set on the deal and IAEA confirmed it. After the Baghdad Airstrike killed Qasem Solaimani, Iran wanted to increase its nuclear capability. The good news is, in December 2020, America desired to rejoin the deal, and the new Biden administration is working on it.
Iran is a pivotal country in the Middle East. Anything Iran does may echo in the region. Middle East is already a complicated region with a lot of conflict and potential problematic issues. To sustain peace in the region including the balance of power, world powers are working on it. Time will tell how fruitful the initiatives are. The West must ensure that Iran respect and be a part of the Westphalia order which is a good start.