US-North Korea Crisis Decision- Making: Growing Risks Of Inadvertent Or Unintended Nuclear War In Asia
"We fell in love!"-US President Donald Trump, referring to North Korean dictator Kim Jung Un after Singapore Summit (June 2018)
Credo quia absurdum, warned the ancient philosophers. "I believe because it is absurd." While US President Donald Trump continues to express inexplicable confidence in his North Korean counterpart (and a simultaneous lack of faith in his own intelligence community), he also fails to understand something rudimentary: The stability of any upcoming crisis decision-making process between Washington and Pyongyang will have less to do with "loving" leader relations than with Kim Jung Un's unmistakably core commitment to personal military power.
In this increasingly worrisome conflict "dyad," one of the most understated and under-referenced risks to the United States concerns inadvertent or unintended nuclear war.
On such urgent risks, words matter. Initially, in seeking to fashion a coherent security policy, President Trump and his strategic advisors should approach all pertinent issues at the primary or conceptual level. Inter alia, it will soon become necessary for Mr. Trump to understand that the various nuclear war risks[1] posed by inadvertence must be differentiated from the expected hazards of a deliberate nuclear war. These latter perils could stem only from those Washington-Pyongyang hostilities that had been (1) intentionally initiated with nuclear weapons; and/or (2) intentionally responded to by express retaliation with nuclear weapons.
This is the case whether such unprecedented military actions were undertaken to achieve strategic surprise,[2] or instead as the result (expected or unexpected) of enemy irrationality.[3]
Prima facie, these are distinctly many-sided and "dense" calculations. In any deliberate nuclear war scenario, and before any presidential ordering of an American preemption,[4] the designated North Korean leadership would first need to appear(a) nuclear-capable and (b) irrational. Without this second expectation, any US preemption against an already-nuclear adversary would be irrational on its face[5]. Washington, therefore, must continuously monitor not only tangible North Korean nuclear assets and capabilities, but also the substantially less tangible mental health characteristics of Kim Jong Un.
Although some might mock this second intelligence imperative as unnecessary or "clinically impossible," it remains conceivable that the dictator in Pyongyang could at some point pretend irrationality.
The decipherable differences here would not be narrowly academic or entirely linguistic.
Factually, moreover, it is Kim Jong Un's counterpart in the White House (and not Kim himself) who has publicly mused about the potential rationality of pretended irrationality, and who takes oddly conspicuous comfort from his assessment that the two presidents "fell in love" back in Singapore.
This is not the sort of "romance" upon which to build a core US national security policy.
There is more. When the US president and his national security advisors consider the co-existing and fearful prospects of an inadvertent nuclear war with North Korea, their principal focus should remain oriented toward more institutional directions – that is, to the expected stability and reliability of Pyongyang's command, control and intelligence procedures. Should it then be determined that these "C3I" processes display unacceptably high risks of mechanical/electrical/computer failure; indecipherable pre-delegations of nuclear launch authority; and/or unpredictable/unreliable launch-on-warning procedures (sometimes also called "launch-on-confirmed-attack"), a still-rational American president could feel the more compelling need to consider a plausibly appropriate preemption option.[6]
Another complex factor in any such prospective decision-making process would be (a) the apparent advent of hypersonic weapons in North Korean arsenals; and (b) the extent to which this emergence were paralleled in American arsenals and/or strategic calculations.
At this already advanced stage in North Korean nuclear military progress, the probable costs to the United States and certain of its allies accruing from a defensive first-strike would be more-or-less overwhelming and thus potentially "unacceptable." This foreseeable understanding seems to have escaped Trump, who first stated publicly at the end of May 2019 that North Korean tests of short-range missiles "do not worry" him. This blithe and manifestly ill-conceived observation suggests that the American president (c) is erroneously focused only on direct (long-range) missile threats to the United States, and (d) is unmindful of conspicuously challenging escalatory possibilities, especially the immediate importance of shorter-range missile threats.
Why so urgently important?
In the first place, North Korea's short-range missiles could target US allies South Korea and Japan; also, US military forces in the region. While an attack on these forces would carry a near-automatic assurance of a more or less measured American retaliation, aggression against regional US allies would almost certainly call for such a reprisal. In essence, therefore, Kim Jung Un's short-range missiles could sometime bring the United States into a full-blown war, even though these missiles would never have been launched against the American homeland.
In the second place, it is improbable but not inconceivable that South Korea could wittingly or unwittingly initiate a conventional conflict with North Korea, thereby realistically mandating a US military involvement in the conflict. Were this to happen, Seoul would have effectively "catalyzed" a North-Korea-US war. In any such many-sided belligerency, even nuclear weapons could be fired. Also worth studying in the unprecedented realm of catalytic nuclear war would be a narrative wherein an altogether different state or sub-state could arrange an anonymous first-strike against South Korea, Japan and/or regional US forces.
What about a US preemption? In principle, at least, certain calculable preemption options could not be dismissed out of hand in any balance-of-power world system.[7] More precisely, any residual American resort to "anticipatory self-defense"[8] could be nuclear or non-nuclear and could be indicated without any express regard for Kim Jung Un's presumed rationality. Still, the well-reasoned cost-effectiveness of any US preemption would almost certainly be enlarged by including such carefully calculated presumptions.
What would be the most plausible reactions concerning a Trump-ordered preemption against North Korea? When all significant factors are taken into account, Pyongyang, likely having no meaningful option to launching at least some massive forms of armed response, would intentionally target certain designated American military forces in the region and/or high-value South Korean armaments and personnel. President Trump, still assuming enemy rationality, should then expect that whatever North Korea's precise configuration of selected targets, Kim Jung Un's retaliatory blow would be designed to minimize or avoid any massive (including even nuclear) American counter-retaliations.
There is more. All such high-consequence calculations would involve adversarial policy intersections which could be genuinely "synergistic"[9] and assume perfect rationality on all sides. If, for example, the American president should sometime decide to strike first, the response from Kim Jung Un should then expectedly be proportionate; that is, more-or-less similarly massive. In this particular escalatory "game," the willful introduction of nuclear weapons into any ensuing conflagration might not be dismissed out of hand by either "player."
What then?
Noteworthy, too, at least at that markedly uncertain and unstable point, any such a game-changing introduction would more likely originate from the American side. This sobering inference is based upon the understanding that while North Korea already has some nuclear weapons and missile delivery vehicles, it is also still rational and not yet prepared operationally to seek "escalation dominance" vis-à-vis the United States. For the moment, at least, it would seemingly be irrational for Pyongyang to launch any of its nuclear weapons first.
Sometime, at least in principle, Mr. Trump, extending his usually favored stance of an argumentum ad bacculum (an appeal to force) could opt rationally for a so-called "mad dog" strategy. Here, the American president, following his just-ordered preemption, would deliberately choose a strategy of pretended irrationality.
Any such determined reliance, while intuitively sensible and arguably compelling, could backfire, and thereby open up a slippery path to a now unstoppable escalation. This self-propelling competition in risk-taking could also be triggered by the North Korean president, then pretending to be a "mad dog" himself. Significantly, any feigned irrationality stance by Kim Jong Un might be undertaken exclusively by the North Korean side, or in an entirely unplanned tandem or "synergy" with the United States. In all conceivable variants of crisis bargaining between Washington and Pyongyang, even those without any synergies, the highest-level decision-making processes would be meaningfully interdependent.
This means still greater levels of complexity and still lesser significance assignable to any presumptive "love" relationship between the two presidential adversaries.[10]
Regarding complexity, in absolutely all of these plausible bargaining postures, each side would have to pay reciprocally close attention to the anticipated wishes and intentions of Russia and China. Accordingly, one must now inquire, does President Trump actually believe that China would find it gainful to support him in any still-pending nuclear crisis with North Korea? To answer such a query, it ought to be quite plain that Mr. Trump's ongoing and potentially accelerating trade war with China would be manifestly unhelpful.
Regarding further complexity, what transpires between Washington and Pyongyang in crisis decision-making circumstances could be impacted by certain other ongoing or escalating wars in Asia. In this connection, most portentously relevant would be any substantial escalations of the Kashmir conflict, especially those that might involve an introduction of nuclear weapons. Unquestionably, any correlative crossing of the nuclear threshold in that India-Pakistan conflict dyad would fracture a longstanding taboo in world politics, and presumptively heighten the likelihood of a US-North Korean nuclear exchange.
Notwithstanding President Donald Trump's exaggerated confidence in basing foreign policy decision-making upon extrapolations from commerce, it is all genuinely complex, stunningly complex,[11] even bewilderingly complex. Also reasonable to assume is that in any such many-sided circumstances, the North Korean president would no longer be pretending irrationality. He could, at some point, have become authenticallyirrational. Regardless of difficulty, however, the differences here would be well worth figuring out.
Relevant scenarios must soon be posited and examined dialectically. If President Donald Trump's initial defensive first strike against North Korea were less than massive, a still rational adversary in Pyongyang would likely take steps to ensure that its own preferred reprisal were correspondingly limited. But if Trump's consciously rational and calibrated attack upon North Korea were wittingly or unwittingly launched against an irrational enemy leadership, the response from Pyongyang could then be an all-out retaliation. This unanticipated response, whether non-nuclear or non-nuclear-nuclear "hybrid," would be directed at some as yet indeterminable combination of US and allied targets.
Inevitably, and by any sensible measure, this response could inflict grievous harms.
It is now worth considering that a North Korean missile reprisal against US interests and personnel would not automatically exclude the American homeland. However, should the North Korean president maintain a determinedly rational "ladder" of available options, he would almost certainly resist targeting any vulnerable civilian portions of the United States. Still, should he remain determinably willing to strike targets in South Korea and/or Japan, he would incur very substantial risks of an American nuclear counter-retaliation.
In principle, any such US response would follow directly from this country's assorted treaty-based obligations regarding "collective self-defense."[12]
There is more. Such risks would be much greater if Kim's own aggressions had extended beyond hard military assets, either intentionally or as unwitting "collateral damage" brought to various soft civilian populations and/or infrastructures.
Even if the unimaginably complex game of nuclear brinksmanship in Northeast Asia were being played only by fully rational adversaries, the rapidly accumulating momentum of events between Washington and Pyongyang could still demand that each "contestant" strive relentlessly for escalation dominance. It is in the notably unpracticed dynamics of such an explosive rivalry that the prospect of an "Armageddon" scenario could be actualized. This outcome could be produced in unexpected increments of escalation by either or both of the dominant national players, or instead, by any sudden quantum leap in destructiveness applied by the United States and/or North Korea.[13]
Looking ahead, the only foreseeable element of the "game" that is predictable in such complicated US-North Korean calculations is the contest's inherent and boundless unpredictability. Even under the very best or optimal assumptions of enemy rationality, all relevant decision-makers would have to concern themselves with dense or confused communications, inevitable miscalculations, cascading errors in information, unauthorized uses of strategic weapons, mechanical, electrical or computer malfunctions and certain poorly-recognized applications of cyber-defense and cyber-war.
Technically, one further analytic distinction is needed between inadvertent nuclear war and accidental nuclear war. By definition, an accidental nuclear war would be inadvertent, but reciprocally, an inadvertent nuclear war need not be accidental.[14] False warnings, for example, which could be spawned by mechanical, electrical or computer malfunction (or by hacking)[15] would not signify the origins of an inadvertent nuclear war. Instead, they would fit under clarifying narratives of an accidental nuclear war.
"Everything is very simple in war," says Carl von Clausewitz in On War, "but the simplest thing is still difficult." With this seemingly banal but profound observation, the classical Prussian strategist makes plain that serious military planning is always problematic. Largely, this is because of what he famously called "friction." In essence, friction describes "the difference between war as it actually is, and war on paper."
Unless President Trump is able to understand this core concept and prepare to manage unpredictable risks of an unintentional war with North Korea, any future "love letters" from Kim Jung Un would be beside the point. While the specific risks of a deliberate or intentional nuclear conflict between the United States and North Korea should remain front and center in Washington, these risks ought never be assessed apart from these closely associated hazards of crisis decision-making. All of these risks could be overlapping, mutually reinforcing or even synergistic, daunting circumstances in which the plausible "whole" of their effect would be tangibly greater than the simple sum of their constituent "parts."
There is one last matter to be clarified. This has to do with the nature of "superpower" relations within the underlying balance of power structure of world politics.[16] Whatever the differences in preferred nomenclature, it is apparent that we are now entering (wittingly or unwittingly) an era of "Cold War II."[17] Depending upon the dominant configurations of this new Cold War, US-North Korea nuclear decision-making will be more-or-less destabilizing. It follows, for President Donald Trump and the United States, that Washington-Pyongyang nuclear bargaining must takes its dominant cues from two different though intersecting directions.
In the end, a great deal will depend upon the American side's willingness to base relevant policies upon intellectual or analytic foundations.
In the end, such willingness will trump any alleged benefits of having fallen "in love."

---
[1] Whatever these particular risks, they could be intersecting, "force multiplying" or even "synergistic." Where an authentic synergy were involved, the "whole" of any attack outcome could then be greater than the tangible sum of its component "parts."
[2] In his seminal writings, strategic theorist Herman Kahn introduced a further distinction between a surprise attack that is more-or-less unexpected, and one that arrives "out of the blue." The former, he counseled, "…is likely to take place during a period of tension that is not so intense that the offender is fully prepared for nuclear war…." A total surprise attack, however, would be one without any immediately recognizable tension or signal. This particular subset of the surprise attack scenario would be very difficult to operationalize for national policy benefit. See: Herman Kahn, Thinking About the Unthinkable in the 1980s (Simon & Schuster, 1984).
[3] Recalling the 20th-century German philosopher, Karl Jaspers: "The rational is not thinkable without its other, the non-rational, and it never appears in reality without it." This insight can be found in Jaspers' "Historical Reflections" on Kierkegaard and Nietzsche.
[4] Worth noting here too is that any such ordering of a preemptive attack by an American president would be exceedingly problematic under US law (especially under pertinent US Constitutional constraints). There are, therefore, critical jurisprudential as well as strategic implications involved.
[5] Nonetheless, the American president could conceivably still benefit from a preemption against an already nuclear North Korea if refraining from striking first would allow North Korea to implement certain additional protective measures. Designed to guard against preemption, these measures could involve the attachment of "hair trigger" launch mechanisms to nuclear weapon systems and/or the adoption of "launch on warning" policies, possibly coupled with identifiable pre-delegations of launch authority. This means, increasingly, that the US could be incrementally endangered by steps taken by Pyongyang to prevent a preemption. Optimally, this country would do everything possible to prevent such steps, especially because of the expanded risks of accidental or unauthorized attacks against its own or allied armaments and populations. But if such steps were to become a fait accompli, Washington might still calculate correctly that a preemptive strike would be both legal and cost-effective. This is because the expected enemy retaliation, however damaging, could still appear more tolerable than the expected consequences of enemy first-strikes – strikes likely occasioned by the failure of "anti-preemption" protocols.
[6] From the standpoint of international law, it is necessary to distinguish preemptive attacks from "preventive ones." Preemption is a military strategy of striking first in the expectation that the only foreseeable alternative is to be struck first oneself. A preemptive attack is launched by a state that believes enemy forces are about to attack. A preventive attack, however, is launched not out of any genuine concern about "imminent" hostilities, but rather for fear of a longer-term deterioration in a pertinent military balance. In a preemptive attack, the length of time by which the enemy's action is anticipated is presumptively very short; in a preventive strike, the anticipated interval is considerably longer. A related problem here for the United States is not only the practical difficulty of accurately determining imminence, but also that delaying a defensive strike until appropriately ascertained imminence can be acknowledged could prove "fatal" or existential.
[7] The core concept of a balance of power – an idea of which the nuclear-age balance of terror is a particular variant – has never been more than a facile metaphor. Significantly, it has never had anything to do with creating or ascertaining "equilibrium." Moreover, as such balance is always a matter of individual and subjective perceptions, adversary states can never be sufficiently confident that pertinent strategic circumstances are actually "balanced" in their favor. In consequence, inter alia, each side to any conflict must "normally" fear that it will be left behind; accordingly, the perpetual search for balance generally produces ever-wider patterns of national insecurity and global disequilibrium.
[8] This term is drawn from customary international law, an authoritative source of world legal norms identified at Art. 38 of the UN's Statute of the International Court of Justice. Already, international law, an integral part of the legal system of all states in world politics, assumes a general obligation to supply benefits to one another, and to avoid war at all costs. This core assumption of jurisprudential solidarity is known formally as a "peremptory" or jus cogens expectation, that is, one that is not even subject to question. It can be found in Justinian, Corpus Juris Civilis, Hugo Grotius, The Law of War and Peace (1625) and Emmerich de Vattel, The Law of Nations or Principles of Natural Law (1758).
[9] In any synergistic intersection – whether in chemistry, medicine or war – the "whole" of any result would exceed the simple sum of its policy-determining "parts."
[10] Pertinent synergies could clarify or elucidate the world political system's current state of disorder (a view that would reflect what the physicists prefer to call "entropic" conditions), and could themselves be dependent upon each national decision-maker's own subjective metaphysics of time. For an early article by this author dealing with interesting linkages between such a subjective metaphysics and national decision-making (linkages that could shed additional light on growing risks of a US-North Korea nuclear war), see: Louis René Beres, "Time, Consciousness and Decision-Making in Theories of International Relations," The Journal of Value Inquiry, Vol. VIII, No.3., Fall 1974, pp. 175-186.
[11] Reciprocally, of course, the White House has been seeking to persuade Americans and others by way of very deliberate simplifications. See, on the plausible consequences of any such deceptive measures, Ludwig Wittgenstein's pertinent observation in On Certainty: "Remember that one is sometimes convinced of the correctness of a view by its simplicity or symmetry…."
[12] For the differences between "collective self defense" and "collective security," see this writer's early book: Louis René Beres, The Management of World Power: A Theoretical Analysis (University of Denver Monograph Series in World Affairs)( (1973).
[13] This brings to mind the philosophical query by Irish playwright Samuel Beckett in Endgame: "What is the good of passing from one untenable position to another, of seeking justification always on the same plane?"
[14] Reminds Herman Kahn in his On Escalation (1965): "All accidental wars are inadvertent and unintended, but not vice-versa."
[15] This prospect now includes the plausible advent of so-called "cyber- mercenaries."
[16] For a related conceptual argument by this author concerning Israel's security in the Middle East, see: Louis René Beres: https://besacenter.org/mideast-security-and-policy-studies/israeli-nuclear-deterrence/
[17] In essence, postulating the emergence of "Cold War II" means expecting the world system to become once again bipolar. For early writings, by this author, on the global security implications of such an expanding bipolarity, see: Louis René Beres, "Bipolarity, Multipolarity, and the Reliability of Alliance Commitments," Western Political Quarterly, Vol. 25, No.4., December 1972, pp. 702-710; Louis René Beres, "Bipolarity, Multipolarity, and the Tragedy of the Commons," Western Political Quarterly, Vol. 26, No.4., December 1973, pp, 649-658; and Louis René Beres, "Guerillas, Terrorists, and Polarity: New Structural Models of World Politics," Western Political Quarterly, Vol. 27, No.4., December 1974, pp. 624-636.
Leftists make a comeback in Latin America
In Argentina and Uruguay, leftist candidates won the elections and Evo Morales could maintain his position as the president of Bolivia, but in Chile, people have protested against the U.S.-backed president.
The failure of the U.S.-backed candidate in the Argentinean election in recent days was a sign of the U.S. failure in Latin America. Leftist Alberto Fernandez, an opponent of U.S. interventionist policies, won about 48 percent of the vote in general election and was announced as the new president in the first round.
This is while countries such as Venezuela and Cuba have maintained their anti-U.S. sentiment. Although the U.S. has made an unceasing effort in the last two years to overthrow the current regime in Venezuela, it has not succeeded.
The New Left movement in Latin America, which was formed by the late Venezuelan president Hugo Chaves, has put Venezuela in many troubles but reduced U.S. influence in the region to the point that even experts suggested that Washington has lost its backyard.
The New Leftist governments emerged in Latin America in the late 20th century. Leftist leaders have distanced from some of traditional principles, but maintained the fight against American hegemony, just like their predecessors. Latin America, with rich sources of oil, gas, and uranium, as well as great opportunity for investment, has been of particular importance from a geopolitical, geostrategic and geo-economic perspective. The U.S. has put control over Latin America on its agenda since 1823 when then president James Monroe offered his plan known as the "Monroe Doctrine".
The Monroe Doctrine emphasized that as long as the U.S. had not achieved real power and growth, it cannot be considered as an active element and main actor in world politics, thus it should obtain necessary economic growth in Western Hemisphere. The doctrine also stated that South America and Caribbean are areas with high security priority whose fate is tied to the U.S. fate, and the U.S. must have a strong influence in the region to provide its own growth and development.
In the late 20th and early present century, Latin America has witnessed new developments, including the New Left movement. The New Left in Latin America was founded and developed as leaders such as Chavez in Venezuela, Luiz Inacio Lula da Silva in Brazil, Evo Morales in Bolivia, Rafael Correa in Ecuador, and Daniel Ortega in Nicaragua came to power.
Opportunities and threats
The U.S. is concerned about the presence of its rivals, especially Russia and China, in Latin America and the cooperation of these two countries with leftist states in the region. To counter China and Russia's influence, the U.S. has launched various plans to undermine leftist governments through economic crises and put its allied right-wing figures into power.
Washington's comprehensive effort to topple the Maduro administration in Venezuela is an example. On the other hand, China and Russia's approach to Latin America and the tendency of New Left countries to ally with Beijing and Moscow can be a major deterrent to the implementation of the U.S. plan in the region.
This is while the Trump administration is trying to redefine U.S. role and position in Latin America. From Trump's point of view, the wrong policies of previous governments and developments have caused the U.S. to lose its control over Latin America and the Caribbean, and instead increased the influence of U.S. rivals, including China, in the region.
In an interview with Foreign Policy, following his recent visit to Colombia, Air Force Chief of Staff General David Goldfein said that the Trump administration is making a push to strengthen alliances across Latin America as part of an effort to counter rising Chinese and Russian influence in the United States' backyard.
Goldfein said Colombia and other Latin American countries risked being locked out of U.S. and allied operations if they stopped buying military hardware from the United States and turned to other markets instead.
China has invested heavily in the region to reach Latin America's oil reserves. Beijing has now become the largest trading partner of some Latin American countries, including Brazil, Chile, Cuba and Uruguay.
Russia also continues to sell billions of dollars in arms to Latin American countries. Unlike China, which seeks to use Latin American natural resources for its economic growth, Russia's interests in this region are more strategic.
From our partner Tehran Times
Democrats take a gamble on Trump's impeachment
Despite all ups and downs, Democrats finally brought impeachment inquiry into President Donald Trump to the House of Representatives, a move which made Trump's prediction come true.
The House of Representatives passed a resolution on Thursday to launch an impeachment inquiry into Trump, thereby making formal investigations against him possible. The resolution was approved by a vote of 232 to 196.
Accordingly, the House of Intelligence Committee carries out the investigations into the impeachment and reports its findings to the Judiciary Committee that comments on the process of impeachment.
Trump has said that the House will get enough votes to impeach him, but he is certain that the Senate will acquit him of charges.
Investigations into Trump's impeachment began on September 24 following the official order of Speaker of U.S. House of Representatives Nancy Pelosi.
The order came after reports about Trump's telephone call with Ukrainian president for investigation into his possible rival Joe Biden.
During the conversation Trump asked his Ukrainian counterpart Volodymyr Zelensky for a "favor". He pressured Zelensky to investigate Joe Biden, his possible Democratic rival for the 2020 presidential election, and his son Hunter Biden who was on the board of a Ukrainian oil and gas factory. At the time, Trump had suspended $400 million military aid to Ukraine as a quid pro quo.
Why Nancy Pelosi risks?
It should be noted that some Democrats have called for Trump's impeachment since his first months of his presidency. The impeachment inquiry was popular among Democratic voters, with a recent poll showing that %73 of them favoring the impeachment.
But Republicans are strongly opposed to impeachment, and the country generally relies on Republicans. That is why Nancy Pelosi and other leading Democrats were first reluctant to officially begin an impeachment. Their calculations have so far revealed that impeachment against Trump will not have much effect on the opinion of Republicans and his supporters, a situation which will make it more difficult to remove him from the 2020 election.
Trump has described the impeachment as "fake". Pelosi said that Trump has affirmed that he had asked the Ukrainian president to take actions in favor of his political position, claiming the measures of Trump's administration were undermining U.S. national security.
"The release of the notes of the call by the White House confirms that the president engaged in behavior that undermines the integrity of our elections, the dignity of the office he holds and our national security," Pelosi said in a statement.
House Intelligence Committee Chairman Adam Schiff also said that the president should prioritize national interests rather than his personal interests. Schiff added that they will study whether Trump has exploited military aid to Ukraine to meet his demands.
Consequences of Trump's impeachment
Experts argue that Trump's impeachment and lack of a decisive leader will make the U.S. more vulnerable to other countries' plots. As Robert W. Merry recently said in The National Interest magazine, "When the president is weakened at home, then America is weakened abroad."
However, Washington's friends and enemies consider U.S. foreign policy insignificant due to political infighting at home. Instead, the great power players are seeking to limit the influence of the country rather than cooperating with it.
The recent accusations against Trump can be easily stated as a national security issue, which needs to be reformed immediately. Theoretically, military aid will be provided only if U.S. officials become convinced that they can achieve main security objectives of Washington. Therefore refusing to provide aid because of political reasons is a serious wrongdoing, showing that the personal interests of the president is superior to U.S. national interests.
Will the impeachment inquiry get the necessary vote?
Now that the House has launched an impeachment inquiry into the president, the Senate will play an important role in the process. In this case, the Senate will act as a court that decides on Trump's dismissal or survival.
To oust Trump, the votes of 67 members of the Senate is needed, which would be two-thirds of their population. Currently, there are 53 Republicans and 47 Democrats in the Senate. Therefore, Democrats need the support of 20 Republican senators.
Since the Republicans have not supported Trump's impeachment, it is highly unlikely that Trump's impeachment leads to his dismissal.
Impact of the impeachment on the 2020 presidential election
The impact of Trump's impeachment on the presidential election depends on his defense and the credibility of accusations against him. Democrats are well aware that accusing Trump of corruption and incompetence will not affect American voters. Democrats probably knew that those allegations were not strong enough to undermine Trump, but on the contrary they would undermine their positions.
By stating an issue related to U.S. national security, Democrats took the risk of impeachment. To make the impeachment strategy successful, Democrats should prove that the president has endangered U.S. national security and he may do the same in future. This claim can go beyond party politics and put unbearable pressure on Trump, Republicans and uncertain voters.
From our partner Tehran Times
Russian Involvement in Venezuela is Troublesome for Western Hemisphere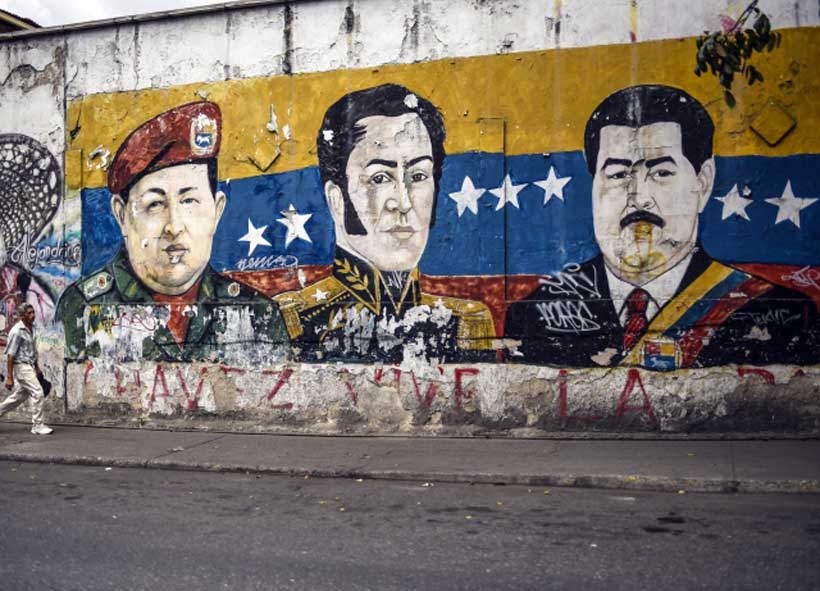 The U.S. Energy Information Administration (EIA) "projects that natural gas consumption in Asia will continue to outpace supply." With the future growth of natural gas consumption concentrated in Asia the EIA "expects 'non-OECD Asia' to consumer 120 billion cubic feet per day (Bcf/d) by 2050, outpacing regional production by 50 Bcf/d." China's natural gas consumption will "triple between 2018-2050." Most long-term natural gas infrastructure, global liquid natural gas (LNG) terminal(s) import and export, and demand projections are based on Asian growth.
Late October reporting in Russian media confirmed Russian energy conglomerate, Rosneft had plans to consolidate Venezuela's National Oil Company PDVSA (Petroleos de Venezuela) under Rosneft's corporate structure in exchange for debt relief. This counters U.S., Canadian and Mexican oil and natural gas firms from satisfying natural gas demand from non-OECD Asia. Additionally, it allows Moscow to use Rosneft acquiring Venezuelan natural gas as a geopolitical, soft power coercion tool by acquiring some of the largest recoverable oil and natural gas reserves in the world.
Venezuelan government sources, Rosneft and the Kremlin all denythe potential for a takeover of PDVSA energy assets to satisfy Russian bank loan requirements to the Madero regime. Russian energy experts have visited PDVSA to analyze the possibility of merging with Rosneft. The Russian energy giant buying out Venezuela's best source of hard currency and domestic economic driver illustrate the "hard-hitting impact of U.S. sanctions." The Venezuela regime-based economy predicated on oil and natural gas production is on the verge of collapsing.
Rosneft's offer is the best way outside of western help for Venezuela to mitigate damaging sanctions, and "debt relief for a country that owes over $156 billion to external parties – and Venezuela's debt is 740% higher than the value of its exports." This is four times more than what is typical in emerging markets and economies according to The World Bank.
U.S. Special Envoy for Venezuela Elliot Abrams has pointed to Rosneft having joint projects with PDVSA where it took leading minority stakes, and how these ventures do not "breach" U.S. sanctions. This is positive news for average Venezuelan citizens suffering under economic malaise. Caracas' debt to Moscow seemingly is being forgiven under the auspices of U.S. blessing. However, the Trump administration has been clear in its maximum pressure "sanctions policy towards Venezuela" that mirrors the sanctions-strategy towards Tehran. Retaliation from the U.S. could be the future of Washington-Moscow-Caracas tri-lateral relations if Rosneft tries to liquidate PDVSA assets, and release thousands of employees to skirt U.S.-led western sanctions.
The Maduro regime will also need to navigate the "$20-$60 billion in debt owed" to China. Will the Chinese have a stake in PDVSA? If so, how does that play into the current U.S.-China trade negotiations? What these geopolitical decisions points towards is a Rosneft-PDVSA merge bringing up more questions than answers.
It makes sense for Russia to be the power broker in Venezuela. This is similar to how Russia is the safe diplomatic choice in the Middle, post-Syrian civil war. According to Foreign Affairs, Russia is now "the Indispensible Nation in the Middle East." Military troops and hardware were used to save the Assad regime, and now in Venezuela it will be oil, natural gas and petrochemicals that gives Russia a solid foothold in the western hemisphere. PDVSA is one of the "world's most prolific oil companies" with the largest extractable oil and gas reserves in the world – estimated at 300 billion barrels and PDVSA's estimated worth is "approximately $186 billion."
Putting this energy portfolio under Kremlin influence gives Rosneft and other energy firms aligned with Moscow solid footing to control price and supply for global oil and petrochemical markets. The Maduro government wants to stay with previous joint venture contracts between PDVSA and Rosneft, and if the merger takes place, wants to "hand control over to Rosneft without having to go through privatization." Financial questions arise from this arrangement; who is responsible for terms of debt, how is China able to value the deal, and would equity be defined as a public, private or some form of public-private entity? These are some of the larger issues that would need to be resolved.
Maduro can possibly work around these issues when he took over Venezuela's Supreme Tribunal of Justice. This allows Maduro to ignore the democratically elected Legislature, the opposition-controlled National Assembly, and its leader, Juan Guaido. Mr. Guaido claims he is the legitimate leader of Venezuela, but likely Rosneft with Moscow's backing will only negotiate with the Maduro government. The Supreme Tribunal of Justice can overrule the Assembly to assist the merger towards completion. Debt repayment is important to the Maduro regime, and return to financial health.
Citgo, a U.S. based company that is a valued asset for PDVSA is another area of concern for the proposed merger in tandem with U.S. sanctions.
American officials have implemented a freeze on all Venezuelan assets based in the U.S. Washington implemented an executive order coinciding with sanctions protecting "bondholders and other parties" mulling asset sales and seizures for unpaid debts. The international desire among government and financial officials is this move by the Americans facilitate diplomatic solutions over asset seizure. The downside is it strengthens Maduro over the elected Venezuelan legislature and Assembly leader Guaido.
Debt holders who own Citgo then have to negotiate with Venezuela and Rosneft. This will be tough for bondholders to receive repayment, or will it, as this could mean tougher going for international credit markets to lend money for future Rosneft/PDVSA projects. A Moscow-Caracas alliance is something Washington could believe will increase geopolitical tension between all three countries. Debt relief for Caracas, and control over the world's largest oil reserves are likely to be the final push for Rosneft to acquire PDVSA over escalating tensions between Moscow and Washington with Caracas stuck in the middle.