"Business as usual" could lead to catastrophic global sea-level rise
As hurricane season bears down on many people and communities this month, one of the key factors linked to increasing severity of a storm's impacts—sea level rise—sees new predictions emerge for "worst-case scenarios".
Mathematicians and scientists calculate likely and possible outcomes based on probabilities, with computers able to crunch ever larger volumes of data to come up with more accurate predictions.
Climate modelling has improved enormously in the past 20 years, and where predictions of catastrophe are distinct—as opposed to remote—we should take note.
In Ice sheet contributions to future sea-level rise from structured expert judgment, published in the Proceedings of the National Academy of Sciences of the United States of America in May 2019, scientists conclude that if global temperatures reach 5°C above pre-industrial era levels, there is a one in 20 chance that global mean sea level rise could exceed two metres.
A 5°C temperature rise is consistent with unchecked emissions growth.
"This is more than twice the upper value put forward by the Intergovernmental Panel on Climate Change in the Fifth Assessment Report [2013]," notes the study.
Such a rise over the next 80 years could trigger the gradual displacement of millions of people around the world and swallow up an area of land three times the size of Texas.
Much of the land losses would be in important food-growing areas such as the Nile delta. Coastal communities, ports and low-lying countries like Bangladesh would be hard hit. Large numbers of small islands would disappear. Major global cities, including London, New York and Shanghai would end up, at least partially, underwater.
Under a "business as usual" scenario where temperatures rise by 5°C, the picture is even grimmer beyond 2100, with a projected increase by 7.5 metres.
A New Climate for Peace: Taking Action on Climate and Fragility Risks, commissioned by members of the G7 group of nations, outlines seven "climate-fragility" risks that pose serious threats to global stability in the next decades.
One of the risks identified is rising sea levels: "Rising sea levels are threats to the economic and physical viability of low-lying areas, as land and coastal resources are gradually lost. This can lead to social disruption, displacement and migration, as well as disagreements over maritime boundaries and ocean resources."
UN Secretary-General António Guterres recently warned: "The loss of ice in Greenland and Antarctica is accelerating, meaning that sea levels will rise a full metre by 2100 if nothing is done to avoid it."
Important warning
Through its Joint Unit with the UN Office for the Coordination of Humanitarian Affairs, UNEP at the request of governments, seconds disaster assessment experts to areas affected by climate-related emergencies. This was the case in 2017, after Hurricane Maria struck Dominica and Puerto Rico, as well as in April 2019 after cyclones Idai and Kenneth hit Mozambique.
In collaboration with United Nations Office for Project Services (UNOPS), and with funding from the Global Environment Facility, UNEP supported the Government of Tanzania to build extensive seawalls along the country's coast, including over 2,400m of defence structures. The project, which was completed in June 2018, was part of a broader UNEP initiative to build climate resilience by improving natural ecosystems.
UNEP also works with partners to highlight scientific issues of emerging concern, for example, in its annual Frontiers Report.
The climate crisis is gaining the attention of the world's media and politicians. Several countries have declared climate emergencies, and climate emergency declarations have reportedly been made in several hundred jurisdictions and local governments covering over 100 million citizens.
Nineteen countries and 32 cities have joined the Carbon Neutrality Coalition, committing to take concrete and ambitious action to achieve the aims of the Paris Climate Agreement. This means they aim to be carbon neutral by 2050. The world's largest container shipping company as well as dozens of big-name fashion brands have made similar commitments.
"With around 40 per cent of the world's population living within 100 km of a coast, we need to do everything possible to make this scenario less likely and prevent us from reaching tipping points beyond which it will not be possible to prevent runaway climate change," Hagelberg adds.
Over 6 million people currently live in coastal areas vulnerable to sea level rise today. Even in a 2°C global heating scenario, 10 million more would be affected, according to the Intergovernmental Panel on Climate Change.
"Ocean science plays a crucial role in achieving sustainable development and UN-Oceans remains committed to playing its part in enhancing science to achieve this objective," said Miguel de Serpa Soares, Under-Secretary-General for Legal Affairs and United Nations Legal Counsel, and UN-Oceans Focal Point, in a statement on 13 June 2019 in New York.
Regional Conference on Air Quality Management in the Western Balkans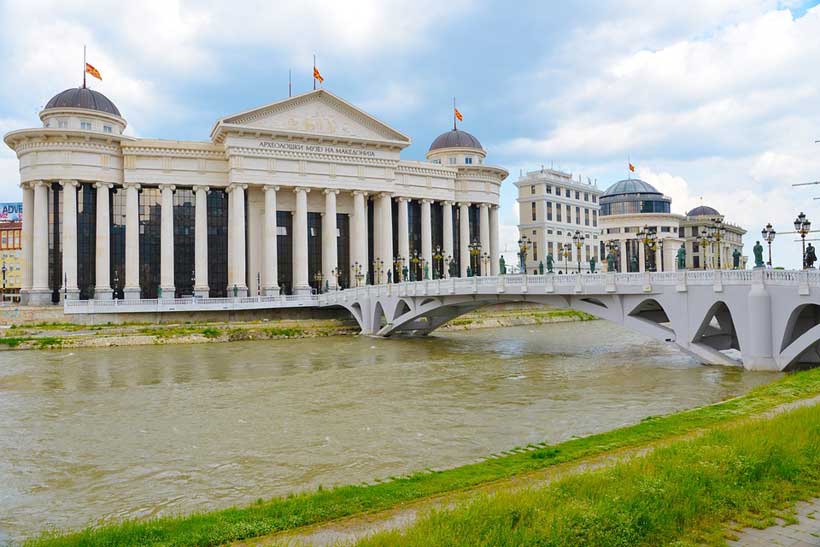 Government representatives from North Macedonia, Kosovo, Bosnia and Herzegovina (BiH) and Serbia met today in Skopje for a regional conference on Air Quality Management – Issues, Solutions, and Financing Approaches. Jointly hosted by the Government of North Macedonia and the World Bank, the conference was an opportunity to learn from experiences from the Western Balkans and from EU and other countries (such as India and China) about innovative ways to approach air quality management, mobilize knowledge, and encourage stronger regional cooperation in this area.
Ambient air pollution (AAP) is a serious global health problem that accounts for an estimated 4.2 million premature deaths per year worldwide. Exposure to fine particulate matter (PM2.5) is especially dangerous to human health because these particles find their way deep into lungs and bloodstream resulting in serious health effects. Premature deaths and illnesses caused by air pollution can result in increased health expenditures and labor productivity losses. People in Eastern Europe and the Western Balkans are frequently exposed to extremely high air pollution in urban areas often exceeding the levels considered safe by the WHO.
"Addressing air pollution in the Western Balkans is an environmental and public health challenge that needs to be urgently addressed and it is high on the agenda of the World Bank as well as many other partners working in the region," said Marco Mantovanelli, World Bank Country Manager for North Macedonia and Kosovo. "We are pleased to be a part of these discussions today and are committed to continuing to support action to reduce air pollution and establish credible Air Quality Management systems in the region through advisory services, technical assistance, and mobilizing financing for investments."
"We value the analytical support from the World Bank and are looking forward to working with them and other development partners to mobilize the needed financing to help improve our air quality and reduce the impacts poor air quality has on people's health," said Jani Makraduli, Deputy Minister of Environment and Physical Planning, also emphasizing the need for regional collaboration. "These discussions help to strengthen cooperation in the Western Balkans, which is particularly important given that a significant portion of air pollution is transboundary."
The conference provided an opportunity to the World Bank to catalyze regional exchange and knowledge sharing and to present analytical findings from upcoming studies on the health and economic damage from air pollution in Bosnia and Herzegovina, Kosovo, and North Macedonia.
The conference also discussed that a comprehensive approach to tacking air pollution in the Western Balkans could be composed of three core components: (a) Data, knowledge, and strategy, including development of comprehensive air quality management plans and investment strategies; (b) Measures to reduce exposure to air pollution in short-term, especially for the young, weak, and vulnerable; and (c) Measures and investments into the persistent medium- to long-term reduction of pollution levels below internationally accepted standards.
Hyatt Launches Three Global Initiatives to Significantly Reduce Single-Use Plastics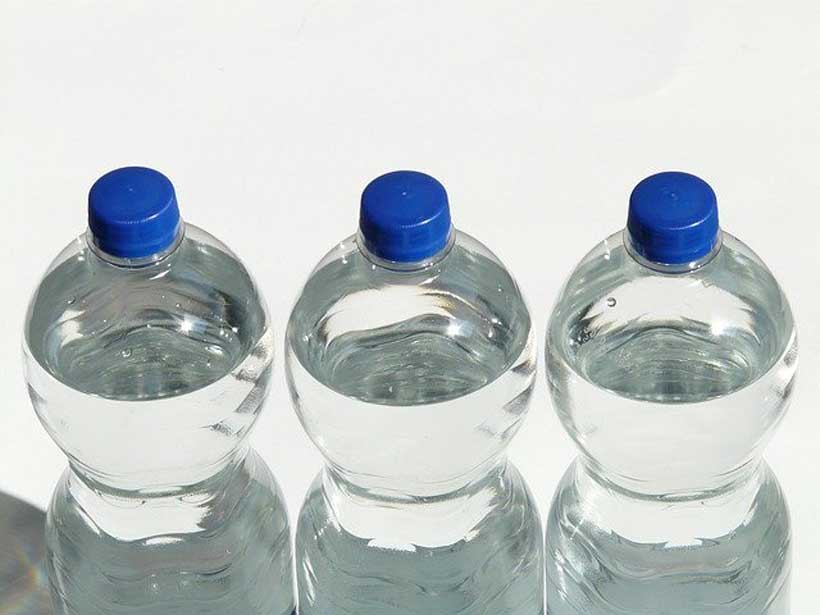 Hyatt Hotels Corporation is announcing a series of initiatives to reduce waste at Hyatt hotels globally, including introducing large-format bathroom amenities and reducing single-use water bottles by June 2021. The following initiatives will be introduced as soon as possible in properties around the world, and no later than June 2021:
Transitioning to large-format bathroom amenities to replace traditional small bottles of shower gel, shampoo, conditioner and lotion.
Increasing the number of water stations in key public spaces at hotels for guests who wish to refill reusable water bottles.
Serving water in carafes or other containers for meetings and events; bottled water will be available by request.
"At Hyatt, our purpose – we care for people so they can be their best – guides all business decisions, including our global sustainability framework, which focuses on using resources responsibly and helping address today's most pressing environmental issues," said Mark Hoplamazian, president and CEO, Hyatt. "Plastic pollution is a global issue, and we hope our efforts will motivate guests, customers and, indeed, ourselves to think more critically about our use of plastic."
These new initiatives represent a significant step in Hyatt's global sustainability program and underscore Hyatt's commitment to wellbeing. As promoted in Hyatt's landmarks of wellbeing – Feel, Fuel and Function – proper hydration is essential to living well. Offering increased access to water stations across Hyatt hotels around the world will ensure guests will have hydration choices that align with both their wellbeing and sustainability priorities while traveling.
Transitioning to large-format bathroom amenities and reducing single-use water bottles builds on Hyatt's broader commitment to reduce disposables and select environmentally preferable options whenever possible, with the exception of when single-use bottles are needed for water quality reasons.
Other recent global initiatives have included removing plastic straws and drink picks and making alternative options available only by request at Hyatt hotels, and increasing the use of compostable, recyclable, or recycled content packaging for to-go food containers.
While these global efforts ensure guests – both leisure and business – will consistently have the option to avoid single-use water bottles while staying at Hyatt hotels, many properties have already been introducing additional efforts to create best-in-class solutions. Examples include:
In-house water bottling plants that reuse glass bottles and replace single-use bottles. Hotels with this solution currently include Alila Villas Koh Russey, Alila Manggis, Alila Ubud, Alila Villas Uluwatu, Alila Bangsar, Alila Jabal Akhdar, Hyatt Regency Addis Ababa, Hyatt Regency Delhi, Andaz Costa Rica Resort at Peninsula Papagayo and Park Hyatt Maldives Hadahaa.
Reusable bottles distributed to all guests at check-in at resorts such as Hyatt Regency Maui Resort and Spa, Andaz Maui at Wailea Resort, Grand Hyatt Kauai Resort & Spa, Hyatt Ziva Cancun, Miraval Arizona and Miraval Austin.
Filtered water spouts installed in all guest rooms at Park Hyatt Istanbul – Macka Palas to provide fresh drinking water.
Kenyan students learn about environmental law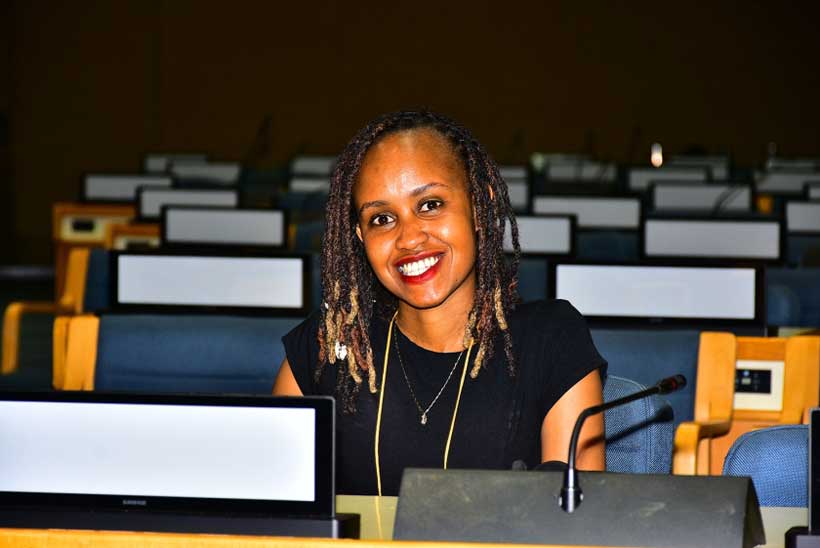 In our globalized world, environmental threats require effective responses that promote peace, justice, development and the fulfilment of environmental and human rights. This is the responsibility of everyone; and we all have the right to be involved. We are all the leadership that the planet needs.
That's what a group of Kenyan students were told in October 2019 when they participated in a lecture at the UN Environment Programme (UNEP) on international environmental law.
UNEP promotes a shared sense of environmental governance by building the capacity of those who affect the rules, policies and institutions that shape how humans interact with the environment.
UNEP experts spoke to students on basic governance and enforcement of international environmental law. International environmental law can involve many countries, as it does with the Paris Agreement, or a few countries, such as a regional environmental treaty. Sources of international environmental law can cover varied goals, such as the Convention on Biological Diversity, or be specific to a certain issue, such as the Agreement on the Conservation of Albatrosses and Petrels. We need international environmental law because many environmental problems are transboundary, regional or global in scope, and solutions require international cooperation and the adoption of common standards.
The students and UNEP experts deliberated over the weaknesses and strengths of international environmental laws and discussed how students could get more involved in tackling the issues. Students described the lecture as very useful and said that they were challenged to think of new and different aspects of environmental law.
Topics discussed included the divergent responsibilities of various groups regarding environmental governance and biotechnology, the principle of common but differentiated responsibility, and plastic pollution and lessons from the plastic ban in Kenya.
To ensure that this learning continues outside the lecture theatre, the UNEP team shared learning resources with the students.
James Nyaro, a lecturer at the Kenyatta University, said on behalf of the institution: "You let us ask you questions… and responded to them comprehensively… and we cannot thank you enough."
What should I know about international environmental law?
When states work together to create and implement international environmental law, great things can be achieved. The ozone layer is currently on track to heal completely in our lifetime and this will save two million people each year by 2030 from skin cancer. This success is due to international environmental law through the Montreal Protocol: an environmental treaty.
As everyone has the right to be involved in environmental management, we should all have a basic understanding of the laws that govern us. Countries are individually responsible for deciding and applying international environmental laws, yet the average citizen can be far removed from the processes involved in their development and implementation. As citizens, we should influence the progression and enforcement of international environmental law to ensure that it effectively tackles the issues we face. UNEP encourages everyone to learn what international environmental laws apply to their states through InforMEA. Knowledge is the first step towards creating environmental laws that work for us.
On 23 October 2019, postgraduate students from the School of Security, Diplomacy and Peace Studies at Kenyatta University were introduced to international environmental law by UNEP experts.