Mitchell Belfer is President of the Euro-Gulf Information Centre, a Rome-based organization that is engaged in building political and economic bridges between European countries and the Gulf states. Mr. Belfer is Senior Lecturer in International Relations, Terrorism and Security at the Metropolitan University Prague (Czech Republic) and Editor-in-Chief of the Central European Journal of International and Security Studies. He also sits on the Steering Committee of the Global Institute for Cybersecurity Technologies among other editorial, research, and scientific boards.
What is the mission of the Euro-Gulf Information Centre and why was it established?
We were founded in 2015, and I am the founder of the organization. Basically, after 10 years of working as an academic — I was the head of the Department of International Relations at the Metropolitan University of Prague — I saw that there was really a gap, not very much work was done in terms of outreach and trying to really create mechanisms of better understanding between civil society groups and between scholars in the Gulf and Europe. Most importantly, there was also a gap between decision-makers and practitioners of politics. Of course, there are national institutes in Europe that are related to the Middle East and vice versa, but I thought that an outreach center that does think tank work as well was something very much needed and in 2014 we set up a kind of process of dialogue to prepare the groundwork. Since then, we have hosted an assortment of activities: assisted with delegations, we have done events in Brussels, London, Paris, Prague, and of course, Rome. We have helped the European Parliament in terms of understanding different militia groups, from ISIS to Hezbollah. We have done work together with key leaders in Europe and the Middle East to try to establish contact points between them. This week we are moving to a different area a little bit — women's empowerment in Europe.
Which Gulf states are considered to be the key partners of the EU? Which countries in the region have closer relationships with Europe and why?
I think there is diversity in security policy in Europe and the Gulf. The EU has a specific relationship with the Gulf Cooperation Council (GCC), they have been working on a free trade agreement for some 18 years and it is still not complete. But relations to the EU members are very engaged and the Arab Gulf states are very close to Europe. In terms of the trend, Europe is increasingly engaging with Saudi Arabia in terms of security, in an assortment of economic projects, religious affairs and in infrastructural development as well. I think that Saudi Arabia is going to play a much more important role in the European policy in the years ahead. Bahrain is a small island country, but it is also very important strategically. Britain has a naval facility there, and the United States which binds a lot all Europe together, especially under the aegis of NATO, also have a facility in Bahrain. Bahrain is also the most tolerant and open country in the region. Kuwait is another example of quite close partnership with the EU and the new delegation to Kuwait is an indication of their relationship. The UAE too is allied to nearly all EU states.
Saudi Arabia accused Qatar of supporting terrorism. In your opinion, are these claims grounded? How do you assess the efforts taken by the Qatari government to counter terrorism financing?
Qatar is a major financial backer of the Muslim Brotherhood and fractions of the Muslim Brotherhood are very close to terrorism and radicalization. Some Muslim Brotherhood groups are championing all kinds of fringe groups like ISIS. Qatar is not signing over cheques directly to ISIS, it is signing them to Muslim Brotherhood cells who are aligned in ideology and strategy to ISIS and other radicals. For the record, a couple of years ago Qatar literally paid a billion dollars in cash to Islamic radical groups in Iraq for the release of a group of vacationing (in Iraq?) royals that had been taken a hostage in very odd circumstances.
I think that Qatar needs to be much more responsible. In the last year, it tried to cut back on financing the groups that are terror-linked. It is not 100-percent working. There are still members of their government who support these groups and do not even view these groups as terrorists. This is probably the biggest problem. Saudi Arabia also has a problem, but it is emerging as a country that is stopping and challenging radicalized militias.
Also, over the past 6–7 years, Qatar has started to work very closely with Iran, while Saudi Arabia and Iran have hostile relationships. Iran is responsible for creating great levels of instability in Saudi Arabia and the Gulf in general. Some people in the Gulf question the loyalty of Qatar because of its relationships with Iran.
How is Qatar coping with the boycott?
It is not coping very well and has to import more from Turkey and Iran. The truth is that it always has been a small actor in these relationships. In the Gulf region, while the other countries are collaborating for their collective benefit, Qatar has to work closely with Turkey and Iran, and it is becoming dependent. In that dependence, the Qataris will never have the opportunity to break out. Turkey has a military base there and Qatar has less of a chance to tell them to leave as Ankara seeks to place more and more soldiers in Qatar to the point that the Turkish contingent will be half the size of Qatar's own standing military. It is tremendous.
The New York Times reported a secretly recorded phone call suggesting that the Qataris could allegedly be behind a May bombing in Somalia. What are Doha's interests in the region?
All counties in the Gulf have their interests in Africa in general. They are interested in it primarily because of resources. All the Gulf countries require food and water importation. Saudi Arabia does have its agricultural sector, but they also have to import so much food. Given those circumstances that all the countries do have vested strategic interests in Africa, they could have a kind of increased competition in Africa. And it is not only between the Gulf countries, but it also includes China. Basically, everybody looks at Africa as a new Great Game of competition. In term of specific recording and suggestion, I refrain from reading too deeply into it. This kind of information is not 100% reliable. But I could see it happening, I mean relationships between this kind of groups and countries like Qatar exist.
As for Saudi Arabia. Recently, the Saudi government announced that it would extend new rights to women. In particular, Saudi women will be able to travel independently. How do you assess these changes? Is it really a step towards greater freedom for women in Saudi Arabia?
Every time one goes to Saudi Arabia over the last decade, they see a different country. It is not only because of the 2030 program, that's part of it, sure. But actually, you have a young population that is making demands on its government. And some of those demands are about women's roles and others on the changing role of religion in society. And Saudi Arabia is developing its own national interests rather than pursuing pan-Arabism or pan-Islamism and its national interests are also about increasing tolerance and modernizing socially, politically and economically.
So it is not only that women can drive and women can travel freely, but that women can and are contributing to their country. More than 300,000 Saudis, men and women, leave the Kingdom every year to study abroad. They go to London and Paris, New York. And they come back and have ideas, ideas on how they can shape their society. Everyone is interested in seeing the evolution of the country. A whole generation is changing the country forever and women are at the forefront of those changes. There is a mixed institution — MISK — which is comprised of young men and women and it is an innovation center with projects all over the Kingdom. It is led by young ladies who are so vital to the future of the country and they know that their mission is not just about the center but about the country and women's roles in it.
In your monograph titled "Small State, Dangerous Region: A Strategic Assessment of Bahrain" you focused on this country in the Gulf. Could you please tell us what this book is about?
Bahrain is a very good example of a small country surviving a very difficult strategic environment. If you think about the Gulf, one thinks of both the regional powers such as Iraq, Iran, Saudi Arabia and the global actors: the US, UK, Russia. I decided to look at something else, at Bahrain, the smallest state in the region. It is less than one thousand-square-kilometers. And the academic question of how Bahrain could survive against such massive forces around is important to answer. And the answer is simple—smart leadership, strong citizenry, and functional alliances.
The recent video appearance of ISIS leader Abu Bakr Al-Baghdadi has sparked concerns among experts who warn that more terror attacks could be expected. In your opinion, what does this recording tell us?
The short answer is that Abu Bakr al Baghdadi is still alive, ISIS has money and soldiers. I think that we should be reminded that just because the Islamic State has lost its territory, it should not be discounted. It remains a threat to European, Middle Eastern, and international security. And we need to take it seriously. I think that more emphasis has to be paid to finding and bringing somebody like Abu Bakr al Baghdadi to justice, on the one hand. And, on the other hand, to properly invest in the future of Iraq. If you don't invest in the future of Iraq, we will keep getting a repetition of such groups and violence.
From our partner RIAC
Iran Proposed Five-Nation Bloc for Regional Stability, Peace, and Progress
In February this year, Pakistan's foreign minister Shah Mahmood Qureshi received Syed Mohammad Ali Hosseini, an Iranian Ambassador to Pakistan. Pakistan's foreign minister Qureshi expressed his thoughts through praising the traditionally strong ties between both the nations and showed his consent to further strengthen collaboration in all dimensions which would be mutually beneficial for both Tehran and Islamabad. As for as the historical, cultural, and religious affinities are concerned, both nations enjoy rich support of commonalities including similar views on the foreign occupation which proved as a source of disaster for them. Besides, Iran was the first country to recognize Pakistan after its independence in August 1947. As both Pakistan and Iran's basic factor of the independence was Islam and current scenario portrays a bad picture of Islamic countries which are suffering from a cluster of problems under foreign agenda. In this connection, the role of Islamic nations has not been effective in addressing issues of the Islamic Ummah. Hosseini also expressed his grievances over the Organisation of Islamic Cooperation (OIC) by explaining that it was not producing fruitful results for Muslim Ummah. He further talked about the sufferings of Muslim Ummah and the malicious plan of the United States along with Israel to subdue them.
Moreover, FM Qureshi showed consent to visit Iran for meeting with its leadership to talk about their concerns and disputes and their possible diplomatic solution. Moreover, during a meeting with Hosseini the Advisor to the Prime Minister on Finance and Revenue, Abdul Hafeez Shaikh, told that the government aimed at expanding the bilateral trade with Iran. So, giving more boost to the relation of both the nations, the Iranian Ambassador proposed a new bloc for addressing regional issues and promoting cooperation among themselves. This bloc will include Russia, China, Turkey, Pakistan, and Iran because these nations are capable of forming such an alliance that could effectively handle regional issues for the better future of the region. Similarly, he expressed his consent and help for solving the Afghan problem which is a great hindrance to regional peace and stability along with creating security issues for Pakistan. Iran aims at linking Pakistan's Gwadar Port with Chabahar Port of Iran via rail link which ultimately generates the economic benefits for both the nations.
He dubbed the recent "Deal of the Century" proposed by American President Trump for peace in the Middle East irrational and unjust which consists of many doubts over American-Israeli Alliance. In this situation where the whole world is trapped with the fatal disease of Corona Virus, the United States which considers itself the oldest democracy, protector of human rights and most developed nation on earth, has imposed more sanctions on Iran. While UN Security Council Members and signatories of the 2015 Nuclear Deal with Tehran namely Britain, France, Russia, China, and Germany rejected Trump's call for sanctions on Iran. President Trump's action portrays that he is under stress in whichhe looks unable to understand repercussions and results of the policies and actions taken by him. While at the same time he is ignoring the traditions and values of the founding fathers of his nation as well as he has no respect and obligation for international rules and laws.Furthermore, the Iranian Ambassador showed enthusiasm for increasing and strengthening the multilateral economic cooperation. In this regard, Iran-Pakistan (IP) gas pipeline is an important project and will even become more productive if it is linked with the CPEC which not only brings the huge economic development in both Tehran and Islamabad but also the region through making it more stable and developed.
Thisnew regional bloc could prove productive through solving themulti-faceted issues faced by the countries of this region. Whereas America has remained unsuccessful in eliminating the problems of the region, therefore, it is the responsibility of regional states to become serious in making such bloc which seriously takes the vast problems towards the solution for the development, peace, stability, and progress of the underdeveloped nations of the region. Besides, the Iranian President has also proposed cryptocurrency for Muslim nations for settling payment transactions as an alternative to the US dollar such as proposed by BRICS nations earlier. He further explained that the US always uses economic sanctions as the main tool of domineering hegemony and bullying of other nations. As stated by Iranian President that there is always room for diplomacy, therefore "let's return to justice, to peace, to law, commitment and promise and finally to the negotiating table" which is the last and effective solution for any issue.Iran's proposal of five nations bloc portrays a rational and real picture of solving the staggering and long-lasting problems of the region. Furthermore, the nations which are proposed by Iran in the bloc have no history of worsening or spoiling the situation of the region as America has been involved in generating the multiple problems throughout the region via its policies and actions. All these five regional nations have stakes in the region such as political, economic, social and financial. Therefore if the region is developed, peaceful and protected than they collectively can secure their interests along with giving the benefits to other regional nations as well.
The rapport between Iran and Turkey over Syria: Liaisons or tussle?
The two powers of Iran and Turkey constitute a crucial feature on the map of the Middle East. The influence of the dyadic interactions exceeds sometimes the meanings of any bilateral ties, transcending the political borders to impact the geographical proximity of surrounding states. However, more evident their influences upon the Arab Sphere were at the aftermath of what so-called the Arab Spring, particularly in Syria that became the most prominent playground for their regional competition became.
Syrian tragic conflict has, indeed, a multi-scalar interaction with different players, each of which is driven by complex and contradictory motivations. In the same vein, Turkey and Iran have several aims for intervening into Syria militarily. Nonetheless, the explicit objective for Turkey is to create a 'buffer zone'; thus, it might drive out the Kurdish presence along its border with Syria and address the Syrian refugee issue there. On the other side, the strategic partner for Syria, Iran, is seeking to bolster Assad's government, as it used to work as a safety valve for the regime in Damascus.
In order to prop up Bashar al Assad's regime, Tehran developed close ties with Russia that changed the equation in Syria. But, Moscow founded the rapports with the strategical foes of Tehran; Saudi Arabia and Israel. Likewise, the "marriage of convenience" brought Turkey with Russia, which, subsequently, facilitates carving up northern Syria between them by Sochi agreement, in October 2019.
Although it worked on the opposite front to Turkey's, nevertheless, Iran attempts always to maintain warm and unruffled relationships with it. Tehran has overtly been competing, just as it covertly cooperating with Ankara in Syria for managing the dynamic variables of the surrounding area. Subsequently, the unsatisfactory with Turkey's presence in the torn-war Syria doesn't mean by any means a full conflictual; neither means otherwise, a comprehensive cooperation and peace. After all, seems, Iran needs Turkey shortly both in Syria and beyond.
Upon the US withdrawal from the Kurdish-held zone of northern Syria the dispute between the two-peer regional powers, Iran and Turkey, has surfaced off considerably off. Tehran has continuously been preserving a secret connection with the Kurdish People's Protection Units which backed by the US. It was gaining a margin of leverage by occasionally working as a covert conduit bridging the differences between the Kurdish movement and the al-Assad's regime.
Nonetheless, Iran's substantial concern was a repercussion which might spill over its Kurdish regions if Turkey fulfils its intent to fill the expected power vacuum in the north of Syria.Thus, it was not surprising, once Turkey uncovered its intention by interfering the north-eastern Syria militarily, Iran announced the military exercises under the slogan "one goal … one bullet" in the area barely 20 miles from the Turkish border. Its maneuver, however, implied two-edges; on the one hand, it was against any potential Kurdish movement in its territory.
On the other hand, it gesticulated an external dimensional message, mainly to Turkey. In parallel to this combatant stand, Iran attempted to show, at least rhetorically, its alignment with and understanding of, Turkey's anxieties. As the Iranian President Hassan Rouhani stated in an amicable expression: "We are calling on our friendly and brotherly neighbor Turkey to act with more patience and restraint and to revise its decision and chosen path" of military invasion. Further, Tehran urged Ankara alternatively to work inline with the Adana agreement.
The Adana agreement of 1998 was signed between Turkey and Syria to address the border differences. The broker of the deal, along with the other Arab countries, was Iran, and the primary aim of the agreement was at expelling the Kurdistan Workers' Party (PKK) from Syria.
A complex of causes makes Iran avoid Turkey's dissatisfaction. The latter was always supportive of the Iranian regime in challenging times. Turkey, whether during the war between Iran and Iraq in the 1980s or international sanctions that intensified on Tehran in 2012, opened its borders with Iran to allow the trade that reached Europe. Similarly and lately, it helped Tehran to circumvent the US suffocating sanctions to a large extent.
As well, Turkey attempted to exploit the tensions between Tehran and Riyadh after the attacks on Aramco's oil facilities in eastern Saudi Arabia last September, by denying Tehran's involvement in the attacks. In an interview with Fox News, Turkish President RecepTayyip Erdogan said: "I don't think it would be the right thing to blame Iran."A few days later, when the architect of Iranian expansion in the Middle East the Iranian military leader Qasem Soleimani was assassinated, Erdogan offered condolences to him, though didn't use 'martyr' to describe him.
Notwithstanding, the chapter of persuasive confrontation between Iran and Turkey manifested when the Syrian airstrike hit the Turkish-backed forces in Idlib province on 27 January 2020. That resulted in killing 33 Turkish combatants. While Russia accused the Turkish soldiers of being "operating alongside jihadist fighters" when they had been struck, conversely and simultaneously, Iran emphasized on deescalating and restraining the tension in Idlib. It, further, called for all parties resort to decisions that had been taken by the presidents of Astana Process.
Although the Iranian President and his Turkish counterpart conducted a discussion on the phone regarding the tension over Idlib province, Turkey carried on the retaliation by launching a dozen air and missiles attack against the Syrian troops. The offence begot causalities of the Syrian military as well as several deaths of Iranian-backed forces in the northwest of Syria. As per the official Iranian media reported eight fighters of Hezbollah, and at least 21 militants affiliated with Fatemiyoun and Zaibayoun brigades were among the deaths.
Concurrently, Ankara opened the borders for the influx of the Syrian refugees to head for Europe. By so doing, it attempted to force its allies of the NATO states to pressurize Russia in order to alter its policy in Syria. Again and as always, Russian condemned the Turkish raids, but, its pragmatic rapprochements with Turkey outweigh the differences. Therefore, it is no wondering to see Russian assistance to Damascus minimized notably. Further, a deal will be reached to reduce the tension in Idlib when the Turkish President met his Russian counterpart in Moscow on March 2020.
On the other side, Iran and its affiliates warned Turkey by referring that its troops were within their "fire range". Tehran, however, tried to shun from escalating the situation, and instead, it was accusing the US of getting Ankara into Syrian trap. Meanwhile, it was calling Ankara for holding a new summit for Iran, Russia, and Turkey within the Astana summit framework.
By devoting immense political and financial potentialities to safeguard the Ba'ath regime, Iran was not ready to cede its clout there. So convinced too, it prefers a political triumph over martial achievements. Perhaps, for that reason, it worked to boost connections with the major players in Syria, including Turkey. However, Iran shares Turkey several issues not merely in Syrian circle, but expand to the regional level sometimes. In addition to their shared economic and commercial benefits, they both have a fear of Kurdish ambitions to establish of own state, as they both stood firmly with the government of Baghdad against the Kurdish referendum in the north of Iraq in 2017. Second: Although, Turkey's differences with Washington are mostly temporary; it meets with Iran in several issues that troubled their relations with the US.And thirdly: They were mutually pro-Qatar stand against Saudi and its allies. Qatar's flights switched to the "Iranian airspace and Turkey upped the ante on its military presence in the country as a sign of strength and commitment".
Teething Troubles for Pakistan in Mediating the Saudi-Iran Tension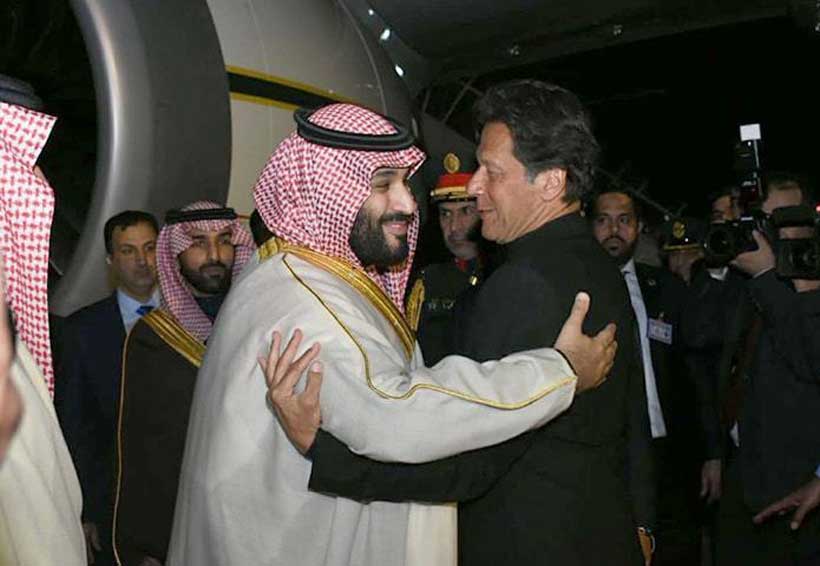 Imran Khan's visit to America, China, Iran, and Saudi Arabia carries much importance concerning the unity of the Muslim community and solution of their long-standing differences and enmities particularly Saudi-Iran Tension. Moreover, these visits are not only very significant for the relations of Tehran and Jeddah but also for Pakistan, being one of the neighbors of Iran. As for as the visit of PM Imran Khan to China is concerned, Beijing, being a rising power and an economic giant, could play a very effective and decisive role in normalizing the relations between Iran and Saudi along with Pakistan because of its economic interests. Islamabad has been experiencing many changes in the national, regional and global dynamics. In this regard, Pakistan wants to balance its side by engaging with China and tries to mediate between Iran and Saudi to end the long-standing conflict between both the Muslim nations.
However, it is not easy to lessen the tensions between both the rival nations as perceived by a large portion of societies because America never allows this to happen smoothly while it will try vigorously to counter this activity because of its long-standing problems with Iran. Particularly looking over the policies and actions of the United States against Iran such as when the whole world is suffering from a fatal disease known as COVID-19/Corona Virus, America imposed more sanctions on Iran which is against humanity. Besides, the killing of Iran's top bras general QasimSulemani in an attack by the US and the scrapping nuclear deal with Iran are condemnable acts. There can be many reasons for opposition from the United States for instance, it never wants China to engage with various nations throughout the globe mainly Iran. Because it creates the environment of friendship and engagement for China with other nations which pose threat and fear for the dominant position of Washington.
Moreover, America considers Iran as one of the staunch opposite nations of the world therefore the conflict between the US and Iran has been continued for very long. In this regard, America has imposed numerous sanctions upon Iran which creates more hardships for Tehran to smoothly run its affairs. While Iran considers it the violation of international and humanitarian laws that should not be bearable for any well-educated, sophisticated and sincere nation of the world. According to Iran, the US has been practicing inhuman and illegal policies throughout the world, especially the Muslim World. In this regard, Iran in the UN General Assembly strongly condemned the policies and actions by Washington in which Iran is on top of the list. On the other side, Saudi Arabia is one of the closest and reliable allies of America because of its economic interests.
Rationally looking over the US-Saudi bond, Washington keeps much influence concerning the economic, political and financial policies of the Kingdom of Saudi Arabia. In this regard, attacks on the oil fields of Saudi Arabia created insecurity for it therefore Saudi King called MBS requested more American forces to protect the security of his country. There are multiple perspectives regarding the control, influence and creating the warlike environment in the oil-rich Muslim nations of the Middle East. For instance, it is considered by a huge portion of the population within the Muslim world that these all issues and conflicts which have generated the deaths, destruction, fear, and insecurity all over the region are created by America to gain its interests mainly economic benefits.
This is the reason for which America intervenes within these countries rich in natural resources in the pretext of saving humanity and the US being a savior of human rights violations all over the world. While within the Western nations it is considered that terrorism and other multiple kinds of evils are generating from this region because of the undemocratic structure of these states. In this regard, the US should intervene to eliminate all evils from the region for protecting the peace and progress of the world. Therefore, Pakistan can play a very significant role through normalizing Saudi-Iran relations though it is very difficult because of sectarian division between both nations. Recent condemnation and opposition by PM Imran Khan about the new sanctions on Iran by the US is a good and positive sign. Besides, it is also considered by a huge population within the Muslim world that they are under the serious threat of Western Powers beneath different agendas so Pakistan being the only nuclear power state within the Muslim countries should seriously take the issue towards a peaceful solution. Though it is also in the interest of Islamabad because in case the spiraling tensions between Saudi Arabia and Iran are not solved and turn into the escalation of the conflict, Pakistan because of Iran's neighbor will face direct impact which could be sectarian violence and increasing oil prices.