Mitchell Belfer is President of the Euro-Gulf Information Centre, a Rome-based organization that is engaged in building political and economic bridges between European countries and the Gulf states. Mr. Belfer is Senior Lecturer in International Relations, Terrorism and Security at the Metropolitan University Prague (Czech Republic) and Editor-in-Chief of the Central European Journal of International and Security Studies. He also sits on the Steering Committee of the Global Institute for Cybersecurity Technologies among other editorial, research, and scientific boards.
What is the mission of the Euro-Gulf Information Centre and why was it established?
We were founded in 2015, and I am the founder of the organization. Basically, after 10 years of working as an academic — I was the head of the Department of International Relations at the Metropolitan University of Prague — I saw that there was really a gap, not very much work was done in terms of outreach and trying to really create mechanisms of better understanding between civil society groups and between scholars in the Gulf and Europe. Most importantly, there was also a gap between decision-makers and practitioners of politics. Of course, there are national institutes in Europe that are related to the Middle East and vice versa, but I thought that an outreach center that does think tank work as well was something very much needed and in 2014 we set up a kind of process of dialogue to prepare the groundwork. Since then, we have hosted an assortment of activities: assisted with delegations, we have done events in Brussels, London, Paris, Prague, and of course, Rome. We have helped the European Parliament in terms of understanding different militia groups, from ISIS to Hezbollah. We have done work together with key leaders in Europe and the Middle East to try to establish contact points between them. This week we are moving to a different area a little bit — women's empowerment in Europe.
Which Gulf states are considered to be the key partners of the EU? Which countries in the region have closer relationships with Europe and why?
I think there is diversity in security policy in Europe and the Gulf. The EU has a specific relationship with the Gulf Cooperation Council (GCC), they have been working on a free trade agreement for some 18 years and it is still not complete. But relations to the EU members are very engaged and the Arab Gulf states are very close to Europe. In terms of the trend, Europe is increasingly engaging with Saudi Arabia in terms of security, in an assortment of economic projects, religious affairs and in infrastructural development as well. I think that Saudi Arabia is going to play a much more important role in the European policy in the years ahead. Bahrain is a small island country, but it is also very important strategically. Britain has a naval facility there, and the United States which binds a lot all Europe together, especially under the aegis of NATO, also have a facility in Bahrain. Bahrain is also the most tolerant and open country in the region. Kuwait is another example of quite close partnership with the EU and the new delegation to Kuwait is an indication of their relationship. The UAE too is allied to nearly all EU states.
Saudi Arabia accused Qatar of supporting terrorism. In your opinion, are these claims grounded? How do you assess the efforts taken by the Qatari government to counter terrorism financing?
Qatar is a major financial backer of the Muslim Brotherhood and fractions of the Muslim Brotherhood are very close to terrorism and radicalization. Some Muslim Brotherhood groups are championing all kinds of fringe groups like ISIS. Qatar is not signing over cheques directly to ISIS, it is signing them to Muslim Brotherhood cells who are aligned in ideology and strategy to ISIS and other radicals. For the record, a couple of years ago Qatar literally paid a billion dollars in cash to Islamic radical groups in Iraq for the release of a group of vacationing (in Iraq?) royals that had been taken a hostage in very odd circumstances.
I think that Qatar needs to be much more responsible. In the last year, it tried to cut back on financing the groups that are terror-linked. It is not 100-percent working. There are still members of their government who support these groups and do not even view these groups as terrorists. This is probably the biggest problem. Saudi Arabia also has a problem, but it is emerging as a country that is stopping and challenging radicalized militias.
Also, over the past 6–7 years, Qatar has started to work very closely with Iran, while Saudi Arabia and Iran have hostile relationships. Iran is responsible for creating great levels of instability in Saudi Arabia and the Gulf in general. Some people in the Gulf question the loyalty of Qatar because of its relationships with Iran.
How is Qatar coping with the boycott?
It is not coping very well and has to import more from Turkey and Iran. The truth is that it always has been a small actor in these relationships. In the Gulf region, while the other countries are collaborating for their collective benefit, Qatar has to work closely with Turkey and Iran, and it is becoming dependent. In that dependence, the Qataris will never have the opportunity to break out. Turkey has a military base there and Qatar has less of a chance to tell them to leave as Ankara seeks to place more and more soldiers in Qatar to the point that the Turkish contingent will be half the size of Qatar's own standing military. It is tremendous.
The New York Times reported a secretly recorded phone call suggesting that the Qataris could allegedly be behind a May bombing in Somalia. What are Doha's interests in the region?
All counties in the Gulf have their interests in Africa in general. They are interested in it primarily because of resources. All the Gulf countries require food and water importation. Saudi Arabia does have its agricultural sector, but they also have to import so much food. Given those circumstances that all the countries do have vested strategic interests in Africa, they could have a kind of increased competition in Africa. And it is not only between the Gulf countries, but it also includes China. Basically, everybody looks at Africa as a new Great Game of competition. In term of specific recording and suggestion, I refrain from reading too deeply into it. This kind of information is not 100% reliable. But I could see it happening, I mean relationships between this kind of groups and countries like Qatar exist.
As for Saudi Arabia. Recently, the Saudi government announced that it would extend new rights to women. In particular, Saudi women will be able to travel independently. How do you assess these changes? Is it really a step towards greater freedom for women in Saudi Arabia?
Every time one goes to Saudi Arabia over the last decade, they see a different country. It is not only because of the 2030 program, that's part of it, sure. But actually, you have a young population that is making demands on its government. And some of those demands are about women's roles and others on the changing role of religion in society. And Saudi Arabia is developing its own national interests rather than pursuing pan-Arabism or pan-Islamism and its national interests are also about increasing tolerance and modernizing socially, politically and economically.
So it is not only that women can drive and women can travel freely, but that women can and are contributing to their country. More than 300,000 Saudis, men and women, leave the Kingdom every year to study abroad. They go to London and Paris, New York. And they come back and have ideas, ideas on how they can shape their society. Everyone is interested in seeing the evolution of the country. A whole generation is changing the country forever and women are at the forefront of those changes. There is a mixed institution — MISK — which is comprised of young men and women and it is an innovation center with projects all over the Kingdom. It is led by young ladies who are so vital to the future of the country and they know that their mission is not just about the center but about the country and women's roles in it.
In your monograph titled "Small State, Dangerous Region: A Strategic Assessment of Bahrain" you focused on this country in the Gulf. Could you please tell us what this book is about?
Bahrain is a very good example of a small country surviving a very difficult strategic environment. If you think about the Gulf, one thinks of both the regional powers such as Iraq, Iran, Saudi Arabia and the global actors: the US, UK, Russia. I decided to look at something else, at Bahrain, the smallest state in the region. It is less than one thousand-square-kilometers. And the academic question of how Bahrain could survive against such massive forces around is important to answer. And the answer is simple—smart leadership, strong citizenry, and functional alliances.
The recent video appearance of ISIS leader Abu Bakr Al-Baghdadi has sparked concerns among experts who warn that more terror attacks could be expected. In your opinion, what does this recording tell us?
The short answer is that Abu Bakr al Baghdadi is still alive, ISIS has money and soldiers. I think that we should be reminded that just because the Islamic State has lost its territory, it should not be discounted. It remains a threat to European, Middle Eastern, and international security. And we need to take it seriously. I think that more emphasis has to be paid to finding and bringing somebody like Abu Bakr al Baghdadi to justice, on the one hand. And, on the other hand, to properly invest in the future of Iraq. If you don't invest in the future of Iraq, we will keep getting a repetition of such groups and violence.
From our partner RIAC
Turkey and the time bomb in Syria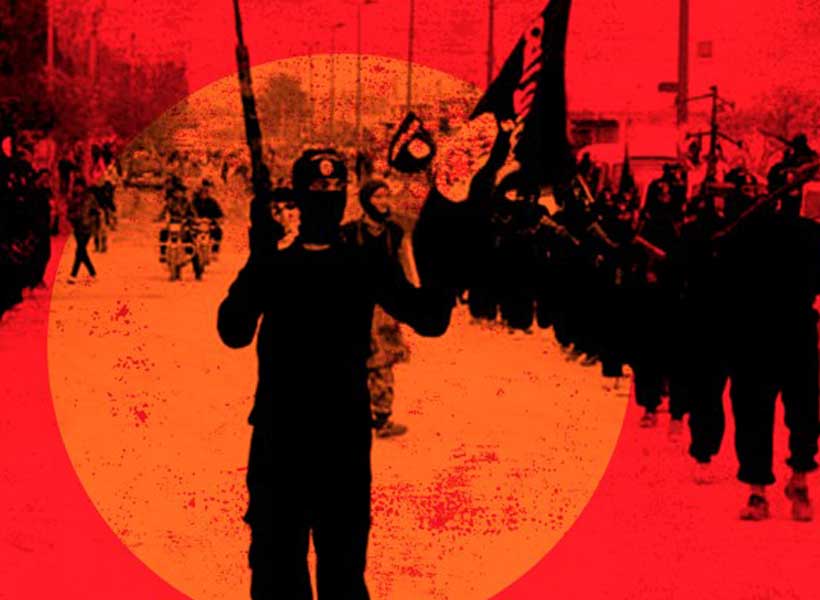 The Turkish attack on northern Syria has provided conditions for ISIS militants held in camps in the region to escape and revitalize themselves.
Turkey launched "Operation Peace Spring" on Wednesday October 9, claiming to end the presence of terrorists near its borders in northern Syria. Some countries condemned this illegal action of violation of the Syrian sovereignty.
The military attack has exacerbated the Syrian people's living condition who live in these areas. On the other hand, it has also allowed ISIS forces to escape and prepare themselves to resume their actions in Syria. Before Turkish incursion into northern Syria, There were many warnings that the incursion would prepare the ground for ISIS resurgence. But ignoring the warning, Turkey launched its military attacks.
Currently, about 11,000 ISIS prisoners are held in Syria. ISIS has claimed the responsibility for two attacks on Qamishli and Hasakah since the beginning of Turkish attacks.
Meanwhile, Donald Trump said that Turkey and the Kurds must stop ISIS prisoners from fleeing. He urged European countries to take back their citizens who have joined ISIS.
It should be noted that the U.S. is trying to prove that ISIS has become stronger since the U.S. troops pulled out before the Turkish invasion, and to show that Syria is not able to manage the situation. But this fact cannot be ignored that ISIS militants' escape and revival were an important consequence of the Turkish attack.
Turkish troops has approached an important city in the northeast and clashed with Syrian forces. These events provided the chance for hundreds of ISIS members to escape from a camp in Ayn Issa near a U.S.-led coalition base.
The camp is located 35 kilometers on the south of Syria-Turkey border, and about 12,000 ISIS members, including children and women, are settled there. The Kurdish forces are said to be in charge of controlling these prisoners.
Media reports about the ISIS resurgence in Raqqa, the former ISIS stronghold, cannot be ignored, as dozens of terrorists have shot Kurdish police forces in this city. The terrorists aimed to occupy the headquarters of the Kurdish-Syrian security forces in the center of Raqqa. One of the eyewitnesses said the attack was coordinated, organized and carried out by several suicide bombers, but failed.
In response to Turkey's invasion of Syria, the Kurds have repeatedly warned that the attack will lead to release of ISIS elements in the region. Turkey's President Recep Tayyib Erdogan denied the reports about the escape of ISIS prisoners and called them "lies".
European officials fear that ISIS prisoners with European nationality, who have fled camps, will come back to their countries.
Kurdish forces are making any effort to confront Turkish troops in border areas, so their presence and patrol in Raqqa have been reduced.
Interestingly, the Turkish military bombarded one of temporary prisons and caused ISIS prisoners escaping. It seems that ISIS-affiliated covert groups have started their activities to seize the control of Raqqa. These groups are seeking to rebuild their so-called caliphate, as Kurdish and Syrian forces are fighting to counter the invading Turkish troops. Families affiliated with ISIS are held in Al-Hol camp, under the control of Kurdish forces. At the current situation, the camp has turned into a time bomb that could explode at any moment. Under normal circumstances, there have been several conflicts between ISIS families in the camp, but the current situation is far worse than before.
There are more than 3,000 ISIS families in the camp and their women are calling for establishment of the ISIS caliphate. Some of SDF forces have abandoned their positions, and decreased their watch on the camp.
The danger of the return of ISIS elements is so serious, since they are so pleased with the Turkish attack and consider it as an opportunity to regain their power. There are pictures of ISIS wives in a camp in northern Syria, under watch of Kurdish militias, showing how happy they are about the Turkish invasion.
In any case, the Turkish attack, in addition to all the military, political and human consequences, holds Ankara responsible for the escape of ISIS militants and preparing the ground for their resurgence.
Currently, the camps holding ISIS and their families are like time bombs that will explode if they all escape. Covert groups affiliated with the terrorist organization are seeking to revive the ISIS caliphate and take further actions if the Turkish attacks continue. These attacks have created new conflicts in Syria and undermined Kurdish and Syrian power to fight ISIS.
From our partner Tehran Times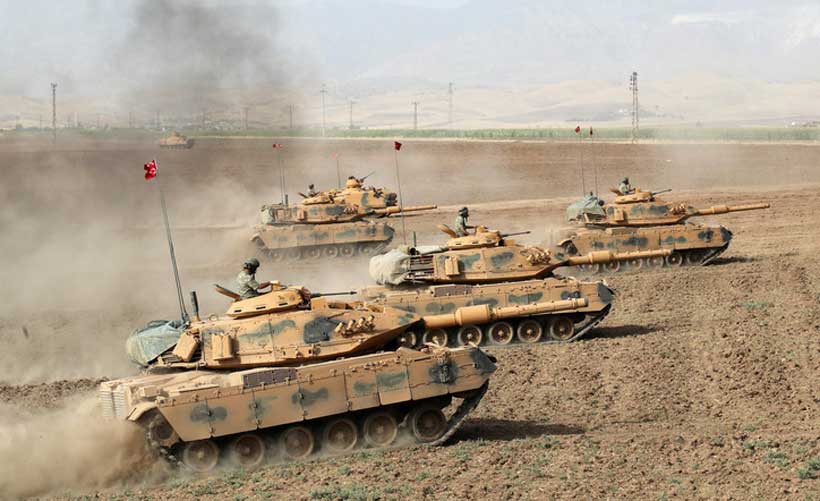 The only certainty in war is its intrinsic uncertainty, something Turkish President Recep Tayyip Erdogan could soon chance upon. One only has to look back on America's topsy-turvy fortunes in Iraq, Afghanistan and even Syria for confirmation.
The Turkish invasion of northeastern Syria has as its defined objective a buffer zone between the Kurds in Turkey and in Syria. Mr. Erdogan hopes, to populate it with some of the 3 million plus Syrian refugees in Turkey, many of these in limbo in border camps. The refugees are Arab; the Kurds are not.
Kurds speak a language different from Arabic but akin to Persian. After the First World War, when the victors parceled up the Arab areas of the Ottoman Empire, Syria came to be controlled by the French, Iraq by the British, and the Kurdish area was divided into parts in Turkey, Syria and Iraq, not forgetting the borderlands in Iran — a brutal division by a colonial scalpel severing communities, friends and families. About the latter, I have some experience, having lived through the bloody partition of India into two, and now three countries that cost a million lives.
How Mr. Erdogan will persuade the Arab Syrian refugees to live in an enclave, surrounded by hostile Kurds, some ethnically cleansed from the very same place, remains an open question. Will the Turkish army occupy this zone permanently? For, we can imagine what the Kurds will do if the Turkish forces leave.
There is another aspect of modern conflict that has made conquest no longer such a desirable proposition — the guerrilla fighter. Lightly armed and a master of asymmetric warfare, he destabilizes.
Modern weapons provide small bands of men the capacity and capability to down helicopters, cripple tanks, lay IEDs, place car bombs in cities and generally disrupt any orderly functioning of a state, tying down large forces at huge expense with little chance of long term stability. If the US has failed repeatedly in its efforts to bend countries to its will, one has to wonder if Erdogan has thought this one through.
The Israeli invasion of Lebanon in 1982 is another case in point. Forever synonymous with the infamous butchery at Sabra and Shatila by the Phalange militia facilitated by Israeli forces, it is easy to forget a major and important Israeli goal: access to the waters of the Litani River which implied a zone of occupation for the area south of it up to the Israeli border.
Southern Lebanon is predominantly Shia and at the time of the Israeli invasion they were a placid group who were dominated by Christians and Sunni, even Palestinians ejected from Israel but now armed and finding refuge in Lebanon. It was when the Israelis looked like they were going to stay that the Shia awoke. It took a while but soon their guerrillas were harassing Israeli troops and drawing blood. The game was no longer worth the candle and Israel, licking its wounds, began to withdraw ending up eventually behind their own border.
A colossal footnote is the resurgent Shia confidence, the buildup into Hezbollah and new political power. The Hezbollah prepared well for another Israeli invasion to settle old scores and teach them a lesson. So they were ready, and shocked the Israelis in 2006. Now they are feared by Israeli troops.
To return to the present, it is not entirely clear as to what transpired in the telephone call between Erdogan and Trump. Various sources confirm Trump has bluffed Erdogan in the past. It is not unlikely then for Trump to have said this time, "We're leaving. If you go in, you will have to police the area. Don't ask us to help you." Is that subject to misinterpretation? It certainly is a reminder of the inadvertent green light to Saddam Hussein for the invasion of Kuwait when Bush Senior was in office.
For the time being Erdogan is holding fast and Trump has signed an executive order imposing sanctions on Turkish officials and institutions. Three Turkish ministers and the Defense and Energy ministries are included. Trump has also demanded an immediate ceasefire. On the economic front, he has raised tariffs on steel back to 50 percent as it used to be before last May. Trade negotiations on a $100 billion trade deal with Turkey have also been halted forthwith. The order also includes the holding of property of those sanctioned, as well as barring entry to the U.S.
Meanwhile, the misery begins all over again as thousands flee the invasion area carrying what they can. Where are they headed? Anywhere where artillery shells do not rain down and the sound of airplanes does not mean bombs.
Such are the exigencies of war and often its surprising consequences.
Author's Note: This piece appeared originally on Counterpunch.org
Could Turkish aggression boost peace in Syria?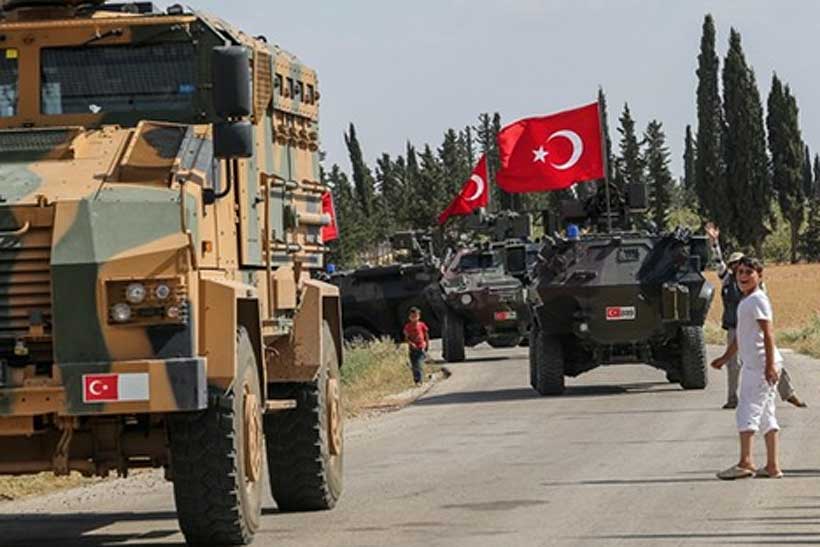 On October 7, 2019, the U.S. President Donald Trump announced the withdrawal of American troops from northeast Syria, where the contingent alongside Kurdish militias controlled the vast territories. Trump clarified that the decision is connected with the intention of Turkey to attack the Kurdish units, posing a threat to Ankara.
It's incredible that the Turkish military operation against Kurds – indeed the territorial integrity of Syria has resulted in the escape of the U.S., Great Britain, and France. These states essentially are key destabilizing components of the Syrian crisis.
Could this factor favourably influence the situation in the country? For instance, after the end of the Iraqi war in 2011 when the bulk of the American troops left the country, the positive developments took place in the lives of all Iraqis. According to World Economics organization, after the end of the conflict, Iraq's GDP grew by 14% in 2012, while during the U.S. hostilities the average GDP growth was about 5,8%.
Syria's GDP growth should also be predicted. Not right away the withdrawal of U.S., French, British, and other forces, but a little bit later after the end of the Turkish operation that is not a phenomenon. The Turkish-Kurdish conflict has been going on since the collapse of the Ottoman Empire when Kurds started to promote the ideas of self-identity and independence. Apart from numerous human losses, the Turks accomplished nothing. It is unlikely that Ankara would achieve much in Peace Spring operation. The Kurds realize the gravity of the situation and choose to form an alliance with the Syrian government that has undermined the ongoing Turkish offensive.
Under these circumstances, Erdogan could only hope for the creation of a narrow buffer zone on the Syrian-Turkish border. The withdrawal of the Turkish forces from the region is just a matter of time. However, we can safely say that the Turkish expansion unwittingly accelerated the peace settlement of the Syrian crisis, as the vital destabilizing forces left the country. Besides, the transfer of the oil-rich north-eastern regions under the control of Bashar Assad will also contribute to the early resolution of the conflict.
It remains a matter of conjecture what the leaders of Saudi Arabia, the United Arab Emirates, and Russia agreed on during the high-level talks. Let's hope that not only the Syrians, but also key Gulf states are tired of instability and tension in the region, and it's a high time to strive for a political solution to the Syrian problem.