Scourge of slavery still claims 40 million victims worldwide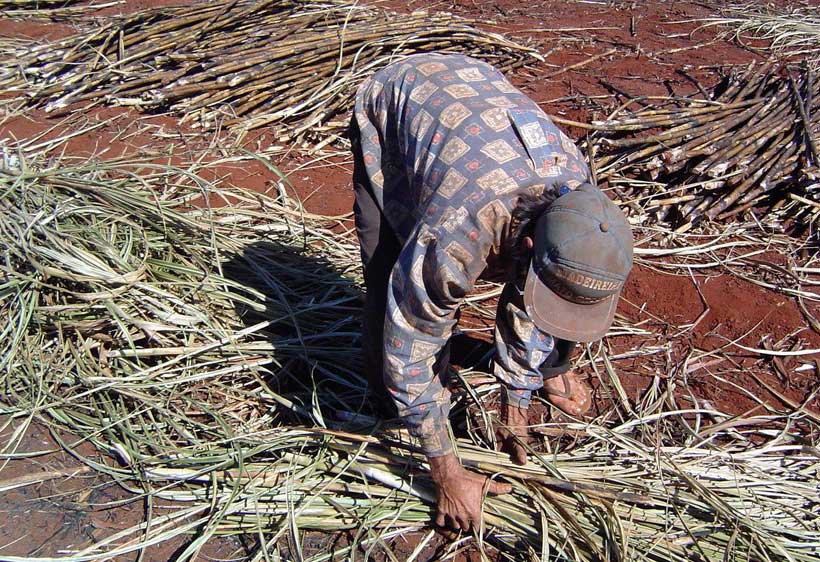 Incidents of modern-day slavery are "only likely to increase" as a result of some of biggest challenges facing the world today, a UN expert outlined in a report for the Human Rights Council in Geneva on Monday.
The Special Rapporteur on contemporary forms of slavery, Urmila Bhoola, explained that over 40 million people are enslaved around the world, a quarter of them children. Due to problems of environmental degradation, migration and shifting demographics, the scourge of modern-day slavery is expected to grow.
Over 60 percent of those in forced labour work in the private sector, Ms. Bhoola said, with women and girls disproportionately affected. Of the female victims involved in forced labour, 98 percent have experienced sexual violence.
Global estimates from the International Labour Organization (ILO) indicate that 24.9 million people are in forced labour situations worldwide, and 15.4 million live in forced marriages.
This sort of trend, "must serve as a wakeup call," Ms. Bhoola said, highlighting that the astounding statistics come four years after States committed to the UN's Sustainable Development Goals (SDGs), with relevant targets 5.2 and 8.7 aimed at stamping out trafficking, ending violence against women, and eradicating modern slavery.
The problem is exacerbated by the pressing climate conflict of our time. "In wake of climate change, people may lose their livelihoods, young people who don't have access to decent work may migrate through unsafe channels and changes in the world of work, such as automation, may push already vulnerable people out of their jobs," all of which could increase people's vulnerability to slavery, the expert explained.
Even for those who escape, life for survivors is often difficult. Investigations by the NGO Human Rights Watch, highlight how even victims who manage to extricate themselves, can return home to the same desperate circumstances that made them vulnerable to begin with, but now facing stigma or blame.
Beyond these tragic realities for individuals, "slavery leads to increased public health costs, productivity losses, negative environmental externalities and lost income," Ms. Bhoola added, urging for States and business to "act now."
"We cannot afford to stand by while more and people are driven into forced labour, servile marriage or child labour," she said.
Looking forward, the UN expert highlighted that for youth approaching working age, the situation is more dire – "By 2030, some 85 percent of the more than 25 million young people entering the labour force globally will be in developing and emerging countries," she noted. "Their perspectives to access jobs offering decent work will determine their level of vulnerability to exploitation, including slavery."
To prepare for this, "it is imperative" anti-slavery efforts are "systematic, scientific, strategic, sustainable, survivor-informed, and smart" she maintained.
Current efforts to end slavery are falling short and States and businesses "must take more decisive action to end slavery," Ms. Bhoola concluded. This must be done "by committing more resources to this effort and by adopting and implementing public policies which address contemporary forms of slavery effectively."
Israel: 'Halt and reverse' new settlement construction
Israel's decision to advance plans for some 800 new settlement units, most of which are located deep inside the occupied West Bank, has sparked the concern of UN Secretary-General António Guterres.
In a statement issued on Monday by his spokesperson, Stephane Dujarric, the UN chief urged the Israeli Government to "halt and reverse such decisions", calling them "a major obstacle to the achievement of the two-State solution, and a just, lasting and comprehensive peace".
'No legal validity'
Mr. Guterres reiterated that Israel's establishing of settlements in the Palestinian territory occupied since 1967, including East Jerusalem, "has no legal validity and constitutes a flagrant violation under international law".
"Settlement expansion increases the risk of confrontation, further undermines the right of the Palestinian people to self-determination, and further erodes the possibility of ending the occupation and establishing a contiguous and viable sovereign Palestinian State, based on the pre-1967 lines", he said.
Pushing forward
Israel has given the green light to 780 new homes in West Bank settlements on Sunday in a move widely seen as being influenced by the imminent transfer of power in the United States.
Breaking with decades of US diplomacy, outgoing President Donald Trump, in 2019 unilaterally declared that the settlements no longer breached international law.
Against that backdrop, Israel has been increasing construction and either approved or made plans for more than 12,000 homes in 2020, according to news reports.
Spectre of unrest, violent repression looming over Haiti
Increasing political tensions in Haiti coupled with insecurity and structural inequalities could result in protests followed by violent crackdowns by authorities, the United Nations human rights office (OHCHR) warned on Tuesday.
According to the office, criminal activities, such as kidnappings, gang fights and widespread insecurity have increased, with "almost total" impunity.
Added to the volatile mix is resurging political tensions over the timing and scope of elections and a constitutional referendum proposed by the Government, OHCHR spokesperson Marta Hurtado told journalists at a regular briefing in Geneva.
"Calls for mass protests have been growing. This in turn raises concerns of renewed human rights violations by security forces during the policing of protests as seen during the months-long protests in 2018 and 2019, as well as during demonstrations in October and November of last year."
According to an OHCHR report on the unrest, protests started relatively peacefully in July 2018 but became increasingly violent over time, with many violations and abuses of the rights to life, security of the person and effective remedy.
'Pattern of violations'
The report also documented violations to the rights of peaceful assembly and freedom of expression. In 2019 demonstrations, barricades were set up that blocked people's access to hospitals and passage of ambulances. Health facilities were also attacked, severely impacting the daily lives of the Haitian people, particularly those in a vulnerable situation.
In addition, protesters and criminal elements imposed "passage fees", further impeding the movement of people and goods and exacerbating economic hardship.
"The report shows a pattern of human rights violations and abuses followed by near lack of accountability," Ms. Hurtado said.
'Guarantee accountability'
The OHCHR spokesperson called on Haitian authorities to take "immediate action" to avoid repetition of such violations and abuses by ensuring that law enforcement officers abide by international norms and standards regarding the use of force when dealing with protests; as well as ensuring that gangs do not interfere with people's right to demonstrate peacefully.
She also urged the Government to guarantee accountability for past violations and abuses, ensuring justice, truth, and reparations. Alongside, Haiti should take steps to address people's grievances and the root causes that fuelled the protests, she added.
"OHCHR stands ready to continue supporting State authorities in their fulfilment of human rights international obligations [and] expresses its willingness to continue working towards the establishment of a country office," Ms. Hurtado said, welcoming commitments made by the Haitian National Police to reform practices documented in the report.
Child labour 'robs children of their future', scourge must end
Although child labour has decreased significantly over the last decade, one-in-ten children are still caught up in harmful work, the UN's labour agency said on Friday, kicking off a year-long bid to eradicate the practice.
"There is no place for child labour in society", said Guy Ryder, Director-General of the International Labour Organization (ILO). "It robs children of their future and keeps families in poverty."
Breaking down the stats
While the number has dropped from 246 million in 2000 to 152 million in 2016, ILO noted uneven progress across regions.
It pointed to some 72 million children working in Africa, which account for almost half of the world's total. This is followed by Asia and the Pacific, home to 62 million child labourers.
ILO highlighted that 70 per cent of these children work in agriculture – mainly in subsistence and commercial farming and livestock herding – and almost half in occupations or situations considered hazardous to their health and lives.
The COVID factor
Meanwhile, the COVID-19 pandemic has considerably exacerbated the situation by rendering everyone more vulnerable to exploitation, compounding poverty within defenseless populations and jeopardizing hard-fought gains in the fight against child labour.
Furthermore, school closures have pushed millions more children into the labour market, so they can contribute to the family income.
"With COVID-19 threatening to reverse years of progress, we need to deliver on promises now more than ever", said the ILO chief.
A year of action
On a positive note, ILO said that joint and decisive action can reverse this trend.
In collaboration with the Alliance 8.7 global partnership, ILO launched the International Year for the Elimination of Child Labour to encourage legislative and practical actions to eradicate child labour worldwide.
Adopted by the General Assembly in 2019, the year aims to urge governments to work towards achieving Target 8.7  of the Sustainable Development Goals  (SDGs).
Target 8.7 calls for immediate measures to end forced labour, modern slavery and human trafficking while also eliminating the worst forms of child labour, including use of child soldiers, and by 2025 ending child labour in all its forms.
The 12-month campaign will also prepare the ground for the fifth Global Conference on Child Labour (VGC) in 2022, which will welcome additional commitments towards ending child labour in all its forms by 2025, and forced labour, human trafficking and modern slavery by 2030.
"This International Year is an opportunity for governments to step up and achieve Target 8.7 of the Sustainable Development Goals by taking concrete actions to eliminate child labour for good".