"Hope is by nature an expensive commodity, and those who are risking their all on one cast find out what it means only when they are already ruined." -Thucydides, The Peloponnesian War (416 BCE)
Hope is never a viable foreign policy. For the United States and its pertinent allies – when all falsely-comforting optics have been seriously set aside – it will become plain that Kim Jung Un never have had any genuine intentions to "denuclearize." Accordingly, those earlier expectations spawned by the White House that Pyongyang might somehow destroy its nuclear weapons and infrastructures (aka "complete denuclearization") will be finally discarded.
Nonetheless, for US President Donald Trump, this immutable obligation will come as an unpleasant surprise. He had expressly assumed, after all, that the two adversarial leaders "fell in love" upon joining hands in Singapore, and that his relevant international statecraft could be extrapolated directly from the narrowly commercial worlds of real estate bargaining and casino gambling. At that foreseeable stage of diplomatic negotiations, Mr. Trump will have no choice but to "live with" a nuclear North Korea, and the United States will have no choice but to focus on more tangibly meaningful goals.
Most important of all such goals will be the creation of a durable and mutually gainful deterrence regime with Pyongyang.[1]
Because these two already-nuclear adversaries will be starkly asymmetrical in nuclear military terms (that is, in regard to their respective nuclear assets and capabilities), Washington will require a different strategic posture from what successfully obtained during the Cold War era.[2] Back then, seeking a secure war-avoidance regime between roughly symmetrical superpowers – the US and USSR – the accepted security stance was termed "mutual assured destruction" or "MAD." That once stable stance, however, could never be appropriate today between the US and North Korea.
For just one notable difference, it would not be safe for an American president to assume the long-term decision-making rationality of his counterpart in Pyongyang. Reciprocally, and perhaps even reasonably, Kim Jung Un might not feel much better about assuming Donald Trump's verifiable and durable reliability. The ensuing uncertainties in Washington and Pyongyang could at some point give rise to more-or-less irresistible incentives to preempt, either by one side or the other.
As so little can ever be predicted about literally unprecedented interactions, these incentives could become authentically "synergistic." Here, the "whole" of any particular crisis outcome would be cumulatively more damaging than the "mere" additive sum of its recognizable "parts." In all such sui generis kinds of crisis interaction, the only truly predictable element would be the outcome's total unpredictability. It follows, inter alia, that both Donald Trump and Kim Jung Un ought to be modest about their prospective control over nuclear events, that is, extremely modest. To be sure, this would not be a convenient time or occasion for any exaggerated national expressions of pride, arrogance or immodesty.[3]
Not at all.
Knowing all this, how should the American president best proceed? To begin, meeting new and necessary strategic objectives by the United States should no longer center on fine-tuning "marketing" decisions made at Trump White House. Going forward, the critical US security task will necessarily go considerably beyond narrowly childish presidential assessments. Now, it should involve variously multi-layered, and many-sided intellectual challenges.[4]
Not by any means will this daunting task be manageable by those who would substitute "hope" for analysis.
In essence, success will never lend itself to proper resolution by an American president who remains mired in superficial elements of bargaining, one irremediably intoxicated with showcasing his confused diplomatic priorities of "attitude" over "preparation."
Going forward, among other things, the United States will need to present itself credibly to North Korea as willing and able to inflict unacceptably damaging retaliations in response to absolutely any conceivable levels of nuclear aggression. Although, earlier, President Trump's visceral position vis-à-vis Pyongyang had been to threaten Kim Jung Un with "fire and fury" or "total destruction," this was plainly not a sensible approach to achieving and sustaining long-term nuclear deterrence. However counterintuitive, Mr. Trump ought quickly understand, the credibility of US nuclear deterrent threats could vary inversely with the extent of enemy-threatened destruction.
If the perceived costs or "disutility" of American retaliatory destruction were blatantly disproportionate to the initial aggression, US deterrence could become correspondingly less persuasive.
This unfavorable outcome would obtain whether the American threats were issued sotto voce, or loudly, brashly and unambiguously.
In any strict scientific assessments of pertinent probabilities, such vital security requirements would represent uncharted waters; there could exist no fully reliable ways of determining what specific US deterrent threats were suitable or optimal. Still, it stands to reason that calibrating American retaliatory threats to the particular level of expected North Korean harms would generally offer a more prudent and promising strategy than simply posturing with various spasmodic, intermittent and across-the-board "MAD-style" threats of "total destruction."
In this connection, it could sometimes be wiser to signal Pyongyang of Washington's readiness to wage a "limited nuclear war," at least in certain specific conflict scenarios.[5]
Largely, this is because of the obviously asymmetrical nuclear capacities between these two prospective enemy states and because Washington must always seek to minimize the chances of any consequential misperceptions or strategic misunderstandings by Pyongyang.
Trump will also need to avoid exaggerating the strategic benefits of "personal attitude" in crisis-related diplomacy, and to proceed with a conscientiously fashioned analytic template. This would be a posture that could account for both the rationality and intentionality of enemy decision-makers in Pyongyang. In essence, Washington should soon approach the growing North Korean nuclear threat from a more disciplined conceptual perspective. This means factoring into any coherent US nuclear threat assessment (a) the expected rationality or irrationality of all principal decision-makers in Pyongyang; and (b) the foreseeable intentional or unintentional intra-crisis behaviors of these same adversarial decision-makers.
"Theory is a net," quotes (from the German poet, Novalis) the philosopher of science, Karl Popper,[6] and "only those who cast, can catch." In all such bewilderingly complex strategic matters, nothing can prove to be more practical than good theory. Always, in science, explanatory generality is the key to specific meanings and predictions. Having readily at hand such comprehensive policy clarifications could help guide US President Donald Trump usefully beyond otherwise vague or simply impromptu appraisals.
Under no circumstances, this president must be reminded, should such multi-sided crisis possibilities be assessed (implicitly or explicitly) as singular or ad hoc phenomena.
There is more. Going forward, capable American strategic analysts guiding the president should enhance their newly-planned nuclear investigations by first identifying the basic distinctions between (a) intentional or deliberate nuclear war, and (b) unintentional or inadvertent nuclear war. The derivative risks resulting from these (at least) four different types of possible nuclear conflict are apt to vary considerably. Those American analysts who might remain too completely focused exclusively upon a deliberate nuclear war scenario could too-casually underestimate an even more salient nuclear threat to the United States.
This is the increasingly plausible threat of unintentional or inadvertent nuclear war.
One additional conceptual distinction must now be mentioned and inserted into any US analytic scenario "mix." This is the subtle but still serious difference between an inadvertent nuclear war and an accidental nuclear war. To wit, any accidental nuclear war would have to be inadvertent; conversely, however, there could be certain determinable forms of inadvertent nuclear war that would not necessarily be accidental.
Most critical in this connection are various significant errors in calculation committed by one or both sides – that is, more-or-less reciprocal mistakes that could lead directly and inexorably to a genuine nuclear conflict. Here, the most blatant example would concern assorted misjudgments of enemy intent or capacity that might somehow emerge during the course of any one crisis escalation. Such misjudgments would likely stem from an expectedly mutual search for strategic advantage occurring sometime during a competition in nuclear risk-taking.
In more expressly strategic parlance, this would suggest a more-or-less traditional search for "escalation dominance" in extremis atomicum.
There would then also need to be various related judgments concerning expectations of rationality and irrationality within each affected country's core decision-making structure. One potential source of unintentional or inadvertent nuclear war could be a failed strategy of "pretended irrationality." A posturing American president who had too "successfully" convinced enemy counterparts of his own irrationality could thereby spark an otherwise-avoidable enemy preemption.
"Played" in the other direction, an American president who had begun to take very seriously Kim Jung Un's presumed unpredictability could sometime be frightened into striking first himself. In this alternate case, Washington would become the preempting party that might then claim legality for its allegedly defensive first-strike. In any such "dicey" circumstances, those US strategists charged with fashioning an optimal strategic posture would do well to recall Carl von Clausewitz's oft-quoted warning (in On War) concerning "friction."
This "Clausewitzian" property represents the unerringly vital difference between "war on paper" and "war as it actually is." It's not a distinction readily determinable by any presidential "attitude."
It is also possible, amid such chess-like strategic dialectics, that the first "game" might end not with an enemy preemption, but instead with Washington deciding to "preempt the preemption." Here, US president Trump, sensing the too-great "success" of his own pretended irrationality, might quickly foresee Kim's consequent insecurity, and then (maybe even quite rationally) decide to "strike first before the enemy strikes first."
If this game were played in the other direction, it might sometime end not with a US preemption generated by compelling fears of enemy irrationality, but rather with an enemy first-strike intended to preempt a then-anticipated American preemption. In any event, implementing long-term successful nuclear deterrence between Washington and Pyongyang would be in the best interests of both parties. US President Donald Trump now has a distinct opportunity to make calculable progress on the North Korean nuclear problem, but only if he can finally get beyond the patently futile hope of eliciting enemy "denuclearization."
It follows, plainly and incontestably, that the best use for American nuclear weapons in any ongoing US-North Korea negotiation will be as elements of dissuasion or persuasion, and not as actual weapons of war. In this regard, the key underlying principle goes back even before the advent of any nuclear weapons. Remembering the ancient Chinese strategist Sun-Tzu in his On War (Chapter 3, "Planning Offensives"): "Subjugating the enemy's army without fighting is the true pinnacle of excellence."
For Donald Trump, there can be no more timely or primary principle of diplomacy with Kim Jung Un. Recalling also ancient Greek historian Thucydides, a US presidential knowledge of history ought soon obtain more conspicuous pride of place. Apropos of such an always vital knowledge, basing US national security policies upon vague "hopes" would quickly become a too-grievously "expensive commodity."

---
[1] It goes without saying that the benefits of such creation would likely "spill over" into the wider world of strategic planning and and diplomacy, thereby reducing the risks of certain types of war in other parts of the globe. For example, one plausible effect would be a corollary reduction of nuclear risk between Israel and its various enemies in the Middle East. See, by this author, Louis René Beres, https://besacenter.org/wp-content/uploads/2017/03/427-Trump-North-Korea-Israel-Nuclear-Strategy-Beres-final.pdf
[2] Nonetheless, we are presently living in a diplomatic world that could accurately be termed "Cold War II." This second Cold War will inevitably provide the broad structural context for whatever actually transpires between the United States and North Korea. On this particular context, by this author, see: Louis René Beres, https://besacenter.org/wp-content/uploads/2019/07/162-MONOGRAPH-Beres-Israeli-Nuclear-Deterrence-CORRECTED-NEW.pdf
[3] This calls to mind, of course, what the ancient Greek philosophers and playwrights called "hubris."
[4] One of these increasingly serious challenges will be the prospect of certain third-party hacking interventions, that is, intrusions by another state or sub-state actor (terrorist organization) intended to "catalyze" a nuclear war between the United States and North Korea. Indeed, in some conceivable scenarios, the pertinent hacking aggressor could even be a pure "mercenary" hired by a state and/or terrorist group.
[5] Several of the author's early books deal very specifically with aspects of a limited nuclear war scenario. See, for example, Louis René Beres, The Management of World Power: A Theoretical Analysis (1973); Louis René Beres, Terrorism and Global Security: The Nuclear Threat (1979); Louis René Beres, Apocalypse: Nuclear Catastrophe in World Politics (1980); Louis René Beres, Mimicking Sisyphus: America's Countervailing Nuclear Strategy (1983); and Louis René Beres, Security or Armageddon: Israel's Nuclear Strategy (1986).
[6] See Popper's classic, The Logic of Scientific Discovery (1959).
Why is Sweden still on standby to join NATO ?
Russia's unprovoked war against Ukraine undermines European security order, specifically the Nordic states. Growing security threats galvanised Sweden and Finland, historically nonaligned states to join NATO. Strong Defensive alliance is need of hour for both states. Therefore Finland and Sweden handed over their NATO applications on May 18 2022. Finland's membership gets ratifies by member states of NATO where Sweden still waits in queue for its accession. This article will explore the reasons for putting Sweden on Stand-by at this belligerent stage.
Sweden had an official non alignment policy. Sweden's non-alignment policy refers to its stance of neutrality in international conflicts and its refusal to align itself with any military alliance. The policy was officially adopted in 1953, during the Cold War, and has been a cornerstone of Swedish foreign policy ever since. Under this policy, Sweden has refused to join military alliances such as NATO, although it has cooperated with NATO on some issues. Instead, Sweden has sought to maintain good relations with all countries and to act as a mediator in international conflicts. Sweden's non-alignment policy has allowed it to maintain a high degree of independence in its foreign policy, and has helped to establish the country's reputation as a neutral and peaceful nation. It has also enabled Sweden to pursue an active role in international diplomacy and conflict resolution.
But World political dynamics took a swift shift after Russia Ukraine war which increased security threat from Russian side towards. To strengthen itself militarily and on mass demand from nation Sweden ends 200 years of militarily neutrality and seeks to join NATO in May 2022.
Finland and Sweden applied for membership together and Finland gets accession on April 4 2023, becoming 31stmember of NATO. Where Sweden's path to NATO remains blocked by Turkey and Hungary. Turkey has dragged its heel over Sweden claiming that Sweden doesn't take turkey's security concerns seriously. Moreover, Turkey also holds Stockholm responsible for harbouring militant group, The Kurdistan Workers Party (PKK), also known as Kongra Gel, is a militant Marxist-Leninist separatist group, exercising armed insurgency against Turkey for years. On Contrary, Sweden denies these allegations.
Moreover,  in recent weeks Turkey Objected on certain hate crimes in Stockholm. Most condemned incident was burning of Holy Quran near Turkish embassy in Sweden. This blasphemous act was done by Far-right politician and anti-Islam provocateur Rasmus Paludan, a Danish-Swedish national, with a reputation for carrying out similar acts. On this heinous incident, Turkish President Erdoğan responded,
Those who allow such blasphemy in front of our embassy can no longer expect our support for their Nato membership," Turkey's president, Recep Tayyip Erdoğan,
Another incident which angered Turkey was hanged effigy of Erdoğan in protests across Sweden, which further fuelled the contention between Ankara and Stockholm. These events definitely deepened standoff with Turkey over Sweden's bid to join NATO.
By providing strong military alliance NATO also expects a high economic and military contributions from its member states. As a NATO member, Sweden will be expected to provide staff to NATO's political and military structures. Moreover, Sweden will be expected to contribute approximately SEK 600–700 million per year to NATO's common budget. It is also the stated target that the organisation's members commit a minimum of 2 per cent of GDP to defence spending, in accordance with NATO's Defence Investment Pledge that was adopted at NATO's Wales Summit in 2014. Sweden continues to invest in defence and will reach NATO's current level of 2 per cent of GDP by 2026. NATO members also aim to allocate at least 20 per cent of defence spending for defence material and research and development.
Sweden's accession to NATO can be worthwhile for NATO itself Because Sweden is important to NATO'S defence of Baltics. Swedish cooperation with the Alliance would make protecting the Baltics easier and thereby strengthen NATO's security guarantee to its member countries. That, in turn, would improve NATO's ability to deter Russian aggression in the region.
Analysts suggest that hurdles in Sweden's path to Nato could have been lifted if Turkey general election could go in favour of opposition party. Since president Erdoğan is considered a sole hurdle in Sweden's ratification. If the main opposition Republican People's Party (CHP) and Kilicdaroglu had won, the new Turkish administration would have likely revised some of Erdogan's more contentious and confrontational foreign policy positions. In that context, a smarter approach by Stockholm and more flexibility from Ankara could lead to Sweden becoming the 32nd member of NATO. Therefore general elections of Turkey is not only shaping the future of Turks but for NATO as well.
Rising Powers in the Asia-Pacific: Implications for Global Stability
For a long time, the Asia-Pacific region has been the epicentre of rising economic growth and strategic influence, gradually changing the dynamics of world power. Because of the rapid rise of China and India, the increasing influence of ASEAN, and the steady comebacks of Japan and South Korea, its significance has only increased in the twenty-first century. Given the ongoing challenges to the traditional dominance of Western powers, this shifting environment raises intriguing questions about the future of global stability.
The rise of China stands out as the most significant factor in this dynamic. China's phenomenal economic growth, along with its more assertive foreign policy and military modernization, have propelled it to the forefront of the global stage since the economic reform policies of the late 1970s. The Belt and Road Initiative, companies like Alibaba, and military actions in the South China Sea are just a few of the ways it is increasingly challenging the US-led international order. Due to its second-largest economy, China's actions and policies have a significant impact on the stability of the world.
Despite lagging behind China, India is another growing Asian power that has started on a path of significant economic expansion. It has the potential to play a significant role in the region due to its distinct demographic dividend, IT industry, and geostrategic location. However, it problems a insufficiency in infrastructure, social inequality, and enduring poverty hinder its potential and raise the level of complexity in the power dynamics of the area.
In the midst of this power shift, Japan and South Korea, two countries that are already major global players, have been rearranging their positions. The balance of power in the region is greatly influenced by their advanced economies, sizable military capabilities, and strategic alliances with the US. A crucial role in the region is also played by the Association of Southeast Asian Nations (ASEAN). A seat at the table for shaping the future of the region has been secured for ASEAN despite its diversity and disparities thanks to its prominence in regional diplomatic structures like the East Asia Summit and the ASEAN Regional Forum.
Additionally crucial to this shifting dynamic are the Pacific powers, particularly the US and Australia. While the US remains the most powerful country on the planet, it must deal with these new regional forces, necessitating a reevaluation of its Asia-Pacific strategy. Australia's position has changed as well as a result of its efforts to strike a balance between its regional economic interests and its long-standing alliances. The effects of these changing power dynamics on world stability are significant. First, there is a chance that a power vacuum in the area could cause unrest and possible conflict. This is amply demonstrated by the South China Sea dispute, in which numerous nations are asserting territorial claims and frequently supporting them with military showdowns.
Second, the spread of power might also create more significant opportunities for cooperation and multilateralism. However, much of this depends on these countries' ability to manage disagreements and rivalries as well as build inclusive and effective regional institutions. Thirdly, these changes might result in new economic structures that reshape international economic relationships and structures. The Regional Comprehensive Economic Partnership (RCEP), a free trade agreement involving 15 countries in the Asia-Pacific, is a good illustration of this. Last but not least, the changes in power may significantly affect international institutions and norms. As Asia-Pacific nations gain power, they may try to change international institutions so that they better represent their interests.
The main worry, however, is that these changes could result in more tensions and conflicts as countries with various political ideologies and systems compete for influence. For instance, the rivalry between the US and China goes beyond merely a contest of political and economic power. Several things are essential to preserving global stability in the midst of these shifting power dynamics. First and foremost, it is essential to promote a cooperative regional order based on mutual respect and gain. Second, preventing the escalation of regional disputes into conflict requires ensuring that they are settled peacefully in accordance with international law. Third, safeguarding and bolstering regional and international institutions will be essential for preserving stability and offering forums for communication and cooperation.
In conclusion, it is undeniable that the power dynamics in the Asia-Pacific are shifting. For the stability of the world, this evolution poses both danger and promise. How well we navigate this shifting landscape, handle potential conflicts, and seize opportunities for cooperation will determine whether the world can continue to be peaceful and stable.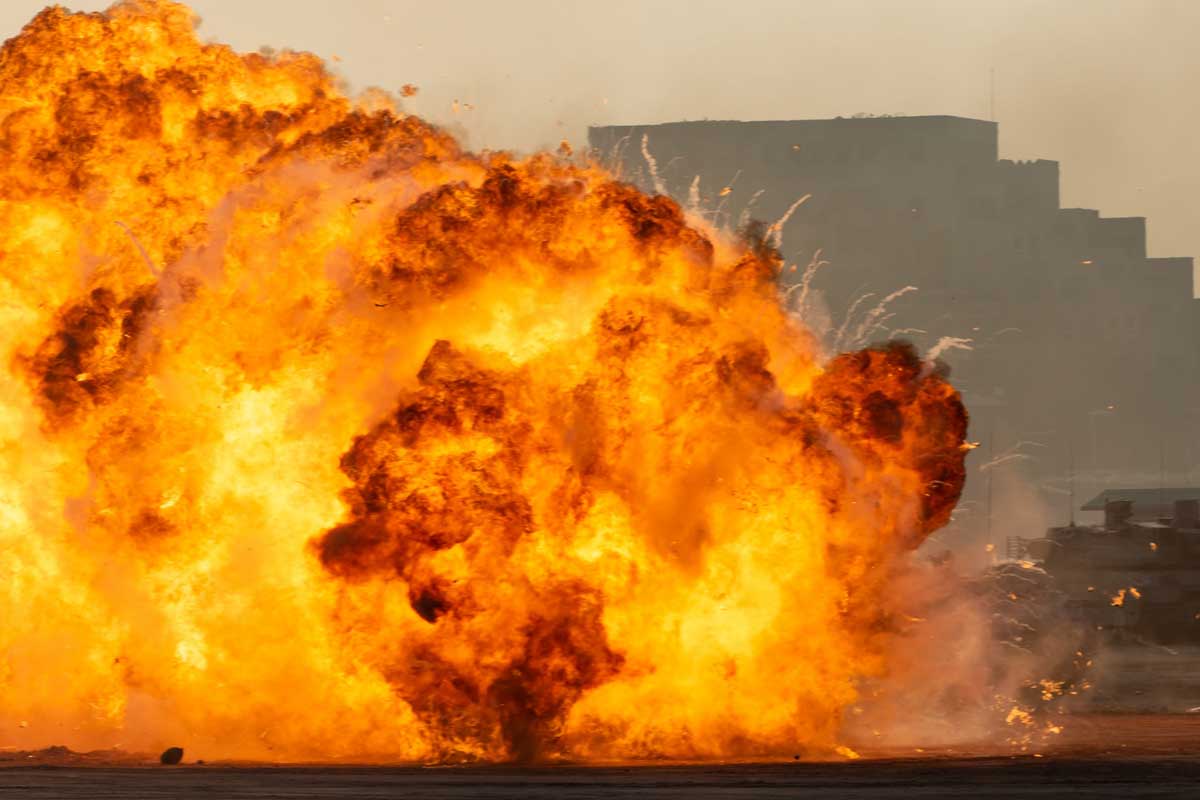 Since the beginning of time, wars and conflicts have been an inextricable part of human history. As such, they have developed in lockstep with the complex interactions between social, political, and technological changes that have shaped our world. Warfare's methods and goals have undergone a significant metamorphosis, moving from crude and simple engagements to ones that are sophisticated and complex. Armed conflicts have expanded to take on global proportions with the advent of destructive world wars, and are no longer restricted to simple tribal or regional skirmishes. In addition to transcending their religious roots, these conflicts are now driven by nationalistic imperatives, giving rise to wars with geopolitical goals.
However, in the fierce race to reach the pinnacle of technological achievement with the introduction of a revolutionary artificial intelligence-powered search engine, issues of veracity and the widespread dissemination of false information are the most crucial issues of our time. These worries are well-founded because the consequences of a poorly functioning search engine could distort reality, worsen the already virulent spread of false information, and cause irreparable harm to the fabric of truth.
Additionally, warfare has changed from being characterized by linear battles to being characterized by maneuver warfare, placing greater emphasis on flexibility, agility, and strategic maneuvering. Armed engagements have evolved from primitive first-generation manifestations to the complex dynamics of fourth-generation warfare. They now involve a variety of unconventional tactics such as asymmetric tactics, psychological operations, and information warfare. Thus, in order to successfully navigate the complexity of the modern battlefield, this evolution calls for both a thorough understanding of the many facets of modern warfare and the adoption of adaptive strategies.
Simultaneously, the concept of fifth-generation warfare, also known as hybrid warfare, denotes a paradigm shift in contemporary military tactics, where the importance of cultural warfare, information warfare, and unconventional methods surpasses the conventional use of brute force on the battlefield, as seen in third- and fourth-generation warfare. India is said to be using 5th-generation warfare strategies against Pakistan to sow seeds of enmity and spread false information in an effort to block Pakistan's progress. Moreover, India is using all of its resources to undermine Pakistani society in a number of different domains. Pakistan to modernize its weaponry and armed forces given the strategic landscape of South Asia, which is becoming more complex and volatile, especially given India's use of fifth-generation warfare against Pakistan.
Relatedly, information warfare has undeniably grown significantly important in the effort to effectively project Pakistan's narrative both domestically and internationally. A well-calibrated national response reinforced by a clearly defined foreign policy is required in light of the double-edged nature of fifth-generation warfare. Modern times see a rapid spread of irregular wars across the spectrum of conflict, amid intensifying great power competition, as the nature of warfare changes continuously.
Modern warfare has undergone a sea change as a result of the advancement of information technology, which makes it easier for nontraditional actors like violent extremist groups to communicate. We find ourselves ensconced in a world permeated by high tension, accompanied by a flood of tweets, ranging from the tumultuous battlefields in Ukraine to a pernicious terrorist attack on mass transit inside the borders of the United States. Our insatiable appetite for knowledge is driven by a desire to protect our safety, show compassion for those who are suffering, or see wrongdoers brought to justice. Despite our desire for knowledge, we must maintain an appropriate level of skepticism toward the sources that provide it. After all, we are living in a time that is frequently referred to as the "golden age of fake news."
Today's conflicts are largely not fought between nation-states and their armies; instead, they are increasingly fought with the mighty arsenal of words rather than with traditional weapons. In recent years, policy discussions, popular discourse, and academic analyses have given priority to a particular breed of weaponry: "fake news" and viral disinformation. In reality, disinformation used in warfare in the digital age may not differ much from other forms of warfare; after all, wars are fought to establish power, with some reaping financial rewards while the most vulnerable suffer the most.
The problem of fake news has gotten worse since the Internet and social networks were invented. The conventional news model, which involved a small number of media outlets run by experienced journalists who interviewed reliable sources and meticulously verified the information before it was published, has been overturned by the current media environment. Today, there are numerous channels, a never-ending stream of messages, and an environment where contradictory information is frequently overlooked that all contribute to the relative ease with which conspiracy theories and rumors can spread. The temptation to cling to a simpler fiction rather than taking on the laborious task of dissecting a more complex reality grows as we are frequently presented with contradictory messages.