"Hope is by nature an expensive commodity, and those who are risking their all on one cast find out what it means only when they are already ruined." -Thucydides, The Peloponnesian War (416 BCE)
Hope is never a viable foreign policy. For the United States and its pertinent allies – when all falsely-comforting optics have been seriously set aside – it will become plain that Kim Jung Un never have had any genuine intentions to "denuclearize." Accordingly, those earlier expectations spawned by the White House that Pyongyang might somehow destroy its nuclear weapons and infrastructures (aka "complete denuclearization") will be finally discarded.
Nonetheless, for US President Donald Trump, this immutable obligation will come as an unpleasant surprise. He had expressly assumed, after all, that the two adversarial leaders "fell in love" upon joining hands in Singapore, and that his relevant international statecraft could be extrapolated directly from the narrowly commercial worlds of real estate bargaining and casino gambling. At that foreseeable stage of diplomatic negotiations, Mr. Trump will have no choice but to "live with" a nuclear North Korea, and the United States will have no choice but to focus on more tangibly meaningful goals.
Most important of all such goals will be the creation of a durable and mutually gainful deterrence regime with Pyongyang.[1]
Because these two already-nuclear adversaries will be starkly asymmetrical in nuclear military terms (that is, in regard to their respective nuclear assets and capabilities), Washington will require a different strategic posture from what successfully obtained during the Cold War era.[2] Back then, seeking a secure war-avoidance regime between roughly symmetrical superpowers – the US and USSR – the accepted security stance was termed "mutual assured destruction" or "MAD." That once stable stance, however, could never be appropriate today between the US and North Korea.
For just one notable difference, it would not be safe for an American president to assume the long-term decision-making rationality of his counterpart in Pyongyang. Reciprocally, and perhaps even reasonably, Kim Jung Un might not feel much better about assuming Donald Trump's verifiable and durable reliability. The ensuing uncertainties in Washington and Pyongyang could at some point give rise to more-or-less irresistible incentives to preempt, either by one side or the other.
As so little can ever be predicted about literally unprecedented interactions, these incentives could become authentically "synergistic." Here, the "whole" of any particular crisis outcome would be cumulatively more damaging than the "mere" additive sum of its recognizable "parts." In all such sui generis kinds of crisis interaction, the only truly predictable element would be the outcome's total unpredictability. It follows, inter alia, that both Donald Trump and Kim Jung Un ought to be modest about their prospective control over nuclear events, that is, extremely modest. To be sure, this would not be a convenient time or occasion for any exaggerated national expressions of pride, arrogance or immodesty.[3]
Not at all.
Knowing all this, how should the American president best proceed? To begin, meeting new and necessary strategic objectives by the United States should no longer center on fine-tuning "marketing" decisions made at Trump White House. Going forward, the critical US security task will necessarily go considerably beyond narrowly childish presidential assessments. Now, it should involve variously multi-layered, and many-sided intellectual challenges.[4]
Not by any means will this daunting task be manageable by those who would substitute "hope" for analysis.
In essence, success will never lend itself to proper resolution by an American president who remains mired in superficial elements of bargaining, one irremediably intoxicated with showcasing his confused diplomatic priorities of "attitude" over "preparation."
Going forward, among other things, the United States will need to present itself credibly to North Korea as willing and able to inflict unacceptably damaging retaliations in response to absolutely any conceivable levels of nuclear aggression. Although, earlier, President Trump's visceral position vis-à-vis Pyongyang had been to threaten Kim Jung Un with "fire and fury" or "total destruction," this was plainly not a sensible approach to achieving and sustaining long-term nuclear deterrence. However counterintuitive, Mr. Trump ought quickly understand, the credibility of US nuclear deterrent threats could vary inversely with the extent of enemy-threatened destruction.
If the perceived costs or "disutility" of American retaliatory destruction were blatantly disproportionate to the initial aggression, US deterrence could become correspondingly less persuasive.
This unfavorable outcome would obtain whether the American threats were issued sotto voce, or loudly, brashly and unambiguously.
In any strict scientific assessments of pertinent probabilities, such vital security requirements would represent uncharted waters; there could exist no fully reliable ways of determining what specific US deterrent threats were suitable or optimal. Still, it stands to reason that calibrating American retaliatory threats to the particular level of expected North Korean harms would generally offer a more prudent and promising strategy than simply posturing with various spasmodic, intermittent and across-the-board "MAD-style" threats of "total destruction."
In this connection, it could sometimes be wiser to signal Pyongyang of Washington's readiness to wage a "limited nuclear war," at least in certain specific conflict scenarios.[5]
Largely, this is because of the obviously asymmetrical nuclear capacities between these two prospective enemy states and because Washington must always seek to minimize the chances of any consequential misperceptions or strategic misunderstandings by Pyongyang.
Trump will also need to avoid exaggerating the strategic benefits of "personal attitude" in crisis-related diplomacy, and to proceed with a conscientiously fashioned analytic template. This would be a posture that could account for both the rationality and intentionality of enemy decision-makers in Pyongyang. In essence, Washington should soon approach the growing North Korean nuclear threat from a more disciplined conceptual perspective. This means factoring into any coherent US nuclear threat assessment (a) the expected rationality or irrationality of all principal decision-makers in Pyongyang; and (b) the foreseeable intentional or unintentional intra-crisis behaviors of these same adversarial decision-makers.
"Theory is a net," quotes (from the German poet, Novalis) the philosopher of science, Karl Popper,[6] and "only those who cast, can catch." In all such bewilderingly complex strategic matters, nothing can prove to be more practical than good theory. Always, in science, explanatory generality is the key to specific meanings and predictions. Having readily at hand such comprehensive policy clarifications could help guide US President Donald Trump usefully beyond otherwise vague or simply impromptu appraisals.
Under no circumstances, this president must be reminded, should such multi-sided crisis possibilities be assessed (implicitly or explicitly) as singular or ad hoc phenomena.
There is more. Going forward, capable American strategic analysts guiding the president should enhance their newly-planned nuclear investigations by first identifying the basic distinctions between (a) intentional or deliberate nuclear war, and (b) unintentional or inadvertent nuclear war. The derivative risks resulting from these (at least) four different types of possible nuclear conflict are apt to vary considerably. Those American analysts who might remain too completely focused exclusively upon a deliberate nuclear war scenario could too-casually underestimate an even more salient nuclear threat to the United States.
This is the increasingly plausible threat of unintentional or inadvertent nuclear war.
One additional conceptual distinction must now be mentioned and inserted into any US analytic scenario "mix." This is the subtle but still serious difference between an inadvertent nuclear war and an accidental nuclear war. To wit, any accidental nuclear war would have to be inadvertent; conversely, however, there could be certain determinable forms of inadvertent nuclear war that would not necessarily be accidental.
Most critical in this connection are various significant errors in calculation committed by one or both sides – that is, more-or-less reciprocal mistakes that could lead directly and inexorably to a genuine nuclear conflict. Here, the most blatant example would concern assorted misjudgments of enemy intent or capacity that might somehow emerge during the course of any one crisis escalation. Such misjudgments would likely stem from an expectedly mutual search for strategic advantage occurring sometime during a competition in nuclear risk-taking.
In more expressly strategic parlance, this would suggest a more-or-less traditional search for "escalation dominance" in extremis atomicum.
There would then also need to be various related judgments concerning expectations of rationality and irrationality within each affected country's core decision-making structure. One potential source of unintentional or inadvertent nuclear war could be a failed strategy of "pretended irrationality." A posturing American president who had too "successfully" convinced enemy counterparts of his own irrationality could thereby spark an otherwise-avoidable enemy preemption.
"Played" in the other direction, an American president who had begun to take very seriously Kim Jung Un's presumed unpredictability could sometime be frightened into striking first himself. In this alternate case, Washington would become the preempting party that might then claim legality for its allegedly defensive first-strike. In any such "dicey" circumstances, those US strategists charged with fashioning an optimal strategic posture would do well to recall Carl von Clausewitz's oft-quoted warning (in On War) concerning "friction."
This "Clausewitzian" property represents the unerringly vital difference between "war on paper" and "war as it actually is." It's not a distinction readily determinable by any presidential "attitude."
It is also possible, amid such chess-like strategic dialectics, that the first "game" might end not with an enemy preemption, but instead with Washington deciding to "preempt the preemption." Here, US president Trump, sensing the too-great "success" of his own pretended irrationality, might quickly foresee Kim's consequent insecurity, and then (maybe even quite rationally) decide to "strike first before the enemy strikes first."
If this game were played in the other direction, it might sometime end not with a US preemption generated by compelling fears of enemy irrationality, but rather with an enemy first-strike intended to preempt a then-anticipated American preemption. In any event, implementing long-term successful nuclear deterrence between Washington and Pyongyang would be in the best interests of both parties. US President Donald Trump now has a distinct opportunity to make calculable progress on the North Korean nuclear problem, but only if he can finally get beyond the patently futile hope of eliciting enemy "denuclearization."
It follows, plainly and incontestably, that the best use for American nuclear weapons in any ongoing US-North Korea negotiation will be as elements of dissuasion or persuasion, and not as actual weapons of war. In this regard, the key underlying principle goes back even before the advent of any nuclear weapons. Remembering the ancient Chinese strategist Sun-Tzu in his On War (Chapter 3, "Planning Offensives"): "Subjugating the enemy's army without fighting is the true pinnacle of excellence."
For Donald Trump, there can be no more timely or primary principle of diplomacy with Kim Jung Un. Recalling also ancient Greek historian Thucydides, a US presidential knowledge of history ought soon obtain more conspicuous pride of place. Apropos of such an always vital knowledge, basing US national security policies upon vague "hopes" would quickly become a too-grievously "expensive commodity."

---
[1] It goes without saying that the benefits of such creation would likely "spill over" into the wider world of strategic planning and and diplomacy, thereby reducing the risks of certain types of war in other parts of the globe. For example, one plausible effect would be a corollary reduction of nuclear risk between Israel and its various enemies in the Middle East. See, by this author, Louis René Beres, https://besacenter.org/wp-content/uploads/2017/03/427-Trump-North-Korea-Israel-Nuclear-Strategy-Beres-final.pdf
[2] Nonetheless, we are presently living in a diplomatic world that could accurately be termed "Cold War II." This second Cold War will inevitably provide the broad structural context for whatever actually transpires between the United States and North Korea. On this particular context, by this author, see: Louis René Beres, https://besacenter.org/wp-content/uploads/2019/07/162-MONOGRAPH-Beres-Israeli-Nuclear-Deterrence-CORRECTED-NEW.pdf
[3] This calls to mind, of course, what the ancient Greek philosophers and playwrights called "hubris."
[4] One of these increasingly serious challenges will be the prospect of certain third-party hacking interventions, that is, intrusions by another state or sub-state actor (terrorist organization) intended to "catalyze" a nuclear war between the United States and North Korea. Indeed, in some conceivable scenarios, the pertinent hacking aggressor could even be a pure "mercenary" hired by a state and/or terrorist group.
[5] Several of the author's early books deal very specifically with aspects of a limited nuclear war scenario. See, for example, Louis René Beres, The Management of World Power: A Theoretical Analysis (1973); Louis René Beres, Terrorism and Global Security: The Nuclear Threat (1979); Louis René Beres, Apocalypse: Nuclear Catastrophe in World Politics (1980); Louis René Beres, Mimicking Sisyphus: America's Countervailing Nuclear Strategy (1983); and Louis René Beres, Security or Armageddon: Israel's Nuclear Strategy (1986).
[6] See Popper's classic, The Logic of Scientific Discovery (1959).
Foreign Troops withdrawal at a faster pace from Afghanistan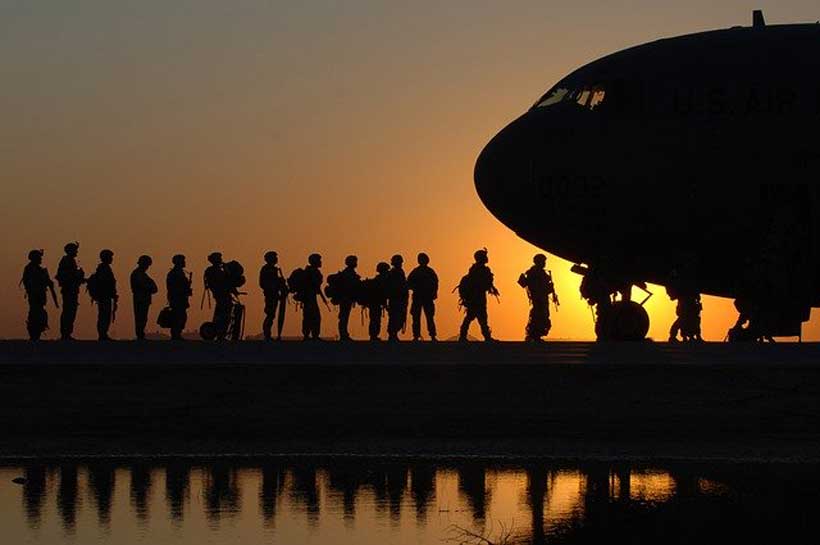 The US is withdrawing troops at a faster pace than expected. It has been reported that almost half of the remaining forces have already been evacuated. It might be a part of the US strategy. Only time will explain it well. The US is handing over some crucial posts to Afghan Government Forces like the essential Bagram Air Base. Afghan Army was created by Americans, trained by Americans, equipped by Americans, and considered loyal with American. Their task was to obey American orders, protect American interests, and counter the Taliban.
The Taliban's offensive against the Afghan forces has witnessed a sharp increase in diverse parts of more than twenty provinces of Afghanistan. The Taliban even attacked Mihtarlam – the 16th largest city in the Laghman province – which has been a comparatively quiet and calm city in the last few years. As a result of the Taliban's current encounters, innocent Afghans have become refugees in different parts of the country. Their next destination may be Kabul and they are capable of taking over Kabul conveniently.
As a matter of fact, the Afghan Governments of President Ashraf Ghani or Hamid Karzai were not legitimate Afghan-owned Governments; they were created by Americans and served Americans as puppet Governments. The natural pillars of the power were the Taliban. American took control from the Taliban in 2001, and they negotiated the troop's withdrawal with the Taliban directly, without involving President Ashraf Ghani's Government initially. American knows that Taliban are the real owners of Afghanistan and should rule their country in post withdrawl era. Americans acknowledged the potential and supremacy of the Taliban. President Ashraf Gahni or Hamid Karzai has no roots or public support in Afghanistan and will have no role in the future political setup in the post-withdrawal era.
Taliban are well-educated people, having good knowledge of Economics, Science & Technology, Industry, Agriculture, International relations and politics, and in-depth understanding of religions. They ruled the country in 1994-2001 successfully. Their era was one of the most peaceful eras in the recent history of Afghanistan.
Just like any defeating army, the US is trying to harm Afghanistan as much as possible, and destroying its weapons and war machinery at an estimated worth of US Dollars 80 Billion, and destroying ammunition depots, Infrastructures, and all-important places, before the surrender, creating a tough time for Taliban to reconstruct the war-torn country. Even the US is deliberately pushing Afghanistan towards chaos and civil war-like never-ending trobles.
Desperate, Afghan President Ashraf Ghani complained about American disloyalty in his interview with Der Spiegel on May 14, 2021. Displaying a feeling of betrayal and helplessness, President ashraf Ghani is blaming Pakistan. However, Pakistan's positive role in bringing the Taliban to negotiating table in Doha is widely admired by the US and International community.
Similarly, in his interview with Der Spiegel on May 22, 2021, former Afghan president Hamid Karzai has also taken a tough stance on Pakistan and blamed Islamabad for its alleged link with and support to the Taliban. However, he also indirectly gave the message that the United States would not want peace in Afghanistan. At the same time, he has expressed high hopes "for the so-called Troika Plus, a diplomatic initiative launched by Russia which also includes China and the United States." In response to the very first question about the Taliban, Karzai says that "I realized early into my tenure as president that this war is not our conflict and we Afghans are just being used against each other" by external forces.
However, it was the people of Afghanistan who suffered the four decades of prolonged war. It seems their sufferings are reaching an end. All the neighboring countries also suffered due to the Afghan war, and it is time for all neighboring countries to support Afghan reconstruction. China is already willing to assist in reconstructing Afghanistan under its mega initiative BRI. Pakistan, Iran, Central Asia, and Russia may also outreach Afghanistan and play a positive role in rebuilding Afghanistan.
A stable and peaceful Afghanistan will be beneficial for all its neighbors and the whole region. Let's hope for the best, with our best struggles.
What position would Russia take in case of an armed conflict between China and US?
China and Russia have seen increasing interactions and closer bonds as they face amid US pressure. The trilateral relations of China, Russia and the US are of great significance in the international order. Ahead of the upcoming Putin-Biden summit, Global Times reporters Xie Wenting and Bai Yunyi (GT) interviewed Russian Ambassador to China Andrey Denisov (Denisov) on a range of issues including bilateral and trilateral relations, COVID-19, and many others.

GT: Russian President Vladimir Putin and US President Joe Biden will meet in Geneva on June 16. What are your expectations for the meeting? How do you evaluate the possibility of improvement in Russia-US relations during Biden's presidency?

Denisov: We are realists. We do not expect impossible outcomes. We welcome any measures that reduce tensions and competition, but we are very cautious about what we can expect from the Russian-American relations, especially in the context of the very tense relations between the two countries. The Geneva summit, the first meeting between the two leaders since Biden took office, is less likely to resolve important issues between the two countries. A better outcome, though, is that it sets the conditions for resolving problems in the future.

GT: Some analysts suggest the Biden administration may take measures to ease tensions with Russia in order to concentrate on dealing with China. Will this strategy alienate Russia from China and draw it closer to the US?

Denisov: This view is too short-sighted. It can't happen. I think we're smarter than what the Americans think.

GT: Russian Foreign Minister Sergei Lavrov visited China after the China-US meeting in Anchorage, while China's top diplomat Yang Jiechi visited Moscow after a Russia-US foreign ministers' meeting. Was the timing of these two visits deliberately arranged? What signal did this send?

Denisov: As for the timing, it was purely coincidental that the two visits followed the high-level talks between China and the US in Anchorage and between Russia and the US in Iceland. It takes time and technical preparation to arrange a visit at the level of foreign minister and above.

When Russia was preparing for Russian Foreign Minister Sergei Lavrov's visit to China, it was not aware that senior diplomats from China and the US would meet in Anchorage. The same goes for Director Yang Jiechi's visit to Russia.

But it is a good thing that these two diplomatic interactions came on the heels of Russia and China's conversations with the US. It will give senior diplomats from both countries an opportunity to have an in-depth discussion on what has happened in previous meetings between China and the US and between Russia and the US.

GT: Do Russia and China coordinate and communicate with each other on their stance toward the US?

Denisov: A principle in international political exchanges is that the question of an absent third party should not be discussed in the exchanges. However, this principle is almost never observed. A case in point is US President Biden's trip to the UK for the G7 summit. Although Chinese representatives will not be present at the meeting and will not be able to express their positions, the US has announced that it will discuss its policy toward China with its European Allies.

In this context, the US topic certainly occupies a place on the agenda of the meeting between senior Chinese and Russian diplomats. Although the last two visits were short and had limited agendas, the two sides discussed in great detail a range of topics, including some of the most pressing and acute issues in the current international situation. As a matter of fact, there is no content or topic that should be avoided in the political dialogue between Russia and China.

GT: Competition and confrontation between China and the US are escalating. If one day an armed conflict between China and the US happens, what position would Russia take?

Denisov: There will be no answer to this question because I am convinced that there will be no armed conflict between China and the US, just as there will be no armed conflict between Russia and the US, because such a conflict would exterminate all mankind, and then there would be no point in taking sides. However, if you are asking about the judgment of the international situation and major issues, then Russia's position is clearly much closer to China's.

In recent years, the US has imposed sanctions both on Russia and China. Although the areas and content of the US' dissatisfaction towards Russia and China are different, the goal of the US is the same: to crush the competitor. We clearly cannot accept such an attitude from the US. We hope that the Russia-China-US "tripod" will keep balance.

GT: As far as you know, is President Putin scheduled to visit China this year?
Denisov: There is a possibility. Our high-level exchange plan includes President Putin's visit to China, and both sides have the willingness. China hopes that President Putin will be the first foreign leader to visit China after the pandemic, while Russia also hopes that President Putin's first state visit after the outbreak will be arranged in China. However, whether this arrangement can be implemented will depend on how the pandemic develops. While the two leaders have not exchanged visits in the past two years, they have spoken on the phone a number of times and the exchanges between Russia and China at the highest levels remain close.

GT: President Putin recently said that the US was wrong to think that it was "powerful enough" to get away with threatening other countries; a mistake, he said, that led to the downfall of the former Soviet Union. How do you comprehend President Putin's words?

Denisov: Anyone who follows current US policy will not disagree with President Putin's views. My interpretation of this statement is that President Putin is not "foreseeing" that the US will suffer the same fate as the Soviet Union, nor is he saying that he would like to see that happen. He is simply warning that the risk is real, but many American political elites have not yet fully realized it.

We cannot imagine a world without the US today. The US plays a big role in terms of economy, culture, science and technology, and we cannot deny this fact. But on the other hand, the US needs to recognize that it is not the only country in the world, and it needs to take into account and respect the realities and goals of other countries. President Putin is reminding the US not to make the mistakes of the Soviet Union.

GT: Many reports in recent years have said the US and some other countries are trying to incite a "color revolution" in China and Russia to create a "zone of geopolitical instability" around the two countries. Under the current situation, what kind of cooperation can China and Russia carry out?

Denisov: That is why I said that Russia and China are highly consistent in their judgment of the international situation. Both Russia and China follow the principle of non-interference in another country's internal affairs, but in the past few years, we have witnessed "color revolutions" in many countries, which have led to domestic chaos. These "color revolutions" certainly have some domestic or local reasons, but they are always accompanied by the presence of external forces.

In order to prevent a third country from interfering in the internal affairs of Russia and China, we should jointly work out some "rules of the game," especially in the field of information security so as to prevent some countries with more advanced information technology from imposing their own political agenda on other countries through IT technology.

Recently, a new phenomenon has emerged in the world: hybrid warfare (Hybrid warfare refers to a new type of warfare in the 21st century, which involves a mixture of conventional and non-conventional means. It is considered to be more varied and covert than conventional warfare.) In this field, the international community does not yet have the corresponding rules to restrict or regulate it.

On the one hand, it is the common concern of Russia and China to prevent their country from being invaded by bad information from the outside world. On the other hand, although Russia and China have sufficient capabilities and strong information networks to resist a "color revolution," some countries and regions around us are relatively vulnerable in this regard, and external interference at the information level could easily lead to large-scale domestic turbulence [in these countries and regions]. The recent events in Belarus and what happened in Hong Kong two years ago are two examples. Therefore, to formulate common rules against "color revolutions" is also for the stability of more countries and regions.

GT: The West has been hyping up Russia and China's so-called "vaccine diplomacy," claiming that the two countries are pursuing geopolitical interests through vaccine exports and aid. What do you think of it?

Denisov: China has so far provided at least 350 million doses of COVID-19 vaccines overseas. Russia's vaccines exports are not as large as China's, but it has cooperated with 66 countries. San Marino has beaten the outbreak with Russia's Sputnik V vaccine. At the same time, Russia has also taken the lead in proposing providing relevant technology and process support to help countries produce vaccines. So far, we have discussed relevant cooperation with 25 medical manufacturers from 14 countries.

We believe that the issue of mutual recognition of vaccines can best be addressed through multilateral platforms such as the WHO, as both Russian and Chinese vaccines may face difficulties in getting recognition. This is not because of the quality or protection rates of the Russian and Chinese vaccines, but because some competitors are very reluctant to allow Russian and Chinese vaccines into other countries. They will create artificial obstacles, including using political tools and unfair methods to achieve their goals.

The suggestion of "vaccine diplomacy" is one of the obstacles they create. Some countries with "vaccine nationalism" give priority to vaccinating their own population, which is fine in itself, but at the same time they are trying to discredit other countries' vaccine aid and prevent Chinese and Russian vaccines from entering the market of third countries. This is not right. It is a typical "vaccine politicization."

Besides, the West's fabrication about the virus being a result of "a Chinese laboratory leak" is a classic case of politicizing the pandemic. These are very unfair political statements, which are not the right way to address this devastating human crisis.

GT: Some analysts said that there are considerable differences in terms of China and Russia's strategic interests: Russia has little interest in maintaining the existing international order, while China, as the biggest beneficiary of the existing international order, only seeks to adjust the order. What do you think of this view?

Denisov: This is a rather black and white statement. It is also a radical view of the international situation, as if there are only two options before us: preserving the existing international order or destroying it. But that's not the case.

Russia and China are both world powers and have their own interests at the global and regional levels. These interests cannot be identical in all cases. But on the whole, the international interests of Russia and China are the same, so our positions on most international issues are the same. The most obvious example is how we vote in the United Nations Security Council: Russia and China often cast the same vote at the Security Council.

The international order is not static. It not only evolves, but has recently accelerated its evolution. The international order needs reform to make it more responsive to today's realities, but we cannot change it in a one-size-fits-all way.

I do not agree with the view that Russia and China have very different views on the reform of the international order. In fact, our positions on some of the most important issues are the same, and we just have different views on some specific details.

GT: This year marks the 100th anniversary of the founding of the Communist Party of China. How do you evaluate the CPC's performance and achievements?
Denisov: Since I was assigned to work in Beijing in the 1970s, I have witnessed firsthand China's development over the past half century. I have seen with my own eyes the tremendous progress China has made under the leadership of the Communist Party of China, and I have seen that China's success is the result of many important factors, such as the dedication and diligence of the Chinese people and the right decisions made by the leadership.

For the CPC, this year is very important. In the future, China will welcome another 100th anniversary: the 100th anniversary of the founding of the People's Republic of China. Perhaps I will be too old to see what China will look like when that day comes. But I can imagine it, because in the course of China's development over the past 50 years, I have seen the support of the Chinese people for the CPC as the ruling party, and the crucial role it has played in China's achievements. I know there is a song in China that many people sing: "Without the CPC, there would be no New China." I also want to take this opportunity to congratulate all Chinese people.

GT: We learned that some Russian people have negative views of the Soviet Communist Party and the Soviet Union. Will they equate the CPC with the Soviet Communist Party? Will this affect the current China-Russia relations?

Denisov: Russia is a big country and its people hold diverse views. I think the number of Russians who feel this way is very small.

Indeed, the Soviet era had many flaws, but people of my generation who actually experienced this era could still think of many good and positive things when they look back. Our poll shows that the negative attitude toward the Soviet Union is largely held by young Russians who were born after the collapse of the Soviet Union and did not see it firsthand. They had a different attitude towards the Communist Party, but it was more about the Soviet Union's own policies at that time, not the Communist Party in general.

I also want to share a personal view on the Soviet Union and the Communist Party: If a figure like Deng Xiaoping had appeared in the Soviet Communist Party at that time, perhaps the course of our country's development would have changed forever.

Recently, there have been a lot of discussions about state and different social systems. We have also found that the responses of different countries to the COVID-19 pandemic reflect the strengths and weaknesses of different social development models. Today, the Chinese economy has emerged from the crisis caused by last year's epidemic, demonstrating the great vitality of China's development model. This reminds me of a Chinese saying: Practice is the sole criterion for testing truth.
from our partner RIAC
"African Lion 2021": More than military Show between the US and Morocco
On June 7th, 2021, Morocco, the US, and NATO began joint African Lion maritime drills in the Atlantic Ocean south of Morocco. This is a unique military cooperation between the three powers, which are all regarded by the United States as either competitors or antagonists. The military exercise is translated variously, yet, given that the Southern aquatic of Laayoune is an extremely sensitive waterway as it bonds to the Strait of Tarfaya, through which about a fifth of Africa's trade corridors, the drill serves to sustain stability and security of the Moroccan Southern region along with a message that Spain is not isolated in foreign affairs. Last year, the Spanish meaninglessly pulled itself out of the "USAFRICOM" deal. Since then, waters around Spain have become the question of regional tension as the Kingdom of Morocco has cautioned the Spanish government against involving in Morocco's Demarcation Maritimes borders.
However, as the strongest ally of Morocco, the US has sent two warships from its Atlantic Fleet – a frigate, a tanker, and a rescue tug boat – to take part in the drills, which were the first time being held in such a format. Now as America's most important strategic partner, Morocco was also determined to join the training, as it sent a guided-missile warship to the naval drill. True, joint military exercise is a routine exchange with any other state since it is in line with related international laws and practices. But the naval drill of Morocco, the US, and NATO are sure to go beyond the normal military cooperation. Although Morocco claims that joint drill has no connection with regional situation, it affirms the will and capability of the three powers to jointly safeguard the peace and maritime security of the region and beyond.
As the two biggest alliance drills, The US and Morocco's participation in the joint naval drills certainly signifies the emergence of a so-called "counter-coalition" to encounter the one that Algeria envisages creating. Some pessimistic reactions in Northern Africa have already tried to interpret this collaborative naval drill and their potential military cooperation as a threat to the peace and the balance of power in the region. The U.S. and its allies regularly hold joint military exercises all across the African continent at any given time of the year, which thus makes such occasions commonplace. Yet, France has mostly failed to promote peace and stability according to the resolution first approved by the United Nations Security Council (UNSC). Most other states, except Spain, have shown their interests or even worries that their participation in the U.S.-led Military drills in north Africa will only heighten tensions in this geo-strategic region.
In addition, the US and Morocco's military ties with France and Israel are not secret anymore, with America opening up a Training drone institute in Morocco, Morocco making an arms deal with Washington following The Agency of International Trade (ITA) reported that sales of military equipment to Morocco more than doubled in 2020, and both US and Morocco having participated in important arms exhibition in the UAE. Due to this fact, it is bizarre to describe triple drills as being aimed against any third party when they're really just a drill of what could be described as a part of normal diplomacy, or put it simply, seeking diplomatic means through military ends.
Strategically, Washington and Rabat are keen to prove their pragmatic strategy to the North African region en bloc. For instance, the US and Morocco are not taking sides in the African Sahel conflict. This pragmatic approach could even be moving to a higher level whenever Morocco and the US can urge all parties to resolve their disputes through political means instead of military ones. However, for Washington and Rabat, the probable risks are both geopolitical and economic because of the presumed division of labor between the two ally powers under which the US takes responsibility for security in the region while Morocco focuses on socio-economic development.
It is highlighted that the US and Morocco both intend to show their sophisticated strategic partnership to a larger scope. First of all, the triple maritime drills which are labeled "African Lion Marine Security " are aimed at implementing regional order and stability. To this end, the entire exercises are being practiced: reducing terrorism perils, carrying out rescue operations, and defense against attacks from pirates. The purpose is to learn as much as possible, mainly when it comes to preserving the security of international trade in the strategic regions and share experience in maritime rescue operations. Consequently, the US, Morocco, and NATO have a responsibility to ensure the strategic regions together. Secondly, the joint naval drills secure regional stability and order persistent with the United Nations' 1982 Convention. As per this convention and as signatories, the US and Morocco refused the unilateralist concept that France is the region's dominant maritime power. Freedom of Navigation also mentions vessels flying the flag of these sovereign states shall not suffer meddling from the French navy at will. Therefore, under the 1982 Convention and Freedom of Navigation, NATO non-ally can hold naval drills with the US and Morocco for exercising cross-military coordination, willingness, and information gathering. As Moroccan News outlet argues that the drills likewise adhere to International Maritime Law by helping Morocco, the US, and NATO to enhance collective security. It's completely fine with the three powers regarding the joint drills as core to their security, mainly if it uses maritime forces to prevent terrorism risks.
To sum up, Morocco and the US can have their formalities for the drills as well. France quests to repel Washington's maximum pressure attitude. The maritime exercise helps to argue that the U.S. has failed to isolate France strategically and militarily among Maghreb region. The Kingdom of Morocco says regional security has to be provided by regional states. The joint drills are in line with the concept of North Africa's collective security efforts. Additionally, Morocco depends on regional stability for its geostrategic approach. In truth, France has failed to apply a binary containment policy toward Morocco and US in the North Africa. It couldn't hinder the presence and influence of their maritime forces towards the region. Then again, the joint naval exercises bring a counterbalance against the U.S. with a message that in the year of "African Lion" 2021 and beyond, the three powers would be able to involve in similar joint military drills if need to be.