Promoting Resilient Infrastructure in Nepal
A team of experts from the Government of Nepal, development partners and Japan's energy sector will be meeting in Kathmandu to promote resilient infrastructure in Nepal in the context of the country's vulnerabilities to natural disasters. The workshop on Enhancing Climate/Disaster-Resilient Renewable Energy Distributed Power System in Nepal is being organized on 10-11 September by the World Bank in partnership with the Government of Nepal and Alternative Energy Promotion Center (AEPC) while benefiting from Japanese expertise in the area.
"Nepal is one of the most vulnerable countries to disasters and the impact of global climate change. The workshop is a valuable opportunity to support both the public and private sector to provide resilient and sustainable energy services in Nepal, especially successful off-grid electricity supply," said Faris H. Hadad-Zervos, the World Bank Country Manager for Nepal.
The workshop will bring together the expertise, technologies and best practices on resilient distributed generation from experts from Japan with the support of "Japan-World Bank Program for Mainstreaming Disaster Risk Management in Developing Countries," funded by the Government of Japan and managed by Global Facility for Disaster Reduction and Recovery.
The workshop will discuss disaster resilient micro-grid systems in Sendai and Maldives, building resilient infrastructure through Public-Private Partnerships (PPPs), and the future perspectives of resilient mini-grid system development.
"This is a unique platform for Nepali and Japanese experts to share learnings and find common solutions to build resilient infrastructure and disaster risk management in Nepal to benefit the country and its stakeholders," said Eriko Ichikawa, Jr Professional Officer of the World Bank.
The workshop will ultimately aim to support the country's effort to improve the overall energy supply situation, through mobilizing energy-service companies to increase capacity of renewable energy mini-grids, capturing private sector efficiencies through PPPs, and encouraging private capital investment in the sector, while ensuring the resiliency of the system.
Day-to-Day Items That Can Now Be Made Using Organic Materials Only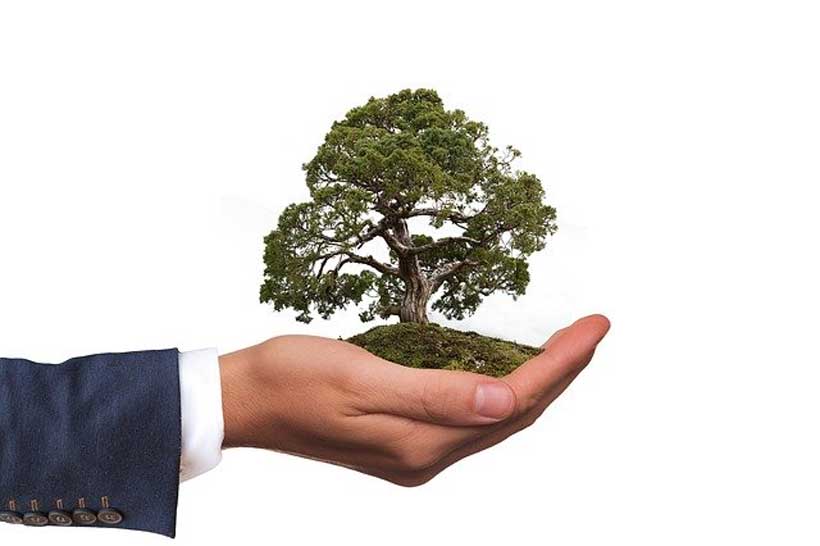 According to Pew Research, three-quarters of Americans are concerned about helping improve the environment.
Unfortunately, only one in every five Americans is willing to make an effort to change the negative impacts on the environment. A key reason why this happens is that many people have no idea where to start when it comes to saving mother earth.
But did you know that you can be a hero just by substituting some of the essential items you use every day with eco-friendly products?
If you're in doubt, here are a few everyday items that you can substitute with their readily available eco-friendly alternatives.
1. Reusable Grocery Bags
Every year, an estimated one trillion plastic bags are used globally. Most of these bags end up in landfills, where they take forever to degrade.
The use of recyclable shopping bags can reduce plastic waste without any inconvenience on your part.
Unlike bags made of plastics, recyclable shopping bags decay faster due to their natural materials. Being reusable also means that they last longer, which allows you to save money while saving the planet.
2. Eco-friendly Blankets
A comfortable blanket that also eases your ecological footprint worries will definitely give you a restful sleep. Blankets made from recyclable materials are environmentally friendly as they leave less synthetic fillings on the environment.
A eucalyptus blanket is an excellent example of an eco-friendly blanket. These blankets are soft and subtle as they are made from a poly microfiber eucalyptus fabric. Unlike traditional beddings, these eco-friendly blankets keep 50 plastic bottles away from landfills, which is much better for our environment.
3. Recyclable Straws
Americans use around 500 million plastic straws daily, which could fill over 125 million school buses.
Plastic straws are made from polypropylene, a dangerous chemical that affects our estrogen levels. The disposal of these plastic straws also introduces a lot of plastic waste into the environment.
But you can now substitute your plastic straws with reusable stainless steel straws. We also have biodegradable straws in the market made from bamboo sticks, coconut leaves, cane stems, or paper.
4. Organic Sanitary Towels
Organic sanitary pads are gaining popularity as they have fewer dyes and additives. They are also safer for the environment.
Most of the modern sanitary pads are manufactured from plastics or their derivatives. Many women complain that the perfumes and dyes often used on these pads irritate their sensitive skin. This has seen many ladies turn to organic pads.
Most organic sanitary towels are made of cotton cloth or other biodegradable materials. Others have a plant-based top material made of wood, bamboo, jute palp, or banana. This makes them free from plastics, chemical dyes, and additives. The organic sanitary towels are also more comfortable, sustainable, and eco-friendly. Since they are also compostable, their use reduces the accumulation of plastic waste on our planet.
The above four products are just a few examples of eco-friendly alternatives that you can use in place of everyday products. If you haven't started saving our planet, now would be a good time to start!
COVID-19 leads to massive labour income losses worldwide
The devastating losses in working hours caused by the COVID-19 pandemic have brought a "massive" drop in labour income for workers around the world, says the International Labour Organization (ILO) in its latest assessment of the effects of the pandemic on the world of work.

Global labour income is estimated to have declined by 10.7 per cent, or US$ 3.5 trillion, in the first three quarters of 2020, compared with the same period in 2019. This figure excludes income support provided through government measures.

The biggest drop was in lower-middle income countries, where the labour income losses reached 15.1 per cent, with the Americas the hardest hit region at 12.1 per cent.

The ILO Monitor: COVID-19 and the world of work. Sixth edition , says that the global working hour losses in the first nine months of 2020 have been "considerably larger" than estimated in the previous edition of the Monitor (issued on 30 June).

For example, the revised estimate of global working time lost in the second quarter (Q2) of this year (when compared to Q4 2019) is for 17.3 per cent, equivalent to 495 million full time equivalent (FTE) jobs (based on a 48-hour working week), whereas the earlier estimate was for 14 per cent, or 400 million FTE jobs. In Q3 of 2020, global working hour losses of 12.1 per cent (345 million FTE jobs) are expected.

The outlook for Q4 has worsened significantly since the last ILO Monitor was issued. Under the ILO's baseline scenario, global working-hour losses are now projected to amount to 8.6 per cent in the fourth quarter of 2020 (compared to Q4 2019), which corresponds to 245 million FTE jobs. This is an increase from the ILO's previous estimate of 4.9 per cent or 140 million FTE jobs.

One reason for the estimated increases in working-hour losses is that workers in developing and emerging economies, especially those in informal employment, have been much more affected than by past crises, the Monitor says.

It also notes that the drop in employment is more attributable to inactivity than to unemployment, with important policy implications.

While many stringent workplace closures have been relaxed, there are significant variations between regions. 94 per cent of workers are still in countries with some sort of workplace restrictions, and 32 per cent are in countries with closures for all but essential workplaces.
The "fiscal stimulus gap"
The 6th edition of the Monitor also looks at the effectiveness of fiscal stimulus in alleviating labour market impacts.

In countries where sufficient data is available for Q2 2020, a clear correlation exists, showing that the larger the fiscal stimulus (as a percentage of GDP), the lower the working-hour losses. In that period, globally an additional fiscal stimulus of 1 per cent of annual GDP would have reduced working hour losses by a further 0.8 per cent.

However, while fiscal stimulus packages have played a significant role in supporting economic activity and reducing the fall in working hours, they have been concentrated in high-income countries, as emerging and developing economies have limited capacity to finance such measures.
In order for developing countries to reach the same ratio of stimulus to working hours lost as in high-income countries, they would need to inject a further US$982 billion (US$45 billion in low-income countries and US$937 billion in lower-middle income countries). The stimulus gap for low income countries amounts to less than 1 per cent of the total value of the fiscal stimulus packages announced by high-income countries.

This huge "fiscal stimulus gap" is even more worrying in the light of the social protection deficits in many developing countries. Moreover, some of these countries have also had to redirect public spending from other objectives in order to mitigate the labour market impact of the crisis.

"Just as we need to redouble our efforts to beat the virus, so we need to act urgently and at scale to overcome its economic, social and employment impacts. That includes sustaining support for jobs, businesses and incomes," said ILO Director-General Guy Ryder.

"As the United Nations General Assembly gathers in New York, there is pressing need for the international community to set out a global strategy for recovery through dialogue, cooperation and solidarity. No group, country or region can beat this crisis alone," he concluded.
ADB Endorses New 5-Year Partnership Strategy for Indonesia
The Asian Development Bank (ADB) has endorsed its 2020–2024 country partnership strategy for Indonesia, which aims to apply the full range of financing support and solutions through ADB's sovereign and private sector operations along with its technical know-how to catalyze investments, support sustainable development, and help Indonesia emerge stronger from the coronavirus disease (COVID-19) pandemic.
Under the new 5-year strategy, ADB's operations will support Indonesia's inclusive economic development by focusing on people's well-being, economic competitiveness, and the environment, while helping build resilience to climate and disaster risks. ADB will assist in Indonesia's sustainable economic development, including the recovery from the pandemic, with a combination of knowledge, technical, and financial support. ADB will help the country strengthen health care, expand social protection, improve education quality, and develop job skills. ADB will also focus on helping Indonesia tackle climate change and strengthen its resilience to natural disasters and pandemics.
"The new country partnership strategy reflects ADB's strong commitment to helping Indonesia boost human development, improve economic competitiveness, and address disaster risks and environmental sustainability amid heightened economic uncertainty and rising global threats such as climate change," said ADB President Masatsugu Asakawa. "The strategy provides a flexible and agile framework for ADB to help Indonesia incorporate green recovery and other sustainable development options, while strengthening domestic resource mobilization to support the recovery efforts."
The strategy is in line with Indonesia's National Medium-Term Development Plan (2020–2024) and the United Nations' Sustainable Development Goals, as well as ADB's corporate strategy, Strategy 2030.
"We greatly appreciate ADB's strong support to Indonesia over the years, especially the speed of ADB's response and its close and active engagement with the government during the COVID-19 pandemic," said Indonesian Finance Minister Sri Mulyani Indrawati. "The partnership strategy positions ADB as a key partner with innovative solutions to complex development challenges. We welcome ADB's focus on inclusive, competitive, and sustainable development."
Indonesia's economy is the largest in Southeast Asia and the seventh-largest in the world based on purchasing power. The country had reduced poverty by more than half, to 9.2% of the national poverty line in 2019 from 23.4% in 1999, but the progress risks being reversed due to the adverse impacts of the COVID-19 pandemic.
Under the strategy, ADB's sovereign lending to Indonesia is expected to reach $10.7 billion from 2020–2023. ADB's country operations will seek to mobilize cofinancing from development partners and investments from the private sector to help the government better respond to increased demand for financial support amid the COVID-19 pandemic. For example, ADB will help Indonesia attract more private investments in infrastructure by promoting public-private partnerships. It will support Indonesia's Sustainable Development Goals by designing innovative financing options to reduce the risk of green infrastructure projects and help catalyze private sector investments.
ADB will support the government's policy reforms in human capital development, financial inclusion, business competitiveness, state-owned enterprises, and clean energy. ADB operations will seek to advance gender equality in Indonesia by helping increase women's access to formal banking, strengthen female graduates' job skills, and boost their participation in rural enterprises, as well as improving vulnerable women's access to social services.
ADB-financed projects will promote the application of technology to maximize development results. For example, ADB will use big data analytics, financial technologies, satellite technology for flood mapping and urban development, smart grids and meters, geothermal, waste-to-energy, and remote-sensing systems to improve survey and planning processes for the operation and maintenance of assets.
ADB's country program will support Indonesia's participation in regional cooperation and its contribution to the development of regional public goods. That includes international tax cooperation, trilateral cooperation with the Pacific island countries on ocean health, partnership on reducing environmental pollution from plastic waste, and the development of border towns to reduce regional disparities.