Mitigating climate change in Asia-Pacific could give region an economic boost
The urgent need to move towards a low carbon economy and build resilience, would not only mitigate the worst impacts of climate change in the Asia-Pacific, but also lift the region economically, according to the body overseeing the UN Framework Convention on Climate Change (UNFCCC).
As Asia-Pacific Climate Week (APCW 2019) wrapped up on Friday in Bangkok, a key takeaway was that long-term holistic planning would enable countries there to tap into the huge potential of renewable energy, and new technology while maximizing socio-economic benefits.
Other compelling reasons to rapidly shift to low-carbon and resilience were outlined by high-level speakers who warned that current levels of ambition to tackle climate change are putting the world on a path towards global warming of more than 3 degrees Celsius – that is double the goal of 1.5 degrees.
Participants agreed that in addition to governments, the transformation must be driven by sub-national regions and cities, the private sector and finance.
Noting that over half the global population of 1.8 billion young people live in the vast Asia-Pacific region, UNFCCC said that youth groups played an important role in the week, by engaging with participants and coving discussions on social media.
Key outcome messages will provide "important input to the Climate Action Summit convened by the UN Secretary-General on 23 September in New York", UNFCCC said in a press release, adding that "the results will also help build momentum" towards the UN Climate Change Conference (COP25) that will take place in Santiago, Chile, 2-13 December 2019.
On the table
Countries are currently designing enhanced national climate action plans under the Paris Agreement (Nationally Determined Contributions, or NDCs) and the Summit in New York will be an opportunity for governments and many climate action players to announce new plans and initiatives before the NDCs are communicated to the UN in 2020.
Climate change adaptation planning and finance were also key throughout APCW 2019, with a focus on communities and ecosystems most in need.
On building resilience to climate change, indigenous peoples from the region, academics and others, stressed the need for a mindset shift in the fight against climate change, proposing policies to help transform societies for long-term resilience.
Carbon pricing, capacity-building and regional climate finance were also discussed, with a spotlight on highly vulnerable nations.
During the week, work began on a new climate strategy for Indian Ocean Island States to access finance for priority projects.
And the UN Climate Change Secretariat is assisting 10 sub-regions involving 77 countries in Asia Pacific, Africa and Latin America and the Caribbean in preparing strategies to access scaled up climate finance.
Organized every year in Africa, Latin America and the Caribbean, as well as the Asia-Pacific, Regional Climate Weeks allow governments and other concerned parties to address the full spectrum of climate issues under one umbrella. The central aim is to bring together the public and private sectors around the common goal of addressing climate change.
APCW 2019 was organized by UNCCC in partnership with the United Nations Economic and Social Commission for Asia and the Pacific (ESCAP) and other international and regional organizations. It is the third Regional Climate Week to this year, following one in Accra, Ghana in March and in Salvador, Brazil in August.
Next year, the United Arab Emirates will host a Regional Climate Week for the Middle East and North Africa region.
Serving up sustainable food
Along with a vow to return to exercise, upping personal intake of fruit and vegetables tops the list of New Year's resolutions for many. But what if this year's resolution didn't end with the eating – and extended to reducing the amount of healthy, nutritious produce that gets trashed?
That's a commitment that the United Nations Environment Programme (UNEP) is banking on to help achieve the Sustainable Development Agenda.
Global estimates suggest that roughly one-third of food produced for human consumption is lost or wasted every year. Those 1.3 billion tons of fruits, vegetables, grains and roots are lost through spillage or spoilage in the harvest-to-market chain, or to spoilage and discard once products hit retailers and, eventually, consumers.
In a world where malnutrition is a contributing factor to roughly 45% of deaths of children under age five in developing countries, and where consumption of highly processed foods is pushing obesity rates ever higher, remaining accountable to those New Year resolutions isn't just personal – they're critical for humanity.
They are also critical for the survival of the planet. Food production, consumption and waste – and how they impact the environment – will be a key topic of discussion at this year's United Nations Environmental Assembly (UNEA-5), taking place online on 22-23 February 2021.
UNEP and partners are developing the world's most comprehensive data analysis and modelling on food waste, which will be launched at the Assembly. Titled the 'Food Waste Index', the document will be released at UNEA-5. It offers new estimates of food waste at household, retail and food service sectors at country level, and provides a methodology that enables countries to measure and track progress on Sustainable Development Goal 12.3, which aims to halve retail and consumer food waste and reduce food loss by 2030.
Food systems for the future
Agriculture and the pressure to produce cheaper, faster commodities are among the primary drivers of biodiversity loss. Resource-intensive food production that depends heavily on the use of inputs such as fertilizer, pesticides and complex irrigation and energy systems means fewer wild spaces for the other creatures we share nature with, whether it's birds, mammals, insects or microbial organisms. Meanwhile, political and economic structures are pricing farmers off their land.
"The COVID-19 pandemic revealed the obstacles and blockages in our global food system. We have a timely opportunity to build back better and redesign the way we grow, harvest, sell and eat the bounty of nature's production," said Clementine O'Connor, from UNEP's Sustainable Food Systems Programme.
Transforming our food systems will not only help restore biodiversity and habitat but can also strengthen market opportunities for smallholder farmers – many of whom are women on the road to economic self-sufficiency through sustainable production of fruit and vegetables.
A fruitful year?
At UNEA-5, the virtual convening of representatives of UN member states, the private sector, civil society, scientists and other leaders will be an opportunity to share and adopt best practices for transforming food systems. Momentum toward sustainable food production and consumption that is generated by the Assembly will be built upon going forward in 2021, with the historic first-ever UN Food Systems Summit.
The year 2021 has also been marked by the Food and Agriculture Organization of the United Nations (FAO), as the International Year of Fruits and Vegetables 2021 to highlight the role of fruits and vegetables in human nutrition, livelihoods, food security and health.
2020, one of three warmest years on record
The COVID-19 pandemic was not the only long-term crisis the world will remember from 2020. In terms of climate change, the year was also one of the three warmest on record, and rivalled 2016 for the top spot, the UN weather agency said on Wednesday.
"The confirmation by the World Meteorological Organization (WMO) that 2020 was one of the warmest years on record is yet another stark reminder of the relentless pace of climate change, which is destroying lives and livelihoods across our planet", said Secretary-General António Guterres.
He pointed out that at 1.2 degrees of warming above pre-industrial levels, the world is already witnessing unprecedented weather extremes in every region and on every continent.
"We are headed for a catastrophic temperature rise of 3 to 5 degrees Celsius this century", he warned. "Making peace with nature is the defining task of the 21st century. It must be the top priority for everyone, everywhere." 
Powerful force
La Niña, which began in late last year, is expected to continue into the early-middle part of 2021. 
"The exceptional heat of 2020 is despite a La Niña event, which has a temporary cooling effect", said WMO Secretary-General Prof. Petteri Taalas.
La Niña and El Niño effects on average global temperatures are typically strongest in the second year of the event.
"It is remarkable that temperatures in 2020 were virtually on a par with 2016, when we saw one of the strongest El Niño warming events on record", he added. "This is a clear indication that the global signal from human-induced climate change is now as powerful as the force of nature". 
The extent to which the continued cooling effects of La Niña this year may temporarily diminish the overall long-term warming trend remains to be seen. 
Following atypical patterns
WMO pointed to sustained heat and wildfires in Siberia, diminishing Arctic sea ice and record-breaking hurricanes in the Atlantic as being among the climate events that most stood out in 2020.
The UN weather agency also reminded that temperature is just one climate change indicator. Greenhouse gas concentrations, ocean heat content, global mean sea level, sea ice extent and extreme events are also factors.
Backed by science
WMO's consolidated global temperature update incorporates information from five leading international sets of data.
It also uses datasets that combine millions of meteorological and marine observations, including from satellites, with models to produce a complete reanalysis of the atmosphere.
"The combination of observations with models makes it possible to estimate temperatures at any time and in any place across the globe, even in data-sparse areas such as the polar regions", according to WMO. 
Looking to the future
The Paris Agreement aims to limit global warming to well below 2°C, preferably to 1.5°C degrees, compared to pre-industrial levels.
However, the global average temperature in 2020 had already approached the lower limit of the temperature increase that the Agreement seeks to avert.
Moreover, there is at least a one-in-five chance that the average global temperature will temporarily exceed 1.5 °C by 2024, according to WMO's Global Annual to Decadal Climate Update, led by the United Kingdom's Met Office.
The 2021 Met Office annual global temperature forecast also suggests that next year will again be one of the earth's hottest years. 
Updating its provisional December report, WMO will issue its final publication in March, which will incorporate temperature figures, information on all leading climate indicators and selected climate impacts.
Step up action and adapt to 'new climate reality'-Report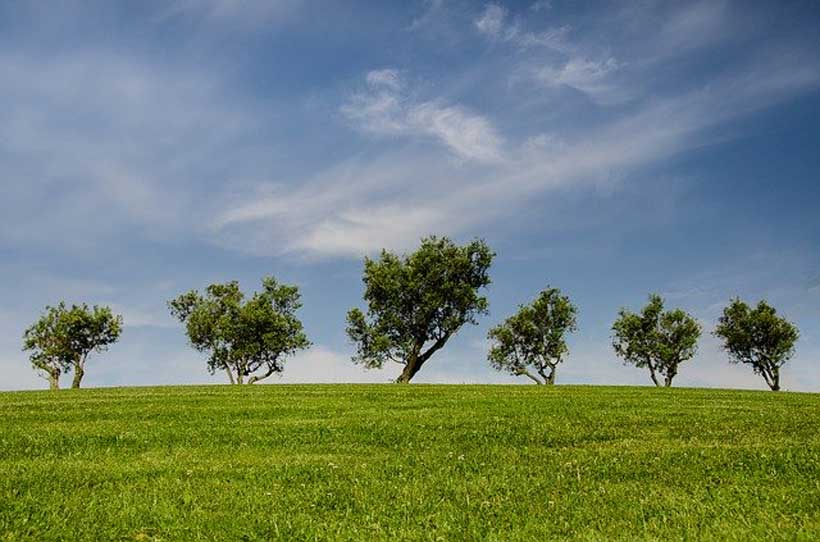 Though countries have made progress in planning for climate change adaptation, there are significant financing shortfalls in getting them to the stage where they provide real protection against droughts, floods and rising sea levels, a new UN environment report has found.
According to the 2020 Adaptation Gap Report, released on Thursday by the UN Environment Programme (UNEP), as temperatures rise and climate change impacts intensify, nations must urgently step up action to adapt to the new climate reality or face serious costs, damages and losses.
"The hard truth is that climate change is upon us," Inger Andersen, UNEP Executive Director, said in a news release announcing the findings.
"Its impacts will intensify and hit vulnerable countries and communities the hardest, even if we meet the Paris Agreement goals of holding global warming this century to well below 2 degrees Celsius and pursuing 1.5 degree Celsius."
Global commitment needed
Annual adaptation costs in developing countries are estimated at $70 billion, but the figure could reach up to $300 billion in 2030, and $500 billion in 2050. Almost three-quarters of nations have some adaptation plans in place, but financing and implementation fall "far short" of what is needed, according to the UNEP report.
Stepping up public and private finance for adaptation is, therefore, urgently needed.
"As the Secretary-General has said, we need a global commitment to put half of all global climate finance towards adaptation in the next year … this will allow a huge step up in adaptation, in everything from early warning systems to resilient water resources to nature-based solutions," Ms. Andersen added.
Adaptation is a key pillar of the Paris Agreement on Climate Change. It aims to reduce countries' and communities' vulnerability to climate change by increasing their ability to absorb impacts.
Nature-based solutions
The UNEP report also underscored the importance of nature-based solutions as low-cost options that reduce climate risks, restore and protect biodiversity, and bring benefits for communities and economies.
Its analysis of four major climate and development funds: the Global Environment Facility (GEF), the Green Climate Fund (GCF), the Adaptation Fund, and the International Climate Initiative (IKI), suggested that support for green initiatives with some element of nature-based solutions has risen over the last two decades.
Cumulative investment for climate change mitigation and adaptation projects under the four funds stands at $94 billion. However, only $12 billion was spent on nature-based solutions, a tiny fraction of total adaptation and conservation finance, it added.
Cutting emissions will reduce costs
Cutting greenhouse gas emissions will reduce the impacts and costs associated with climate change, according to the report. Achieving the 2 degrees Celsius target of the Paris Agreement could limit losses in annual growth to up to 1.6 per cent, compared to 2.2 per cent for the 3 degrees Celsius trajectory.
UNEP urged all nations to pursue the efforts outlined in its December 2020 Emissions Gap Report, which called for a green pandemic recovery and updated Nationally Determined Contributions (NDCs) that include new net-zero commitments.
"However, the world must also plan for, finance and implement climate change adaptation to support those nations least responsible for climate change but most at risk," the UN agency added.
"While the COVID-19 pandemic is expected to hit the ability of countries to adapt to climate change, investing in adaptation is a sound economic decision," it said.