The puzzle in the U.S. Democratic Party is complicated
Although polls in the United States show Joe Biden outnumbering other Democratic candidates, Biden is still concerned about the likelihood of rising US senator Bernie Sanders. Joe Biden knows very well that if Sanders and Elizabeth Warren, another Democrat candidate, ally and unite, Biden's chances of winning will be reduced.
If Bernie Sanders and Elizabeth can win Biden in Iowa and New Hampshire, then there is essentially no chance for Biden to win the next presidential election.
Some US analysts believe Trump is more afraid of Sanders (than Biden), and will surely attract more independent supporters if Sanders reaches the final stage of next year's presidential race.
Bernie Sanders, the old American senator, and one of Democratic nominees for the 2016 presidential election continues to oppose US President Donald Trump. This confrontation started at the time Trump entered the White House (by early 2017). Sanders, in one of his most recent positions against the White House, called for an end to Washington's support for Riyadh in the Yemeni war. Sanders also condemned Trump's stance on the murder of Jamal Khashoggi. At any rate, Sanders's recent position against Trump has led to the US President's concerns.
Polls recently conducted in the United States indicate Sanders' proper position among Democratic voters. Accordingly, Joe Biden and Bernie Sanders have both a good position among Democrat supporters and they both have a good chance to reach the final round of the 2020 presidential elections.
It should be remembered, however, that even if Sanders is defeated in the presidential election in 2020, he will remain one of Donald Trump's main opponents in Congress.
Bernie Sanders is now trying to forget the bitter memories of the last presidential election. Hillary Clinton, the Democratic candidate who was supported by her husband, Bill Clinton, and many influential figures in the party, managed to defeat Sanders with her secret lobbies and went to fight Trump as Democrats' final candidate.
Anyhow, if Sanders were to reach the final round of the 2016 presidential competitions, he could have defeated Trump and enter the White House. Sanders, however, was the victim of Democrat leaders and Hillary Clinton's secret lobbies. It was not without a reason that many Sanders advocates voted for Hillary Clinton's rival, Donald Trump!Here is some news and analysis on Sanders and the Democratic Party's latest political situation:
It's now Biden, Warren, Sanders — and everyone else
As Politico reported, The bottom is falling out of the Democratic presidential primary. And the top-tier — no longer five candidates, but three — is becoming more insurmountable.
For more than a year, Democrats had approached their nominating contest with a widely-shared belief that — like Republicans in the earliest stages of their primary four years ago — they, too, might take turns rising and falling in an expansive field. That expectation sustained the campaigns of more than two dozen contenders this year.
But in recent weeks, the leading band of candidates has contracted unexpectedly early. Heading into the fall, only three contenders are polling above single digits: Joe Biden, Elizabeth Warren, and Bernie Sanders.
Kamala Harris and Pete Buttigieg remain at the periphery, while lower-polling candidates have largely failed to muster sustained, upward movement in fundraising or polling.
According to interviews with about two dozen Democratic operatives and consultants, there is little reason to expect any of them will.
"It was legitimate to say 'Top 5' for a long time, but with the exception of Kamala Harris being at the outer perimeter of the top three … you'd have to have a strange confluence of events for someone outside those four to win," said Philippe Reines, a longtime Hillary Clinton confidant. "It would require all four failing. Like, you would need all four of them to be in a plane crash or something."
For every other candidate, Reines said, "It's too late in the game to keep saying it's too early."
By this point in the Republican primary in 2016, Jeb Bush was already cratering. Scott Walker had risen and fallen. Donald Trump was in first, still to fend off a surge from Ben Carson before running away from the field.The 2020 Democratic primary, by contrast, has been defined by its relative stability, with two full fundraising periods and two sets of debates now done.
Anna Greenberg, a pollster who advised former Colorado Gov. John Hickenlooper's since-aborted presidential bid, said there was no boom-and-bust for Democrats because the primary "started so early, before voters really started paying attention," and because of "the sheer volume of candidates."
"It's a little bit surprising because compared to '16 on the Republican side, where it seemed like a number of people had their moment in the sun … there hasn't really been anybody who's taken a meteoric rise," said Scott Brennan, an Iowa Democratic National Committee member, and former state party chairman. Brennan said he's spoken with several campaigns recently whose advisers "feel like they're poised and ready, they're poised and they're waiting for their moment."
But "for whatever reason," he said, "they haven't had that."
In a spate of campaigning over the holiday weekend, Amy Klobuchar released a plan to address climate change, Sanders previewed his plan to cancel Americans' medical debt and Beto O'Rourke reiterated his call for stricter gun laws, telling CNN of the nation's recent mass shootings, "Yes, this is f—– up."
On Labor Day, the candidates fanned out across the country, with Biden heading to Iowa, Warren to New Hampshire, Cory Booker to Nevada and Harris to California. The activity came on the heels of several candidates dropping out after failing to get traction — and speculation about more to follow — reinforcing the advantage held by the frontrunners.
Last week, Kirsten Gillibrand became the latest campaign casualty, a week after Jay Inslee abandoned his effort. With five months before Iowa's first-in-the-nation caucuses, six candidates have already dropped out.
Democratic strategist Matthew Litman, a former speechwriter for Biden who now backs Harris, described the field as "mostly settled" among five candidates, including Harris and Buttigieg in that group. Unlike in 2016, when many Republicans were wary of, if not opposed to, Trump, Democrats are "mostly satisfied" with the range of ideologies and experiences represented by the top tier, he said."The other candidates are SOL, and it has been that way for a couple of months," Litman said.
For Biden, Sanders, and Warren, the advancing calendar appears likely to compound their advantage, as early fundraising success and staff hiring allows them to begin advertising and to intensify voter outreach.
The debates have contributed to the early winnowing of candidates. Lower-tier candidates can barely focus on anything else besides meeting the Democratic National Committee's increasingly arduous fundraising and polling benchmarks for debates.
"In a weird way because of the format of these debates and what it took to deal with the debates," said Paul Maslin, a top Democratic pollster, "only recently has anyone started spending any significant money in the early states. So, there wasn't any reason why there would be significant [poll] movement] … until now. And now, we'll see."
He said, "Really, the 1 percenters and below, they were the ones who really suffered. No one really told them, 'Hey, you're in a race where it's impossible for you to grow at all. There is no room."
After failing to make the next debate, in Houston, Tim Ryan and John Delaney were compelled to release statements confirming they were still running. Michael Bennet shredded the Democratic National Committee on stage at its summer meeting, while Steve Bullock defiantly released a new round of staff hires. Campaign aides for both said they'd redouble their efforts in Iowa.
"The rules became a proxy for success at a moment when campaigns were just getting started," Bennet said in an interview with POLITICO. "The DNC is only interested in well-known candidates running."
Even for candidates who have made the debates, their turns on the national stage haven't sparked enduring swings in the campaign. As a result, they've spent recent weeks spinning their position in the polls.
"Which is more unlikely – 1) going from being a complete unknown to 6th in the polls or 2) going from 6th in the polls to winning the whole thing?" tweeted Andrew Yang, the entrepreneur who's enjoyed improbable success but is still running at 2 percent in the latest Morning Consult poll.
Hickenlooper, Inslee, and Gillibrand all participated in previous debates, before dropping out. Juli?n Castro sparked interest with his chiding of fellow Texan O'Rourke in the first set of debates, in June. And Harris surged in public opinion polls when she criticized Biden for his past opposition to busing and former associations with segregationist senators.
But for both candidates, the effect was short-lived. Harris is now back at 8 percent, according to the latest Morning Consult survey. Castro is stuck at 1 percent.
"It's just that they happened so quickly," said Doug Herman, a Democratic strategist. "Trump has changed the timeline. Scandal doesn't last. Problems don't last. Success doesn't last. Everything's a little more vaporized in this timeframe."
The progressive wing of the party already has two viable candidates in Sanders and Warren. For more moderate Democrats, only a Biden implosion is likely to create room for advancement.
"Somebody like Buttigieg or Harris, at this moment, they can only succeed with a Biden collapse," Herman said. "They have an if-then strategy. They are not in control of their destiny."
More movement will also require candidates to adopt a change in tone, said Tom McMahon, a former DNC executive director.
"Everyone — both in the top-tier and among the also-rans — have to start developing when and how they're going to go negative," he said. "Otherwise, this race is going to continue to remain status quo."
It is possible the dynamic will shift. Former Iowa Democratic Gov. Tom Vilsack, who briefly ran for president in 2008, said that even in Iowa, "most people, other than those who are ultra-interested, and ultra-focused, most people are not paying attention to this at all."
"It's still an open game here," he said.
He added, "Having said that, the folks who are at the bottom end of the spectrum here have got to have their moment relatively soon, and here's why: Because Warren, Sanders and Biden and Mayor Pete have a foundation of fundraising that's going to continue to pump money into their campaigns."
Of other candidates, Vilsack said, "They've got to move now, but there's still time for them to move."
Why black voters are backing two old white guys
Also, Politico reported that A divide among African Americans between Joe Biden and Bernie Sanders has major implications for the race heading into the fall.
A generational divide among black voters is persisting in the Democratic primary — between the two old white men.
Joe Biden has amassed a staggering lead among older African Americans, commanding nearly two-thirds support of black voters 65 and older in the most recent Morning Consult poll. Bernie Sanders is the favorite of black millennials, though his margin with that group is much smaller. Among all black voters, Biden is leading Sanders, 41 percent to 20 percent.
Biden and Sanders have maintained their edges even as other candidates — including two African American senators, Kamala Harris, and Cory Booker, have courted black voters more aggressively in recent months. Though opinions could change in the runup to voting, the preferences of African Americans this deep into the campaign has major implications for the election: As black voters go, so goes the mantle of Democratic front-runner — and likely the presidential nominee.
The irony of two white septuagenarians commanding majority support among African Americans — despite running in a historically diverse Democratic field — isn't lost on black elected officials, operatives and voters. Several of them interviewed for this story said it speaks to the belief among many black voters that Biden is both best positioned to beat Donald Trump in a general election and to the loyalty he earned after eight years as Barack Obama's No. 2.
"You go with what you know. A lot of black voters know Joe Biden," said Michael Nutter, a former Philadelphia mayor and a current Democratic National Committee member who's endorsed Biden. "There's power in that and there's loyalty in that."
Sanders won a following among younger black voters during his 2016 run, when his progressive activism and criminal justice record fired up millennials of all races.
At least in the primary, Biden's lead among older black Democrats is more consequential than Sanders' edge among younger ones, because older voters typically vote in much greater numbers. That's especially true in South Carolina, the first-in-the-South primary state where about 60 percent of the Democratic electorate is black. Polls show Biden is doing even better with African American voters there than he is nationally, giving him a potential crucial edge that he hopes to parlay into a string of victories throughout the Southeast and in big cities, where sizable chunks of the Democratic electorate are black.
Similar generational and ideological splits exist among white voters. But African American voters have coalesced to a greater degree behind Biden and Sanders — a dynamic that stands out because of their influence in the early stages of the primary and because they're not behind Harris or Booker.
Without more black support, the path to the nomination becomes exceedingly tenuous for the African American senators, who are polling in the single digits overall. Nationally, Harris is the third choice of young black voters, behind Sanders and Biden. Among young black voters in South Carolina, Elizabeth Warren is polling ahead of Sanders. Both of the female candidates have made considerable efforts to court African Americans, especially black women, who are likely to turn out at higher rates than other demographics.
Harris is writing a monthly column for Essence magazine, which caters to black women and has more than 5 million monthly readers, dubbed Kamala's Corner. To drive engagement and donor support within the black community, she's also made sure voters know she's an alumna of Howard University, a historically black institution, and a member of a black sorority.
Warren has also written for Essence and held events with black activists as she touts plans to close the racial wealth gap.
Booker's polling among black voters is at under 6 percent despite his efforts to promote his work on bipartisan criminal justice reform as well as his two terms as mayor of predominantly African American Newark, N.J.
Antjuan Seawright, a South Carolina Democratic strategist and former senior adviser to Hillary Clinton, cautioned that there's still lots of time for other candidates to make inroads with black voters.
"When you think about Cory Booker, when you think about Kamala Harris, when you think about Elizabeth Warren and others," he said, "one thing I've learned is that when you count people out, they usually teach you that you don't know how to count."
Seawright said one explanation for Sanders' African American support is, "one could argue, he has never stopped running for president." But while Sanders "enjoyed tremendous millennial support last election cycle," he added, "that didn't translate to necessarily showing up at the polls. So support is one thing. Voting for a candidate is another."
Both Biden and Sanders have held rallies at historically black Clinton College in Rock Hill, S.C. But few students attended Biden's town hall there Thursday; instead, it was mostly older people who showed up. Sanders' event in June drew a younger crowd.
"Younger voters like what Sanders is saying about free college and legalizing marijuana," said Jatoya White, a 19-year-old biology student who attended Biden's rally but prefers Sanders. "With the older voters and Biden, it's Obama."
Biden on Thursday finished a two-day tour of South Carolina as part of a renewed emphasis on black voters. It included a sit-down with African American journalists in South Carolina and, before that, in Washington, where he said racism is a "white man's problem."
Sanders, meanwhile, is betting on his favorability with young black Democrats to narrow Biden's lead. His failure to capture the black vote in 2016 crippled his chances of winning the nomination and showed, as other Democratic hopefuls have learned before, that relying too heavily on white liberal voters is not a winning strategy for any candidate.
Phillip Agnew, an activist, and surrogate with the Sanders campaign cited a recent encounter between Sanders and students at the University of South Carolina as emblematic of the way some young black voters feel about him. In the middle of move-in day at the university, when a group of black students heard the senator was inside a nearby Starbucks, they rushed over to thank him for his push to erase college debt.
"These are people who are about to go to college, who have the wherewithal to see Bernie as somebody whose platform, should he be elected, is going to make their lives and that dark cloud of [student loan] debt hanging over them not be there," Agnew said.
Cathy Cohen, a founder of GenForward, whose research focuses on millennial voting behavior by race, emphasized that it's still early days in the primary. South Carolina, the fourth state to vote in the Democratic race, doesn't hold its primary until Feb. 29.
"I would argue that it's anyone's game," Cohen said.
But Biden's team points out his numbers haven't budged much in the four months since he entered the race. In the Morning Consult poll, black voters 65 and older back Biden over Sanders by 56 percentage points, 63 percent to 7 percent. Sanders, meanwhile, is beating Biden by 12 points among African Americans younger than 30.
Black voters who've already made their choice told POLITICO that getting behind a white male candidate over a black woman or man is nothing personal. This time around, black Democrats feel the stakes are too high to be concerned about optics. They are focused on supporting the candidate they feel will champion the policies they care most about — and make Trump a one-term president.
"We want to win. We just want to win," Nutter, the former Philadelphia mayor, said. "Because Donald Trump is so damaging and so frightening to many people in this country … the primary theme is, 'I just want to be with someone who I believe can actually win.' And that's what people care about."
From our partner Tehran Times
The Intellectual Doomsday Clock: 30 Seconds to Midnight?
As someone who has dedicated his entire professional career to higher education, to engaging young minds and striving to advance new thinking across a whole host of critically important global issues, it is with great sadness that I write this article. Not only do all of the scientific surveys point to a coming calamity, my own career provides extensive anecdotal confirmation of the sad reality that we are, as a human society, pushing ourselves down into an intellectual abyss from which we might not be able to emerge. Perhaps most disturbing of all, this pushing momentum is not done by accident. Rather, most of society today seems hell-bent on orgiastically rejoicing in our diminishing skills and our dismissal of 'smartness.' Refined thinking, nuanced analysis, and subtle reasoning are now the supposed domain of out-of-touch elite, of people who do not know about reality and are therefore happily removed from the debate/discussion stage. This is not the same kind of anti-elitism we have seen in decades past. This is not simply a fight between the benefits of 'book learning' versus 'experiential wisdom.' This is more about total war being waged against the intellectual process itself with adjacent side-battles against research, open-mindedness, and scientific thinking. It is not about the quality of the journey of intellectual engagement. It is about the attempt to annihilate discussion in total, surrounding ourselves with our own anti-intellectual camps of sycophantic chatter amounting to nothing. It is not about inquiry leading to epiphany. It is about the biased construction of self-affirmation. We are a society of self-delusional dullards. May this be a not-so-subtle early warning to stop our own dumb and dumber destruction.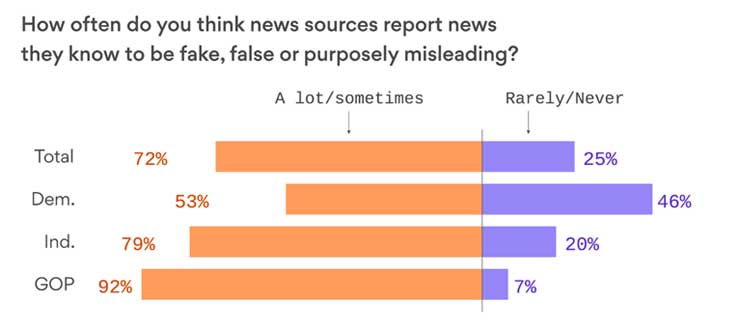 The above chart is fairly self-explanatory. The chief aspect to focus on is how most Democrats will actually use this as supposed 'proof' of their open-mindedness and ability to think more independently, far more so than the other two representative groups covering most of society in America. While I can grant it is horrifically appalling to see percentages amongst Republicans to go all the way to 92% and even "independents" proving they are not so independent at all by going up to 4/5 of their numbers, the surveys still show one out of every 2 democrats, slightly more than that actually, are in the exact same boat as the other members of society. Why does this matter? It matters because on one very crucial aspect this chart explains the secret ingredient that currently powers the base rationalization and self-justification most people use to fuel their purposeful refusal to seek out alternative arguments, embrace people with differing viewpoints, and understand the crucial humility needed in the world of politics and social order, that being there are very few, if any, questions that have one single undebatable answer that should rationally end all further debate. When you can reject all of these things, it allows you to be content with rejecting even the search for multiple sources, the comparative analysis crucial to any real truth-finding, and the rational thinking that creates true deep thought and nuanced intellectualism. The rejection of the impartiality of news sources as an entity de facto turns into behavior that rejects the need to be discerning about sources overall. If the sources are all tainted, then why do we need them at all? All we need is our own thinking, backed of course by the resident echo chambers we create by surrounding ourselves only with like-minded people. As long as the people I spend most of my time with (and that is increasingly becoming a measure based on 'virtual exposure' rather than 'face-to-face living engagement') agree with me, why do I need to care about other fools with different opinions?
The above chart clusters Republican (red) and Democrat (blue) representatives on a spectrum of ideology (defined by how often they vote with the rest of their party) then links opposite party members according to their votes together. The links grow larger and darker the more often representatives vote across party lines. In this case, that symbolizes the positive representation of independent thinking and the ability to make decisions NOT according to knee-jerk party lines or blind ideological allegiance. The graphs' evolution over time is simply remarkable in that not only does the prevalence of cross-party line votes diminish radically over the decades, the behavior by 2011 de facto evaporates while adhering staunchly to party ideology. Exclusionary thinking becomes intensely concentrated and exclusive. It is also disappointing to note that this fascinating study ended in 2011: one year before the second term of President Barack Obama and fully five years before the controversial first term of President Donald Trump. It is not scientifically radical to say the ideological tendencies in American partisanship have only worsened since that 2011 end-of-study date. In fact, heading into 2020, most political discussions in America no longer even include the possibility of any cross-party thinking, let alone behavior. The idea itself is dismissed as being symbolic NOT of independent thinking but of social betrayal that should be shunned and punished.
This final chart is the cherry on top of the stupid sundae. It shows the clear and inevitable path that global IQ is taking from 1950 all the way to 2110. Some may say that a decline from an average of 92 to a new average of 84 is not much given it is covering 160 years. Some might even be motivated to invoke the old "Malthusian Dilemma" to criticize the data, pointing out that such long-term extrapolations are only based on current trends remaining immutable and cannot, therefore, take into account what future counter-measures might be taken by society to right the wrong indicators. I would like to be a member of the Malthusian camp, quite honestly. In its own way, this article is an effort to kick-start those supposed Malthusian strategies, bringing future resolutions to our 'stupid problem' sooner to the forefront rather than later. But all of this is wishful thinking. It is not hard science. My hopes, in fact, are based on the opposite of what the data shows, what society currently rejoices in, and what so many individual people profess as being an advancement in 'popular intelligence.' As long as our global society, led most decidedly by the most powerful and influential country on earth, continues to revel in anti-intellectualism as proof of its own grassroots intelligence, as long as people rationalize away critical reasoning and analytical thinking as just so much elite ivory tower snobbery, then the only path we craft for ourselves as a society is one of blissful ignorance, confrontational delusion, and self-righteous obliviousness. The only society to emerge from this path is a dead society. A society of stagnation and regression. The intellectual doomsday clock is at 30 seconds to midnight. The ability to shift the ticking second hand backwards, back to enlightenment and dynamic knowledge engagement, may already be gone. May the Malthusian Army appear soon.
U.S.-Turkey relations: From close friendship to conflict of interests
Relations between the U.S. Turkey have strained since the failed July 2016 coup in Turkey. Now, the most important reasons for the tension is Washington's strong opposition to Turkey's plan to buy S-400 missile system from Russia and Turkish military invasion into northern Syria.
Although Turkish President Recep Tayyip Erdogan's visit to the U.S. on November 13 was intended to resolve the two countries' disputes and open a new horizon in economic and trade relations, differences still remain.
Though after the meeting at the White House, Trump made some pledges, including increasing trade ties to $100 billion, it takes a long time to fulfill these promises.
Contrary to such pledges, the Pentagon announced that it had replaced all F-35 fighter parts made by Turkey.
While the Turkish and U.S. leaders were meeting, F-35 production program executive Lt. Gen. Eric Fick said at a congressional hearing that Turkey would be completely phased out until March.
At the moment the U.S. has narrowed the number of parts down from 1,000 to 12.
Undersecretary of Defense for Acquisition and Sustainment Ellen Lord affirmed to Rep. Donald Norcross, D-N.J., that as of Wednesday, Turkey's exit from the program was not expected to cause any F-35 production delays.
The U.S. government believes Ankara's move to buy S-400 missile system from Russia is not in line with NATO policies. Washington also sees Turkey's decision as a threat to U.S. F-35 fighters. However, Ankara has announced that it will go ahead with its decision to buy the missile system.
Erdogan said it is not a right policy to ask Ankara to deprive itself of the Russian S-400 missile defense system.
Erdogan's remarks came in response to some reports that Trump had requested Turkey to cancel the purchase of S-400 system, a defense system that has been deployed in some parts of Turkey since July 2019.
But after Trump and Erdogan's meeting, the Turkish president claimed that the U.S. president had a positive view on buying the missile system.
Though Trump may seek to strike a deal with Erdogan on the S-400 missile system and F-35 fighter aircraft, based on his own businessmen approach, Ankara's military intervention in northern Syria and its insistence on buying the S-400 system are at odds with Washington. For this reason, the House of Representatives has passed two resolutions against Turkey.
On October 30, the House approved a resolution against Turkey recognizing the Ottoman massacre of Armenians in 1915. 305 representatives voted in favor of the resolution, with only three opposing it. It also passed another resolution calling on Trump to impose sanctions on Turkey over military operations in northern Syria. The resolution was also adopted by 403 votes in favor and 16 against, a move that rose Turkey's anger.
After Erdogan's meeting with Trump, attended by some Congress representatives, senior Republican Senator Lindsey Graham and chairman of the Senate Judiciary Committee vetoed the resolution recognizing the massacre of Armenians by the Ottoman Empire.
Earlier, Senate Majority Leader Robert Menendez had called for the resolution to be approved. Lindsey Graham noted that he had listened to Erdogan's speech at the White House and criticized a House resolution that recognized the Armenian genocide.
Menendez argued that "U.S. policy must be unanimous and honest in the face of human rights violations, crimes against humanity, ethnic cleansing, and genocide" and sent it to the Senate for approval.
There is a difference between the White House and Congress in how to deal with Turkey. Also, there is a difference between Republicans and Democrats despite Trump's promises to Erdogan.
From our partner Tehran Times
The year is 1962. In the midst of the Cuban missile crisis, the United States needs Mexico to place nuclear missiles on its territory. In a phone call, Mexico's President tells US President Kennedy that Mexico will provide whatever the United States needs. This was opening Mexico up to a potential nuclear strike by the Russians in the midst of the tense crisis, exposing the vital security of the country for the benefit of the United States, writes Iveta Cherneva.
What is remarkable about this episode is that Mexico was agreeing to a thing so ludicrous, and this was the result of a successful decade-long US foreign policy towards Latin America.
The benefit of carefully crafted US foreign policy is noticed in times of need and further down the path, not immediately. US standing and credibility matter precisely in critical situations.
Unfortunately, US President Donald Trump's blind spot is foreign policy.
When he took the decision to betray the Kurds by withdrawing US troops from the Kurdish parts of Syria, Mr. Trump did not expect the deserved backlash from Senate Republicans. Senator Lindsey Graham, Chairman of the Senate Judiciary Committee, has called it "the biggest mistake of his presidency" and Trump didn't understand why.
Through his approach to US foreign policy, Trump is undoing years of planning and careful calculation, and not just in the Middle East.
Trump's Kurdish decision does not come from a specific school of thought, as some might have suggested. Trump's moves are all over the map; he just doesn't understand the intricate game of chess that is involved in crafting US foreign policy.
His withdrawal of US forces from the Kurdish territories is not grounded in isolationism of the principled kind preached by Senator Rand Paul. It soon became apparent that the US troops in Syria are not coming back home, they are simply being repositioned to guard the oil fields in Syria.
Coupled with the decision to send US troops to Saudi Arabia to do the same, it became clear that Trump simply likes to guard oil. He told the Kurds to go live in the Syrian parts that have oil because apparently then the US would care to protect them. He also said that the US wants some of that oil.
But guarding oil is not a grand strategy. That is oil-centered trumpism of the kind that even George W. Bush didn't dare to articulate quite like this.
In his surprise at Republican Senators' anger, it was apparent that Donald Trump didn't understand what in terms of geopolitics was contained in a small group of US soldiers. Neither did he get the fine geopolitical balance at play. It seems that there are very few things that can make Republican Senators break ranks and foreign policy is what gets them.
A Bulgarian proverb says that "where you hit it is not where it cracks". The Kurdish decision will reflect on other areas — US standing will crack elsewhere, not immediately and not where Trump expects it to.
Across issues and across geographical regions, Trump is undoing decades of carefully crafted policy and language where every phrase and every move meant something.
As the Mexico nuclear shield episode shows, the benefits of carefully crafted US foreign policy are noticed in times of need and further down the path, not immediately.
US standing in the international arena matters. Trump has harmed it and the results won't be immediately apparent.
But Republican Senators see further in foresight. They will be the key figures in Trump's impeachment. Republican Senators have the right to be angry at this lack of grand strategy and they will remember that when the impeachment comes to Senate.
Foreign policy is Trump's blind spot and what he does not realize is that it might cost him the impeachment.