Ghana Heralds New Era for Plastic Pollution Action in Africa
Ghana will become the first country in Africa to sign up to the World Economic Forum's Global Plastic Action Partnership (GPAP) in a bid to address the nation's mounting plastic waste and pollution challenge.
As one of the world's fastest growing economies, Ghana is regarded as a regional leader in entrepreneurship and innovation. This rapid expansion of economic activity has brought with it a mounting plastic waste and pollution challenge.
GPAP will fast-track progress on these fronts by working with Ghana's public, private and civil society sectors to steer the transition towards a circular economy in which plastics are manufactured, used and re-used sustainably. It will also support and develop locally led initiatives by creating a platform to facilitate knowledge sharing, connect like-minded actors and scale up best practices to the national, regional and global level.
"Our partnership with the Global Plastics Action Partnership will bring together new and existing efforts to spark off innovation and achieve progress at a tremendous scale," said Professor Kwabena Frimpong-Boateng, Ghana's Minister of Environment, Science, Technology and Innovation. "Our success will propel Ghana to emerge as a regional leader on the issue of plastic pollution reduction and inspire other nations to act through sharing our knowledge and lessons. Ultimately, we hope that this will mark the beginning of a new era of action on plastic waste and pollution across the African continent."
"Under the leadership of President Akufo-Addo and Minister Frimpong-Boateng, Ghana is sending a clear signal that it is prepared to play a leading role in tackling the scourge of plastic waste and pollution not just at the national level but also across Africa. The Global Plastic Action Partnership is proud to assist the country in this role by facilitating public-private collaboration, assisting in scaling up solutions and sharing best practices from around the world," said Kristin Hughes, Director of the Global Plastic Action Partnership at the World Economic Forum.
About plastic pollution in Ghana
Ghana stands at the junction of unparalleled growth and potential. On track to achieve the fastest economic growth among all nations in 2019, it has also shown remarkable leadership in championing new efforts to boost sustainability across its businesses, rejuvenate its natural environment, and promote the wellbeing and livelihoods of its people. At the same time, insufficient infrastructure to manage and reduce waste has led to unsustainable levels of pollution and leakage, putting the wellbeing of both Ghana's people and biodiversity at risk. Urgent and collective action is needed to address this challenge.
Ghanaians have reacted energetically to this challenge. The government has implemented a National Plastics Management Policy to address the unsustainable adoption of single-use plastic. It has also signalled a willingness to pioneer new approaches to plastic material design, recycling and waste management infrastructure, and the integration of sustainable business practices throughout value chains. A number of circular economy and waste management initiatives have also been established at the local level. The United Nations Development Programme will act as a key partner and adviser and is expected to launch an initiative designed to empower waste resource recovery efforts. GPAP's role will be to provide a platform allowing those involved in these diverse initiatives to collaborate, share best practices and scale up solutions.
The effect of wildfires on sustainable development
With only 10 years left to achieve the Sustainable Development Goals, world leaders in September 2019 called for accelerated action in the next decade to deliver at the scale and speed required. Climate change and global heating however, are increasing the likelihood and intensity of wildfires, which could have a growing impact on the achievement of the Sustainable Development Goals.
For example, the 2019–2020 Australian bushfire season came at the end of the second hottest year on record, with multiple record high temperatures experienced across Australia at the beginning of its wildfire season. This has created far more flammable conditions than usual, leading to multiple megafires and a total burned area said to be over 18 million hectares (186,000 square kilometres, an area bigger than England and Wales).
In addition to the widely reported impact in terms of immediate loss of life, homes and animals in developed parts of the world, the growing scale of wildfires around the world can also have serious impacts on a number of the Sustainable Development Goals.
GOAL 1: No poverty and GOAL 2: Zero hunger
The poor are often hit hardest by global heating. They are the ones least able to adapt; they also tend to be more heavily reliant on natural resources, such as firewood, forest-based plant food and medicines. Forests provide food and medicines for indigenous peoples and many others. Many people's livelihoods, especially in developing countries, depend on intact forest resources, and an abnormally large wildfire can be disastrous.
GOAL 3: Good health and well-being
Smoke from wildfires causes air pollution and is bad for your health no matter where you live. Wildfires release harmful pollutants including particulate matter and toxic gases such as carbon monoxide, nitrogen oxides, and non-methane organic compounds into the atmosphere. Wildfires can cause displacement, stress and anguish to people who have to flee them, beyond those who suffer direct impacts.
The United Nations Children's Fund (UNICEF) reported on 23 September 2019 that wild forest and peatland fires across Kalimantan and Sumatra, Indonesia, were putting nearly 10 million children at risk from air pollution. In many countries, escape and protection from air pollution is a privilege not everyone can afford or has equal access to. Air purifiers and good quality pollution masks can be expensive. Those who can't afford to take time off work may not be able to avoid areas cloaked in smoke, for example.
GOAL 5: Gender equality
Women and girls, especially in developing countries, tend to be more at risk during disasters such as megafires. According to the United Nations Development Programme, the poor are likely to live under circumstances that make them less likely to survive and recover from a disaster event. Studies have shown that disaster fatality rates are much higher for women than for men due, in large part, to gendered differences in capacity to cope with such events and insufficient access to information and early warnings.
GOAL 6: Clean water and sanitation
Particulates and black carbon from forest fires are carried in the air and enter water courses. Researchers have quantified and characterized the black carbon flowing in the Amazon. "In aquatic ecosystems, effects of acidity, nitrogen, and mercury on organisms and biogeochemical processes are well documented. Air pollution causes or contributes to acidification of lakes, eutrophication of estuaries and coastal waters, and mercury bioaccumulation in aquatic food webs," says a study titled Effects of Air Pollution on Ecosystems and Biological Diversity in the Eastern United States.
GOAL 9: Industry, innovation and infrastructure
When they spread to urban or semi-urban areas, wildfires can damage infrastructure such as power lines, mobile phone masts and homes. Rebuilding may be costly or time consuming.
GOAL 12: Responsible consumption and production
Extravagant lifestyles and unsustainable consumption of natural resources in many countries, and associated pollution, are contributing to global heating which in turn makes wildfires more likely.
GOAL 13: Climate action
Wildfires release carbon dioxide (CO2) and other greenhouse gases into the atmosphere and contribute to global heating when the size of the fire exceeds the CO2 reabsorption potential of re-growth. Particles and gases from burning biomass can be carried over long distances, affecting air quality in regions far away. Particles can also land on snow and ice, causing the ice to absorb sunlight that it would otherwise reflect, thereby accelerating global warming. Wildfires on highly combustible peatland are particularly relevant for climate as they emit far more CO2 than ordinary forest or bush fires. These phenomena are known as climate feedback loops and increase the burden of emissions that must be reduced to limit global temperature increase.
GOAL 15: Life on land
While humans have used fire to manage landscapes for thousands of years, current wildfires, exacerbated by global heating and drought, are growing in scale and impact, destroying houses, infrastructure and wildlife—affecting biodiversity. They can cause economic decline, at least in the short term.
Technology can help track choices to balance nutrition and climate impact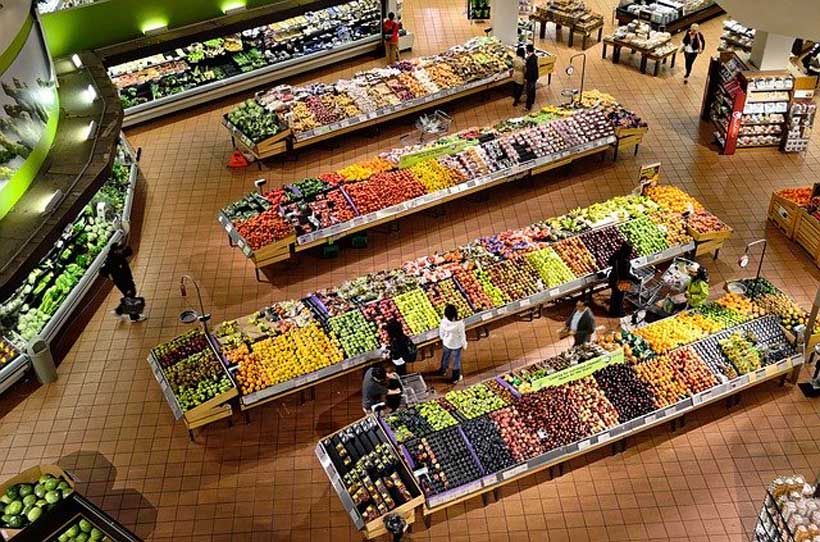 Like the popular fitness apps, which help users track their exercise activities, food intake and more, an app called Evocco aims to give consumers information about their shopping habits to help cut their carbon footprint by estimating the climate impact of their choices.
By taking a photograph of food receipts, shoppers can check their score which combines the climate impact of the food they've bought with their nutritional value, helping customers get the most nutritious food for the lowest climate impact.
"We see food as the first step in somebody's climate action journey," said Hugh Weldon, Evocco co-founder and Young Champion of the Earth for Europe 2018. "With this tool, we aim to make it easier for people to join the climate movement."
At the start of the year as a Young Champion, Evocco had completed its first alpha tests with users of the Android smartphone app. The company was a team of five. Then, the design was overhauled based on feedback from testers, and the team refocused for a public release originally slated for January 2019.
"The year has been one of many lessons for Evocco," said Weldon. "Technology challenges and changes in the team saw the launch of the app delayed. Targets had to be reconsidered, and the team had to be restructured."
Yet despite challenges, Evocco's Weldon was named on many of Ireland's hottest upcoming talent lists and honored in the Ten Outstanding Young Persons awards. Weldon and the Evocco team presented at climate change conferences in New York, Xiamen, Nairobi, Stockholm, Estoril, and at a climate youth festival in Dax.
"These opportunities have resulted in huge personal growth for me and have boosted the credibility of Evocco immensely," said Weldon. "There have also been further opportunities that we simply did not have the capacity to take.
There have been serious challenges this year, too.
"The effects have been a real setback but we have learned some important lessons. With few resources, we have had to find other ways to launch our technology and use our data to the best advantage. In the end, the challenges we have faced have forced us to become more resourceful and to find low-tech solutions. It's been a huge challenge, but we're really excited to be almost there."
In April 2019, Evocco launched Tracker in Ireland, allowing shoppers to upload their food receipts and receive an email star rating for their basket, with tips to improve. Then in May, Ursula Clarke joined as Head of Software Development, Evocco's first senior tech hire and a huge boost to the team.
"Over the course of the year, our business plan has evolved greatly, and in addition to our consumer app, we are excited to launch a corporate product in January. This allows employees to compete against each other on sustainability, and has sparked some great interest," said Weldon.
With the first cohort of users in Ireland already enjoying the benefits of the Evocco app, the focus is now to grow user numbers and secure investment from angels and venture capitalists.
Clementine O'Connor, sustainable food systems expert at the United Nations Environment Programme, said: "Food systems generate around 30 per cent of greenhouse gas emissions. Shifting to healthy sustainable diets is one of the most powerful things individuals can do to reduce their climate impact, while improving their own health and well-being. "Evocco's app provides a really practical tool to help consumers understand the impact of their food purchases and make small changes to make their diet more sustainable."
Fifteen Years to Save the Amazon Rainforest from Becoming Savannah
The pace of deforestation in the Amazon, coupled with last year's devastating forest fires, has pushed the world's largest rainforest close to a tipping point beyond which it will turn from a carbon sink to a carbon source.
Without immediate action to halt deforestation and start replacing lost trees, half of the entire Amazon rainforest could become savannah within 15 years, according to Carlos Afonso Nobre, Director of Research at the Brazilian Academy of Sciences. The Amazon's tropical forests create 20%-30% of their own rainfall, so preserving them is as vital for regional weather systems and food production as it is for stabilizing the global climate. "Deforestation is now at 17%," said Nobre, "but if it exceeds 25%, we will cross the tipping point."
Colombia has stepped up to the challenge, setting targets to plant 180 million trees and reduce deforestation by 30% by 2022. President Ivan Duque told a packed hall that "the greatest challenge of our time is climate change". In September 2019 he convened the Leticia Pact of seven Amazon countries whose presidents have personally committed to work together to protect the rainforest.
"We have to defeat deforestation," said the president, whose country is 35% rainforest. He has also launched a strategy of Biodiverse Cities, in which Colombian cities within forest areas will develop circular economies to protect biodiversity and the environment. "Thirty-four million people live in the Amazon," said Duque, adding: "We need those societies to be able to preserve themselves and preserve forest ecosystems."
Al Gore, Vice-President of the United States (1993-2001); and Chairman and Co-Founder, Generation Investment Management, agreed that indigenous people and their knowledge must be respected. For centuries, people have made a way of life in the Amazon that is not destructive. While poverty in the region needs answers, Gore said that clearing the rainforest to plant crops is a "false hope" as the richness of the rainforest is in the canopy and its wildlife, not in its thin soils.
Nobre has developed the idea of an Amazon Third Way in which modern technology taps into and develops traditional wisdom to create a new bioeconomy. The acai berry, for example, brings over $1 billion into the Amazon economy. It is second only to beef in terms of value yet uses just 5% of the area taken by up cattle ranches – making the berry 10 times more profitable than the beef.
Solutions need to be global as well as local. Nobre called on assembled business leaders to support global supply chains that are deforestation-free and to promote the emergence of a new bioeconomy.
Emphasizing the sense of urgency, Gore declared that "the climate crisis is way worse than people generally realize and it's getting worse way faster than any of us realize". He called on politicians in particular to rise to the challenge: "This is Agincourt, this is Dunkirk, this is 9/11," he announced with passion.
Fellow panellist Jane Goodall, famous for her work with chimpanzees and community development across Africa, called on all of us to get involved in the World Economic Forum's 1 Trillion Trees Initiative. She said we need ways of compensating people for looking after tropical rainforests on our behalf, as currently we are not paying for forests despite needing them everywhere. She cautioned people against making the tone of the debate too "doom and gloom" and left the hall with this message: "Give the youth hope, because if you lose hope, you give up."