Indonesia abandoning its Capital ?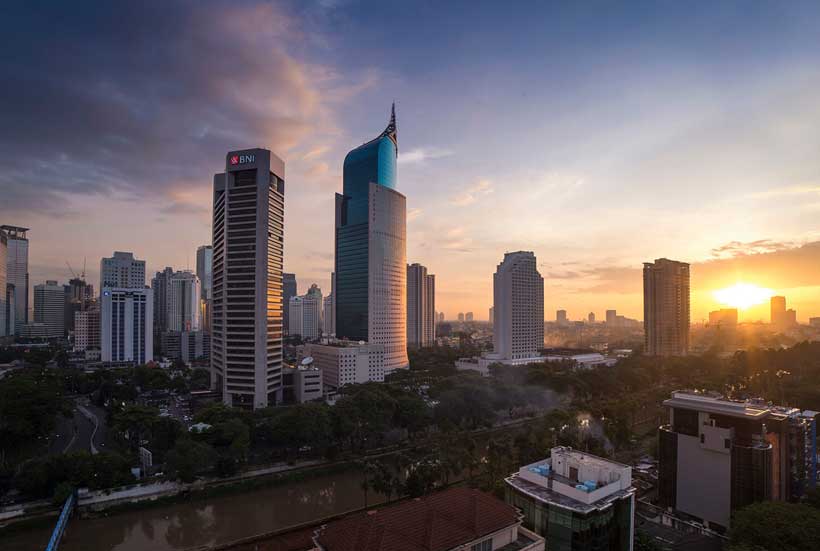 I have almost always lived in capital cities. I was born in New Delhi, resided in London, Prague (before Czechoslovakia split in 1993), Budapest, Rome, Bonn (long before the capital moved to Berlin in 1991), when my parents were posted there as diplomats. When in Indonesia, it's always been in Jakarta.
So am I a capital city snob? In connection to the uber-densely populated, polluted, badly planned, garbage-filled, flood prone, traffic-choked, sinking city that Jakarta is? Hah! Not likely.
Jakarta is Indonesia's gateway to the world, Southeast Asia's most dynamic metropolitan area, and the nation's economic, political, cultural and intellectual center. It provides all sorts of opportunities unavailable elsewhere in the country, which is what draws migrants in.
Jakarta proper hosts about 11 million in an area of 661.5 square kilometers, while the entire metropolis is home to over 30 million people across 6,400 sq km. Pretty squeezy huh?
Furthermore, Jakarta could also be hit by a powerful earthquake, not just the tremors we've been experiencing. Then we wouldn't have a capital. Oh boy!
So when I heard about the plan to move the capital from Jakarta to Kalimantan, I thought, hmmm (read: thinking hard!). A recent survey (posted in Coconuts Jakarta) unsurprisingly found that 95.7 percent of Jakartans were against the move. They suggested the new capital be called "Jokograd" or "Saint Jokoburg", mocking what they consider President Joko "Jokowi" Widodo's overly ambitious plan.
Megalomania? Overly enthusiastic? Or just like all leaders, wanting a legacy? Pak Jokowi, you have left legacies aplenty already! Yeah, sure, some failures, misguided policies, and many unmet promises as well, but no one's perfect!
So what and who is behind Jokowi's burning ambition? Could former president Megawati Soekarnoputri be one of them? Her father had also wanted to move the capital to Palangkaraya in Central Kalimantan (Jokowi decided on North PenajamPaser regency and part of Kutai Kertanegara regency in East Kalimantan). Moving the capital was one of first president Sukarno's unmet goals, so is "Mama Mega" passing it on to Jokowi?
Those who are for the move say it's courageous and revolutionary. Not really. Besides Sukarno, almost every president — certainly Soeharto and Susilo Bambang Yudhoyono, wanted to do it. But Jokowi is typically the Nike guy who says "just do it!"
Since independence in 1945, we've always been too Java-centric, even more than during colonial times. It's curious considering Java is an island comprising 7 percent (128,297 sq km) of the size of Indonesia (1,905 million sq km), populated by almost 160 million people, nearly 60 percent of the total population.
Kalimantan meanwhile has a land mass of 542,630 sq km, hosting under 14 million people. Transmigration from Java to the lesser populated islands of Kalimantan, Sumatra, Sulawesi and even Papua seemed an obvious solution to reduce overpopulation and poverty.
Transmigration programs, starting since the Dutch colonial period, later stoked fears of Javanization and Islamization, triggering conflicts, communal violence and bolstering separatist movements. Uh-oh!
In 2015 Jokowi scrapped the transmigration program, but now he's ferociously adamant about moving the capital to Kalimantan?
OK, let's look at the pros: like the transmigration program, it certainly looks good on paper. It suggests the government is serious about paying more attention to parts of Indonesia other than Java.
The move is expected to stimulate economic growth in the outer islands, and give a nod to non-Javanese culture. According to EndyBayuni of The Jakarta Post, "It's a step toward the 'de-Javanization' of Indonesia […] decentralization and regional autonomy are not enough".
My nephew, Andi Haswidi, a researcher, said, "Jakarta is sinking, and relocating the capital could induce a more equitable economic development". But he warned, the process will be incredibly hard and will require the revision of so many laws, unless the government resorts to using government regulations in lieu of law (Perppu). "It also requires incredible leadership, a serious commitment to the rule of law, and a more relaxed fiscal policy". Right. Just minor things.
The cons: extremely costly with an expected budget of Rp 477 trillion (US$36.6 billion) and humungous disruption, while the benefits are still uncertain. And remember Murphy's Law: expect the unexpected!
It's also one way to shrink the civil service, and possibly not getting the best human resources to work there. Would you be willing to just get up and leave everything that constitutes your life in Jakarta/Java? Family, friends and facilities, from health, education, entertainment and access to other places, both domestic and international?
Emil Salim, senior economist and extremely seasoned politician who held several governmental and Cabinet posts, reminds us of Indonesia's archipelago of 17,000 islands, flanked by two oceans, located smack bang in the middle of maritime traffic. A capital in Kalimantan would be very difficult to access.
"If Jakarta is fraught with problems, fix them", he said, "Moving is shirking responsibility". His opinion is echoed by Jeffrey Winters, a professor of Northwestern University who said, "It's capitulation. Jakarta is such a colossal failure, they've given up on trying to fix the city." But Winters also said, "It would be irresponsible to keep a capital in a sinking city that is going to be completely under water in less than five decades".
Environmental activists warn that the move could spark "a fresh environmental crisis in a region home to rainforests and endangered orangutans". They say mining and palm oil plantations are already threatening Kalimantan's environment and endangered species habitats, which could worsen if a big city is built near a key conservation area. And don't forget the forest fires!
"Equitable development" has always been a catchphrase in every president's rhetoric and every regime. According to Monique Rijkers in an article in Deutsche Welle, Indonesia doesn't need a new capital, what it needs are more metropolitan cities and infrastructure spread throughout Indonesia. As she points out, even the basic needs of the people such as access to water, electricity, health, education have not been met, and the government wants to move the capital?
Oh dear! Everyone has a point. It's so dilemmatic! Even those against the relocation admit that at some point the capital has to move, but not now. There are still too many pressing issues that need urgently to be tended to.
I give up. The House of Representatives needs to give its approval first anyway. Let's take it one step at a time, shall we, and let history, politics, science, and nature, run its course. 
Author's note: Early version of this text published by the Jakarta Post under the title: Jakarta to Kalimantan: Capital gain or capitulation?
China's Stranglehold on South East Asia: Shaping the Future of the Region
A global order characterized by multiplexity entails a diverse array of state and non-state actors actively influencing the norms of governance according to their distinct cultural perspectives. In stark contrast, a hegemonic world order is marked by the dominance of a single power that propagates a uniform narrative. China's ambitious pursuit of hegemony in the Indo-Pacific region, particularly Southeast Asia, faces a formidable hurdle due to its unsophisticated and unsubtle approach to international relations.
Beijing's diplomatic, economic, and military initiatives over the past ten years and beyond have undeniably increased China's influence throughout Asia. Since the founding of the People's Republic of China in 1949, China's relations with Russia, as well as those with developing nations of Central Asia, India, Southeast Asia, South Korea, and Japan, have reached an all-time high. This expansion of Beijing's influence and Asia's response to Chinese initiatives are inescapable in the long run. Undoubtedly, China is the dominant nation in continental Asia, and it has a thriving economy that, while competing with those of other Asian nations, also drives overall economic growth.
However, to ostensibly stop China from becoming a regional hegemon, the United States and its Asian allies seek to maintain a delicate balance of power in the Indo-Pacific. They worry that Beijing will gradually persuade its neighbors to turn away from the United States, accept Chinese preeminence, and abide by Beijing's preferences in key foreign policy decisions. Thus, a dominant power wielding its power in this way makes itself less vulnerable to blockades and other forms of coercion while also gaining the respect of weaker states within its sphere of influence, even in the absence of direct rule. The lack of local threats makes it easier for the regional hegemon, should the need or desire arise, to project power into other global domains. Furthermore, despite being a key component of hegemonic ordering, China's increased economic and financial power in South Asia has not yet resulted in the creation of a regional structure that is in line with its own security, economic and ideological interests.
In particular, India has surpassed China in both size and proportion of young people due to its rapidly growing economy and population. Significant increases in defense spending show that many of China's neighboring countries are actively engaged in vigorous balance efforts. In addition to the United States, other nations, such as Australia, India, and Japan, are working together. These countries will probably respond with even more resolute measures as their worries about Chinese hegemony grow.
Despite that, South Asia has historically rarely been a focus of American efforts to establish global hegemony. However, under Xi's leadership, China has increasingly manipulated its role as a regional benefactor, showing a tendency to use force and take sides, particularly in relation to India's territorial disputes with its neighboring states. The goal of China's engagement policy is to maintain its strategic advantage over maritime communication routes. This strategy has forced the region into a precarious balance in which economic cooperation and strategic implications must be carefully navigated. The region has shown assertiveness on a few issues and has chosen to co-opt each other's interests despite China's materially inferior capabilities.
Due to its lack of cultural legitimacy as a superpower and its preference for extensive economic activism, China's pretended win-win scenario for Asia as a whole has been called into question. As they interact with the prevailing norms at various levels of state and society, as well as state and non-state actors, the sectors that support China's aspirations for hegemonic dominance are constantly contested, opposed, renegotiated, and reproduced. Furthermore, China's rise has unquestionably been imperative to maintain global economic growth, with its market playing an important role.
In a world where our omnipotence in all fields is no longer absolute, Americans will face difficult adaptation challenges. We can adapt to change, though, because we have a flexible and resilient nature. Both the United States and China will continue to pursue their respective national interests as they see fit. In summary, since multiple countries, not just the US or China will participate in power sharing, the future world will likely be more complex than the past and will be characterized by increased "democratization." There will be numerous opportunities for nations with reliable ties to both Beijing and Washington to control their level of involvement in international affairs. There shall be no dominant force and there shall be no such thing as a "G-2".
Indonesian Media Perception of China After Brokering Saudi-Iran Peaceful Restoration
In some degree, we have agreement that regional instability in the Middle East occurred as a result of the reckless US strategic acts thus far. Libya and Iraq invasions have created a chaotic environment for the region everywhere, causing the Middle East not decent to live in. All the more, the long-drawn quarrel between Saudi and Iran which respectively represents the school of thought in Islam, namely Sunni and Shia, not only does harm to the two, but also stir a proxy war across the region. Such two conditions exacerbated the plight for people in Arab Peninsula. Therefore, the more US intervention declining in the Middle East, as well as the rapprochement between two sworn enemies of Saudi-Iran, the more it will open the chance to actualize peace in the region.
Perhaps, it is too early to discuss the impact of the Saudi-Iran restoration on Indonesian Muslims perception toward China at the current time. Meanwhile, it does not mean the event is improbable to have any effect at all since global political phenomena often spark a strong leverage on Indonesia's domestic politics, especially for Muslim issues. The hottest one was the Indonesian public rejection of Israel's football team arrival which eventually led to Indonesia being disqualified by FIFA as the host of the world cup under-20. The occurrence is the outcome of the long series of global political phenomena, in particular in the Middle East where Israel up to now still expanding its territorial settlement, seized some Palestinian regions that augment Indonesian public anger. Moreover, according to Anthony L. Smith (2003) findings, Indonesian Muslim society also will never forget how the anti-terrorism campaign launched by the US in the post of World Trade Center bombing on September 11, 2001, discrediting and containing anti-Islam stereotypes, renders ultimately anti-American backlash. Indonesian Muslim fury against the US, the study found, is often triggered by the US double standard in managing the conflict in many places where they deem the US has a bias in its foreign policy.
The facts provided above describe how magnificent the impact of Muslim-related issues on Indonesia is, not exceptional for Saudi-Iran relations. The Saudi-Iran relations recovery at least gives the consequence for Muslim adherents in Indonesia in some ways. Apart from shedding a lesson about how to deal with many cases of intra-domestic Muslim intolerance, the event also opens a new horizon upon the importance of China's role in shaping a world to be more harmonious. China's fruitful action as a peace mediator between Saudi and Iran has drawn the feeling of respect and impressed of Indonesian society. However, it is unprecedented imaginary the report regarding the reconciliation of the two sworn enemies in the Middle East surprised the whole public in the world. That is spectacular due to the sudden occasion that happened thanks to China's benevolence. China is neither actor in the region nor a Muslim country nor a member of the Organization of Islamic Cooperation. Consequently, due to its significance, it inevitably, too gets a spot in Indonesian media coverage. As reported by Indonesia's distinguished newspaper, Kompas, in its editorial titled "China's Charm and Iran-Saudi Relations" (03/13/2023), in spite of China's strategic interest in the Middle East, the pacification between the two camps due to China's line of duty deserved to get applauded. Kompas is not partisan media and it becomes an important reference for the Indonesian public reading.
Kompas opened its news lead with the sentence "Global power could reconcile (hostile parties), not exploit" referring indirectly to US' failed role in the Middle East so far. Conversely, China's tacit approach without fanfare and non-invasive has actually been effective. In other parts of its news, Kompas praised China and mentioned that China is worthy to get appreciation by saying "Saudi Arabia and Iran agreed to reopen diplomatic relations that had been broken since 2016. This was made possible because of China's commendable kindness". Unmitigatedly, Kompas also claims that the US has failed in the Middle East, "Liberal hegemony has failed. China offers itself a simple, no-frills peace. China's economic strength and Arab oil play a role, but peace is a core. Common prosperity could be achieved if there is a stable and peaceful situation. Salute to China".
Kompas' news coverage at one blow, albeit indirectly way, describes Muslim happiness inside the country. Indonesian Muslim congregations are enthusiastic to look forward a harmony in the Middle East. Engulfed the conflict in the Middle East often has an impact on Indonesia's domestic political stability as abovementioned earlier. Thus, the apparent communion between Sunni and Shia, either Saudi or Iran, will also give a trickle-down outcome in intra-religious life, especially Islam in Indonesia. While well-known as benign and plural Muslim, undoubtedly in some cases Sunni-Shia hostility has oft occurred in Indonesia. Achieved current rapprochement between Saudi and Iran, least would open much maneuvering room for dialogue and learning for wrangled fringe in Indonesia to take advantage and similar steps.
Once again, thanks to China. Now, we are still waiting for another surprise upon China's role in making the breakthrough to realize the comprehensive win-win solution between Israel and Palestine in the Middle East. This expectation also has ever conveyed by Haedar Nashir, Chair of Muhammadiyah – one of the most distinguished moderate Muslim organizations in Indonesia besides Nahdlatul Ulama – it was addressed long-far before the Saudi-Iran rapprochement. He hoped China is actively engaged in freeing Palestine "We hope that China as a big country can defend the rights of the Palestinian people like other nations" (Republika, 2/2022).
The Effectiveness of the Declaration of the Convention on the Rights of the Child in Combating Child Labor in Indonesia
Initiated by the United Nations regarding the importance of Human Rights in dealing with the protection of children's rights, then giving birth Declaration of the Convention on the Rights of the Child on November 20, 1958. The formation of the convention on the rights of the child certainly formulates universal values ​​and legal norms as an umbrella for countries to protect children, therefore, this convention contains international agreements on human rights by inserting civil rights, economic rights , and cultural rights therein. There have been many who have signed the ratification of the Convention on the Rights of the Child in the world, except Somalia. In the Convention on the Rights of the Child there are 54 regulatory articles. As a body that strives for child protection, are member states that ratify children's rights consistent in seeking child protection and is this convention on the rights of the child effective for use (Human Rights, 1989)
Indonesia has ratified the Convention on the Rights of the Child by Presidential Decree Number 36 of 1990. With the signing of the Convention on the Rights of the Child by Indonesia, legally Indonesia performs its obligations to fulfill and protect the basic rights of children. This ratification was strengthened by the Indonesian government by passing Law No. 23 of 2003 concerning child protection based on the rule of law to protect children. The convention on the rights of the child was ratified by Indonesia because the level of child welfare in Indonesia is very low. Like many child labor activities (Lestari, 2017).
Child Labor in Indonesia
The phenomenon of child labor also occurs in Indonesia. It is recorded that 9 out of 100 children aged 10-17 work in the informal sector and 88.77% of children who work are unpaid. Children who should get rights such as going to school and playing are forced to do work that should be done for adults. The problem of child labor is of particular concern to the world community. This is because the existence of child labor can have an impact on the health and welfare of these children (ILO, 2015).
Many child workers in Indonesia work in the agricultural sector. According to International Labor Organization (ILO) there are around 1.5 children working in oil palm, rubber, and tobacco plantations. The ILO also noted that East Java and Central Java are regions with the highest rates of child labor in Indonesia with an age range of 10-14 years. This has an impact on the health of these children, because working children have to inhale pesticides from prohibited fertilizers. In addition, there are many cases of children being injured as a result of being exposed to oil palm thorns (Kemenpppa, 2021).
Is the Convention Declaration on the Rights of the Child Effective in Addressing Child Labor in Indonesia?
There are still many problems regarding child labor in Indonesia, a big question is whether the convention on the rights of the child that has been ratified by Indonesia is applied to handling child labor. If you look at article 32 in the convention on the right of the child it states that:
1. The state must recognize and protect the rights of children from attempts at economic exploitation, such as work activities that endanger or interfere with the child's education, endanger physical health, mental, spiritual, moral or social development,
2. The ratifying State shall take legislative, social and educational measures to ensure the application of this article with purpose having regard to the relevant provisions of other international instruments, States Parties will in particular:
a) Determine the minimum age or minimum age to be accepted for work;
(b) Provide suitable hours and conditions of work;
(c) Establish appropriate penalties or other sanctions to ensure the effective implementation of this article (Human Rights, 1989)
In fact, Indonesia cannot apply several regulations from the 54 articles in ratification. Indonesia seems to have forgotten the regulations contained in the article that has been explained. Indonesia has also legalized the law regarding child labor contained in Law No. 13 of 2003 article 68 concerning the prohibition to employ children. However, the law that is made well is from regulations declaration of the Convention on the Rights of the Child as well as domestic laws. Until now child labor inIndonesia is still at 1.05 million working children. The regulation was made without any reports on whether the regulations and efforts made by the Indonesian government based on legal conventions on children's rights were effective (Lestari, 2017).
Conclusion
There is a declaration Convention on the Rights of the Child actually very helpful to work on the rights of children around the world. The established legal laws are also very good. However, it turns out that the application of existing laws is not enough to be used optimally in Indonesia in dealing with child labor, even though Indonesia has also made statutory regulations that regulate child labor. There are suggestions that can be conveyed for the implementation of child protection, namely that the government should comply with the rules contained in the ratification article regarding children's rights. Then there is synchronization of programs to fulfill the protection of children's rights. Strengthen the law by conducting regular monitoring and evaluation of child protection programs. The Indonesian government must be firm in making improvements or changing programs in order to achieve child welfare. Declaration of the Convention on the Rights of the Child must also strengthen regulations so that countries that commit violations are at least given strict sanctions.