"Conscious of his emptiness, a man tries to make a faith for himself in the political realm. In vain."-Karl Jaspers, "Reason and Anti-Reason in our Time" (1952)
Nowadays, in the midst of near-perpetual scandal, both Democrats and Republicans are variously criticized for failing to fix a beleaguered country. But America's core problems are not remediable in politics. By itself, no American government — no president, no congress, no promised barrage of "transformative" legislation, no purported investigations — can halt the corrosive withering of heart, body, mind and spirit that most deeply imperils these United States.
Indeed, no matter how well intentioned, informed, or generously bipartisan, no proposed rescue program can ever do more than tinker ineffectually at the outer margins of what really matters.
It is plausible, of course, to expect certain auspicious increments of progress from particular statutes and institutions, but nothing that could meaningfully drown out the lamentations of our lonely American "crowd." Driven almost single-mindedly by considerations of taxation, commerce, and consumption, our system of governance has managed to produce a sorely bitter amalgam of plutocracy and mob rule. Unsurprisingly, our hoped-for national rescue must now lie elsewhere, that is, suitably far beyond the always-secondary spheres of government, law and economics.
"The crowd," warned Danish philosopher Søren Kierkegaard, "is untruth." Within our current American crowd (Freud would have called it a "horde," Nietzsche a "herd," and Jung, a "mass"), loudly proclaimed differences remain essentially beside the point. This is because no purposeful national renewal, let alone a renewed "greatness," can ever originate from politics. Whether Democrat or Republican, Liberal or Conservative, political behavior is merely what the philosophers and the social scientists would both call a "reflection."
Unwittingly, perhaps, every society ultimately mirrors the sum total of its constituent human "souls." These individual souls, seeking some form or another of apt "redemption," can never be healed by any postures of shallow imitativeness, mass taste, or empty slogans. Before there is any genuine mending of America, there must first take place a proper transformation of its citizenry.
Our pertinent problems here are patently stark, but they are not unfathomable. In fact, it's not really all that complicated. Briefly put, we Americans timorously inhabit a society so numbingly craven and so openly false that even our visceral melancholy has become contrived.
There is no call here for prescriptions to be offered sotto voce. For societies huddling uneasily at the edges of history — and America is quintessentially just such a society — emptiness is not whispered or complicated. Always, it radiates in both directions, continuously, from individual to collective, and vice versa.
There is still more necessary detail. Wallowing in the dim twilight of a near-desperate conformance, we the people display infinite forbearance for surface thinking and demeaning amusements. With its so many misdirected resentments, our people still generally hide from the most basic and indispensable affirmations of personal intellect. Now, unambiguously, America actively cultivates a collective posture of anti-reason.
This is an unphilosophical spirit which knows nothing of any real importance, and — much more ominously — wants to know nothing of any significance.
In time, it becomes a profoundly lethal spirit.
Incontestably, it is today the principal animating ethos of American politics.
Who reads serious books these days? Let us be candid. Virtually none of our national leaders could answer "yes" to this question, and their acknowledged incapacity usually turns out to be a tangible political asset. In other words, most Americans generally loathe any hint or obligation of an intellectual life, and many prefer that their elected political representatives share openly in this conspicuous hatred.
There is more. Although many Americans remain seemingly content with still-latent hopes or expectations for personal wealth, even the richest among us may actually be deprived. To be sure, while grimly resigned to a dreary future of suffocating banalities and unsatisfying work, even the most "well-off" Americans may lurch thoughtlessly from one personal forfeiture to the next, convinced that erudition creates a needless burden, and that cultivated rancor offers a commendable substitute.
Ironically, certain basic truths in America remain entirely unhidden. Expressed as genre, the "life of the mind" in our distracted country has become a discernibly thin text, one best categorized under a heading of "fiction." Ralph Waldo Emerson's earlier advice that we Americans should seek "plain living and high thinking" has already been fully reversed, or "turned on its head." Unassailably, even our best universities are quickly becoming little more than expensive training schools, starkly (and sometimes proudly) bereft of any tangible "higher learning."
Significantly, the so-called "Trump University" was never an entirely unique or singularly egregious manipulation of traditional intellectual standards. Rather, its plainly grotesque model of "education" was presaged by some of our long-standing and more genuinely authentic universities. In fact, it is not uncommon today for even the most elite educational institutions to cheerfully exchange academic legitimacy for promises of cash on the barrelhead.
Despite increasingly widespread calls for "diversity," our national landscape is largely homogeneous on certain core matters of a deeper significance. Wherever one looks, we the people are no longer motivated by much of any enduring human value. Generally, for example, we don't look for equanimity or balance as a healing counterpoint to distressingly frenetic lives. Instead, we search constantly and vainly for expanding opportunities to buy into an unsatisfying life of narrow imitation, one dedicated to assorted empty pleasures and easily-available chemical diversions.
To wit, tens of millions of our more-or-less exhausted citizens now consume enough alcohol and drugs to suffocate any still-lingering wisdom and to drown out whole oceans of sacred poetry.
Still, not everything is obvious. There are some distinctly consequential intellectual nuances to our dilemma. Accordingly, it is possible for we the people to be lonely in the world, or lonely for the world. Somehow, however, our leveling mass culture has managed to produce both kinds of loneliness.
Looking ahead, before a more noble and generous America can be born from any such bifurcated loneliness, we will first have to learn to look diligently beneath the news.
For the moment, whatever is being decided in politics, we Americans will be carried forth not by any identifiable nobility of "high thinking and plain living," but instead by sorrowful eruptions of private fear and collective agitation. At times, we the people may wish to slow down a bit and smell the roses, but our increasingly battered and battering country will likely still impose upon us the hideously merciless rhythms of a grinding and unstoppable machine. Among other things, the expected end of all this breathless delirium could keep us from remembering who we once were, and, even more importantly, who we once might have become.
If politics can never save us, where then shall we turn? What, if anything, can be done to escape the pendulum of our own mad national clockwork? We routinely pay lip service to the high ideals of the Declaration and the Constitution, but almost no one truly cares about these musty old documents. Invoked only for effect or ostentation, the legal and philosophical foundations of the United States have already become the insignificant province of a tiny and grievously irrelevant minority.
It didn't always have to be this way. In fact, we Americans inhabit the one society that could have been different. Once, we possessed a commendably unique potential to nurture individuals to become more than just cogs in a compliant machine. Emerson, after all, had described us optimistically as a people guided by industry and "self-reliance."
Now, however, our true motivators lie more obviously in "fitting in," in anger, in greed, in fear, and in a perpetual trembling.
In spite of an insistently proud claim to "rugged individualism," we Americans are shaped most decisively by the mass. As visible manifestations, our fragmented and inelegant society positively bristles with annoying jingles, coarse hucksterism, infantile allusions, and telltale equivocations. Surely, we must soon inquire: Isn't there anything more to this noisy and suffocating country than an illiterate politics, raw commerce and hideously cheap entertainments?
"I celebrate myself, and sing myself," said the poet Walt Whitman, but today the American Self is under steady assault by a vast and rancorous mediocrity, and also by a literally epidemic gluttony.
In the end, credulity remains America's worst enemy. Our still willing inclination to believe that personal and societal redemption can somehow lie in politics describes a potentially fatal disorder. To be sure, many critical social and economic issues do need to be addressed further by our government, but so too must our deeper problems be solved at the "molecular" or exquisitely personal human level.
In the end, this is the only level of any real change and transformation, a level that is not a mere reflection.
Always, in such matters, history deserves a cherished pride of place. A threatened civilization too often compromises with its underlying afflictions. To restore us, as a nation, to long-term health and real potential, we the people must first learn to look usefully beyond a perpetually futile faith in politics.
It is only when such a gainful swerve of consciousness can become a fully irreversible gesture — only when we finally choose to acknowledge the critically vital correlations between individual human growth, intellectual examination and societal harmony — that we Americans can reasonably hope to mend an otherwise "empty" nation.
Author's note: This essay first appeared in The Daily Princetonian, Princeton University, where the author was educated. Republished under his permission.
The Intellectual Doomsday Clock: 30 Seconds to Midnight?
As someone who has dedicated his entire professional career to higher education, to engaging young minds and striving to advance new thinking across a whole host of critically important global issues, it is with great sadness that I write this article. Not only do all of the scientific surveys point to a coming calamity, my own career provides extensive anecdotal confirmation of the sad reality that we are, as a human society, pushing ourselves down into an intellectual abyss from which we might not be able to emerge. Perhaps most disturbing of all, this pushing momentum is not done by accident. Rather, most of society today seems hell-bent on orgiastically rejoicing in our diminishing skills and our dismissal of 'smartness.' Refined thinking, nuanced analysis, and subtle reasoning are now the supposed domain of out-of-touch elite, of people who do not know about reality and are therefore happily removed from the debate/discussion stage. This is not the same kind of anti-elitism we have seen in decades past. This is not simply a fight between the benefits of 'book learning' versus 'experiential wisdom.' This is more about total war being waged against the intellectual process itself with adjacent side-battles against research, open-mindedness, and scientific thinking. It is not about the quality of the journey of intellectual engagement. It is about the attempt to annihilate discussion in total, surrounding ourselves with our own anti-intellectual camps of sycophantic chatter amounting to nothing. It is not about inquiry leading to epiphany. It is about the biased construction of self-affirmation. We are a society of self-delusional dullards. May this be a not-so-subtle early warning to stop our own dumb and dumber destruction.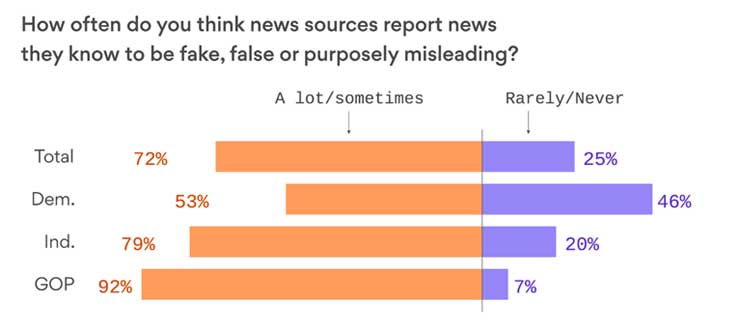 The above chart is fairly self-explanatory. The chief aspect to focus on is how most Democrats will actually use this as supposed 'proof' of their open-mindedness and ability to think more independently, far more so than the other two representative groups covering most of society in America. While I can grant it is horrifically appalling to see percentages amongst Republicans to go all the way to 92% and even "independents" proving they are not so independent at all by going up to 4/5 of their numbers, the surveys still show one out of every 2 democrats, slightly more than that actually, are in the exact same boat as the other members of society. Why does this matter? It matters because on one very crucial aspect this chart explains the secret ingredient that currently powers the base rationalization and self-justification most people use to fuel their purposeful refusal to seek out alternative arguments, embrace people with differing viewpoints, and understand the crucial humility needed in the world of politics and social order, that being there are very few, if any, questions that have one single undebatable answer that should rationally end all further debate. When you can reject all of these things, it allows you to be content with rejecting even the search for multiple sources, the comparative analysis crucial to any real truth-finding, and the rational thinking that creates true deep thought and nuanced intellectualism. The rejection of the impartiality of news sources as an entity de facto turns into behavior that rejects the need to be discerning about sources overall. If the sources are all tainted, then why do we need them at all? All we need is our own thinking, backed of course by the resident echo chambers we create by surrounding ourselves only with like-minded people. As long as the people I spend most of my time with (and that is increasingly becoming a measure based on 'virtual exposure' rather than 'face-to-face living engagement') agree with me, why do I need to care about other fools with different opinions?
The above chart clusters Republican (red) and Democrat (blue) representatives on a spectrum of ideology (defined by how often they vote with the rest of their party) then links opposite party members according to their votes together. The links grow larger and darker the more often representatives vote across party lines. In this case, that symbolizes the positive representation of independent thinking and the ability to make decisions NOT according to knee-jerk party lines or blind ideological allegiance. The graphs' evolution over time is simply remarkable in that not only does the prevalence of cross-party line votes diminish radically over the decades, the behavior by 2011 de facto evaporates while adhering staunchly to party ideology. Exclusionary thinking becomes intensely concentrated and exclusive. It is also disappointing to note that this fascinating study ended in 2011: one year before the second term of President Barack Obama and fully five years before the controversial first term of President Donald Trump. It is not scientifically radical to say the ideological tendencies in American partisanship have only worsened since that 2011 end-of-study date. In fact, heading into 2020, most political discussions in America no longer even include the possibility of any cross-party thinking, let alone behavior. The idea itself is dismissed as being symbolic NOT of independent thinking but of social betrayal that should be shunned and punished.
This final chart is the cherry on top of the stupid sundae. It shows the clear and inevitable path that global IQ is taking from 1950 all the way to 2110. Some may say that a decline from an average of 92 to a new average of 84 is not much given it is covering 160 years. Some might even be motivated to invoke the old "Malthusian Dilemma" to criticize the data, pointing out that such long-term extrapolations are only based on current trends remaining immutable and cannot, therefore, take into account what future counter-measures might be taken by society to right the wrong indicators. I would like to be a member of the Malthusian camp, quite honestly. In its own way, this article is an effort to kick-start those supposed Malthusian strategies, bringing future resolutions to our 'stupid problem' sooner to the forefront rather than later. But all of this is wishful thinking. It is not hard science. My hopes, in fact, are based on the opposite of what the data shows, what society currently rejoices in, and what so many individual people profess as being an advancement in 'popular intelligence.' As long as our global society, led most decidedly by the most powerful and influential country on earth, continues to revel in anti-intellectualism as proof of its own grassroots intelligence, as long as people rationalize away critical reasoning and analytical thinking as just so much elite ivory tower snobbery, then the only path we craft for ourselves as a society is one of blissful ignorance, confrontational delusion, and self-righteous obliviousness. The only society to emerge from this path is a dead society. A society of stagnation and regression. The intellectual doomsday clock is at 30 seconds to midnight. The ability to shift the ticking second hand backwards, back to enlightenment and dynamic knowledge engagement, may already be gone. May the Malthusian Army appear soon.
U.S.-Turkey relations: From close friendship to conflict of interests
Relations between the U.S. Turkey have strained since the failed July 2016 coup in Turkey. Now, the most important reasons for the tension is Washington's strong opposition to Turkey's plan to buy S-400 missile system from Russia and Turkish military invasion into northern Syria.
Although Turkish President Recep Tayyip Erdogan's visit to the U.S. on November 13 was intended to resolve the two countries' disputes and open a new horizon in economic and trade relations, differences still remain.
Though after the meeting at the White House, Trump made some pledges, including increasing trade ties to $100 billion, it takes a long time to fulfill these promises.
Contrary to such pledges, the Pentagon announced that it had replaced all F-35 fighter parts made by Turkey.
While the Turkish and U.S. leaders were meeting, F-35 production program executive Lt. Gen. Eric Fick said at a congressional hearing that Turkey would be completely phased out until March.
At the moment the U.S. has narrowed the number of parts down from 1,000 to 12.
Undersecretary of Defense for Acquisition and Sustainment Ellen Lord affirmed to Rep. Donald Norcross, D-N.J., that as of Wednesday, Turkey's exit from the program was not expected to cause any F-35 production delays.
The U.S. government believes Ankara's move to buy S-400 missile system from Russia is not in line with NATO policies. Washington also sees Turkey's decision as a threat to U.S. F-35 fighters. However, Ankara has announced that it will go ahead with its decision to buy the missile system.
Erdogan said it is not a right policy to ask Ankara to deprive itself of the Russian S-400 missile defense system.
Erdogan's remarks came in response to some reports that Trump had requested Turkey to cancel the purchase of S-400 system, a defense system that has been deployed in some parts of Turkey since July 2019.
But after Trump and Erdogan's meeting, the Turkish president claimed that the U.S. president had a positive view on buying the missile system.
Though Trump may seek to strike a deal with Erdogan on the S-400 missile system and F-35 fighter aircraft, based on his own businessmen approach, Ankara's military intervention in northern Syria and its insistence on buying the S-400 system are at odds with Washington. For this reason, the House of Representatives has passed two resolutions against Turkey.
On October 30, the House approved a resolution against Turkey recognizing the Ottoman massacre of Armenians in 1915. 305 representatives voted in favor of the resolution, with only three opposing it. It also passed another resolution calling on Trump to impose sanctions on Turkey over military operations in northern Syria. The resolution was also adopted by 403 votes in favor and 16 against, a move that rose Turkey's anger.
After Erdogan's meeting with Trump, attended by some Congress representatives, senior Republican Senator Lindsey Graham and chairman of the Senate Judiciary Committee vetoed the resolution recognizing the massacre of Armenians by the Ottoman Empire.
Earlier, Senate Majority Leader Robert Menendez had called for the resolution to be approved. Lindsey Graham noted that he had listened to Erdogan's speech at the White House and criticized a House resolution that recognized the Armenian genocide.
Menendez argued that "U.S. policy must be unanimous and honest in the face of human rights violations, crimes against humanity, ethnic cleansing, and genocide" and sent it to the Senate for approval.
There is a difference between the White House and Congress in how to deal with Turkey. Also, there is a difference between Republicans and Democrats despite Trump's promises to Erdogan.
From our partner Tehran Times
The year is 1962. In the midst of the Cuban missile crisis, the United States needs Mexico to place nuclear missiles on its territory. In a phone call, Mexico's President tells US President Kennedy that Mexico will provide whatever the United States needs. This was opening Mexico up to a potential nuclear strike by the Russians in the midst of the tense crisis, exposing the vital security of the country for the benefit of the United States, writes Iveta Cherneva.
What is remarkable about this episode is that Mexico was agreeing to a thing so ludicrous, and this was the result of a successful decade-long US foreign policy towards Latin America.
The benefit of carefully crafted US foreign policy is noticed in times of need and further down the path, not immediately. US standing and credibility matter precisely in critical situations.
Unfortunately, US President Donald Trump's blind spot is foreign policy.
When he took the decision to betray the Kurds by withdrawing US troops from the Kurdish parts of Syria, Mr. Trump did not expect the deserved backlash from Senate Republicans. Senator Lindsey Graham, Chairman of the Senate Judiciary Committee, has called it "the biggest mistake of his presidency" and Trump didn't understand why.
Through his approach to US foreign policy, Trump is undoing years of planning and careful calculation, and not just in the Middle East.
Trump's Kurdish decision does not come from a specific school of thought, as some might have suggested. Trump's moves are all over the map; he just doesn't understand the intricate game of chess that is involved in crafting US foreign policy.
His withdrawal of US forces from the Kurdish territories is not grounded in isolationism of the principled kind preached by Senator Rand Paul. It soon became apparent that the US troops in Syria are not coming back home, they are simply being repositioned to guard the oil fields in Syria.
Coupled with the decision to send US troops to Saudi Arabia to do the same, it became clear that Trump simply likes to guard oil. He told the Kurds to go live in the Syrian parts that have oil because apparently then the US would care to protect them. He also said that the US wants some of that oil.
But guarding oil is not a grand strategy. That is oil-centered trumpism of the kind that even George W. Bush didn't dare to articulate quite like this.
In his surprise at Republican Senators' anger, it was apparent that Donald Trump didn't understand what in terms of geopolitics was contained in a small group of US soldiers. Neither did he get the fine geopolitical balance at play. It seems that there are very few things that can make Republican Senators break ranks and foreign policy is what gets them.
A Bulgarian proverb says that "where you hit it is not where it cracks". The Kurdish decision will reflect on other areas — US standing will crack elsewhere, not immediately and not where Trump expects it to.
Across issues and across geographical regions, Trump is undoing decades of carefully crafted policy and language where every phrase and every move meant something.
As the Mexico nuclear shield episode shows, the benefits of carefully crafted US foreign policy are noticed in times of need and further down the path, not immediately.
US standing in the international arena matters. Trump has harmed it and the results won't be immediately apparent.
But Republican Senators see further in foresight. They will be the key figures in Trump's impeachment. Republican Senators have the right to be angry at this lack of grand strategy and they will remember that when the impeachment comes to Senate.
Foreign policy is Trump's blind spot and what he does not realize is that it might cost him the impeachment.