"What does not benefit the entire hive is no benefit to the bee."-Marcus Aurelius, Meditations
Sometimes, truth can be both counter-intuitive and bitterly ironic. Although Americans have long been instructed that patriotism is a proper sentiment of national superiority, of always "being the best," such reasoning quickly dissolves in the face of cold logic. In the end, what we might ordinarily consider as decent patriotism can still undermine the nation's core national interests.
Inevitably, if simply left in place, the cumulative global effect of any such considerations will prove injurious to all nations.
Perhaps even starkly injurious.
In the worst case, these injuries may extend to one form or another of catastrophic war.
These two questions arise:
(1) What correct policy inferences should be drawn by America's leaders in Washington DC?
(2) What conspicuously valid conclusions should we expect will be reached?
To respond, it must first become increasingly obvious that so many apparent benefits of traditionally-defined patriotism are actually harmful and sorely unpatriotic. Because the combined result of individual nation-state judgments that conflate belligerent nationalism with patriotism weakens all nation-states, it is high time for the Trump White House to think more analytically about "America First." The particular policy objectives coalescing around this falsifying mantra must become more serious than just eliciting mindless cheers at political "rallies."
As a start, US President Trump and his senior national security counselors could be reminded purposefully that history is actually worth studying. Accordingly, they could learn, classical Greek and Macedonian war postures were self-consciously based upon sound intellectual and theoretical foundations.[1]
More succinctly, such ancient postures were founded upon determinedly calculable struggles of "mind over mind." To be sure, whatever else their varying deficiencies, they were not crafted from the corrosively visceral chants of an unthinking "amen chorus," what the Greeks themselves would have called the hoi polloi.
Over the years, though not always followed, such enviable "mind-over-mind" orientations have provided an overlooked but perpetually-prudent model of national security planning.[2] Nonetheless, across almost the entire globe, national military planning remains narrowly focused upon limited correlations of individual force structure and on elements of a wrongly-presumed national interest. This dissembling focus is especially obvious today in Washington DC, in both Congress and the White House, where insufficiently serious thought is being directed toward systematizing long-term American security obligations.
Significantly, before improved thought could reasonably be expected,[3] America's national security policy planners would first need to become more attentive to variously complex policy intersections and interdependencies, including what are formally called "synergies."[4] In any true synergistic interaction, the policy behaviors of rival states could produce outcomes that are tangibly "more" than the simple sum of their parts. A timely example here might be prospective US-North Korean policies of crisis escalation, policies in which one side or the other (or both) would mistake the other's moves and where the result could be much worse than any simple arithmetic summation could have predicted.
Looking ahead to still-plausible crises between Washington and Pyongyang, each side (assuming basic and bilateral rationality) will be seeking to achieve "escalation dominance" and, simultaneously, to maintain national survival.[5]
If follows from all this, whatever one's prior political inclinations or affiliations, that US President Trump's "America First" foreign policies are inherently unpatriotic and destined to fail.[6]
And it is all unambiguous.
Years earlier, Sigmund Freud, while not directly concerned with the dynamics of world politics or international relations, examined similar issues at the microcosmic or "molecular" level, that is, at the critical level of individual human beings. Looking over such psychologically focused examinations, Freud's rudimentary conceptual understanding – that unfettered "liberty" among individual human beings must invariably lead to uselessly antagonistic or "zero-sum" social conflicts – applies equally to nation-states. If left alone to pursue their collective lives "patriotically"- that is, within the anarchic global state-of-nature that seventeenth century political philosopher Thomas Hobbes had famously and accurately called a "war of all against all"[7] – the separate state actors would be forced to endure the conditions of permanent war.
Under no conceivable circumstances could such conditions prove tolerable.
Moreover, amid any such continuously ferocious global anarchy – a structure of disorder originally bequeathed at the Peace of Westphalia in 1648 – there could never arise any meaningful forms of civilization.
Never.
Notwithstanding the bitterly anti-intellectual stance of the current American president, history and learning do have an indispensable place in the United States. Recalling Thomas Hobbes Leviathan (1651, chapter XIII), the life of any states attempting to chase after narrowly nationalistic/populist goals (what Donald Trump would today call "America First") must be "solitary, poor, nasty, brutish and short."[8] Going forward, it is even plausible that the traditional anarchy in world politics dating back to the end of the Thirty Years War in 1648 has begun to morph into a more far-reaching and irremediable chaos.
In this connection, it is now even worth repeating, there would exist principal and palpable connections between traditional zero-sum notions of patriotism and what is now called "populism."
But how do we actually fix a global system founded upon and sustained by such thoroughly erroneous notions of patriotism? How should well-intentioned states (including especially the United States) plan their successful escape from the global state of nature, an escape for which there can be absolutely no viable alternative? There exist really just two potentially coherent responses, and these responses need not be mutually exclusive.
The first and most frequently recommended reaction focuses on somehow changing a perpetually conflict-based mechanism of world politics. Even before the appearance of what was formally called "World Order Studies" back at Yale and Princeton in the 1960s,[9] philosophers from Dante and Immanuel Kant to H.G. Wells, Pierre Teilhard de Chardin, and Sri Aurobindo had elaborated imaginatively on various configurations of world government.[10] Today, even if we can convincingly oppose any or all such configurations, the underlying imperative to think in more disciplined fashion about "reordering the planet" is still fully urgent.[11]
The second reasonable response must take analytic investigators back to the true origins of the problem, that is, to the universally conspicuous and undiminished imperfections of individual human beings. With this suitably intellectual posture, one that would correctly regard all world politics as epiphenomenal, or as mere manifestation of deeper causes, the scholar's (and later policymaker's) overriding emphasis must be upon "fixing people."[12] To be sure, if the first reaction could be critiqued as "unrealistic" or "utopian," the second would qualify even more plainly for such pejorative characterizations.
But how, precisely, to proceed?
Here, the most promising answers will require a consciously transformational focus upon the individual human being, on the pertinent microcosm and on his or her primary place in "global rescue" preparations. So long as it remains predicated upon fully erroneous definitions of patriotism, our nation-state system of world politics will be incapable of serving humankind's most basic security and justice obligations. Earlier, German-Swiss philosopher Friedrich Nietzsche had exclaimed prophetically in Zarathustra that the "state is the coldest of all cold monsters,"[13] a darkly accurate view later reinforced by Spanish thinker Jose Ortega y' Gasset. Observed Ortega" "The state is the greatest danger."[14]
But even the most refined prescriptions for improved global coordination or governance will require certain antecedent changes in individual human behavior. This is the case, moreover, in spite of the apparent improbability of any such "molecular" changes. In other words, much as we might still think such changes unlikely or even impossible, we have literally no alternative.
Quite literally, the present-day time-dishonored world system is destined to fail.[15]
In essence, it is most urgent that we learn to supplant the relentlessly belligerent aspects of patriotism with more gainful visions of cooperation, interdependence and "oneness." Apropos of such an imperative learning, both scholars and policy makers would be well-advised to recall the special wisdom of Jesuit French philosopher Pierre Teilhard de Chardin: "The egocentric ideal of a future reserved for those who have managed to attain egoistically the extremity of `everyone for himself' is false and against nature."
Now, this incontestable warning in The Phenomenon of Man assumes especially powerful relevance regarding US President Donald Trump's deeply injurious emphases on "America First." By definition, these retrograde emphases are incompatible with any reasonably sought-after outcomes of world peace and justice. Instead, they point directly toward enlarging the prospects for both human insecurity and human degradation.
Though understood only by those still willing to undertake suitably disciplined thought, there exist many intimate connections between intra-national and inter-national power processes. Among other things, these links suggest that "fixing states" could represent the vital intermediary step between fixing individual human beings and fixing the wider world. Accordingly, in American universities, which are increasingly given over to implementing narrowly vocational forms of education, we need to bring-back and amplify "world order studies" as a designated field of respectable academic inquiry.[16]
For those prospective students determined to study business, computers or technology, it will be worth keeping in mind that there can be no meaningful achievements of individual wealth or success when the world as a whole tilts only toward more war, terror and genocide.
In general, before humanity can maximize rule-based and value-based forms of global cooperation, there will first have to take place certain distinctly primary human changes. Although it may be premature to identify a systematic and sequential inventory of such required changes, the needed process is by no means ambiguous. Wittingly, this process would reject the distracting delusions of a society given over to demeaning amusements and would accept instead a genuinely challenging set of intellectual imperatives. Ultimately, any suitably alternative forms of global cooperation will demand dialogue not only among fractious nation-states, but also among individual human beings.
Such forward-looking and dynamic thinking can bring us back gainfully to French Jesuit philosopher Teilhard, and to the primary importance of system: "The existence of `system' in the world is at once obvious to every observer of nature….Each element of the cosmos is positively woven from all the others." Complementary "lessons" can be found in Aristophanes' Lysistrata; these lessons conveniently recollect what used to be called "cosmopolitanism" or a determined ideology of global integration :[17] "Then you should card it and comb it, and mingle it all/in one basket of love and unity,/Citizens, visitors, strangers, and sojourners – all the/entire, undivided community."
In the end, any state's true patriotic interests can be met solely by cultivating a greater and more unqualified loyalty to humankind in general. In the United States, this rationally redirected loyalty, which would be labeled as "unpatriotic" by most Americans, will require a prior and far more robust development of intellect or "mind." Such a development, moreover, would be at definitional odds with any exaggerated expectations of current Trump-era "populism."[18]
Nothing useful could be solved by adding more and more adrenalized encouragements of technology or entrepreneurship.
The overriding problem of "creating a future" in world politics will be solved by any new multiplication of "personal devices."
Also, it won't help individuals to "win" in any "shark tank" if the tank itself has already been drained.
Ultimately, we will all need to replace the recognizably false communion of nation-states – one now, like the High Lama's prediction, that is close to collapsing – with a reassuringly new and authentic harmony. When such an ambitious replacement is at last successful, or at least discernibly underway, we could finally take seriously an earlier critical promise of Sigmund Freud. While Freud was not focused on world politics per se, he would surely still agree with the following proposition: A greatly expanded or fully supplanting power of global community can make sense only if there can first be rejected an inwardly-rotten "balance-of-power" dynamic, one that is mistakenly based on fear, trembling and a near-perpetual dread.
One last summary observation will be be offered here, one that points toward a key potential barrier to creating a more just and viable future, toward overcoming an impediment to all conceivably plausible forms of human transformation. The worrisome "fly in the ointment" here concerns the continuously problematic assumption of human rationality. Even before Freud, and most markedly in Dostoyevsky, Nietzsche and Kierkegaard, we may read with long-term benefit about human irrationality.
Much as we might try to deny it, irrationality – not rationality – has been the actual foundation of nation-state decision-making in world politics.
Though daunting and seemingly out of place, the literary/philosophic recognition of the "absurd" – Credo quia absurdum; "I believe because it is absurd" – must somehow be incorporated into all proposed nation-state programs for global reform. Without such an indispensable incorporation, every otherwise carefully worked-out prescription for global "civilization" could fail promptly and calamitously.
Current assertions of "America First" notwithstanding, traditionally combative expressions of nationalism can never be authentically patriotic. Even among the most evident antinomies of the world, any truly promising spirit of patriotism must first acknowledge (1) the core singularity or "oneness" of our species;[19] and (2) the corollary interdependence of all nation-states. In the end, inter alia, any serious and decent forms of patriotism must affirm that all human beings are enduringly and indissolubly interconnected.[20]
Bottom line for the United States: There can be no suitable "America First" posture that is detached from the calculable well-being of nation-states in general.
None at all.
To the American president and other world leaders, please take note: What cannot benefit the world system as a whole (the "hive") can never benefit the individual nation-state (the "bee").

---
[1] "Theories are nets," reminds Karl Popper, citing to the German poet Novalis, "only he who casts, will catch." See Popper's epigraph to his classic, The Logic of Scientific Discovery (1959). Ironically, Novalis' fellow German poet, Goethe, declared, in his early Faust fragment (Urfaust): "All theory, dear friend, is grey. But the golden tree of life is green."
[2] See F.E. Adcock, The Greek and Macedonian Art of War (1962).
[3] Recall, in this connection, Bertrand Russell's timeless warning in Principles of Social Reconstruction (1916): "Men fear thought more than they fear anything else on earth, more than ruin, more even than death."
[4] See, by this author, at Harvard National Security Journal, Harvard Law School: https://harvardnsj.org/2015/06/core-synergies-in-israels-strategic-planning-when-the-adversarial-whole-is-greater-than-the-sum-of-its-parts/ See also, by Professor Beres, at Modern War Institute, West Point: https://mwi.usma.edu/threat-convergence-adversarial-whole-greater-sum-parts/
[5] See, by this writer, Louis René Beres, https://www.israeldefense.co.il/en/node/28931
[6] Such failure, of course, would be most "palpable" and consequential when this country finds itself in extremis atomicum.
[7] A bellum omnium contra omnes
[8] Significantly, Hobbes' Leviathan was well-familiar to the founding fathers of the United States, especially Thomas Jefferson.
[9] This author, Louis René Beres, was a part of this original disciplinary inauguration at Princeton in the 1960s. In turn, much of this Princeton-based inauguration was derived from still earlier work at the Yale Law School.
[10] My own doctoral dissertation at Princeton, completed in 1971, explored the logical foundations of global centralization. See: Louis René Beres, The Management of World Power: A Theoretical Analysis (University of Denver, Monograph Series in World Affairs, Vol. 10, Monograph No.3., 1972-73), 93pp; also Louis René Beres and Harry R. Targ, Reordering the Planet: Constructing Alternative World Futures (Boston: Allyn and Bacon, 1974).
[11] Here we may learn from the Irish playwright Samuel Beckett's Endgame: "What is the good of passing from one untenable position to another, of seeking justification always on the same plane?"
[12] Rabbi Eleazar quoted Rabbi Hanina who said: "Scholars build the structure of peace in the world." The Babylonian Talmud, Order Zera'im, Tractate Berakoth, IX
[13] The classic contra-view is offered by Friedrich Hegel in The Philosophy of Right:, which calls the state "the march of God in the world" and "the actuality of the ethical idea." This contra notion of the state as a genuinely sacred phenomenon was most dramatically formalized by fascist movements in the 20th century. Inter alia, the modern roots of such state-worshiping behavior lie prominently in Johann Gottlieb Fichte's Addresses to the German Nation and also in the assorted writings of Heinrich Treitschke.
[14] "The State," explains Ortega in The Revolt of the Masses, "after sucking out the very marrow of society, will be left bloodless, a `skeleton,' dead with that rusty death of machinery, more gruesome even than the death of a living organism."
[15] One may think here of the warning by the High Lama a in James Hilton's Lost Horizon: "The storm…this storm that you talk of….It will be such a one, my son, as the world has not seen before. There will be no safety by arms, no help from authority, no answer in science. It will rage until every flower of culture is trampled, and all human things are leveled in a vast chaos….The Dark Ages that are to come will cover the whole world is a single pall; there will be neither escape nor sanctuary."
[16] See, for example, Louis René Beres and Harry R. Targ, Planning Alternative World Futures: Values, Methods and Models (New York: Praeger Publishers, 1975).
[17] A wonderful "summary text" of these complex issues remains W. Warren Wagar's Building the City of Man: Outlines of a World Civilization (New York: Grossman Publishers, 1971), 180 pp.
[18] Still the best source of explanations for this "barrier" is Jose Ortega y' Gasset's seminal The Revolt of the Masses (1930).
[19] Says the Talmud: "The earth from which the first man was made was gathered in all the four corners of the world."
[20] To be sure, any such affirmation seems improbable. Nonetheless, reminds Italian film director Federico Fellini insightfully: "The visionary is the only realist." Similarly, from the German philosopher Karl Jaspers: "Everyone knows that the world-situation in which we live is not a final one." (Man in the Modern Age, 1951).
Joe Biden in 2020 Copies Hillary Clinton in 2016
The 2016 Iowa Democratic Presidential Caucuses were held on 1 February 2016 and produced 49.84% for Hillary Clinton and 49.59% for Bernie Sanders.
On 12 January 2016, Politico headlined "Sanders bests Clinton in new early state polls" and reported that "The intensifying rivalry between Hillary Clinton and Bernie Sanders spiked a few degrees on Tuesday with two new polls showing the Vermont senator catching fire in not only his regional stomping ground of New Hampshire but also in Iowa, where Clinton enjoyed a double-digit lead as late as mid-December."
The 2020 Iowa Democratic Presidential Caucuses are to be held on 3 February 2020. On 26 January 2020, Political Wire headlined "Tight Race in Iowa" and reported that "A new CBS News poll in Iowa shows Bernie Sanders is leading the Democratic presidential race with 26%, followed by Joe Biden at 25%, Pete Buttigieg at 22%, Elizabeth Warren at 15% and Amy Klobuchar at 7%."
That CBS News poll in Iowa showed also that whereas only 33% of the likely voters thought that Sanders would beat Trump if the nominee, 45% thought that Biden would beat Trump if the nominee. Biden also scored far higher than Sanders on "Prepared to be Commander in Chief": 84% on that, compared to Sanders's 68%. Also on other factors, the findings were remarkably similar for Biden as compared to what the polls at around this same time had been showing for Clinton. Also, the pre-primary polls in 2016 were showing almost identical demographics for Clinton's voters as the 2020 pre-primary polls are showing now for Biden voters — such as an overwhelming majority of Blacks supporting Clinton then and Biden now, but also on almost all other demographic factors. And, likewise, Sanders's voters in 2020 seem to be the same demographics as Sanders voters in 2016 were.
Clinton, of course, received the Democratic Party nomination and was widely expected to beat Trump but she lost to him (though she won California by 4,269,978 in the popular vote, and so beat Trump by 2,864,974 in the nationwide popular vote, while she lost all other states by 1,405,002 votes, and so she would have been California's President if she had won, but the rest of the nation wouldn't have been happy).
Among the top reasons why Democrats in primaries and caucuses voted for Clinton was that they thought she would have a higher likelihood of beating the Republican nominee than Sanders did. However, by the time when Election Day rolled around, the passion that Republicans felt for their nominee, Trump, was much stronger than was the passion that Democrats felt for their nominee, Clinton. During the Democratic primaries, polls were showing that the Democrats who were voting for Sanders to become their Party's nominee were far more passionate in their support of him than was the case regarding the Democrats who were voting for Clinton to become the Democratic nominee. And nobody questions that Trump was the passion-candidate in the Republican Party's primaries and caucuses.
On 1 May 2017, McClatchy newspapers headlined "Democrats say they now know exactly why Clinton lost" and reported that,
A select group of top Democratic Party strategists have used new data about last year's presidential election to reach a startling conclusion about why Hillary Clinton lost. Now they just need to persuade the rest of the party they're right.
Many Democrats have a shorthand explanation for Clinton's defeat: Her base didn't turn out, Donald Trump's did and the difference was too much to overcome.
But new information shows that Clinton had a much bigger problem with voters who had supported President Barack Obama in 2012 but backed Trump four years later.
Those Obama-Trump voters, in fact, effectively accounted for more than two-thirds of the reason Clinton lost, according to Matt Canter, a senior vice president of the Democratic political firm Global Strategy Group. In his group's analysis, about 70 percent of Clinton's failure to reach Obama's vote total in 2012 was because she lost these voters. …
Although Clinton has blamed her loss on Putin, and on Sanders — and perhaps if Biden wins the nomination he will likewise blame Putin and Sanders if he subsequently loses to Trump — the passion factor is actually much stronger an influence on whom the winner of an electoral contest will be than losing candidates wish to admit or publicly acknowledge; and it could turn out to be the case in 2020, just the same as it did in 2016.
Iran crisis test drives fundaments of Trump's foreign policy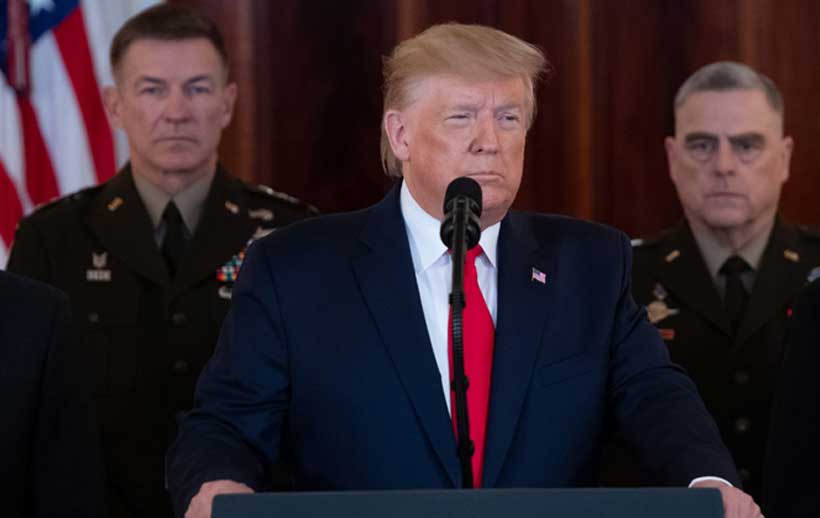 At the core of US president Donald J. Trump's maximum pressure campaign against Iran lies the belief that Iran can be forced to negotiate terms for the lifting of harsh US economic sanctions even if it has no confidence in US intentions and adherence to agreements.
The Trump administration's belief, despite the conviction of much of the international community that maximum pressure has failed and risks provoking a devastating all-out war in the Middle East, says much about the president's transactional approach towards foreign policy that rests on the assumption that bluster, intimidation and the brute wielding of power can protect US interests and impose US will.
Richard Goldberg, an Iran-hawk who this month resigned as the official on the president's national security council responsible for countering Iranian weapons of mass destruction, signalled in an op-ed in The New York Times, entitled "Trump Has an Iran Strategy. This Is It," that Mr. Trump attributes no importance to deep-seated Iranian concerns that he is gunning for regime change in Tehran and that building trust is not needed to resolve the Iran crisis.
"The Iranian regime doesn't need to trust America or Mr. Trump to strike a deal; it just needs to act as a rational actor to avoid collapse," said Mr. Goldberg, who backed by former national security advisor John Bolton, served for a year in the White House.
Mr. Goldberg appeared to ignore the fact that the US withdrawal 20 months ago from a 2015 international agreement that curbed Iran's nuclear program sparked doubts not only in Iran but across the globe about the value of a US signature on any agreement.
He also appeared oblivious to the fact that Iranian suspicions were reinforced by alllegations that his salary, while at the White House, was paid by the Foundation for the Defense of Democracies, a hardline Washington-based think tanks that is believed to have close ties to Israel and the United Arab Emirates. So did anecdotes about how his hardline views provoked clashes with other administration officials.
In his op-ed, Mr. Goldberg suggested that any new agreement with Iran could be ratified by the US Senate.
The Trump administration and Mr. Goldberg's misreading of what it would take to steer the United States and Iran off a road of more than 40 years of deep-seated mutual distrust and animosity and towards the turning of a new page in their relationship was evident in indirect responses to the former national security council official's assertions.
"Even if one day we negotiate with the US, the talks will not be with Trump, won't be strategic (no normalization of ties) and will be done only by conservatives not reformists. We need to see changes in the (US) Congress; whether Democrats will pursue a fair policy by which Iran is not under pressure over its missile program," said a regime insider.
The Trump administration has demanded among other things that Iran curb its ballistic missile program, a core element of the Islamic republic's defense strategy given that its armed forces lack a credible air force and navy.
Hardliners, who rather than moderates have proven in other Middle Eastern conflicts like the Israeli-Palestinian dispute to be the ones capable of cutting deals, are expected to win next month's parliamentary elections in Iran. The likelihood of hardline advances was enhanced by the fact that scores of moderates have been barred from running for office.
Iranian reformists argue that the accidental downing of a Ukrainian airliner Iran's Revolutionary Guards Corps demonstrates the risk of an Iranian strategy that is pre-empted on eternal hostility towards the United States.
Mr. Goldberg offered a rare indication that the Trump administration recognizes Iran's strategy of gradual escalation that, based on the assumption that neither the United States nor Iran wants an all-out war, aims to bring the two countries to the brink of an armed conflict in the belief that this would break the logjam and force a return to the negotiating table on terms acceptable to Iran.
Noting that Mr. Trump had failed in the past nine months to respond to multiple Iranian provocations, including the downing of a US drone and attacks on tankers off the coast of the United Arab Emirates and on key Saudi oil facilities, Mr. Goldberg asserted that Mr. Trump "recognized those traps for what they were and exercised strategic patience."
Mr. Trump's patience ended in December when he responded to the death of an American contractor in an attack by Iranian-backed Iraqi militias and the militias' siege of the US embassy in Baghdad by first authorizing air strikes against militias bases in Iraq and Syria and then the killing of Iranian general Qassim Soleimani.
Mr. Goldberg would likely describe the president's decision not to respond to a subsequent Iranian retaliatory attack on housing facilities for US military personnel in Iraq as a renewed act of strategic patience.
Mr. Trump's strategic patience is bolstered by his retention of options to further increase maximum pressure on Iran. "Many wrongly believe the United States has already reached full 'maximum pressure on Iran," Mr. Goldberg said.
Mr. Goldberg pointed to sanctions targeting Iranian state shipping lines that are set to take effect in June, the administration's recent identification of Iran's financial sector as a "primary jurisdiction of money-laundering concern," this month's imposition of sanctions on its construction, mining and manufacturing sectors, and Europe's triggering of the nuclear accord's dispute mechanism that could lead to the return of United Nations-mandated sanctions.
Mr. Goldberg and Mr. Trump's belief that imminent economic collapse and international political isolation could prompt Iranian leaders to suddenly place a call to the White House turns Mr. Trump's handling of the Iran crisis into a litmus test of the president's approach to foreign relations.
There is little in the torturous history of relations between the United States and the Islamic republic that suggests that pressure will persuade Iran, convinced that Washington is gunning for the fall of the regime, to gamble on an unconditional return to the negotiating table.
Nor does North Korea's failure to succumb to US pressure even if Mr. Trump, in contrast to his remarks about Iranian spiritual leader Ali Khamenei, professed his love for Kim Jong-un.
Mr. Trump's policy towards Iran, rather than reinforcing Gulf confidence in the United States' reliability as a guarantor of regional security, has sparked a wait-and-see attitude and nagging doubts about US reliability.
If anything, risky US and Iranian strategies are likely to prove that the crisis can only be defused if both sides garner an understanding of the others' objectives and some degree of confidence that both parties would remain committed to any agreement they conclude.
So far, US and Iranian policies amount to a dialogue of the deaf that is likely to perpetuate the risk of hostility getting out of hand and incentivize regional players to think about alternative arrangements that ultimately could weaken US influence and reduce tensions with Iran by including it, despite US policy, in a more multilateral security architecture.
The power of symbolism: Mexico's Foreign Policy
A few weeks ago, the president of Mexico, Andrés Manuel López Obrador (AMLO) took the decision to grant asylum to Evo Morales after he fled the country amidst allegations of vote tampering and electoral fraud. The decision of Morales to flee Bolivia clashed with several internal crisis in other Latin American countries. This has made the region highly unstable and harder to predict: Argentina is struggling with a power transition; massive demonstrations that have led to widespread violence in Chile, Colombia and Ecuador; the unlikely possibility to restore democracy in Venezuela; and an early rift between the Argentinean and Brazilian presidents that may deteriorate soon. Polarisation seems to be taking its toll on the region.
AMLO's decision should not come as a surprise. Mexico has a long tradition of providing asylum to leftist leaders that can be traced back to the 1930s: Leon Trotsky, José Martí, Fidel Castro, Spanish refugees fleeing the 1936-1939 civil war; Mohammed Reza, Rigoberta Menchu, among others. So, what made the situation of Evo Morales different?
Mexico's asylum tradition goes hand in hand with a doctrine of non-intervention: The Estrada Doctrine that means that Mexico should take no position on another's government legitimacy. AMLO violated this precept by being vocal about his support to Evo Morales and his regime in Bolivia. Secondly, while in Mexico, Morales, far from keeping quiet on politics, he simply felt at home and openly urged his supporters to boycott the new administration of Jeanine Añez.
What happened in Bolivia and the subsequent diplomatic conflict between Mexico and the new interim administration only served to further divide an already highly fragmented Latin America: There are two sides on the same matter: Uruguay, Nicaragua, Mexico and Venezuela have backed up the idea of a coup d'état; while Perú, Brazil, Colombia and the United States have endorsed the idea that it was an electoral fraud. The decision of the current administration to go to such lengths for Evo Morales contrasts sharply with the questionable treatment migrants have received in the southern and northern border of the country. Morales was soon to abandon Mexico: After just a few days in Mexico, he left for Argentina, a move that should not be taken as a surprise: Argentina is swerving away from the foreign policy the former president Mauricio Macri endorsed. This change is thought to be product of the influence of Cristina Fernández de Kirchner, vice-president of Alberto Fernández, the current president. Fernández de Kirchner was known for having a close relationship with Evo Morales. His sudden departure could also be the result of a subtle order from the United States.
The way Mexico dealt with the Morales issue highlights an important change in Mexican foreign policy if compared to the one followed by previous administrations. While AMLO has taken a decidedly non-interventionist stance towards Nicaragua, Venezuela and more recently he declined to comment on the American attack on Iran, he was very eager to make his stance clear in the Bolivian crisis.
AMLO is a president that has relied on symbolic acts to keep his electoral base satisfied. Starting from his presidential campaign, he repeatedly stated that the best foreign policy is domestic policy, and he has, since the start of his administration, stuck to this principle. AMLO has focused on numerous domestic trips that aimed at strengthening his fourth transformation project. Domestically, he has sold his presidency as transformative, however, when it comes to his stance on foreign policy, he is stuck on al old fashioned 1930s principle: The Estrada Doctrine.
If we went by what he promised during his electoral campaign, one would expect a much more aggressive foreign policy towards the United States, and specifically towards Trump. He is, however, focused on symbolic issues which will not translate unto economic or safety improvements to keep his high approval ratings. Apart from the very specific case of Bolivia, AMLO's foreign policy has remained muted and isolated. We should not confuse his sudden support for Morales as AMLO embracing a leftist foreign policy. He has never had such an inclination. By offering asylum to Morales, he tried to give the impression that Mexico was an inclusive and supportive state that has open doors. Nonetheless, with the US next door, Mexico cannot really remain completely sovereign. This asylum process was more a symbolic action than a real shift in foreign policy.
Just last week, AMLO also declared that he has reoriented his foreign policy towards gender equality. Again, another power of symbolism if one looks at Mexico's feminicide and gender-violence statistics, they are shaming. Such a foreign policy would prioritise gender equality, protect human rights of women and marginalised groups along with equal pay, and gender parity. Domestic policies again fail to provide such a framework for Mexican women. It's hardly likely this will go beyond what it is: another symbolic promise that aims to appease those critical of his administration.