"What does not benefit the entire hive is no benefit to the bee."-Marcus Aurelius, Meditations
Sometimes, truth can be both counter-intuitive and bitterly ironic. Although Americans have long been instructed that patriotism is a proper sentiment of national superiority, of always "being the best," such reasoning quickly dissolves in the face of cold logic. In the end, what we might ordinarily consider as decent patriotism can still undermine the nation's core national interests.
Inevitably, if simply left in place, the cumulative global effect of any such considerations will prove injurious to all nations.
Perhaps even starkly injurious.
In the worst case, these injuries may extend to one form or another of catastrophic war.
These two questions arise:
(1) What correct policy inferences should be drawn by America's leaders in Washington DC?
(2) What conspicuously valid conclusions should we expect will be reached?
To respond, it must first become increasingly obvious that so many apparent benefits of traditionally-defined patriotism are actually harmful and sorely unpatriotic. Because the combined result of individual nation-state judgments that conflate belligerent nationalism with patriotism weakens all nation-states, it is high time for the Trump White House to think more analytically about "America First." The particular policy objectives coalescing around this falsifying mantra must become more serious than just eliciting mindless cheers at political "rallies."
As a start, US President Trump and his senior national security counselors could be reminded purposefully that history is actually worth studying. Accordingly, they could learn, classical Greek and Macedonian war postures were self-consciously based upon sound intellectual and theoretical foundations.[1]
More succinctly, such ancient postures were founded upon determinedly calculable struggles of "mind over mind." To be sure, whatever else their varying deficiencies, they were not crafted from the corrosively visceral chants of an unthinking "amen chorus," what the Greeks themselves would have called the hoi polloi.
Over the years, though not always followed, such enviable "mind-over-mind" orientations have provided an overlooked but perpetually-prudent model of national security planning.[2] Nonetheless, across almost the entire globe, national military planning remains narrowly focused upon limited correlations of individual force structure and on elements of a wrongly-presumed national interest. This dissembling focus is especially obvious today in Washington DC, in both Congress and the White House, where insufficiently serious thought is being directed toward systematizing long-term American security obligations.
Significantly, before improved thought could reasonably be expected,[3] America's national security policy planners would first need to become more attentive to variously complex policy intersections and interdependencies, including what are formally called "synergies."[4] In any true synergistic interaction, the policy behaviors of rival states could produce outcomes that are tangibly "more" than the simple sum of their parts. A timely example here might be prospective US-North Korean policies of crisis escalation, policies in which one side or the other (or both) would mistake the other's moves and where the result could be much worse than any simple arithmetic summation could have predicted.
Looking ahead to still-plausible crises between Washington and Pyongyang, each side (assuming basic and bilateral rationality) will be seeking to achieve "escalation dominance" and, simultaneously, to maintain national survival.[5]
If follows from all this, whatever one's prior political inclinations or affiliations, that US President Trump's "America First" foreign policies are inherently unpatriotic and destined to fail.[6]
And it is all unambiguous.
Years earlier, Sigmund Freud, while not directly concerned with the dynamics of world politics or international relations, examined similar issues at the microcosmic or "molecular" level, that is, at the critical level of individual human beings. Looking over such psychologically focused examinations, Freud's rudimentary conceptual understanding – that unfettered "liberty" among individual human beings must invariably lead to uselessly antagonistic or "zero-sum" social conflicts – applies equally to nation-states. If left alone to pursue their collective lives "patriotically"- that is, within the anarchic global state-of-nature that seventeenth century political philosopher Thomas Hobbes had famously and accurately called a "war of all against all"[7] – the separate state actors would be forced to endure the conditions of permanent war.
Under no conceivable circumstances could such conditions prove tolerable.
Moreover, amid any such continuously ferocious global anarchy – a structure of disorder originally bequeathed at the Peace of Westphalia in 1648 – there could never arise any meaningful forms of civilization.
Never.
Notwithstanding the bitterly anti-intellectual stance of the current American president, history and learning do have an indispensable place in the United States. Recalling Thomas Hobbes Leviathan (1651, chapter XIII), the life of any states attempting to chase after narrowly nationalistic/populist goals (what Donald Trump would today call "America First") must be "solitary, poor, nasty, brutish and short."[8] Going forward, it is even plausible that the traditional anarchy in world politics dating back to the end of the Thirty Years War in 1648 has begun to morph into a more far-reaching and irremediable chaos.
In this connection, it is now even worth repeating, there would exist principal and palpable connections between traditional zero-sum notions of patriotism and what is now called "populism."
But how do we actually fix a global system founded upon and sustained by such thoroughly erroneous notions of patriotism? How should well-intentioned states (including especially the United States) plan their successful escape from the global state of nature, an escape for which there can be absolutely no viable alternative? There exist really just two potentially coherent responses, and these responses need not be mutually exclusive.
The first and most frequently recommended reaction focuses on somehow changing a perpetually conflict-based mechanism of world politics. Even before the appearance of what was formally called "World Order Studies" back at Yale and Princeton in the 1960s,[9] philosophers from Dante and Immanuel Kant to H.G. Wells, Pierre Teilhard de Chardin, and Sri Aurobindo had elaborated imaginatively on various configurations of world government.[10] Today, even if we can convincingly oppose any or all such configurations, the underlying imperative to think in more disciplined fashion about "reordering the planet" is still fully urgent.[11]
The second reasonable response must take analytic investigators back to the true origins of the problem, that is, to the universally conspicuous and undiminished imperfections of individual human beings. With this suitably intellectual posture, one that would correctly regard all world politics as epiphenomenal, or as mere manifestation of deeper causes, the scholar's (and later policymaker's) overriding emphasis must be upon "fixing people."[12] To be sure, if the first reaction could be critiqued as "unrealistic" or "utopian," the second would qualify even more plainly for such pejorative characterizations.
But how, precisely, to proceed?
Here, the most promising answers will require a consciously transformational focus upon the individual human being, on the pertinent microcosm and on his or her primary place in "global rescue" preparations. So long as it remains predicated upon fully erroneous definitions of patriotism, our nation-state system of world politics will be incapable of serving humankind's most basic security and justice obligations. Earlier, German-Swiss philosopher Friedrich Nietzsche had exclaimed prophetically in Zarathustra that the "state is the coldest of all cold monsters,"[13] a darkly accurate view later reinforced by Spanish thinker Jose Ortega y' Gasset. Observed Ortega" "The state is the greatest danger."[14]
But even the most refined prescriptions for improved global coordination or governance will require certain antecedent changes in individual human behavior. This is the case, moreover, in spite of the apparent improbability of any such "molecular" changes. In other words, much as we might still think such changes unlikely or even impossible, we have literally no alternative.
Quite literally, the present-day time-dishonored world system is destined to fail.[15]
In essence, it is most urgent that we learn to supplant the relentlessly belligerent aspects of patriotism with more gainful visions of cooperation, interdependence and "oneness." Apropos of such an imperative learning, both scholars and policy makers would be well-advised to recall the special wisdom of Jesuit French philosopher Pierre Teilhard de Chardin: "The egocentric ideal of a future reserved for those who have managed to attain egoistically the extremity of `everyone for himself' is false and against nature."
Now, this incontestable warning in The Phenomenon of Man assumes especially powerful relevance regarding US President Donald Trump's deeply injurious emphases on "America First." By definition, these retrograde emphases are incompatible with any reasonably sought-after outcomes of world peace and justice. Instead, they point directly toward enlarging the prospects for both human insecurity and human degradation.
Though understood only by those still willing to undertake suitably disciplined thought, there exist many intimate connections between intra-national and inter-national power processes. Among other things, these links suggest that "fixing states" could represent the vital intermediary step between fixing individual human beings and fixing the wider world. Accordingly, in American universities, which are increasingly given over to implementing narrowly vocational forms of education, we need to bring-back and amplify "world order studies" as a designated field of respectable academic inquiry.[16]
For those prospective students determined to study business, computers or technology, it will be worth keeping in mind that there can be no meaningful achievements of individual wealth or success when the world as a whole tilts only toward more war, terror and genocide.
In general, before humanity can maximize rule-based and value-based forms of global cooperation, there will first have to take place certain distinctly primary human changes. Although it may be premature to identify a systematic and sequential inventory of such required changes, the needed process is by no means ambiguous. Wittingly, this process would reject the distracting delusions of a society given over to demeaning amusements and would accept instead a genuinely challenging set of intellectual imperatives. Ultimately, any suitably alternative forms of global cooperation will demand dialogue not only among fractious nation-states, but also among individual human beings.
Such forward-looking and dynamic thinking can bring us back gainfully to French Jesuit philosopher Teilhard, and to the primary importance of system: "The existence of `system' in the world is at once obvious to every observer of nature….Each element of the cosmos is positively woven from all the others." Complementary "lessons" can be found in Aristophanes' Lysistrata; these lessons conveniently recollect what used to be called "cosmopolitanism" or a determined ideology of global integration :[17] "Then you should card it and comb it, and mingle it all/in one basket of love and unity,/Citizens, visitors, strangers, and sojourners – all the/entire, undivided community."
In the end, any state's true patriotic interests can be met solely by cultivating a greater and more unqualified loyalty to humankind in general. In the United States, this rationally redirected loyalty, which would be labeled as "unpatriotic" by most Americans, will require a prior and far more robust development of intellect or "mind." Such a development, moreover, would be at definitional odds with any exaggerated expectations of current Trump-era "populism."[18]
Nothing useful could be solved by adding more and more adrenalized encouragements of technology or entrepreneurship.
The overriding problem of "creating a future" in world politics will be solved by any new multiplication of "personal devices."
Also, it won't help individuals to "win" in any "shark tank" if the tank itself has already been drained.
Ultimately, we will all need to replace the recognizably false communion of nation-states – one now, like the High Lama's prediction, that is close to collapsing – with a reassuringly new and authentic harmony. When such an ambitious replacement is at last successful, or at least discernibly underway, we could finally take seriously an earlier critical promise of Sigmund Freud. While Freud was not focused on world politics per se, he would surely still agree with the following proposition: A greatly expanded or fully supplanting power of global community can make sense only if there can first be rejected an inwardly-rotten "balance-of-power" dynamic, one that is mistakenly based on fear, trembling and a near-perpetual dread.
One last summary observation will be be offered here, one that points toward a key potential barrier to creating a more just and viable future, toward overcoming an impediment to all conceivably plausible forms of human transformation. The worrisome "fly in the ointment" here concerns the continuously problematic assumption of human rationality. Even before Freud, and most markedly in Dostoyevsky, Nietzsche and Kierkegaard, we may read with long-term benefit about human irrationality.
Much as we might try to deny it, irrationality – not rationality – has been the actual foundation of nation-state decision-making in world politics.
Though daunting and seemingly out of place, the literary/philosophic recognition of the "absurd" – Credo quia absurdum; "I believe because it is absurd" – must somehow be incorporated into all proposed nation-state programs for global reform. Without such an indispensable incorporation, every otherwise carefully worked-out prescription for global "civilization" could fail promptly and calamitously.
Current assertions of "America First" notwithstanding, traditionally combative expressions of nationalism can never be authentically patriotic. Even among the most evident antinomies of the world, any truly promising spirit of patriotism must first acknowledge (1) the core singularity or "oneness" of our species;[19] and (2) the corollary interdependence of all nation-states. In the end, inter alia, any serious and decent forms of patriotism must affirm that all human beings are enduringly and indissolubly interconnected.[20]
Bottom line for the United States: There can be no suitable "America First" posture that is detached from the calculable well-being of nation-states in general.
None at all.
To the American president and other world leaders, please take note: What cannot benefit the world system as a whole (the "hive") can never benefit the individual nation-state (the "bee").

---
[1] "Theories are nets," reminds Karl Popper, citing to the German poet Novalis, "only he who casts, will catch." See Popper's epigraph to his classic, The Logic of Scientific Discovery (1959). Ironically, Novalis' fellow German poet, Goethe, declared, in his early Faust fragment (Urfaust): "All theory, dear friend, is grey. But the golden tree of life is green."
[2] See F.E. Adcock, The Greek and Macedonian Art of War (1962).
[3] Recall, in this connection, Bertrand Russell's timeless warning in Principles of Social Reconstruction (1916): "Men fear thought more than they fear anything else on earth, more than ruin, more even than death."
[4] See, by this author, at Harvard National Security Journal, Harvard Law School: https://harvardnsj.org/2015/06/core-synergies-in-israels-strategic-planning-when-the-adversarial-whole-is-greater-than-the-sum-of-its-parts/ See also, by Professor Beres, at Modern War Institute, West Point: https://mwi.usma.edu/threat-convergence-adversarial-whole-greater-sum-parts/
[5] See, by this writer, Louis René Beres, https://www.israeldefense.co.il/en/node/28931
[6] Such failure, of course, would be most "palpable" and consequential when this country finds itself in extremis atomicum.
[7] A bellum omnium contra omnes
[8] Significantly, Hobbes' Leviathan was well-familiar to the founding fathers of the United States, especially Thomas Jefferson.
[9] This author, Louis René Beres, was a part of this original disciplinary inauguration at Princeton in the 1960s. In turn, much of this Princeton-based inauguration was derived from still earlier work at the Yale Law School.
[10] My own doctoral dissertation at Princeton, completed in 1971, explored the logical foundations of global centralization. See: Louis René Beres, The Management of World Power: A Theoretical Analysis (University of Denver, Monograph Series in World Affairs, Vol. 10, Monograph No.3., 1972-73), 93pp; also Louis René Beres and Harry R. Targ, Reordering the Planet: Constructing Alternative World Futures (Boston: Allyn and Bacon, 1974).
[11] Here we may learn from the Irish playwright Samuel Beckett's Endgame: "What is the good of passing from one untenable position to another, of seeking justification always on the same plane?"
[12] Rabbi Eleazar quoted Rabbi Hanina who said: "Scholars build the structure of peace in the world." The Babylonian Talmud, Order Zera'im, Tractate Berakoth, IX
[13] The classic contra-view is offered by Friedrich Hegel in The Philosophy of Right:, which calls the state "the march of God in the world" and "the actuality of the ethical idea." This contra notion of the state as a genuinely sacred phenomenon was most dramatically formalized by fascist movements in the 20th century. Inter alia, the modern roots of such state-worshiping behavior lie prominently in Johann Gottlieb Fichte's Addresses to the German Nation and also in the assorted writings of Heinrich Treitschke.
[14] "The State," explains Ortega in The Revolt of the Masses, "after sucking out the very marrow of society, will be left bloodless, a `skeleton,' dead with that rusty death of machinery, more gruesome even than the death of a living organism."
[15] One may think here of the warning by the High Lama a in James Hilton's Lost Horizon: "The storm…this storm that you talk of….It will be such a one, my son, as the world has not seen before. There will be no safety by arms, no help from authority, no answer in science. It will rage until every flower of culture is trampled, and all human things are leveled in a vast chaos….The Dark Ages that are to come will cover the whole world is a single pall; there will be neither escape nor sanctuary."
[16] See, for example, Louis René Beres and Harry R. Targ, Planning Alternative World Futures: Values, Methods and Models (New York: Praeger Publishers, 1975).
[17] A wonderful "summary text" of these complex issues remains W. Warren Wagar's Building the City of Man: Outlines of a World Civilization (New York: Grossman Publishers, 1971), 180 pp.
[18] Still the best source of explanations for this "barrier" is Jose Ortega y' Gasset's seminal The Revolt of the Masses (1930).
[19] Says the Talmud: "The earth from which the first man was made was gathered in all the four corners of the world."
[20] To be sure, any such affirmation seems improbable. Nonetheless, reminds Italian film director Federico Fellini insightfully: "The visionary is the only realist." Similarly, from the German philosopher Karl Jaspers: "Everyone knows that the world-situation in which we live is not a final one." (Man in the Modern Age, 1951).
Some False Statements Made in the Trump- Impeachment Hearings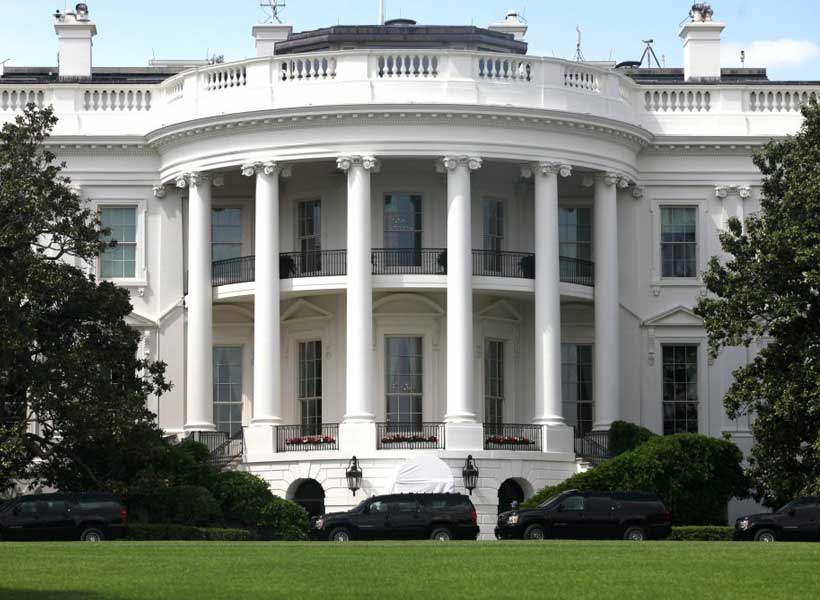 In the December 4th statement that was made by Stanford University law professor Pamela Karlan was this:
We have become the shining city on a hill. We have become the nation that leads the world in understanding what democracy is. One of the things we understand most profoundly is it's not a real democracy, it's not a mature democracy if the party in power uses the criminal process to go after its enemies. I think you heard testimony, the Intelligence Committee heard testimony about how it isn't just our national interest in protecting our own elections. It's not just our national interest in making sure that the Ukraine remains strong and on the front lines so they fight the Russians there and we don't have to fight them here.
It's also our national interest in promoting democracy worldwide, and if we look hypocritical about this, if we look like we're asking other countries to interfere in our election, if we look like we're asking other countries to engage in criminal investigations of our President's political opponents, then we're not doing our job of promoting our national interest in being that shining city on a hill.
She said: "We have become the shining city on a hill." Here is a list of just a few of the democratically elected presidents and prime ministers in foreign countries whom the U.S. regime overthrew, by coups, in order to install brutal dictatorial regimes there that would do sweetheart deals with America's international corporations. Also, unsuccessful, merely attempted, U.S. coups are discussed there.
Furthermore, the scientific studies of whether the U.S. Government is controlled by the public (a democracy) or is instead controlled only by its very wealthiest (an aristocracy) are clear: this country is an aristocracy, not a democracy at all, except, perhaps, in the purely formal senses of that term — our great Constitution. Far-right judges have recently been interpreting that Constitution in the most pro-aristocratic, anti-democratic, ways imaginable, and this might have something to do with why the scientific studies are finding that the U.S. is now a dictatorship. And this fact, of America's now being a dictatorship, was blatantly clear in America's last Presidential election, which was actually a s'election' by Americas' billionaires — not by the American public.
How, then, can Professor Karlan be respected about anything, if she lives in a dictatorship (by its aristocracy) and is deluded to think that it's still (which it never was completely) a democracy?
Furthermore: her statements about Ukraine are equally deluded. She is obviously unaware that the Obama Administration started planning its coup against Ukraine in 2011 and started implementing it in the U.S. Embassy in Ukraine on 1 March 2013, and started in June 2013 soliciting bids from U.S. companies to renovate at least one building in Crimea for use by the U.S. Navy to replace Russia's main naval base — which Russian naval base was and is in Crimea — by a new U.S. naval base to be installed there.
The craziest thing of all about Karlan's statement, however, is this part: "It's not just our national interest in making sure that the Ukraine remains strong and on the front lines so they fight the Russians there and we don't have to fight them here."
Imagine if someone said, "It's not just our national interest in making sure that the Mexico remains strong and on the front lines so they fight the Americans there and we [Russians] don't have to fight them here."
If a Russian were to assert that, would the statement be any more justifiable than what Karlan said regarding Ukraine? Of course not! Even an idiot can recognize this fact. But Karlan can't.
On December 5th, the anonymous "Moon of Alabama" blogger, whose opinions and predictions turn out to have been correct at perhaps the highest rate of anyone on the internet, headlined "The Delusions Of The Impeachment Witnesses Point To A Larger Problem" and he not only pointed out the "delusional" beliefs of Professor Karlan ("One must be seriously disturbed to believe such nonsense. How can it be that Karlan is teaching at an academic level when she has such delusions?"), but he noted that:
How is it in U.S. interest to give the Ukraine U.S. taxpayer money to buy U.S. weapons? The sole motive behind that idea was greed and corruption, not national interest:
[U.S. special envoy to Ukraine] Volker started his job at the State Department in 2017 in an unusual part-time arrangement that allowed him to continue consulting at BGR, a powerful lobbying firm that represents Ukraine and the U.S.-based defense firm Raytheon. During his tenure, Volker advocated for the United States to send Raytheon-manufactured antitank Javelin missiles to Ukraine — a decision that made Raytheon millions of dollars.
The missiles are useless in the conflict. They are kept near the western border of Ukraine under U.S. control. The U.S. fears that Russia would hit back elsewhere should the Javelin reach the frontline in the east and get used against the east-Ukrainians. That Trump shortly held back on some of the money that would have allowed the Ukrainians to buy more of those missiles thus surely made no difference.
To claim that it hurt U.S. national interests is nonsense.
It is really no wonder that U.S. foreign policy continuously produces chaos when its practitioners get taught by people like Karlan. …
The Democrats are doing themselves no favor by producing delusional and partisan witnesses who repeat Reaganesque claptrap. They only prove that the whole affair is just an unserious show trial.
In the meantime Trump is eliminating food stamps for some 700,000 recipients and the Democrats are doing nothing about it. Their majority in the House could have used the time it spent on the impeachment circus to prevent that and other obscenities.
Do the Democrats really believe that their voters will not notice this?
(Of course, they do, and they might be right. After all, polls show that Democrats still believe that Barack Obama was a terrific President, just as Republicans believe that George W. Bush was a terrific President. The fact that both — and Trump himself —were/are among the worst in American history eludes the voters in both Parties. But though I disagree with his opinion on that particular matter, he's just asking a question there, and I hope that his more optimistic take than mine turns out to be right, and that the voters — in both Parties — are coming to recognize that American politics right now is almost 100% a con-game, in both Parties.)
Why do people pay subscription-fees, to Jeff Bezos's Washington Post, and to the New York Times, and to other media that are controlled by America's billionaires, when far higher-quality journalism, like that of "Moon of Alabama" (and like the site you're reading here) is freely available on the internet? Who needs the mainstream 'news'-media, when it's filled with such unreliable claptrap, as respects (instead of exposes) what persons such as Karlan say? Jonathan Turley is to be taken seriously, and he is at the very opposite end from Karlan's opinions in the impeachment hearings (and regarding much else). (And the hearings-transcript in which both law-professors testified is here.) But the exception is Turley, and Karlan is far more the norm in the U.S.-media mainstream. And virtually all Democratic-Party propaganda-organs ('the liberal press') are playing up the Karlan claptrap. So: yes, I do think that "the Democrats [referring to the ones in the House of Representatives, of course] really believe that their voters will not notice this." Most voters are just as "deluded" (misinformed by the 'news'-media) as Professor Karlan is.
Two Cases, Minor and Major
News stories have Donald Trump being mocked by France's Macron at a Buckingham Palace reception for the NATO leaders meeting. A nearby open mic caught the incident. Trump's response was to call Macron two-faced.
Macron returns to a France paralyzed by the biggest strike in years. Teachers and transport workers are alarmed by his plan targeting their traditional pension scheme. They would now have to retire later or accept lower benefits.
Trump returns to face impeachment. Speaker Nancy Pelosi has asked the House to get on with it and draw up the Article of Impeachment. Trump also wants the same. So he said upon his return from Europe. He wants it over so he can get on with running the country, which he says has a bustling economy, the lowest unemployment in recent history and a booming stock market.
The source of Trump's self confidence: a Republican majority in the senate bound to acquit him. Truth be told, this is an unusual impeachment in that it has not managed to obtain the support of a single member of the president's own party. Prior impeachments of others had more substantial grounds and always some bilateral support.
This impeachment is also unusual for its triviality. Taking together the partisanship and the weak reasons, some legal scholars warn it sets a bad precedent, and the possibility that future presidents might well face the prospect not as rarely as in the past.
To summarize the issue: it stems from Joe Biden's son Hunter earning $50,000 per month serving on the board of Burisma, the notoriously corrupt Ukrainian gas enterprise, while lacking any professional expertise in the company's area of business. The clear implication is that it was due to his father being Vice President of the United States. Trump simply asked for an announcement from the Ukrainian president that they were opening an investigation. So what is worse nepotism or an inquiry into it?
From the relatively trivial to the deadly serious. The International Court of Justice (ICJ) will hear the case against Myanmar for the Rohingyan genocide. Aung San Suu Kyi as tarnished as her Nobel Peace Prize remains obdurate. Her country's claim the genocide case stems simply from the world"s inability to understand the complexities of the issue.
Forget the BBC film clip of one incident where the perpetrators boasted proudly of their handiwork as smoke from a village they had set alight rose in the background. Killing or stealing livestock, destroying crops to make return impossible was another tactic in the event villagers escaped. Rape, mass murder, people being burnt alive locked in their houses are well documented. Later, the UN Human Rights Council's fact-finding mission confirmed convincing evidence of genocide.
Aung San Suu Khyi will face a legal team from Gambia. Why? Well it's a story of happen-chance. Last year Gambia's Justice Minister Abubacarr Tambadou visited Bangladesh for the Organization of Islamic Cooperation's annual conference. What he saw and heard there recalled for him painful memories of the Rwandan genocide where he had prosecuted cases.
With the OIC delegation he visited Rohingya refugee camps to hear repeated stories of rape, murder and arson, and on his return he was able to convince the OIC to file a case with the ICJ. It is the first of its kind since the 1990s from the then demised Yugoslavia — the case of Bosnia and Herzegovina versus Serbia and Montenegro charging genocide filed in 1993.
And a timely warning to over-enthused promoters of religious nationalism willing to step over the line of human decency and respect for the other. Look where it leads.
Why finance is at the heart of Chile's crisis
The outsized role of unfettered finance in Chile has only worsened inequality that led to recent uprisings
In September this year, less than a month before frustrated Chileans took to the streets in Santiago, on Chile Day, former finance Minister Felipe Larrain announced new legislation that, it was hoped, would make Chile into a regional financial center. The new bill would contains regulatory changes to facilitate registration of foreign securities in Chile and eliminate tax differences between locals and foreigners that affected the ability of finance to move seamlessly in the domestic economy. These measures were announced to commemorate ChileDay in London, where Conor Burns, minister in the UK government praised Chile's macro-economic growth and fiscal management under the Sebastian Pinera government.
After years of trying to make the country into a financial regional center, the new bill concretized the government's intentions. Larrain explained that the initiative meant to relax existing rules of financial regulations through a number of areas, including reduce paperwork for foreign investors, introduce new international practices in the local fixed income market for investors to access liquidity, simplify tax laws and contracts for short-term finance and make mutual funds more flexible. In this way the government sought to enable growth in profits of financial assets, which are primarily held by wealthy investors and high net worth Chileans. Protestors' move into the affluent Providencia neighbourhood to up the ante a few days ago – known as Chile's financial district – ironically represent the apogee of this relationship.
After unease spread about the social conditions in Chile after the increase on metro fares, Minister Felipe Larrain, who retained the position from Pinera's 2010 administration, was sacked. Larrain's firing is emblematic for several reasons. Much of the recent analysis while rightly focusing on worsening social conditions for the majority of Chileans, few commentators have pinpointed one, if not the most important culprit, of high inequality since Chile became a democracy ended in 1990. Chile's embrace of financial globalization has been at the forefront of higher levels of inequality in Chile for over the last 2 decades during both left- and right-wing governments.
The planned growth of the financial sector, while good for investors and those with idle assets, it is not positive for the majority of Chileans. The United Nations Economic Commission for Latin America and the Caribbean shows ownership of financial assets are concentrated in the pocket books of the 1 per cent. In 2017, the net worth of households was extremely distorted. While the poorest 50% of households had an average net worth of US$ 5,000, the sum for the wealthiest 10% averaged US$ 760,000, and the richest 1% owned US$ 3 million. To make matters worse, the richest 10% made a whopping 92.2% of investments in shares and mutual funds, other forms of equity holdings and investment portfolios, and 77.4% of deposits in savings accounts and long-term fixed deposits. In comparison, the lower 50 per cent of the population held just 7.7% of total physical assets like motor vehicles and real estate. As a result, many Chileans are swimming in debt, owing a total of US$116 billion (about 44 percent of gross domestic product) – a significant portion due to mortgages and showing increases by 12 per cent since 2010.
In its 2018 economic survey, the OECD laid out the conditions that have led to the current crisis: as many 30 per cent of Chilean workers engage in informal work or on short-term contracts, with high concentrations among women, youth, low-skilled and indigenous groups, while unemployment benefits are virtually nonexistent. Self-employed workers earn 20% less than a formal waged employee with the same skills and experience. Financial sector employees also make more than twice the average worker and even mining sector workers. Over the years, this wage inequality and labour informalisation have been facilitated by deregulating labour markets whereby workers have less bargaining power of labour unions. Labour unions' calls to increase their stake in the congress therefore offer some hope for workers to gain more of the share of national wealth. Increases in labour income, as ECLAC shows, have a positive effect on macro-economic growth. Pinera's obstinacy to these initiatives seem to protect his economic standing rather than promote a resolution in workers' favour. Government resistance would only encourage further polarization.
Chile's financial sector has expanded at a rate more than any other economic sector, and realized a significant portion of total income and profits in the country. In terms of asset base as a percentage of GDP, the financial sector (including money bank deposits and of other financial institutions) it has growth from 64% in 1984 to 67% in the late 1990s, surpassing the 100% mark in 2010. In 2016, this ratio reached 117%. After Mexico, Chile has the highest capital penetration of foreign banks in Latin America which has counter intuitively reduced the amount of credit available to small local businesses to finance production in new products and sectors. In the meanwhile, foreign investment has however expanded in areas that do not employ great numbers. Large mining businesses which employ fewer numbers of Chileans also have a disproportionate access to international markets for credit. Chile's pension system is also privatized and seen as source for financial sharks to make a killing, which fluctuates according to traders' optimism and can lose as it did in late 2018 when investors lose confidence.
Increased privatization of the state, and narrow industrial policies promoted by agencies like the Inter-American Development Bank bolster the role of finance using a number of instruments and incentives. Compared to years prior to the dictatorship, and for a short period during Pinochet reign after the banking crisis of the 1980s, finance was largely well regulated and credit expanded to sectors that generated a large number of jobs. Now, rather than expanding employment and increasing high-value industrial exports, Chile has since the 2000s suffered becoming more and more specialized in mining. Even as private investment flows increased in copper mining during the 2000s, this has not had a broad effect on re-industrializing the Chilean economy. The opposite is true. In fact, the majority of the country's lithium is manufactured outside of the country.
While some economists have suggested that that higher inequality was due to the end of the high-price commodity boom in Chile in 2014, the historical record shows that inequality was rampant during Pinochet's dictatorship and only slightly decreased from the 1990s onwards. Inequality was practically baked into the tax system, as well as the housing and transport policies of successive governments, as Chileans found it hard to seek work opportunities in its capital city Santiago. This has earned Chile the infamy of the most unequal country in Latin America and the OECD as a whole according to certain analyses.
As the world awakens to the reality that the expanding finance do not lift all boats or 'trickle down', if there is to be a successful resolution to the current calamity that dates back to the reforms of Pinochet, democratizing finance is critical to return power to the hands of Chileans.