W Hotels Debuts W Aspen, The Brand's First Mountain Escape in North America
Set your sights Sky High. W Hotels Worldwide, part of Marriott International Inc., today announced the much-anticipated opening of W Aspen & The Sky Residences at W Aspen, located at the base of the world-renowned, eponymous mountain. With ski-in/ski-out access to some of the world's most coveted slopes, stunning 360° mountain views and striking architectural and interior design, W Aspen is the second W Mountain Escape globally, following W Verbier in the Swiss Alps. Poised to carve out a new era of luxury in Aspen, W is bringing its bold point of view to the iconic mountain town for year-round access to alpine adventure.
W Aspen is nestled slope-side on Aspen Mountain – an 11,212-foot summit internationally-renowned for skiing and snowboarding – tucked in at the end of Durant Street, where Aspen's famous Red-Light District once thrived. From the Ute Native Americans and the silver miners of the late 19th century to the swinging counterculture of the '60s and '70s and the current crop of globe-trotting billionaires, Aspen's ever-evolving residents and curious culture rival the world's most dynamic cities.
"Aspen's people, vibrancy and natural beauty make this year-round mountain town the perfect place for the W lifestyle," said Anthony Ingham, Global Brand Leader, W Hotels Worldwide. "W Aspen reimagines the traditional ski chalet and allows people to experience the town in a way they never have before, through evocative design, inclusive programming and a social scene that is sure to become an essential stop on the global jet-setting calendar. The first new build W Escape in the USA for 10 years, W Aspen marks a milestone in the brand's reinvigorated focus on North America."
W Aspen & The Sky Residences at W Aspen are owned by Northridge Capital of Washington, DC, the owner for 16 years of the former Sky Hotel situated on the same site, and co-developed by Northridge and local partner Sarpa Development. "After more than five years of hard work," commented Northridge's owner and president Dave Jackson, "we are thrilled to finally be opening the W Aspen for the enjoyment of its guests and the local community, and grateful to our partners at W Hotels, Haselden Construction, and too many other team members to name for their tireless efforts to reach this goal."
Sky's The Limit
W Aspen brings a luxurious, playful style to the historically-rich town of Aspen. Designed by global interior design firm NEMAWORKSHOP and Aspen-based architects Rowland + Broughton, alongside the W Brand's award-winning design team, W Aspen centers on the natural beauty and bounty of the mountains and the historical context of the city it surrounds.
It begins with the exterior: a modern mountain chalet with long, sloping roof lines that draw inspiration from the Rocky Mountain landscape. The essence of the outdoors continues throughout the interior, where the Welcome Desk wood formations echo the Rocky Mountains and intricately-detailed terrariums represent seasonal Aspen activities from hiking and biking to skiing and snowboarding.
On the second floor is The Living Room, which serves as the central point of the Escape experience and showcases a grid-pattern display on the bar – a nod to traditional millwork structures used to create mine tunnels in Aspen during the silver boom. Seating in The Living Room features brass and polished rods that surround plush, velvety cushions synonymous with Aspen's bohemian counterculture of the early '70s. Along the side, stadium seating leads to an iconic suspended DJ booth that takes its cue from the largest silver nugget discovered in Aspen at the turn of the century. Continuing to honor Aspen's role in the Colorado Silver Boom, light fixtures are informed by the look of a miner's headlamp and floors are swept with curving patterns that echo the soil found at the bottom of a smuggler's cove. At sundown, The Living Room's outdoor fire pit acts as a beacon at the base of the mountain – signaling to the skiers above it is time to après.
Art reminiscent of iconic Americana paintings of the Rocky Mountains layer the walls of W Aspen. Commissioned artists impart a more modern vision through the lens of classic landscape paintings like those done by Albert Bierstad and other greats. Longtime W collaborator Gaia showcases a series of works throughout the Escape that tease an infatuation with American landscape paintings but are superimposed with local millennial fragmented culture spirit guides – adding a contemporary veil to the traditional. Accent pillows in the Living Room and guestrooms are inspired by artists Herbert Bayer and Thomas Benton and pay homage to the historical residents of Durant Street, named the 'Soiled Doves of Durant'.
Cozy Up
W Aspen features 88 guestrooms and 11 W-branded residences, along with four WOW suites and one Extreme WOW suite that can be a one, two or three bedroom, all of which offer modern takes on Ute patterns and furniture inspired by the decadence of '70s Aspen "pleasure palaces." All guestrooms and suites are playfully marked with room plates in a style reminiscent of the pop culture icon Bob Ross, while interiors reference the cozy warmth of Swiss chalet architecture through the use of rustic wood finishes, sloped rooflines and a fireplace-inspired W MixBar. Each guestroom features pit and platform lounge seating that nods to the plasticity of mile-high bohemia and is complete with Ute-inspired accent pillows. Selected rooms feature a W design first, quad-queen bunk beds, which can sleep up to eight to cater to a younger adult clientele, as well as offer a wink to the more hedonistic qualities of Aspen's past.
The 2-bedroom Extreme WOW Suite is inspired by Aspen's mountain culture and is the quintessential location to play and stay. The suite features modern industrial touches, rich ski-wear fabrics, a central fire pit surrounded by curved pit seating, a hot tub open to the living area, a crystal and glass barrier embracing a circular bed on a pivoting platform, and a DJ booth with a mini LP vinyl player and curated music library – all playing on vintage luxury. The plush reds, blues and oranges in addition to psychedelic detailing add extra electricity to this warm mountain escape.
Sky High
Whether one needs to cool down after a summer day of biking the trails or warm up for après-ski cocktails, the place to see and be seen is the WET® Deck, Aspen's only year-round, all-weather, public rooftop. With jaw-dropping, panoramic mountain views, a heated pool, hot tub, fire pits, cabanas, full bar, dance floor and DJ booth, the WET Deck is poised to redefine Aspen's social scene. Guests can enjoy signature beverages from the center bar, which features a ceiling of abstract crystal sculptures that mimic upside-down mountain peaks.
39 Degrees, a legendary après ski bar in the former Sky Hotel, returns as an underground ultra-lounge cocktail bar and grotto inspired by the famed Red-Light District of Aspen. Outfitted with platform and pit seating, crushed velvet touches, cheeky Gonzo-style posters and pillows and a W-commissioned, Gabriel Alcala mural that portrays an Aspen landscape through the lens of 'excess,' this hidden spot will keep the energy going late into the night. The menu is a canvas, painting each taste bud with the flavors of sweet, sour, bitter and salt. Highlights include sweet bites like Crab Dip with duck sauce, sour bites such as Grilled Yuzu and Mirin Tiger Prawns, and salt and vinegar dusted Chicken Wings with jalapeno are all designed to play perfectly with 39 Degrees libations. Cocktails include timeless favorites like a W Sazerac or Sherry Cobbler as well as new/next drinks like a Spiked Cucumber Splash with grapefruit and rose vodka or a shareable cocktail like the Hidden Treasure, made with Montanva Oro, Aperol, mango, orange, and pineapple.
From November through April, W Aspen's Strategy Rooms serve as the hotel's Ski & Snowboard shop which will be operated by Four Mountain Sports. The shop will rent and sell the hotel's first edition series of snowboards, which were designed in partnership with Aspen's own High Society Freeride and created by Denver-based Never Summer. Inspired by the historical, cultural and social aspects of the town, only 40 boards were made – 20 for women and 20 for men – and are available exclusively at the hotel. From May through October, each 350 square feet Strategy Room sets the stage for the hotel's art, fashion and music programming as well as private events and intimate, mountainside weddings.
"The buzz and excitement for the debut of W Aspen has been building for some time and we could not be readier to bring the infectious energy, spirit and programming of W to this iconic American town," says Greg Durrer, General Manager, W Aspen. "We know that W Aspen will not only serve as a year-round destination for travelers but that it will bring a bold new point of view to the local social scene and become the latest player in the legacy of this incredible cultural mecca."
The Sky Residences Living
The Sky Residences at W Aspen offer an exclusive shared ownership opportunity with 11 W-branded Residences located slope-side on Aspen Mountain. With a limited collection of only six three-bedroom and five two-bedroom Residences, owners have access to a private, owners-only roof deck with a spa, lounge seating, BBQ grills, outdoor kitchen and fire pit. In addition, owners can enjoy all of the Escape's amenities and services at W Aspen, including Welcome Ambassadors and round the clock security; in-residence dining and STYLE housekeeping services; WHEELS valet service; FIT® state-of-art fitness facilities; two WET® Deck pools; and W's signature Whatever/Whenever® service promise, providing residents and hotel guests alike with whatever they want, whenever they want it! The Sky Residences at W Aspen are currently offered for sale by Forte Aspen. "The Sky Residences at W Aspen feature compelling statements of space and design that defy expectations," said R.J. Gallagher, Jr. of Forte Aspen. "It's where an owner can get away from it all, while having it all. Effortless ownership, where quality time with family and friends is the only order of the day. And night."
Marriott International Signs Agreement to Debut W Costa Navarino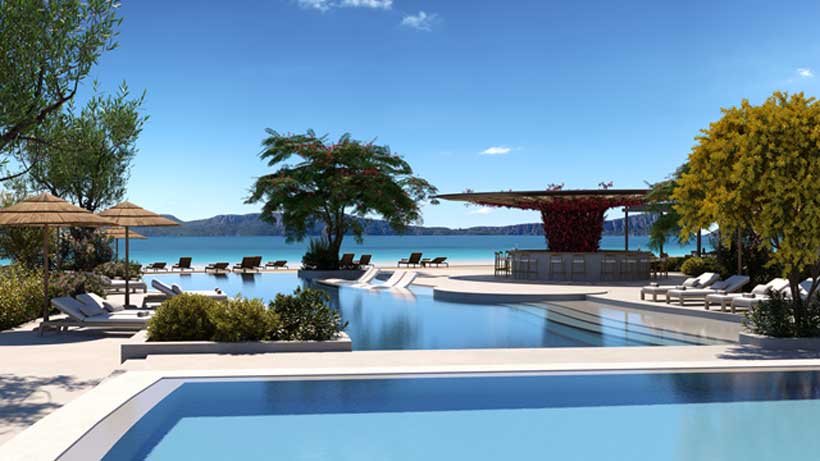 Set to welcome guests this summer, W Costa Navarino will bring detail-driven design and inspiring energy to the new Navarino Waterfront
Marriott International, Inc. today announced it has signed an agreement with TEMES S.A., a leading developer and operator in high end tourism and real estate, to debut the W Hotels Worldwide brand in Greece with the opening of W Costa Navarino. Expected to open in summer 2022, W Costa Navarino is anticipated to mark the latest addition to the ever-expanding W Escapes portfolio in Europe following locations in Spain, Switzerland and Portugal.
The new W Escape will be located in Navarino Waterfront, the newest integrated resort of Costa Navarino – the prime sustainable destination in the Mediterranean. The 13-hectare beachfront destination is located in Messinia, southwest Peloponnese. Designed by renowned Greek architects, Tombazis and Associates Architects, W Costa Navarino is inspired by the region's traditional residential areas and set to use local, natural materials such as stone, wood and reed. The distinctive interiors will be led by London-based MKV Design. The Escape is expected to feature 246 stylish rooms, suites, and villas, many with private pools staged in the Bay of Navarino with stunning Ionian Sea views.
''We are thrilled to build on our fantastic relationship with TEMES S.A. to open W Costa Navarino, strengthening Marriott International's presence in this Mediterranean paradise," said Candice D'Cruz, Vice President – Luxury Brands, Europe, Middle East & Africa, Marriott International. "Joining our portfolio of coveted W Escapes around the world, W Costa Navarino will add a distinct take on modern luxury to Navarino Waterfront. We look forward to welcoming free-spirited travelers to this new luxury playground."
W Costa Navarino is set to offer five dining venues including a destination beach club overlooking a long sandy shore, designed by Athens-based K-Studio. The 'Culinary Square' is the hotel's playful take on a deli food market with individual outlets creating a socially driven destination for all day dining. Other planned amenities include a sunset bar and the signature W Living Room. Guests will also be able to enjoy experiences and dining at neighbouring venues in Costa Navarino including the new Navarino Agora, an open marketplace with retail, street food, open-air cinema and exciting programming throughout the day and night.
"W Costa Navarino will generate a unique energy encouraging free expression and connection between a diverse mix of people, whilst respecting and honoring authentic experiences and cultures. In this important chapter for the growth of the destination, we believe W Costa Navarino will significantly contribute to our vision in further establishing Messinia as a top international destination to visit and to live," said Achilles V. Constantakopoulos, Chairman TEMES S.A.
Tennis courts and a water sports hub are part of the vision for guests to enjoy at W Costa Navarino, along with access to the destination's four signature golf courses and an array of outdoor programming including biking, hiking, rock-climbing and sailing.
There are currently two Marriott International properties in Costa Navarino— The Westin Resort Costa Navarino, offering travellers and families countless well-being activities and The Romanos, a Luxury Collection Resort, offering exquisite architecture, butler service and epicurean experiences.
5 Reasons To Go Offline at Four Seasons Resorts in Bali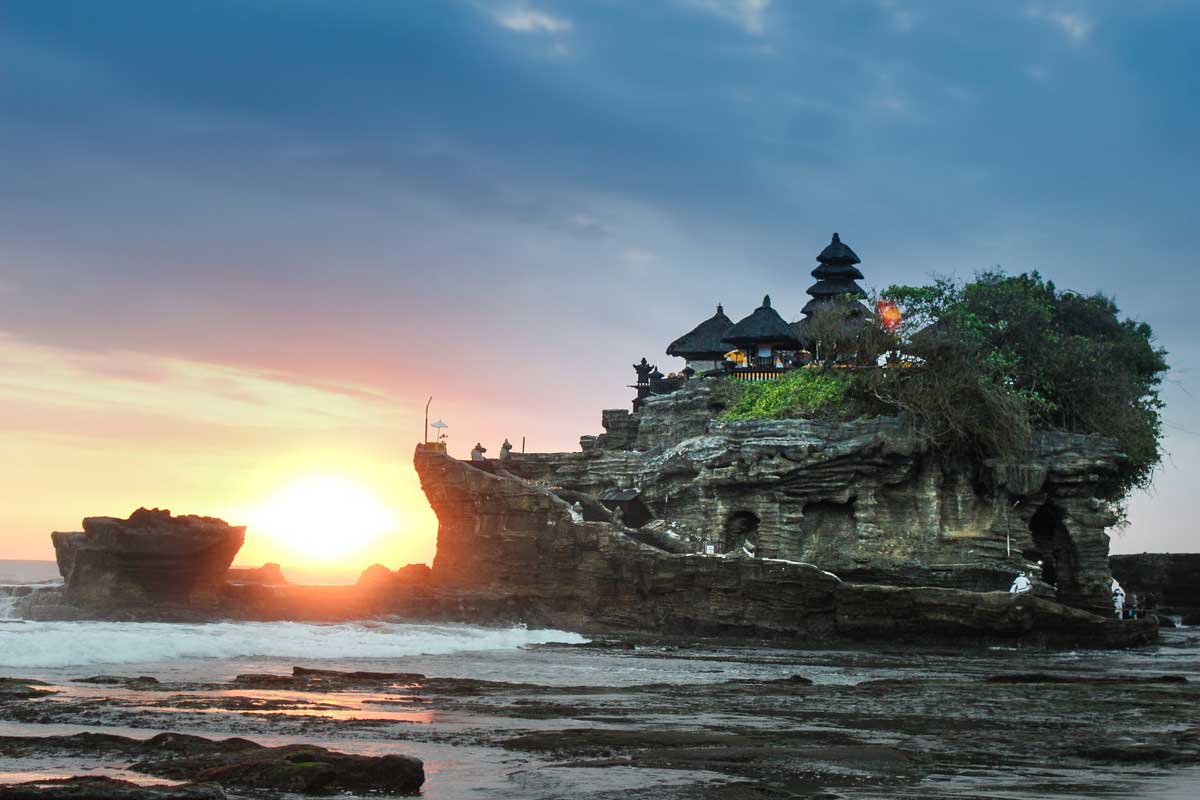 Free WiFi is expected at five-star hotels nowadays, and as such it's a standard inclusion for guests of Four Seasons Resort Bali at Jimbaran Bay and Four Seasons Resort Bali at Sayan. But the paradox of the internet and social media can be a very anti-social holiday where our phones never leave our sides. Here, we present five exclusive Four Seasons experiences that will inspire you to be in the moment. Ranging from water blessings to high-flying yoga and surf tours, you'll be disconnecting from the internet and reconnecting to each other and the wonderful world around you.
Can You Keep A Secret? This exclusive temple tour is not on anyone's bucket list. We ask guests to help us keep it that way, by resisting the urge to post the temple on social media. If you agree, our guide will take you on a scenic three-hour tour from Four Seasons Sayan in an open-air vintage VW through nearby yet untouched rice farming villages. Visit historic sites include a secluded water temple where you are welcome to bathe, or simply to enjoy the serene and undiscovered atmosphere far from selfie sticks.
Learn to surf in the sheltered confines of Jimbaran Bay or take a boat trip to explore Bali's world-class breaks with Tropicsurf's coaches and guides. On-site at Four Seasons Jimbaran Bay, the Tropicsurf philosophy is based on small groups (maximum four people) and avoiding the crowds to take your surfing to the next level, faster. For the ultimate adventure, take Asia's only heli-surfing tour to ride uncrowded waves in pristine conditions off the east coast of Java.
Bali is home to thousands of beautiful Hindu temples. We invite you to go beyond the most famous landmarks and explore hidden gems like the Goa Gong 9th century cave temple. Open to visitors by appointment only, this natural archaeological site is nearby Four Seasons Jimbaran Bay. Our resort priest Ajik Ngurah will be your guide to explore the cave's shrines and stalactites, and can also arrange a melukat water purification ritual. Not something you want to be holding your phone for!
Discover the beauty of the Ayung – Bali's longest river and part of the ancient UNESCO World Heritage-listed subak irrigation system. Our guided Four Seasons Private Rafting Adventure takes you through easy rapids flanked by virgin jungle, rice terraces and majestic gorges. Hop out of your raft and let yourself float down a quiet and calm stretch of the river, gazing up into the canopy overhead. Make a riverside landing directly at Four Seasons Sayan, where we'll be waiting to welcome you back home.
Experience the intimacy of Trust Yoga, the newest addition to the inspiring wellness program at Four Seasons Jimbaran Bay. Head to the ocean-front yoga pavilion and partner up with your soul mate, a friend or relative. Take turns being guide and flier, with postures that both require and build trust, strengthening your bond to each other and extending your practice. Our yoga instructor will lead each couple through this joyful 75-minute class, adapting postures to suit all levels. A fun way to connect emotionally and physically to someone special in your life, and a reminder that the best connections are human connections.
'Tis the Season: Best Holiday Offers to Fuel Your Festive Spirit
Hilton has curated a selection of delicious, family-friendly and unique ways to create memorable experiences during the magical festive season. Whether it's playing a game of curling with mulled wine on the waterfront of Danube or indulging in a festive afternoon tea in the tallest building in Manchester, Hilton has something for everyone to get you into the holiday spirit.
Foodie Festivities
Waldorf Astoria Versailles – Trianon Palace
Tucked between the Palace of Versailles and the Grand Trianon, Waldorf Astoria Versailles is welcoming the jolly season alongside a new sweet delicacy – The Christmas Turkey. Created by the hotel's talented pastry chef Eddie Benghanem, the dessert features a charming Turkey Chef preparing a festive dessert while sitting on an indulgent cooking pot made from chocolate. The dessert serves 6 – 8 portions and is available for takeaway when pre-booked from 84 euros.
Set in the heart of the Manchester metropolis, Hilton Manchester Deansgate invites guests to indulge in a festive afternoon tea at the Cloud 23 bar. Known as the highest bar in the city, Cloud 23 offers unrivalled floor-to-ceiling views over the Manchester city centre skyline. The afternoon tea will include unique festive cocktails alongside festive flavoured teas, sandwiches and cakes. Afternoon tea is priced at £55 per person.
Those looking to warm up near Hyde Park's magical Winter Wonderland will be in luck, with the hotel offering a bespoke Winter Wonderland afternoon tea. Clementine and chocolate reindeer macaroons alongside blueberry jelly and chestnut cream meringues will ensure every guest has indulged in the festive delicacies. Afternoon tea is priced from £32 per person with an option to add a glass of champagne.
Hilton Garden Inn Zagreb – Radnicka
Celebrate the holiday season with the whole family in the heart of Croatia's charming capital Zagreb. Hilton Garden Inn Zagreb has prepared joyful surprises for the children, alongside a "Children's Corner" games station with various creative workshops available. Parents can happily relax at the hotel's restaurant and bar with a 20% discount. Confirmed Connecting Rooms for four guests with breakfast included start from 138 euros per night.
Those looking for a delicious adventure are invited to The Able Butcher restaurant to experience the best of theatre and dining in an immersive culinary journey from "Le Petit Chef". The event features cutting-edge 3D visual technology and digital mapping paired with themed music and props. With lobster on the menu and Santa Claus as a host, every guest, big and small, will feel the festive joy. The event is hosted during lunch on December 24 and all day on December 25. Prices start from £89.
Hilton Geneva Hotel & Conference Centre
This merry season guests are invited to experience the Christmas Alpine Dream Chalet in the heart of Geneva. Set at the entrance to Hilton Geneva, the chalet will keep everyone warm by serving exquisite hot chocolates alongside mulled wine. Children are also invited to join festive cookie decoration masterclasses alongside the hotel's pastry team. The Chalet is open throughout December.
The Trafalgar St. James London, Curio Collection by Hilton
For an unforgettable New Year's Eve celebration, guests are invited to experience Le Nord at The Rooftop, an event dedicated to ringing the new year in style alongside an array of delicacies and free-flowing drinks. Unrivalled views over Trafalgar Square paired with luxurious rooms make it the ideal spot to indulge in celebrations in the heart of London.
Hilton Vienna Danube Waterfront
Resting by the Danube waterfront, Hilton Vienna Danube Waterfront invites guests to team up and celebrate the cheery season with a game of curling. With unlimited mulled wine and punch complemented by roasted chestnuts, everyone will enjoy some festive entertainment. Prices per person start from 15 euros.
DoubleTree by Hilton Harrogate Majestic Hotel & Spa
Set in the heart of the Victorian spa town, the hotel offers to join the New Year's Eve "Prohibition" black-tie gala dinner. Paying homage to the roaring '20s, the event will feature flapper dresses, champagne towers and firework displays. Guests will be treated to a five-course dinner alongside a live swing and party band, DJ and disco fireworks during the night. A surprise balloon drop with a champagne toast during midnight will be the crown jewel of the whole evening. Prices start from £120 per person.