Turkey drifting from the West towards Russia?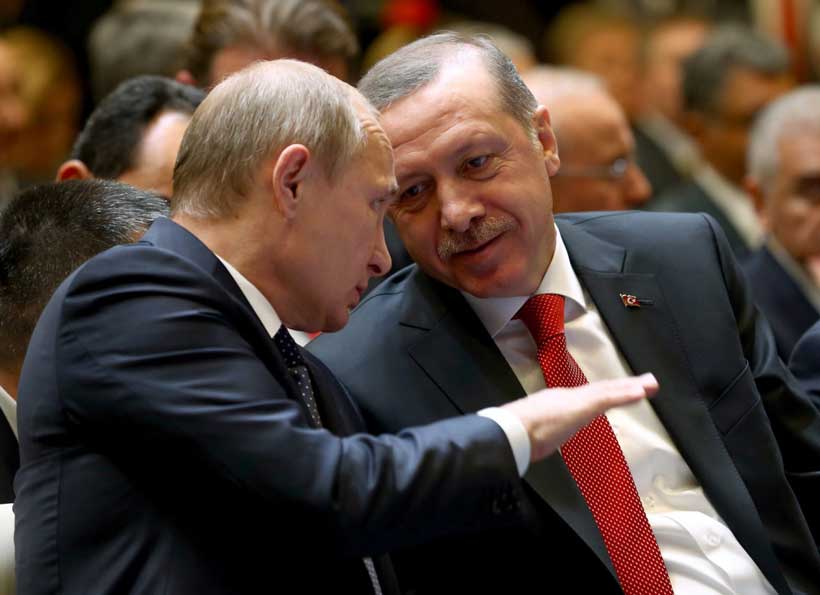 In the years of the Cold War, Turkey positioned itself at the vanguard of the free, i.e. Western world, confronting the so-called "evil empire". Many Turks, especially in the hinterland, truly believed that the words "communism" and "terrorism" meant the same, while newspapers wrote about the "oppressed" status of millions of Turks in the USSR. But everything changed at the end of the 20th century. The 1990s became a period of unprecedented growth in bilateral trade, as Turkish contractors rushed to tap into Russian expanses by erecting a variety of buildings of disputable architectural value. The collapse of the USSR gave rise to expectations of the arrival of a "Turkic century" and a "Turkic world from the Adriatic to the Great Wall of China." According to many in Turkey, the Turkic-speaking people living in Russia were to occupy a place in this world too.
Gradually, the nationalist euphoria evaporated, and since the early 2000s, with the strengthening of the Russian statehood, Turkey has been building relations with Russia on the principles of practical gain and respect for the interests of its partner. Fortunately, moderate Muslim realists from the Justice and Development Party (AKP) came to power in Turkey in 2002.
During this period, Ankara's foreign policy agenda underwent substantial changes. The AKP program proclaimed a new balance of strength and new foreign policy interests, although relations with the EU, NATO and the United States were still a priority. Nevertheless, the document emphasized the need to form friendly relations with Russia in the Central Asian and Caucasian regions and paid a lot of attention to relations with countries of Central Asia and the Middle East.
The current foreign policy doctrine has become multifaceted in contrast to Ataturk's wish in favor of the country's strategic orientation to the West. The years-long desire to integrate into the EU has faded into the background, as the main task now was to fulfil the idea of turning the country into a self-sufficient center of attraction by creating a powerful economy, addressing domestic political problems (primarily the Kurdish issue, which is not articulated but implied) and pursuing a constructive foreign policy. In the long run, the task was to turn Turkey into a world power. Simultaneously, there came a refusal to portray the country as a "bridge" between the East and the West – this definition was adopted by Turgut Ozal, the "architect of new Turkey", in the 1980s. According to the current leadership, the image of a bridge secured for Turkey the status of a secondary player in international relations. Now the country appears to be a "central state" located in the heart of Eurasia and boasting multiple identities: after all, it belongs to both Europe and Asia, spreading to the Balkan, Caucasus, Middle East and Mediterranean regions. This dictates the need to pursue a multi-faceted foreign policy which does not provide for privileged relations with anyone.
In essence, these were the ideas of the former Minister of Foreign Affairs (2009-2014) and Prime Minister (2014-2016) of Turkey Ahmet Davutoglu, which he put forward in 2001 in the monograph "Strategic Depth".
Davutoglu believed that by joining NATO, Turkey consented to play the role of a peripheral country in the Western world, having shortened the list of its interests within its close circle. Even so, the West denied Turkey integration, because it saw Ankara as a centuries-old rival. In this regard, the Davutoglu concept focuses on the link between present-day politics and the historical legacy of the Ottoman Empire. His "neo-Ottomanism" implied reconstruction of a new form of empire on a qualitatively different level, which is not so much as direct integration of countries that once belonged to the Ottoman state, as rather the strengthening of its economic, cultural and political influence throughout Pax Ottomana.
Another fundamental idea proclaimed by the then university professor was the principle of "zero problems with neighbors", which implies the highest possible level of political and economic cooperation with neighboring states. Among these, in his opinion, were countries that are not directly bordering Turkey, such as Russia, Saudi Arabia, Egypt and Israel.
Incidentally, the later problems in relations with Yerevan, Athens, Nicosia, Damascus, Jerusalem, Cairo, Riyadh, and to some extent, with Baghdad, demonstrated the complexity of the "zero problems" paradigm, in contrast to the principle of neo-Ottomanism, which is excluded from Ankara's foreign policy vocabulary but is still being translated into life.
Whatever the case, it can be assumed that present-day Turkey sees itself as a multi-regional leader but without any foreign policy preferences.
In the course of the implementation of this policy, it turned out that for pursuing "active and multi-faceted" policy the country lacked economic and political resources. This became particularly visible in the Syrian direction. Thus, cooperatioin with Russia, based on a powerful economic foundation, became for Ankara not just a choice, but a need. Moreover, it is obvious that the priorities were set before the Syrian crisis: back in 2010, Ahmet Davutoglu wrote in an article for "Russia in Global Affairs": "We consider Russia an invaluable partner, an important world power and a key player in terms of regional cooperation. I would like to emphasize that further development of cooperation based on common interest of the two parties, mutual trust and transparency is one of the top priorities of our foreign policy … We are set on addressing the same international problems, we understand each other and try to bypass "sore points" which could provoke irritation. We would like to continue a sincere and open dialogue with Russia on further development of our region. "Notably, political rapprochement was facilitated by the similarity of the national mentalities of the two countries or, rather, by their difference from the "western" mentality.
The "axial time" in Russian-Turkish relations was the period 2015-2016. While NATO allies chose to keep aloof following the incident with the Russian plane, Moscow chose to support Ankara, by not only restoring the old relations, but also by developing them to the level of a truly strategic partnership. Soon afterwards came an attempt of a military coup, which almost cost the Turkish leader his life. Recep Tayyip Erdogan, suspecting that Washington was doing more than just watching the military insurgency from the outside, appreciated the sincere and constructive position of the Russian leadership.
At present, bilateral cooperation hinges on active trade and economic relations. Projects such as Akkuyu NPP and Turkish Stream have all the potential to link the two countries' economies for years ahead. Moreover, they have a political component.
Statements that are often heard in the Turkish expert community maintain that both countries pursue their own national interests, which coincide but only partially. This is true. Some experts also say that where the interests coincide, Turkey and Russia act together, where they clash, both countries "isolate" each other, trying not to spoil relations. Besides, Turkey is trying to use the United States as a counterweight to Russia and vice versa.
In big politics, there are no simple solutions, and for Ankara multi-facetedness remains a challenge. Therefore, there is no need to equate the trend towards Turkey's distancing itself from the West with a drift only towards Moscow.
The main thing to be taken into consideration is that Russia's role in the entire spectrum of Turkish foreign policy priorioties is acquiring ever more importance. Both countries are demonstrating the ability to compromise even on issues of particular concern, such as the situation in Idlib. Even though many Western analysts view the Russian-Turkish rapprochement as situational and time-serving, Russia is demonstrating ever more trustworthiness, if not as an absolute ally, then as a reliable partner in all areas. And the fact that cooperation with Russia is economically beneficial becomes for Turkey a reality perceived through experience. From our partner International Affairs
Russia in the Middle East: "Be with Us – and Remain Yourself"
Discussions about a country's soft power are generally triggered by foreign policy crises or an urgent need to renew the institutions responsible for projecting such power. The recent controversy in expert and journalistic circles about the effectiveness of Russian soft power in the Middle East is an example of both. As it turns out, the theoretical achievements of domestic and foreign researchers in this field do not always work in practice. Many of those with an interest in soft influence and public diplomacy understand how all these things should work theoretically in foreign affairs and even often provide competent recommendations to relevant agencies. But Russian soft power, if its critics are to be believed, is still more soft than powerful.
A "silver bullet" often proposed for resolving Russia's problems in this area is an appeal to the American experience. Indeed, American practices are often seen as being rather successful in promoting US national interests and a positive image of America. Yet this is only partially true: not everything the Americans are doing (especially in the Middle East) is effective, and not everything is accessible to or appropriate for Russia. At the same time, if Russia wants to conduct a quality audit of its own approaches, it would benefit from reflecting critically on the US experience of projecting soft power in the Middle East.
Dialectics of Country and State: US Soft Power in the Middle East
The soft power tools used by the United States in the Middle East are not that different from their activity in other regions: Westernisation of elites, educational and cultural exchange programmes, support for civil society and some media, and promotion of the English language and American mass culture. Given the diverse regional specifics of the Middle East, the US has to vary how it approaches each subregion and specific country.
A concept the Americans have had to consider over their many years of working in the region is the "dialectics of country and state": while rejecting American government policy, the locals readily accept American education, culture and commercial products. In practice, of course, there are many shades to this formula: the anti-Americanism of the ordinary people in many Middle Eastern societies is generally boosted by US-led military campaigns or exacerbation of Arab-Israeli tensions. In such situations, rejection of state policy is projected on to associated cultural images, and then those dissatisfied with American politics break windows at McDonald's, burn the "stars and stripes" or defiantly boycott American pop products (though not for long).
In the same dialectics, the effects of America's soft power are offset by US hard power. The United States government and state-affiliated funds invest billions in public diplomacy and educational exchanges, in development of civil society and the media, but Washington's military actions often negate its own efforts to win public sympathy in the region.
The goal of US public diplomacy in the Middle East is to project an appealing image of the United States as an open, free and democratic society of equal opportunity. The US seeks to convince the target groups that they are not the enemy but rather contributors to strengthening regional peace and security. Given the region's demographic and socio-cultural characteristics, the United States focuses on working with young people. It is important for America to create, if not a whole generation, then at least a thick stratum of US sympathisers among intellectuals in various fields and professions who might become public opinion leaders in the future. Plus, they do not necessarily have to be pro-American. It is enough for them to have empathy for the US, which could ensure less resistance by the "social material." There is no direct correlation, of course, between "empathy" and "non-resistance" and this can be more complicated in practice. Yet this is the aim of the techniques used; how well they work will depend on the particular recipient.
All these features of American soft power policy were more relevant before Donald Trump came to the Oval Office, even though his predecessors had already highlighted a few flaws in the effectiveness of American soft power.
The question "Why do they hate us?" was seriously discussed by experts in the United States after the tragedy on 11 September 2001. The main reasons identified at that time were "intrusive missionary work" and "persistent imposition of ideals." Less than two years later, the George Bush Jr. administration decided to invade Iraq. Seventeen years passed and it took a few more military adventures, unsuccessful for America and disastrous for the region, to finally make sure that such approaches trigger only rejection and resistance.
The election of Barack Obama in 2008 gave the United States a chance to conquer the Middle East — especially its youth — by non-military methods. The image of Barack Obama as "the opposite of Bush" and his famous Cairo speech, among other things, gave hope for a change in US politics in the region. However, all these hopes were destroyed by the Arab Spring, the NATO military campaign in Libya, and the zigzags of US politics in Syria and Iraq. Some felt that Obama was unable to resist the American tradition of replacing "bad guys" by force. The trick of leading from behind in Libya did not help in this respect either: the United States, along with France and Great Britain, was considered equally involved in the overthrow of Muammar Gaddafi. Others, on the contrary, were disappointed by what they thought was Obama's insufficient determination to support opposition groups and rebels.
One way or another, the US position in the region has been shaken, as the trust in Washington and the perception of its "reliability" have been undermined. Disappointment intensified during the Democratic President's second term, when the traditional US allies in the region, Israel and the Arab monarchies of the Persian Gulf, also became dissatisfied with Obama's policies, including his attitude toward Iran.
Trump has managed to reverse this trend somewhat: his campaign against Iran made the Israelis and the Saudis more optimistic. This American president is very popular in Israel, and the Gulf has also found a business-like approach to negotiating with him. Today the US prefers to "strangle" objectionable Middle Eastern regimes with sanctions instead of overthrowing their rulers by striking with the dagger of the military. This process is more time-consuming but less painful in terms of public perception, which means it combines more harmoniously with soft influence. To a certain extent, Donald Trump's attitude to the projection of soft power resembles the philosophy of the Green Berets during the Vietnam War: those in the military who disagreed with President Lyndon Johnson's directive to "win the hearts and minds" of the enemy came up with their own half-joking slogan: "If you've got them by the balls, their hearts and minds will follow."
At the same time, the picture of "Trump's America" created every day by liberal mainstream publications in the United States, the behaviour and decisions of the president himself, his anti-Muslim bans, and his image as an enemy of Muslims and a friend of Israel have done a lot to undermine those elements of a favourable perception that had persisted among the region's population for decades.
Together with the political vacillations, the United States has demonstrated in the region in recent years, this cocktail has amplified the very same anti-American sentiments. Even so — and this is the fruit of decades of painstaking soft influence work by America — they have not completely turned their backs on the United States. For many in the region, the US is still the most coveted partner. They simply expect more from America itself, even if they do not always clearly articulate what "more" means and America is not sure whether it wants to provide this "more."
Today, the United States is redefining where the Middle East lies among its foreign policy priorities and rethinking its global role in general. Many soft-power programmes that have worked for decades are now being phased out. Traditional US soft power instruments are being "weaponised." American authorities increasingly do not bother to camouflage certain initiatives with considerations of "building an open society." One specific example from 2018 is when Congress required the US-funded Voice of America to make its coverage of Iranian politics more aggressive and critical. In this sense, we are witnessing the emergence of a new era in US public diplomacy, including in the Middle East. As is usual in public diplomacy, the results of what the Americans are doing (or not doing) now will only become apparent in several years' time.
The "Post-Syria" Middle East: A Chance for Russia?
The erosion of the regional elites' confidence in the Obama administration and in the USA's ability to protect them has caused many governments in the region to change their perception of America as omnipotent, even though it remains the most influential external player. Russia's "return" to the Middle East has boosted but did not trigger this trend.
Russia has not supplanted the United States in the region, though this might be the perception following the success of Russia's campaign in Syria. Moscow's current presence in the region often affords a more rapid and convincing response, building the image of a "smoother operator." Even so, the heady illusions in the wake of the triumph could throw Russia back to square one. Many regional governments are trying to use the opposition between Russia and the United States to pull ahead in their own games, often playing the Russia card at the table with Washington.
Russia's participation in the Syrian conflict provides a vivid backdrop against which the American soft power agenda in the region is being assessed today. By engaging in a critical discussion of the growing role of Russia in the Middle East compared with the "withering" of American influence, Western political circles are reflecting on the crisis of their own American model and the image of the US in recent years and sending an implicit appeal to American elites to do what is needed to update this model.
In turn, Russia is gradually moving toward a "post-Syria" foreign policy phase in the Middle East and to a "post-military" phase in Syria itself. Questions like "Moscow has won the war in Syria but can it win the world?" have become commonplace on all western and many Russian discussion platforms. Indeed, it is one thing to monetise the image of a "strong player" yet quite another to convert it into the image of a "caring power."
In the former area, some strategy contours are visible: increasing the number of weapons supply contracts, establishing military and technical cooperation with a number of states in the Middle East and North Africa, posing as a mediator in key conflict areas, etc. As for the latter, there are individual campaigns, such as the delivery of humanitarian aid to states in a difficult COVID-19 situation, but a more systemic approach is needed to organise soft power efforts.
In the meantime, it most important to demonstrate equal ability in waging war and building peace. In the broader sense, this is a test of avoiding the very trap of the "dialectics of state and country," where the image of a "cruel Russia bombing hospitals" cultivated by geopolitical competitors nullifies any efforts made to project soft power.
"Be with Us — and Remain Yourself": the Principles of Russian Soft Power
An inventory of soft power goals in foreign policy and of the tools for achieving them should begin with at least two things. First, we should set a relatively low bar for expectations, especially in the short term. Second, we need to recognise the objective limitations.
Russia obviously lacks the ability to organise exchange programmes comparable to those offered by the United States. Yet, Russia is able — and has the relevant experience — to open up its education market, especially in specific strategic specialties, to promising young people from the Middle East. This could involve various forms of assistance for their studies in Russia, followed by career support at home. Tomorrow's elites in the region are not always formed from among graduates of Western universities.
It is hardly worth counting seriously on the cultural "Russification" of considerable parts of third country populations. Russian culture is, by nature, more "elitist" than American mass culture. Products of the latter are a priori targeted on diverse segments of the population and are almost universally digestible. In addition, Americans use other tools, such as their influence in the international economy and ability to market brands properly and appealingly either by offering accessibility and simplicity or, if appropriate, pushing others aside. Perhaps it would make sense to adopt some of these tricks?
A change is needed in the very approach to organising Russian centres of science and culture abroad. The notorious "Soviet touch" cannot compete with what the Americans, Europeans, or even Turks offer to the region's population. Assuming the traditional specifics are a projection of nostalgia for the Soviet past on the part of some of Russian officials and diplomats, we cannot expect third country populations to share this nostalgia. Soft power is not a way to maintain historical inertia but an opportunity to direct passionate young people, tomorrow's public opinion leaders in their own countries, to follow the right imperatives.
Discussions of soft power resources generally avoid the obvious: the basis of soft power is, first of all, how well things are going in your own house. It is difficult to call to combat lawlessness and injustice in international relations until there are clear victories over similar social ills on the domestic front. It is not easy to get nations and societies to embrace your culture, language and education, while you are condoning their decline at home, be it deliberately or through negligence. You cannot expect a third party to adopt your "thought codes" if your predominant attitude is to "chase the moment", when what matters is that the budget is spent and an event ticked off the list. One reason "balalaika diplomacy" has been replicated so much in foreign policy is because it is stereotypical and therefore understandable, so seen as a quick, lazy and supposedly effective (though not always cheap) way of doing things.
It is important to understand that most elites and the ordinary populace in the Middle East base their impressions of Russia and assessments of its foreign policy on reporting in the Western media and materials from British and American think tanks. Since the collapse of the USSR, foreign policy information support has become one of the most flawed areas. Only in recent years have institutions started appearing in Russia that are at least somehow capable of making up for Moscow's political and reputational losses over the past decades, telling about Russian politics directly, presenting the Russian narrative without distortions introduced by foreign propaganda, and attracting an increasing number of people in the Middle East who are interested in Russia.
In this work, among other things, it is crucial to make the right choice of communication strategy in each specific case: sometimes, Russia needs to create and consolidate its positive image (Syria, Egypt), at other times it has to improve it (Syria, the Arab monarchies of the Persian Gulf), and at yet others, it has still to "repackage" Soviet or imperial "codes" (Iraq, Iran, Algeria).
The humanitarian area is another complex and emotionally taxing way to the hearts of the target audience. It is hardly worth the effort if the country's public diplomacy is focused primarily on quick and short-term public relations. Yet, in a situation where some powers are depriving important international organisations of financing while others are using the economic difficulties faced by states to buy up their assets in order to penetrate deeper into their economic and political structure, work in this direction can cultivate the image of a "caring power." This is an opportunity to literally saturate the human dimension of the relations between the donor country and the population of the recipient country. There is already an understanding of how to build humanitarian policy in this direction correctly. It is important to preserve and direct this impulse in the right direction in practice.
Finally, a frequent criticism leveled at the Russian projection of soft power is the lack of any pronounced ideology in Russia's foreign policy. Those who disagree believe that Russia does have a quasi-ideology for these purposes: for some, it is "conservatism," for others "pure pragmatism," both of which can work in the Middle East. Others, in contrast, are convinced that ideology confounds unnecessarily the freedom of foreign policy manoeuvre. They talk rather about the need for "one big idea" that can "anchor" the entire foreign policy strategy. Russia supposedly lacks such an idea, while each of the US, the European Union, China, Turkey and Iran do have one. And if the United States' soft power policy seems to say: "do as we do — and become us," then the EU's logic is "do as we do — and be with us." Russia's several years of activity in the Middle East might allow us to formulate such an idea today: "be with us — and remain yourself." This idea reflects the principle of non-interference in the internal affairs of the Middle East states, on the one hand, and an orientation on cooperation, on the other; that is, without encroachment on the traditions, values, culture and political systems of these countries.
In general, soft power is often less costly than "hard" power and depends largely on the quality of local agents. Unlike military contracts, it does not bring quick profit, but investment in soft power is denominated in a different currency: people, their loyalty and gratitude (even if not expressed), their acceptance of your narrative, your vision of the future (if any) and the "thought code" of how to make this future real. If all these are available, the projection of soft power can be a valuable long-term investment.
From our partner RIAC
Al-Kadhimi's government in its first test
On June 26, 2020, Iraq's prime minister, Mostafa al-Kadhimi (MK), demanded the counter-terrorism forces head to a place located on the outskirts of Baghdad to arrest some persons working with Kataib Hezbollah (KH), one of the factions operating under the umbrella of the popular mobilization units (PMU), under the pretext of threatening Iraq's national security.
While some observers deemed that decision as an irrational adventure, the others saw it as a significant step to entrench the notion of the state and to determine the nature of the relation among different actors affecting its functional structure. this piece is trying to shed light on the consequences of that move and its futuristic dimensions.
The first point we can mention in this regard relates to the huge public information capacity of KH. Through which, it managed to create its fabricated story as to that event. It was able to guide public opinion according to the information it offered on social media. In return, the governmental side was not prepared well to deal with the possible implications of that campaign. That put al-Kadhimi in severe trouble.
The second point affirms that that critical moment was witnessing very dangerous signs. Many of KH's leaders admitted they encouraged their followers to raid the Green Zone (GZ), the place where the most important governmental headquarters are located. They could control its basic entrances, and the government was under real siege. That was similar to various military coups that Iraq had seen in the past. This time, however, this coup did not become reality. PMU issued its directions for KH's fighters to withdraw from there to end that tension.
The third case we have to state is questioning the tale of liberating GZ. Different officials belonging to KH tweeted and noted that another special force came to do that job. That force also belongs to KH. That movement exposed the military complicated structure of KH. Furthermore, it assures that the government does not have any ability to contain such actions or curb its effects. Therefore, MK must have been aware of the dangers of that decision before going to apply it.
In Iraq, it seems that we need more focus on how the relations between al-Kadhimi and KH's leaders will develop. Interestingly, they no longer deal with him as a prime minister, nor do they hesitate of using insulting words against him. For example, they affirmed that they enforced him to free their detainees and to guarantee that he would never target them again. The tweets they published during those days proved they have since started to consider him an enemy.
To affirm the rhetoric of confrontation with the state, KH released some degrading pictures. while celebrating their release, the detainees were stepping on the pictures of MK. Such a scene, as expected, sends contradictory messages that will restrain the symbolic power of the government. It will also mobilize people negatively against the law. It forms a direct challenge to the security decision of MK. in the same context, a widespread campaign of charges appeared against writers and commentators supporting MK's step, classifying them as being clients of the US in Iraq.
It seems there a political and military confrontation that will take place between MK and KH. PMU administrators believe that the government wants to target their military capabilities. This will be an existential threat to their future. Hence, those leaders have many times warned him of dreaming about achieving this goal.
They ignore that MK had himself said that he would not target PMU. Instead, he would launch a war against some other groups whom he accused of doing dirty business, exploiting the name of PMU, and putting Iraq's future at risk. He was trying to send a clear message to them saying " He can distinguish between these factions well. The government will only respect and protect who is working under its rules and laws"
The discourse of war has become clear in the statements of some parties. KH has declared that it will not hand its guns off to the government under no circumstance. This is a real challenge to the Iraqi state and its sovereignty too. This affirms that a hot dispute will happen between them in the coming months.
KH has started to look at some governmental institutions as a competitor that must not be allowed to play a vital role in the future. It is stating that Counter-Terrorism Force (CTF) is a tool in the hands of MK, who is seen from its standpoint as an agent to the US. KH emphasized that MK and CTF are paving the ground to execute their suspicious plans that will undermine PMU. This might lead to an uncontrolled military clash between them. To freeze such a conflict between KH and CTF, MK brought them together in a special meeting to directly talk about the upshots of this scenario.
In the last days, there was an extensive talk about the Shiite division towards the state and its philosophy. There are two opposing views on this matter. The first one is represented by the Shiite rational attitude of Syaid Ali al-Sistani, who has consistently prompted people to respect and obey the state and its law so long as it is fair. The second position advocated by the others who want to create a radical state. Some writers say that KH attempts to be the patron of this model. This will result in placing MK in an untenable position, and Iraqis' dream of having a civil state will also be destroyed.
KH still reiterates that MK is embroiled with others, especially the US, in the operation of assassination Maj. Gen. Qassim Suleimani and Abu Mahdi al-Muhandis. This will remain an important source of determining its interaction with this government. Therefore, it is predicted that KH will consider any decision taken by MK against its interests as a part of a broad conspiracy trying to end its presence in Iraq. KH will count on this troubled relation to agitate people against MK. In the forthcoming period, KH might think of exploiting this matter to enhance its role politically, socially, and electorally.
Though difficult to foresee the mechanisms of settling these problems between KH and the government, it is clear that there are some efforts now being made to put an end to this confrontation. Thus, MK must be careful in dealing with this case. He must announce his convictions regarding how to solve this problem and how to consolidate the role of the state. He must convince public opinion that the institution of PMU will obey the Iraqi state's commands. In return, KH must help him to achieve the Iraqi national security strategy, including not targeting the foreign missions by Katyusha rockets.
We are in need to produce an approach that can help the Iraqi state in its endeavors to face such turning points. We, as Iraqis, dread that such confrontations might lead to more regional polarization on the Iraqi ground. We apprehend that civil war might also return to hit the Iraqi cities. Hence, all actors participating in the new Iraqi political system must stay away from the politics of violence and counter-violence. The sacrifices of our nation in the sacred struggle it waged against Da'ish must be preserved. This cannot be reached without buttressing the state and its reforms to be practically engaged in the international order. Without meets these conditions, the state will be in the wind, and extensively social chaos will be prevalent. Iraq does not worth like this destiny.
The Causes and Effects of the United States "Long Goodbye" to the Middle East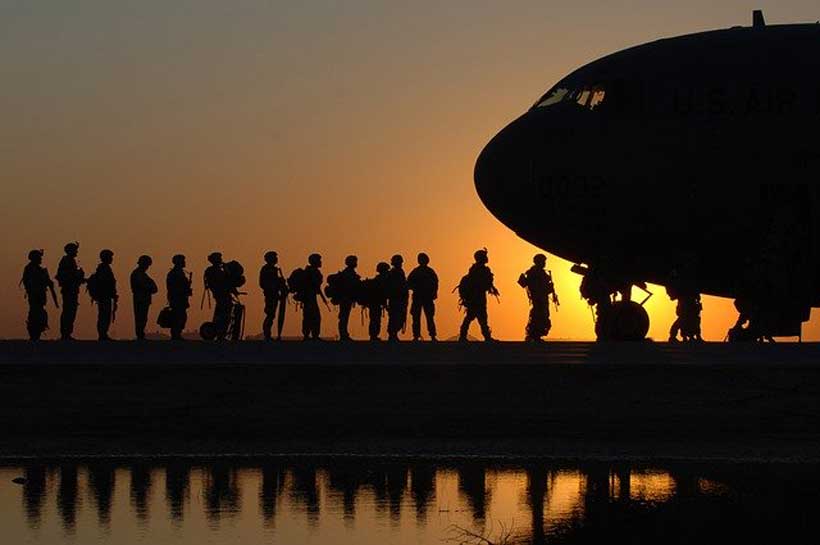 A glance at a world map reveals one great reason why the Middle East (ME) claims the attention of great power centres of the world. A roughly rectangular area stretching from the Adriatic Sea, East to the black sea ,and south to the Indus River. The ME is a joining point of three continents, Europe, Asia, and Africa and one of the most vital crossroads on the planet. It is the cradle of world civilization and the birth place of the three monotheistic religions, Islam, Christianity, and Judaism. Further, it is rich in oil, gas, and other commodities. According to British Petroleum 2019 (BP) Statistical review of World Energy, the Middle East holds 836 billion barrels of proven oil reserves, which constitutes 48% of world total. In comparison to other regions of the world, it holds 3X the proven oil reserves of the U.S, Canada and Mexico combined, and 58X the proven oil reserves of Europe. Likewise, the Middle East has the world's largest proven reserves of Natural Gas (NG); standing at 38.3% of the world's total, while the Common wealth of Independent States (CIS) holds the second largest reserves at 31.9%.
Historically, the strategic foundation for the U.S. involvement in the Middle East was shaped by several policy objectives reflecting both regional dynamics and U.S. interests. These strategic interests centred primarily around protecting the reliable free flow of commodities and commercial activity through well known checkpoints in the Arabian Peninsula, especially the strait of Hormoz and Suez canal; supporting the security, stability, and prosperity of U.S. partners in the region, including the State of Israel; preventing the proliferation of weapons of mass destruction, countering Jihadist movements, and terrorism. Since 2011, geopolitical tensions, trade disputes, and changes in the international security landscape have tested the US-ME relationship, and have caused the strategic pillars of the U.S. Involvement in the region to undergo a state of transition, hastened by three major factors:
First; In a speech by former Secretary of Defence James Mattes at Johns Hopkins University, School of Advanced International Studies, January 19, 2018, he asserted" Great Power competition, not terrorism, is now the primary focus of U.S. national security". Further, according to President Obama's June 2015 National Military Strategy and also President Trump's January 2018 National Defence Strategy (NDS), they both acknowledged that the shift in U.S. strategic direction is driven by a return to great power competition with China and Russia, underlined by a rising trend in strategic cooperation between two countries on many issues across many regions of the world, In fact; this strategic cooperation can be seen taking shape in the economic and military spheres. For example, according to various press reports, in September of 2019, Chinese and Russian troops took part in joint military manoeuvres; dubbed, "Tsentr-2019" to strengthen their military readiness. Further, direct trade between the two countries is increasing. According to data from statista, trade between Russia and China reached a record level, exceeding $100 billion compared to previous years. Likewise, China's natural gas imports from Russia more than doubled in 2019 subsequent to operating the "Power of Siberia" gas pipeline with a total initial capacity of 5 Billion Cubic meters (BCM) of gas, and a targeted capacity of 38 BCM by 2025, which constitutes 13% of China's 2018 demand. Equally important; China's expanding major economic development project, the Belt and Road (BRI) initiative. The BRI initiative is an ambitious plan to build an open and balanced regional economic architecture connecting dozens of countries in Asia, Eurasia, and Europe by constructing six international economic corridors and an extensive rail network linking China to Europe through a "new Eurasian Land Bridge". In the same way, the project aims to construct economic corridors linking China, Mongolia, and Russia; also, China to west, central, and South Asia.
The evolving dynamics of economic corridors connecting all sub-regions in Asia, and between Asia, Europe, and Africa is consistent with the ideas of the Eurasianist Aleksandr Dugin's, and the ideas advanced in his book published in 1997 titled "Foundations of Geopolitics", in which he calls for the realization of a Unified Economic Landscape called Greater Eurasia. Greater Eurasia refers to countries that are on the territory of the Eurasian continent across Asia, Europe and the Middle East. It consists of two regions of energy consumption (Europe & Asia Pacific) and three regions of energy production (Russia and Arctic & Caspian & Middle East) in between. It includes 91 countries, which represents two-thirds of the world population, exports of goods and services and GDP.
These evolving and developing geographic and economic integration projects based on strategic cooperation between Russia and China create a geographic mass of countries across, Asia, Europe, and the Middle East that are increasingly interdependent, and their interests are more closely intertwined than ever before. Consequently; shifting geopolitics in Greater Eurasia driving the strategic convergence in economic power between Russia and China is posing challenges to U.S. leadership in the region and the world. These interactions between Russia and China in the military and economic spheres demonstrate a growing trend in strategic cooperation between the two countries and may be driven by an ideological denominator, where both countries view the U.S. as the "Glavny Protivnik".
Second; according to the U.S Energy Information Administration (EIA), the United States became the world's largest producer of petroleum hydrocarbons and the largest producer of oil with a total production capacity of 12.7 million barrels of oil per day as of March 2020, surpassing the daily production capacity of both Russia and Saudi-Arabia. In the same manner; according to BP's 2019 Statistical Review of World Energy report, the U.S. is still the world leader when it comes to natural gas production, averaging approximately 920 billion cubic meters of gas in 2019, followed by Russia, Iran, and Qatar. As a result, the United States is undergoing an oil and natural gas production renaissance that will likely continue to change the global energy landscape, and lead to wide-ranging regional and global geopolitical implications. The Age of Abundance for the U.S is driving the change in relations with regional allies, which, in part, will be redefined based on relations that are built around competition in the global gas market, and the supply of cleaner energy sources, especially, Liquefied Natural Gas (LNG).
Third; according to the CIA's Global Threats Report 2019. The ME region is highly vulnerable to changes in the frequency and severity of heat waves, droughts, and floods, and that combined with Poor Governance – leads to increased food and water insecurity. As a result, it is very likely that there will be an increased risk of social unrest, migration and tension between regional State, and non-State actors.
It stands to reason that the U.S. views the strategic benefits derived from maintaining the historical strategic pillars, and policy objectives in the ME vis-à-vis the strategic risks associated with such policy as costly and no longer viable because of the greater strategic threats posed by both Russia's aggression towards its neighbours in Europe in consequence of Russia's own economic, political, and social agenda, which opposes the international liberal order promoted, and protected by the U.S. since the second world war., and China's expanding financial and economic influence, and strategic cooperation with Russia in multiple domains to amass political and strategic advantage through improved economic and energy connectivity projects in Europe, Eurasia, Middle East, and Asia pacific. Therefore; U.S vital strategic interests lay elsewhere and the U.S. views Russia and China as a greater strategic risk than Iran and Al-Qaeda, and that requires the U.S. to "do less" in the Middle East. In consequence, from U.S perspective the Middle East region is no longer a priority for the United States.
The strategic implications of the ongoing U.S. long goodbye to the M.E. region over the past decade have shifted the regional geopolitical environment and caused the formation of a power vacuum where state and non-state actors competing in a multi-level and proxy executed competition to gain diplomatic, economic, and strategic advantage. As a result, three regional spheres of influence emerged vying for control and power in the region, including the conservative wing, comprising Saudi Arabia (GCC, less Qatar), Egypt, Jordan, and Israel. The anti-American wing includes Iran, Syria, and Hezbollah. Lastly the Islamist wing includes Turkey, and Qatar. Add to this complex geopolitical landscape, Russian and Chinese inroads through military, economic, and weapons sales to regional actors to increase their regional influence. In fact; in recent years, Moscow has strengthened its military foothold in Syria and secured access to military bases on the Mediterranean Sea, in order to expand its regional political, military, and economic influence. Moscow's regional engagement has solidified since 2015 Russian intervention in Syria. Moreover, Russia's expanding military exercises and weapons sales with Egypt selling 2$ billion worth of aircrafts to Cairo. Further, Moscow support and expanded ties with Khalifa Haftar in Libya, talks to sell S-400 Missile Defence System to Qatar, cooperation with Saudi Arabia to stabilize global oil markets, and strengthening relations with Israel and Iran are clear indications of Moscow's increasing influence in the Middle East region.
In the same way, China's strategic cooperation with Middle Eastern countries is on the rise. For instance, the region is China's No.1 source of imported petroleum products. According to the U.S. Energy Information Administration, over 50% of Chinese Oil imports come from Saudi Arabia, UAE, Iraq, and Iran, with Saudi Arabia providing 16% of Oil imports. Further; Qatar, is the one of largest LNG suppliers to China. Moreover, In July 2018, China and the UAE announced an upgrade to their 2012 strategic partnership to a "comprehensive Strategic Partnership"- China's highest level of diplomatic relations, outlining cooperation in wide range of fields such as politics, economics, trade, technology, energy, renewable energy, and security. Likewise, In Egypt, in September 2018 President Sisi visited Beijing and signed 18$ billion worth of deals with China including projects covering rail, real estate, and energy. Again, Chinese construction firms are heavily engaged in constructing Egypt's new administrative capital outside of Cairo and developing the Red Sea port and industrial zone. Likewise, Jordan, Israel, and Egypt are important to China's expanding BRI initiative. The majority of Chinese trade with Europe passes through the Suez Canal, and China is expanding the cooperative zone around the canal by expanding the port and shipping facilities. Finally, Jordan joined the Asian Infrastructure Investment Bank in 2015, and Israel high speed rail project with China that will connect Tel Aviv on the Mediterranean to Eilat on the Red Sea. Clearly, the multitude of Chinese driven infrastructure projects in the region are an indication that countries in the Middle East are welcoming China's economic investments, and if history is a gauge of future developments, then it is reasonable to conclude that China is likely to increase its political engagement and expand its military presence in the region to protect and secure its economic interest.
In 2017, during a visit by president Trump to Saudi Arabia, the Riyadh declaration was announced. The declaration is a U.S. proposal for a multilateral regional arrangement between Gulf Cooperation Council nations (GCC), including Bahrain, Kuwait, Oman, Qatar, Saudi Arabia, and the United Arab Emirates, in addition to Jordan and Egypt, dubbed the Middle East Strategic alliance (MESA). The proposal centres on the idea of a regional system with shared security, economic, and political architecture. According to data from the World Bank Development Indicators (WBDI) (2018), the MESA boasts a combined GDP of $2.3 trillion and represents a market of 175 million consumers. The proposal joins an increasing number of regional alliances that exist across the globe, such as the three seas initiative (3SI), the Eurasian Economic Union (EEU), and the Regional Comprehensive Economic Partnership (RCEP), among others. Since its announcement, an ongoing dispute among the competing, regional spheres of influence, due to differences in their respective interests, capabilities, and threat perceptions has caused little progress in the future trajectory of this multilateral arrangement.
Finally, the reality is that the U.S. should not fully extricate itself from the region due to the U.S. great power competition with China and Russia, which the Trump Administration has placed at the centre of its national security strategy. Instead, the U.S. should invest in its regional network of allies and partners to work together to maximize their strengths and address common challenges that are vital to U.S. national security and geopolitical stability. The U.S. should push for and hasten the strategic convergence of the MESA member States by promoting deeper coordination and interaction among participants through multilateral cooperation in the economic, political, security, and energy spheres by calling to build the tools and the governing institutions to govern MESA operations and decision making such as a Middle East Strategic Alliance Council with prime ministers as members, the Middle East Strategic Alliance Economic Commission to manage the organizations day to day decision making activity, the Middle East Strategic Alliance Court system, tasked with managing disputes among member States, and a Middle East Strategic Alliance development bank and stabilization fund to support and drive integration efforts through regional lending and investment programs to boost, along an East-West axis, cross-border economic development, energy, water, transportation, and digital infrastructure connectivity projects.
As noted above, the U.S. should reposition itself at the helm of key Middle East dynamics, while simultaneously working with regional partners to balance Russian and Chinese inroads and expanding patterns of influence in the region. Else, a lack of a clear, unified strategy for the Middle East, will perpetuate the current Hobbesian state of a bellum omnium contra omnes, which renders the whole Middle East system in a quantum state of neither at peace, nor at war, but, entangled in a super position of both states simultaneously; waiting for an observer; to implement the wrong policy option, resulting in the collapse of the state function; into a wilderness of tempestuous combustion; likely, paving the way, to the last age of Pax Americana.