Technology brings positive change, but 'collateral damage' must be minimized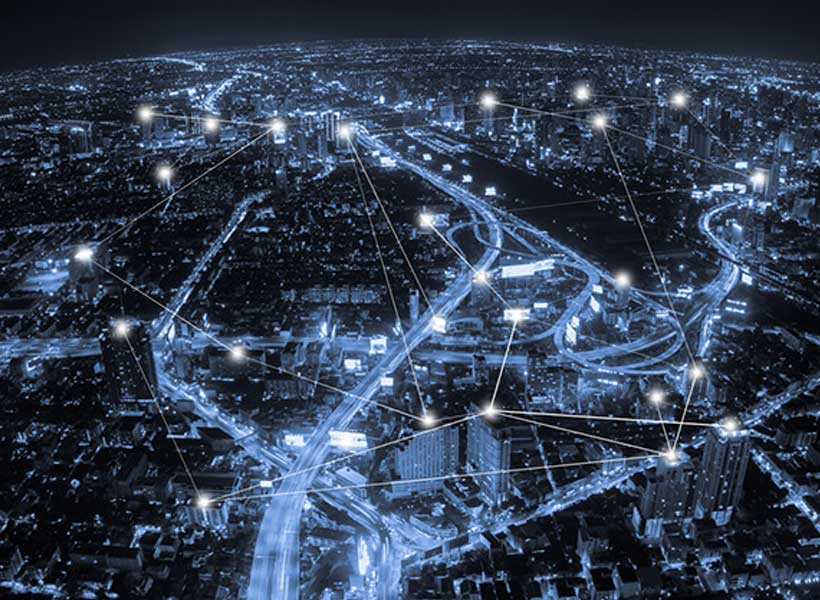 Digital technology has the potential to bring about a sustainable future, but the "collateral damage" of this transition must be mitigated, says the head of the UN's technology strategy team, Salem Avan.
Speaking to UN News, Mr. Avan stressed the importance of acknowledging the negative aspects of new technology – which could include job losses and a drastic shift away from traditional ways of working – and finding ways to achieve a successful transition to the so-called 'Fourth Industrial Revolution', which involves the mass adoption of artificial intelligence, robotics, 'big data' processing, the Internet of Things, autonomous vehicles and blockchain technologies.
Mr. Avan, the Director of the Strategy, Policy & Governance Division of the UN's Office of Information and Communication Technology (OICT), took part in a discussion on the impact of emerging technologies and innovation on society, held on Tuesday during the 2019 UN Civil Society Conference, taking place in Salt Lake City, USA, between 26 -28 August.
The UN, he says, has a strong focus on so-called "smart cities", which make full use of inter-connected technology to empower disadvantaged residents and tackle challenges in housing, transport, employment and education in urban areas.
At UN Technology Innovation Lab (UNTIL), a newly-established initiative in Malaysia, researchers and scientists are looking into ways of understanding and expanding the benefits of smart cities, promoting sustainable living, and helping to make inclusive growth possible in the country and region. Mr. Avan noted that, in many parts of the world, positive change is already taking place: "technologies are being implemented to improve the overall communal and individual lives of residents".
Farming with no pesticides, and no soil
For example, a Malaysia-based company, Vfarm, is pioneering a technology which has the potential to have a transformative effect on the citizens of Kuala Lumpur: vertical farms.
According to Rahman Roslan, the brand director of Vfarm, it is far easier and cheaper to buy a bag of candy in Kuala Lumpur than fresh fruit or vegetables. Vertical farms could change this harmful situation, and make nutritious food available to all city dwellers.
The company's vertical farms in Kuala Lumpur look like laboratories, in which plants are grown in environments where heat and light are precisely controlled to ensure optimal growing conditions, and all without the use of herbicides and pesticides.
Even soil is unnecessary, and a tiny amount of water is used, compared to that needed in traditional agriculture. These factors, says Mr. Roslan, coupled with the fact that transport costs are drastically reduced, mean that the crops produced in vertical farms are healthier and have a far smaller carbon footprint.
Speaking to UN News during the Conference, Mr. Roslan explained that, whilst his company's vertical farms are currently only producing around one per cent of Kuala Lumpur's food, he can foresee a future in which the majority of crops in cities around the world are grown in a similar way.
Bridging the digital divide
All elements of society must, said Salem Avan, actively assist lesser-developed cities to integrate advanced technologies, and reduce the stark disparity in the digital divide that exists between richer and poorer parts of the world, as well as within cities:
"While it is inarguable that technology is beneficial to improving the daily lives of many, it also runs the risk of excluding certain urban inhabitants who either lack the resources or the capabilities to adapt to the rapid changes that digitization entails".
One of the solutions he proposes, is to build partnerships across different sectors, including local and national authorities, civil society and others, to ensure that sustainability, and making sure that no one is left behind, are key goals when new technology is introduced.
Cybersecurity: A Crucial Element of Socio-economic Stability and Prosperity
Cybersecurity has become a key safeguard to future socio-economic prosperity and stability as industries are transitioning towards data- and technology-driven business models and governments grapple with the implications of the Fourth Industrial Revolution. More than 80% believe that risk of cyberattacks will increase in the year ahead. With an estimated pricetag of $90 trillion worldwide, there is a rising imperative to safeguard individuals and businesses.
Under the theme Enabling Leadership for a Secure Digital Future, over 150 leaders and experts in the cybersecurity, policy, regulation and technology fields are meeting at the second annual World Economic Forum Annual Meeting on Cybersecurity in Geneva, Switzerland, to address three priorities: Strengthening global cooperation for digital trust and security, securing future digital networks and technology, and building skills and capabilities for the digital future.
Meeting participants include government representatives from G20 countries, civil society organizations and academia, and prominent cybersecurity leaders from companies representing a cross-section of industries in the private sector. Ten international organizations, 18 countries and over 20 specialized agencies are taking part.
"As the international organization for public-private cooperation, the World Economic Forum is leading a global effort to drive systemic change on the most pressing cybersecurity issues. We believe that this change will be most impactful if the private sector and the public sector work on solutions together," said Alois Zwinggi, Head of the Centre for Cybersecurity.
Key sessions include preparing for future threats, how to secure smart cities, increasing security by replacing passwords and building cyber-resiliance. Leadership, governance and cooperation were key themes.
The Forum, as the International Organization for Public-Private Cooperation, is offering its Platform on Cybersecurity and Digital Trust to allow the participants to drive the cybersecurity agenda for the coming year, to share information on emerging cyber-threats, jointly assess the risks of emerging technologies and collaborate on urgent action to combat cybercrime.
Building Emerging Technology Governance Key to Realizing Saudi Arabia's Vision 2030
Governments and companies around the world are investing heavily in emerging technologies to boost growth. The Middle East and North Africa region could see approximately $400 billion added to its economies over the next 15 years if artificial intelligence (AI) solutions are adopted. In Saudi Arabia alone, investment in AI is forecast to add 12.4% to GDP.
To help accelerate the development and implementation of emerging technologies while mitigating risks, the King Abdulaziz City for Science and Technology (KACST) today announced the launch of the Centre for the Fourth Industrial Revolution Saudi Arabia with the World Economic Forum.
As the latest Affiliate to join the World Economic Forum Centre for the Fourth Industrial Revolution Network, this new hub will benefit from the agile governance methodology designed in San Francisco and will apply it to pilot projects in the country. The Centre for the Fourth Industrial Revolution Saudi Arabia will be run and managed locally to help the country achieve its Vision 2030.
"To use the technologies of the Fourth Industrial Revolution such as AI and blockchain, and many others, for driving economic development and social progress, we need global cooperation," said Klaus Schwab, Founder and Chairman of the World Economic Forum. "On the eve of its G20 presidency, we welcome the Kingdom of Saudi Arabia with the establishment of a new Centre for the Fourth Industrial Revolution in Riyadh, to shape those technologies in a way that serves society."
In the region, Saudi Arabia has been undertaking large-scale digitalization efforts as part of its National Transformation plan and in the run-up to its G20 presidency. The commercial 5G roll out, recent establishment of the Saudi Authority for Data and Artificial Intelligence and the high percentage of mobile phone and internet use show that the country is taking steps towards shaping the trajectory of Fourth Industrial Revolution technologies.
The World Economic Forum Centre for the Fourth Industrial Revolution Network was founded in 2017 to accelerate the development of emerging technologies by bringing together a multistakeholder community to co-design agile governance policies. To facilitate this process, the Forum launched an Affiliate Centre programme in early 2019 to help countries develop national Fourth Industrial Revolution strategies and public-private initiatives.
Affiliate Centres tap into and share research across the Forum's global network. The Centre for the Fourth Industrial Revolution Saudi Arabia will focus on the following emerging technology portfolio areas: artificial intelligence; blockchain; data policy; internet of things, smart cities and robotics; and mobility.
PwC rated as a Leader among European and Asia Pacific Cybersecurity Consulting Providers
PwC announced that it was cited as a Leader in in both The Forrester Wave™: Cybersecurity Consulting Services In Asia Pacific, Q4 2019 and The Forrester Wave™: European Cybersecurity Consulting Providers, Q4 2019.
In the APAC-focused report, Forrester stated that: "PwC shines with impressive IP-based consulting. PwC targets its impressive range of assets — like its value-at-risk offering and virtual-reality simulated cyber crisis environments — at boards and executives. It aims to use these assets to create a deeper understanding of and support for key security challenges among those stakeholders. PwC also has strong intellectual property (IP)-based consulting offerings for CISOs, such as its identity and access management automation and ethical hacking bot. PwC regularly engages regulators throughout Asia Pacific and provides thought leadership sessions to board institutions in the region, such as the Australian Institute of Board Directors."
The APAC report goes on to say that: "PwC has a demonstrated ability to use its global strengths to adapt to agile ways of working. Reference clients were happy with the firm's expertise, noted that PwC was a true partner and advisor across the region, and praised the firm's positive internal culture."
Paul O'Rourke, Asia-Pacific and Global Financial Services Cyber Leader, PwC said: "We are really pleased with this result. Our comprehensive cybersecurity solutions assist businesses with assessing, building and managing their cybersecurity capabilities and enabling effective incident response to a myriad of potential threats. With our successful track record across various domains of cybersecurity, we help our clients to strategically assess, design, implement, operate and improve cybersecurity programs from strategy through execution."
Grant Waterfall, EMEA Cybersecurity and Privacy Leader, PwC said "PwC, and specifically each member of our teams that work with clients each day to build business and consumer trust through a more secure digital society, are extremely proud to receive this recognition from Forrester Research. Over the past year, cybersecurity has been elevated to Firm-wide platform at PwC, representing a formal commitment to our clients, markets, and employees, that cybersecurity will be top priority for how we serve each of them and grow our brand for the future."