G7: Feeling lonely without Russia?
A discussion of Russia's return to the G8, initiated by the French President Emmanuel Macron and quickly supported by his US counterpart Donald Trump, has intensified in the West. Even though Germany, and especially Britain, appear less enthusiastic about the prospect, the whole debate means that all attempts to "isolate" Russia in the world have fallen flat. Moreover, as the developments of the past few years show, no key international problems, from strategic stability to regional conflicts (above all in Syria) can possibly be solved without full-fledged Russian participation.
According to US media reports, in a recent telephone linkup, the French and American presidents both agreed that Russia should be invited to next year's G7 summit, slated to be held in the United States. The CNN journalist Kylie Atwood wrote, citing senior sources in the US administration, that the idea to invite Russia had been pitched by President Macron. Donald Trump, for his part, briefing reporters in the White House, emphasized that it was his predecessor, Barack Obama, who wanted Russia out of the G8.
"But I think it's much more appropriate to have Russia in. It should be the G8 because a lot of the things we talk about have to do with Russia," Trump said. Trump and Macron agreed to discuss this issue in greater detail with their colleagues from Britain, Germany, Italy, Canada and Japan at the upcoming G7 summit to be held in Biarritz, France, on August 24-26.
Donald Trump first said that Russia should take part in the G7 summit, back in June 2018, but the only voice of support he got then came from Giuseppe Conte, who resigned from his post as Italy's prime minister earlier this week amid a coalition row.
The August 19 meeting in France by Presidents Emmanuel Macron and Vladimir Putin were another sign of the changing mood about Russia's participation in the Group of Seven. During that meeting President Putin said that any contacts with the G7 countries were "useful" and did not rule out the resumption of the G8 format.
President Macron, in turn, stressed that he views Russia as "a part of Europe," and is going to facilitate Moscow's closer and meaningful dialogue with the West. According to diplomatic sources in Paris, Macron's position depends on how the situation in Ukraine will be developing.
Russia's participation in the G8/G7 will depend on the situation in Ukraine, Reuters reported, citing sources in the French Foreign Ministry.
Britain's reaction to Macron's idea was predictably tough, with Prime Minister Boris Johnson reiterating allegations about Russian "provocations." During a joint news conference with German Chancellor Angela Merkel in Berlin, he said that he was "aware of the moves to reintegrate Russia into the G7."
"Given what happened in Salisbury in Wiltshire, given the use of chemical weapons on British soil, given the continuing instability, civil war, the war in Ukraine, given Russia's provocations, not just in Ukraine but many other places, I must say … that the case has yet to be made out for Russia to return to the G7," Johnson added.

Angela Merkel was more reserved, saying that the situation about Russia's participation in the G7 could change if serious progress is made concerning the implementation of the Minsk accords on southeastern Ukraine.
German government representative, Steffen Seibert, was quoted by the local Handelszeitung newspaper as saying that the issue of reviving the G8 format with Russia's participation could be discussed, but there were no prerequisites for that yet. He said that Russia was expelled from the G8 following the events of 2014 – the war in Donbass and the annexation of Crimea. "Both situations persist," Seibert noted, adding that Moscow's more active participation in the G7 was possible only after this situation has changed.
Statements to this effect coming from the European Union's headquarters in Brussels were very much in the same vein. According to a senior source in the EU, Russia's rejoining the G7 group before Moscow has fulfilled a number of conditions would be seen as a "sign of weakness."
The Russian Foreign Ministry made it clear that Moscow is ready to consider restoring the G8 format if the G7 participants verbalize their proposal.
The Ministry spokeswoman Maria Zakharova, noted, without making any official comments, that it was "difficult to understand what is being said," while President Putin's press secretary Dmitry Peskov suggested waiting for clear-cut statements from all members of the G7.
"President Putin said that Russia does not refuse to communicate in any format. However, Russia's return to the G7 and the former G8 is not an end in itself," Peskov emphasized.
The decision to reintegrate Russia into the G8 can be made only on the basis of a consensus of all participating countries … some of which conditionally support Russia (Japan, Italy and, to a certain extent, Germany), and some criticize it (Britain, Canada)," Andrei Kortunov, Director General of the Russian Council on Foreign Affairs, noted. He described as "an additional factor of uncertainty" the position of Donald Trump whose repeated calls to bring back the G8 format have several reasons.
"First, he does not attach much importance to the G7 as a group of Western democracies. Secondly, being a pragmatically-minded person, he feels that the G7's center of gravity is gravitating towards security and crisis response, which is hard to achieve without Russia. And, finally, this is also about Trump's predilection for shocking people," Kortunov added.
For Russia itself the restoration of the G8 format is not an end in itself, even less so if it is done at the cost of concessions demanded from it by the West.
"Russia did not feel itself a fully-fledged member of the G8, always having to prove something and being lectured by the rest," the Valdai Club's program director Andrei Sushentsov noted.
"Moscow would not like to emphasize that it wants the club of leading Western countries to resume its work, showing that the world has become more complex and less Western-centric," Shushentsov noted, adding that, apart from the idea of Western solidarity, the G7 enjoys little support. Some of its members are at loggerheads with each other: the departing British have spoiled their relations with the EU countries; Japan has its own interests in East Asia, which it is primarily realizing through cooperation with the United States. Moscow's reintegration into the G7 could give the impression that Russia is returning to the West, thus underscoring the West's leadership in the modern world."
Many in the Russian political establishment are equally skeptical about the prospects of reviving the G8 format. Alexei Pushkov, a member of the Federation Council – the upper house of parliament, has dismissed the conditions set out for Russia's return to the G7 as a bad policy. He describes attempts to dictate to Moscow the conditions for joining the G8 as illegal, adding that if the G7 countries want to stay in their present format, without Russia and China, so be it.
One theoretical solution to the problem of Russia's rejoining the G7 could be a further expansion of this format with the possible inclusion of, say, India and China in order to "dilute" the group's Western-centric slant. This, however, could stoke up discussions (primarily in Washington) that would be even more heated than the debate, which is currently going on about how best to restore cooperation between Russia and the West.
From our partner International Affairs
Meet Mikhail Mishustin, Russia's new Prime Minister
Plucked from obscurity and little known in wide national political scene, the Head of the Federal Tax Service, Mikhail Mishustin, to become the new Prime Minister was a complete surprise, but not the first time in Russia's politics. President Vladimir Putin was pulled upto the top political field, in a similar way, by Boris Yeltsin. In August 1999, Putin was appointed one of three First Deputy Prime Ministers, and later on, was appointed acting Prime Minister of the Government of the Russian Federation by Yeltsin.

Yeltsin announced that he wanted to see Putin as his successor. Readily, Putin agreed to run for the presidency and later approved by State Duma with 233 votes in favor (vs. 84 against, 17 abstained), while a simple majority of 226 was required, making him Russia's fifth PM in fewer than eighteen months.

On his appointment, few expected Putin, virtually unknown to the general public, to last any longer than his predecessors. He was initially regarded as a Yeltsin loyalist, like other prime ministers of Boris Yeltsin, Putin did not choose ministers himself, his cabinet was determined by the presidential administration.

Now, with a new chapter opening, Mikhail Mishustin eventually replaces Dmitry Medvedev who served as Prime Minister until mid-January 2020. Putin and Medvedev worked together and even switched positions between President and Prime Minister. This switch was termed by many in the media as "Rokirovka", the Russian term for the chess move "casting" and later Medvedev said he himself would be ready to perform "practical work in the government" with under Putin.

On January 15, in his address to the Federal Assembly, Putin explicitly explained: "Our society is clearly calling for change. People want development, where they live and work, that is, in cities, districts, villages and all across the nation. The pace of change must be expedited every year and produce tangible results in attaining worthy living standards that would be clearly perceived by the people. And, I repeat, they must be actively involved in this process."

Meeting with the Cabinet thereafter, Putin said: "For my part, I also want to thank you for everything that has been done so far in our joint work. I am satisfied with the results of your work. Of course, not everything was accomplished, but things never work out in full." He thanked the government and added that Medvedev served as President and for almost eight years now he has been the Prime Minister, which is probably the longest stint in this post in Russia's recent history.

Further, Putin held a separate working meeting with Head of the Federal Taxation Service Mikhail Mishustin and proposed him to take the post of Prime Minister. Having received his consent, the President submitted the candidacy of Mikhail Mishustin for consideration to the State Duma.

On January 16, the State Duma (lower house) endorsed Mishustin, as the new Prime Minister of the Russian Federation. As many as 383 lawmakers supported Putin's choice, none were against, and 41 parliamentarians abstained. "Colleagues, the decision has been taken. We have given consent to the appointment of Mishustin Mikhail Vladimirovich as Prime Minister by the president of the Russian Federation," Duma Speaker Vyacheslav Volodin said, summing up the results of the vote.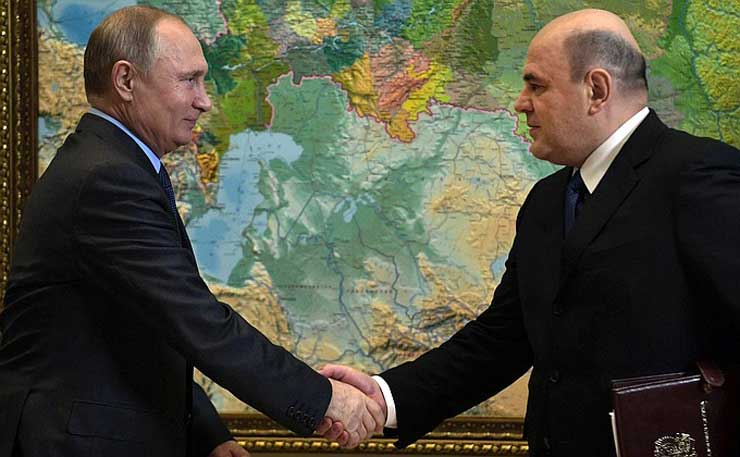 President Vladimir Putin has signed a decree appointing Mikhail Mishustin as the country's Prime Minister. "In accordance with Article 83(a) of the Russian Constitution, Mikhail Vladimirovich Mishustin is appointed as Russia's Prime Minister," says the decree published on the Kremlin's website. The decree comes into force on the day of its signing.

Mikhail Mishustin was born on March 3, 1966 in Moscow to a father of Russian-Jewish origin and a mother of Russian origin. He completed postgraduate studies in 1992. He is married and has three sons. His interest is in sport, playing ice hockey. He is a member of the supervisory board of HC CSKA Moscow.

In 2003, he defended a thesis, headlined "Mechanism of state fiscal management in Russia" and received a PhD in economics. In 2010, he received a doctoral degree in economics at the Academy of National Economy under the Government of the Russian Federation (currently Russian Presidential Academy of National Economy and Public Administration).

Since graduation, he has worked in several enterprises. In February 2009, he joined the personnel reserve of the President of Russia. In 2010, Mikhail Mishustin was appointed as the Head of the Federal Tax Service (FTS). From 2011-2018, he was a member of the Presidential Council for Financial Market Development.

During this period, the tax service was criticized for its overly strict approach to business, and Mishustin rejected this accusation, citing a significant reduction in the number of inspections. So, with the arrival of Mishustin in 2010, the Federal tax service changed its approach to the organization of control events, focusing on analytical work.

As a result, the number of on-site tax audits has sharply decreased, while their efficiency has increased. If earlier every tenth taxpayer was checked, in 2018, the tax authorities checked only one small business company out of 4,000. The number of inspections of large and medium-sized businesses has also decreased significantly.

"This candidacy comes absolutely unexpectedly, but that does not mean he is a figure who brings about repulsion. Perhaps even the contrary. Not all fiscal heads are likeable and agreeable. In my view, Mishustin is largely seen by the public as agreeable," Federation Council Deputy Speaker Ilyas Umakhanov told Interfax News Agency.

"This is yet more proof that our president relies on professionals at this difficult, critical moment when the country needs a qualitative leap, primarily in the economic sphere. This is down to new technology, digitalization; this is precisely where Mishustin made a mark as the Russian tax chief. He has huge experience under his belt, which has been embedded into the system," added Umakhanov.

First Deputy Head of the Federation Council Committee for the Budget and Financial Markets Sergei Ryabukhin, for his part, described Mishustin as a very successful public administrator. "A top professional, a very big statesman and individual who has achieved great successes within the system of public administration in the tax and financial sphere. I think his is a good candidacy," according to Ryabukhin.

According to experts, the surprise shake-up could have been triggered by launching a reset of the Russian political system and the upcoming power shift. Political Analyst Konstantin Kalachev believes that Putin's decision to pick Mishustin as the new premier is related to his political neutrality, and he is also known in the business and corporate community. However, the new head of the government is unlikely to become Putin's successor.

All officials interviewed by Vedomosti have described the choice as a surprise but a good one. Taxation is the only sector that has demonstrated a breakthrough in Russia's state administration. The Russian Tax Service is one of the best in the world in terms of collecting taxes and developing technologies, an official linked to the financial system said. Mishustin is well-known in the government as a good administrator and his service was a lifesaver during the crisis, according to several media reports.

Mishustin is tasked with fulfilling Putin's economic program, namely the National Projects to the tune of 26 trillion rubles ($424 billion) up to 2024. The program's slow implementation and weak economic growth were among the reasons Medvedev's government came under fire, the paper says. Mishustin's major achievement is turning the tax-collecting agency into a service tool, said Partner at Taxology Alexei Artyukh.

He reformed the administration of major taxpayers and businesses can coordinate deals in advance in exchange for the Federal Tax Service's access to companies' accounting systems. If these approaches are extended to other services, this would result in huge progress, Alexei Artyukh said.

Kommersant, a local Russian newspaper, reported that Russia would remain as a strong presidential republic, and all the upcoming changes are linked to the the upcoming presidential election in 2024. Unreservedly, Mishustin stated during a plenary session of the State Duma that Russia has sufficient funds to achieve all goals set by President Vladimir Putin. Implementation of all the social obligations the president enumerated in his State of the Nation Address would require $64.8 billion.

Russia, with the largest territory in the world, has a wide natural resource base, including major deposits of timber, petroleum, natural gas, coal, ores and other mineral resources that can be used to support the expected economic development and raise the overall living standards of the population.
INCORVUZ-XXI: Past, Present and Future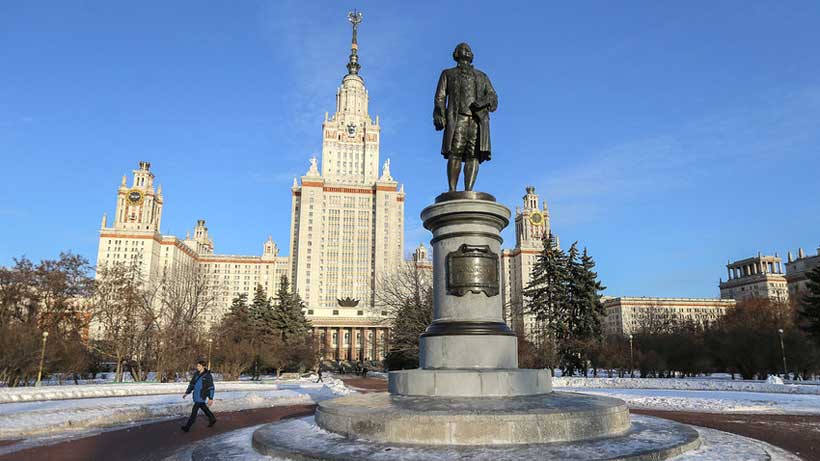 In the Soviet days, many foreign countries especially in Asia, Africa and Latin America trained their professional and specialists in the Soviet Union. It contributed to human resource development for these countries. According to information made available, the higher educational institutions of Russia and the former USSR trained over 700,000 foreign specialists (excluding graduates of military educational institutions).
The creation of associations of foreign graduates began in the second half of the 1960s, when the first national associations were formed in Sri Lanka (1966) and Nepal (1967). In the 70s, this process accelerated, associations were established in Lebanon, Mongolia, Ghana, Morocco, Finland and other countries.
Currently, national associations of graduates exist in nearly 70 countries, including the Commonwealth of Independent States (CIS), for example in Azerbaijan, Armenia, Belarus, Georgia and Kazakhstan), so also in Asia, Africa and Latin America.
The need to coordinate the activities of graduate associations, therefore started in the late 1980s and was realized as a result of the creation in 1989 of the International Corporation of Graduates of Soviet Educational Institutions, simply referred to as Incorvuz. Decree of the Council of Ministers of the USSR No. 483 of May 17, 1990. The regulation on the Corporation's activities in the USSR was approved and its status as an international non-governmental organization was consolidated.
Incorvuz Corporation laid the foundations for interaction with national associations of graduates and developed the main forms of work. In February 2001, in accordance with the Law of the Russian Federation "On Non-Profit Organizations", the non-profit partnership "International Coordinating Council of Graduates of Educational Institutions (INCORVUZ-XXI)" was established instead of Incorvuz Corporation.

Currently, the partnership includes national associations of graduates from 38 countries of Asia, Africa, the Middle East, Europe, and Latin America. Chairman – Academician Kostomarov V.G., Deputy Chairman – Ex-Deputy Minister of Education of the PRC Liu Limin. The leadership of the Council since 2015 includes the Alumni Associations of Vietnam, the Dominican Republic, the Arab Republic of Egypt, Jordan, China, Lebanon, Poland and Ethiopia.
INCORVUZ-XXI, in official consultative relations with UNESCO, has special consultative status of the UN Economic and Social Council, it cooperates and has contractual relations with international, foreign and Russian state and public bodies.

Over the years, the key focus has been the examination of documents on education, academic degrees and advanced training courses received by foreign citizens in universities of the Russian Federation and the issuance on their basis of relevant certificates of international recognition in accordance with the provisions of the UNESCO Conventions.
INCORVUZ-XXI regularly organizes and holds cross exhibitions of higher education in Hubei Province (China), in Moscow (2014) and exhibitions of Russian universities in Wuhan (China) in 2015. It participated in the unveiling of a monument to A.S. Pushkin, the famous Russian poet, in the city of Agadir (Morocco) in 2015, participated in organizing and conducting regional meetings of graduates in Ulan Bator and Amman (2016), the Forum of People's Diplomacy in Belgorod (2016).
The global movement of foreign graduates of Russian universities is expanding due to new participants. In recent years, members of the organization have become national associations of graduates of Algeria, Israel, Uganda, Belgorod State University Alumni Club. The number of individual partners participating in the INCORVUZ-XXI Alumni World League Program is growing. Events dedicated to the 50th anniversary of the Nepal Alumni Association (Mitra Kunj) were held in a festive atmosphere.
Despite its achievements, there are challenges that face the organization. As always, the planning and implementation of new projects are strictly limited by the financial capabilities of an organization that exists on the basis of self-sufficiency. Unfortunately, national associations of graduates in all regions of the world are experiencing an increasing shortage of personnel, because a new generation of graduates prefers virtual communication, which in turn leads to a loss of continuity in work and damages the activities of public organizations.

The strategic vision for organization's further development, among others, is the Partnership Board hopes for success in the ambitious task of creating an African Regional Union of National Alumni Associations. The problem has remained very relevant for many years, because previous attempts to organize and hold such a forum, first in the Congo and then in Ethiopia, have remained unrealized. INCORVUZ-XXI would very much like to see as many representatives of the African region, as possible, among the participants in various on-going projects, so also Soviet and Russian graduates in regions of Asia and Latin America.
Will Russia become the brother in arms with Iran?
The killing of Iranian leader of famous Quds force Gen.Qasem Soleimani in Bagdad seems to have made an apocalyptic move in the beginning of this new decade as some critics have already viewed this incident similar to the the assassination of Austrian crown prince Duke Franz Ferdinand in Sarajevo which paved the path to the First World War in 1914. Perhaps, the assumption could be an exaggeration with the balance of power in the world in early 20th century and now, but certainly the aftermath consequences of death of Soleimani could escalate severe political turmoil that might lead to a grave crisis. The deteriorating relations between Iran and the US in past months have clearly suggested that the killing of Soleimani was not entirely an abrupt situation, but a culminating act of a serious of disturbing events between the two countries. The statement issued by Iranian supreme leader vowing to revenge indicates the wounded pride of a nation, yet the it is disputable whether Iran would retaliate without concerning the strength of the US war machinery that could bring catastrophic effects to the whole country. However, it is a fact beyond doubt, Iran is a regional power with a strong war machinery which has been trained for any military encounter for years and this military and technological sophistication have made Iran a unique example from any country that the US had gone to war since the end of Second World War. But, it seems to indicate that Iran is likely to choose asymmetrical escalation through using proxies or small group attack on American targets to deter Washington.
On the other hand, the main assumption that has fascinated many armchair critics is that Russia will unconditionally assist Iran in any military campaign against the USA. This argument can be bolstered by examining the political affinity between Teheran and Moscow in the recent past. In particular, when Iran was threatened by Trump in last May, it was Moscow who made an official statement in supporting Teheran and also Russia is clearly aware of the importance of keeping Iranian regime without allowing external forces to cripple it, because Iranian stability is a paramount factor of deterring the US and its involvement in the middle east. More importantly both Moscow and Tehran have strengthened their ties for common cause of protecting Assad's regime in Syria. Furthermore, Russia's recent involvement in global politics from its relative passivism during Yeltsin's era have given a signal to its ultimate ambition becoming a global player. This agenda was brought by president Putin in 2007 in his Munich speech showing his antipathy over a "unipolar" world, in other words his denial of US domination in word politics. The audacious conduct of Iran and its military mechanism as a strong state is Russia's major knight in the Middle East that Moscow does not want to lose. In fact, it was just several days before the killing of Soleimani Iranian, Russian and Chinese naval forces conducted a joint naval exercise in Gulf of Oman. Also deceased general Soleimani was regarded by Moscow as an astute strategist who played a cardinal role in making Russian military presence when Syrian army was in a decaying stage in 2015. Russia's air strikes finally changed the game and Soleimani made one more visit to Moscow in 2017, this reportedly was to discuss Russia's bilateral cooperation with Sunni monarchies in Persian Gulf. This background is a good evidence to suggest the dismay of Iranian general to a major blow to Moscow as a loss of a shrewd strategic thinker who could have been further used as a proxy for Russian involvement in the middle east.
However, still it is bit of a hyperbolic assumption to think that Moscow would directly lead her armies to support Iran or encouraging such a military confrontation between the US and Iran. Regardless Moscow has been vociferous in criticising the macho gesture of Trump administration for killing Soleimani, so far it has maintained its silence of what Russia will really do about it. Unconditional military pact with Tehran seems to be a fancy idea to revive old Soviet super power status as how it protected Cuba, yet the political reality piercing Moscow is something bitter. It convinces that any military confrontation Teheran world launch against the US will be devastating blow that would simply weaken the Iranian regime and this will lead to undermine Iran's role in supporting Assad's regime. Furthermore, the rapport built by Moscow in the Middle East with Iranian rivals such as Saudi Arabia, UAE and even Israel can become adversaries again leading to an unmitigated disaster of Putin's grand strategy of keeping ties with American allies in the middle east. These circumstances will create twilight scenario to assess any possible moves by Moscow. Another notable factor emerged after the death of Soleimani is the rapid increase of the oil price as the price of a barrel jumped from 2 US dollars to 69 US dollars and being one of prime oil producers this situation has created a sudden financial benefit for Russia. All in all, Russia's next move would not definitely be a blatant military assistance to Teheran as a brother in arms. But, Russia is likely to play a key role through its diplomatic means to impede any crisis that would be detrimental to its ally Iran.