The Media-Responses to Bernie Sanders's Climate-Plan
U.S. Senator Bernie Sanders, a U.S. Presidential candidate in the Democratic Party primaries, presented on August 22nd the most-detailed climate-plan that has ever been presented by any U.S. Presidential candidate — 14,000 words, or the equivalent of a normal 55-page booklet.
One of the billionaires-controlled news-media, the New York Times, promptly headlined its news-story about it, "Bernie Sanders's 'Green New Deal': A $16 Trillion Climate Plan", and said little else about it than its total expense-side, no mention at all about its income side (and virtually nothing at all about its benefits, which were detailed in those 14,000 words). The report also said that the Democratic National Committee had just banned CNN's planned and unofficial Democratic Presidential candidates debate about the climate, which had been scheduled by CNN for September 4th. The NYT reported that the DNC would permit the candidates to appear only one-after-another — without any interaction with each other, regarding climate-issues. The news-site Vice then promptly headlined "The DNC's Climate Debate Is As Good As Dead", and reported that, "Democratic voters want to talk about climate. Three quarters of respondents to a June CNN poll said that they wouldn't vote for a candidate who didn't recognize climate change as humanity's greatest existential threat." Of course, if Democratic Party voters are really serious about that, they'll follow through on it. But, evidently, the DNC is quite convinced that they won't be.
Another billionaires-controlled news-medium, Mother Jones, issued online its official blogger, Kevin Drum, bannering "Bernie Sanders Gets a D- for His Climate Plan" and he opened:
Bernie Sanders released his climate change plan today, and Bernie being Bernie it was naturally the biggest, leftiest, most socialist plan out there. And that was the good part. The bad part is that it's practically designed to fail.
If you're going to propose a massive, $16 trillion plan, the first thing you should do is get as many people on board as possible. Instead, Sanders practically revels in pissing off as many stakeholders as possible.
Mr. Drum wanted Sanders to be proposing things that the billionaires who fund political campaigns find acceptable.
However, The Intercept, a site that's owned by Pierre Omidyar, a Democratic Party billionaire from Silicon Valley (and who is not committed to fossil fuels himself), has been remarkably honest about "climate change" or "global warming" (which are the accepted euphemisms that are pumped for global burnout — the actual threat). In fact, back on 3 July 2019 it had bannered "WILL BERNIE SANDERS STICK WITH A CARBON TAX IN HIS PUSH FOR A GREEN NEW DEAL?" and it honestly presented the reason why that ought to be included in a plan but also mentioned that all pollings show that the public don't and almost certainly won't understand that, and so any commitment to a carbon tax would probably sink any candidate who would specifically include it. (Sanders's new plan does not.) And, then, on 22 August 2019, The Intercept headlined "BERNIE SANDERS'S CLIMATE PLAN IS MORE RADICAL THAN HIS OPPONENTS' — AND MORE LIKELY TO SUCCEED". That was the nitty-gritty truth about the matter: All of the other candidates are so afraid of going up against the billionaires (including not up against the Republican ones), but Sanders is doing it nonetheless, and his new plan shows that he really means it when he says, "We must take action to ensure a habitable planet for ourselves, for our children, and for our grandchildren." He is now putting his entire candidacy on the line for this.
Sanders is the only candidate who is still in the race who has zero billionaires backing him. He has already committed himself: zero dependency upon any of the billionaires. You can agree with him, or disagree with him, but that's a fact about him. Obviously, the DNC is just as much against him now as it was in 2016. Practically nothing has changed in the Democratic Party since then.
Part of his climate plan even mentions: "Trade deals have been written in secret by billion-dollar companies to give polluters special handouts and protections, as well as the right to sue governments that pursue stronger environmental protections. Under a Sanders Administration, this will end. Trade deals will be renegotiated to ensure strong and binding climate standards, labor rights, and human rights with swift enforcement." That's a slam against not only both Bushes and both Clintons, but against the lionized-by-Democratic-voters Barack Obama, whose biggest effort, of all, was to pass his mammoth proposed TPP, TTIP and TISA trade-deals, all of which were even worse in that regard than any of its predecessors such as NAFTA were. And Sanders had led the fight in Congress against all of them. (None of them became passed, though Hillary Clinton would have resumed Obama's push to pass them if she had become President. Trump isn't worse in every respect than she was.)
Also, here are some of the passages in the plan that I find particularly striking:
Instead of accepting that the world's countries will spend $1.5 trillion annually on weapons of destruction, Bernie will convene global leaders to redirect our priorities to confront our shared enemy: climate change. …
we will support less industrialized nations in the Global South, excluding China, to help them reduce emissions by 36 percent from 2017 levels by 2030, consistent with meeting our fair share of emissions reductions under the United Nations Intergovernmental Panel on Climate Change's recommendations. …
Bernie recognizes that the Pentagon is the largest institutional emitter of greenhouse gases in the world and that the United States spends $81 billion annually to protect oil supplies and transport routes. We are uniquely positioned to lead the planet in a wholesale shift away from militarism. …
When we are in the White House, we will create millions of union, family-wage jobs through the Green New Deal in steel and auto manufacturing, construction, energy efficiency retrofitting, coding and server farms, and renewable power plants. We will spend $1.3 trillion to ensure that workers in the fossil fuel and other carbon intensive industries receive strong benefits, a living wage, training, and job placement. We will protect the right of all workers to form a union without threats or intimidation from management. …
End overseas fossil fuel financing. The federal government currently supports investments in fossil fuels through the World Bank, the International Monetary Fund, OPIC, the Export-Import Bank, and other multilateral institutions. …
Bernie will make fossil fuel corporations pay for the irreparable damage they have done to our communities and our planet, and he will ensure that all fossil fuel workers affected by the transition are entitled to new jobs, health care, pensions, and wage support. He will not allow fossil fuel executives to reap massive profits while endangering the future of humanity. He will not leave it to the market to determine the fate of the planet. …
Prosecute and sue the fossil fuel industry for the damage it has caused. …
Scientists have been clear that in order to solve the climate crisis, we must leave fossil fuels in the ground. …
The last two of those are the most important. For example: to "leave fossil fuels in the ground" means to lay off a large percentage of fossil-fuels corporations' workforces, especially all who are involved in exploring, and negotiating for the exploitation of, new wells and mines; and, furthermore, the stock-market values of all of those corporations will crash, because the vast majority of their market-value is their assets-in-the-ground, their "Reserves". As the leading study of this matter phrased it in 2013:
If CAPEX continues at the same level over the next decade it would see up to $6.74 trillion in wasted capital developing reserves that is likely to become unburnable. This would drive an even greater divergence between a 2DS and the position of the financial markets. This has profound implications for asset owners with significant holdings in fossil fuel stocks. It is particularly acute for those companies with large CAPEX plans that continue to sink shareholder funds into the development of additional new reserves that are incompatible with a low-carbon pathway.
Furthermore: "Oil, gas and coal mining companies spent $674billion of capital expenditure in the last year seeking to develop more reserves." This at a time when 100% of such expenditures is actually waste — unburnable excess upon the already-existing excess of unburnable carbon reserves, which those corporations already own and are already producing from.
This is the way capitalism is. Democratic socialism (such as in the Scandinavian countries) isn't, at all, like Karl Marx's communism, but billionaires equate those two — democratic socialism and dictatorial socialism — in order to discredit democratic socialism (progressivism), by lies, because billionaires are the only people who really benefit from capitalism.
Especially the owners of fossil-fuels corporations will lose their entire investments in those corporations, because not only of the inevitable crash in their stock-values but also because whatever value still remains in those corporations will then — under the Sanders plan — become transferred to the government, as a partial payment for the massive criminality of those corporations during the many decades in which they were bringing to the precipice the very continuance of life on Earth.
So: it is clear why this nation's media — which are controlled (even when not outright owned) by billionaires — will do everything possible in order to prevent Sanders from becoming its President. For them, the choice is stark, and it is between either him, or else any of the other candidates. They will congeal around whichever of the other candidates is the likeliest one to defeat Sanders. That's the reality, about the Democratic Presidential primaries. The Sanders climate plan makes this absolutely clear.
Author's note: first published at Washington's Blog
The year is 1962. In the midst of the Cuban missile crisis, the United States needs Mexico to place nuclear missiles on its territory. In a phone call, Mexico's President tells US President Kennedy that Mexico will provide whatever the United States needs. This was opening Mexico up to a potential nuclear strike by the Russians in the midst of the tense crisis, exposing the vital security of the country for the benefit of the United States, writes Iveta Cherneva.
What is remarkable about this episode is that Mexico was agreeing to a thing so ludicrous, and this was the result of a successful decade-long US foreign policy towards Latin America.
The benefit of carefully crafted US foreign policy is noticed in times of need and further down the path, not immediately. US standing and credibility matter precisely in critical situations.
Unfortunately, US President Donald Trump's blind spot is foreign policy.
When he took the decision to betray the Kurds by withdrawing US troops from the Kurdish parts of Syria, Mr. Trump did not expect the deserved backlash from Senate Republicans. Senator Lindsey Graham, Chairman of the Senate Judiciary Committee, has called it "the biggest mistake of his presidency" and Trump didn't understand why.
Through his approach to US foreign policy, Trump is undoing years of planning and careful calculation, and not just in the Middle East.
Trump's Kurdish decision does not come from a specific school of thought, as some might have suggested. Trump's moves are all over the map; he just doesn't understand the intricate game of chess that is involved in crafting US foreign policy.
His withdrawal of US forces from the Kurdish territories is not grounded in isolationism of the principled kind preached by Senator Rand Paul. It soon became apparent that the US troops in Syria are not coming back home, they are simply being repositioned to guard the oil fields in Syria.
Coupled with the decision to send US troops to Saudi Arabia to do the same, it became clear that Trump simply likes to guard oil. He told the Kurds to go live in the Syrian parts that have oil because apparently then the US would care to protect them. He also said that the US wants some of that oil.
But guarding oil is not a grand strategy. That is oil-centered trumpism of the kind that even George W. Bush didn't dare to articulate quite like this.
In his surprise at Republican Senators' anger, it was apparent that Donald Trump didn't understand what in terms of geopolitics was contained in a small group of US soldiers. Neither did he get the fine geopolitical balance at play. It seems that there are very few things that can make Republican Senators break ranks and foreign policy is what gets them.
A Bulgarian proverb says that "where you hit it is not where it cracks". The Kurdish decision will reflect on other areas — US standing will crack elsewhere, not immediately and not where Trump expects it to.
Across issues and across geographical regions, Trump is undoing decades of carefully crafted policy and language where every phrase and every move meant something.
As the Mexico nuclear shield episode shows, the benefits of carefully crafted US foreign policy are noticed in times of need and further down the path, not immediately.
US standing in the international arena matters. Trump has harmed it and the results won't be immediately apparent.
But Republican Senators see further in foresight. They will be the key figures in Trump's impeachment. Republican Senators have the right to be angry at this lack of grand strategy and they will remember that when the impeachment comes to Senate.
Foreign policy is Trump's blind spot and what he does not realize is that it might cost him the impeachment.
The coup in Bolivia shines yet more dark light on America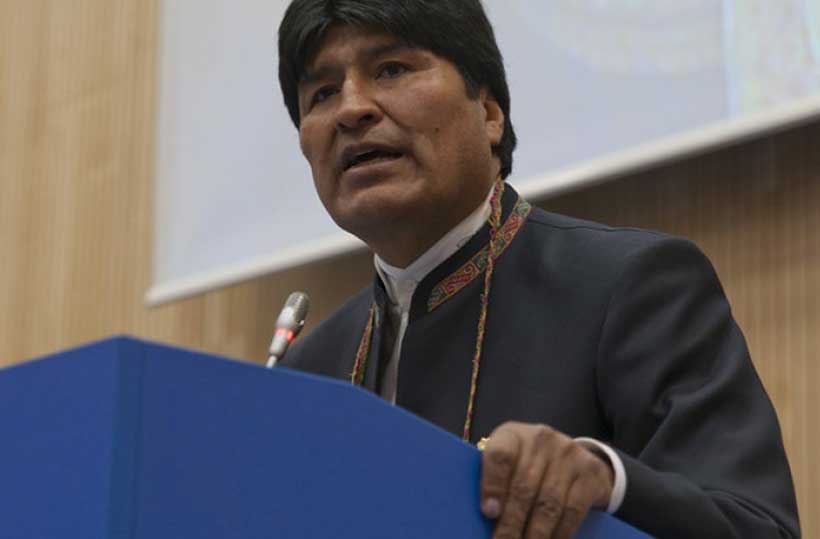 Just when one might have thought things geopolitical might be about to turn for the better, which means the worldwide geopolitical nightmare engineered by the U.S. and Trump and all the rest of the mob in Washington might fade a bit, it just gets worse.
Bolivia's recently re-elected and then self-resigned President Evo Morales because he is graciously trying to avoid more upset and possible carnage in Bolivia, was on the chopping block of the U.S., and chopped he was although he is not dead yet and apparently hiding out among his indigenous supporters somewhere in Bolivia but has accepted asylum in Mexico.
Yes, Morales may have tried to overstay his presidential term by extending the term limits and maybe, just maybe, there were some very minor "irregularities" in the voting process in his country, but that's immaterial. He still won a huge plurality of the votes against his challenger. The U.S.'s government changing machine has been out for his head for over a decade, and he had the guts at the U.N. not long ago with Trump and Pompeo nearby to point out to the world just what the U.S. has been about for far too long: criminal meddling all over the globe.
It's weird, though. Evo did a good job for over a decade. You cannot argue about his economic record in Bolivia. He created, surprisingly, what might be termed a "prosperous socialism" wherein ALL boats were lifted, and especially the prospects for the poor majority. One would think the oligarchs and the "rich" in Bolivia might see some benefit in a society where most everyone got at least something better than they had. But the "rich" and particularly the obscene rich, and imperialists, they can never get enough. Any diminution in their wealth, or more importantly any restrictions on how wealthy they might become because some sharing with the poor is mandated by good government, has now been forbidden. Do they not realize that social calm for all, relatively, is better than total societal discord? Apparently not. Whatever new government is formed in Bolivia, the country is going to regress violently and the poor set back forcefully, with extreme prejudice. People who are by nature cruel and lacking compassion, feeling themselves exceptional, like oligarchs, never learn…until they are strung up on lamp posts and finally destroyed, as has happening time and again in history in various locations.
It may be hard to believe, but the U.S., which is largely controlled by multi-billionaire oligarchs (and this is a phenomenon that has been building for 30 or 40 years) under an increasing "neoliberal" regime (and not just in the U.S.), may see a day when even they will see their fortunes vanish both materially and socially. Lamp posts likely await them, too, when things become unbearable for the 95 percent of the citizenry. For the privileged, greed really is bottomless for most of this class of people. They live in a fantasy world. But of course there are exceptions. Yet the U.S. aims for resources overseas that it does not control – like Venezuela's oil, like Bolivia's as yet mostly untapped lithium, like Afghanistan's riches, and much more.
Which begs the question whether it was a good idea that President Rouhani told the world this week that Iran has discovered an additional 53 billion barrels of oil. Even if only 25 percent of this can be eventually extracted, it's fabulous. Iran IS wealthy, fabulously so in every respect, especially in its people, except that for now it can't market its petroleum wealth. Maybe that is a good thing temporarily, for Iran appears to be growing other industry, including the growth and export of saffron to name just one item.
Meanwhile, as risky as it may be, Iran has allegedly "blown past" uranium enrichment levels mandated by the JCPOA. This is absurd. Iran is allegedly enriching uranium up to levels of 4.5 percent. That nowhere close to bomb material at over 90 percent. The JCPOA permits 3.6 percent, allegedly. The IAEA and the European signatories to the JCPOA are concerned and want Iran to go back to the limits of the deal. This includes limits on the size of the stockpile of enriched material, too, which is currently, according to reports, less than 100 kilos above that limit.
However, Iran is doing just what it said it would and no more — inching away from the JCPOA because the signatories of the JCPOA, the Europeans, have done virtually nothing, cowards that they are, to stand up to the Trump mobsters and realize that their long-term interests reside east of the Bosporus. At least Nordstream 2 is soon going to be a delivering fact. Europe did not back down to U.S opposition to that, and should have stood by Iran when Trump, caving to Netanyahu, abandoned the JCPOA. As far as many observers are concerned, particularly after the U.S.- coup in Bolivia, Iran is doing just the right things and the world, literally, prays that pariah America falls on its own swords.
From our partner Tehran Times
Floods, Fires, Coups and Impeachment Make a Busy Week
Venice is flooded. The water is hip high in St. Mark's Square threatening the church and the expensive shops and restaurants on its perimeter. The mayor blames climate change.
In Australia, the bush fire season is underway. One in New South Wales is scorchingly close to nearby homes having already destroyed two buildings on a country property owned by the actor Russell Crowe.
Floods, too, in the north of England, while Boris the chameleon has a comfortable 10-point lead in the polls over his labor opposite number, Corbyn the plonker. No matter how outrageous or inept, Boris might be, the plonker makes nary a dent on that voluminous target. So much for the left in Britain as it awaits another drubbing at the polls.
Then in Bolivia, Evo Morales has fled to Mexico claiming his life was at risk. If he clearly looks Bolivian Indian, his successor, the leader of the senate, Jeanine Anez is just as clearly white. As in South America elsewhere, the white Spanish elite are at the top of the food chain, followed by the mixed mestizos and at the bottom the indigenous people. The exceptions are Argentina where the original inhabitants were massacred out of existence, and Chile which is German immigrants from long ago.
Trump welcomed the coup in Bolivia — was there covert support? If Morales won plaudits for fighting poverty and as the country's first indigenous leader, he also overstayed his welcome, at least internationally. He defied constitutional limits by running for a fourth term in a close election which the Organization of American States faulted for "clear manipulation". Mr. Morales promised fresh elections. But the elite-run military and police clearly saw an opportunity. Morales supporters are organizing demonstrations.
The US does not have coups; it has impeachment. Bill Clinton notable for his expression, "It depends on what the meaning of 'is' is" … and for a new low in disgusting personal behavior, was impeached. The procedure requires the House to determine articles of impeachment and then send a team to prosecute in the senate. The individual being impeached has the right to his own lawyers to mount a defense. The senate eventually retires to consider and deliver a verdict. A two-thirds majority is required for conviction. Bill Clinton survived despite his impeachment being based on facts unearthed by Special Prosecutor Kenneth Starr. Can anyone then imagine a Republican senate convicting Donald Trump over a sentence in a phone call?
So what is the purpose of this futile exercise in the House of Representatives? Perhaps Democrats hope to sling enough mud to sway the independent note in the forthcoming election. Perhaps they want a few moments in the limelight, and TV interviews before, during and after.
A fraught world with real climate issues the legislators prefer to ignore — after all they are well-funded by fossil fuel interests. Forget the actual storms, our elected representatives prefer storms in a tea cup. The House Intelligence Committee, which is holding the hearings, will probably forward the matter to the full house as the political games continue.
Meanwhile, record numbers of homeless sleep under bridges as temperatures plunge to -15C (5 F) in the midwest and the east of this wealthy country. Do the politicians care?