'Child Actorvism' and the Extinction Agenda of Neoliberal Racists
There is no shortage of social justice causes trumpeted by the West† with a revolving medley of "child actorvists" at the forefront. The logical observer may question whether these endless multi-billion dollar campaigns have had any tangible effect at all, except in serving as a stalking horse for mass-mediated interferences in the affairs of other nations.
Whether it is about immigration, education or the whitewashing of terrorists, they are there, ready with their scripted messages. The latest sensation happens to be Swedish teenager Greta Thunberg who is trying save humanity from an environmental apocalypse by playing truant from school. Manufactured doyens however conveniently overlook real progress in the activist areas they were groomed for, revealing a strong pattern of bias in the process.
On Friday Aug 9 2019, more than a million Indians planted 220 million trees in a single day, with each tree representing a resident of the state of Uttar Pradesh (UP). According to state government official Awanish K. Awasthi: "The pits are geo-tagged and the saplings carry a QR code. So we can record how many saplings are planted and where." The BBC had earlier cast doubts on whether Ethiopia had actually planted 350 million trees in July due to the lack of a verification mechanism.
This was not India's first afforestation feat. In 2016, nearly 800,000 volunteers in UP planted 50 million trees in a single day while a year later,66 million saplings were embedded in just 12 hours by volunteers in neighbouring Madhya Pradesh.
India has targeted a total forest covercomprising33 percent of its landmass by 2030. While this initiative was launched under the general rubric of climate change, there were more immediate issues at stake. The spectres of desertification and groundwater depletion were enough to mobilize ordinary Indians into action.
The sheer design, organization and coordination involved in the Indian undertaking may be studied for years to come. Once verified, the afforestation model can be adapted in fields ranging from big data, artificial intelligence, sharing economy to contingency planning. A somewhat similar mobilization model was employed when Cyclone Fani hit eastern India during the first days of May. As The Conversation reported on May 13:
A record 1.2 million people (equal to the population of Mauritius) were evacuated in less than 48 hours, and almost 7,000 kitchens, catering to 9,000 shelters, were made functional overnight. This mammoth exercise involved more than 45,000 volunteers.
After studying the grim statistics for Hurricane Maria (Puerto Rico, US; 2017), Hurricane Harvey (Texas, US; 2017) and Cyclone Idai (Mozambique, Madagascar, Malawi and Zimbabwe; 2019), the authors concluded that the "world can learn from" from the Indian experience.
Yet, the momentary fascination with India's mass mobilization skills dissipated just as quickly as the storm itself. The global risk researcher, stupefied by hours of BBC programming, was left to wonder: Where are those follow-up in-depth analyses? How come the world only came to know of India's recent tree-planting milestone through a brief Associated Press report? Isn't climate change the dernier cri?
One could excuse the BBC for disregarding Uttar Pradesh's greening exploits as it was too busy fabricating videos on "large-scale protests" in Kashmir along side usual suspects like Al Jazeera and Reuters. Even Malala Yousafzai stepped forward to test the waters, only to be summarily rebuffed.
There may be other reasons behind the neoliberal media's indifference here. Uttar Pradesh Chief Minister Yogi Adityanath had earlier committed the cardinal sin of renaming the city of Allahabad as Prayagraj. This is a complete no-no in a West that inevitably sides with militant Islam. Take a look at Serbia, Syria, Libya and Myanmar, amongst numerous other examples. Additionally, India's a forestation campaign (2016 to 2030)was being undertaken outside the ambit of parasitic Western NGOs at a paltry outlay of $6 billion. India was showing the way in cost savings and volunteer-based sustainability, without the need for star-studded events that child actorvism thrives on.
Neoliberal Selectivity
New Delhi's indigenous efforts since 2015 were therefore deemed unsatisfactory by Extinction Rebellion superstar Thunberg. She pilloried India's Prime Minister Narendra Modi in a February 2019 video post:
"Dear Mr Modi, you need to take action now against the climate crisis, not just talking about It because if you keep going on like this, doing business as usual, and just talking about and bragging about the little victories, you are going to fail. And if you fail, you are going to be seen as one of the worst villains in human history in the future. And you don't want that" (Emphasis added).
Do not seek a scintilla of sanity in the outburst above. Instead, note the timing: It was posted during the run-up to the April-May 2019 Indian general elections where Modi's Bharatiya Janata Party (BJP) won by a landslide victory, surpassing expectations thanks to neoliberal hissy-fits typified by the likes of Thunberg.
Does Thunberg consider the planting of 50, 66 and 220 million trees overnight– involving schoolchildren no less – as one of those insignificant "little victories"?Who is doing the talking and bragging and who is doing the actual planting here? One of India's other "little victories" was in lifting 271 million people – numbering more than half the EU population– out of poverty in a mere 10 years.
If Thunberg's views aren't reflective of Western neoliberal racism, tell me what is? Here is where racial supremacist undercurrents are cleverly masked by the clarion call of "social justice". Nothing non-Westerners do is good enough unless it involves and profits vested Western interests. Neoliberals and their neoconservative cousins feel they are entitled to run the affairs of other nations. If the line is not toed, an army of "child actorvists" are ready to selectively name and shame national leaders. How is this different from the use of child soldiers and human shields by an assortment of violent thugs and jihadis? And much like jihadis, a false flag calamity inflicted on a child actorvist would reap international sympathy for the "cause", would it not? We shall see what the future holds…
Quite tellingly, when it comes to the question of extinction, French-Lebanese author Amin Maalouf sums up the prevalent Western hypocrisy perfectly: "Threats to pandas cause more emotion than threats to the extinction of Christians in the Middle East". Another child actorvist, Bana Alabed, has been roped in to hasten that particular genocide.
The Incurably Colonized
Instead of India's Modi, Thunberg could have trained her guns on Southeast Asian politicians for allowing the West to dump millions of tons of highly-toxic trash throughout the region. (India had another "little victory" by banning them). It cannot get more pathetic than Pakistani garbage appearing in an illegal Malaysian dumpsite! Is Thunberg really as environmentally literate as she claims to be? The organized crime networks involved in the regional garbage racket are also into money laundering, smuggling, organ harvesting and human trafficking.
Neoliberals and neoconservatives however have a soft spot for Southeast Asia (sans Mynamar) for a good reason: Its leaders and societies have an incurable inferiority complex towards all things Western, rendering them supine and receptive to machinations from the other side of the world. The region hosts innumerable Western-backed NGOs and affiliates whose sole role is to disrupt and shape the local political process. That is, when they are not discriminating against native talent, native ideas and native solutions. For a region that has had several developmental head-starts over India, Southeast Asia has yet to produce world-class scientists, innovators and products of any import, making it easy for West to offer their "expertise" and goods at huge costs. The media in "Asian values" bastions like Malaysia and Singapore are more likely to celebrate Thunberg's theatrics than investigate real Asian success stories.
Just like neoconservatism, neoliberalism neatly divides the world along classic colonial lines. Can George Soros and his neoliberal backers claim a single success story from the countless "social justice" agitprops unleashed worldwide? Instead, such interventions have left behind a string of broken, emasculated and dysfunctional societies. Women and children are the biggest victims here. One could also include Thunberg's Sweden in the list of nations facing a surge in sexual violence against women and children. Swedish schools are no longer safe and somehow no child activist has emerged to publicize this highly-proximate issue.††What is the celebrated "female education activist" Malala Yousafzai actually doing?
Redundant Societies
The idea that the East and West can cooperate, compliment and compete on an equal footing is an anathema to neoliberal and neoconservative minds. It is in "redundant societies" however where neoliberals find the most fertile ground for its destructive agendas. Redundant societies are ones the world would scarcely miss in case its populations were magically rendered extinct overnight –short-term raw material and supply chain disruptions notwithstanding. Is that the core idea behind Extinction Rebellion? Fewer humans are great for the environment, no?
A nation less contaminated by the neoliberal agenda is a nation poised for growth and technical breakthroughs. Look at the world around us: the relatively nationalistic South Korea, Japan, China and India (the "effective Asia"), Israel, Russia, and Eastern Europe are already challenging the West's dominance in many critical areas. Even Iran is not doing too badly considering the circumstances.
In the meantime, one hopes that Thunberg will encounter flotsams of plastic as she yachts towards the upcoming UN powwow in New York. If so, these may turn out to be trash that were supposedly repatriated by Southeast Asian nations but which were dumped enroute by ships. To avoid "baseless allegations" like these, Thunberg could try some real environmental work by researching, tabulating and verifying claims that all repatriated trash had indeed reached their destinations in toto, as claimed. Maybe, this is a task too arduous for Thunberg. Let's leave such little details to an Indian schoolgirl's future dissertation, shall we? After all, she would have literally had her hands soiled in planting the future while others talked the big talk at big money events.
† The author defines the West as nations west of the Metternich line in Europe as well as the Anglo-American world, including geographically-dispersed nations such as Canada, Australia and New Zealand. It does not refer to European Civilization.
†† Anyone researching this topic should scrupulously avoid Google.
How Climate Change Has Been Politicized?
We are living in a world where the political side of individuals is ruling over the highly sensitive issues like Climate Change even. It is evident that political ambitions of individuals and states have overruled the threatening issue of global climate change and the fact that it is highly politicized. Looking at the discourse that surround the topic of climate change or global warming entails terms like cap and trade, emission intensity, policies, measures etc. but what is still missing is the realization of the impact of human behavior that without any doubt is adding more to the threatening issue.
Scrutinizing the roots of issue from the past, it shot up when industrialization and the race among states to gain more technology, industries, economy and military might have caught everyone's attention. After that there was a slight wave of realization majorly in the second half of twentieth century, as a result of which mass media started to emphasize on climate change narrative and there were discourses spread through print media to create awareness. As the awareness seemed to have increased the concerns of public regarding the issue also rose ultimately leading to the birth of Intergovernmental Panel on Climate Change (IPCC) in 1988. A legacy followed after IPCC and climate change for the first time was coined as an environmental or green issue. There were NGOs like Sierra Club, Natural Resources Defense Council and The Environmental Defense Fund that took the voices for Climate Change as their prime priority.
Parallel to this there was a prominent backlash to these efforts too. In late 1980s there was emergence of coalition among many industrial companies of oil and cars that were the highest voices for business at the international level whose prime focus was to make business and turning a blind eye towards the threatening Climate Change. Moreover, the Convention that was considered to be a highly effective one, aimed at reducing global emissions of Carbon and greenhouse gases was framed. But even Kyoto Protocol turned out to be a battle among states whose ambitions were their national interests. In the pursuit of their offensive power and politics the quota allotted to all the member states of the convention was overruled. The richer states started to buy carbon quotas from the poorer states and both were in pursuit of what they needed the most; richer countries emitting carbon and poorer ones getting money. Hence the aim of the convention was severely affected. Adding more to the issue in 2001, the then US President George W. Bush called the Kyoto agreement as fatally flawed and the concern of climate change was no more considered to be a Green issue.
From that day till now, the issue has witnessed lesser ups and major downs in its magnitude and modern times have witnessed degradation of environment due to limitless cycle of consumption and production. As a matter of fact, 2015 to 2018 were recorded as the four hottest years ever. Two major evidences that depict how the issue of severe attention has been politicized for material gains are US withdrawal from Paris Climate Agreement and Kyoto Protocol that went in vain merely because of states only wanting to pursue their material interests and ambitions.
It now turns out to be easily understandable how and why the enigma between soft issue like Climate and hard core politics have led to severe degradation of nature and still the world is not realizing that the future of humanity has been put at risk. Unfortunately, the pursuit of leaders still depict that the humanity would continue to be at risk as long as they are not willing to shift their focus towards the need of the day that is climate change.
Immediate realization is necessitated that the short time political gains of the world is threatening the future of generations to come and the world cannot afford to lose another decade of dismay because decisions and actions done in this decade is going to impact the century to come. If only the world realizes the need of immediate measures, actions and strict compliance and the need of spreading the awareness of the demanding issue through mass media and discourses, then the world would be able to cope the issue and endeavor to save the future of generations to come.
World Ocean Day And Economic Potential Of Oceans
The World Ocean Day is celebrated internationally on 8 June every year since 2008, with an aim to advance awareness of the vital importance of oceans, the role they play in sustaining a healthy planet, and to foster public interest in their protection, and the sustainable management of their resources. This year's theme is "The Ocean: Life and Livelihoods".
The oceans cover over 70% of the planet. It is our life source, supporting humanity's sustenance and that of every other organism on earth. These produce at least 50% of the planet's oxygen. It is home to most of earth's biodiversity, and is the main source of protein for more than a billion people around the world. The oceans are key to our economy with an estimated 40 million people being employed by ocean-based industries. The mode of transportation through the sea is the cheapest as compared to rail, road, and air. There are around 56,000 merchant ships trading internationally. Some 11 billion tons of goods are transported through seas.
The oceans offer many organisms including dried sponges, corals & jellyfish, shells of crabs, oysters, conch and other mollusks, pearls and cuttlefish 'bones', sea cucumbers, sea horses and many other marine animals to prepare medicines such as antibiotics, powders, ointments and decoctions. Oceans are also a big source of energy in the form of oil and gas. An average 28% of world energy source is from off shore. The coral reefs which are found closer to the coast provide an important ecosystem for life underwater. Thousands of species can be found living on one reef. The reefs protect coastal areas by reducing the power of waves hitting the coast, and provide a crucial source of income for millions of people.
Another importance aspect is Deep Seabed Mining (DSM) to collect metal-rich resources from the deep seafloor, like seafloor massive sulphides, cobalt-rich ferromanganese crusts, and polymetallic nodules. Oceans are also a big source of entertainment and sports. As of December 2018, there are 314 cruise ships operating worldwide. This has become a major part of the tourism industry, with an estimated market of $29.4 billion per year, and over 19 million passengers carried worldwide annually. Numerous type of water sport is provided by the seas such as surfing, sailing, swimming, water skiing, scuba diving, canoeing, fishing, and snorkeling etc. It is pertinent to mention that in the Holy Quran, the sea (Albehar) is mentioned 41 times in the verses giving its importance to mankind. One is quoted here, "It is He who has subjected the sea on to you, that ye may eat fish thereof that is fresh and tender, and extract there-from ornaments to wear, and thou seest the ships therein that plough the waves that ye may seek to enrich yourself of the bounty of Allah and that ye may be grateful (16:14)".
The oceans need special attention from the mankind to keep these clean especially from various forms of pollutants. The developing and underdeveloped countries usually discharge industrial waste and sewerage into the seas and harbors without proper treatment which pollute the beaches and the harbors. Ships cruising through the oceans sometimes discharge their sludge to clean bilges and sewerage tanks. This unwanted waste virtually reaches to the beaches. It is also injurious to marine life. Although IMO laws exist not to pollute the oceans but some dhows and other small vessels do not follow in letter and spirit. Mangroves are special plants which grow in the salt water in the swampy areas. These are breeding ground for the marine life and provide valuable ecosystem services by protecting the coastline. These plants need special attention for preservation as well as regular forestation.
Pakistan is blessed with about 1002 km long coast. The Exclusive Economic Zone (EEZ) extends up to 200 Nautical Miles (370 KM) and extended continental shelf 350 NM (648 km), total area 290,000 square km. Pakistan has not been able to utilize its vast area except for carrying out fishing and means of transportation. Pakistan needs to utilize this huge area by employing latest technological developments in the maritime field to derive maximum economic benefits. Mangroves along the coast are usually used by the poor residents because of no alternate source of energy. The supply of LPG at subsidized cost may be considered. The enforcement of laws regarding industrial waste and sewerage going to sea without proper treatment may be ensured by the concerned authorities. Pakistan needs to focus on a 'Sustainable Ocean-led Development Paradigm' to 'improve the policy and governance of the marine ecosystem.' Citizens should be made aware of the importance and potential of this sector for the economy and for job creation. Regular TV talk shows may be conducted for the awareness of the masses. Maritime-related subjects should be included in the curriculum of the universities.
Water Crisis: Pakistan running dry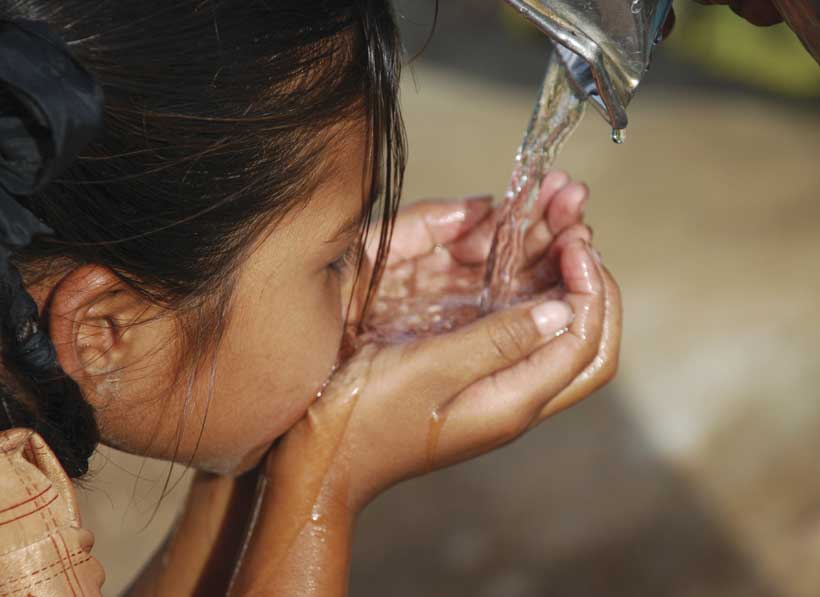 Water is considered to be one of the most important elements on Earth, with two thirds of it covered with water, it is the basic component of human life. Global environment is changing due to the high involvement of humans into nature; they unknowingly contribute to major exploitation of natural resources and then have to face the consequences. Pakistan is already facing a severe water shortage issue, and it is expected that if no emergency measures are taken then the country will dry in the coming years. Pakistan is lacking an efficient water management mechanism, drastic changes are required in policy making regarding the issue in order to secure water for future generations.
Pakistan is a country whose major part of the economy is dependent on agriculture and for the agriculture sector to flourish the country requires continuous supply of water and it is very necessary to ensure availability of water for all domestic, industrial, and economic sectors. By 2035 it is predicted to become a water scarce country, though some experts analyse that this may happen in 2020's, if not earlier. The on-going water condition is very serious and indicates that Pakistan is on the verge of ending up dry because there is no proper mechanism to ensure water security. Pakistan is ranked amongst one of the most water stressed countries. The availability of water is less and the demand is a lot more. This situation is also known as the 'Tragedy of Commons'.
There are various major and minor causes of the emerging water crisis in Pakistan. Starting with the Water clash with India which is a constant fear for Pakistan as on various occasions India has threatened and practically stopped the flow of water towards Pakistan and often violated the Indus Water Treaty. Moreover the mismanagement and wastage of resources had added much to this crisis; lastly the political elite still shows no seriousness regarding this issue which is further deteriorating the situation. The Water Scarcity in Pakistan is the result or consequence of inefficient water management by the country. It is time that the country gets serious on the issue and generates proper mechanisms to ensure water security. From the very individual level steps should be taken to conserve water. Political parties should make this issue part of their manifestos and government should initiate National Action Plan to conserve water and reduce wastage of water, through lining of canals, construction of dams and creating awareness all across the country about the adverse situation and what measures are to be adopted in order to overcome this severe crisis. If this adverse situation prolonged it is expected that within Pakistan amongst provinces and internationally amongst countries a war will start, "War on Water".
Water is not only important for sustenance of life but equally essential for socio-economic development. The rapid growing need of water in the country can only be met through continuous supply of water and for that Pakistan needs to formulate proper mechanisms to conserve water through all possible measures. Therefore, construction dams/reservoirs and an effective water management strategy are the need of time.