WTO without United States?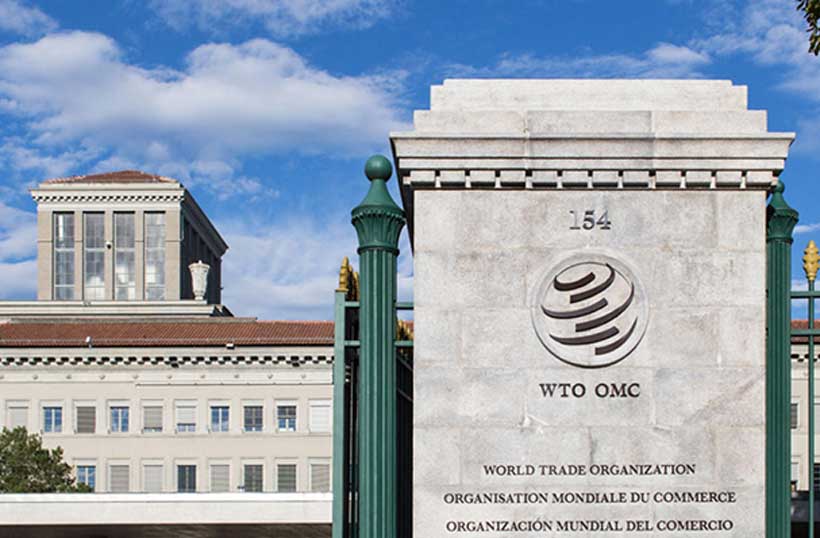 At present, it makes no sense for anyone to discard membership in the World Trade Organization (WTO), and the US' exit from it will not become fatal, -said the Russian Minister of Economic Development Maxim Oreshkin commenting on a statement made by US President Donald Trump to the effect that Washington could leave the WTO.
The minister remarked that "it is not the first time that the United States has suggested the possibility of withdrawing from the WTO. When these kinds of "reminders" begin to appear too often, they become negotiating techniques designed to impress counterparties on trade deals under discussion. " According to the Russian minister, the position of American trade diplomats that they stick to at talks on a dispute resolution system in Geneva is suggesting the same idea. It seems that by blocking the work of WTO's appeals organ, the United States is trying to create an additional instrument for influencing trading partners with a view to encourage them to take decisions that would be beneficial for the White House on how to reform the WTO, " – said Maxim Oreshkin. According to him, "since there is no global alternative to WTO which would be equally effective, there is no reason for such large international trade players as the United States to walk out of it. As for the World Trade Organization itself, a loss of even one of top players will not be fatal .
Simultaneously, the Russian Minister of Economic Development has suggested that the US withdrawal from the World Trade Organization (if it takes place) will stimulate WTO reform, change the configuration of "tactical alliances" and interest groups within the WTO, and will alter multilateral rules in those areas where negotiations have long been in a deadlock.
If the United States chooses to leave the World Trade Organization (WTO), then the entire existence of this organization will be put into question, " – confirmed presidential press secretary Dmitry Peskov. According to Peskov, "there are no doubts that the existence of, let's say, a global system-forming economic organization after the world's top economy walks out will cast doubt on its future". "In any case, this is an internal affair of the United States," – Dmitry Peskov added.
That the US might leave the main international trade organization was signaled by President Trump as he addressed employees of the Royal Dutch Shell chemical plant in Monaca, PA. "We will leave the organization if necessary." He warned that a situation like now when the WTO is helping other member countries to "use" the US, will not happen again.
As an instance of that, Donald Trump predictably cited his main "opponent" in its trade and economic debate – China. The American president spoke about a rapid development of the Chinese industry after Beijing joined the WTO. In the meantime, the USA complained about the theft of American technology in China, – the US president added.
Donald Trump's current speech can be seen as a key feature of his own election campaign, considering that the US' possible exit from the WTO served as an important point of his election program back in 2016. Back then he promised to take such a step if his plans to use tariffs to protect domestic producers ran into resistance from the above organization.
A similar idea was voiced by Donald Trump in 2018. The then WTO Director-General Roberto Azevedo tried to reduce tensions saying that the US concern about those areas of the organization's work that they wanted to improve was not new. What Donald Trump is speaking about now is "consistent with what the US has said before," – Roberto Azevedo said.
However, given that the current situation in the world is strikingly different from what it was just a couple of years ago, the future of international trade and economic relations becomes a matter of serious concern. The "trade war" between Washington and Beijing is not only showing no signs of subsiding but threatens to hit a new high. Donald Trump has promised to slap higher tariffs on the remaining imports from China totaling about $ 300 billion as of September 1, despite a "trade ceasefire" which was reached earlier with Chinese President Xi Jinping at the G20 summit in Osaka. Although the American leader has postponed the introduction of duties on a number of goods (primarily electronics) till December 15 this year, world markets do not expect any stabilization yet, particularly after Donald Trump declared China a "currency manipulator" following a sharp fall in the yuan rate.
Significantly, despite higher tariffs already imposed by the two parties on the total volume of bilateral supplies of $ 360 billion, it is China that is clearly taking upper hand in the "trade war". Despite the duties, the Chinese surplus in trade with the United States continues to grow, having increased in the first half of the year to $ 140.48 billion, against $ 133.76 billion in the same period of 2018. In July, US exports to China fell by 19%, while Chinese exports to the United States fell only by 6.5%. The new round of tariff increases will be more noticeable, also in terms of its negative impact on the socio-economic situation in the United States, Capital Economics experts warn in this regard.
However, it's the US' European partners that are sustaining yet greater losses. In AugustGermany's monthly economic index, published by the Center for Economic Research in Europe, fell to the December 2011 low, while national economy found itself on the verge of the first recession in six years. The Center's experts say this situation was triggered by the ongoing "trade war" between the US and China, along with the growing possibility that Britain will likely exit the European Union in line with the "tough" scenario.
"Trade conflicts, global uncertainty and the problems experienced by the car manufacturers have finally thrown the German economy down on its knees," – ING economist Carsten Brzeski says.
Negative trends are also visible in the British economy, where inflation has exceeded the Bank of England target of 2%. "Where is the world, and especially the historical allies of Washington, pushing the ever worsening economic conflict between the USA and China?" – the London newspaper The Financial Times asks and continues: "Under normal circumstances, they would certainly side with the USA. But we have unusual circumstances. Under Donald Trump, the United States has turned into an unreliable rogue superpower: they even oppose the fundamental principles of a trading system based on multilateral agreement and strict compliance with the rules. Now, even the US allies are drawn into this mutual hunt. " "And while the United States is locking horns with China, what should the American allies do?" The problem is not Trump. That he is concerned about the trade surplus is half the trouble. What is much worse, many Americans are dissatisfied not only with China's behavior, but also with its economic growth " – the British publication states not without reason and offers its own vision for resolving the situation: " What should the US allies do? " They should not support America's attempts to hinder China's growth – this would be dishonest. Instead, they should make clear what US goals in trade and technology they agree with, and if possible, adhere to this shared position. Significantly, the EU and Japan are already demonstrating similar views. They should support principles of the multilateral trading system under the auspices of the WTO. Should the US break the quorum needed to resolve disputes, then the rest should agree on some kind of informal mechanism. " "Hostility between the US and China poses a threat to global peace and prosperity. Outsiders cannot stop this conflict. But they are far from helpless. If superpowers go beyond the multilateral trading system, others will take their place. The majority of them are also major players. All you need is to summon up your courage and behave appropriately, " – The Financial Times points out.
However, the current problems in US relations with China and the WTO go far beyond the bounds of the trade organization itself. According to reports, Beijing is considering two options that could be really devastating for Washington: building up strategic cooperation with Iran and crushing financial markets and the dollar through the sale of US securities. According to Iranian sources, China has resumed cooperation with Iran on three oil projects and is considering what Washington and Beijing call the "nuclear option." In particular, according to the director- general of the Iranian Pars Oil and Gas Company (POGC), negotiations with Chinese developers are already under way on the first of these projects – phase 11 on the super-giant South Pars field.
China has also agreed to boost production at Iranian oil fields off Western Karun, including North Azadegan and Yadavaran, by an additional 500 thousand barrels per day by the end of 2020. This is consistent with Iran's plan to step up effort in these fields.
If one or another of these Chinese projects in Iran runs into a rejection from the United States, then Beijing will resort to the "nuclear option" of selling all or a significant part of its package of American bank-bills worth a total of 1.4 trillion dollars. A large-scale sale of these securities will result in the destabilization of the dollar, a surge in bond yields, a collapse of the real estate market and chaos in the stock market. This measure fits well into China's long-term strategy, which wants the yuan to challenge the status of the US dollar as a key global reserve currency and the main currency for global energy operations. "China wants to get away from the dollar system," – confirms Rory Green, an economist with TS Lombard.
What is currently happening in global trade opens up tremendous opportunities for Russia in terms of strengthening its relations with present and potential allies and partners, both on the bilateral and multilateral basis. Apparently, Moscow's "need" for trade, economic (and, consequently, political) structures will increase visibly in the near future.
From our partner International Affairs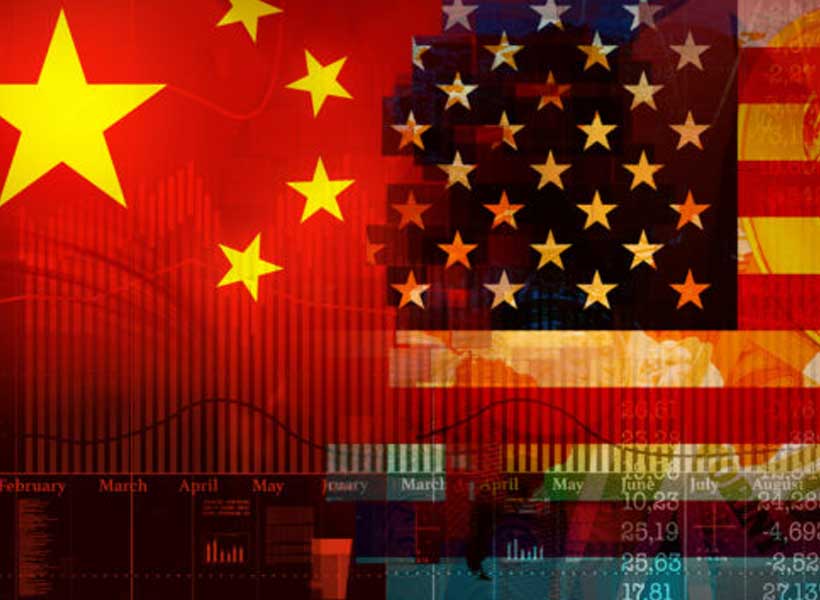 Trade deficit with China became a major issue in 2016 American election. Touching the sensibilities of American working class, Donald Trump accused China of protectionist trade policies such as export duties and quotas, state subsidies, restrictions on market access and intellectual properties rights theft. After assuming presidential office, Donald Trump imposed tariffs on Chinese goods. It intended to encourage consumers to buy American goods. By estimation, the US has imposed tariffs on more than $ 360 billion of Chinese goods and China has retaliated with tariffs on more than $ 110 billion of US products.
President Trump exploited the growing domestic concerns by making Sino-US trade a key part of his foreign policy. In Dec 2017, US released the new US national security strategy. It says that China is a revisionist power with goals "antithetical to the interests and values of US".
President Trump also ordered to specially investigate China's policies on intellectual property, technology transfer and innovation. Shortly thereafter, United States Trade Representative (USTR) investigation concluded that the abundance of cheap steel and aluminum import compromises the domestic production of US.
Notwithstanding the strained relations, president Trump and Xi took steps towards rapprochement in the first month of 2017, agreeing to establish a 100 days plan to resolve disagreement over trade. However, the underlying trade issue remained. Trump instructed the USTR to investigate whether cheap steel imports posed a threat to US national security.
As of Jan 2020, tensions have finally eased as the two sides have signed a partial 'Phase One Deal'. The document agreed to roll back tariffs and trade purchase. China agreed to buy additional $ 200 billion of American goods over the following the two years. The rapid spread of the coronavirus outbreak starting in January 2020 effectively postponed negotiations indefinitely. Trump deal halted the trade war but it did not put an end to economic hostilities. US tariffs on Chinese exports jumped sixfold between 2018 to 2020, but tariffs failed to decouple the two economies. The Trump policy has failed to change Chinese trade practices.
Contrary to the growing demands of US business community, the new US president Joe Biden so far has amplified his predecessor's policies and implementing additional sanctions. Biden's words describe his policy, "a battle between the utility of democracies in the 21th century and autocracies". Yale University's Stephen Roach questioned President Joe Biden's China policy, "why has he singled out China trump policy as one that is worth sustaining, when he has literally tried to wipe the slate clean of every other potential Trump policy that he inherited".
To relieve trade war tension with new American administration, China has pushed the US to cancel tariffs in a virtual meeting between vice premier Lin He and US-trade representative Katherine Tai. Tai said in a speech that the White House would restart a process to exempt certain goods from Trump era tariffs.
The Biden administration said it would not immediately remove the Trump administrations' tariffs and would require that Beijing upholds its trade commitments. It gives a clear look at how the Biden administration plans to deal with a rising economic and security threat for China.
President Biden campaigned against Trump tariffs on Chinese imports as hurting US consumers, farmers and manufacturers. But more than eight months into his presidency, Mr. Biden has announced few policies that differentiate his approach, beyond warmer appeals to American allies. In addition to the tariffs on Chinese goods, the president has maintained restrictions on Chinese companies, access to US technology and expand the list of Chinese officials under sanctions by the US for their role in undermining Hong Kong's democratic institutions.
President Biden's era also accelerates the geopolitical rivalry between China and US. Nuclear powered submarine to Australia and the Quad meeting it shows harmony on how to deal with China's influence. On 14 June, 2021, at their annual summit in Brussels, NATO leaders declared that China presents a global security risk, The traditionally Russia focused military alliance for the first time shifted its focus to China. Craig Allen, president of US-China Business Council, said, "Joe Biden has done what he said he would do—he has collected the allies and got them aligned in a similar manner on similar issue in a way that greatly strengthen America's position vis a vis China".
The Biden administration desires to work with China on climate change. "China has made it very clearer if you want cooperation on climate change, we want you to lift the tariffs or we want more cooperation on tariffs". During the G 7 summit, Biden pushed his European counterparts to adopt a tougher stance with China and singled out Beijing for its "non-market economic practices".
Fewer than three months after it was agreed upon, progress on the EU-China comprehensive agreement on investments has come to a halt as a result of tit for tat sanctions due to alleged human rights and forced labor issue in Xinjiang. EU is moving closer to a hardline US stance. On March 22, EU sanctioned four Chinese individuals, including a top security director, for alleged human rights abuses in Xinjiang. While symbolic in nature, this is the first time in three decades that the EU has imposed sanctions against China. Similar steps were followed by US, UK and Canada by the same day.
Pew Research Center finds that more than three quarters of America have an unfavorable view of China. The US senate in a rare moment of bipartisanship passed a bill 'the US innovation and Competition Act 2021', that would invest $ 250 billion in science and technology aimed at boosting US competition with China. "I do not think that politically it will be very difficult for the Biden administration to remove tariffs without meaningful concessions from China. The CIA announced it is establishing a new China mission center, in yet another sign of the Biden heavy focus on countering Beijing and its expanding influence across the globe.
According to Chad P Bown, a senior fellow at the Peterson institute for international economics, who tracks the purchases. He said, "so far, China is on a pace to fall short of its 2021 purchasing commitments by more than 30% after falling short by more than 40% last year". According to Mr. Brown, China still maintains tariffs on 58.3% of its import from the US. The US imposes tariffs on 66.4% of the products it brings in from China. The US economy has mainly been hit on the consumer side by the trade dispute where as in China, the export has suffered the biggest losses.
President Xi says that the dependence of the international industrial chain on our country has formed a power countermeasure and deterred capability for foreign parties to artificially cut off supply.
Hillary Hoffower writes, "America's automakers do not have enough semiconductor chips to make as many cars as people want to buy. Every other product from toys to computers that heads a chip will be in short supply too". It is estimated that the US accounts for just 12% of global chips production and Asia accounts for a whopping 75%.
How to protect American workers and businesses from predatory trade practices without hurting the parts of US economy that rely on Chinese goods. Kelly Ann Shaw, the former deputy director of the National Economic Council said it is easy to criticize tariffs but difficult to come up with a better option. Tariffs hurt US consumer and manufacturers. More than 30 business associations sent a letter to the administration complaining the tariffs are "costly and burdensome".
The irony is that three years after Trump tariffs were initiated to fix the US trade deficit, bilateral trade between the US and China has now rebounded to all-time highs, China's trade surplus has increase, and the US deficit has gotten worse. US-China trade war tensions and their effects on global value chain will impact industry structures, investment, innovation and consumer welfare across the world.
Regulatory Noose Tightens Around the Federal Reserve: Powell Reaffirmed a Second Term
The Federal Reserve has been under a sharp gaze since the twilight years of former president Donald J. Trump. Whether it was tinkering with the Dodd-Frank Act or the Volcker Rule specifics, controversies turned up more frequently than ever. If it was not for Powell's centrist play, the partisan clash was all but inevitable. However, the fed chair managed to persuade either side to survive at the helm of the Federal Reserve. Now, as the critics are relentlessly scouring to inhibit his path to reappointment, scandals are bound to exacerbate. The recent controversy around the suspicious trades by the fed officials during the periods of 'heightened market stress' has spurred a debate around the reliability of the officials at the precipice: officials responsible for sketching the national economic policy. Thus, while Mr. Powell has deftly guided the US economy through the chaotic period of covid uncertainty, it appears as if the savior has a tough road ahead towards renomination: a path embellished with censure rather than approbation.
The current term of Mr. Jerome Powell ends in February 2022. While he vies for renomination as per the fed's tradition (besides his predecessor: Ms. Janet Yellen), a group of vocal critics is determined to block his path. However, Powell's term, despite being one of the most tumultuous incumbencies, has impressively very little to admonish. Coupled with his timely decisions throughout the covid crisis, he definitely stands an assured chance of renomination, given the President is inclined to overlook the partisan divide in favor of an inured chairman to steer the economy completely across rather than risk a shift in an already incendiary economic environment. That being the case, a barrage of ethics scandals disclosed by the New York Times has raised enough eyebrows to disrupt a smooth sail for Mr. Powell.
Recently, regional fed presidents: Mr. Eric S. Rosengren of Boston and Mr. Robert S. Kaplan of Dallas featured in reports alleging their suspicious engagement in trading securities in 2020. The timeline of the trades ties up with the early days of the pandemic when the fed had purchased more than $4 trillion worth of Treasury and Corporate bonds to bolster the economy through surfeit liquidity and near-zero yields. The disclosures further revealed that even Mr. Powell was involved in a trade on 1st October 2020 – selling between $1 million and $5 million in a broad-based stock fund through his vanguard fund.
Senator Elizabeth Warren, one of the core critics of Mr. Powell, immediately raised arguments around the plausibility of Insider Trading: exacting the President to launch an investigation into these trades. Both regional presidents resigned shortly after the disclosures while Powell assured an inquiry. Mr. Powell, however, was sheltered from broader criticism for apt reasons. Mainly because his transaction involved a market-based stock index fund; practically dispersed throughout the market. In simpler terms, assuming he had insider knowledge of particular stocks, it still would not have helped him profit since his transaction was diversified, that is, not limited to specific securities. Moreover, given that he had already made his speech at the Jackson Hole Symposium in August; and had already expressed his explicit 'dovish' intentions during the fed's regular meeting in September, the policy was very much public weeks before his transaction. Summing up, not only was his portfolio in the most passive territory, but his trade lost him money: a contradiction to the very notion of insider trading.
Nonetheless, Mr. Powell turned the tables to solidify his spot for another term. On Thursday, the Federal Reserve further tightened the rules and guidelines apropos of investing practices of the Fed policymakers. The new framework disallows the fed officials, including the policymakers comprising the Federal Open Market Committee (FOMC), from owning individual stocks and bonds. Instead, the future investments would have to be restricted to diversified streams like Mutual funds. Moreover, the officials would have to divest certain assets, including individual bonds, corporate portfolios, agency securities, derivative contracts, before being appointed to the office. The officials would be required to provide a 45 days notice before buying or selling permitted securities. Additionally, they would also be required to hold their positions for at least a year: avoiding any activity during periods of economic distress. A tighter stipulation requires the 12 regional fed presidents to publicly disclose their financial transactions within 30 days rather than annually.
The action of the Federal Reserve is one of the most notable responses yet to widespread allegations. On Thursday, Mr. Powell reiterated: "These tough rules raise the bar high in order to assure the public we serve that all of our senior officials maintain a single-minded focus on the public mission of the Federal Reserve." He further asked the fed general inspector to access the trading of certain senior officials. It is safe to aver that while the staunch fed critics are determined to hamper Powell's path to renomination, in my opinion, there is not much of an impetus to deny him another term. While I admit that there are competent candidates for the job in the echelons of the Democrats, the job itself is not the same as before the pandemic. And while the allegations and scandals are nothing new for a prospective fed chairman, Powell's prompt action to tighten the rules even before the launch of a federal investigation could actually prove to be a final nail in the coffin for his critics.
United World of Job Seekers and Job Creators Will Boost Recovery
Why is there so much disconnect between entrepreneurial thinking and bureaucratic thinking? Has the world of education, certification, occupation divided us, have the organizational structures slotted us so wrongly, have the populace fragmented us and now our combined talents and productive mindsets are all going astray. Why is technology confronting us on mindset issues, forcing us to stand up together to face post-pandemic recovery to deliver real productivity results? Can we review factors and try to come together towards rapid progress, fix and advance?
As an overview, across the world, people always struggle hard to acquire special skills and qualifications to pursue their desired goals, some end up as job seekers and some as job creators, but both types equally work hard, build economies, and create prosperity. However, it is extremely important to face this fact; "Job-Seekers" help build an organization while "Job-Creators" develop the real cause to create that organization in the first place. Study what the last 100 earth shattering entrepreneurs across the world did or observe some 100 small and medium businesses right in your own backyards, on exactly what they are doing.
As the post-pandemic recovery world morphs towards entrepreneurialism, this critical difference of mindsets now demands deeper understanding amongst the economic development leadership of nations and their multi-layered complexities of their management teams. After all bureaucracies and economic growth agencies are primarily highly-qualified job seekers themselves, but now facing establishing a "job-creator" economic thinking, therefore facing a new national agenda as if a chess game, where moving pieces randomly is not the game, strategic command on movement of each piece is victory. The brutality of the message is now exposed as wide-open global debate because post pandemic recovery will take no prisoners.
To create an army of job-creators, academia is not the solution; academic mindset on tackling entrepreneurialism is like scratching and sniffing from old case studies on famous job-creators, telling those stories as if their own, throwing in their own analysis to claim some belonging and highlighting the entrepreneurial errors and mistakes as their own special victories. Always, never admitting the facts that it took special temperaments, zeal for venture, out of box thinking and guts to make those crazy moves while everyone else laughed, however, universities always tabling their own new improved strategies as the real correct and right way. Therefore, how many armies of Steve Jobs alike if they ever created, you decide. Business education is unnecessarily far too expensive and too disconnected. Know the fine differences in order to reshape economic progress.
Entrepreneurialism is neither academia born nor academic centric. However, observe how entrepreneurs always attract other mindsets and academia to join to carry out specials tasks, in comparisons where other mindsets will apply extreme reluctance to allow inviting entrepreneurial mindset in fear to exposure of their own business knowledge limits or facing any criticism by someone without any institutionalized certification center staging as a solo free thinker. Imagine how much laughter persisted what opposition created for entrepreneurs on their earth shattering ideas, from razor blade to treadmill or from bulb to mobile phone.
This time around, on the line are the entire global business models of economic productivity, performance and profitability, juxtaposed with climate change and sustainability where 'worklessness' of the future and digitization will place the world upside down. Get ready for a war of mindsets. Critical thinking and lifelong learning will save occupationalism. The absence of the long awaited fourth industrial revolution is proof that unless mindsets are aligned we are going backwards.
Today, economies trapped, digitization stalled, small business crushed and middle class destroyed is the new post pandemic world. Unless such mindset differences are understood, the tug of war of creating powerful economies with entrepreneurial flavor will fail. Provided there is open mindedness, alliances with job-creator mindset will assist jobseeker centric bureaucracies currently surrounded by monstrous challenges allow immediate implementation of deployment ready solutions for national mobilization of entrepreneurialism to uplift midsize business economies.
Today, the majority of nations would like to save by shrinking their highly paid public service staff with hopes to transform them into an entrepreneurial mindset to become producers of goods and services and add to the local economic landscapes. However, despites funds available in some nations still no success as such narratives strangled by job seeker bureaucracies already closed the doors.
Just look around, nation-by-nation, why are their problems so similar, solutions so identical? Is this because the differences hidden between leadership styles committed as nation-builders or as nation-sellers? Is it because jobseekers have already peaked on the pyramids of power, now at the top of the heap, their respective levels of incompetence make them unfunctional to grasp the new challenges and missing greatest market opportunities. The fact is with so many new and repeated elections, so many New Cabinet Changes and appointments, unless root cause issues brought into open, the local-global fiscal propositions keep sinking.
Out there, somehow there is a global rise on mobilization of entrepreneurialism, the fact that world is starving at local grassroots prosperity levels, hungry at midsize economy level but gluttonized and partying in vomitoriums at the very untouchable top levels, nevertheless, the new awareness is cross-fertilizing at rapid speed. The whispers, murmurs, the trembling of the messages are still inaudible to the top leaders but a good positive change in the air.
Recommendations: What will it take for the national economic development leadership along with all affiliated trade groups and agencies to open up to critical analysis of policies and development programs evaluated from new perspectives of entrepreneurial mindsets? What would it take such agencies to have some permanent authoritative and proven entrepreneurial representation of continuous dialogue to improve and adjust? What would it take to create high-level selective immersions of jobseekers' mindsets to come closer to job-creator mindsets to combine talents and achieve extraordinary results in the marketplace? What will it take to have some closed, open, or national level debates to bring talents and ideas together as a national agenda? What will it take to apply the similar approach of Truth and Reconciliation, after all the damage to grassroots prosperity now visible from space. Time has come to bring our minds closer and not disperse them as conflicting enemies.
The day has arrived to face the change. All mindsets are good but appreciating the difference and their respective strengths for special outcomes are critical. Working all like a team of various experts in a mutual goal is a huge victory. If during the last two years, such topics during pandemic recovery were never on your boardroom table, and mindset selection criteria never applied to determine the outcomes, you may be in a job-seekers centric enclave. Possibly, in deep silence already slotted in a wrong organization, should you now hastily leave the building? Should you help them? In any case, no further proof required. The future of pandemic economic recovery now demands a job-creator mindset. Select your mindset of your choice, acquire and add mastery as a prerequisite, and advance to newer heights.
The rest is easy