The African continent comprises a diverse collection of countries, each with its own set of challenges. The governance of individual territories, regions, and countries requires tremendous care and attention, particularly where peace and stability are concerned. Leadership is central to the prosperity of the African continent, particularly economic development. If the authorities are perceived as legitimate, peace and prosperity have a better chance of succeeding. The political culture and climate of the African continent is an important barometer of where Africa will be as an emerging force in the global economy.
Currently, Africa's 54 nations comprise approximately 25% of the countries making up the United Nations. The interaction of regional and national governance is sacrosanct. Over the years, Africa has undergone periods of violent change, from precolonial to postcolonial, and modern-day leadership. Given that European cartographers drew the boundaries of many African nations, the ties between people and their leaders are often fraught with difficulties. Over the years, African governments have redrawn their boundaries to better reflect cultural, political, and social nuances.
Over time, the conflict-ridden areas throughout Africa have eased. Multiple peace initiatives have supplanted growing conflict, and fomented a new cultural consciousness that espouses growth and development over war and conflict. While conflict still exists across many parts of Africa, the overall climate has cooled significantly from the days of rebellion and genocide. War-torn zones still exist, and development in these areas is riddled with challenges, extreme poverty, and hopelessness.
Conflict and governance are interlinked across Africa. Corruption is a widespread problem, particularly in the Central African Republic, Somalia, and South Sudan. Post-Cold War, major changes began to shape the political and social landscape across Africa. The liberalization of the USSR led to the development of civil society across Africa. Consider the Freedom House report from 1988 (17/50 countries were free or partly free) compared to the report from 2015 (31/54 countries were free or partly free).
Massive and Unprecedented Urbanization across Africa
Governance is also impacted by external forces. Global political movements, particularly the rise of India, China, Russia, and Arab states have impacted African society in many ways. These external actors necessitate economic environments which are conducive to peace and stability. The increasing urbanization of African society is yet another driver of success. The shift from rural to urban development is unprecedented. A report titled 'Urbanization and Migration in Africa' found a total of 53% of African emigrants living within Africa as a percentage of the total emigrants population
The migration between people is one of the most notable trends taking place across Africa. In 2017, intra-African migration was strongest in countries like South Africa, Ethiopia, Côte d'Ivoire, Uganda, Nigeria, and Kenya. Factors leading to mass migration include underdevelopment and development. Nigeria currently tops the list of countries in Africa with remittance receipts at approximately $22.3 billion (2018), followed by Egypt at $18.1 billion, Morocco at $7.1 billion, and Senegal at $2.3 billion. The rate of urbanization in sub-Saharan Africa was measured at 37.9% in 2015 and is expected to grow towards 54.8% by 2050. The figure is even greater for the continent as a whole at 40.4% in 2015, and 55.9% by 2050.
Tapping into Africa's Rich Natural Resources
Africa is a hive of activity with respect to natural resources. South Africa is home to vast supplies of gold and coal, while countries like Angola are rich with diamonds, oil and natural gas. North African countries are the chief suppliers of crude oil, including Algeria, Cameroon, Chad, Egypt, Eritrea, Libya, Tunisia, Sudan and South Sedan. Central African countries like the Democratic Republic of the Congo, the Central African Republic, Botswana, and Angola lay claim to massive diamond supplies, cobalt, and petroleum resources. The issues of extracting these natural resources and marketing them to the world at large hinge upon the effectiveness of transportation networks, infrastructure development, and telecommunications facilities. Many African leaders are investing heavily in these areas, fast-tracking Africa's learning curve to meet the requirements of major world players like China, the United States, and the European Union.
Spotlight on Angola: An African Giant in The Wings
Angola has substantial resources of liquefied natural gas and oil. It also boasts tremendous economic potential, given its hydropower facilities, agricultural growth and development, fisheries, gold production, iron production, and diamond production. The country also lays claim to significant international financial support a.k.a. FDI. Of course, its reliance on commodities like crude oil means that the country's revenues are subject to extreme volatility. Among the many other challenges faced by Angola are its rising unemployment rate and social inequalities. The country, like many other African nations lacks a world-class infrastructure, and it has a fragile banking sector.
Leaders like Isabel Dos Santos, chair of Unitel, and other major companies like ZAP, Candando, Sodiba, and Efacac are convinced that the pathway to success is the result of a multi-faceted approach. Education and skills training, rural development, the provision of basic resources, access to financing, eradication of malaria and waterborne diseases, hospitals and paediatric clinics, and combating gender stereotypes are central to the success of Angola. For her part, Isabel Dos Santos has invested heavily in gender equality initiatives, such as promoting women from within the ranks, empowering local communities of women to take charge of their own economic destiny, and fostering a climate where female academic and economic development is encouraged and supported.
Angola's GDP rate is expected to turn the corner by the end of 2019 and reach 1% growth, following three years of negative growth rates. The inflation rate has declined from 30.4% on average in 2016 to 15.9% forecast for 2019. Public debt in Angola has also declined from 71.9% in 2016 to a forecast total of 69.9% for 2019. And yet, despite these dramatic strides, Angola still battles the demons of volatile prices for commodities. The country generates approximately 90% of its revenues through crude oil exports, but its strongest resources have yet to be tapped – its people. By investing in the youth, women and men through literacy initiatives, educational development, and vocational training, business leaders like Isabel Dos Santos are confident that the economy will turn the corner for the better.
The World Bank report on Angola states that the new administration in the country is supportive of reforms geared towards macroeconomic stability. This is all conducive to economic growth and prosperity. The IMF has offered additional assistance to the country through its Extended Financial Facility (EFF) valued at $3.8 billion. While oil accounts for 33% of GDP and 90% of Angolan exports, there are factors limiting economic expansion in the current year. These include a production limit set by OPEC, and low oil prices globally. The central bank of Angola has adopted a monetary tightening policy to hedge against inflationary pressures, and this is already starting to pay dividends with reduced year-on-year inflation figures reported in January 2019. The World Bank group has committed $1.05 billion towards 9 investment projects across Angola.
Situation in central Mali 'deteriorating' as violence, impunity rise
The growing violence has contributed to a deteriorating security situation in central Mali, with impunity being one of the aggravating factors, an independent UN human rights expert warned on Friday.
"In central Mali, I observed an accumulation of security, judicial and administrative failures that facilitates mass violence with impunity. The Malian Armed Forces and MINUSMA (UN Multidimensional Integrated Stabilization Mission in Mali) have failed to provide adequate security for the civilians of the region," Alioune Tine, the UN Independent Expert on the human rights situation in Mali, said in a statement following his visit to the country.
He said that civilians have been victimized by transnational criminal organizations, terrorist groups and armed militia which are grasping control of the region.
The human rights expert was told that the perpetrators of previous attacks in different regions have not been held accountable, thus making impunity as one of the aggravating factors of the current violence.
The slow judicial process is due to the security situation, which makes arresting the alleged perpetrators complicated, as well as the climate of fear, with witnesses and victims afraid of reprisals.
"The current violence is increasingly difficult to control and could become a major threat to the entire sub-region," Mr. Tine warned, adding that the Economic Community of West African States (ECOWAS) and the African Union must urgently find effective remedies to end violence and serious human rights violations in central Mali.
He also urged the UN Security Council to reassess the situation and adjust the mandate of the MINUSMA accordingly.
Improvement in northern Mali a 'major turning point'
Despite the worsening situation in central Mali, there has been some positive progress in the north.
"The implementation of the Algiers Agreement in 2015 in northern Mali, with the gradual redeployment of the rebuilt Malian Armed Forces (FAMA) in Kidal and Timbuktu and their upcoming deployment in Menaka and Taoudeni, is an important step towards the return to peace," said Mr. Tine.
Calling this improvement "a major turning point", the UN expert also commended the efforts of the Malian state, armed groups and MINUSMA throughout this process.
"The resolutions currently being implemented bring a new hope for peace and for a gradual return to a peaceful political process in northern Mali, through the organization of legislative elections," he said.
The 2015 Algiers Agreement is an Algerian-brokered agreement for peace and reconciliation in Mali, signed among the Government of Mali, the Coordination of Movements of Azawad and the Plateforme armed group.
Independent experts are appointed by the Geneva-based Human Rights Council to examine and report back on a specific human rights theme or a country situation. The positions are honorary and the experts are not UN staff, nor are they paid for their work.
Escalating Burkina Faso violence brings wider Sahel displacement emergency into focus
Deadly attacks on villages in Burkina Faso have forced 150,000 people to flee in just the last three weeks, the UN refugee agency (UNHCR) said on Friday, warning of a displacement emergency in the wider Sahel region.
Amid a devastating surge in terrorist attacks against civilian and military targets which the UN says have risen five-fold in Burkina Faso, Mali and Niger since 2016, UNHCR spokesperson Andrej Mahecic said that survivors needed safety, shelter, food and water "everywhere".
Help is particularly needed in northern Burkina Faso, where displaced families are staying with host communities who have little in the way of resources themselves.
Some 4,000 people a day flee violence
The new arrivals are "occupying whatever space is available", the UNHCR official explained, stressing that more than 4,000 people a day have fled attacks in Burkina Faso, since 1 January.
"So far, 765,000 people have already been displaced, of whom more than 700,000 in the past 12 months," he noted.
Those forced to flee "report attacks on their villages by militant groups, killing, raping, and pillaging," the UNHCR official said. "Terrified of these attacks, residents have left everything behind to find safety."
A similar pattern of violence has driven people from their homes in Mali and Niger, adding to the longstanding insecurity crisis further afield in the Lake Chad region, where the UN humanitarian coordination office (OCHA) estimates that 2.3 million people are displaced.
Following a recent string of attacks in Niger's Tillaberi and Tahoua regions, UNHCR reported that 4,400 people have fled into neighbouring Mali, while the same wave of violence has displaced around 11,000 people inside Niger.
"They have found refuge in nearby towns of Banibangu and Ouallam, where assistance is being provided," Mr. Mahecic said, noting that the regions of Tillaberi and Tahoua host 58,000 refugees from Mali and nearly 81,000 displaced people.
In central Mali, the UNHCR official noted that the latest attacks on the village of Ogossagou on 14 February had claimed 30 lives.
'Too afraid to move'
"Safety is needed for these people," he said. "In some of these situations, people are so afraid of the insecurity and violence around them that even though they are under attack or fearing of an attack, they do not dare to move."
The Sahel region encompasses an area south of the Sahara Desert spanning 10 countries from Senegal in the west to Eritrea, in the east.
Violence there intensified after the 2011 revolution in Libya, and an uprising in Mali a year later. As a result, terrorist groups, organized criminal groups and others took advantage of weak governance and ethnic tensions to move across borders and terrorize local populations.
Highlighting severe challenges in accessing the needs of victims of violence throughout the Sahel region, Mr. Mahecic explained that safety, shelter food and water were a priority.
Clothing and other basic items, including dignity kits for women and girls, were also urgently needed, he said, along with counselling for survivors of atrocities.
"What we know right now, is that the violence and the frequency of these attacks have increased, the intensity has increased, and we know that this is the key reason behind this massive displacement," he said.
Safe access vital to traumatized communities
UNHCR and its partners have stepped up their response, including by strengthening health and education facilities for communities, Mr. Mahecic added, before appealing for safe access for humanitarians to deliver assistance.
According to the UN Special Representative and Head of the UN Office for West Africa and the Sahel (UNOWAS), violence in the Sahel claimed more than 4,000 lives in 2019, compared to 770 in 2013.
In a briefing to the Security Council last month, Mohamed Ibn Chambas described "relentless attacks" that had shaken public confidence in the authorities.
"Most significantly," he said, "the geographic focus of terrorist attacks has shifted eastwards from Mali to Burkina Faso and is increasingly threatening West African coastal States."
Mr. Chambas also explained how the attacks were often perpetrated by extremists looking to engage in illicit activities that included capturing weapons and illegal artisanal mining.
"Extremists provide safety and protection to populations, as well as social services in exchanged for loyalty", he said.
Violence in North and West Africa increasingly targeting civilian and border areas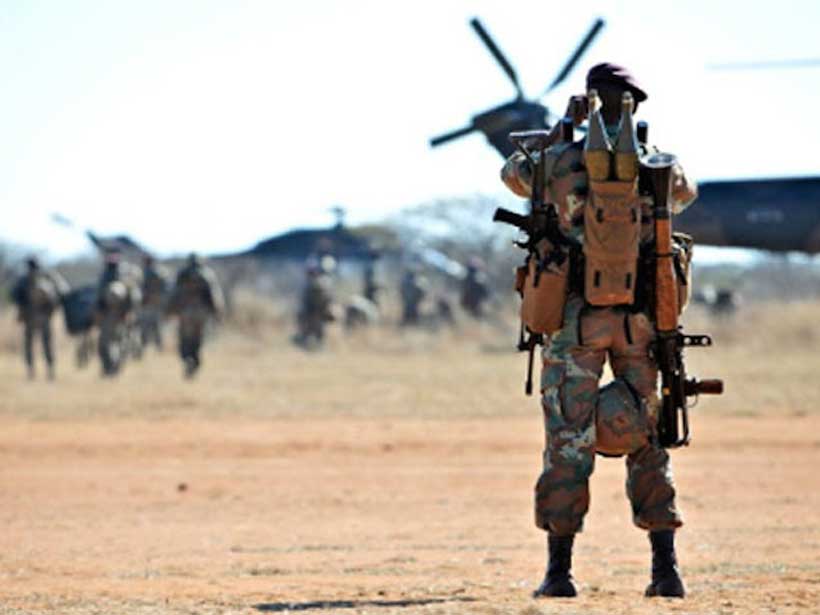 Violence in North and West Africa is increasingly targeting civilian and border regions as today's conflicts involve non-state actors with diverging agendas, according to a new report by the OECD's Sahel and West Africa Club (SWAC).
The report uses granular data to assess the intensity and geographical distribution of violence in the region since 1997. It finds that the last five years have been the most violent recorded in North and West Africa, with more than 60,000 people killed between January 2015 and the end of 2019. More than 40% of violent events and fatalities occur within 100 km of a land border, and 10% of deaths from political violence occur less than 10 km from a border. Civilians are increasingly specific targets of violence, rather than just being caught in cross fire.
The report uses a "Spatial Conflict Dynamics Indicator" to show which regions of North and West Africa experience the most conflict, how conflicts evolve geographically over time and how military interventions affect the intensity and spread of violence. It notes that attempts to stabilise the region are complicated due to the number of players involved and their shifting alliances.
"Paying close attention to the geography and dynamics of these deadly conflicts and the complex interactions between the large numbers of actors involved may help to find ways to resolve this worsening insecurity," said OECD Secretary-General Angel Gurría, presenting the report at the Munich Security Conference.
The Sahara-Sahel region is suffering from exceptional levels of political instability involving a combination of rebellions, jihadist insurgencies, coups d'état, protest movements and illegal trafficking of drugs, arms and migrants. Conflicts tend to regionalise across borders as armed groups defeated by counter-insurgency efforts relocate to other countries. The geographic spread and opportunistic relocation of conflicts is exacerbated by a lack of controls on many African borders that facilitates the circulation of fighters, hostages and weapons.
The study calls for states in the region and the international community to promote regional initiatives to restore state legitimacy, increase investment in border regions and improve protection of civilians — creating secure regions where inclusive forms of policies are put in place and a strong dialogue between states, local actors and populations is reinforced.