The Likely Outcome of Narendra Modi's Unconstitutional Seizure of Kashmir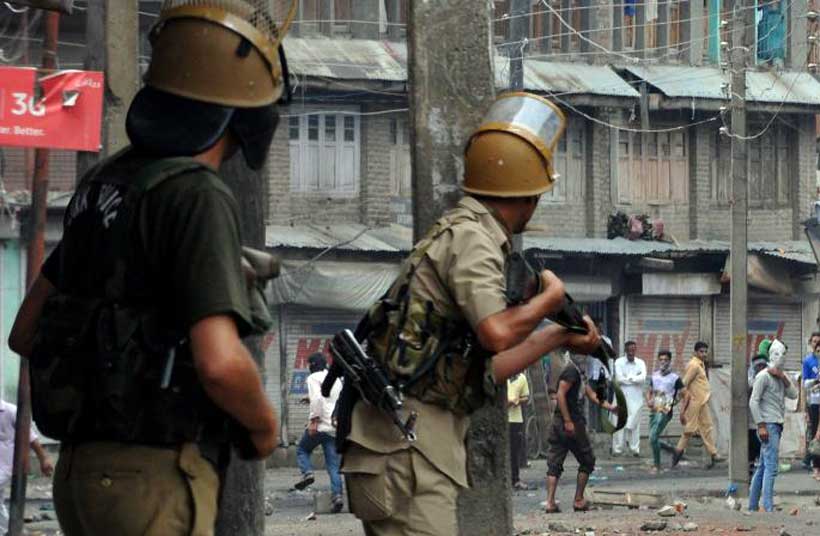 An independent fact-finding mission into the now military-ruled constitutionally autonomous Indian state of Jammu-Kashmir (commonly referred to simply as "Kashmir") reports that "The whole of Kashmir is, at the moment, a prison, under military control." That's not on account of any rebellion which had occurred there (none did); it is instead simply because of an unprovoked blitz unconstitutional invasion, on August 5th, of virtually only Hindu Indian troops, into the now Hindu-totalitarian-run nation of India's, only majority-Muslim state, so as to conquer that state totally, and thus to now turn India itself into an apartheid-supremacist regime, much like Israel is over Palestine. Kashmir has suddenly been turned into India's own Palestine. That land was suddenly grabbed and turned into a huge prison for Muslims.
The longer any Constitution is, the more unmanageable and less just the country or other state tends to be, and India unfortunately has one of the world's two longest Constitutions. Wikipedia says that "The Indian constitution is the world's longest for a sovereign nation.[b][3][4][5] At its enactment, it had 395 articles in 22 parts and 8 schedules.[16] At about 145,000 words, it is the second-longest active constitution – after the Constitution of Alabama [that's the American state of Alabama] – in the world.[34]"
When Narendra Modi suddenly announced on August 5th that the Constitutionally guaranteed autonomy of India's only majority-Muslim state, Kashmir-Jammu, or "J&K," is now past history, no longer in effect, the brilliant "Moon of Alabama" blogger immediately headlined — and explained why — "India Will Come To Regret Today's Annexation Of Jammu And Kashmir". He provided this historical background:
In July 1949, Sheikh Abdullah and three colleagues joined the Indian Constituent Assembly and negotiated the special status of J&K, leading to the adoption of Article 370. This article limited the Union's legislative power over Kashmir to the three subjects in the Instrument of Accession. If the Union government wanted to extend other provisions of the Indian Constitution, it would have to issue a Presidential Order under Article 370. The state government would have to give prior concurrence to this order. Moreover, the constituent assembly of J&K would have to accept these provisions and incorporate them in the state's constitution. Once Kashmir's constitution was framed, there could be no further extension of the Union's legislative power to the state. This secured J&K's autonomy.
Incidentally, this was the reason for listing the provisions of Article 370 as "temporary" in the Indian Constitution: the final contours of the state's constitutional relationship with the Union were to be determined by the constituent assembly of J&K.
Today Amit Shah, the leader of India's Upper House, announced the unilateral revocation of Article 370 (and the related Article 35a).
Shah did this by calling Article 370 "temporary" and ignoring that that appellation ("temporary") had referred only to its being temporary until J&K would officially concur in it, which J&K quickly did. Ever since then, it has been, and remains, permanent (according to the Supreme Court of India ruling on 16 December 2016, reaffirming that same Court's earlier ruling, on 10 October 1968). Therefore, it is clear that only by means of amending India's Constitution can J&K's autonomy be undone.
That anonymous blogger (whom I consider to be one of the world's greatest investigative journalists) then continued:
It is inevitable that the actions today will lead [to] a new insurgency in J&K and beyond. Even if Pakistan's Prime Minister Imran Khan does not want to support a new guerilla army in J&K, the military and other nationalist Pakistanis will push to supply it with everything that is needed [in order to support such an army].
So: at least unless and until India's Constitution is amended, Modi's grab for Kashmir not only is unConstitutional, but if this military occupation continues, then it is likely to spark a war in Kashmir, which could quickly become a war between Hindu-majority India and Muslim-majority Pakistan, next door to India.
How likely is India's Constitution to be amended so as to allow this military occupation to continue indefinitely?
Wikipedia says:The procedure [to amend] is detailed in Article 368. An amendment bill must be passed by each house of Parliament by a two-thirds majority of its total membership when at least two-thirds are present and vote. Certain amendments pertaining to the constitution's federal nature must also be ratified by a majority of state legislatures.
Whether all of that can be done is highly questionable. So: not only is Modi's action unConstitutional, but it could remain so — and produce a huge war.
No matter how bad India's Constitution might be, Modi is far worse, because he is violating it by means of this brutal and entirely unjustifiable military crackdown.
On the same day as the crackdown, Indian Hindus in other parts of the country announced online that they now planned to relocate to Kashmir. The expectation is that the Muslims in Kashmir will be driven out and replaced by Hindus. This is widely believed to be the Indian Government's plan, and the reason for this crackdown: an ethnic-cleansing of J&K for the benefit of India's Hindus.
On August 10th, the New York Times detailed how horrific the crackdown is. Headlining "Inside Kashmir, Cut Off From the World: 'A Living Hell' of Anger and Fear", they reported, from the city of Srinagar in Kashmir, that:
A sense of coiled menace hung over the locked-down city and the wider region on Saturday, a day after a huge protest erupted into clashes between Kashmiris and Indian security forces.
Shops were shut. A.T.M.s had run dry. Just about all lines to the outside world — internet, mobile phones, even landlines — remained severed, rendering millions of people incommunicado.
The New York Times gained one of the first inside views by a news organization of life under lockdown in Kashmir and found a population that felt besieged, confused, frightened and furious by the seismic events of this week. …
Tens of thousands of troops from the Indian Army, the Central Reserve Police Force (a paramilitary unit) and the Kashmiri State police have been deployed in just about every corner of the valley. In some villages, even remote ones, a soldier was posted outside the gate of each family's home. …
Mr. Modi has said the new status will make Kashmir more peaceful and prosperous. In a televised speech on Thursday, which most Kashmiris could not watch because their television service had also been cut, he insisted that turning Kashmir into a federal territory would eliminate corruption, attract investment and move it "forward with new hopes.''
Narendra Modi had risen to power in India by imposing a 3-day anti-Muslim "pogrom" or "ethnic cleansing" in the state of Gujarat, from 27 February through 1 March of 2002, during which, approximately 150,000 people were driven to refugee camps. So, there is clear reason for India's 15% Muslim minority to fear the country's 80% Hindu majority, who, in 2014, elected this bigot, Modi, to lead India. And, now since August 5th, that bigot has an iron grip on India's only Muslim-majority state, J&K.
The pressure upon Pakistan's leader, Imran Khan, to respond militarily, against the Modi-led bigots, can only rise, as long as Modi's unConstitutional aggression, perhaps amounting to an even bigger ethnic cleansing, now against the residents in J&K, continues. A mass-exodus of Muslims from J&K is likely and expected, especially into adjoining Pakistan. As those refugees accumulate there, the pressure on Khan can only rise even further. Already on August 11th, Khan tweeted that "Attempt is to change demography of Kashmir through ethnic cleansing. Question is: Will the world watch & appease as they did Hitler at Munich?"
As of yet, there is no actual discussion in the now totalitarian Indian media, regarding a Constitutional Amendment, in order to legalize Modi's August 5th action. His Government's official position is:
Whatever its legal or historical status, the time has come to amend, if not end Article 370. We must not forget that the continuance of Article 370 is the biggest hurdle to a lasting solution to the Kashmir conundrum. As such, it is the other side of the Pulwama massacre. Strikes across the border are only one way to avenge or redress the latter. But the internal rectification required is the full and complete integration of Jammu and Kashmir with the rest of India. In order to accomplish this, Article 370 must go.
So, they aren't actually saying that Article 370 "is gone," but that it "must go." They are, right at the start, setting up the possibility for an Amendment-resolution, by asserting that "the time has come to amend, if not end Article 370." They are not actually saying Article 370 has ended. This lacuna is their existing policy's escape-valve. The regime's goal is to act as if Article 370 is already simply gone, until the public overwhelmingly assumes that it has somehow been Constitutionally removed — even though it hasn't. The regime's control over its press is sufficient to exclude, for now, any public debate about that central issue — it is a non-issue, currently. It is an issue that's thus being held in abeyance.
But, also, the official position asserts that, come what may, Article 370, and 35A both must no longer continue in force; and specific condemnations of the Muslim faith and of Muslim traditions are prominent in this part of the Government's official position, such as:
abrogation of laws like Article 370 and 35A will be opposed by vested interests. It has taken decades to rid the Muslim daughters of India of the evil and ignominy of tripletalaaq — a pernicious custom whereby a Muslim male could divorce his wife by a simple rendering of the word talaaq, three times, by any means. Here too, the Muslim clergy, all male dominated, termed such a judgement by the apex court as an assault on their faith, conveniently forgetting that Muslim countries such as Pakistan have already enacted such laws decades ago. It is, thus, time for India to move on and not be held hostage to blackmail and threats from religious power brokers.
So: the Hindu regime is now officially damning Islam, and calling Muslim clergy "religious power brokers." This is blatantly in violation of India's 471-page Constitution. Here is from the Constitution's Table of Contents:
PART III
FUNDAMENTAL RIGHTS
General
12. Definition …………………………………………………………………. 6
13. Laws inconsistent with or in derogation of the fundamental rights. … 6
Right to Equality
14. Equality before law ………………………………………………………………….. 6
15. Prohibition of discrimination on grounds of religion, race, caste, sex or place of birth … 7
Among the reasons for the Constitution's extraordinary length are its many exceptions, such as, for example, Article 371A, which says that nothing in the Constitution "shall apply to the State of Nagaland unless the Legislative Assembly of Nagaland by a resolution so decides."
However, what will happen if the Government's promise that its August 5th action will bring 'peace' to Kashmir turns out to become too blatantly false in order for that lie to be able to be successfully continued? Perhaps the 'news'-media will then receive changed instructions, so as to allow a public debate about whether, maybe, there ought to be a Parliamentary initiative to put forth such an Amendment to the Constitution, for consideration. And, if the Government by then has decided to cancel the August 5th action, that failed initiative would be the best possible excuse for doing this: the failure of the initiative to revise Article 370 would become the excuse for cancelling the August 5th action. And, then, the peace-negotiations, could begin, between the J&K state, and the Indian Government. Modi has not locked that exit-door from his policy; and, if he walks through it, he'll be able to blame the legislature, for failing to remove Article 370.
Every dictatorship thrives on the continuing inability of the public to examine and analyze reality in the way that a scientist does in the practice of his/her particular profession; and that's the reason why these intellectual skills, the most basic ones of all — thinking in the way that a scientist does — are not being taught in all of public education, but instead the popular myths are taught to children, and are being reinforced in India and other dictatorships. That makes the public controllable, by the dictators. And so it is, in India today.
As regards the Constitutionality of the measure that the Modi regime is applying so as to impose this theft of control over J&K from J&K's majority-Muslim residents, that measure is Presidential Order C.O. 272, which was issued on August 5th. The chief blog of India's Constitutional lawyers, "Indian Constitutional Law and Philosophy", headlined on August 13th "Guest Post: Article 370: The Constitutional challenge", and the author, "Nivedhitha K.", opened that "The Presidential Order C.O. 272 … is the genesis of the subsequent events," and closed that "the Presidential Order C.O. 272 and all the subsequent activities that have … genesis in the presidential order are unconstitutional." The logical process between the opening and ending was flawless; and, so, there can be no honest legal question about the unConstitutionality of what Modi has been doing to J&K ever since August 5th — Modi's traitorism to India's Constitution, and thus to all Indians. The only real question is instead whether India's 'news'-media will start to publicize this important fact. Meanwhile, the Government races forward with its rape of India's Constitution, in the hope that enough J&K Muslims will evacuate that land so as to enable Hindus 'democratically' to impose some sort of apartheid anti-Muslim regime there. It's simply a race against time, all in clear violation of Indian law, to achieve Hindu control there. Modi seems to be as bold as Hitler was. Fascists everywhere are traitors to their country, and this is now being made manifestly clear in India. No nation where the Constitution is unenforced can be a democracy — not even if the Constitution itself might be thought, by some people, to be, itself, democratic.
The era emerged from "RuwanWeliSaya": Aftermath of Presidential Election in Sri Lanka
Authors: Punsara Amarasinghe & Eshan Jayawardane
Civilizational influence in shaping national political consciousness is an indispensable factor that one cannot deny or completely abandon albeit how rationalized or tries to be radical he is. The Oath ceremony of the president of the US is traditionally culminated by pledging alliance to the US constitution and God and the people in Britain chant "God save the Queen "as their aged long belief in Christianity is imbued with Anglo Saxon political consciousness. This given examples are the ideal instances proving the gravity of nationalism still prevailing in nation states system and this examples pave the path to ascertain the civilizational message symbolized by the newly elected president of Sri Lanka by choosing the ancient Buddhist stupa Ruwan Weli Saya in its ancient monastic city Anuradhapaura as the location to take oaths.
First and foremost, the recently concluded presidential election in Sri Lanka became a battle between emotions and many appealing dazzled in Sri Lankan society due number of reasons. Mainly majority of Sri Lankans felt anxious about the rule of former president Maithripala Sirisena who came into power in 2015 as a leader committed to restore the good governance and the international image of Sri Lanka. Even though his emphasis on good governance and reconciliation seemed to be appealing at outset, his inefficiency in implanting the promises jeopardized his rule gradually. In particular, people were heavily gutted after an Islamic militant group supported by ISIS carried out a deadly attack on Easter Day this year in Sri Lanka. All this circumstances set the cause in Sri Lanka to revive its aged long romanticism on Sinhalese Buddhist nationalism as it has always played the last resort for the majority of the Sinhalese community in island throughout its history.
The arrival of Gotabaya Rajapaksa as a one of main presidential candidates for this year election marked a new revival in Sinhalese Buddhist community and which was further bolstered by the echoing voice of Buddhist monks and so many other social factors. On the other hand, his dynamism as former defense secretary during his brother president Mahinda Rajapaksa's era in defeating 30 year long civil war in Sri Lanka against Tamil separatist movement and the contribution he made in urban development kept lingering in the minds of the people when they suffered from inefficient bunch of rulers for past five years. However, in comparing the decisive factors that intensified the victory of Mr. Gotabaya Rajapaksa, it becomes evident his main opponent Mr. Sajith Premadasa's manifesto and his political stances became less appealing for the majority of Sinhalese in Sri Lanka as his political campaign was consisted of many dubious characters hated by common people.
In analyzing the election results, it is evident that Gotabaya Rajapaksa's victory in Sri Lankan presidential elections was manly attributed to the votes of Sinhalese Buddhists and this simply reminds of the victory of Modi in India from Hindu majority votes and Orban's victory in Hungary from the votes of the Catholic Magyars. The recent growth of nationalism around the globe has again created a serious concern on returning the Hobbesian idea of strong sovereignties with strong nationalist sentiments. The outcome in Sri Lankan presidential election denotes the continuation of strong global tendency towards nationalism, yet, in the case in Sri Lanka the election results has given a clear sign that Tamil and Muslim minorities are displeased with Gotabaya to be their president as many Tamil and Muslim electorates were mainly won by Sajith Premadasa. The situation arising from this ethic division should be healed by newly elected president as it appears to be the most important task he needs to accomplish.
Perhaps, it may be an interesting analysis to look at his choice for taking oaths as the 7th executive president of Sri Lanka, because the place he chose for this ceremony RuwanWaliSaya in ancient city of Anuradha Pura is a powerful icon for Sinhalese Buddhists as how Varanasi becomes important for Hindus and Jerusalem inspires Jews. The ancient pagoda called "RuwanWaliSaya" was built by King DutuGamunu after defeating Tamil Chola ruler Ellalan who ruled Anuradhapura for 40 years. The saga of king Dutugamunu was glorified in the Sinhalese psyche as a civilizational hero who appeared in the most awaited hour in their history to defeat the enemy and restore Buddhism. Also, the Buddhist pagoda he built called " RuwanWaliSaya" has always been an inspirational point for the idea of Sinhalese Buddhist nationalism. The pictured depicted in Sinhalese Buddhist society in Sri Lanka regarding Anuradhapura and RuwanWaliSaya is a such a venerated one mixed with nostalgia and a yearning to restore its glory.In modern history of Sri Lanka after independence, no leader chose this ancient symbolic place as the venue to take oaths till Mr. Gotabaya Rajapaksa did so. The given idea simply proves that Sinhalese Buddhist majority finally reached their awaited moment of choosing a leader who understands their national aspirations. Moreover, it shows the unbreakable role of religion, race and cultural identities in South Asian politics. We do not criticize the emotional symbolism erupted from Gotabaya Rajapaksa's choice of Buddhist pagoda as a place for taking oath, because history has proven sometimes nationalist leaders have been great leaders who protected every community in the society and in his inaugural speech president Gotabaya mentioned the importance for leading Sri Lanka from its political and economic chaos to a greater future with the support of all the communities. In that context, the man who appeared from the strong communal based nationalist background might be the best leader Sri Lankans have been waiting so far if he addresses the ethnic minorities Tamils and Muslims in the island without isolating them. Furthermore, neutralizing the foreign policy in Sri Lanka would be another crucial factor newly elected president needs to envisage.
*Eshan Jayawardane is an independent researcher currently lives in New Zealand and he holds a master's degree in international relations from Jawaharlal Nehru University in New Delhi, India. He can be reached at Eshan.Jayawardane[at]gmail.com
India's Continuing Arrogance in Kashmir
On October 31, 2019, India formally split up the Muslim-majority region of Jammu and Kashmir into two federal (union) territories. By doing so India violated the UNSC resolutions on the matter and officially issued a new political map indicating Ladakh and Jammu as Indian Union Territories. According to this formal split,both the Jammu and Kashmir and Ladakh union territories will be administered by two lieutenant governors, Girish Chandra Murmu and Radha Krishna Mathur respectively. They are supposed to report to the Indian home secretary based in New Delhi. This clearly defines the motives of the Hindu nationalist government of BJP led by Prime Minister Narendra Modi which revoked Article 370 on August 5.Unfortunately, the prevalent security environment in Kashmir is dominated by the BJP, which has led India's arrogance to determine the fate of the disputed region.
In the same vein, right before the formal enforcement of the constitutional split, a local body electoral exercise was carried out in the region. The maiden Block Development Council (BDC) Election was held on October 24 under much hype due to the evolved dynamics of the region. However, the region's main parties such as the National Conference, Peoples Democratic Party, and Peoples Conference and other small parties had boycotted the local elections terming them as an 'undemocratic' exercise. These parties which have remained the major stakeholders in the politics of the region had turned out against the abrogation of Article 370 that granted the region special rights. It was also observed that the political parties had perceived this election as instead a "forced election" primarily because the region was still then under severe restrictions. Contrary to this general perception, the Indian government still carried out the post-revocation electoral exercise. This arrogant policy adopted by the Indian government seems to forcefully instill this notion of 'our plan our vision' by the BJP to decide the fate of the Kashmir region.
In addition to this notion, the Hindu-supremacist government of India, headed by Prime Minister Narendra Modi has been shamelessly flaunting the narrative that Kashmir has been 'put in its place'. This means that contrary to the previous position of the Kashmir region as an autonomous entity under the Indian Union, it has been demoted to now being a 'union territory' like other union territories under the federal (Union) government of India. By doing so it seems that India is following a dangerous trajectory of dealing with Kashmir vis-à-vis Pakistan and the international community. In pursuit of its fascist vision inspired by its RSS ideology, the BJP led Indian state has blatantly ignored the global implications which its moves could have regarding the disputed region. Moreover, the ongoing crisis also provides an insight into Kashmir being a victim of the so-called rules based international order that has repeatedly failed to shield the Kashmiri people from the human rights violations of the Indian forces and protect their sovereign will.
It is worth mentioning here that Kashmir is one of the oldest issues pending at the UNSC table. The international community acknowledges Pakistan's significance as the most important stakeholder vis-à-vis any development on the Kashmir issue. Contrary to Indian moves and suppression of Kashmiris, Pakistan has always insisted on the peaceful settlement of the Kashmir dispute under the UN mandate. Moreover, Pakistan has always encouraged international mediation offers from influential countries especially by the U.S. This was evident during Prime Minister Imran Khan's first-ever visit to the US on July 23, 2019, when President Trump had offered to mediate between India and Pakistan. The offer was greatly appreciated by Pakistan as it was aimed at some prospect of seeking a settlement given the evolved security dynamics of the South Asian region for the last few months. Whereas, India has often rejected such offers claiming Kashmir as its internal matter.
As evident from the above-mentioned developments, it seems that India aspires to increasingly project itself as a regional hegemon and as a potential superpower that can do whatever it pleases with a complete disregard for basic human rights. Under this notion, the BJP government led by Prime Minister Modi and inspired by Hindutva ideology is taking offensive measures to forcefully make Kashmir an integral part of India via its brutal political and military actions. The most considerable aspect of such belligerence is that India wrongfully perceives that Pakistan is unlikely to or perhaps unwilling respond to any Indian move based on certain political, economic and strategic restraints vis-à-vis India. This however is once again a grave underestimation of Pakistan's resolve and the sensitivity with which such moves are being taken by the Pakistani leadership.
Hence at the present, the rash and irresponsible actions of the BJP led Indian government has once again put at stake the peace and stability of the entire South Asian region, bringing it once again to the brink of conflict. Despite all the criticism worldwide, with its politico-military offensive in Kashmir, it seems that India has already decided to determine the fate of the disputed region through sheer arrogance and brutality. India is mistakenly perceiving that such moves would likely tighten its grip over the restive region that is at the heart of more than 70 years of hostility with Pakistan. India's policy to forcefully make Kashmir a part of the Indian Union by annexing it through political and military means would serve as a dangerous precedent. This poses a serious detriment towards the long-desired peaceful settlement of the Kashmir dispute and even with more disastrous consequences for the whole region.
Remapping Indian Occupied Kashmir: A Multipronged Travesty
The second Presidential Order on the Reorganization of Jammu & Kashmir by India in 2019 is yet another outlandish decision to challenge the objectives of a peaceful coexistence. It is a call for altering an International Order more conversant to breach the democratic political norms, history and fundamental rights. Kashmiris are once again rebuffed of their demand for self-determination while being locked in an unprecedented brutal curfew entering into more than one hundred days. The desecration is obviously offensive.
Including the areas of Gilgit, Gilgit Wazarat, Chilhas and Tribal Territory of 1947, a part from the remaining areas of Leh and Ladakh districts of 1947 into the Indian Union is a violation of several United Nations Security Council resolutions passed decades ago. The Kargil District was already carved out.
Historically, there were 14 Districts of Jammu & Kashmir at the time of partition, which included Kathua. Jammu. Udhanpur, Reasi, Anantnag, Baramullah, Poonch, Mirpur, Muzaffarabad, Leh and Ladakh, Gigit, GilgitWazarat, Chilas and Tribal Territory. The new districts included were Kupwara, Bandipur, Ganderbal, Srinagar, Budgam, Pulwama, Shupian, Kulgam, Rajori, Ramban, Doda, Kishtiwar, Samba and Kargil. The illustrative declaration of Muzaffarabad and MirpurKhas areas of Azad Kashmir which are under the administrative rule of Pakistan is an untenable denial of the history of the region.
To refresh their memories India needs to remember that at the time when Maharaja Hari Singh signed the controversial Instrument of Accession with India in October 1947, Gilgit was already inflamed with the passions of rebellion against Hindus and Sikhs living in Gilgit. While representing the will of his people, Muzzaffar, the raja orderly in Chilas said:
"The whole of Gilgit Agency is pro-Pakistan … we could never swear allegiance to Hindustan. Apart from religion, the Gilgit Agency is really a part of the NWFP and is therefore a part of Pakistan. If Kashmir remains independent, well and good … .But if the Maharaja through pig headedness and bad advice, political pressure or attractive remunerations accedes to Hindustan, then there will be trouble here!"
This was sensed by the British Administrator William Brown as well and decided to overthrow the then Governor Ghansara Singh in a bloodless coup d'etat in November 1947 and a provisional government was established by the locals of Gilgit. Raja Shah Rais was appointed as the president and Mirza Hassan Khan as the Commander-in-Chief. Pakistani political agent took over the region, once Khan Abdul Qayyum received a telegraph from Brown on November 16, 1947.
By May1948, the Gilgit Scouts had already taken over Baltistan, Ladakh and Skardu as well. Indian reinforcements were blocked at Dras and Kargil which helped them cut off Indian communications to Leh in Ladakh. However, Kargil was recaptured by them in autumn 1948 but Baltistan remained in control of Pakistan, after which India itself took the issue to the UN.
The current remapping of the region of Jammu & Kashmir is nonetheless not only a snubof facts but also adding into already destabilising factors in the region.The Pakistani parts of Kashmir to the north and west of the cease-fire line established at the end of the Indo-Pakistani War of 1947, or the Line of Control as it later came to be called, were divided into the Northern Areas in the north and the Pakistani state of Azad Kashmir in the south. The name "Northern Areas" was first used by the United Nations to refer to the northern areas of Kashmir. Pakistan has declared that "no step by India could change the disputed status of Jammu and Kashmir as recognised by the United Nations", and has pledged time and again that it will continue to support the just struggle of the Kashmiris.
In an attempt to rewind the India of antiquity or revitalize the Indian Civilization lost in the international order of nation-states in the post WWI era, Narendra Modi's arrogant Hindutva regime is non-realistic. The current attempt is a follow up of the Geospatial Information Regulation Bill (GIRB) passed by the Indian ministry of Home Affairs on May4, 2016, during his earlier tenure of rule on India. The Bill was meant to regulate the acquisition, dissemination, publication and distribution of geospatial information of India. It restricted the addition or creation of any information related to geospatial imagery, data acquisition through space or aerial platforms such as satellites, aircrafts, airships, balloons or unmanned aerial vehicles without the permission of the government of India. The Bill also made its violation indictable in contravention of the section 4 with a fine ranging from Rs. 1 crore to 100 crores or imprisonment for a period of up to seven years. The draft resolution had also decided to set up an Apex Committee, A Security Vetting Authority and an Enforcement and Appellant authority to only allow the distribution of maps considered right by the Indian government. It was deceptively declared to ensure the security, sovereignty and integrity of the state of India with impact on all who may or may not agree with the Bill defining the geographical boundaries of India. The spokesman of the Indian External Affairs Ministry Vikas Swarup once reiterated that the state of Jammu & Kashmir was an "integral part of India" and the GIRB was an "entirely internal legislative matter of India."
Assaulting the international political system, human dignity, basic liberties and perpetual boundary disputes by the Indian offensive posture have added to the stressed political environment of the region. In case of the failure of the domestic proceedings to address human concerns, it becomes mandatory for the world community to ensure the respect of the world peace. History records that after the WWII, there had been 14 out of 21 major inter-state wars on territorial conflicts. Global history of cartography has always been closely linked. Situating the "geobody," along with altering the archival documents by the nationalist regime of Modi largely emboldened by the Western powers for their own strategic and economic preferences, is a teasing question on the UN partiality. The history of border violations or failed negotiations over an issue increases the likelihood of armed conflict and nonbinding management.