UN Security Council discusses Kashmir- China urges India and Pakistan to ease tensions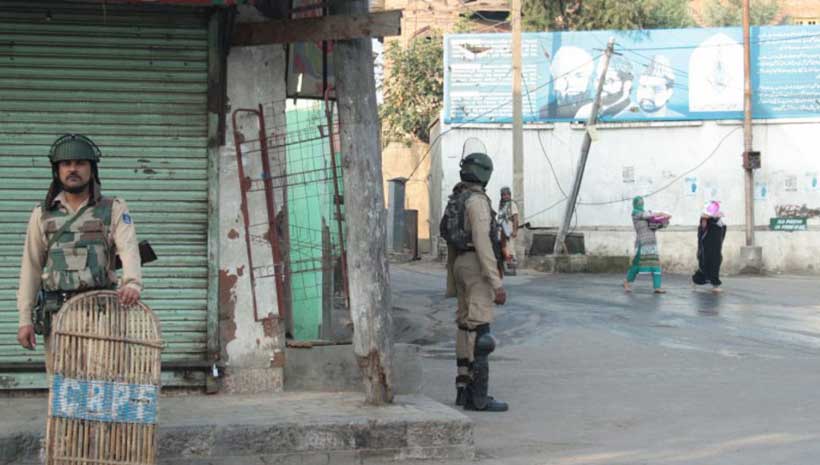 The Security Council considered the volatile situation surrounding Kashmir on Friday, addressing the issue in a meeting focused solely on the dispute, within the UN body dedicated to resolving matters of international peace and security, for the first time since 1965.
Although the meeting took place behind closed doors in New York, the Chinese Ambassador, Zhang Jun, spoke to reporters outside the chamber following deliberations, urging both India and Pakistan to "refrain from taking any unilateral action which might further aggravate" what was an already "tense and very dangerous" situation.
The Indian-administered part of the majority-Muslim region, known as Jammu and Kashmir had its special status within the constitution revoked by the Indian Government on 5 August, placing it under tighter central control. Pakistan has argued that the move violates international law.
The UN has long maintained an institutional presence in the contested area, which both countries claim in its entirety, with the areas under separate administration, divided by a so-called Line of Control. The UN Military Observer Group in Indian and Pakistan (UNMOGIP) observes and reports on any ceasefire violations.
In a statement issued on 8 August, UN Secretary-General António Guterres said he had been following the situation in Jammu and Kashmir "with concern", making an appeal for "maximum restraint".
"The position of the United Nations on this region is governed by the Charter…and applicable Security Council resolutions", said the statement. "The Secretary-General also recalls the 1972 Agreement on bilateral relations between India and Pakistan also known as the Simla Agreement, which states that the final status of Jammu and Kashmir is to be settled by peaceful means", in accordance with the UN Charter.
Ambassador Zhang said Council members had "expressed their serious concern" concerning the current situation in Jammu and Kashmir…The Kashmir issue should be resolved properly through peaceful means, in accordance with the UN Charter, the relevant Security Council resolutions and bilateral agreements."
Pakistan requested the Security Council meeting on 13 August, and it was subsequently called for by Permament Member, China.
Speaking to reporters outside the chamber, Pakistan's Ambassador, Maleeha Lodhi said the meeting had allowed "the voice of the people of the occupied Kashmir" to be heard "in the highest diplomatic forum of the world." She argued that "the fact that this meeting took place, is testimony to the fact that this is an international dispute."
She said that "as far as my country is concerned, we stand ready for a peaceful settlement of the state of Jammu and Kashmir. I think today's meeting nullifies India's claim that Jammu and Kashmir is an internal matter for India. Today the whole world is discussing the occupied state and the situation there."
Speaking a few minutes later, India's Ambassador, Syed Akbaruddin, said that "our national position was, and remains, that matters related to Article 370 of the Indian Constitution, are entirely an internal matter of India…The recent decisions taken by the Government of India and our legislative bodies are intended to ensure that good governance is promoted, socio-economic development is enhanced for our people in Jammu and Kashmir and Ladakh."
He said that the Chief Secretary of Jammu and Kashmir had announced measures which would return the region towards a state of "normalcy"
"India remains committed to ensure that the situation there remains calm and peaceful. We are committed to all the agreements that we have signed on this issue."
But without naming names, he stated that "of particular concern is that one state is using terminology of jihad against and promoting violence in India, including by their leaders", adding that India was committed to the principle "that all issues between India and Pakistan, as well as India and any other country, will be resolved bilaterally, peacefully, and in a manner that behooves normal inter-state relations between countries."
Tanzania's Economic Growth by Transforming Its Tourism Sector
As Tanzania's tourism sector recovers from the harsh effects of the COVID-19 (coronavirus) pandemic on businesses and employment, the latest World Bank economic analysis says the country also has a unique opportunity to revamp the tourism industry to drive inclusive growth over the long term, and promote climate adaptation and mitigation.
The 16th Tanzania Economic Update, Transforming Tourism: Toward a Sustainable, Resilient, and Inclusive Sector notes thatthe near-cessation of tourism activities globally due to the pandemic deeply affected Tanzania's tourism sector. Economic activity in the sector contracted sharply in 2020, resulting in job losses and business shutdowns which has had negative knock-on effects for inter-related sectors. While partial recovery is underway, business revenues and derived taxes for government still remain below pre-pandemic levels.
"The latest news point to the fact that we are not out of the wood yet, as the third wave of COVID-19 with a more deadly variant seems to be spreading," said Albert Zeufack, World Bank Africa Chief Economist. "The countries that have weathered the storm more successfully so far have moved quickly and decisively to protect their people, strengthen their health systems, safeguard human capital gains, increase intra-reginal trade, and embrace digitalization, therefore laying down the basis for much needed economic transformation."
Amid the ongoing crisis, the report says Tanzania's GDP growth decelerated to an estimated 2.0 percent in 2020. Surveys of businesses and households, conducted by the World Bank in collaboration with the National Bureau of Statistics between June 2020 and March 2021, revealed that business slowed across a wide range of sectors and sizes of firms, especially export-oriented sectors such as tourism and manufacturing, and job creation has deteriorated. Overall business performance and expectations indicators have partially rebounded but remain subdued, emphasizing the gravity of the shock and sluggish recovery. The slowdown in GDP growth and the deterioration of business sales and financial security is estimated to have increased the number of poor Tanzanians by 600,000 in 2020. Zanzibar's economy was even more severely impacted with GDP growth slowing to an estimated 1.3 percent, driven by a collapse of the tourism industry.
"This Economic Update spotlights the pandemic's impact on the Tanzanian economy through the sharp decline in tourism in 2020 and sluggish recovery in 2021. It is a call to action to help the sector recover, 'build forward better' and support private sector development more broadly. This is a critical agenda to protect the welfare of poor and vulnerable households, attract new foreign and domestic investment, and support an employment-intensive recovery," said Bill Battaile, World Bank Lead Economist for Tanzania.
The economic update proposes priorities for sustainable recovery for Tanzania's tourism sector, including creating an efficient, reliable and transparent business environment, improving tourism information management system, ensuring affordable financial support to struggling businesses across the value chain, strengthen adherence to health and safety protocols and data transparency, and supporting nature-based landscape and seascape management through development of co-investment and partnership arrangements.
Conflict, COVID, climate crisis, likely to fuel acute food insecurity in 23 'hunger hotspots'
Life-saving aid to families on the brink of famine is being cut off in several countries by fighting and blockades, the UN's Food and Agriculture Organization (FAO) and World Food Programme (WFP) said in a new report issued on Friday.
Of grave concern are 23 'hunger hotspots' which over the next four months are expected to face an acute level of food insecurity due to the combined economic repercussions of COVID-19, the climate crisis and fighting.
"Families that rely on humanitarian assistance to survive are hanging by a thread. When we cannot reach them, that thread is cut, and the consequences are nothing short of catastrophic," warned David Beasley, WFP Executive Director.
Supporting agriculture
Bureaucratic obstacles and a lack of funding also hamper the agencies' efforts to provide emergency food assistance and enable farmers to plant at scale and at the right time.
"The vast majority of those on the verge are farmers. Alongside food assistance, we must do all we can to help them resume food production themselves," said FAO Director-General QU Dongyu.
"So far, support to agriculture as key means of preventing widespread famine remains largely overlooked by donors. Without such support to agriculture, humanitarian needs will keep skyrocketing," he added.
Hotspot nations
The 23 hotspots identified are Afghanistan, Angola, Central Africa Republic, Central Sahel, Chad, Colombia, Democratic Republic of the Congo, Ethiopia, El Salvador together with Honduras, Guatemala, Haiti, Kenya, Lebanon, Madagascar, Mozambique, Myanmar, Nigeria, Sierra Leone together with Liberia, Somalia, South Sudan, Syrian Arab Republic, Yemen.
FAO and WFP have warned that 41 million people were already at risk of falling into famine. 2020 saw 155 million people facing acute food insecurity at crisis or worse levels in 55 countries, according to the Global Report on Food Crises.
This is an increase of more than 20 million from 2019, and the trend is only expected to worsen this year.
The report highlights that conflict, climate extremes and economic shocks, often related to the economic fallout of COVID-19, are likely to remain primary drivers of acute food insecurity for the August-November period this year.
Transboundary threats are also an aggravating factor in some regions. In particular, desert locust infestations in the Horn of Africa and African migratory locust swarms in Southern Africa.
Communities cut off
Humanitarian access constraints are another severe aggravating factor, increasing the risk of famine.
Countries currently facing the most significant obstacles preventing aid from reaching them include Afghanistan, Ethiopia, the Central African Republic, Mali, Nigeria, South Sudan, Somalia, Syria and Yemen.
"The road to zero Hunger isn't paved with conflict, checkpoints and red tape. Humanitarian access isn't some abstract concept.
"It means authorities approving paperwork in time so that food can be moved swiftly, it means checkpoints allow trucks to pass and reach their destination, it means humanitarian responders are not targeted, so they are able to carry out their life- and livelihood-saving work," said Mr. Beasley.
'Highest alert' hotspots
Ethiopia and Madagascar are the world's newest "highest alert" hunger hotspots according to the report. Ethiopia faces a devastating food emergency linked to ongoing conflict in the Tigray region.
Reaching those desperately in need remains an enormous challenge, with 401,000 people expected to face catastrophic conditions by September.
This is the highest number in one country since the 2011 famine in Somalia. Meanwhile, in southern Madagascar, 28,000 people are expected to be pushed into famine-like conditions by the end of the year.
This is due to the worst drought in 40 years, combined with rising food prices, sandstorms, and pests affecting staple crops.
The new highest alerts issued for Ethiopia and Madagascar add to South Sudan, Yemen, and northern Nigeria, which remain among the acute food insecurity hotspots of greatest global concern.
In a few areas, some of these countries are already experiencing famine conditions and significant numbers of people are at risk of falling into famine.
World's worst
In Afghanistan, where acute food insecurity is becoming increasingly critical due to ongoing drought, there is rising conflict-driven displacement as well as high food prices and widespread unemployment fuelled by COVID-19.
Meanwhile, the already precarious situation in Haiti is expected to get worse as the country faces likely lower staple crop production due to lack of, or irregular, rainfall. It is also reeling from worsening political instability and food price inflation, and the impacts of COVID-19-related restrictions.
The report warns that humanitarian action is urgently needed to prevent hunger, famine and death in all 23 hotspots.
It provides country-specific recommendations covering both shorter-term emergency responses, as well as anticipatory actions to protect rural livelihoods and increase agricultural production, so at-risk communities can better withstand future shocks.
COVID-19: Education replaced by shuttered schools, violence, teenage pregnancy
A culture of "safety, friends and food" at school has been replaced by "anxiety, violence, and teenage pregnancy", with remote learning out of reach for millions, the UN Children's Fund, UNICEF, said on Tuesday.
Due to the COVID-19 pandemic, "more than 600 million children in countries not on academic break are still affected by school closures", James Elder, UNICEF spokesperson at a press conference at UN Geneva.
In countries such as Uganda, this has led to a "20 per cent spike in the last 15 months in teen pregnancies, or pregnancies of 10-24-year-old girls, who were seeking antenatal care. Across the globe in all continents we've seen child helplines, a good precursor to understanding kids who are reporting violence, seeing often triple-digit increases," said Elder.
COVID-19 school closures
In nearly half of countries in Asia and the Pacific, schools have been closed for around 200 days. Latin America and the Caribbean have seen some of the longest closures ever with 18 countries and territories affected by either full or partial closures.
As of today, the UN agency estimates in Eastern and Southern Africa that 40 per cent of all children aged 5 to 18, are currently out of school.
Elder added that if these figures "did not resonate with those in power, then a World Bank report estimates a loss of $10 trillion in earnings over time", for this generation of students.
Remote learning 'out of reach'
Equally alarming is the fact that the solution of remote learning is "simply out of reach" for at least a third of the world's schoolchildren, the UNICEF spokesperson continued. In East Asia and the Pacific, "80 million children have no access whatsoever to any remote learning.
In Eastern and Southern Africa, Uganda school children have gone more than 300 days out of school, while home internet connectivity "is the lowest on the planet there at about 0.3%".
'Situation cannot go on'
In a call for action, UNICEF appealed for five main steps: Schools should reopen as soon as possible; governments and donors must protect the education budget; enrolment should be extended to children who were already out of school pre‑COVID‑19 – by removing financial barriers and loosening registration requirements – and cash transfers to the most vulnerable, must be increased.
"Everything needs to be done to bring an end to the pandemic," Mr. Elder said, starting with making vaccines available everywhere by sharing excess doses and financing to support the roll-out of vaccines.